Germany Digital Nomad Visa Guide (2023)
As one of the economically strongest and most stable countries in Europe, with a GDP of over €3.57 trillion, Germany has been an attractive destination for expats and digital nomads for years now.
In fact, according to the data from the final quarter of 2022, there are more than 13.4 million expats living in Germany. So, if you decide to pack up your digital nomad bags and head to Germany, you'll have plenty of expats to talk to, exchange experiences, and bond with.
Although Germany doesn't have a standard visa that caters specifically to digital nomads, it does have 2 suitable alternatives — the freelance visa (Freiberufler), and the self-employment visa (Selbständiger). In this guide, we'll discuss the details of both these visas, as well as:
The benefits of the German visas available to digital nomads,
Specific requirements that digital nomads have to meet to be able to work and live in Germany,
The process of applying for the said visas,
The benefits and drawbacks of being a digital nomad in Germany, and
The top German destinations for digital nomads.
Let's do it!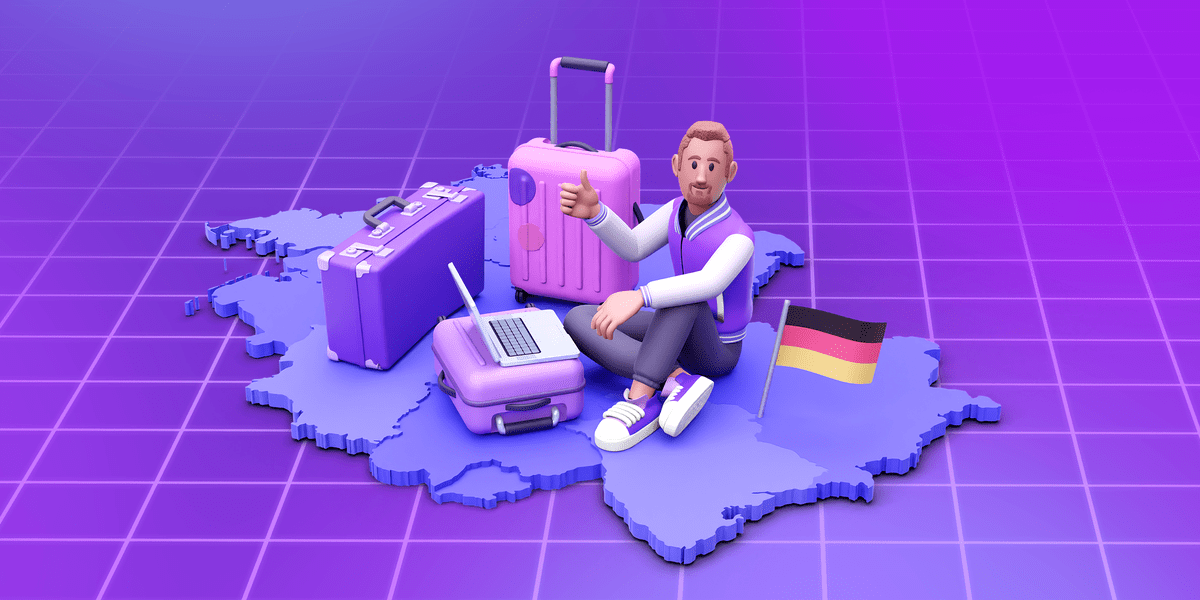 Quick digital nomad visa facts for Germany
If you're interested in doing some remote work from Germany, here are some quick facts about the visa you'll have to obtain!
Germany visa questions
Germany visa answers
Does Germany have a digital nomad visa?
Not in name, but there are two suitable alternatives:
– The freelance visa (Freiberufler), and
– The self-employment visa (Selbständiger)
When was Germany's digital nomad visa introduced?
An official digital nomad visa hasn't been announced, but there are 2 suitable alternatives that can serve as entry visas for digital nomads.
Who can apply for the German digital nomad visa?
Anyone outside of the EU/EEA who can prove they meet the requirements
How much does a German digital nomad visa cost?
– €80 (~$84.55) for the embassy fee,
– €100 (~$105.69) for the Ausländerbehörde fee (the Immigration Office) (€28.80 (~$30.44) for Turkish citizens),
– €100 (~$105.69) for the extension of the temporary residence permit fee, and
– €124 (~$131) for the permit for settlement (PR).
Germany's digital nomad visa length?
– The freelance visa (Freiberufler) is issued for 1 year (and can be extended up to 3 years)
– The self-employment visa (Selbständiger) is issued for up to 3 years (after which you can obtain a settlement permit)
Minimum stay requirement?
183 days (6 months) for both visas
Possible to extend the visa?
Yes, both visas can be extended after the initial year for up to 3 years
Minimum income requirements?
€11,208 (~$11,845) in your account, to prove you can sustain yourself for the full year for both visas
Processing time for visa application?
3–4 months for both visas
Can I apply with family members for a digital nomad visa?
No, but you can sponsor your spouse and get a Familiennachzug visum (a family reunification visa)
What to expect as a digital nomad in Germany?
Digital nomads flock to Germany for a myriad of reasons but some of them are the perks that Germany has to offer. Take a look at the table below to see what some of them are.
Germany digital nomad FAQ
Germany digital nomad answers
Average Internet speed:
83.20 Mbps (median download speed)28.75 Mbps (median upload speed)
Best coworking space (highest Google rating and number of voters):
Betahaus | Berlin Kreuzberg – Coworking & Event Spaces (4.2 stars based on 678 reviews)
Friendly to foreigners:
Germany is a multicultural country that welcomes expats, immigrants, digital nomads, and foreigners. However, their blunt approach to communication can sometimes be considered "unfriendly."
Most popular place for digital nomads in Germany:
Berlin
Weather in Germany's most popular place for digital nomads:
– Average annual temperature 8.7°C (48°F);
– Coldest month average temperatures (January) — -2°C–6°C (29°F–43°F);
– Hottest month average temperatures (July) – 15°C–27°C (58°F–80°F);
– 2024 sunny hours per year;
– 159 rainy days per year;
– Cold winters and warm summers.
Type of climate:
Temperate, rainy climate zone
Annual air quality average:
– US AQI — 45 (good quality, no health hazards)
– PM2.5 — 2.2x the WHO annual air quality guideline value (moderate quality)
Average cost of living:
– Family of four: €3,155 (~$3,335) per month
– Single person: €1,306 (~$1,380) per month
Average coworking space cost:
€210 (~$222)
Crime per 100k population:
0.93
Interesting fact for digital nomads:
There are more than 150 coworking spaces in Berlin alone.
What types of digital nomad visas does Germany offer?
According to the Nomad List, Germans love the digital nomad lifestyle. In fact, they love it so much that they make up around 4% of all digital nomads.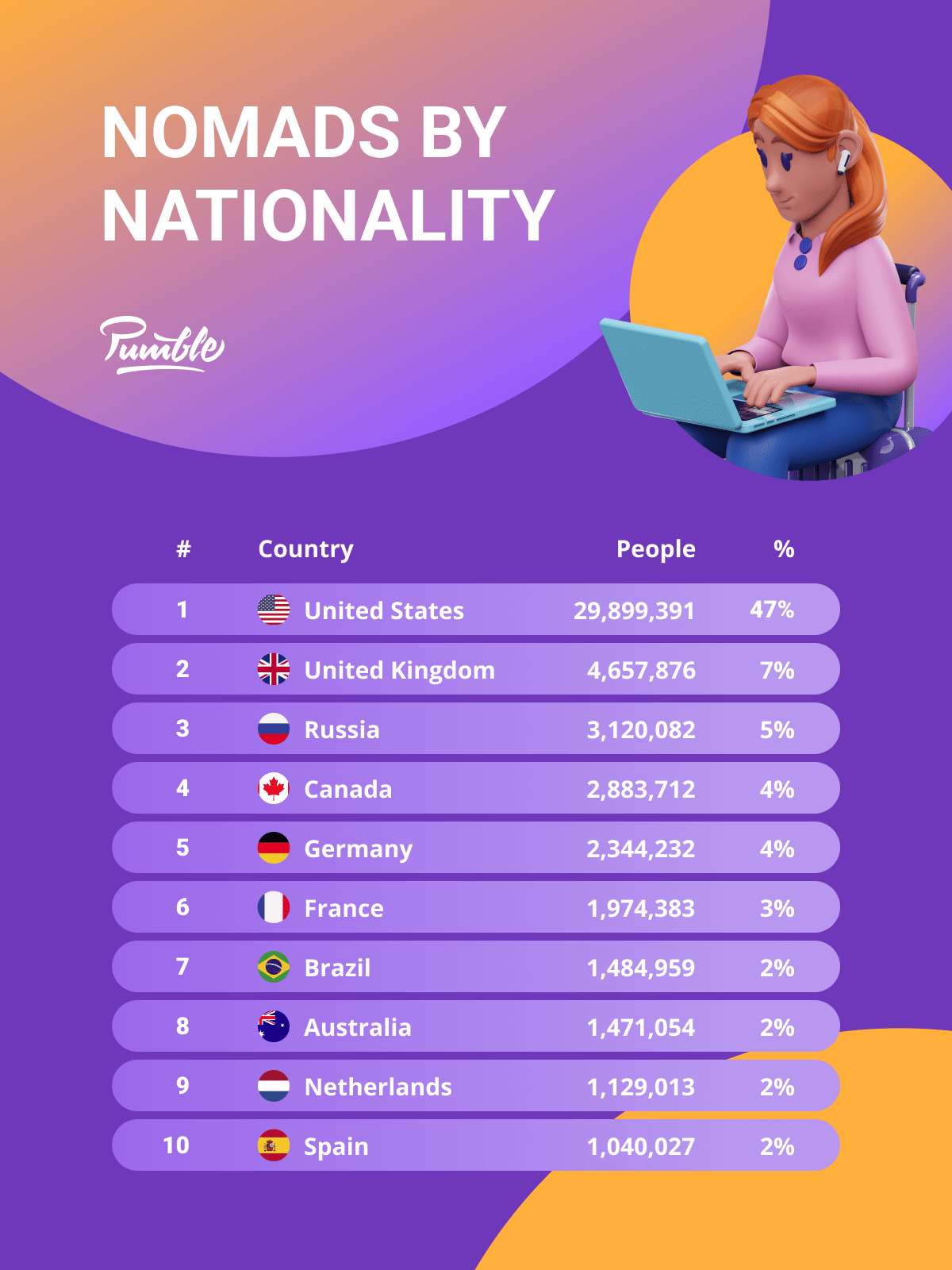 Does that mean that Germany is a haven for digital nomads as well?
Well, that depends.
As mentioned, Germany doesn't have an actual digital nomad visa. However, there are two different types of German visas that digital nomads can apply for:
The freelance visa (Freiberufler), and
The self-employment visa (Selbständiger).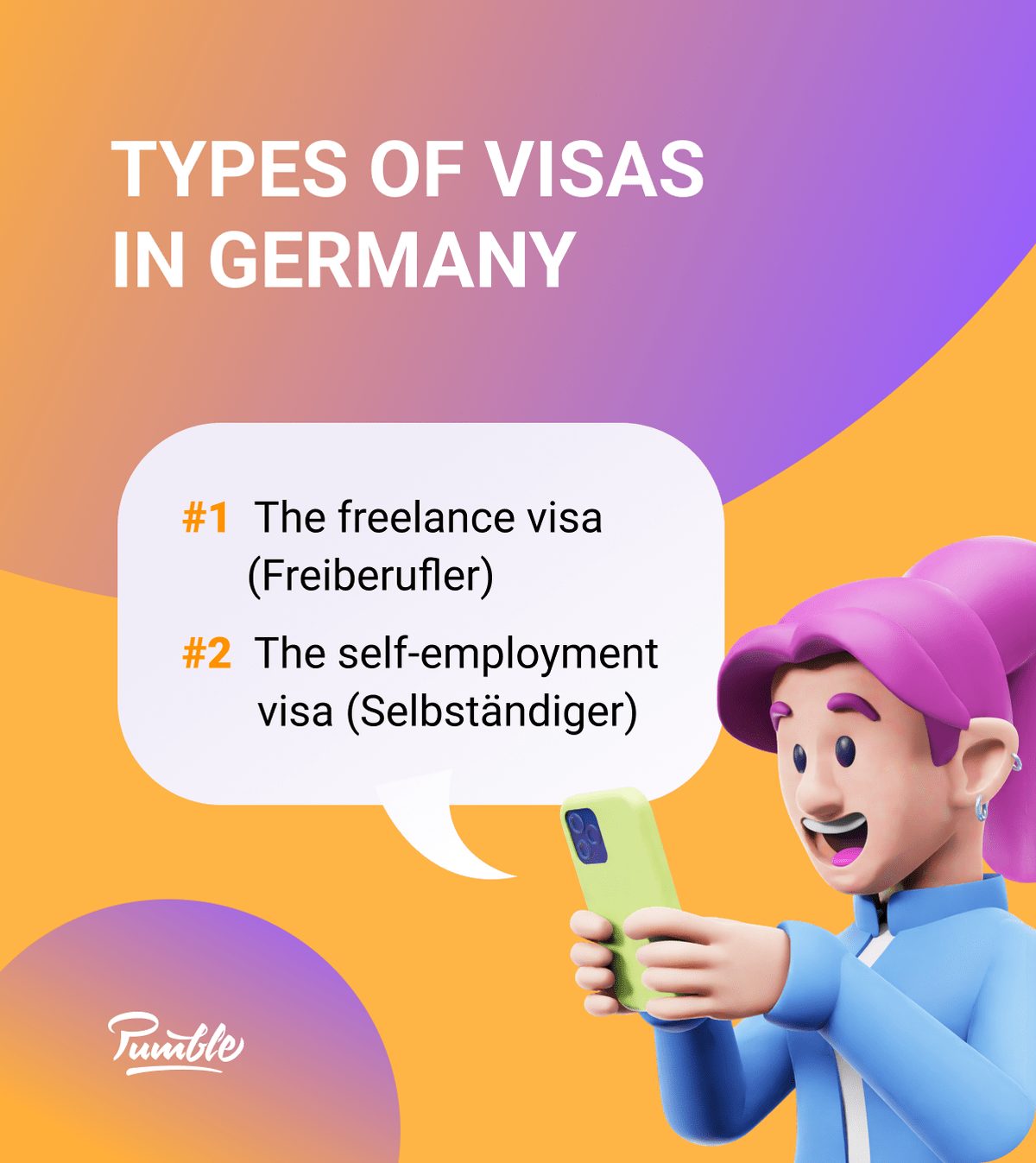 If you work in a field that particularly benefits the German economy or have a company that operates in a field that is of economic interest to Germany, then you can apply for one of these two visas.
Both the freelance and self-employment visas came into effect along with the 2005 Immigration Act in Germany that specified all the rules and requirements foreigners had to comply with to live and work on German soil.
Although Germany is making drastic changes to immigration laws in 2023 to attract skilled workers, the regulations about the two visas relevant to digital nomads most likely won't change.
As a digital nomad, you can pick either one of these visas (provided you qualify for them) but you can't use them interchangeably.
In other words, you can't apply for the freelance visa, get approved, and then apply for residency and a tax ID as a self-employed worker. So, you pick one and you stick with it.
The Freiberufler or the freelance visa is the one digital nomads utilize the most, which isn't such a huge surprise due to two reasons:
It's much easier to obtain than the self-employment visa, and
It's more suitable because Germany has been experiencing a massive rise in the number of freelancers since before the pandemic.
Freelance visa vs self-employment visa: The main requirement
One of the main requirements for both these visas has to do with the nature of the work you do (or the business you own).
When it comes to the self-employment visa, you have to own or manage a business and that business needs to be of economic interest to Germany. It has to be contribute to the German economy and you have to have a viable business plan that clearly demonstrates that.
As for the freelancing residence permit, the first requirement is that you need to be in one of the following professions:
Creative professions (painters, musicians, writers, journalists, translators, photographers, videographers, interpreters, artists, etc.)
Advisory professions (notaries, tax professionals, licensed accountants, advisors, economists in business, auditors, lawyers, etc.)
Medical professions (medical scientists, doctors, veterinarians, dentists, physiotherapists, psychologists, etc.)
Teaching professions (school or university teachers, language instructors, etc.)
Technical professions (architects, pilots, engineers, scientists, etc.)
Of course, that's not all. You also have to:
Prove that there are clients in Germany who are willing to work with you,
Provide proof of legal residence,
Prove that you can afford to sustain yourself for the duration of your stay, and
If you're over the age of 45, prove that you have a good pension plan or assets.
When we put it like that, it seems quite straightforward, doesn't it?
In reality, it's a bit more complicated. Let's unpack it together, shall we?
Germany digital nomad visa: The freelance resident permit
The freelance resident permit allows you to legally live and work in Germany for 1 year. You can also extend the visa for up to 3 years.
There are two stages to getting a freelance visa:
Getting the freelance entry visa or the National D visa — you apply for it in the German embassy in your country (or the country where you're a resident). Once approved, it's valid for 3 months, during which time you need to exchange it for the freelance residence permit.
Getting the freelance residence permit — this permit allows you to live and work in Germany for 1 to 3 years. You apply for it at the local immigration office in the place where you registered your residency. Once you receive the residence permit, your entry visa will no longer be valid (or necessary).
Germany freelance resident permit benefits
Unlike some other European countries (such as Estonia) that were prompted by the pandemic to establish digital nomad visas, Germany had the freelance visa for years now. That means that both benefits and rules and regulations have been well-established for a while now.
The benefits of applying for (and obtaining) the freelance visa are:
The ability to work and live in Germany for a year (or for up to 3 years, with extensions),
The ability to be taxed favorably (as a freelancer) for all income earned during that time,
The chance to travel around the Schengen area without restrictions, and
The option to work both with foreign and German clients and companies.
Of course, to enjoy these benefits, you'll first need to meet (more than) a few requirements.
Germany's freelance residence permit requirements
First of all, if you're not sure which visa would be the most suitable for you, you can explore the visa navigator on the Federal Foreign Office website, or even take the handy visa quiz.
If you opt for the freelance visa, you'll be interested to hear that the general requirements for the freelance or the liberal arts visa, as stated on the German Federal Foreign Office website, are that:
You're a citizen of a non-EU/EAA country,
You're a freelancer belonging to one of the listed "liberal arts" professions,
You have a filled-out application form,
You have a valid passport and a biometric passport photo,
You can prove that you have the financial means to sustain yourself and fund your project during your stay in Germany (meaning that you have 12 months worth of minimal monthly income (€11,208 (~$11,845) in your account), and
If you're over the age of 45, you have proof that by the time you're 67, you'll either have assets worth €194,631 (~$205,699) or an adequate pension plan (which means you'll receive at least €1,332.36 (~$1,407) every month as your pension).
However, aside from the general, there are also some specific requirements that you have to meet as well. You'll need:
Letters of intent from existing or future clients in Germany that prove you have people who are willing to work with you or hire you during your stay,
Recommendation letters from previous clients that prove you have expertise and background in your field of operations,
Insurance (either private or German public insurance),
Proof of residence in the form of a rental contract or a booking,
Bank statements,
A financial plan (or a profit and loss statement) that covers the next 3 years, and
A cover letter.
How long is the German freelance residence permit valid for?
The freelance visa is usually granted for 1 year. However, you can extend it to up to 3 years in total.
There is one stipulation, though — you can't spend more than 180 days outside of Germany during the length of your visa.
Otherwise, the visa will get void and you'll either have to go through the entire process again or give up on your dream of being a temporary resident of Germany.
Can the German freelance residence permit be used to gain citizenship or permanent residence?
Getting permanent citizenship in Germany isn't easy. Even though 23% of the German population are immigrants or children of immigrants, Germany doesn't just give out permanent residence and citizenship willy-nilly.
So, getting a freelance residence permit and extending it to the full 3 years sadly won't get you permanent residency. However, it's a start.
To get an EU permanent residence permit or a German settlement permit, both of which are open-ended permits that don't have an expiry date, you need to:
Be a resident of Germany for at least 5 years,
Have sufficient means to sustain both yourself and any family members,
Know German on a B1 or higher level,
Have knowledge of how both the legal and social systems work in Germany,
Have accommodations, and
Have insurance.
The 3 years (or less) that you spend in Germany on a freelance residence permit won't automatically make you eligible for permanent residence, but they will count towards it.
So, if you end up liking Germany so much that you simply can't imagine living anywhere else, you'll only have 2 additional years to figure out.
What documents do I need for the freelance residence permit?
You need the same documents for both stages of your visa application (so make sure you get 2 or 3 copies of everything, if possible or applicable):
A valid passport (issued within the past 10 years, valid for at least 3 more months after your application, and with at least 2 free pages for the visa vignette),
A filled-out application form (or the Antrag auf Erteilung eines Aufenthaltstitels) — these applications may look different depending on where you're applying (for example, the one you'll get if you're registering your residence at the Berlin Immigration Office isn't the same as the one from Munich Office),
One standard passport photo (35mm x 45mm),
Your CV (it would be best for the form to be similar to those used in Germany),
Proof that you can sustain yourself financially that includes bank statements (which show you have a regular income, highlight your revenue forecast, or display your fees), a bank account with the required minimal amount on it, and a profit and loss statement,
Letters of intent,
Letters of recommendation,
Your university degree (if you're a recent graduate) from a recognized and certified institution,
Proof of private or public health insurance,
A rental contract, signed by your landlord and notarized,
Proof of registration of your address, and
A retirement plan (if you're older than 45).
It's also smart to include:
A portfolio of your previous work within the profession that you're listing under your "job title," and
Proof of all acquired diplomas, certificates, and other professional authorization that proves that you have relevant expertise in the stated profession.
Some of the required documents are pretty self-explanatory, but others will require you to carefully fill in and file them. So, let's take a closer look at documents and document sections that have been problematic for digital nomads in the past.
🎓 Pumble Pro Tip
Writing a CV in a specific, German-approved form will be vital for your application. However, further down the line in your application process, you might have to email back and forth with the embassy or immigration office as well as describe your professional capabilities, achievements, and goals to the strict German authorities. Here are a couple of articles that can help with that:
The application form
One of the first hurdles you'll have to go through is the application form. It seems to be the most daunting part of the application process, probably because it's in German.
There's an English version of it online, but all the documents that you end up submitting for your visa application need to be either in German or translated into German.
Unless you're a fluent German speaker, it might be good to get some help with the translations. If you're submitting original documents that aren't in German (such as your university degrees, certificates, etc.), you'll need to get them professionally translated and notarized for the embassy and/or the immigration office to accept them as viable.
It's also a good idea to have at least 2 or 3 sets of documents (translated, signed, and notarized) with you at all appointments.
For the most part, the application seems pretty straightforward. However, there are two important segments that you need to pay attention to:
The job title, and
The point of contact.
The job title
The job title is your occupation or your "learned occupation." It's vital that you pick a title that reflects and aligns with what you plan on doing while you're in Germany because:
The job title you choose will stay with you throughout the duration of your visa application process and the visa itself,
It will even stay the same if you opt to apply for permanent residency after 5 years in Germany, and
You can't do any other work other than the one that falls under your job title (the Germans are very strict about that).
So, if you plan on working as a software developer, but you went to uni and graduated with a business major, you have to select a job title as close to "software developer" as you can.
Sometimes people receive visas with the wrong titles or the titles don't align with what they were planning on doing with the visa. If that happens to you, don't worry. You can change the title completely or add other titles to it. However, keep in mind that that's an additional process that will take both money and time. It's also one you can avoid by picking the right title in the first place.
Point of contact
The point of contact is another confusing part of the application. Who do you put down as your contact? Your next of kin? Your partner?
No. Actually, the point of contact or a reference person is someone who can professionally vouch for you.
The immigration office and the embassy want to make sure you have real clients who are willing to work with you or hire you. That's why they ask for a point of contact — someone who will confirm that.
You can put a client, a company, or an accredited diplomat as your reference. Of course, don't forget to inform that person (and ask for their consent first). That way, they'll know to expect a call from the embassy and be prepared to wax poetic about you.
Letters of intent
Letters of intent are statements from your existing or future clients in Germany that confirm those people want to work with you or hire you. As mentioned, you need these as proof that you'll have prospects and clients that will provide you with income while you're staying in Germany.
These letters are required documents that are a vital part of your visa application, and you'll need to follow a specific form to draft them. You can draft them in English (or any other language) and send them to your clients for approval (and signature) before you translate them into German.
The letters need to include:
What type of work your clients want you to do for them,
The timeline for the project (when it will start), and
How much your fees will be.
However, keep in mind that these letters aren't contracts. The German government isn't looking for the clients or you to show that you have a contractual obligation towards each other.
Instead, all you need to do is show that there's an intent for business cooperation between you and your clients.
It's also important that you show that there's a requirement for your physical presence in Germany (you can state that you have to attend meetings with clients, visit their offices for some on-site work, etc.). This isn't stated anywhere as a requirement, but it can greatly increase your chances of getting a freelance visa.
You should also show how many hours you'll work for each client every month (in their own individual letters of intent), as well as calculate your fees for that work.
Recommendation letters
Although they aren't a part of the "required documentation," it's highly advised that you include recommendation letters with your application as well.
These letters prove that you have experience in your field. They are written proof that you've had clients before who were happy with your work and can practically vouch for your experience and expertise.
The clients who write your letters of recommendation don't have to be from Germany, but they do need to recommend you and outline what you've done for them. Usually, 3 letters are enough to make your application stand out. It's a smart idea to ensure your letters come from clients from different countries (if possible), to show you have worked internationally before.
Here, just like with all other documents, professional translation is important (so don't use Google Translate). The letters need to be signed by the clients and you need to file them with the application.
Proof of insurance
For your application to even be considered, you need to prove to the German government that you have health insurance. That insurance can either be:
German public insurance (the Gesetzliche Krankenversicherung), or
Any private insurance that meets the government requirements.
Public health insurance in Germany is well organized and reliable, which is why it ranks 3rd in the world according to the World Index of Healthcare Innovation.
Still, digital nomads usually opt to go with private insurance, especially because they already have it. More often than not, they are arriving from a country that also requires them to have international health and travel insurance.
However, private insurance is also the top pick of first-time digital nomads in Germany because it's often easier to obtain. Private companies are more willing to accommodate needs and offer services to non-Germans. They also usually provide services in English (which is excellent news for all non-German speakers).
Keep in mind that not all private insurance companies qualify because they don't meet government-determined requirements. However, those that do will usually state that on their websites.
Proof of residence
The most tricky part of the application is proof of residence. Getting a permanent residence is difficult in Germany due to two reasons:
Still, you need to get proof of residence to get your visa approved. The exact requirements may vary from immigration office to immigration office.
For example, the Berlin office might require a signed and notarized rental agreement, while the one in another city might accept a letter from your friends, stating that you'll temporarily be staying with them while looking for permanent accommodation.
We talked with Ana Gligorijevic, who just recently moved to Germany to work there. Gligorijevic states that finding accommodations was the most difficult part of a relocation to Germany.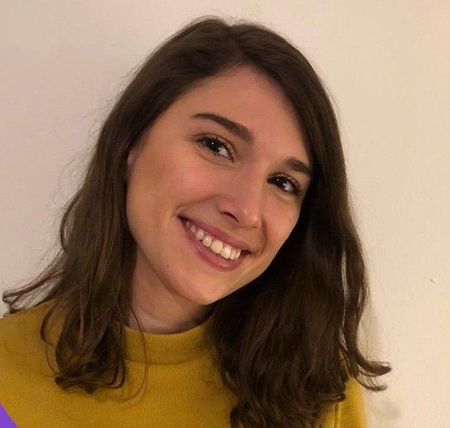 "It's really difficult to find an affordable place, especially in cities like Munich and Berlin. The rent is high, but that's something that you eventually accept and move on. A much bigger issue is that the whole process of finding and securing housing lasts a long time and boils down to luck. The demand is high and, as someone who just recently got to Germany, you are at the very bottom of the list of adequate tenants."
Gligorijevic continued, saying that expats and newcomers have the most trouble: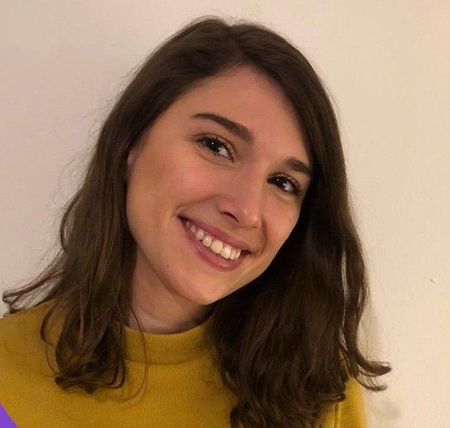 "Another problem is that you can't provide a Schufa or credit history. You can bring references from your previous landlords, but those usually don't mean much, since they will most likely be from another country. So, landlords will frequently pick someone who's been in Germany for a while over you, which means you'll often find yourself going through several rounds of interviews for an apartment, only to be rejected in the end. I was lucky enough to sublet an apartment from a friend who was moving out and I've heard a lot of stories from other expats of similar experiences. Here in Munich, getting an apartment seems to be all about knowing the right people and networking."
Bank statements and financial plans
When it comes to proving your financial stability and sustainability, you'll need to provide:
Bank statements that show that you have enough money to fund your living and business expenses, and
A profit and loss statement that outlines your financial plan for the next 3 years.
Bank statements or the outline of your capital budget show which assets you have on hand — liquid funds, tangible assets, whether you have loans, third-party funds, venture capital profits, etc. It basically shows your entire net worth and proves you'll have enough money to sustain yourself in Germany.
The minimum amount that you have to show is €11,208 (~$11,845) which is 12 months' worth of minimal livelihood fee in Germany. The account that holds this sum doesn't have to be German, but the bank statements need to be translated into German.
It's also smart to have at least 10-15% of buffer money on the account, just in case of any changes to the minimum requested amount.
The financial plan you present to the immigration office needs to show your profits and losses (expenses) for the next 3 years. This plan needs to include your:
Projected salary,
Living expenses,
Expenses and costs associated with your professional activities, etc.
It's also important that it's viable and shows that you can make a good living doing what you do.
Cover letter
The cover letter is something that you'll initially use at the very beginning of your application process (at the embassy). However, when it comes to actually writing it, it's best if you do that after you've gathered all the documents.
The letter is supposed to explain your situation and motivation for applying for the visa and highlight the most important details:
Where you're applying from,
Why you want to live and work in Germany,
Where you'll be staying,
Which proof you have that you'll be an asset to the German economy (your expertise, finances, recommendations, etc.), and
Whether you've traveled to Germany before (be it for business or for leisure).
The final point might seem inconsequential but it's actually equally important as the rest because it shows the immigration office that you've had some contact with German society, which makes you more likely to understand it and integrate yourself into it.
Germany digital nomad visa FAQ
As we already mentioned, German bureaucracy is a force to be reckoned with, which means that you might find more than one stumbling block during your visa application process.
Aside from having to gather a whole pile of documents (and fill them out properly), you might also find yourself confused by some requirements that have nothing to do with documentation. For example, you might wonder whether you need a German bank account in order to be considered for a visa in the first place or if you can bring your spouse along with you.
Plenty of digital nomads found themselves asking the same questions, which is why we'll provide the answers below.
Do I need to book or rent a place in Germany as part of the visa application?
Yes, having accommodations in Germany is an absolute must. Without that, there's very little chance your visa will get approved.
Do I need a German bank account for the freelance visa?
You don't need a German bank account in order to get your freelance entry visa approved. You can use your own, foreign bank account.
However, it's worth mentioning that opening a German bank account comes with significant advantages:
Avoiding high fees for international transactions,
Separating your personal account from the business account, and
Making things more transparent for tax purposes.
So, while opening a German account is not a necessity, it's definitely something we advise doing. At the end of the year, you're law-bound to declare your taxes and pay them.
If you use one personal account for both your business and private transactions, the entire process will become more complicated than it necessarily needs to be.
Can I apply for the freelance visa if I'm already in Germany?
That depends on which passport you hold. Members of specific, so-called "friendly" countries enjoy certain perks. One of the perks is that they don't need an entry visa for Germany. Citizens of these countries can travel to Germany as tourists and then apply for a freelance visa.
These countries are:
The USA,
Israel,
New Zealand,
South Korea,
Japan,
Australia, and
Canada.
So, if you hold a passport of any of these countries, you can come to Germany and then:
Get temporary or permanent accommodations,
Get statutory or private health insurance,
Register your address,
Register at the tax office, and finally
Apply for the freelance residence permit at the Ausländerbehörde (the local immigration office).
Of course, you also have to meet all the requirements to actually get the visa.
If you're a tourist in Germany but you don't have a passport of any of the 7 countries mentioned above, then you can't apply for a freelance visa from Germany.
Instead, you have to go back to your own country (or the country you're registered at), apply for a freelance entry visa (the national D-type visa for employment) at the embassy, and then, once that is approved, apply for the actual freelance residence permit in Germany.
Finally, if you're in Germany and you hold any other type of residence permit or a work visa, you can apply for a freelance visa at the immigration office. Of course, it goes without saying that you have to meet all the requirements and that your previous visa will get revoked.
Can freelancing digital nomads with short-term contracts apply for the digital nomad visa?
Yes, you don't need to have full-time contracts to qualify for the visa. Short-term contracts are enough, as long as you can prove that you're financially stable, meaning that you can prove that:
You have substantial means to finance yourself during your stay in Germany, and
You have German clients who are willing to work with you.
Can my family apply for the digital nomad visa with me if I'm the breadwinner?
The good news is that you'll be able to bring your spouse or partner over to Germany with you. There are two requirements:
Your spouse must be of legal age, and
They have to have a basic knowledge of German.
To prove they know enough German, they have to pass a basic German knowledge test.
Who is eligible to apply for the German freelancer residence permit?
Just like all other countries that belong to the EU, Germany's visas are aimed at citizens of countries that are outside of that area. So, anyone who meets the requirements set by the German authorities can apply for the visa.
However, some people might find it easier than others. Let's take a look at the details.
Are you eligible if you are a United States citizen?
Yes, all US citizens are eligible for the German freelance residence permit. What's more, US passport holders also have one less hurdle to jump over.
As mentioned before, residents of several countries (USA included) are on a visa-free regime, which means they don't need an entry visa to get to Germany. Instead, they can just come to Germany and proceed with ther application for the freelancer residence permit there.
Are you eligible if you are an EU citizen?
EU citizens as well as those residing in the EAA don't need a visa of any kind in order to work and live in Germany.
Are you eligible if are a US Green Card holder?
US Green Card holders enjoy the same privileges as US citizens. However, they do have to provide proof of the Green Card when applying for a freelance residence permit at the immigration office in Germany.
Keep in mind that, while Green Card holders can leave the US as many times as they want and travel as digital nomads, they lose their status if they are away from the US for 1 year or more. In those cases, Green card holders have to apply for a re-entry permit with the USCIS.
Are you eligible if you reside in any other country?
There are no limitations when it comes to citizenship or residence for any digital nomads and freelancers, provided they prove they:
Work in one of the approved professions,
Have the necessary means to sustain themselves,
Have clients in Germany willing to work with them,
Can prove they have experience in the field they want to work in,
Have accommodation, and
Have health insurance.
How do I get a digital nomad visa for Germany?
Battling through layers of German bureaucracy isn't easy. As our expert, Gligorijevic, stated, it's one of the biggest challenges for expats: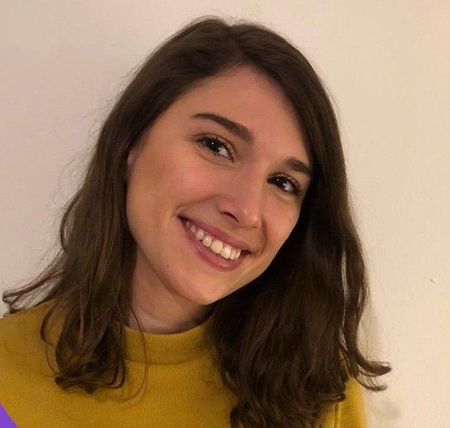 "The German bureaucracy is unforgiving and seemingly neverending. It's probably the most difficult thing I had to adjust to when it comes to living in Germany. Of course, the pros of living here outweigh the cons, but the bureaucracy is still a force to be reckoned with."
Gligorijevic mentioned that she found a way around the bureaucracy: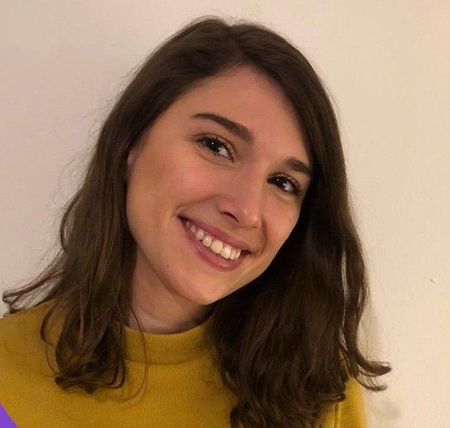 "I employed an agency to help me with the visa but even with that help, there were still a lot of stressful situations and uphill battles, as well as a lot of waiting time. I have no idea how people get through it on their own. Making an appointment for registration, getting through it, and assembling all documents on time is quite a feat. Not to mention, the Germans are quite strict when it comes to documentation and deadlines, so if you miss something or don't send something in time, you'll get notices and warnings."
So, getting that residency permit is definitely a complicated process. To make it a bit easier, we've prepared this 5-step guide for the freelance residence permit application process in Germany.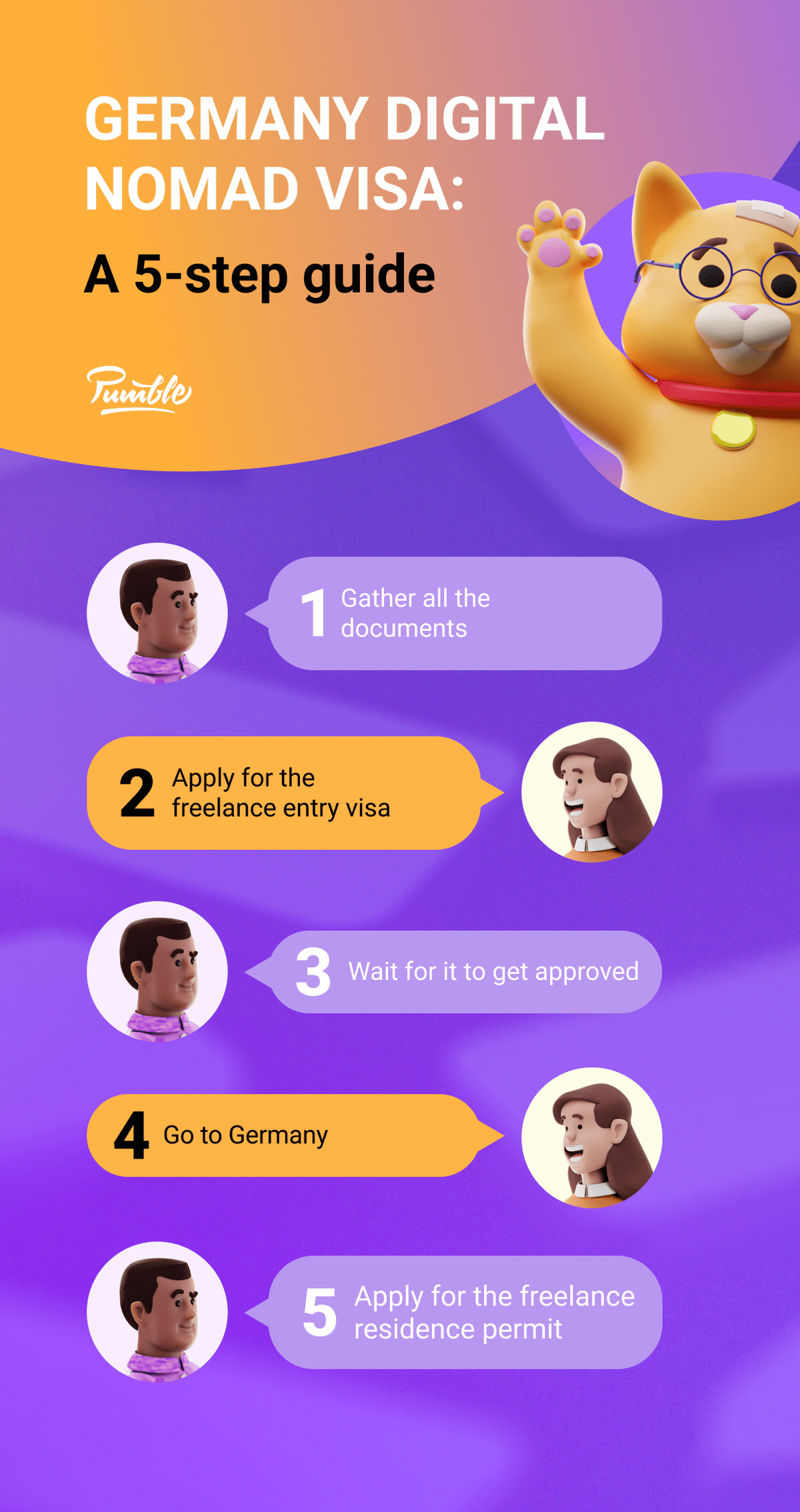 Step #1: Gather all the documents
The first step, of course, is to gather all the documents.
As mentioned before, there are quite a few of them and they all need to be translated or filled in German.
What's more, it's best to get several copies of them, since you'll need at least 2 sets.
Step #2: Apply for the freelance entry visa
The next step is to complete the first stage of the process.
Go to the nearest German embassy or consulate in your country or area of residence, and schedule an appointment.
On the day of your appointment, show up with all the necessary documents. Pay the embassy fee and submit your documents.
Some embassies and consulates might require additional paperwork that isn't listed in our "required documents" section. Supply those as quickly as possible.
Step #3: Wait for it to get approved
After you've gone through the first 2 steps, all you can do is wait.
Unfortunately, the wait time for the German freelance entry visa is quite long. Officially, your visa application should get processed within 4 to 8 weeks. However, it can take between 3 and 4 months to get a reply (sometimes even longer).
Overall, obtaining any visa in Germany involves a lot of waiting time. Gligorijevic commented on this: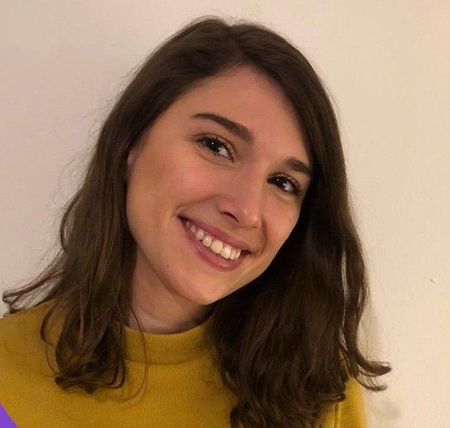 "Although I was applying for a work visa, I had to wait 5 or 6 months in order to hear back from the authorities at the German Embassy in my country of residence. So, be prepared to wait quite a bit. The visa processing time is long because they have to go through all the paperwork, send it to Germany for approval, and then wait for their feedback."
So if you're looking for a quick visa, this one isn't it.
However, just because you know there's a lot of waiting involved, doesn't mean you should just sit back and do nothing. Make sure you call the embassy or the consulate from time to time to check on the progress of your visa.
More often than not, the calls won't yield any success. Still, sometimes there can be some hold-up that's easily solvable and you can perhaps help nudge your visa application forward a bit by supplying additional paperwork or just reminding them of your case.
Step #4: Go to Germany
Once you hear back from the embassy that your application for an entry visa has been approved, you can finally schedule your flight (or trip) to Germany.
Once they grant your entry visa, you'll get another appointment at the embassy. During that appointment, you'll be able to tell the authorities the exact date you plan on traveling to Germany. They'll include that date on the vignette in your passport and activate the visa on that date.
You can, of course, go to Germany later (but not sooner) than the specified date. However, keep in mind that you have 90 days to register yourself at the local immigration office and get your residence permit.
Step #5: Apply for the freelance residence permit
The final step is to register your residency at the Ausländerbehörde (the German Immigration Office).
But, before you can actually do that, you have to register your address. Registering an address in Germany is a procedure called Anmeldung, and you'll do it at the local Bürgeramt (the Residents' Registration Office).
Gligorijevic stated that this process surprised her the most in Germany: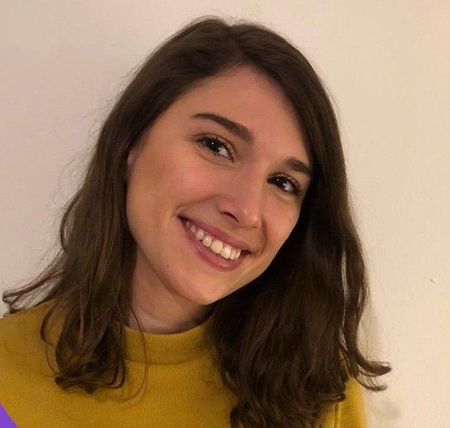 "The Anmeldung (registration) is a baffling process that's really difficult to see through if you don't have a registered temporary address because every piece of documentation and all correspondence is done via physical mail. So if you don't have an address, you'll have a difficult time staying up to date with the correspondence, which is particularly tricky because you have a deadline of 2 weeks between the time they confirm your registration and the time you have to move on to the next step and register your residency."
Once you finish the Anmeldung (provided you didn't miss a letter or two from the German government), you'll have to:
Open a bank account in a German bank, and
Register at the tax office, the Finanzamt, to receive your tax ID, the Steuernummer that you'll use when doing business in Germany (you'll need the number both for issuing invoices and for filing your taxes).
Once you've done all that, you'll be able to go to the Ausländerbehörde and get your residence permit. To apply and get an appointment, you'll need to fill out an application and provide all the necessary documents that you gave to the embassy.
Bonus tip: Don't drag your feet
Don't let the fact that you have 90 days to apply lull you into a false sense of security. The appointments at the Ausländerbehörde are notoriously difficult to get everywhere in Germany and especially in Berlin. So, start trying immediately after getting into the country.
Once you do all that, you'll have to wait for the residence permit to be processed. That can, again, take some time. During that time, you won't be allowed to travel outside of Germany.
But, in the end, it's worth the wait because you'll get a residence permit that voids your entry visa and allows you to legally work and live in Germany as well as travel all over the EU area.
Can I live in Germany without a digital nomad visa while working remotely?
No, you can't work in Germany without a residence permit of some kind (be it a work visa or a freelance/self-employment permit).
You can come to Germany and stay up to 90 days on an entry visa or as a tourist, but you can't legally work and pay taxes.
What other types of visas suitable for digital nomads does Germany offer?
As mentioned at the very beginning, there are two very similar visas that digital nomads might find suitable:
The freelance visa (that we talked about extensively so far), and
The self-employment visa.
Out of the two, the self-employment visa is slightly harder to obtain.
Alternative option: Self-employment visa (Selbständiger)
It's vital that you understand the distinction that Germans make between freelancers and self-employed people. If you're self-employed that means that you are:
A founder of your own company,
A sole proprietor of your own company, or
A managing representative of a corporation.
The main difference between the two categories, at least for Germans, is the effect your business will have on the economy.
To apply for the self-employment visa, you need to prove:
That you operate in a field that's of economic interest to Germany,
That your business will benefit the overall economy in Germany, and
That your business is financed by a loan (either an equity loan or a personal loan).
The requirements for the self-employment visa are similar to those for the freelance visa. However, aside from the paperwork we already mentioned, to be a self-employed entrepreneur in Germany, you also have to include a business plan with your application.
That plan should include the following:
A step-by-step outline of your project,
Details about how your business will positively impact the German economy, and
Proof of financing as well as financial projections.
Which German visa type is best for digital nomads?
Depending on what type of work you do and which profession you belong to, either of the two visas we mentioned might be a good fit for you.
Historically, the freelance residence permit has been utilized by digital nomads the most, given that it's easier to obtain than its self-employment counterpart.
Costs you need to consider as a digital nomad in Germany
As an EU/EAA country with the 8th highest average annual wage and a below-average monthly inflation rate, Germany has quite a high standard of living.
With such a stable economy, it's really no wonder that it ranks high on the Better Life Happiness Index. Overall, Germans have quite a high life satisfaction score (8.1, more than Norway, New Zealand, and Austria) that's well above average.
However, a well-developed economy and a sustainable government plan for fighting inflation can only do so much against recession. Germany has a cost of living index that's quite high (28% higher than Croatia, for example, and 16% higher than Spain).
So, if you're planning a long-term stay in Germany, you'll have to be ready to pay somewhat of a steep price for it. Let's take a look at all the expenses digital nomads can expect in Germany.
Expense #1: Rent/Accommodation
As is the case with practically any country in Europe, accommodations will be your biggest expense. You'll have to pay, on average, 40% more for rent in Germany than you would in Portugal, for example.
The recession that hit Europe had a massive impact on housing and rent prices in Germany. Unfortunately for digital nomads, it affected rent more. The prices have gone up by 6.3% in the second half of 2022.
Meanwhile, with the number of immigrants to Germany rising every month (it currently sits at around 23.8 million), the demand for affordable housing (or any housing at all, really) is becoming quite high as well, which puts even more pressure on the prices.
But does that mean you'll have to give an arm and a leg for rent no matter where you go in Germany?
Not really. Depending on where you go and what type of accommodations you're looking for, prices don't need to be astronomical.
| City | Average cost of rent for a one-bedroom apartment (per month) |
| --- | --- |
| Berlin | €1,200–€1,500 (~$1,270–$1,585) |
| Munich | €1,400–€1,700 (~$1,480–$1,797) |
| Hamburg | €1,500 (~$1,585) |
| Frankfurt | €1,300–€1,500 (~$1,375–$1,585) |
| Leipzig | €800–€1,000 (~$845–$1,057) |
| Dresden | €700–€900 (~$740–$951) |
We asked Gligorijevic just how difficult it is to secure housing at a reasonable price in Germany (and, unfortunately, it's really difficult).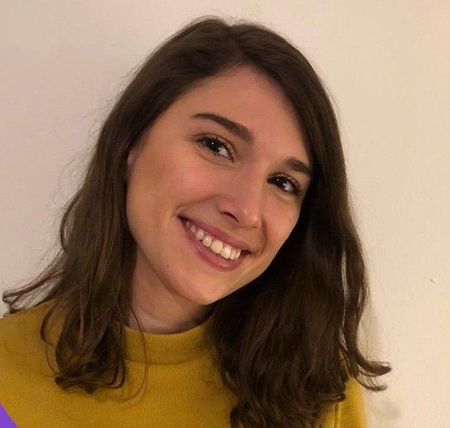 "In Munich, finding an affordable place is really hard. That's especially true if you're looking for temporary housing because most contracts are year-long. The whole thing is also quite expensive. For an apartment that costs €1,500 every month, you also need to hand out a deposit that's equivalent to 3 months' worth of rent (so, €4,500). If you can't find a permanent place, there are options to find shared housing such as the "WG" or "Wohngemeinschaft." They might be an ideal choice for someone who's looking for a short-term stay or needs someplace to stay for a few months while they are looking for something more permanent."
Expense #2: Utilities
Although the rent and accommodations are quite high, utilities still come at a reasonable price. On average, Germans spend around 8.6% of their income on utilities. That's a far cry compared to the 27.1% they spend on rent.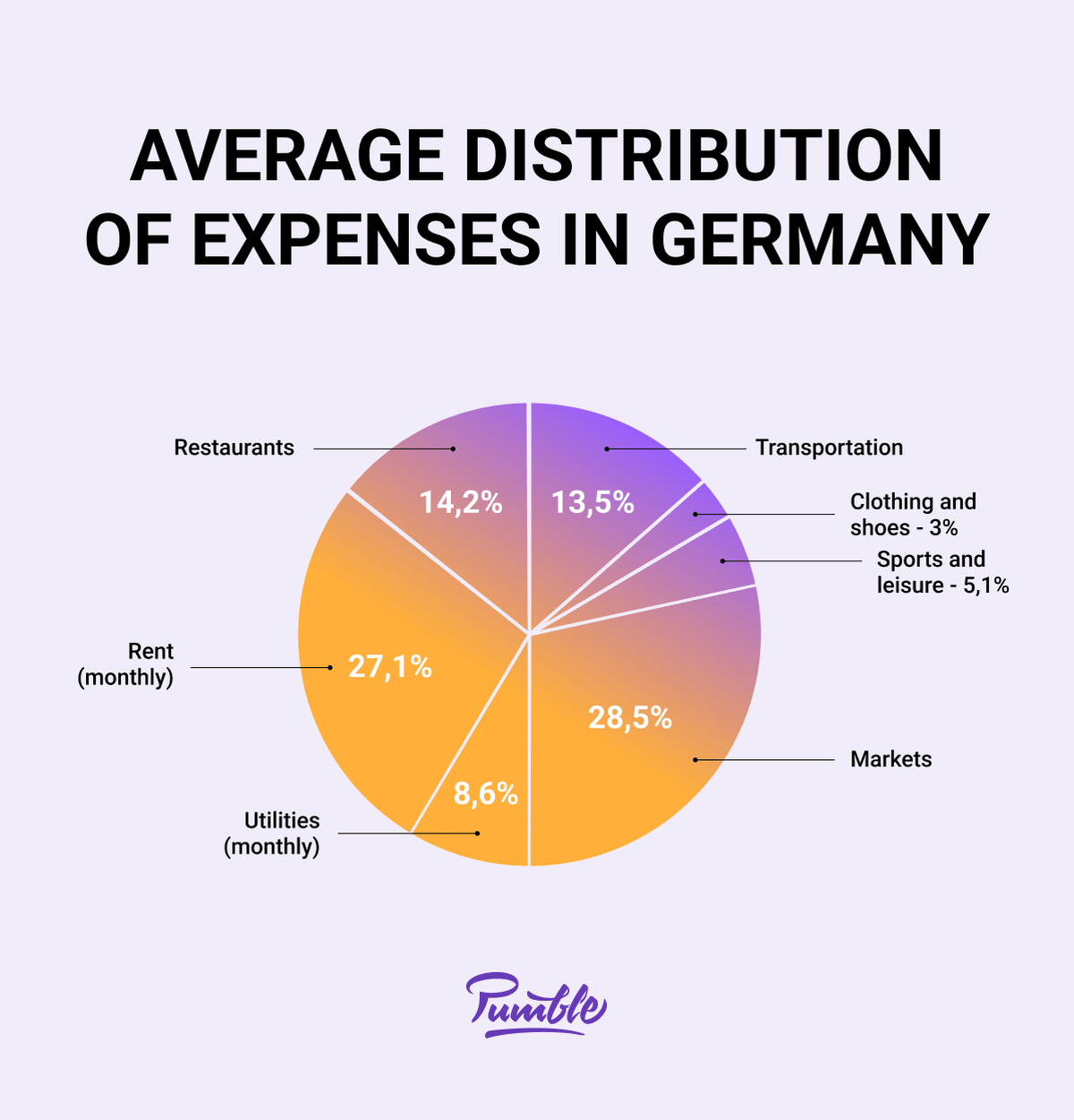 For a month's worth of utilities, you'll have to pay between €220 and €270 (~$232–$285) for:
Electricity,
Gas,
Water,
Heating, and
Garbage.
It's worth mentioning that most of that amount will go towards the electric bill, considering that Germany, along with the rest of Europe, experienced several increases in the price of electricity over the past year.
Expense #3: Transportation
Out of all expenses, the ones for transportation will probably be the most well-spent.
Germany is an extremely well-connected country and has excellent infrastructure. It's especially well-known for its trains — it has a 33,300 km-long rail network that operates more than 40,000 trains every day.
Trains connect various parts of Germany and operate within cities. So, when it comes to sightseeing, you can use local trains, buses, trams, and metros to find your way around.
Gligorijevic added that you'll have no problem using public transport if you book tickets in advance: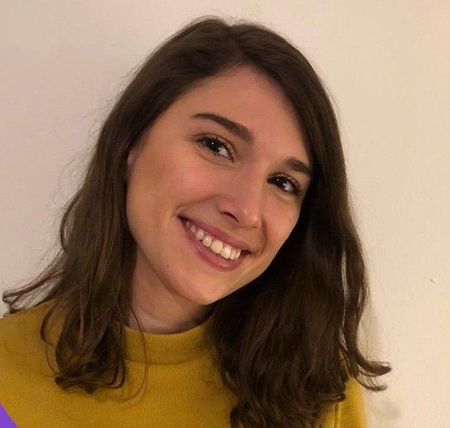 "Although Germany is famous for its cars as well as the no-speed-limit highways, it's actually quite adjusted to people without automobiles. The cities are well-connected and easy to get around. So, even if you don't have a car, you'll be able to travel even to the far corners of the country.
I recommend taking the fast trains and booking tickets well in advance. I learned that one the hard way — tickets are more expensive if you buy them the day before or on the day of traveling. It's much cheaper to get tickets and reserve seats days or weeks in advance (if possible)."
When it comes to public city transport, the price you pay for a ticket depends on:
Which mode of transportation you opt for (fast trains are more expensive than regular ones, for example), and
Where you are.
Most big cities have reliable public transport that operates throughout the day (up until midnight or 1 o'clock at night) as well as night transportation.
The ticket prices depend on their type and the distance you're going.
For example, a short trip ticket in Berlin will cost you €2 (~$2.10), while a regular ticket can cost between €3.20 and €4 (~$3.37–$4.21), depending on the area of Berlin you're going to. Short trip tickets in Munich are similarly priced — €1.90 — while single trip tickets cost more than they do in Berlin.
Moreover, 24-hour tickets in Berlin are between €8.80 and €10 (~$9.30–$10.57), and 7-day tickets are around €39 and €46 (~$41.02–$48.38).
Of course, ticket prices vary from city to city. Take a look at the table below.
City in Germany
Single fare ticket
Multi-day ticket
Monthly pass
Berlin
€3.20–€4
(~$3.37–$4.21)
€39–€46
(~$41.02–$48.38)
€61–€91
(~$64.15–95.70)
Munich
€1.90–€14.80
(~$2.01–$15.57)
€20.20–€77.80
(~$21.24–81.82)
€63.2–€242.70
(~$66.47–$255.25)
Frankfurt
€1.55–€2.75
(~$1.64–$2.91)
€23
(~24.31)
€89
(~$94.06)
Extra tip: Always validate your tickets
It's important that you buy and activate your tickets when using public transport in Germany. Otherwise, you might get fined.
We say might because there's a big chance that doesn't happen. Why?
Well, here's how it works. You can buy tickets at the ticket machines and validate them by stamping them before you start your journey. Then, you can validate them at the big validation boxes that are stationed at every platform and station.
The whole process works thanks to the honor system — you're expected to buy and validate your ticket even though there's no conductor on the bus/train. You can do so and have an enjoyable, carefree ride, or risk running into "ticket checkers," who get into buses and trains randomly and check all passenger tickets. If you're caught without a ticket, you'll have to pay a €60 (~$63.40) fine.
Expense #4: Groceries
In Germany, your final grocery bill will mostly depend on where you decided to go shopping. There's a huge difference between popping to the nearest Lidl for a kilo of apples and going to the Bio Markt to buy that same product.
If you opt to shop at more affordable supermarkets like Lidl and Aldi, your grocery bill won't be that high. Overall, an average German spends around €200 (~$212) on food every month.
Here's an overview of some prices in Germany:
€1.22 (~$1.29) — 1l (~33.8 fl oz) of milk,
€1.89 (~$2) — 1 loaf of bread,
€12.48 (~$13.19) — a kilogram (~2.2 pounds) of chicken filets, and
€14.99 (~$15.84) — a kilogram of red meat.
Expense #5: Restaurants, cafes, and bakeries
One of the more pleasant surprises Gligorijevic encountered in Germany were the stable meal prices.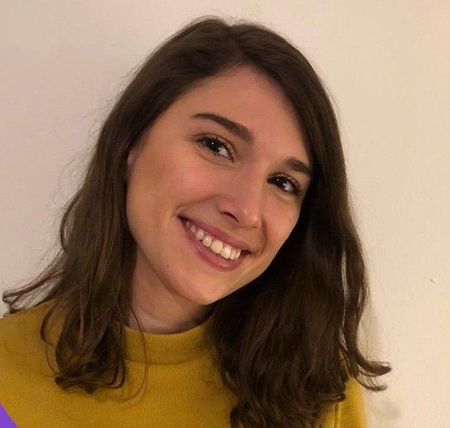 "I'm used to the prices in restaurants, cafes, and bars varying depending on the location. Most cities and countries I visited so far had vastly different prices in the city center and on the outskirts of suburbia. In Germany, the prices are the same no matter where you sit down for a coffee or a meal. So, you'll pay between €4 and €5 for a beer no matter which bar you opt for. I was pleasantly surprised when I sat in a restaurant at a major tourist attraction and saw that the prices were the same as they are in restaurants in the suburbs of Munich!"
That's good to hear. It's nice to find a city that doesn't have "tourist trap" restaurants and eateries.
On average, in Germany, you'll pay between €10 and €20 (~$10.57–21.14) for a meal at a regular restaurant, while a combo meal should cost you around €10.
Expense #6: Internet
When it comes to the Internet, Germany is a bit of a hit or miss. The country is 35th in the world when it comes to internet speed, which is fairly low for such a well-developed country.
On the plus side, internet availability is excellent — the penetration stands at 93%.
There's also free Internet in Germany. Berlin alone has over 500 free wifi spots throughout the city. Therefore, if you find yourself having to finish some quick work while you're out and about, you won't have an issue doing it in Berlin.
When it comes to the price of internet services, it varies depending on the provider. On average, a month's worth of average-speed Internet will cost you around €40 (~$42.27), while a fiber optic internet connection is a bit more expensive — between €50 and €70 (~$52.84—73.98).
Expense #7: Coworking space
If you prefer to work from an office, no matter how temporary it may be, you'll be happy to hear that there are plenty of coworking spaces in Germany. Big, multicultural hubs like Berlin and Munich have several hundred coworking spaces, which means that if you head on down to one of those, you'll have plenty to choose from.
The average prices for coworking spaces are around €210 (~$222), which places Germany in the 30th place when it comes to the price of coworking space (according to the Hot Desk Price Index).
Do digital nomads pay tax in Germany?
Yes, digital nomads pay income taxes in Germany. Not only that, but you also have to calculate them yourself.
When you go to get registered, you'll receive a tax ID number that's tied to your job title. That ID number determines how much income tax you have to pay.
Here's a breakdown of how much you can expect to pay when it comes to taxes:
If you make less than €10,908 (~$11,604) per year, you don't have to pay any income tax.
If you make between €10,908 and €62,810 (~$11,604–$66,381), you'll pay between 14% and 42% in taxes,
If you make between €62,810 and €277,825 (~$66,381–$293,623) per year you'll pay 42% in taxes, and
If you make over €277,825 (~$293,623) per year, you'll pay 45% in taxes.
Although the tax is calculated on a yearly level, you'll actually have to pay it quarterly — in December, March, June, and September.
Aside from the income tax, you'll also have to pay the value-added tax or the VAT.
The value tax is usually around 19%. However, since you'll most likely register as a freelancer, the value tax will depend on the service you provide. In some cases, it can be as low as 7%.
You can pay your taxes at your local tax office or online via the ELSTER portal.
What are the benefits of being a digital nomad in Germany?
Germany is quite a well-liked country among digital nomads. Both men and women enjoy spending time in Germany, and they rank the country's capital in their top 10 places to visit, according to the Nomad List statistics.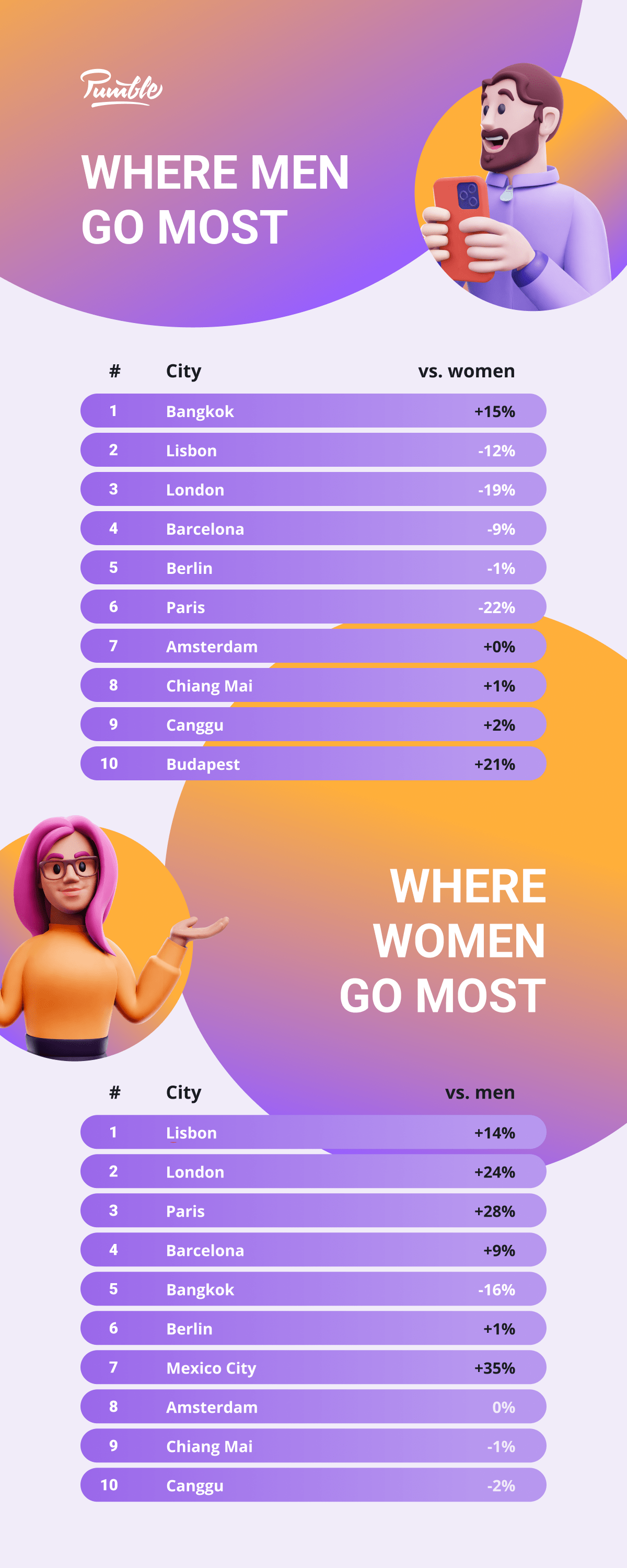 But, what makes Germany so appealing to digital nomads? Let's take a look at the most significant benefits it has to offer.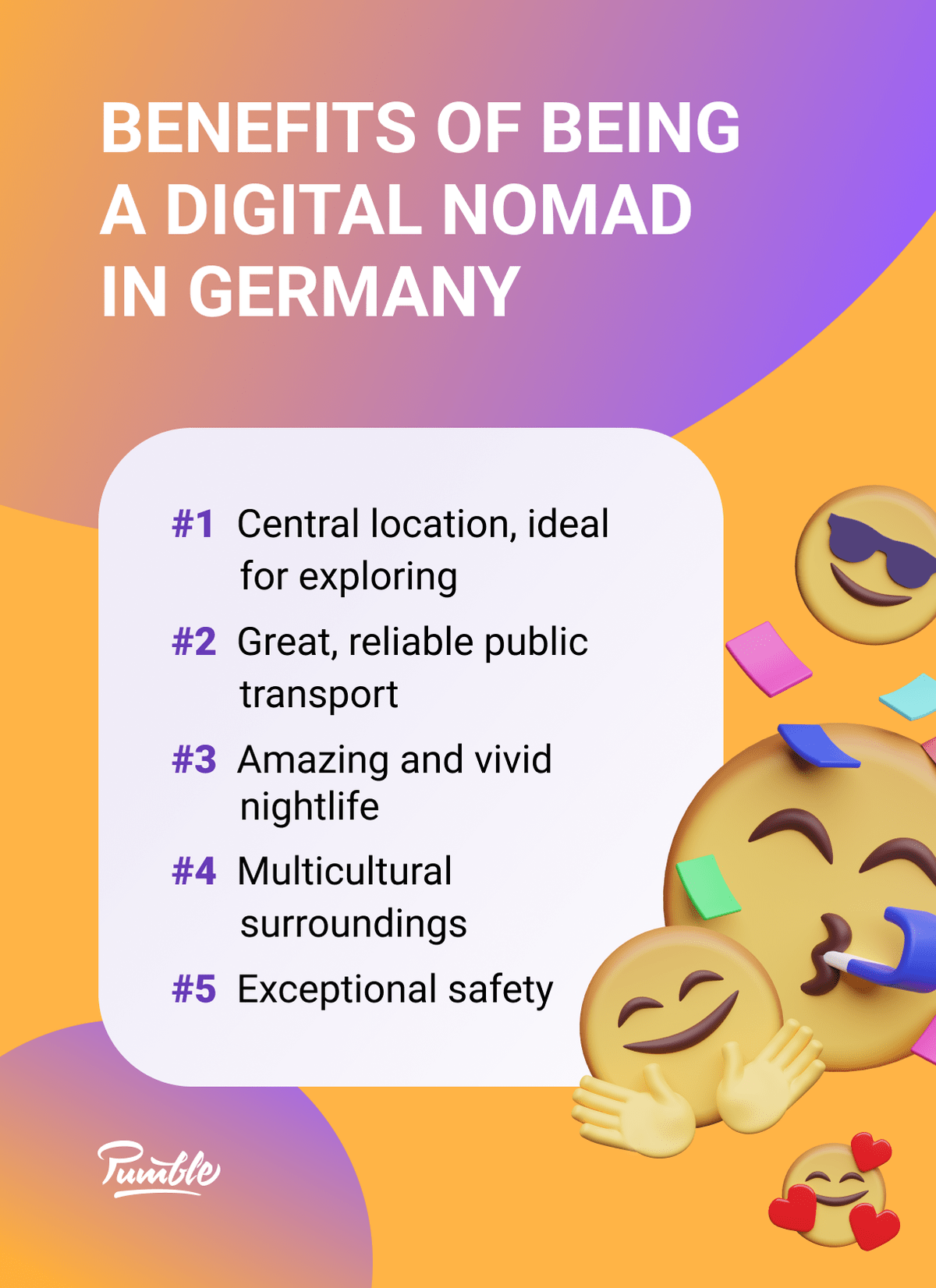 Benefit #1: Central location, ideal for exploring
Germany is ideally located for anyone who's looking to spend at least a part of the year exploring Europe. Other Western European countries like Spain and France are a short flight or a train ride away, while the much cheaper Central Europe is practically around the corner.
Digital nomads often find themselves exploring countries like the Czech Republic and Poland when they're looking for affordable traveling destinations.
No matter where you opt to travel, remember that you have to stay in Germany for at least 6 months out of your 1-year visa. Otherwise, you might lose it.
Benefit #2: Great, reliable public transport
As mentioned, the amazing infrastructure is one of the top benefits of living in Germany.
The roads in Germany are well maintained and comfortable, which is evident both if you're driving yourself and if you're using public transport.
If you're an avid driver, you'll also enjoy the German Autobahn. Nowhere else in the entire world will you find yourself in a situation where you're driving at 100 miles per hour only to see blinking lights in your rearview mirrors signaling that you should move out of the fast lane because you're blocking someone from passing you.
But, as we said before, even without a car, you'll be able to reach the far corners of Germany without a problem. The German public system is reliable (although notoriously late, at least when it comes to trains) and somewhat affordable.
Benefit #3: Amazing and vivid nightlife
Germany is famous for its nightlife. Although most know that Berlin is the capital of arts and entertainment, there are plenty of other cities in Germany that will quench your thirst for a good time. Munich, Hamburg, and Leipzig are great places for partygoers.
Germany is famously the ideal spot to enjoy techno music, but it also offers other avenues of entertainment that you might find interesting. From jazz bars to rock clubs, pop hubs, and indie festivals to old-school raves — Germany seemingly has it all. You just have to know where to look.
If you're looking for a well-rounded experience, go to Frankfurt. It's a city full of students and young people, which means you'll get to party with Gen Z. If your party includes less dancing but more beer and sausages, then Munich, the hometown of the world-famous Oktoberfest, is the place for you, while those more inclined to spend time at carnivals might find Cologne to be more interesting.
Benefit #4: Multicultural surroundings
As mentioned before, Germany has quite a few immigrants, expats, and foreigners. While walking down the streets of practically any city in Germany, you'll hear different languages mixing into one beautiful multicultural linguistic stew.
This is a major advantage for digital nomads because a multicultural society is more likely to be open-minded and accepting towards foreigners.
The only downside is that you'll be hard-pressed to find someone to learn and practice German with. You might not think that's a problem, given that 55% of the German population speaks English, but if you're looking to learn German and have no one to practice your conversational skills with, you'll struggle quite a bit to improve your skills.
Benefit #5: Exceptional safety
Safety is another major benefit of Germany and one of the top reasons why nomads (especially solo travelers and women) adore this country. According to the Nomad List, Germany is within the top 5 most visited countries in the world.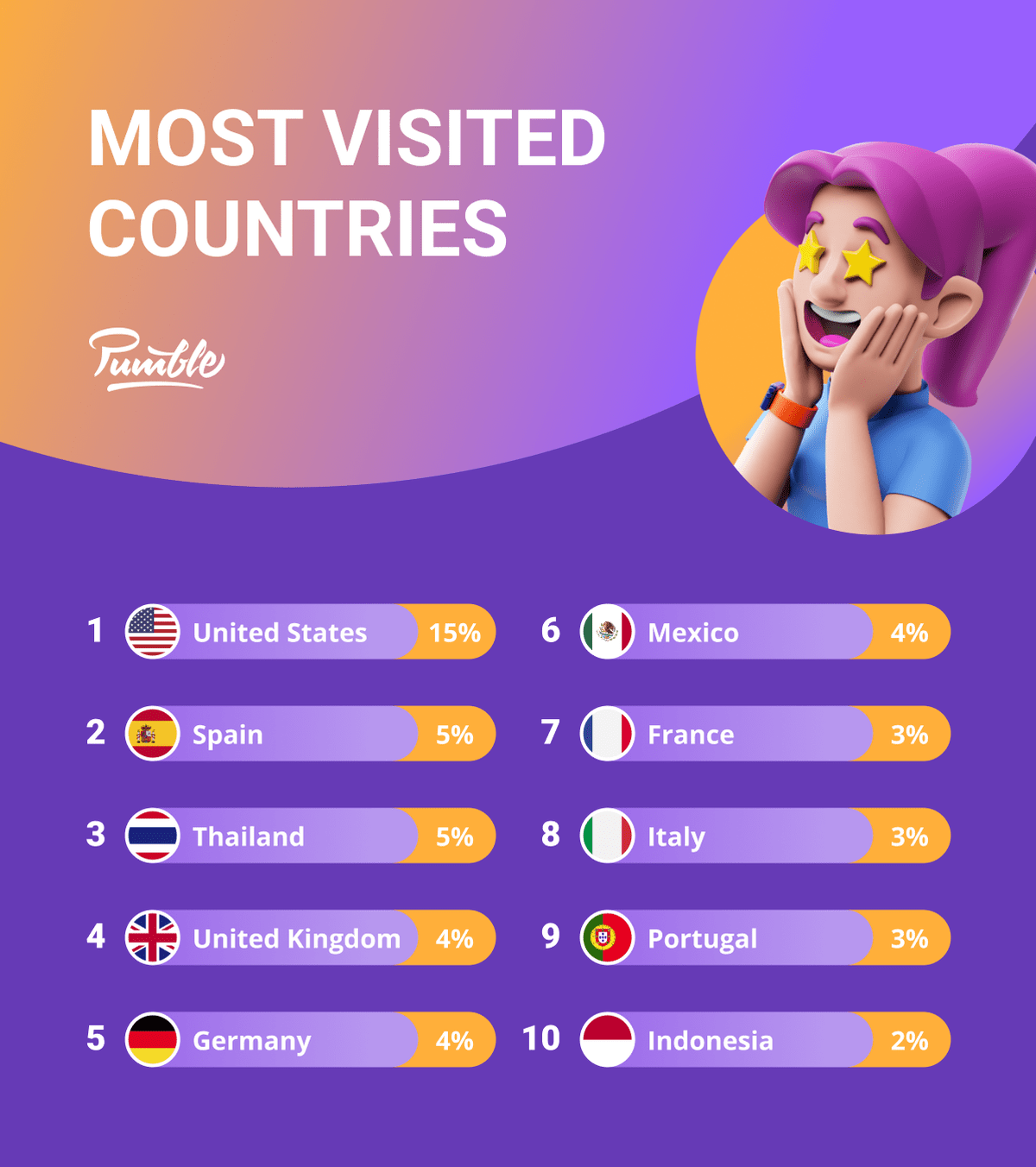 As a first-world country with a high standard of living, Germany has quite low crime levels. Even in massive cities like Munich and Berlin, there's an overall feeling of security.
Gligorijevic highlighted that as one of the top perks of Germany: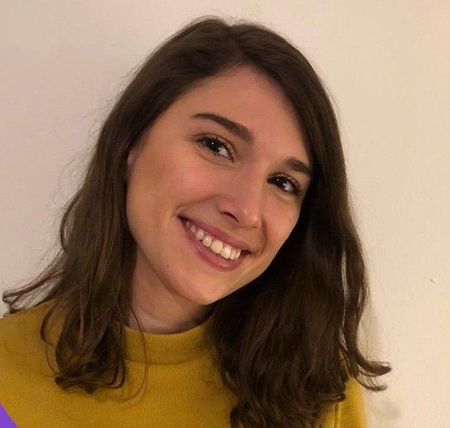 "The whole country (and Munich in particular) has kind of a safe vibe. I've never felt threatened or unsafe, even when I was exploring on my own. Munich is a young city, full of kids and young people, so it appears safer than the rest. As a woman, safety is one of my top priorities, and I'm glad to say I haven't had any issues so far. I even have girlfriends who walk back home at night by themselves after partying and never feel threatened or unsafe. Although I wouldn't recommend that, it's nice to know it's an option."
What are the drawbacks of being a digital nomad in Germany?
As great as it is, Germany isn't without its faults. So let's take a look at some drawbacks that digital nomads find particularly difficult to get around in Germany.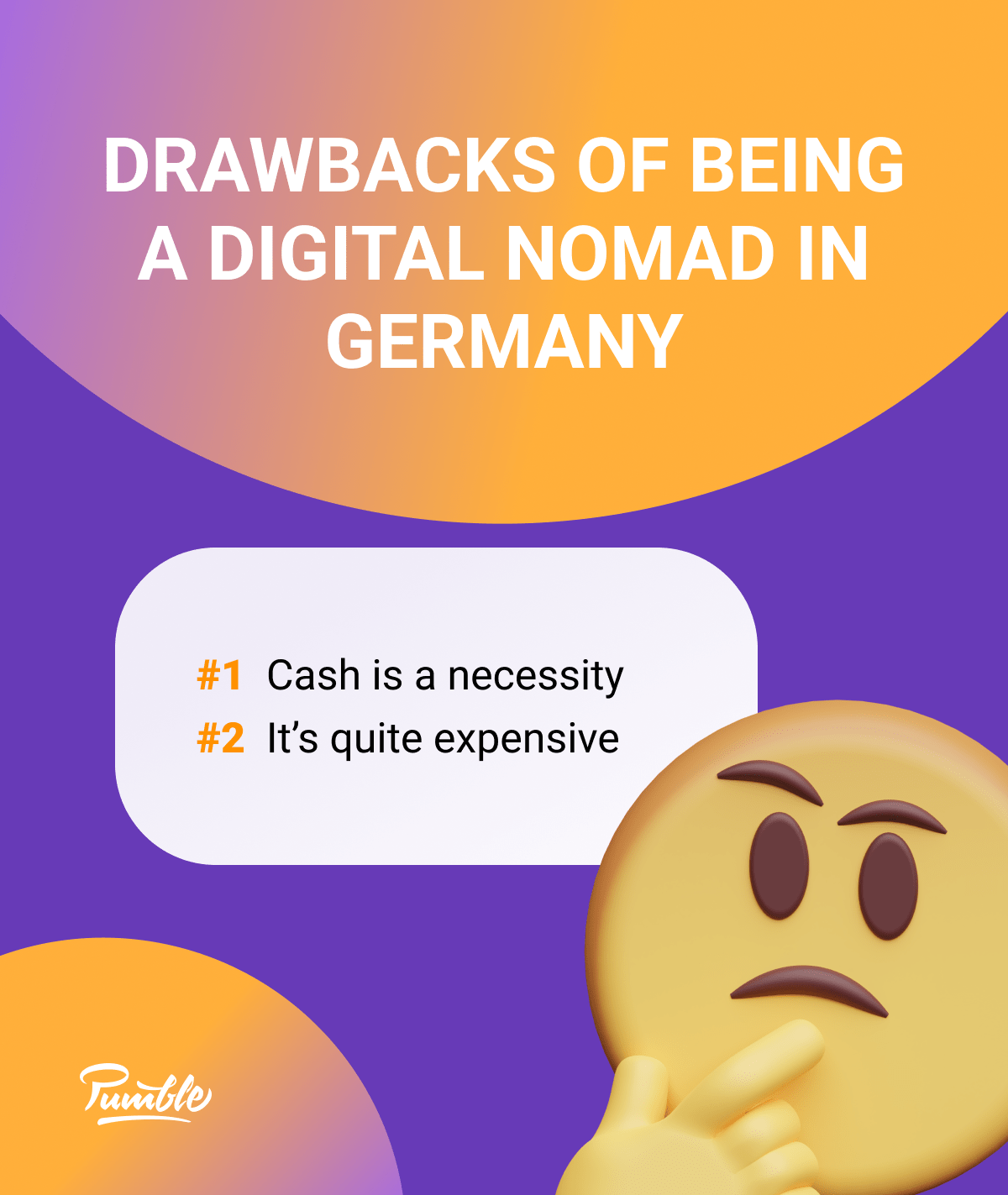 Drawback #1: Cash is a necessity
Although your cards will get accepted in big stores, supermarkets, and most bars and restaurants, if you happen to wander into a small shop, you might have to use cash.
Germans have always had a love of cash and, up until a few years ago, credit cards were almost exclusively used at ATMs. The pandemic changed that a bit, but you'll still easily find places that only accept cash.
Drawback #2: It's quite expensive
In case we haven't made it clear throughout this guide, Germany isn't a cheap country. It's ranked 10th when it comes to the cost of living in the EU. The pandemic had a staggering influence on the prices (along with the global economic crisis), which left plenty of people buying €6 (~$6.35) doner kebabs while dreaming of the pre-pandemic €3.50 (~$3.70) ones.
So, living in Germany means spending quite a bit of money on a monthly level, which isn't something digital nomads are necessarily looking to do.
However, considering how well-developed it is and how many benefits it has to offer, the high prices seem like a fair bargain to most.
5 Best destinations for digital nomads in Germany
Now that we've gone over all the details regarding the visas you can get in order to become a digital nomad in Germany, as well as all the reasons why you should do it, let's take a look at where you should go to.
Germany is a massive country with plenty of places that you can visit and enjoy. From charming villages where you can experience the real German lifestyle to huge cities jam-packed with people and full of things you can explore — Germany has it all.
But, which destinations are ideal for digital nomads in particular? Here are our top 5 picks.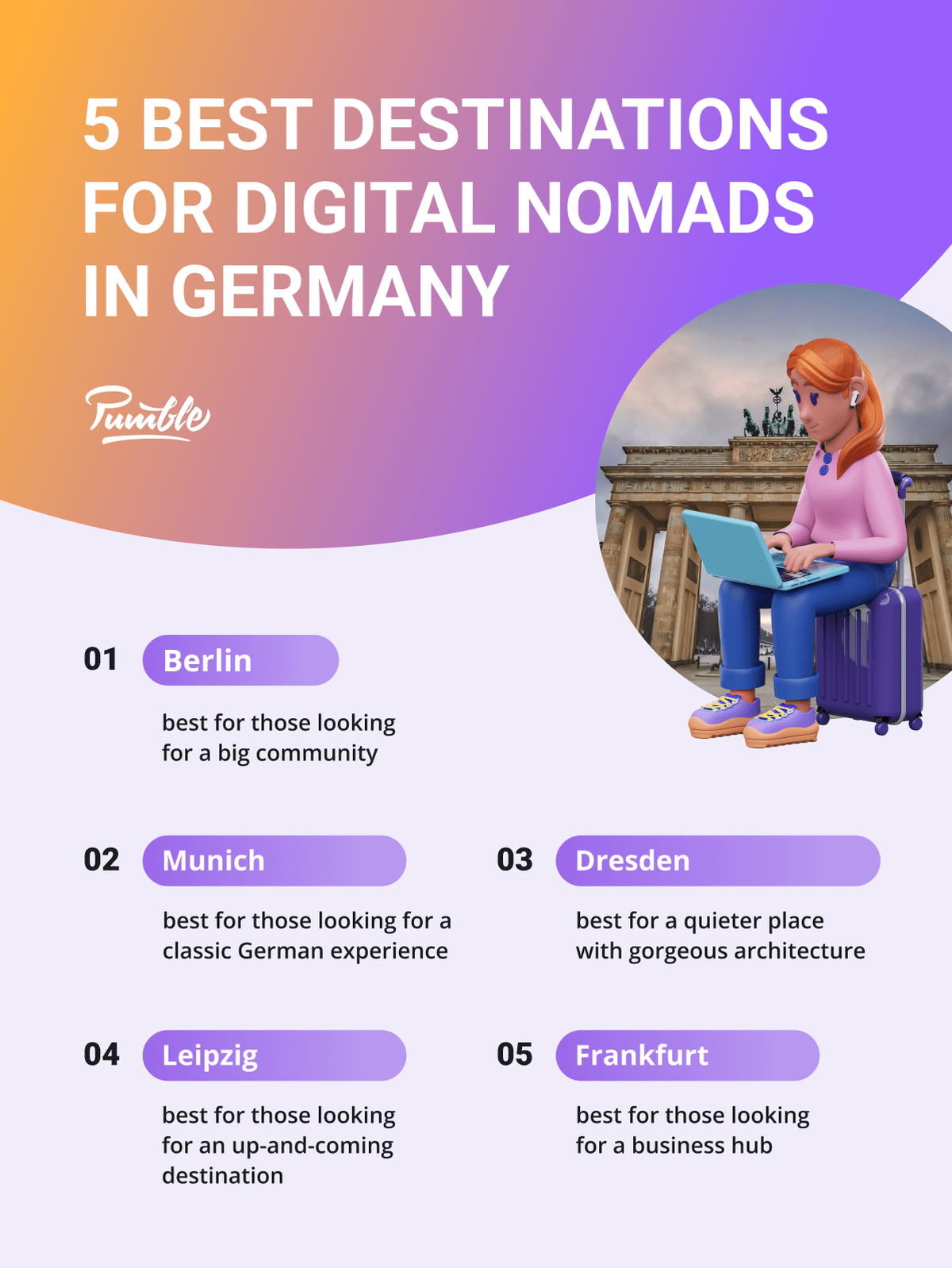 Berlin — best for those looking for a big community
Population: 3.65 million
City area: 344mi² (891.8 km2)
Time zone: GMT+1 (GMT+2 in the summer)
Average internet speed: 92.38 Mbps (median download speed), 27.13 Mbps (median upload speed)
Average cost of living: €2,324 (~$2,456) per month for a family of four, €658 (~$695) per month for a single person (rent not included)
Average rent: €1,200–€1,500 (~$1,270–$1,585) per month for a one-bedroom apartment outside of the city center
Biggest advantage: A huge expat and digital nomad community
Biggest drawback: Quite cold in the winter, hot in the summer
Berlin is a cool place. Although it might sound like a cliche, it really is. It's lively and full of interesting events, wonderful people, and historic sights. You'll hardly get bored in Berlin!
Although most famous for its nightlife, Berlin also has plenty of other things to offer — parks, cafes, art galleries, restaurants, and museums. It's also walkable and cheaper than you'd think!
Berlin is a hub for digital nomads but it's also quite a famous birthplace of many startups. Dozens of apps, companies, and online services have headquarters in Berlin because that's where the companies started.
Starting and growing an online business in Berlin is easy, which is probably why a business is born there every 20 minutes, according to some sources.
Given how it's brimming with opportunities, Berlin is maybe an ideal spot for digital nomad entrepreneurs.
Where to work in Berlin
Although you won't be hard-pressed to find a coworking space in Berlin, if you're looking for the most popular one, head to Betahaus | Berlin Kreuzberg — Coworking & Event Spaces. It has 4.2 stars based on a whopping 678 reviews.
Munich — best for those looking for a classic German experience
Population: 1.47 million
City area: 120mi² (310.7 km2)
Time zone: GMT+1 (GMT+2 in the summer)
Average internet speed: 88.91 Mbps (median download speed), 31.60 Mbps (median upload speed)
Average cost of living: €4,553 (~$4,812) per month for a family of four, €2,400 (~$2,536) per month for a single person (rent not included)
Average rent: €1,400–€1,700 (~$1,480–$1,797) per month for a one-bedroom apartment outside of the city center
Biggest advantage: Multicultural and welcoming
Biggest drawback: More expensive than Berlin
Munich is the typical German city, full of wonderful Bavarian architecture, food, and, of course, beer. It's also quite a sunny city, which makes it an ideal destination for digital nomads who are naturally prone to spending time outside.
The museums in Munich are world-famous and definitely worth your time, so be prepared to spend many weekends exploring the cultural heritage of Munich.
As testified by our resident expert, Gligorijevic, Munich is a multicultural town that's extremely welcoming to foreigners. So, if you're looking for a place where you'll feel accepted and like you're at home, the capital of the Bavarian region might be the spot for you.
Where to work in Munich
Munich also has a lot of coworking spaces as well as cafes and restaurants where you can open up your laptop and work your day away. The best-rated one is WERK1, which has a rating of 4.5 stars based on 161 reviews.
Dresden — best for those looking for a quieter place
Population: 554,649
City area: 127mi² (328.8 km2)
Time zone: GMT+1 (GMT+2 in the summer)
Average internet speed: 84.04 Mbps (median download speed), 26.31 Mbps (median upload speed)
Average cost of living: €2,732 (~$2,878) per month for a family of four, €1,244 (~$1,315) per month for a single person (rent not included)
Average rent: €700–€900 (~$740–$951) per month for a one-bedroom apartment outside of the city center
Biggest advantage: Cheap and lively
Biggest drawback: Smaller than other cities
Dresden is one of those towns that you don't expect to like. It's smaller than the massive metropolis like Munich and Berlin but has plenty to offer nonetheless. Rich in art and history, Dresden is an ideal place for those looking to take things in life at a slower pace.
One of the major benefits of Dresden is the fact that the cost of living is lower than in other German cities. Another one is its proximity to the border. Dresden is a stone-throw away from the Czech Republic and Poland, which is quickly making it one of the most popular digital nomad destinations.
Where to work in Dresden
Dresden doesn't have that many coworking spaces. However, if you're really in need of a professional office for rent, you can head on down to Impact Hub Dresden. It has 4.8 stars based on 72 reviews.
Leipzig — best for those looking for an up-and-coming destination
Population: 587,857
City area: 114.9mi² (297.6 km2)
Time zone: GMT+1 (GMT+2 in the summer)
Average internet speed: 93.95 Mbps (median download speed), 26.23 Mbps (median upload speed)
Average cost of living: €2,773 (~$2,930) per month for a family of four, €1,219 (~$1,288) per month for a single person (rent not included)
Average rent: €800–€1,000 (~$845–$1,057) per month for a one-bedroom apartment outside of the city center
Biggest advantage: Art and history heaven
Biggest drawback: Not much to do in the winter
Just like Berlin, Leipzig is both a cultural capital and a startup hub. It offers the best of both worlds with another, unforeseen advantage — it's cheaper than Berlin. In fact, Berlin is almost 80% more expensive than Leipzig.
So if you're traveling on a tight budget and are in desperate need of an affordable place that's also brimming with gorgeous sights, historical architecture, museums, and parties, Leipzig is where you'll want to go.
It's also worth noting that Leipzig is one of the music capitals of the entire continent, as well as the place where the Peaceful Demonstrations began back in 1989 (that ultimately led to the fall of Eastern Germany).
Where to work in Leipzig
There aren't many coworking spaces in Leipzig, which isn't that surprising for a town of that size. Still, you'll have a more than decent selection to choose from. If you're looking for the top-rated one, then check out Basislager Coworking Leipzig (it has 4.6 stars based on 146 reviews).
Frankfurt — best for those looking for a business hub
Population: 753,056
City area: 95.87mi² (248.3 km2)
Time zone: GMT+1 (GMT+2 in the summer)
Average internet speed: 87.73 Mbps (median download speed), 27.03 Mbps (median upload speed)
Average cost of living: €4,099 (~$4,332) per month for a family of four, €1,775 (~$1,875) per month for a single person (rent not included)
Average rent: €1,300–€1,500 (~$1,374–$1,585) per month for a one-bedroom apartment outside of the city center
Biggest advantage: Plenty of job opportunities
Biggest drawback: There's a massive shortage in housing
A massive financial center and an excellent town when it comes to food selection, Frankfurt is a great place to be when you're a digital nomad. If you're looking to score new clients while freelancing in Germany, Frankfurt might be your best bet. It's where all the jobs are!
Thanks to the Universities that call Frankfurt a home, this city is full of young people who give it a certain energy that you can feel as you're walking down the street.
So if you're young and looking for fun (and work), head on down to Frankfurt!
Where to work in Frankfurt
As a financial hub, Frankfurt is full of coworking spaces. The best-ranked one is the WeWork — Goetheplatz — Private Büroflächen und Coworking with 4.3 stars based on 109 votes.
Tips for digital nomads in Germany
Although we've covered pretty much everything so far, we'd also like to give you some additional words of wisdom.
Being a digital nomad means immersing yourself in the local culture. That includes embracing the way of life that Germans usually lead. While that is usually an interesting adventure, in Germany it can mean that you'll encounter some culture shocks. Here's what you have to prepare yourself for.
Tip #1: Don't leave your shopping for Sundays
In Germany, shops and markets are closed on Sundays. While that might seem like a massive inconvenience to North Americans who are used to getting their shopping done at all hours of the day (or night), it's actually an excellent advantage that Germany offers to digital nomads because it makes maintaining a work-life balance much easier.
On Sundays, you'll find most Germans relaxing in nature or doing some sort of physical activity such as hiking.
Our German resident, Gligorijevic, says that's one of her favorite things about Germany.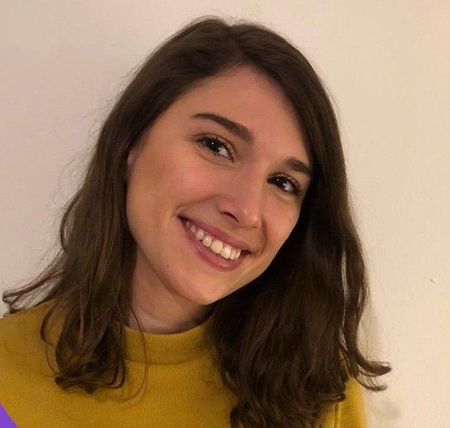 "Germans are very nature-oriented people, which is evident by their desire to spend every Sunday outdoors. Rain or shine, they are out there, walking, hiking, working on their physical and mental health, and generally enjoying themselves. I find that to be not only refreshing but also inspiring. Given that they are also quite career-driven, it's nice to see they can also unplug and it motivates me to do the same — I'm more motivated to work on myself and better myself physically, mentally, and professionally."
🎓 Pumble Pro Tip
If you need some extra help trying to find the ideal work-life balance, take a look at the following Pumble article:
Tip #2: Don't forget to recycle
Germans take their recycling very seriously so it's advised that you do as well. They use six different trash cans for their garbage and separate all waste accordingly. This system is a prime example of German engineering — it was created to be as efficient as possible. Of course, it was the willingness and the drive of people to participate that ultimately made it work.
In 2020, Germany was the leading country when it came to recycling and, in 2023, the Germans don't show any signs of stopping their favorite environmentally-friendly pastime.
Tip #3: Don't get offended by their blunt approach
Westerners, especially North Americans, often find Germans to be rude. However, Germans simply have an efficient, blunt approach to communication that just seems rude to other people who are more used to a friendlier approach.
Germans are quite direct and honest in their communication. They won't sugarcoat anything for you. However, at the same time, they are also quite willing to help. This might be confusing to some people but it's one of the cultural things you'll have to get used to if you plan on spending time in Germany.
Gligorijevic chimed in on this topic and mentioned she was never denied help in Germany: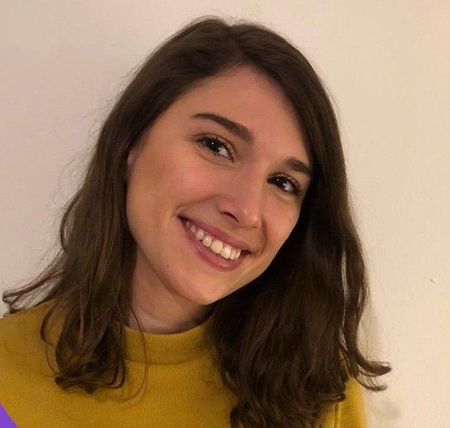 "I'm yet to encounter a situation where people refuse to help me. Even if they don't speak or understand English (which doesn't happen often, as English proficiency is at a high level, especially in big cities), they'll try to answer my questions or find someone who can understand me and communicate with me."
🎓 Pumble Pro Tip
If Germany doesn't sound like the perfect spot for you, don't worry; there are 40-something other countries that offer digital nomad visas. Some of them even have specific visas, tailored to the needs of digital nomads. Not to mention, quite a few of them are cheaper than Germany!
So if you're looking to head somewhere else, check out our digital nomad hub:
Further reading for digital nomads in Germany
Finally, since we can't really cover everything in our German digital nomad visa guide, we're offering a final gift for all digital nomads curious to find out more about life in Germany.
Here's a list of additional resources that you might want to take a look at to get more information about what life is like for foreigners in Germany:
As always, Facebook will probably be a great source of information. Groups like Digital Nomads and Digital Nomads Berlin are full of people who have been through the adventure that you're thinking of embarking on. They are more than willing to help and offer words of advice.
Meetup.com is a social platform that people use to build communities with like-minded individuals or those they share a profession with. You'll find plenty of groups there (like Digital Nomads Munich, for example) that will give you access to first-hand information. According to some sources, more than 85 thousand nomads are using the platform on a daily basis.
Websites such as the Nomad List and Nomad Stays might also be great places for you to find your future community. Solo travelers in particular might find them helpful.
Germany digital nomads visa guide disclaimer
We hope this Germany digital nomad visa guide has been helpful and that you enjoyed reading it. Throughout the guide, we have given you various links that might lead you to new interesting data or simply to articles that will expand your knowledge on various Germany-related topics.
Please bear in mind that our article has been written in Q3 of 2023, so any changes made in the Germany digital nomad visa procedures or laws after that time have not been included.
Before you start the application process, we advise you to consult with certified representatives, lawyers, and institutions that can provide you with all the information needed.
Pumble is not responsible for any negative responses, losses, or risks incurred, should this guide be used without further guidance from legal and other official advisors.
References: