Introduction to Pumble's guest access feature
Pumble's guest access feature is great for situations when you're working with someone who feels like a member of your organization but needs limited access to Pumble, such as:
Contractors,
External partners, or
Interns.
The guest access feature is available for paid workspaces. Guests can belong to a single channel or multiple channels but need to be added by admins just like regular members via the invitations page. Also, they have special icons by their profile photos: a triangle for single-channel guests and a square for multi-channel guests.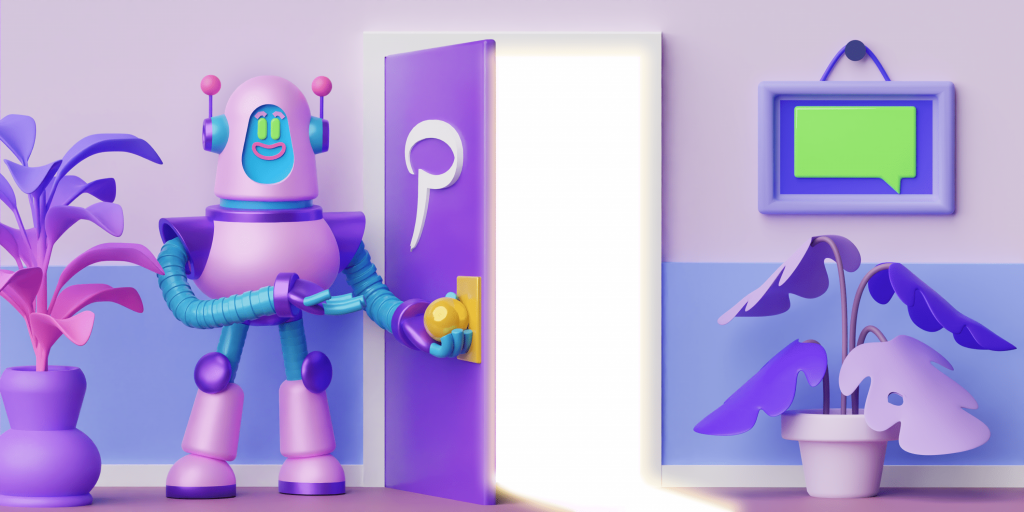 Add guests to your channels
In Pumble there are two types of guests:
Single-channel guests and
Multi-channel guests.
Single-channel guests can only be a member of one private or public channel. You can have five single-channel guests for every paid user, free of charge. For example, if you have 10 members, you can invite up to 50 single-channel guests.
Multi-channel guests can be added to an unlimited number of private or public channels, but only to the channels you choose. They're charged as regular users.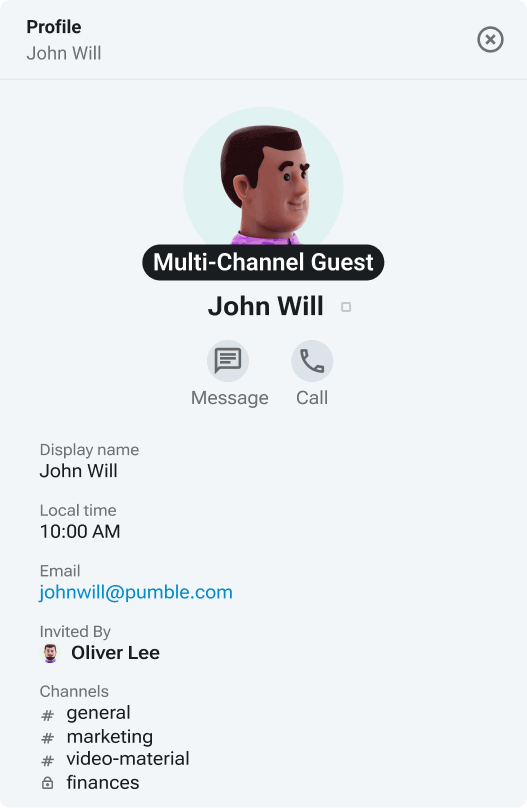 Guest access is limited only to the channels you choose to share with your guests. You don't have to worry about them seeing other details from your company. They will be able to see messages' history only on those channels. You can even add a time limit on their accounts.
How can you use the guest access feature?
Usually, single-channel guest access is used when you have one channel for every project or part of the project. It can also be used if you have interns within your department — it's a good opportunity for them to be introduced to the communication channels.
Common use cases for single-channel guest access are:
Inviting a marketing consultant into a #marketing channel to share their insights
Adding design interns in your #designers channel to share with them all the information needed for everyday work
Inviting a customer to a private channel together with a project manager and technical support team member to provide customer support right in place
Inviting creative agency members to receive real-time feedback on their work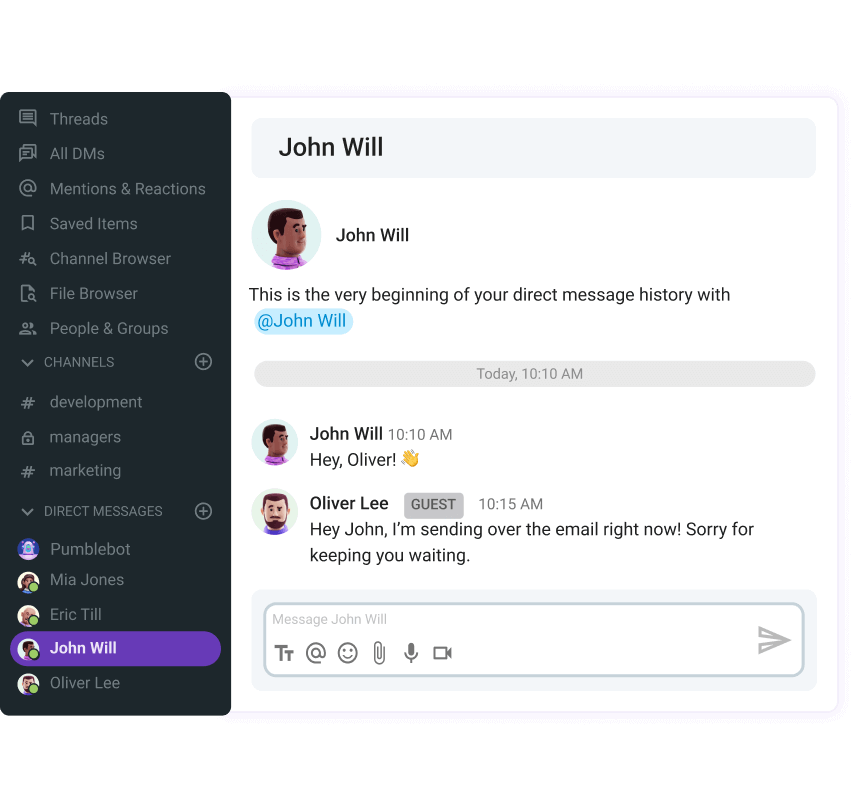 You can add your most active external contributors to your workspace as multi-channel guests if they need to be part of several channels. They will only be allowed to access the channels they are invited to, but multi-channel guests will be billed and represented as full users.
Common use cases for multi-channel guest access are:
Inviting a creative marketing agency to your #social-media and #marketing channels
Involving legal advisors to your #security, #legal, and #finance channels
Adding a PR agency to your channels
With Pumble's guest accounts, your relationship with partners will be more enjoyable, and everybody will be in sync all the time.
Limit guest access with time expiration dates
Guest access, as we can see, can be limited by the number of channels but also by the duration of access to the workspace. How can you set a time limit on your guest accounts? There are three options:
Automatically deactivate a guest account after a certain amount of time
Set a specific custom deactivation date and time
Allow an account to have access indefinitely
Setting the expiration date on guest accounts is ideal for short-term projects or projects with a launch date. Give guests access for the amount of time they'll be involved, then automatically deactivate the account after that.
The expiration date you choose doesn't have to be precise. Guests and admins will get a reminder message two days before their deactivation, along with the option for admins to extend the time limit with a single click.
Conclusion
In conclusion, guest accounts in Pumble are a valuable addition. By allowing external collaborators to join your workspace with limited access and permissions, you can streamline your team communication processes while maintaining high levels of security.
Guest accounts have the potential to revolutionize the way teams collaborate and communicate with external partners, vendors, and clients.
By breaking down barriers and enabling seamless communication, businesses can foster stronger relationships and drive better outcomes.