Direct Messages (Personal and Group)
jovana
Most conversations in Pumble do happen in channels, but direct messages (DMs) are useful for conversations which don't require an entire channel to be engaged in. Direct messages represent smaller conversations happening outside channels which can involve you and up to seven other team members.
Take a look at a short video, or read the instructions below to learn how to use direct messages.
Accessing your DMs
You can see your most recent direct messages listed below Direct messages by default, on the left sidebar menu.
Tap on All DMs at the top left corner of your sidebar.

You can see all DMs from your Home tab, or simply tap on DMs right next to the Home tab to view the list that is contained of Direct messages only
Type in the name of the the person to narrow the search on the top of your screen where it says Jump to…
Find more info on how to send and read messages in Pumble.
Inviting more people to a group DM
From within a group DM, click the Information details icon in the top right
Tap on Members, and then Add people
Search for the team member you wish to to invite, or select them from the list
Start the conversation in your new group DM
Open the group DM, then click the Information details icon in the top right
Tap on Add people
Select team members you wish to add
Tap on the paper plane icon to add them
Convert a group DM to a private channel
Elevate your team's communication and collaboration in Pumble (similar to Slack) by converting a group DM into a private channel. To convert a group to a private channel:
Click on Information details icon in the top right corner
Click on three dots to access more actions
Select Change to a private channel
Enter channel name
Click on Change to channel to complete the action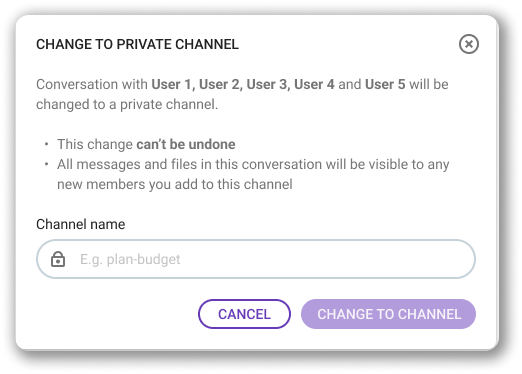 Guests cannot convert DMs into Private channels. Single-channel guests who are already members of another channel will lose access to a DM if it gets converted into a Private channel.
Your personal direct message
In Pumble, your personal DM resembles a notepad. Here you can record notes and ideas, or simply use this space for whatever you could possibly need.
Your personal DM will always be on the top of the top of the Direct messages list.
From the Home screen icon, you will find your own DM on the top of the Direct messages list.
For iOS devices, if you get a message (DM or posted in channel) that contains the link from some other application (for example a YouTube video), then the link will open in the YouTube application you have installed on your phone.
For Android devices: If you receive a message that contains a link, tap and hold on the URL. A modal will open for you to choose whether you want to Open the link in Browser, Copy the link, or Share it.