Guest Role Access
milan.tankosic
Guest role is an extra feature available on our Business and Enterprise plans.
Work with contractors, freelancers, vendors, or clients on Pumble. How? Use Pumble's guest role and give your co-workers limited access to specific channels.
Managing guests in a workspace
Workspace owners and admins can invite guests to the workspace.
When inviting users, the owner or admin will be able to choose to invite them either as a regular user or as a guest.
Also, owners and admins can switch regular users to guest users.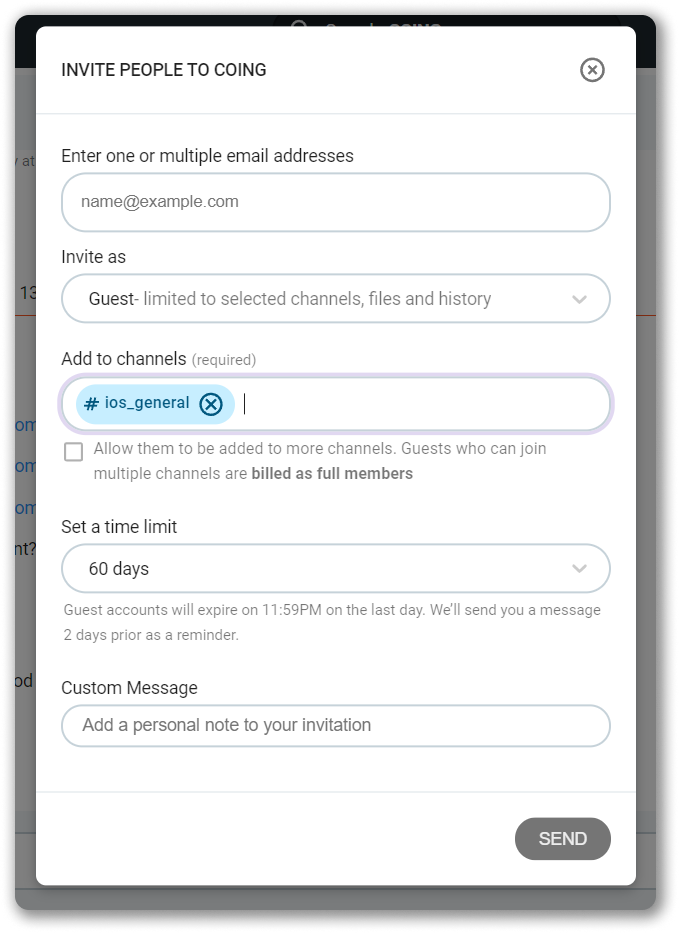 Billing for guest users
Guest role is available only with our PRO plan.
There are two types of guests:
Single channel guests: Can only be a member of one private or public channel. It's free, and you can have 5 single channel guests for every paid user.
For example, if you have 10 members, you can invite up to 50 single-channel guests!
Multi channel guests: Can be added on an unlimited number of private or public channels, but only to the channels you specify. They're charged as regular users.
Deactivating time for guest users
Workspace admins can Set a time limit until which a guest will have access to the workspace. After that, the guest account will expire.
There are two options:
Guests can have indefinite access
You can set a custom deactivation time
Two days before the deactivation, the workspace owner or admin who invited the guest will receive an email that the guest account will expire. The owner or admin can choose to extend the time limit if needed. Additionally to that, guest user is informed by Pumble bot that their account is about to be deactivated.
Managing access to channels
Guests must be invited to join channels in Pumble.
To set up a guest access to channels:
Click on your workspace name at the top left in your web app
Choose Workspace settings from the menu
Click Manage members
Click the three dots icon to the right of the member you wish to edit
For a Single channel guest, click Edit info and change their current channel
For Multi channel guests, click Edit info and choose the channels user'll have access to, or click the x icon next to a channel they're in to remove them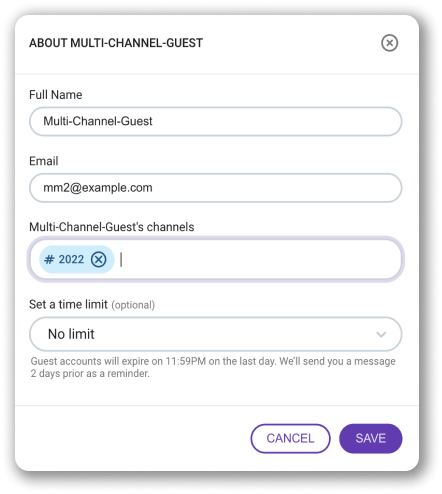 Multi channel guests have a square shape next to their names, while Single channel guests have atriangle.
Establish isolated guest access
To maintain confidentiality and ensure that sensitive conversations remain private, set up isolated guest access to make sure a single-channel guest interacts solely with you:
Create a Private Channel
Invite the single channel guest to join this channel
This setup gives the impression that the entire workspace is just that one channel with the two of you as users. If you ever need to involve another team member in a conversation with the guest, simply add them to the same private channel.
Viewing guest profiles in your workspace directory
When you add a guest to your workspace, a new profile will auto-populate in your directory with the following information:
Which workspace owner or admin invited the guest
Which channel(s) the guest has access to
If a time limit is set, the date a guest account will be deactivated
Viewing a guest's profile
Click on People and user groups in the left sidebar
Enter guest's name, display name, job title, or email address in the Search field
Click the guest's profile picture to open the profile and view more options
Permissions for guests
Guests permission in Pumble:
✓ – Available
* Guest can only initiate a DM with a member who's in the same channel(s). Member, however, can initiate a DM with any guest, even if they're not in the same channel.