How notifications work
When you are using Pumble on your PC, you will receive all notifications there. However, if you are away from your desktop, you will receive all notifications via the mobile app. By default, you will receive the following notifications:
Whenever you receive a Direct Message (DM)
If someone mentions you in a channel
Every time someone notifies a channel you are in
If someone replies to the thread you are following
This will apply to both Desktop and Mobile versions of Pumble, however you configure that in notification preferences and set up different settings for your mobile devices.
Desktop notifications
You'll receive banner, sidebar and badge notifications in both browser and desktop versions of Pumble to let you know if you have any unread messages.
Banner notifications
When you receive a new message, a you will also receive a banner notification where you can see more about that activity. In the notification, you'll be able to see the message, who sent it and in which channel.

Sidebar notifications
If you have unread messages in a channel, its name will appear bold in your sidebar. Also, if you are mentioned in a channel, you will be able to see a numbered badge next to the channel name.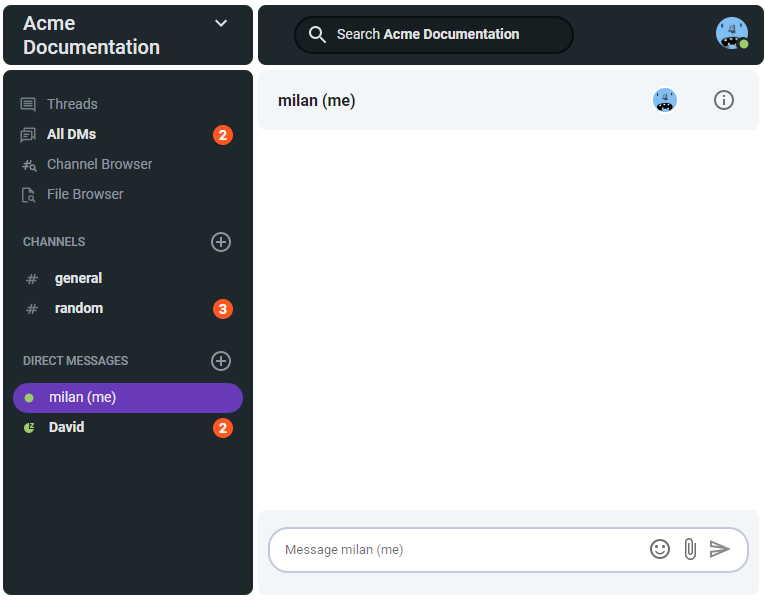 Badge notifications
When you have unread messages or if you are mentioned in a channel, you'll receive a notification on the Pumble icon.

Red badge means that someone sent you a direct message or mentioned you in a channel.
Mobile notifications
If you'd like to receive notifications on your mobile device. download the Pumble app to your phone or tablet and sign in to your workspace.
You will receive notifications when you are inactive on your desktop.
On the mobile app, you can select what you want to be notified about and also set up different settings for your mobile devices .
Conversations and channels with unread messages will appear bold and on top of the list on the Home tab of your mobile app.