Time to start another email.
You're wondering whether to go with:
"Dear Mr. Miller,
I hope you're doing well!"
Or make it more friendly with an opener like:
"Hello Patrick,
Hope you enjoyed your weekend!"
If you're wondering what the best way to start your email is and what phrases to use, you're in the right place!
In this article, you will find out how to engage the recipient with an adequate greeting and a strong email opening.
On top of that, you'll learn the best sentences and phrases you can use when starting a formal email, as well as the best ways to start a follow-up email that inspires recipients to reply.
So, let's dive in!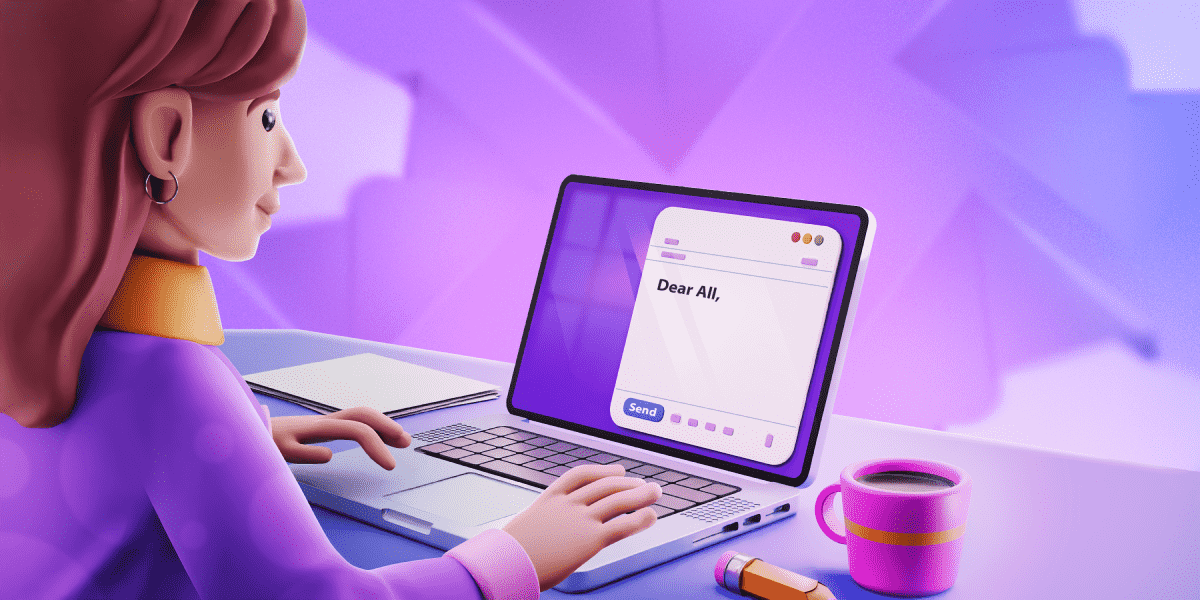 Why starting an email professionally matters
Imagine this scenario: It's Monday morning and you've just turned your laptop on. As usual, you're starting your week off by checking your email inbox and seeing that you've already received a bunch of emails.
You've just grabbed a cup of coffee and taken a deep breath. Then, you opened the most recent email sent by your business partner, which started with the following introduction:
"Hey!
How are you doing? Is everything going well? How was your weekend? Hope that you had a lit weekend and are ready for another great week!"
Oh, no. The first thought that came to your mind must be: Please, get to the point!
Even though all of us like nice words, the timing is always crucial — which also applies to professional email communication.
Most importantly, an email introduction has a role to keep the recipient interested and engaged to read the whole email and, ultimately, to take action. To achieve so, we need to keep it brief and get straight to the point.
If we start an email with a poor opening line or irrelevant questions, the recipient will certainly get confused with the purpose of the email — hence, lose motivation to keep reading.
Therefore, starting email professionally and effectively is a significantly important part of business correspondence.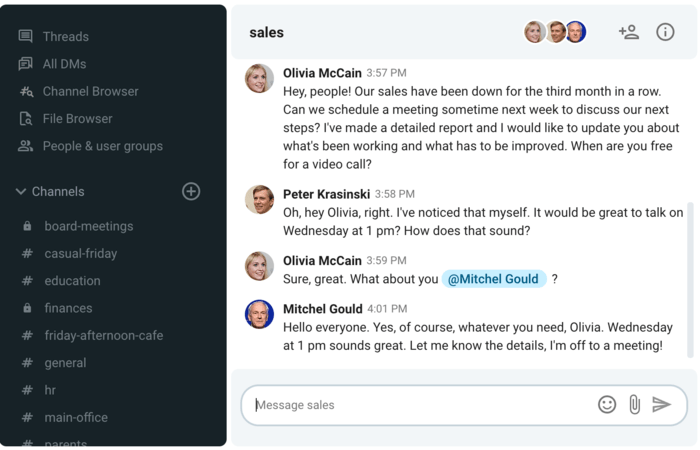 💡 Pumble Pro Tip
To find out more about the advantages and disadvantages of email communication, make sure to check out our blog post:
Tips for starting an effective email
Speaking of the best ways to start a formal or informal email, it is important to note that an effective email contains the following elements:
A meaningful subject line,
An effective greeting, and
A strong opening sentence.
When crafting a greeting and an opening sentence, you should follow the next tips that will help you capture the reader's attention and engage their interest.
Tip #1: Keep it professional
Regardless of whom you're writing to, business correspondence always requires keeping it professional.
According to a Rochester Institute of Technology's article, some of the tips for writing a professional email are the following:
Addressing the recipient appropriately,
Casting off slang,
Making it easy to read, and
Being kindful.
So, let's take an example of the email opening that we've already mentioned and evaluate it against these and other criteria.
Aside from indirectness and irrelevant questions, there are several other issues with this email opener:
Ineffective salutation — Saying "Hey" may be appropriate to send to a friend, but in business communication "Hi" or "Hello" is a better choice.
No recipient name.
Using slang — The term "lit" is inappropriate to use in formal email correspondence. Instead, we can use the word "amazing" or "wonderful."
💡 Pumble Pro Tip
Have you ever received a rude email? Even though this situation is challenging and uncomfortable, you can respond to it professionally. To learn more about how to reply to a rude email, check out our blog post:
Tip #2: Think about your audience
Who are you writing to — your colleague, boss, client, or someone else? The relationship you have with the recipient determines the way you should start your email.
When you write to your close coworker, a salutation such as: "Hi John" is a good choice, but this would be too informal when reaching out to your new client.
Tip #3: Add wishes (optional)
Adding a brief comment after a salutation such as "Hope you had an amazing weekend" or "Hope you're doing well" is a good way to start an email, especially if you haven't been in touch with the recipient for a while.
Let's take a look at our example: "How are you doing? Is everything going well? How was your weekend? Hope that you had a lit weekend and are ready for another great week!"
We can note that this email introduction is undoubtedly overwhelming by going on with question after question. Instead, you can simply write: "Hope you're doing well."
Moreover, you can always choose a less generic opener such as:
"Hello John,

Hope you enjoyed your weekend and that your X project is coming along nicely!"
However, always bear in mind that the number 1 rule in email correspondence is: Do not force yourself to be friendly or smart.
Always re-read your email before sending it to make sure it sounds natural and relevant to your audience.
Tip #4: State the reason for writing
Most importantly, be direct with the purpose of your writing. Namely, with a brief sentence or two, state clearly why you're reaching out, so the recipient knows what the email content is about as soon as they read it. You can simply start with:
"I'm emailing you about…"
"I'm reaching out about…"
"Just checking in on…"
"I have a quick question about the X project…"
Tip #5: Double-check your grammar and spelling
Never forget to proofread your email before clicking "send" in order to double-check your spelling and grammar.
Aside from that, ensure the email is straightforward and easy to read, so eliminate irrelevant content and add the missing information.
The most popular email greeting phrases that catch the reader's attention
Once you've been familiarized with the most important rules for crafting a professional email opening, it's a good moment to see the most effective examples of email greetings.
So, here's the list of the most popular salutation phrases:
Hello [first name],
Hi [first name],
Dear [first name],
Dear [title] + [last name], or
Dear [job position].
In the table below, you'll find greetings sorted by their (in)formality.
| Greetings | Formality |
| --- | --- |
| Hey! | ❌ Too informal |
| Hi John | ✅ Informal |
| Hello John | ✅ Informal |
| Dear John | ✅ Formal |
| Dear Mr. Smith | ✅ Formal |
| Dear Sales Manager | ✅ Formal |
| Dear Sir/Madam | ❌ Impersonal |
| To Whom It May Concern | ❌ Impersonal |
Therefore, we can conclude that it's important to address the recipient's name to make the email more personal and professional, which helps you improve business relationships with them.
If you write to a group of people, use salutations such as:
"Hello there", or
"Greetings".
You can also use salutations like "Good morning" or "Good evening", but keep in mind the recipient's time zone.
Engaging examples of email opening sentences
Once you've grabbed the reader's attention with an effective greeting, it's time to craft an engaging opening sentence that will motivate them to read the email content carefully.
Most importantly, instead of overwhelming the reader with questions and wishes, keep it brief and choose no more than two sentences or questions to start an email. You can use these sentences and questions in conjunction with your templates, AI email writers, and more, to create a solid hook.
Here are the lists of some engaging opening lines classified according to email purpose:
Opening sentences for informal emails
"Hope you're all good!"
"Hope you enjoyed your holiday time with your family!"
"How have you been?"
"How are things in London?"
"Hope your week's off to a good start."
Opening sentences for formal emails
"Hope you're well."
"Hope this email finds you well."
"Hope you had a great weekend."
"Hope you're having a great week so far."
Opening sentences for reply emails
"Thanks for reaching out."
"Thanks for your feedback."
"Thanks for letting me know."
"Thanks for the quick response."
"It's great to hear from you."
"Thanks for getting back to me."
"Thank you for getting in touch!"
How do you start an email to someone you don't know?
As we already said, mentioning the recipient's name is vital to demonstrate respect and care about business relationships.
However, sometimes when you haven't had contact with the person before, it might happen that you don't know their name, and there's no way to find out their name.
In this case, you can start with a greeting such as:
Attempt to avoid using generic phrases like "To whom it may concern" or "Dear Sir or Madam".
Also, don't ask questions such as: "How are you?" or "How have you been?" — when you don't know the person, these questions are inappropriate. Instead, you can simply say: "Hope you're doing well."
Most importantly, never forget to briefly introduce yourself at the beginning of an email. You can simply say:
"My name is ______ and I'm a ________. I'm reaching out because…"
How to start a professional follow-up email (after no response)?
Let's say you sent a professional email a few days ago, but still haven't gotten any response. Making matters worse, this response is very important for you, so you understand that sending a follow-up is a necessity.
But, how and what to write at the beginning of the follow-up email to make the recipient interested and improve response probability?
Tip #1: Write an effective email subject line
Subject lines have a great impact on open rates, so pay attention to craft an effective email subject line that will catch the recipient's attention — this especially applies to follow-up emails.
According to Harvard Business Review's article using generic subject lines such as "Following up" is not an effective option. Instead, giving the recipient a short preview of your request such as "Next steps on X project" or "Question on job application" is a far better way to connect to them.
Aside from a compelling subject line, a follow-up email implies a friendly and polite tone as well as simple language that can be easily digested.
Tip #2: Remind the recipient of your previous touchpoint
To open your follow-up email effectively, it's always a good idea to remind the recipient of your previous email or interaction.
For instance, you can open your email in the following way:
"I just wanted to follow up on the email I sent last Friday about our social media Christmas campaign."
or
"I'm just following up on an email I sent you last week about the updated content plan for the next quarter. I understand that you're busy, but I would appreciate it if you could review the plan and get back to me with your suggestions."
💡 Pumble Pro Tip
"Checking in" emails typically sound like a way of urging recipients, which makes communication frustrating. To learn how to say "Checking in" professionally and effectively, read our blog post:
Final thoughts: Greet the recipient and briefly explain why you're writing
Whether you're sending emails to your boss, client, prospect, or business partner, crafting a strong email opener will help you increase the open rate and response rate, which ultimately leads to improved business communication and better information exchange.
Aside from writing a catchy subject line, make sure your email includes a strong introduction that contains an appropriate greeting and straightforward opening sentences, which briefly describe why you're writing.
Always attempt to address the name of the recipient, which is a strong sign of respect. Even if you're not sure whom you're writing to, make an effort to find out the person's name on the website or LinkedIn. If not possible, you can use a simple greeting like "Greetings", or "Hello".
After salutations, you can add wishes, but make it brief and simple with no more than a sentence. You can always add a comment like: "Hope you're doing well.", or if you are close to the recipient, you can make it more personal like: "Hope you enjoyed your holiday with family in San Diego".
Most importantly, reflect the nature of your business relationship with the recipient in the writing style of your email introduction. It's completely normal to use more informal language when reaching out to someone whom you know personally, while a formal style is required when writing to someone you've never met.
✉️ What about you? How do you typically start your emails? Do you have any additional tips for crafting an email introduction professionally?
If so, let us know at blogfeedback@pumble.com and we may include your answers in this or future posts. In the meantime, be sure to share this post with someone who would also benefit from it.