Access Calls, Messages and User Profile in Shortcut Menu
Tamara Radijevac
Pumble offers you an easy way to view user profile, make calls, send messages, copy user name and link to main channel and user profile. These actions can be performed in the direct messages and channels with just one click and are available from the shortcut menu.
To see the menu, do the right click on:
User avatar
User name
@user_mention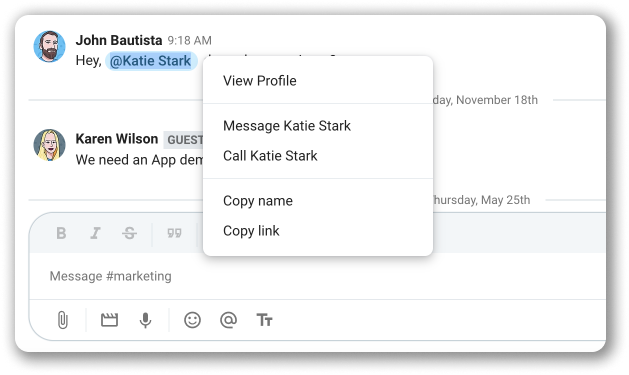 The shortcut menu appears with the list of these actions:
View Profile: See user profile with their name, local time, and email
Message [user_name]: Jump to the DM section and will be able to compose the DM
Call [user_name]: Call the user in question immediately
Copy name: Copy user name (without tag)
Copy link: Copy link to jump to main channel view and user profile info
Long press the email and phone number info in user details to copy the information on mobile apps.