How to Search
Aleksandar Olic
Search your Workspace for your team's conversation history in Pumble to find the relevant messages you need.
Starting a search
Click the search field at the top
Type in the search field what you're looking for (it can be a keyword, phrase)
Click Enter to view all results
Choose a filter if you'd like to narrow down the search
You can also use your keyboard to start the search in #general channel (Ctrl or Cmd + k) or search in a specific channel or conversation that you chose (Ctrl or Cmd + f).
Tap on the Search at the bottom
Start typing what you're looking for (it can be a keyword, phrase) in the search field
Choose the option from the search results
Filtering search results
Filter your results to find exactly what you need.
People – Search for messages sent by specific users by marking them in filters
Channels & direct messages – Search for messages from specific channels or your direct messages by marking them in filters
Specific message – Search for a specific message in your DMs/Conversations by entering a keyword in the search field (e.g. If you'd like to search for a sentence mentioning "Sales Team strategy", just enter "Sales" in a DM/conversation search field and all the messages in your DMs/conversations containing that term will be listed.)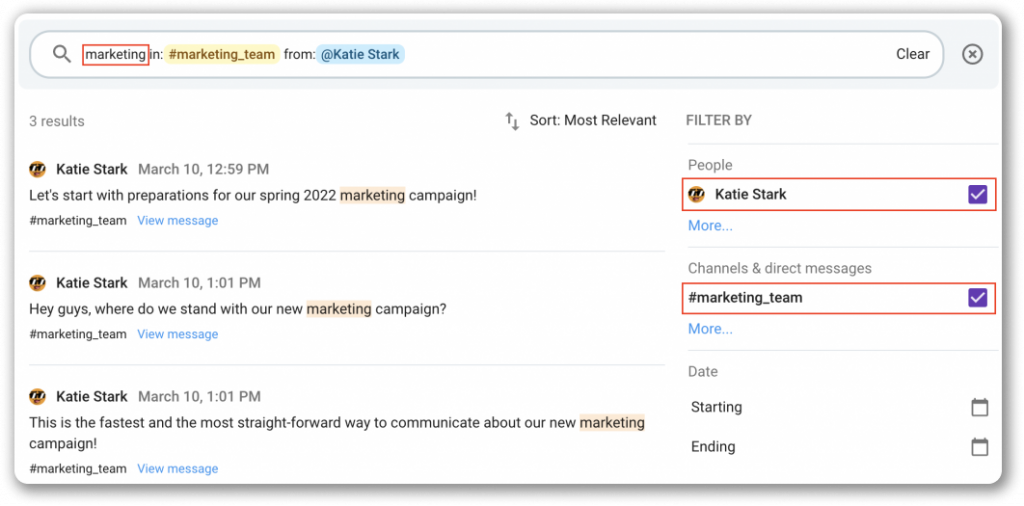 Quickly search DMs and channel chats
Quick switcher is the fastest and simplest way to get around in Pumble. Use it to quickly jump to channels, direct messages (DM), saved items or files and people & user groups.
Search people and channels:
Press command + k (Mac) / Ctrl + k (Windows/Linux) or
Enter person/channel name
Click on it and you'll jump to that conversation/channel
Search specific channel/conversation:
Navigate to person/channel you'd like to search
Press command + f (Mac) / Ctrl + f (Windows/Linux)
Enter user/channel name
Click on it and you'll jump to that conversation or chat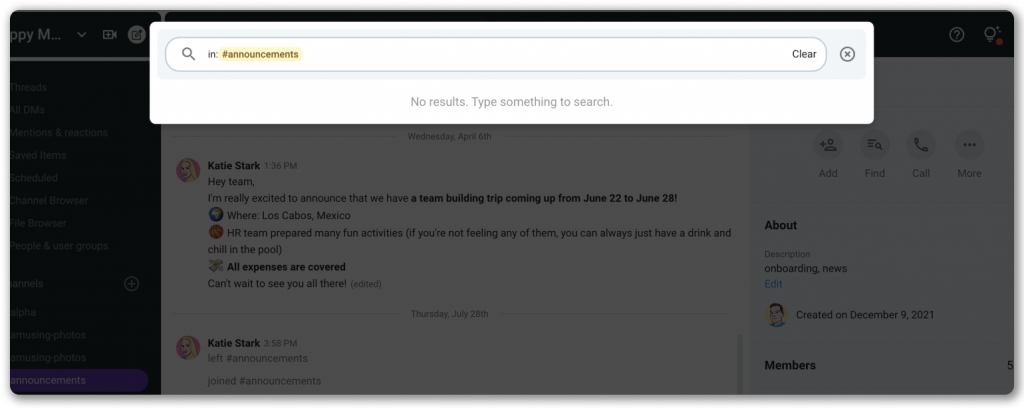 Tap on Jump to... search field at the top of the screen
Start typing user/channel name
Once it appears in the search results, tap on it and you'll jump to that conversation/chat group