10 Best time tracking apps for working from anywhere
Do you feel you or your team have entered one of those phases where you're constantly behind schedule? Projects are getting delayed, launches are rescheduled, release dates are pushed back, and no amount of hard work or willpower can help you get back on the right track.
If this scenario seems familiar, you might want to rethink your time management practices. Or, better yet, invest in some time management resources and tools.
Instead of taking the manual route to assess the potential time wasters, consider utilizing the power of time tracking apps and let them do all the work for you.
Time tracking apps have the potential to take your productivity to the next level with functionalities like timesheets, reporting, and project progress tracking.
The best time tracking apps allow multiple tracking options and complete insight into how long it takes to complete a certain task or a project.
If you track time to get detailed insight into your personal efficiency or to optimize your company productivity, time tracking software is the way to go.
Let's take a look at our pick of the 10 best time tracking apps to help you make a well-informed decision based on your specific needs.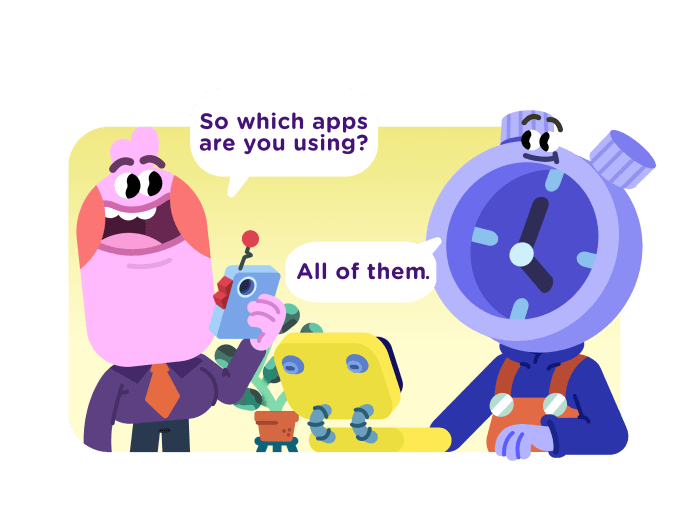 The anatomy of the best time tracking app
Before you start researching popular time tracking apps, consider some key factors that will determine the best choice for you or your team:
Your team or company size
Your budget
Your key objectives and priorities — e.g. time tracking, project management, leave management
Additional "nice-to-haves" — e.g. invoicing, self-hosting
Once you've determined your specific needs, it's time to take a closer look at the basics of what a perfect time tracking app should include:
User-friendly real-time and manual tracking — An easy to use and navigate time tracker that allows users to log time manually, after finishing the task, with an additional option to automatically log time while working on the task.
Editing options — Ideally, the best time tracking app comes with the option to edit your time logs, in case you forget to start or stop the timer, or want to change something in an existing time entry.
Reporting — Detailed reports are another must when it comes to great time trackers. This valuable feature allows users to visualize, organize, and record data on the time spent per person, project, or client.
Reasonable pricing — Ideally, you'll want a solution that offers basic features for unlimited users in the free option. Otherwise, your time tracker will end up losing instead of saving you money.
Invoicing and data exporting — Finally, you'd want to automatically generate invoices from the data gathered and export the information to multiple formats.
We used these features as a benchmark when assessing the best time tracking apps.
Other features depend on the specifics of the work you do, as well as your general preferences and expectations.
Let's get an in-depth look at our top picks for the best time tracking apps.
The 10 best time tracking apps
Here are the best time tracking apps you can currently find on the market:
Clockify — a free time tracking app for teams
Toggl Track — a free time tracking app for simple time tracking
Harvest — a time tracking app for invoicing
ATracker — a daily task and time tracking app
TrackingTime — a time tracking app with diverse time visualization
RescueTime — a distraction reducing time tracking app
Timely — a time tracking app for virtual task planning
DeskTime — employee monitoring time tracking app
Hours — a simple work time tracking app
TimeCamp — a time and productivity tracking app
Let's now dive deeper into each app.
Clockify — Best free time tracking app for teams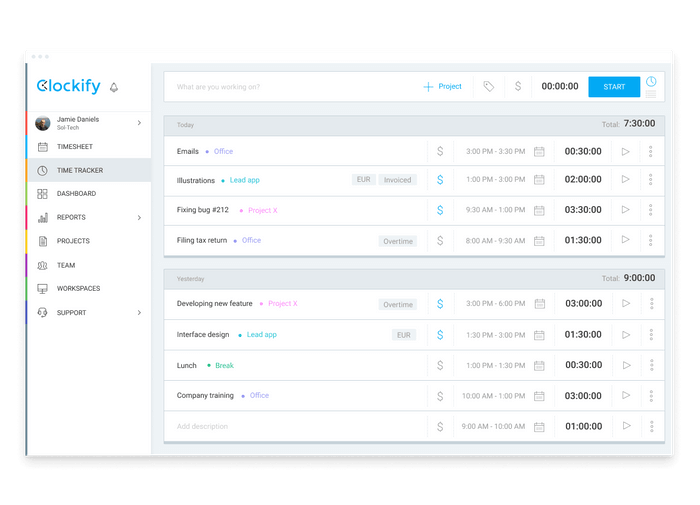 🔸 What is Clockify?
Clockify is the ultimate time tracker for different types of teams. This time tracking app combines all the best time recording functionalities in a super user-friendly design.
Although it's a great option for students, freelancers, and solopreneurs, too, Clockify excels at helping teams track and manage larger workloads and then present them in a clear way.
🔸 Why use Clockify?
Clockify allows you to track work hours, access detailed Summary, Detailed, or Weekly reports, and set billable rates for any number of tasks, projects, and team members, for free.
You can track your time using several different modes:
Timer mode — you track your work hours in real-time, by starting and stopping a timer.
Manual mode — you enter time manually, after you've finished working on a task.
Timesheet view — you enter time in a timesheet manually.
Automatic time tracking — you get data on time spent on programs and websites.
The customizable reporting functionality also allows you to download reports in PDF, CSV, or Excel.
Apart from the time tracking basics, Clockify allows you to streamline several other key processes, through a set of advanced functionalities. Namely, you can:
Generate invoices
Track progress and budget across projects
Track and approve leave requests
Increase productivity with the Pomodoro timer
Ensure your idle time is detected and not tracked
Schedule projects and employees
🔸 Clockify's highlight feature
Clockify stands out as the only time tracker that is available as a self-hosted solution.
This allows you to host all Clockify's features on your own servers and maintain full control over your data, in addition to having maximum security.
Self-hosting is perfect for industries following strict regulatory requirements, as it allows you to determine the best terms and conditions to achieve maximum compliance.
Alternatively, Clockify's self-hosted solution is also for companies that want an all-inclusive scalable time tracking software with flexible customization options and more control over how their data is processed and stored.
🔸 Clockify is available for: Web, Windows, Linux, macOS, iOS, Android, Firefox, Chrome, Edge
Toggl Track — Best free time tracking app for simple time tracking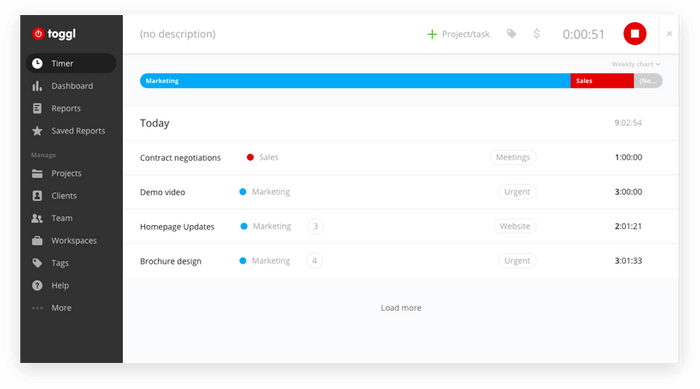 🔸 What is Toggl Track?
Toggl Track is a time tracking tool that lets you keep track of tasks and project timelines.
As a tool that's easy to use and set up, Toggl Track is great for solopreneurs or small projects and teams that need core time tracking functionality.
🔸 Why use Toggl Track?
In Toggl Track, you can record your tasks across projects, and generate invoices directly from the app.
Additionally, you can access a detailed overview of project and tasks timelines in reports, with export functionality available in the paid version.
The app lacks some advanced features such as time-off management, scheduling, and expenses management. Also, the paid version is on the pricier side — so it might be best suited for simple time tracking activities in teams of up to 5.
🔸 Toggl Track's highlight features
Possibly the best thing about Toggle Track is that it comes with a useful idle detection feature that reminds you to correct the time log if you forget to stop the timer during a lunch break, for example.
🔸 Toggl Track is available for: Web, Windows, Linux, macOS, iOS, Android, Firefox, Chrome
Harvest — Best time tracking app for invoicing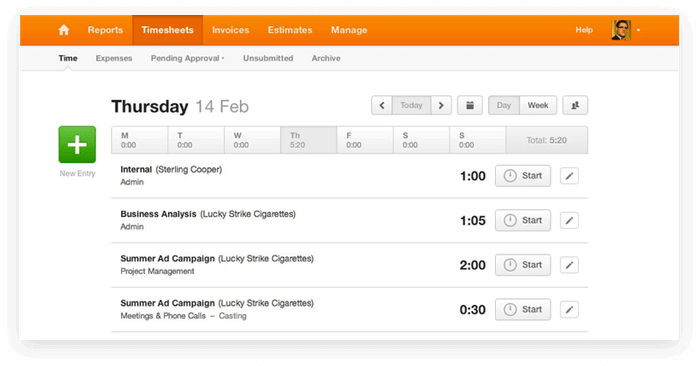 🔸 What is Harvest?
Harvest is a time tracker for small to midsize businesses that require time and expense tracking and invoicing.
The main focus of the app is on invoicing time and streamlining expenses, but without some key time tracking features, such as detailed reporting.
🔸 Why use Harvest?
If you're a small business or a team in search of a tool that combines basic time tracker and expense tracking software functionality, Harvest may be the solution for you.
Overall, the app seems to better suit advanced roles than regular user preferences, which may work for some teams. However, the pricing is structured to charge per user even for the basic features, which might be pricey for larger teams.
🔸 Harvest's highlight features
Automatic invoicing is where Harvest shines.
The app allows you to automatically create invoices and charge clients based on the time tracked per project.
Once the task and project are done, you can send invoices to clients straight from the app.
There is also a useful automated reminder option that notifies clients when their invoices are due.
🔸 Harvest is available for: Web, Windows, macOS, iOS, Android, Chrome, Safari
ATracker — Best time tracking app for daily tasks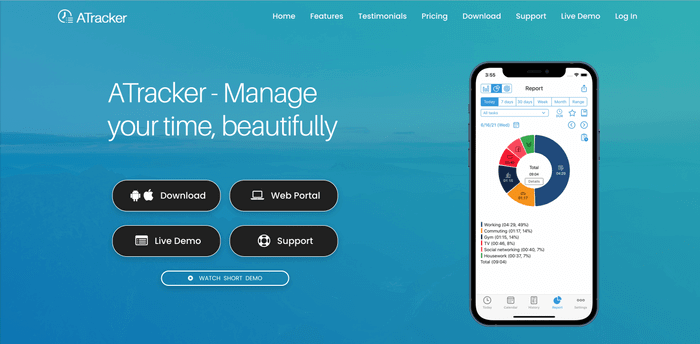 🔸 What is ATracker?
ATracker is a time tracking tool that puts the fun into your daily task tracking.
This simple-to-use activity tracker is designed with time management and productivity enthusiasts in mind.
In addition to tracking work tasks, this time tracker allows you to get more insight into your productivity — including multiple personal activities you perform throughout a day.
For instance, you can track your workout sessions, reading, research, design, housework, or anything else you do throughout the day.
Unfortunately, you can't track more than one activity at a time — so multitasking is not an option.
🔸 Why use ATracker?
If you want to gain better control of your time and improve your personal productivity and work output, ATracker might be the solution for you.
It allows you to get more detailed insight into your day.
Having a daily task overview can help you identify potential time wasters, your peak productivity hours, and optimize your days accordingly.
However, to get the most out of the app, you'd need to break your day into as many smaller tasks as possible.
Once you've finished tracking for the day, you can create different visual reports and share them via email or with your social media community.
🔸 ATracker's highlight feature
With a fully customizable setup, ATracker allows you to get a complete and easy-to-understand overview of your daily productivity.
You can also categorize your tasks with colors, tags, and icons — for better visualization.
🔸 ATracker is available for: Web, iOS, Android
TrackingTime — Best time tracking app for diverse time visualization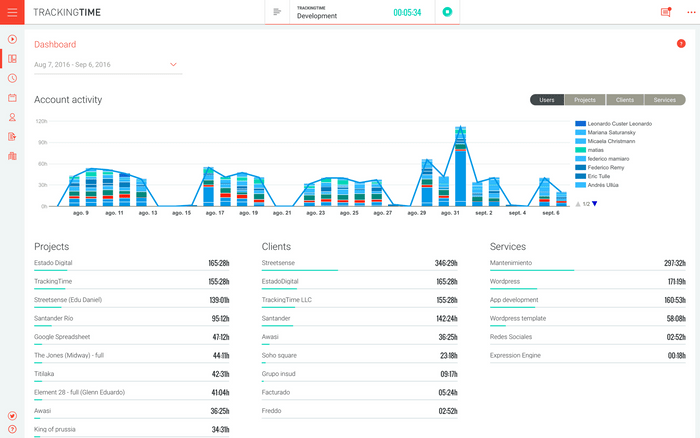 🔸 What is TrackingTime?
TrackingTime is a calendar-view tracking tool that allows teams to view their work hours and productivity in blocks and windows.
The tool supports multiple customization options for time visualization for a more complete overview of how you and your team spend your work hours.
You can plan and schedule your future tasks by setting up blocks of time for tasks planned for later dates, or for recurring events, such as weekly or monthly meetings.
🔸 Why use TrackingTime?
Freelancers and solopreneurs can use TrackingTime for standard time tracking and reporting to get an insight into their general productivity.
The app is less suited for monetary budgeting and invoicing, as it only focuses on time estimates — even though it supports billing rates reporting.
Still, it does a great job for time and project planning with features for time block scheduling, team management, and project tracking.
🔸 TrackingTime's highlight features
Time reporting and time visualization are some of TrackingTime's strongest suits.
Shareable reports are a useful detail when users need to send their time log reports to clients, for instance.
🔸 TrackingTime is available for: Web, Windows, macOS, iOS, Android, Firefox, Chrome
RescueTime — Best time tracking app for reducing distractions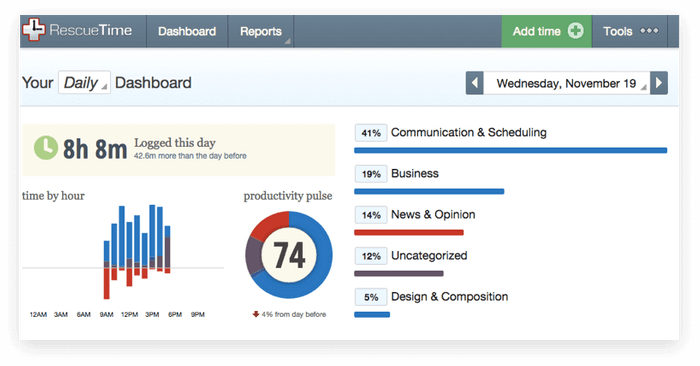 🔸 What is RescueTime?
RescueTime is a time tracking app geared toward improving focus and productivity.
By offering details on how you spend your time — including distraction breakdowns and focus guidance — RescueTime's main goal is to help people learn how to manage their time more effectively.
Essentially, RescueTime is a monitoring tool that works in the background collecting data on your productivity based on your focused work vs. distractions ratio.
The app tracks your productivity based on how you categorized the apps you're using as either "productive" or "disruptive".
🔸 Why use RescueTime?
Unlike previously mentioned apps, RescueTime doesn't come with options to export reports on tracked time or create invoices directly from the app.
It is more suited for professionals who want to enhance their productivity and focus.
If you want a simple tool that offers solid insight into your working habits and potential improvement opportunities, RescueTime might be the solution for you.
It takes some getting used to in the beginning — until you get a hold of the terminology and the system the app uses to classify specific tasks — but it is pretty intuitive overall.
🔸 RescueTime's highlight features
RescueTime puts primary focus on personal productivity allowing you to create daily task goals and productivity overviews.
In addition, the app lets you blacklist distracting websites and apps to better optimize your focus.
🔸 RescueTime is available for: Windows, Linux, macOS, iOS, Android, Firefox, Chrome, Brave
Timely — Best time tracking app for virtual task planning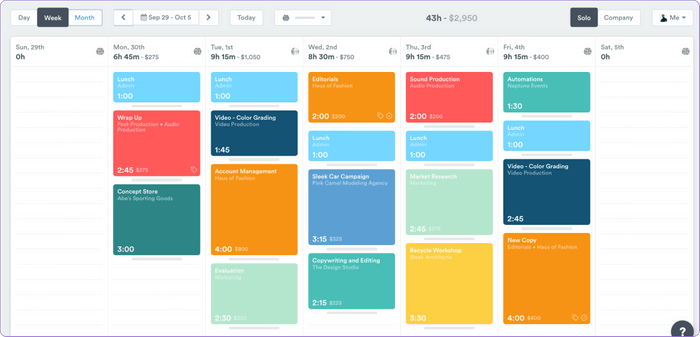 🔸 What is Timely?
Timely is a time tracker that lets you automatically track and assess your work hours across websites, meetings, emails, and documents.
The app comes with an intuitive and organized task planning feature that allows you to get a better overview of your project timeline.
Visual reporting is also available for teams that need to keep track of their time resources.
🔸 Why use Timely?
Timely works best for individuals and small teams focused on project and task planning.
It's also suitable for people and teams looking for an automatic solution to track billable hours.
However, although the automatic time tracking option requires minimum interaction, users may find the app a bit clunky for a rather expensive pricing plan.
🔸 Timely's highlight features
Where it lacks in detailed reporting and pricing, Timely makes up for in almost fully automatic time tracking and project and team visual planning.
The app mainly focuses and succeeds in creating a hands-off approach to time tracking and letting users utilize their time resources more efficiently.
🔸 Timely is available for: Web, Windows, macOS, iOS, Android
DeskTime — Best time tracking app for employee monitoring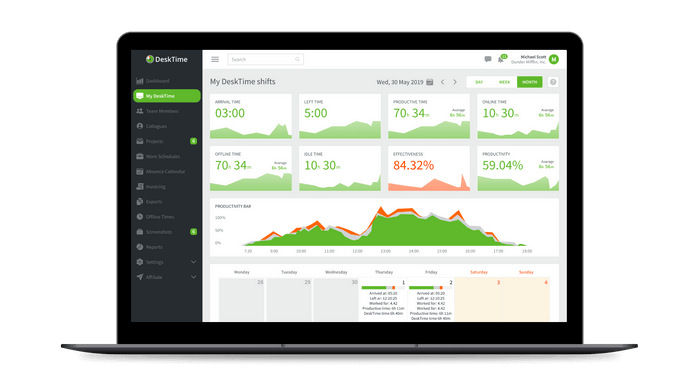 🔸 What is DeskTime?
As an employee monitoring and productivity time tracking app, DeskTime provides insight into daily habits that affect employee productivity.
The app lets you categorize most commonly visited websites and used apps as "Productive" or "Unproductive" and uses this input to calculate your daily productivity and efficiency.
Team managers or individuals can use the data to identify potential time-wasters and find opportunities for improvement.
Admins or team managers can create employee groups based on positions or departments to define productive and unproductive apps and websites according to a specific position or team role requirements.
Unfortunately, this feature can pose challenges in terms of defining what is productive and what isn't — especially in instances and positions that require plenty of tasks and activities.
🔸 Why use DeskTime?
DeskTime is ideal for individuals and teams that want to track the overall productivity rather than going into a detailed analysis of their work hours.
Essentially, DeskTime allows you to set a target productivity rate and track if you or your employees reach it day-to-day.
Although it is primarily an employee monitoring tool, DeskTime still supports regular time tracking with detailed and downloadable reports.
🔸 DeskTime's highlight feature
The strongest point of DeskTime is its URL and app tracking feature that allows team managers to track and improve upon their team's productivity.
Once admins set parameters for each employee or department, the app is then able to calculate the exact productivity percentage based on the hours tracked throughout the day.
🔸 DeskTime is available for: Windows, Linux, macOS, iOS, Android
Hours — Best time tracking app for simple work time tracking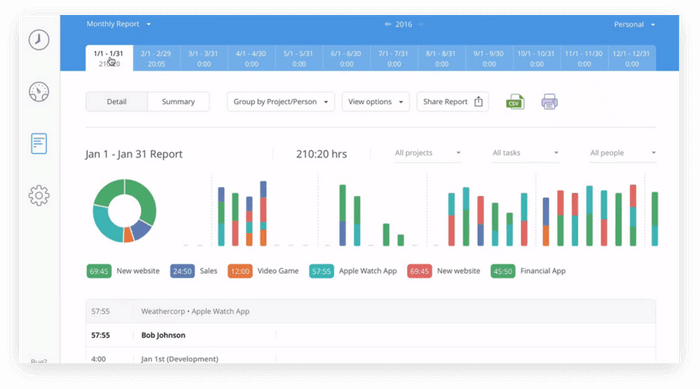 🔸 What is Hours?
Hours is a time tracking app that lets you accurately track your work hours across several tasks. The app allows you to categorize project tasks by colors for clearer task visualization.
You can also seamlessly edit the timestamps at any time, so you don't have to worry about forgetting to start or stop the timer.
Although it isn't packed with advanced productivity features, Hours does a solid job of work hours tracking, standard reporting, and invoicing.
🔸 Why use Hours?
If you're looking for a simple time tracker that lets you log work time in a visually appealing way, then Hours might be the best option for you.
It's predominantly suited for individuals and small teams that require basic time tracking functionality in a simple-to-use interface.
🔸 Hours' highlight features
Strong task visualization is where Hours really shines.
With color-coded task or project categorization, you are able to have a better overview of your workload — which also ensures better prioritization and planning.
🔸 Hours is available for: Web, iOS
TimeCamp — Best time tracking app for time and productivity tracking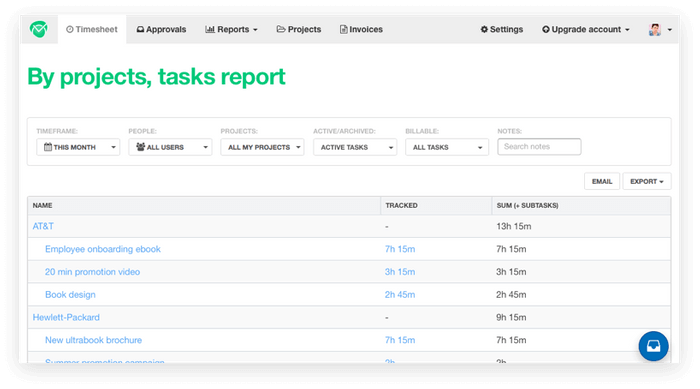 🔸 What is TimeCamp?
TimeCamp is a time tracking and employee monitoring tool you can use to track your team's productivity via the automatic or the Pomodoro time tracking option.
It comes with a decent list of time tracking features, although most of these are only available in the paid version — including XLS reports export.
🔸 Why use TimeCamp?
TimeCamp is best suited for team managers and organizations looking for a time tracking app that supports employee monitoring, time tracking, employee payroll, invoicing, and basic project management through integrations with other tools.
You can also track the profitability of your projects, to decide whether it would be worthwhile to pursue similar types of projects in the future.
🔸 TimeCamp's highlight features
In addition to customizable reports, TimeCamp allows daily productivity insights, invoicing, and attendance tracking.
Within the attendance tracking options, teams can also request, manage, and track their time off requests — but also handle payroll and overtime.
🔸 TimeCamp is available for: Web, Windows, Linux, macOS, iOS, Android, Chrome
Wrapping up
Picking the best time tracking app for your team or a company can be a daunting task.
With plenty of options on the market each with its unique combination of features and functionalities, it can confuse even the most decisive of us.
However, once you weigh out all the pros and cons of the best solutions available — and then compare them against your specific needs and requirements — you can be more certain you've made a well-informed decision.
So, use our guide to find the best time tracker that offers optimum functionality at a reasonable price for you or your team.