Did you know that a Northern Illinois University study revealed that brainstorming has a positive impact on group cohesiveness, which consequently increases employee commitment and lessens employee turnover?
With that in mind, we can understand why brainstorming is one of the most popular problem-solving techniques that boosts team creativity.
In this blog post, we've got you covered with brainstorming techniques to help your team generate winning ideas.
Plus, you'll find out how to organize and evaluate your brainstorming sessions.
So, let's dive in!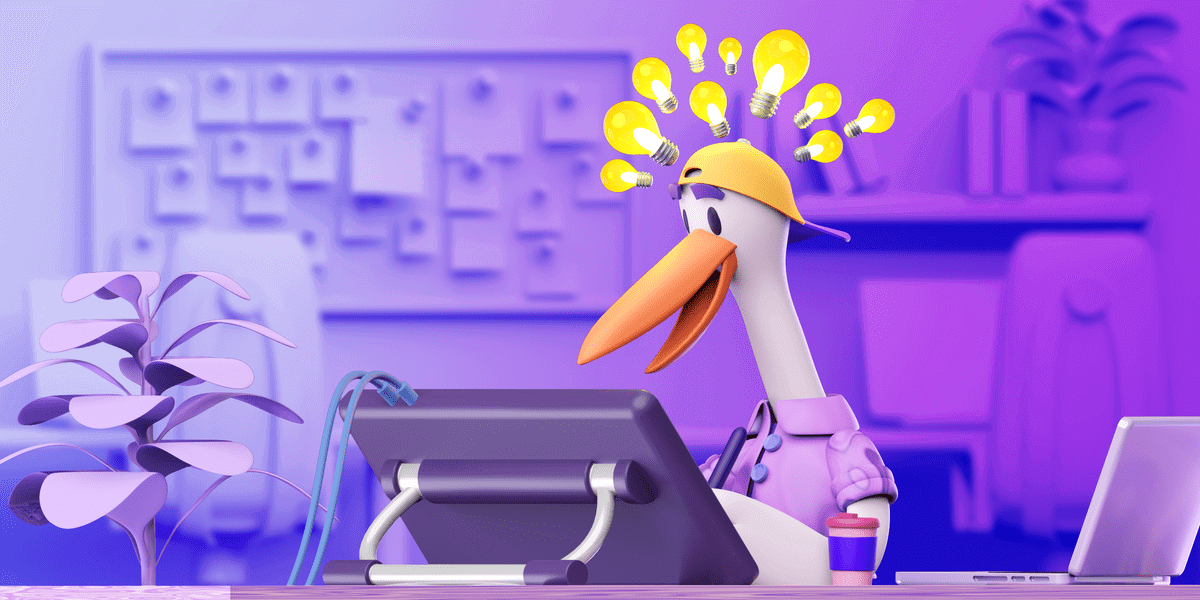 What is brainstorming?
Brainstorming is typically a group activity where participants come up with new ideas, no matter how valuable they are.
In other words, brainstorming is a problem-solving technique that involves sharing new ideas or building off of existing ideas without criticism.
As such, this powerful team-building activity involves several key steps that contribute to effective problem solving:
Sharing ideas without hesitation and fear of criticism,
Discussing and filtering ideas, and
Achieving consensus on the best idea(s).
Brainstorming ideas for better problem-solving
Thanks to various techniques available, you can use different forms of brainstorming, depending on the work setting and the goal.
So, let's discuss some of the most popular brainstorming ideas that can help you inspire your team to become more involved and motivated.
Brainstorming idea #1: Brainwriting
One of the most popular brainstorming techniques is brainwriting. As its name suggests, this method implies jotting down all ideas that come to your mind.
Unlike regular brainstorming, which entails people sharing their ideas aloud, brainwriting is a good way to encourage introverts and people who suffer from fear of public speaking to voice their ideas.
Thus, this type of brainstorming ensures that all participants' voices get heard and it helps encourage their creativity.
The most popular brainwriting form is the 6-3-5 method, which is typically split into 6 rounds.
So, let's see what it looks like.
In each round, 6 participants have 5 minutes to write down 3 ideas on a worksheet.
After the first round, participants swap their papers with a team member sitting at their right, so they read what's on it and jot down 3 more ideas.
After 6 rounds, the outcome is 108 ideas generated in only 30 minutes.
Even though brainwriting may have more than 6 participants and include more than 6 rounds, most people find that 3 ideas per round is the best practice.
How to run a brainwriting session?
To run a brainwriting session successfully, it's necessary to follow several key steps.
So, let's go over each of them.
Creating a brainwriting template: This will help you organize and structure your brainwriting sessions.
Beginning the first round: Once you give templates and instructions to participants, start the timer, so participants can start jotting down ideas.
Exchanging worksheets: When the time is up, every participant swaps their worksheets with the person sitting next to them. All participants then add 3 new ideas to the paper they got.
Repeating the process for every round: In each round, participants write down 3 new ideas or develop the existing ideas.
Discussing ideas: When participants complete the final round, you can collect all worksheets to present all ideas. Everyone is encouraged to discuss them.
Another form of brainwriting is rapid ideation in which everyone writes down as many ideas as possible in a short amount of time.
As this form of brainstorming is anonymous, participants contribute all ideas that come to mind without hesitation and fear of judgment. They typically use sticky notes to write down ideas, which can then be grouped and discussed together.
Brainstorming idea #2: Mind mapping
Mind mapping is a visual brainstorming technique that helps with:
Structuring,
Organizing,
Analyzing, and
Generating creative ideas.
As such, mind mapping is a powerful way to organize complex ideas and spark creativity.
How to create a mind map?
As mind mapping involves a central theme and associated ideas, it's critical to follow these steps:
Define a central topic or question as a starting point.
Let all team members write down all ideas that come to their mind related to the question.
After the initial set of ideas, they need to create a branch of more associated ideas. To do so, they can use lines or circles.
Once they complete their mind maps, each team member can share their ideas with others.
Brainstorming idea #3: SWOT analysis
Although SWOT analysis is a strategic planning technique, it's also considered an individual or group brainstorming exercise.
Aside from structuring and organizing ideas, SWOT analysis helps teams:
Discover different perspectives,
Consider the pros and cons of ideas, and
Align team members around a shared vision.
How to use SWOT analysis for brainstorming?
To take advantage of SWOT analysis, follow these straightforward steps:
Define a specific question or idea.
Create a SWOT matrix including internal and external positive and negative circumstances:

Strengths,
Weaknesses,
Opportunities, and
Threats.

Encourage your team members to brainstorm ideas for each quadrant.
Analyze the ideas of all team members and find patterns.
Brainstorming idea #4: Reverse brainstorming
Reverse brainstorming is a problem-solving method that combines brainstorming and reverse techniques.
In reverse brainstorming, you don't ask the participants how to solve the problem, but how to hypothetically cause the problem.
Namely, instead of looking for ideas to achieve a goal, this brainstorming technique focuses on potential problems and failures.
As such, it helps teams identify potential ways they can cause or aggravate the existing problems.
For example, a customer support team manager can use reverse brainstorming to improve customer satisfaction. Instead of asking how to improve customer satisfaction, they can ask something like: "How do we make our customers more dissatisfied?"
How to run reverse brainstorming sessions?
If you want to use reverse brainstorming with your team, make sure to focus on these easy-to-follow steps:
Ask your team members a reverse question — "How could we possibly cause a problem?" or "How could we possibly achieve an opposite effect?"
Give your team sufficient time to brainstorm reverse solution ideas.
Discuss their answers and reverse ideas into solution ideas.
Lastly, evaluate solution ideas.
Brainstorming idea #5: Figure storming
Unlike other brainstorming forms where participants generate ideas from their perspectives, figure storming implies putting yourself in someone else's shoes.
The idea here is to consider how and why someone else would approach a certain problem or challenge.
This way, everyone can take on a new perspective and think about a problem in a new way, which consequently might enrich the decision-making process with new creative solutions.
In this brainstorming technique, your team members might become:
A manager or leader,
A difficult client or customer,
A fictional figure, or
A figure from history with a strong reputation.
How to use figure storming?
Essentially, figure or role storming is more like a game that participants play individually or in small groups.
To play it effectively, it's critical to take the following steps:
Decide what role your team will play.
Decide between individual or group approach (group divided into smaller groups).
In the group discussion, list key qualities and motivations of the figure or role.
Give team members enough time to brainstorm and write down their ideas.
Let every group or individual present their ideas.
Brainstorming idea #6: Starbursting
Another brainstorming form is starbursting, which implies generating questions rather than answers.
For instance, when brainstorming a new product idea, it's important to start with critical questions that help generate the right ideas, such as:
Who is this product for?
What problems does it solve?
Do competitors have the same or similar products?
Simply put, the idea here is that the right questions lead to the right solutions.
How to use starbursting?
If you want your team to take advantage of the starbursting method, make sure to follow these simple steps:
On a piece of paper or a whiteboard, outline a six-point star. Write the main topic on the central part of the star, and add 6 questions — who, what, where, when, why, and how — on the edges.
Start brainstorming questions for each group of questions.
Once you have a list of questions, start a group discussion and answer each of them.
Analyze questions and answers.
Brainstorming idea #7: SCAMPER
The SCAMPER is a creative brainstorming technique typically used for innovating or improving products, services, or ideas.
It provides 7 specific thinking approaches without a sequential flow to follow.
So, let's go over each of these techniques.
SCAMPER technique #1: Substitute
The Substitute technique focuses on finding alternatives to segments of ideas or parts of products that can be replaced with another.
The main idea here is to find different solutions that can improve the final version of the idea or product.
Therefore, it's important to answer the questions such as:
Can we make the process simpler?
What parts of the process can we replace without affecting the value of the idea or product?
What can we substitute to make an idea or product better?
Can we find better alternatives for X?
SCAMPER technique #2: Combine
In the Combine technique, the goal is to think about how you can combine different parts of a product or idea to make something new and better.
Here are some guiding questions for this SCAMPER technique:
What components of an idea or product can we combine?
What elements of an idea or product can bring synergy?
What can we combine to achieve a particular goal?
SCAMPER technique #3: Adapt
The Adapt technique focuses on components that we can adjust to make better results.
Therefore, in this technique, participants think about the following questions:
How can we adjust a product or idea for better outcomes?
What components can we adjust to improve the process?
What part of the process can we adapt to achieve better results?
SCAMPER technique #4: Modify
The Modify technique is more than just adjustment since it refers to changing the overall process. For example, you can modify the market size or target audience.
Here are the guiding questions for this SCAMPER technique:
How can we add extra value to the product?
How can we improve the value of a product?
Should we add or delete some features?
SCAMPER technique #5: Put to another use
With this approach, we consider how we can put our idea or product to other uses. This technique might help us expand our market or reach out to new customers.
Here are some questions to think about:
Who else might benefit from this product?
What else can be the purpose of this idea or product?
SCAMPER technique #6: Eliminate or minimize
This technique aims to discover the parts of a product, service, or idea that can be:
Reduced,
Eliminated, or
Simplified.
This way, we can identify unnecessary parts of the process to make it more effective.
To find the right answers, use the following guiding questions:
Can we cut costs without affecting the quality of the product?
How can we simplify the idea?
Can we reduce effort and time?
SCAMPER technique #7: Reverse
Lastly, the Reverse or Rearrange technique focuses on exploring the innovative potential by reversing the process.
So, here we think about how we can reorder or reverse the problem or product.
The questions that may help here are:
Can we interchange the pattern or components of an idea?
What would happen if we reverse the process?
Brainstorming idea #8: Virtual brainstorming
Since work structures became predominantly remote and hybrid, many managers have replaced in-person brainstorming with virtual sessions.
According to an APA PsycNet study, people enjoy traditional brainstorming more than virtual sessions. However, online brainstorming sessions are more effective since participants generate more ideas online.
Moreover, virtual brainstorming is necessary for international companies with remote and hybrid teams, as their team members are in different locations, sometimes even on different continents.
How to run virtual brainstorming sessions?
If you opt for virtual brainstorming, you need to follow several key steps:
Choose an appropriate collaboration tool. — For example, you can create Google Forms for generating anonymous ideas. For brainstorming and group discussion, you can choose a video conferencing app like Pumble.
Send a meeting agenda to the participants in advance. — This will help your team prepare for the brainstorming session.
Run a video meeting. — Give your team members enough time to contribute ideas.
Evaluate the ideas. — Organize ideas in patterns and start group discussion.
How to organize brainstorming sessions effectively
Even though brainstorming is a powerful tool for generating ideas that help us overcome challenges and problems, we have to organize it effectively to make the most of our sessions.
Let's go over some tips on how to organize a winning brainstorming session:
Define a clear and specific goal: Make the goal clear both for you as moderator and your team members.
Ensure you're well familiar with the topic: This is especially important for later stages of brainstorming when you discuss ideas with team members.
Focus on quantity: In brainstorming, quantity is better than quality, so encourage participants to generate as many ideas as they can.
How to evaluate brainstorming ideas
Once the brainstorming is completed, it's critical to make a transition from the divergent phase, where participants generate ideas, to the convergent phase — the evaluation phase.
At this point, participants change their roles and perspectives, so make sure to give them enough time to switch from creative to critical thinking.
The evaluation phase is critical, as it helps your team decide on which idea to pursue.
So, to achieve that, make sure to follow the steps that will guide you towards the right solution:
Define criteria clearly: You can use a checklist to define the criteria regarding budget, risks, timeline, etc.
Filter out the ideas with team members: In a group discussion, narrow down the initial list of ideas.
Make the final decision: Once you have a shortlist, discuss the pros and cons of the ideas and choose the best one.
Benefits of brainstorming
As we said, brainstorming is an effective tool for boosting creativity and overcoming challenges and problems.
Let's take a look at the additional benefits of brainstorming to keep in mind.
Benefit #1: Brainstorming enhances psychological safety
One of the greatest advantages of brainstorming is creating a psychologically safe environment. Namely, the most effective way to boost employee morale is to encourage people to share their ideas without fear of judgment and criticism.
This way, employees feel appreciated and heard, which improves their overall job satisfaction and motivation.
Benefit #2: Brainstorming improves team collaboration
Brainstorming is a great way to foster teamwork and collaboration.
Allowing your team members to freely express themselves and share their ideas with others makes them more connected, and consequently improves their collaboration.
After all, brainstorming is not just a problem-solving technique, it's also a team-building activity.
💡 PUMBLE PRO TIP
To improve team collaboration, it's important to implement a solid collaboration strategy. This will make team members more engaged and improve their productivity. Check out our article to learn more about the most popular collaboration strategies:
Benefit #3: Brainstorming introduces different perspectives
Two heads are better than one.
In brainstorming sessions, we discover diverse ideas and different points of view, which drastically increase the chances of finding the right solutions.
What's more, brainstorming may open new questions and inspire teams for further brainstorming sessions.
Wrapping up: Brainstorming inspires synergy
Brainstorming is a powerful way to unlock your team's creativity and boost their engagement.
As a type of team-building activity and problem-solving technique, its advantages for overall team communication and collaboration are multifold.
Most importantly, brainstorming empowers teams with synergistic ideas, which are more valuable than the sum of every individual's contributions.
✉️ What about you? What brainstorming technique do you typically use? Do you have any additional tips on how to organize brainstorming sessions?
Let us know at blogfeedback@pumble.com and we might include your input in this or future posts. If you found this article helpful, share it with someone who would also benefit from it.