We've all been stuck in a chaotic and disorganized meeting at least once or twice in our careers.
And we can all remember feeling like we've wasted time that could have been spent in a more productive way.
Although several factors can contribute to a lack of productivity in meetings, not having a clearly outlined meeting agenda is one of the top reasons your work meetings seem like a major waste of time.
In fact, a lack of clear agenda is one of the biggest pet peeves for US professionals, according to the latest meeting statistics.
Moreover, research shows that a detailed meeting plan and agenda are instrumental to people's engagement and interest in meetings.
This is even more important in the age of hybrid work where employees may find it more difficult to stay focused and aligned with company goals — as, in most cases, they only engage with their coworkers virtually.
If you want to avoid the trap of unproductive virtual meetings, it might be time to stop winging it and start planning your virtual meetings.
That's why, in this guide, you'll learn how to design an effective agenda for virtual meetings that will help keep your participants engaged.
Let's dive in.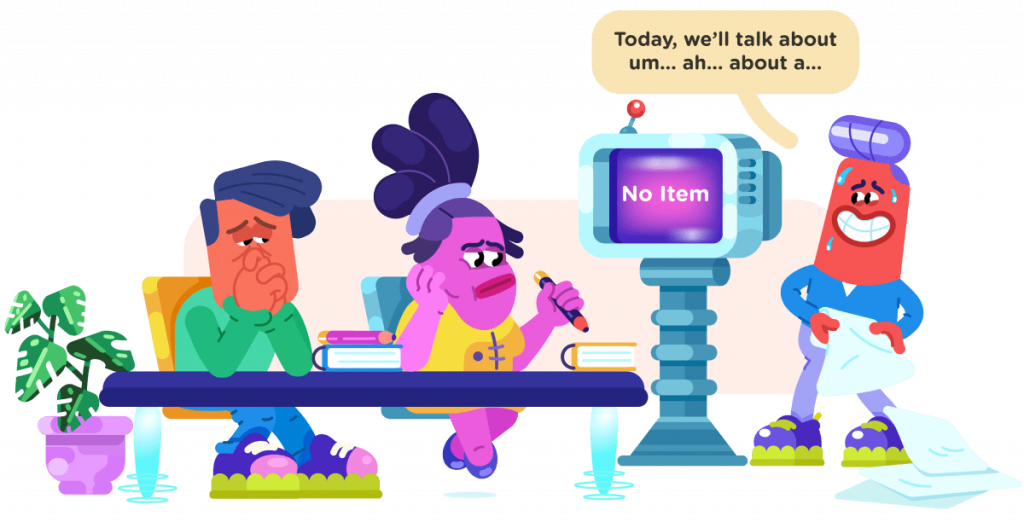 What is a virtual meeting agenda?
A virtual meeting agenda is a chronological list of all the topics, activities, and tasks that will be discussed during a meeting that takes place in a virtual environment.
It includes a clear and detailed outline of:
The main objectives of the meeting
Key meeting roles and item owners
Time estimates for each point or task
A virtual meeting agenda allows meeting participants to prepare ahead of time and ensure maximum productivity of the meeting.
Who is in charge of creating a virtual meeting agenda?
As a general rule, the meeting organizer is responsible for developing a meeting agenda.
In most cases, participants assuming other key meeting roles will often assist in the process of creating a meeting agenda outline.
It's a good practice to allow everyone to add discussion points and action items in order to make your virtual meetings more interactive and engaging.
As a meeting organizer, it's your responsibility to make sure your meeting agenda succeeds in:
Informing your teammates,
Providing a meeting structure,
Driving decision-making, and
Improving meeting productivity.
The importance of an effective virtual meeting agenda
Unproductive meetings are not just a major source of confusion and frustration for participants attending them — they are also considered a huge waste of time, productivity, and money.
Poorly organized meetings cost companies substantial amounts of money. It is estimated that US companies lose $399 billion a year on unproductive meetings.
Creating a simple meeting agenda can help you avoid these — and all other challenges — as it allows participants enough time to prepare for the meeting.
Creating and sharing a virtual meeting agenda with your coworkers before the meeting also helps you set the tone for the meeting and ensure everyone is on the same page, so there is no room for confusion.
Here are some important reasons to start incorporating agenda items into your meeting planning.
A virtual meeting agenda defines the purpose of the meeting
Whether you're hosting a quick one-on-one check-in session or a formal meeting with external partners, having a clear meeting agenda allows direct insight into the meeting objectives.
Having all the main discussion points on hand helps participants have a clear understanding of the main purpose of the meeting — which ultimately secures better preparation and more productive discussions.
A virtual meeting agenda fosters an inclusive conferencing environment
There's hardly anything worse than having one or two people dominate the discussion in a meeting. In addition to causing frustration with other team members, it also demonstrates a lack of respect for other participants.
A clear and detailed virtual meeting agenda, however, allows all participants equal access to discussion topics, which empowers them to contribute during a meeting.
Such an agenda allows teams to create a safe space for team members to honor diverse opinions and ideas.
A virtual meeting agenda keeps the discussion on track
Meetings without a clear agenda often lack focus — and can turn into an unproductive environment with too many digressions.
If you don't want to constantly find yourself having to schedule another meeting to get things done, try incorporating meeting agendas into your regular meeting organization practice.
Agendas give participants a script to follow in a meeting.
This ensures people stay focused with minimal risk of distractions, interruptions, or unrelated topics occurring.
A virtual meeting agenda fosters accountability
It's easy to get sidetracked by the overwhelming list of tasks and forget the key objectives and priorities. This is particularly true in a remote work environment where there's less opportunity for shared context to keep you in sync with your remote team and responsibilities.
This is where a virtual meeting agenda comes in handy.
It serves as a single reference point for shared knowledge all team members can use as a reminder to keep them on track, which improves accountability for remote workers.
Moreover, a meeting agenda defines roles, responsibilities, and expectations for tasks during and after a meeting.
This minimizes misunderstandings and excuses for a lack of preparation or missed deadlines.
How to create a virtual meeting agenda
Now that we've covered all the benefits of creating a virtual meeting agenda, it's time to get some actionable tips on how to put all this into practice.
Here's a step-by-step process on how to design a winning virtual meeting agenda.
Tip #1: Start planning early
No one enjoys the stress of showing up to a meeting unprepared.
It can only cause more stress and anxiety to receive the main talking points minutes before the meeting.
The earlier you start, the more time you'll have to perfect your meeting agenda.
After all, even the most comprehensive meeting agenda is of no use to anyone if it arrives too late.
It's important that you don't leave out any important talking points or forget to highlight key issues that need to be addressed.
Starting with your agenda planning early will also give you enough time to get input from all of your teammates and make adjustments accordingly.
Moreover, you'll guarantee your team has enough time to go through everything and prepare for the meeting.
A good rule of thumb is to finish and send out the meeting agenda at least three days before the meeting — to ensure maximum productivity.
Tip #2: Write a comprehensive virtual meeting agenda
From digressions and poor time management, to missing attachments and documents, there are plenty of things that can sidetrack your virtual meetings if you don't plan for every possible scenario.
You don't want to leave the success of your virtual meetings to chance — so the key is to be overprepared.
Writing a detailed virtual meeting agenda can serve as a great guide on how the meeting is going to progress, so there is less room for getting sidetracked.
Although it may seem time-consuming, designing a detailed virtual meeting agenda will actually save you and your team a lot of time in the long run. Having a clear list of topics, time frames, and objectives ahead of time ensures better meeting productivity and overall performance.
A detailed meeting agenda acts as a time management tool in a way, as it sets expectations and estimates on how long each discussion should approximately last.
Depending on the type of meeting you're holding, you'll cover these elements in more or less detail — however, a comprehensive meeting agenda should include these five main categories:
Main topics — Main themes or sections of the meeting that define the goal of the meeting
Talking points — A list of items that will be discussed during the meeting
Supporting links and documents — Additional resources such as documents, tools, or links attendees need to review before the meeting
Decisions — Key issues that require the group's participation to be resolved
Action items — Next steps for the entire team and individuals
Tip #3: Use a virtual meeting agenda template
Realizing you need to have a virtual meeting agenda in place for each conference you organize is one thing — but writing a new one for each new meeting is an entirely different endeavor.
It's rather daunting and time-consuming to have to create a new virtual meeting agenda from scratch on top of all preparation that goes into organizing a meeting.
This is where a virtual meeting agenda template comes in handy.
It relieves the pressure and speeds up the process of meeting preparation by providing a solid foundation you can edit depending on specific circumstances.
You can create one general working document version. Then, you can change and adjust it on the go — until you reach the ideal meeting agenda that works best for your team and the type and structure of meetings in your organization.
Once you figure out the ideal meeting agenda for your team, you can save it as a recurring template everyone can use for that type of meeting.
If you're not sure where to start — you can use our free virtual meeting agenda template.
You can easily edit and update it depending on the type of meeting you're organizing.
🔽 Download a free Virtual meeting agenda template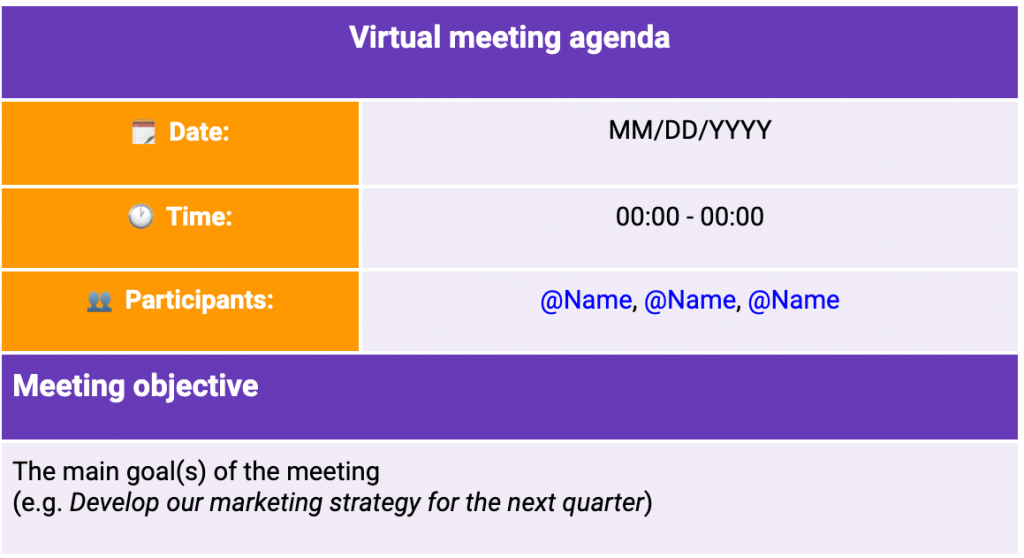 Tip #4: Assign key meeting roles
Let's be realistic — it takes more than one person to facilitate productive meetings.
In other words, you can't have one person in charge of keeping the conversation on track and taking notes at the same time.
Productive and engaging virtual meetings require multiple key roles to ensure everything runs smoothly.
To foster a more effective meeting experience for you and your team, consider defining key meeting roles in your meeting agenda.
This way, you're giving people assigned to the roles enough time to prepare — while other attendees also get up to date on who is in charge of what in the meeting.
Tip #5: Solicit input from team members
To have your team engage during the meeting, you need to inspire them to take action.
And, one of the best ways to achieve this is to ask them to share their feedback on the meeting agenda. 
In addition to improving meeting engagement and inclusivity, this practice also allows you to gain a better understanding of the topics and issues your team members deem important.
To create a space where every team member can benefit from the meeting and feel involved and engaged, ask your team members to review your agenda draft and add the points they think are relevant.
You can share your document in a team channel in your team chat app to ensure more transparency and overall more efficient communication. Your team members can then share their input in the thread or add suggestions to the shared document.

Tip #6: Order your action items by importance
Unfortunately, no matter how diligently you plan your meeting time frames, there is always a possibility of disruption or discussion taking longer than expected.
This is why it's paramount to list your topics and action items by priority and not risk any urgent decisions and issues getting moved to the next meeting.
Once you have a complete list of all topics and action items, be sure to prioritize the vital topics by placing them first on the list.
It's not uncommon to run out of time in meetings — therefore, prioritizing the most important discussions ensures participants don't feel rushed to make decisions or lose focus altogether.
Tip #7: Set a reasonable schedule and stick to it
One of the most common challenges in meeting productivity is planning a realistic schedule with a reasonable time limit.
To avoid getting off track and past the time limit, try to plan each agenda discussion in advance to allow enough time for effective discussion.
Also, be sure to set appropriate time limits according to the type of meeting you're planning. For example, a 30-minute time limit is perfectly fine for a quick one-on-one check-in session, whereas a monthly team meeting requires one-hour sessions.
It's also helpful to allocate a few minutes for a quick check-in or icebreaker session at the beginning of the meeting. This helps everyone relax and get off on the right foot.
Tip #8: Set the stage for inclusivity
Once you have your team members' feedback collected, take some time to analyze it and find ways to implement as many of their ideas into the discussion as possible.
Inclusivity starts on the micro level and every step in the right direction counts, so keep this in mind when preparing your meeting agenda.
Enable all your team members to have their voices heard and put their best ideas to the table.
A good way to start is to use the 2/3 rule to ensure a level playing field for all team members. The rule suggests organizing your meeting agenda in a way that each participant is involved in at least two of the three points discussed.
Ideally, you'll be able to create space and time for every idea eventually.
Tip #9: Highlight key issues or decisions that need to be made
When preparing a virtual meeting agenda, keep in mind that your teammates may be super busy with their workload, which often means they will just skim over the agenda. Especially if all points follow the same structure.
This can lead to them overlooking — and missing to prepare for — things like key issues and decisions that require their active participation.
To avoid this common meeting challenge, let your teammates know in advance what issues or decisions require their opinion or vote by highlighting these in your meeting agenda.
This simple practice helps you ensure the participants can have enough time to research and prepare more informed decisions and share their perspectives confidently, without unnecessary stress or pressure.
Tip #10: Follow up and share the meeting notes
The virtual meeting landscape has made us rely on conferencing tools to optimize and automate all of our work — and note-taking is certainly one of the tasks that fall into this category.
However, it may be a good practice to have a real human responsible for manual recording — even if your virtual conference platform already supports this feature — to ensure no important discussion points are left out.
You can ask the note taker to share these notes with the team after the meeting as a way to recap the discussion and achieve higher accountability with individuals assigned with action items.
To streamline the process, you can have the meeting notes shared in a team channel in your team chat app and have all team members immediately notified.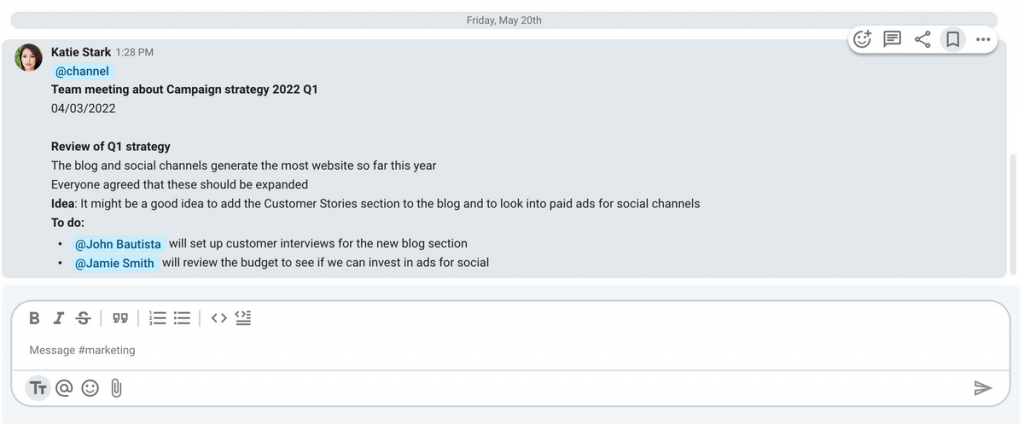 Wrapping up: Virtual meeting agendas keep your meetings organized and productive
No matter what type of meetings you're holding, it can get challenging to keep track of all moving parts without a single source of reference you can rely on to keep the conversation on track.
This is even more challenging in a virtual meeting environment where there are even more potential challenges, distractions, and unpredictable technology malfunctions that can significantly reduce the productivity of your meetings.
A well-planned virtual meeting agenda helps you keep your meeting productivity high and your team members engaged, and it provides an overall better structure to your discussions.
So, use our virtual meeting agenda template or create your own from scratch and start planning more successful and productive meetings your team will enjoy attending.
✉️ What about you? Do you prepare detailed meeting agendas for your virtual meetings? What are your key tips and takeaways? Let us know at blogfeedback@pumble.com and we may include your answers in this or one of our future posts.