As organizations are shifting to more flexible workplace arrangements, workplace communication, now more than ever, requires more efficient solutions that support quicker, more transparent, and streamlined team communication.
Enter team messaging apps — also referred to as team chat apps or business messaging apps. Effective team communication via team messaging apps is supported by functionalities that enable seamless, real-time communication and productive collaboration for all-size teams and organizations across industries and time zones.
Channels in team messaging apps are one of the key features transforming traditional team communication practices and helping organizations boost their productivity through a faster exchange of information across teams. You can organize your channels in a team chat app by:
projects
teams
departments
interests
or any other relevant category.
To help you maximize the potential of channels in team chat apps, we've compiled the ultimate guide. From the basic details on how exactly channels in team messaging apps improve workplace communication and how to create these channels, to the ultimate list of must-have channels for your team — read on to discover it all.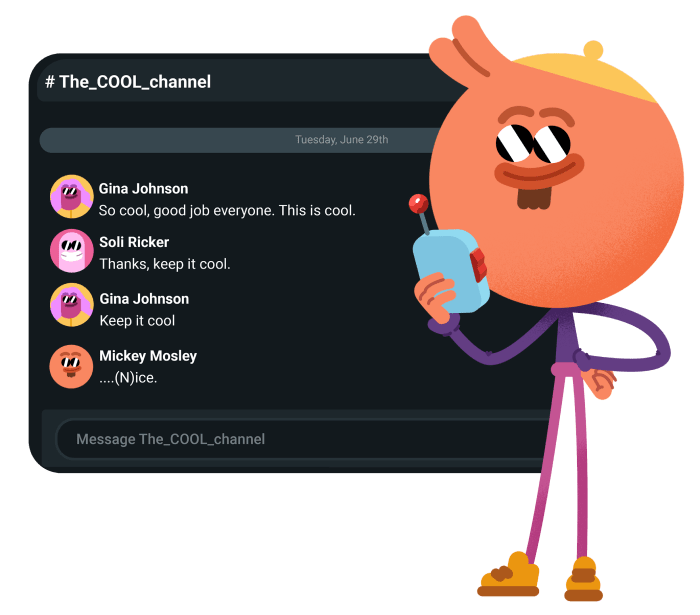 What are channels in team messaging apps?
Traditionally, business communication is conducted through channels such as emails, phones, different internal systems, or specialized solutions and tools. Business messaging apps have revolutionized team communication by delivering an all-encompassing business communication experience.
Unlike traditional communication channels that usually require more time and additional tools, team messaging apps work as all-in-one solutions for internal communication. Team messaging apps like Pumble combine all the best features of other types of communication channels to support modern workplace communication needs.
Business messaging app channels, thus, bring new meaning to the term "communication channels".
As one of the key features of team chat apps, channels in this context are used to categorize company or team conversations within a team chat app.
Each channel in a team messaging app represents a specific topic, a project, a team, or any other relevant category.
Teams can create or join any number of relevant channels to communicate with each other and share files.
Instead of searching through endless emails around different topics, teams can use a single channel in a team chat app to streamline all collaboration and easily search and access any information in the team conversation history.
An example of a channel in Pumble business messaging app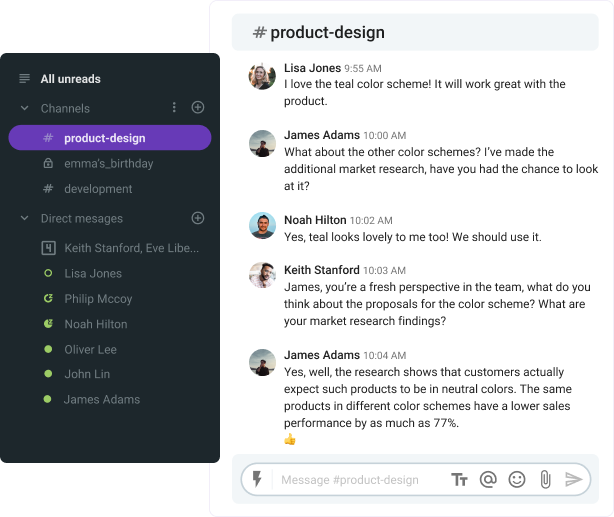 How channels in team chat apps can improve team communication
Channels allow teams and organizations to conduct all of their conversations in real-time from a single space. The feature lets you quickly communicate important information to all team members and keep everything and everyone in sync. Team collaboration stays transparent and efficient with no time loss or duplicate work.
By keeping everything organized in one place, channels in team messaging apps help boost team productivity by 30%. People no longer have to dig through emails or navigate phone calls and several apps to obtain the information they need. With team messaging apps like Pumble that come with file sharing and filtered search, people can easily access information across channels, which further improves and speeds up team collaboration.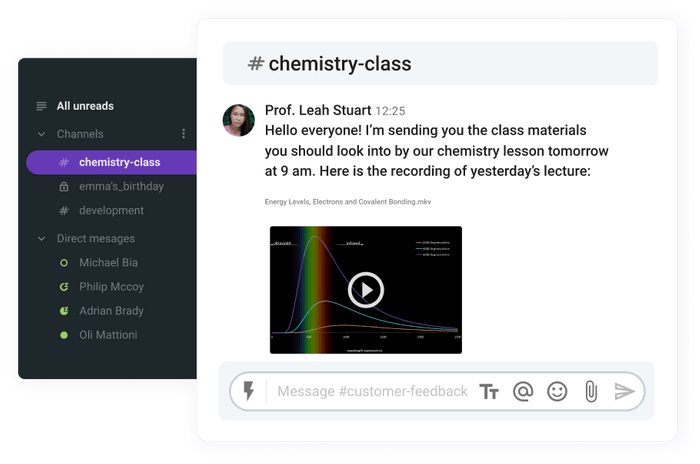 In addition to channels, team chat apps support direct messages, and group chats, for shorter, one-off conversations. However, most team communication takes place in channels.
Larger organizations can opt for broader categories and organize their channels by departments, while smaller businesses can categorize their channels by teams, projects, relevant topics, or interests. Each conversation can be further broken down into threads to allow detailed discussions without cluttering the main conversation view.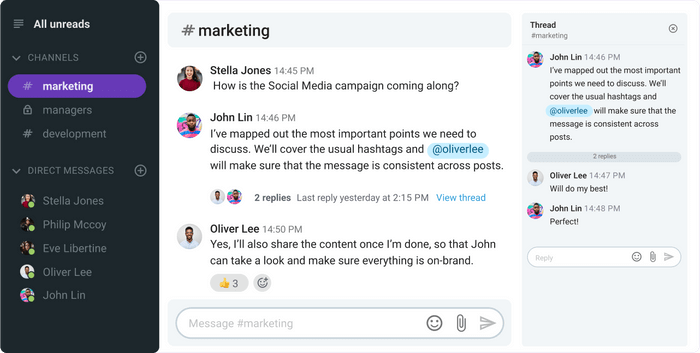 How to create channels in team chat apps
Now that we have a better understanding of how channels in team messaging apps aid team communication and collaboration, let's learn how to create channels in your team chat app workspace. We will use the business messaging app Pumble to illustrate the process.
🔽For more on how to use the Pumbe business messaging app, be sure to check out our guide on how to get started in Pumble.
Before we get started, it's important to make a distinction between two types of channels you can create in a business messaging app — public, and private.
#Public channels in team messaging apps
The information shared in a public channel is available to all members of a workspace. Public channels allow all team members across organizations to join and communicate with full transparency. Any member of a workspace (except guests) can access public channels via Search or a Channel browser. Moreover, any team member can create any number of public channels in a workspace.
For example, teams and organizations can create public channels for #company-announcements or #product-updates to allow all employees to access vital company information.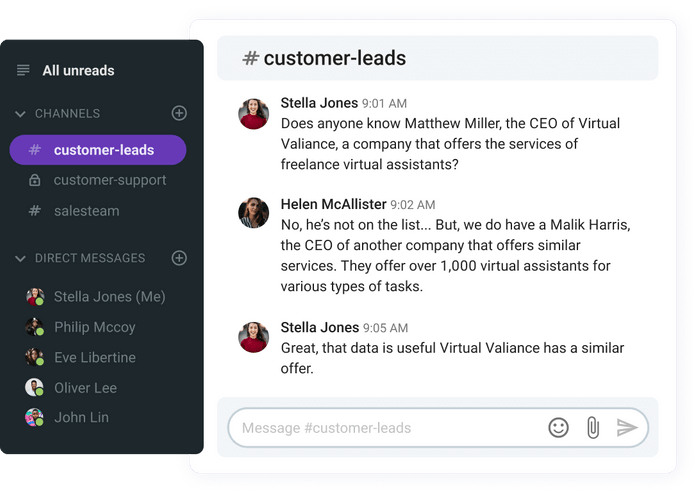 🔒 Private channels in team messaging apps
Private channels, on the other hand, are invite-only channels for conversations that contain sensitive information or team-specific conversations that may not be relevant to other members. Only channel members can access private channels via Search. Other users (or guests) need an invitation to join the channel and access the shared information.
Organizations can create private channels for conversations containing sensitive data such as confidential customer or employee information. Teams can also create private channels for specific team or project discussions they don't want to burden others with.
For example, the support team can use a public channel for general discussions that can be relevant to other employees, and a private channel for specific team discussions.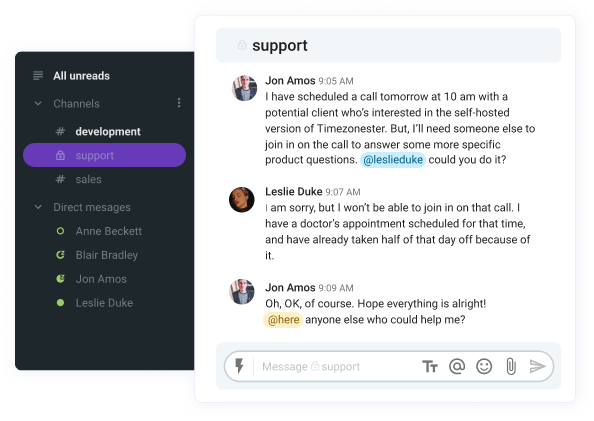 Creating a channel in a team messaging app
Let's go over a step-by-step process of creating a new channel in the Pumble business messaging app.
1. Tap on your Workspace name on the top left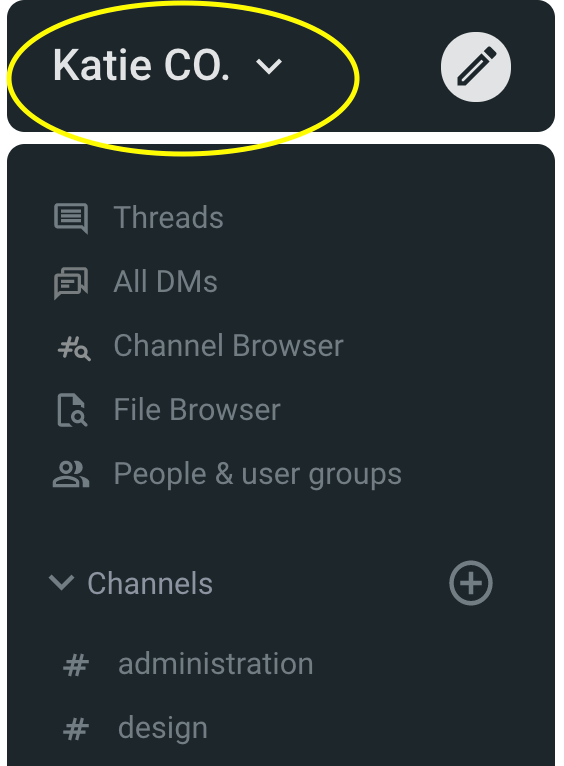 2. Select Create channel from the drop-down menu. On your mobile application, select Channel browser and then click the + symbol on the bottom right corner.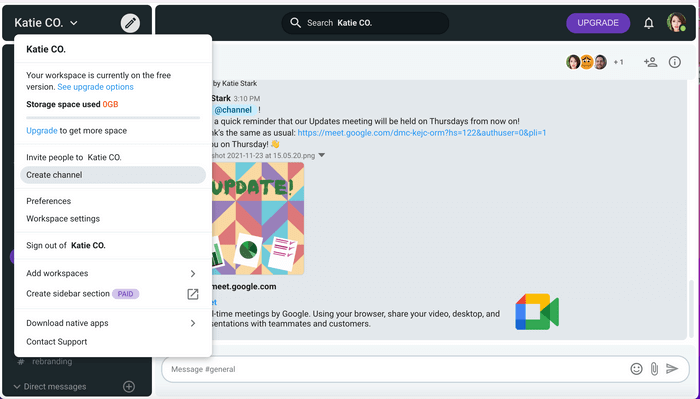 3. Name your channel using a maximum of 80 characters. Use only letters, numbers, underscores, and hyphens. 
4. You can add a brief description to let your team members know the exact purpose of the channel (this is optional).
5. Use the toggle button to set your new channel as private or public.
6. Select Create.
7. For private channels, you have to select the Add option to invite each new member.
Must-have channels for team chat apps
So, you've created, or joined a team chat workspace, added a couple of dedicated channels for specific teams, and now what?
Sure, there are those #general and #random channels as well for all those off-topic, and, well, random stuff?
But there's more to explore if you want to make the most of all that a solid team chat app has to offer. You'd want your teams to openly discuss any work-related issues and seamlessly collaborate on diverse projects. In that case, it's best to first create a safe and encouraging space where everyone can talk about their dogs, post funny memes, or complain about their car breaking down for the third time this year. This way, you're fostering a sense of community and trust that reflects in improved collaboration and sharing during joint projects.
Whether you're new to the world of team chat apps, or just need some additional ideas to engage your remote and hybrid teams and improve communication and collaboration, you've come to the right place. We've compiled a list of six essential types of team communication app channels to help you engage, educate, inspire, and support diverse teams across any industry organization. Let's take a closer look at channels for team communication apps using the team chat app Pumble, to illustrate our examples.
Channels meant to boost company culture
Encourage connection and support with public company culture channels. Nothing says "We're all in this together" better than having a space (or a couple of spaces) dedicated to making every employee feel included, informed, and appreciated. Here's our list of team chat app channels dedicated to improving company culture, to inspire your own channel organization.
#company-life
Type of channel: public
Purpose: Here you can post all those funny bits and pieces from the office.
Who to invite: everyone
Spotted a group of coworkers indulging in fast food during lunch? There's a new coffee selection available in the office kitchen? Take a photo, post it to the channel, and start the fun in the thread.
These types of team chat channels are especially valuable for remote and hybrid teams striving to keep all team members connected.
#company-parties
Type of channel: public
Purpose: Plan informal get-togethers to help employees reconnect.
Who to invite: everyone
Again, super-important, especially nowadays when teams are struggling with feeling disconnected. Encourage everyone to let loose from time to time and reconnect with colleagues in a more informal setting. A team chat app channel dedicated to these fun events will give everyone something to rave about before, and long after the party is over. You can use this channel to plan in-person parties, pick themes, post photos, and vote for the best costumes, for example.
🔒birthdays and #milestones
Type of channel: private/public
Purpose: These channels can make everyone feel appreciated and celebrated.
Who to invite: everyone except the person whose birthday is being celebrated
Create one public channel to include all birthday dates and make sure you never miss an employee's birthday. Encourage people to share important milestones as well and let everyone in on the celebration. Also, another great team chat feature you can apply here is a private channel you can set for every upcoming birthday. Of course, if you're preparing a surprise party or a present, invite all employees to join the channel, except the one whose birthday you're organizing. Here, you can arrange things like presents, decorations, food, drinks, etc.
#lunch and #coffee-break
Type of channel: public
Purpose: Inspire virtual and in-person water-cooler conversations.
Who to invite: everyone
Create opportunities for little get-togethers during lunch and coffee breaks. Teams working from the office can plan their takeout orders. Remote teams can organize virtual meetings where they can chat over lunch breaks to keep the team spirit.
#team-building
Type of channel: public
Purpose: Encourage connection and team spirit between employees.
Who to invite: everyone
A team that plays together stays together. Consider adding regular team-building events and games to the company calendar, to build a positive and healthy culture within your company. Get everyone on board with a dedicated public channel and let them vote to pick the next adventure, and post photos.
#onboarding
Type of channel: public
Purpose: Encourage connection and team spirit between employees.
Who to invite: HR staff and new hires
Help the new hires seamlessly integrate. Pumble, for example, lets you streamline all onboarding communication into a single channel where you can send welcome messages, introduce new people and help them adapt more easily. Utilize functionalities like mention to assign work buddies and training teams, and use the pin option to highlight important messages and documents for easy access. Organize the channel to serve as a support for new employees. Encourage questions and conversations to create an environment of communication and collaboration from the start.
#mental-health
Type of channel: public
Purpose: Show support and share resources to improve employee mental health.
Who to invite: everyone
As a 2020 study on global employee health points out, the mental health of remote workers plummeted as a consequence of the pandemic and shifting to a work-from-home model. Namely, 74% of workers report experiencing lower productivity as a result of poor mental health. Stress, burnout, and a lack of social interaction with colleagues can take a toll on mental health and overall company morale.
Conversations, tools, and resources play a key role in prevention and employee support in these unprecedented times. So, use this team chat app channel to share valuable resources and useful techniques for coping with stress. Additionally, you can make it a regular practice to start the week by posting an emoji to express your mood and inspire others to express more openly.
#giving-back
Type of channel: public
Purpose: Encourage a more socially aware culture.
Who to invite: everyone
Get everyone involved in philanthropic activities. Start a channel where you can post info and conversations about the important causes and charity work the company supports.
These actions will generate more connectedness among employees and teams and create a more favorable employee branding image, along with nurturing a more socially aware culture.
Channels that encourage teamwork
Now that you've helped everyone settle in and connect, it's time to focus on creating a more productive space for team collaboration. We've already discussed how susceptible remote and hybrid teams are to developing a silo mentality, so make sure to do your best to prevent these scenarios. Create team chat app channels that specifically foster cross-functional collaboration and encourage a teamwork culture.
#feedback
Type of channel: public
Purpose: Foster collaboration and open communication.
Who to invite: everyone
Make room for constructive feedback. Instruct managers to share finished projects in this channel and let other teams comment. Two heads are better than one, after all. Moreover, safe file- and idea-sharing space will inevitably result in some groundbreaking innovative ideas, in addition to improving overall cross-team communication and collaboration.
#project-name
Type of channel: public
Purpose: Streamline cross-team collaboration.
Who to invite: everyone involved in those projects
It's finally time to connect affiliated teams. Bridge the gap between marketing and sales, content and design, or connect several regional branches of your organization. In addition to enhancing collaboration within specific teams, use team chat apps with unlimited user and channel functionality to build more productive cross-team collaboration. Or, create a #projects channel to promote cross-team work for specific projects. For easy access, consider adding the name of the project as a channel name.
Channels meant to measure customer satisfaction
Your most unhappy customers are your greatest source of learning, as Bill Gates famously said. Use the valuable info from your customers, patients, students, or users to learn and improve. Depending on the industry you're in, you can create a public team channel for customer feedback. It doesn't necessarily need to be only for customer support teams. Instead, make it a company-wide effort to forward any type of user review, question, or suggestion to this channel. Allow all teams to access, discuss, and respond to these emails, social media mentions, reviews, or any form of feedback. That way, you're creating a space for innovation and creative problem-solving, while improving your products or services to better meet your customers' needs. Here are some examples of how this channel can look like for different industries.
#customer-feedback or a suitable alternative
Type of channel: public
Purpose: Offer a centralized customer feedback resource.
Who to invite: everyone
Financial services or tech companies, for example, can use this type of public channel company-wide to forward any reviews, user testimonials, social media mentions, or emails they receive or come across online. Companies can use this type of channel to have all teams informed from a single, centralized place. Users complain about the new feature being inaccessible? The development team is in on the feedback and can start working on that right away. Moreover, this channel allows for more informed decision-making when brainstorming and planning.
#patient-feedback
Similarly, healthcare organizations can use this channel to share patients' perspectives on the quality of care and treatments they received. A unified channel ensures all teams are well briefed on the patient feedback and can immediately take the necessary steps to improve where needed.
#student-suggestions
Type of channel: public
Purpose: Improve student experience.
Who to invite: everyone
Schools and e-learning organizations can utilize team chat app channels for feedback by creating a space where teachers, staff members, or even students, can post student suggestions on ways to improve course content, access to courses, facilities, or any other ideas aimed at improving student learning and student experience.
Channels meant to encourage improvements
Similarly, you can create a shark-tank type of company channel that lets all employees share their ideas and suggestions for improvement. Let all voices within your company be heard, and cultivate the image of an inclusive, supportive culture that acknowledges all ideas and suggestions.
You can choose the name for the channel depending on the type of niche, industry, or business you're operating in.
#features or a suitable alternative
Type of channel: public
Purpose: Support employee engagement and innovation.
Who to invite: everyone
Tech companies can use this channel to collect valuable insider feedback on products and features. Any employee can chime in and suggest a new feature and explain their idea. To make it even more engaging, companies can organize monthly polls and bring the most upvoted ideas into reality.
#ideas
Type of channel: public
Purpose: Support improvement, innovation, and employee engagement.
Who to invite: everyone
Companies and organizations providing financial services, for example, can use this type of channel to encourage teams to openly share any ideas that support improvement on any given level.
#suggestions
Type of channel: public
Purpose: Encourage employee engagement and improve service quality.
Who to invite: everyone
A staff member has a suggestion on how to upgrade a specific course curriculum, for example? They can share it on this channel and start a conversation.
#virtual-company-open-door
Type of channel: public
Purpose: Create a space for better communication between executives and employees.
Who to invite: everyone
A remote-friendly Ask the CEO Anything, if you will.
Ever wondered how your company CEO organizes their day? What's their most productive morning routine? Or, what did it take to create the company it is today? Here's your chance to find out without having to schedule an in-person meeting.
AMA formats, largely popular on social media, can be perfectly translated into remote-first teams using team chat tools. All it takes is creating a public channel and inviting and notifying all teams to jump on board and ask any questions. The CEO can decide to respond sporadically throughout the week, or dedicate a specific day and time slot to all the answers. Either way, by employing this type of team chat app channel, companies are bridging the gap between executives and employees by allowing less formal space for the CEO to show a more human and relatable side.
Channels for after-hour activities
Want your teams to communicate more openly and effectively? Give them something to bond over outside of work.
#gaming
Type of channel: public
Purpose: Encourage chats and bonding over shared interests.
Who to invite: the gamers of your team
When creating a company workspace in a team chat app, remember to leave room for gaming aficionados to chat about their latest gaming achievements and new game suggestions.
#books
Type of channel: public
Purpose: Encourage chats and bonding over shared interests.
Who to invite: the bookworms in your team
Allow a space for book enthusiasts in your organization to share the most captivating books they've read recently, or organize virtual book clubs.
#parents
Type of channel: public
Purpose: Encourage chats and bonding over shared interests and experiences.
Who to invite: people who have children
Create a space for parents to bond over their shared experiences, share resources and advice, and organize company activities for children such as special parties and gift-giving for holidays.
#city or area
Type of channel: public
Purpose: Support connection and bonding between employees.
Who to invite: people living in the same area or city
Remote teams generally lack in-person communication and connection. Create public channels for different areas or cities to allow people living in the same communities to talk about local events and plan get-togethers.
#pets
Type of channel: public
Purpose: Encourage chats and bonding over shared interests.
Who to invite: people who have pets
Proud pet parents can share the funniest little adventures their pets have been up to lately, and post resources about pet adoption and rescue.
A channel for announcements
With a single public channel, you can ensure no important company announcements are drowned in the ocean of messages and threads.
Get all teams to join the company #announcements channel in team chat apps to ensure everyone is up to date on all the key company-wide info such as:
Updates to the company culture policies
Reminders for approaching deadlines for applications for company events
Changes in the company meeting schedules
5 team chat app channels best practices
Need more info on how to improve your team chat app experience?
In the next few paragraphs, we will outline the 5 key team chat app channels best practices to help you optimize your communication and strengthen collaboration across your organization.
Pin critical information
Even though the majority of team chat apps support universal search functionality with additional filters, consider pinning important information, and encourage all members to do so to keep it top of mind, and top of channel.
Use channel browser
Instruct all teams to use this useful functionality to easily search and access any channel.
Set up smart notifications
Optimize your team chat app experience for optimum productivity. Select channels you wish to receive regular notifications for, or mute all to eliminate distractions while working on important projects. Alternatively, you can set a notification schedule to optimize for best work-life balance.
Go private
Keep the sensitive and team-specific information private. Set channels on private and manually add members for birthdays, or teams working on projects containing sensitive information.
Keep it short
Instead of creating new channels, use threads or groups for one-off situations or short projects.
When coming up with names for team communication app channels, abbreviate when possible and be sure to not go too specific. Feel free to use #content or #content-marketing instead of #digital-content-marketing-team.
Wrapping up
Team chat app infrastructure is your most effective remote- and hybrid-friendly office alternative. Use our guide to organize your projects in team communication app channels, prevent miscommunication, and boost collaboration and productivity.