Meeting statistics you should know (2023)
Are you still stuck in unnecessary meetings that should have been an email?
Is there a breakthrough in sight?
With meeting statistics showing that professionals today spend more time in meetings than ever before, employees have expressed their opinions on meeting productivity and preferences.
In this guide, we'll bring you all the interesting facts, figures, and statistics on meetings.
We'll cover:
The evolution of meetings and how the way we organize, conduct, and perceive them has changed over the years,
The adoption of new conference tools and how they affected meeting productivity, and
Meeting behavior and the most common pet peeves.
Without further ado, let's dive in.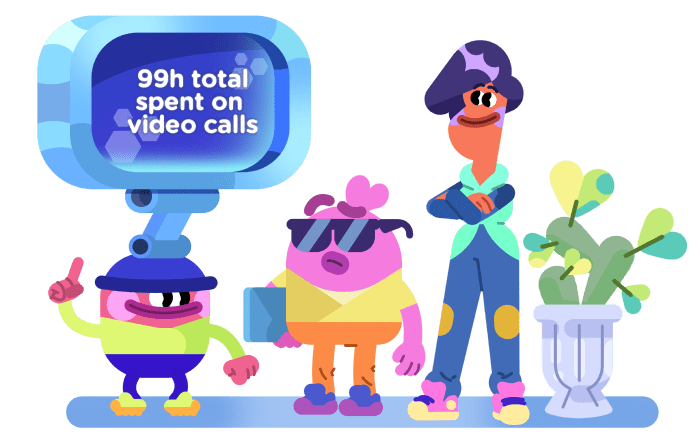 Time spent in meetings
You can always schedule another meeting, but you can never get back lost time.
Productive meetings can make hours fly by, while unorganized ones can feel like they drag on for days. To better understand this concept, let's examine some data on meeting duration.
Statistics on time spent in meetings pre-pandemic
Here are the numbers for time spent in meetings before the pandemic.
Time spent in meetings in 2018
The State of the Modern Meeting 2018 global study by Blue Jeans found that the upward trend in meeting frequency continued through 2018:
64% of professionals attended more meetings than a year before and
43% of employees reported having more spontaneous meetings.
Similarly, Klaxoon's teamwork survey revealed that 41% of US professionals reported having more meetings in 2018 than the year before.
In addition, meeting groups were getting bigger — 63% of respondents stated that there were more participants in the meetings they attended.
Time spent in meetings in 2019
In The State of Meetings report for 2019, Doodle revealed that 54% of respondents stated that their meetings lasted between 30 minutes and 1 hour on average.
Average time spent in meetings per week before the pandemic
So, the average meeting length before the pandemic was between 30 minutes and 1 hour.
More precisely, according to the above-mentioned Klaxoon survey, 89% of meetings in the US before the pandemic lasted less than an hour.
And, Barco estimates that people used to spend 50 days a year in meetings.
Their meeting survey revealed that people attend approximately 10 48-minute meetings per workweek — which amounted to spending one day a week on average in meetings, or 50 days a year.
These statistics are supported by earlier meeting length research revealing that executives went from spending less than 10 hours in meetings on average in the 1960s to spending nearly 23 hours a week 50 years later.
Doodle took their research on meeting length a step further and compared data on meeting times across countries.
Here's how much time professionals in the UK, Germany, and the US spent in meetings in 2018, as reported by Doodle:
UK professionals spent the most time in meetings per week — with 30% of the respondents saying they spend 5 or more hours per week in meetings.
23% of US workers spent 5 or more hours per week in meetings.
Professionals in Germany spent the least amount of time in meetings — with 23% of respondents reporting they spent 2.5 hours in meetings per week.
Statistics on time spent in meetings during and after COVID-19 times
A large amount of research shows that professionals attended more meetings in 2020.
On average, meetings were shorter and primarily focused on:
The National Bureau of Economic Research (NBER) observed the impact of COVID-19 on collaboration and found that the nature of work has changed for the majority of knowledge workers — especially in terms of:
Namely, there are 12.9% more meetings per person and 13.5% more attendees per meeting.
However, some noticeable changes have occurred:
The average length of meetings has decreased by 20.1%.
People spend 11.5% less time in meetings post-lockdown.
Workdays are longer by 8.2% (or 48.5 minutes).
Doodle has had similar insights.
In their State of Meetings report for 2021, they found that 2020 was the year when more meetings focused on socializing:
One-on-one meetings increased by 18%.
Check-ins and team socialization meetings jumped by 10%.
Around 50% of the above meetings were recurring.
Shorter meetings prevailed throughout 2020
A sudden shift to remote work gave rise to an increase in meeting time. As a result, organizations started scheduling more meetings to recreate the in-person communication people were used to in the office.
Although people were attending more meetings, they had approximately more time to socialize and recharge — as they had more informal check-ins that were shorter than a year before.
As showcased by Microsoft's Workplace Insights, the overall meeting length increased by 10% in 2020. However, there was also a 22% increase in short meetings (for meetings lasting 30 minutes or less).
Doodle also found that shorter, 15-minute meetings increased by 10.8% in 2020.
The shift to a virtual environment is one of the most unique ways the pandemic has impacted work meetings. However, the previously mentioned research by Doodle indicates that virtual meetings still accounted for 42% of all meetings in 2020.
Meeting time is still on the rise
As work from home started becoming the new normal, the meeting time continued to increase.
On average, professionals now spend more than half of their 40-hour workweek in meetings, according to the Productivity Trends report from Reclaim. This translates into professionals spending 21.5 hours in meetings per week in 2021 — 7.3 hours more than in February 2020.
The report also reveals an average meeting in 2021 usually lasts 30 minutes to one hour.
According to another study on virtual on-camera meetings, more than 60% of respondents noticed that the number of meetings they attend has drastically increased since the pandemic.
Beezy's survey detailing digital workplace trends for 2021 shows that 54% of professionals attended more (virtual) meetings than they used to pre-pandemic (in-person). Moreover, nearly half of the respondents (43%) said they participated in between 4 and 7 more weekly meetings than they used to pre-pandemic.
Similarly, The Future of Meetings Report 2021 by Fellow shows the average time spent in meetings per week was between 16 and 21 hours.
Moreover, Fellow underscored more interesting meetings statistics:
Employees attended between 11 and 15 meetings per week on average.
31% of managers attended more than 16 meetings per week.
45% of executives reported attending between 6 and 15 meetings per week.
Dialpad also examined the time spent in meetings and released the findings in their State of Video Conferencing report. This report revealed that:
Approximately 46% of respondents spend under 4 hours attending meetings,
Around 37% spend between 4-12 hours in meetings,
Roughly 12% spend between 12-20 hours in meetings, and
About 5% devote half of their workweek to participating in meetings.
2023 marks a tentative return to in-person meetings
In the 63rd International Meetings Statistics Report released in 2022, the UIA (Union of International Organizations) estimated that the number of meetings would increase by 11% in 2023.
Moreover, the report predicts that this number will continue to rise by around 34% by 2027.
With time spent in meetings on the rise, what can we expect in 2023?
The Global Meetings and Events Forecast for 2023 states that we'll see the highest increase in in-person meetings. However, the data shows that both virtual and hybrid meetings will maintain a modest upward trajectory.
The report notes a possible reason businesses are returning to more in-person meetings. It cites Zoom fatigue as the driving force behind this decision, with more organizations eager to connect customers and employees face to face.
Cisco's data on virtual meetings suggest that all meetings will have at least 1 virtual attendee going forward. As a result, organizations that fail to modernize their video conferencing solutions in 2023 may risk alienating part of their workforce.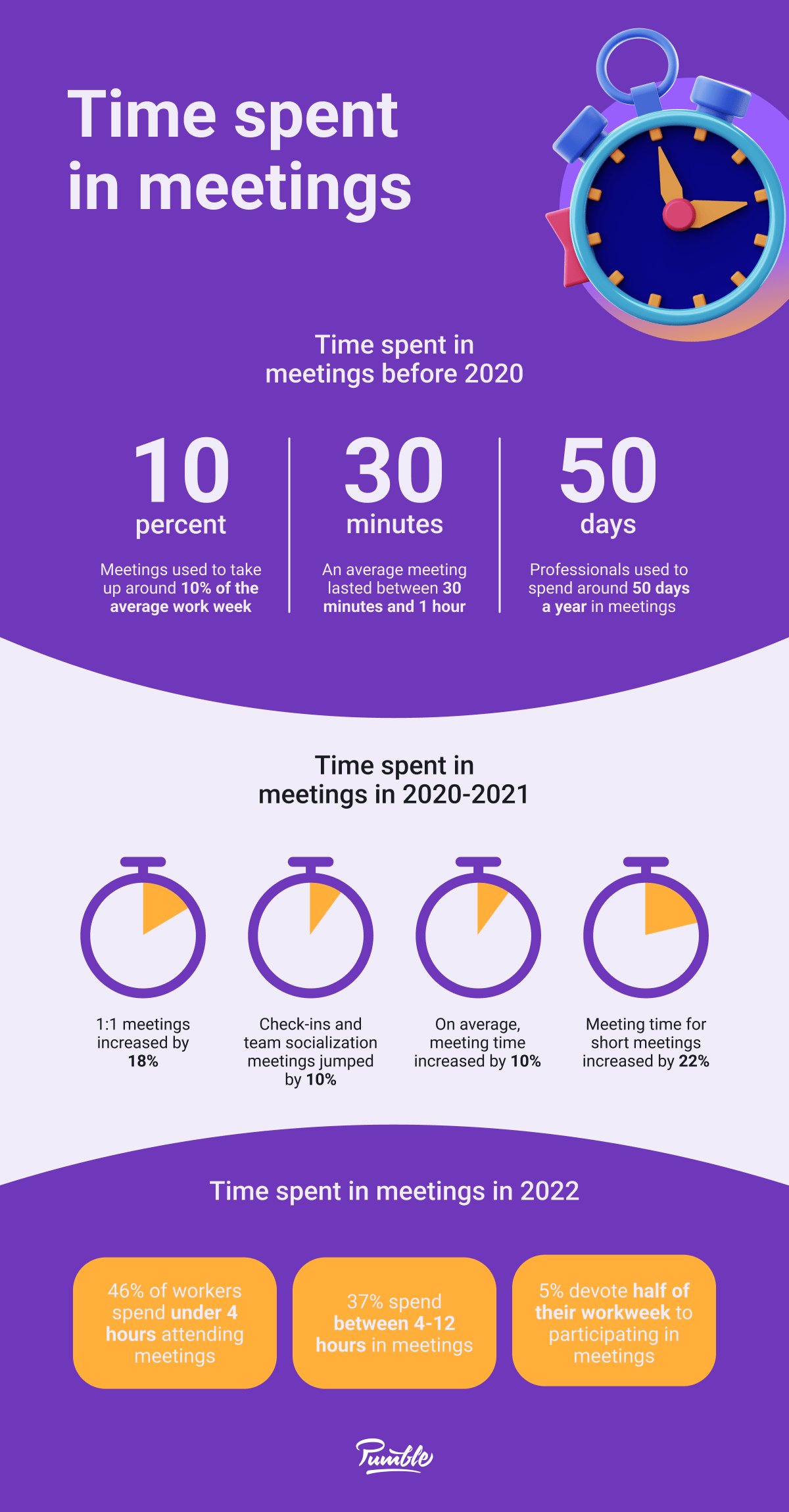 Statistics on meetings and productivity
Meetings are still largely considered unproductive by professionals across industries, seniority levels, and generations.
Professionals cite unnecessary meetings as one of the critical distractions preventing them from finishing their work.
However, virtual meetings have the potential to shift this situation around.
Statistics on the importance of productive meetings
When conducted properly, meetings drive:
Innovation,
Collaboration, and
Creativity.
In meetings, people develop relationships and exchange critical information.
We'll now explore the additional benefits of productive meetings.
Benefit #1: Meeting productivity affects employee performance and team productivity
According to research on job satisfaction and meeting management, properly led meetings boost employee engagement and retention.
The data indicates that the more functional meeting interaction processes — e.g., team members engaged in constructive problem-solving and action planning — trigger higher team productivity and organizational success.
Benefit #2: Meeting productivity determines job satisfaction
Another study on meeting satisfaction pointed to a clear link between productive meetings and overall job satisfaction.
A good way forward in 2023 could be investing in improving the quality of manager-employee meetings. This step would improve work performance and help people:
Feel valued,
Understand their goals, and
Become more assertive communicators.
Benefit #3: Productive meetings affect employee empowerment
A study from the University of Nebraska on the positive aspects of meetings finds that they can drive higher employee empowerment rates.
Empowered employees are an invaluable asset to any organization because they:
Have trust in managers and leadership,
Aren't afraid to think outside the box,
Are excellent team players, and
Exhibit consistent motivation.
The study underscores that meetings promote both productivity and empowerment when they:
What percent of meetings are unproductive?
Still, despite the benefits of productive meetings, some sessions leave a lot to be desired.
Zippia's meeting statistics for 2023 reveal that 65% of employees agree frequent meetings stop them from focusing on and completing their tasks.
According to 34% of workers, unproductive meetings are the leading cause of revenue loss.
With 15% of all work hours devoted to meetings, roughly 71% of all meetings are unproductive.
How much time is wasted in meetings?
Zippia also reports that employees spend approximately 31 hours in unproductive meetings each month.
For most employees, this translates to around 8 meetings each week. But, those in managerial and leadership positions usually attend upwards of 12 meetings a week.
When speaking to Business Leader on whether meetings help businesses or prevent growth, the Head of Business Sales at SMART Technologies, Charlie Levitton, reached a similar conclusion. He estimated that the average employee spent over 35% of their workweek attending meetings and called the practice unsustainable. However, he acknowledged that management recognized the issue and is pursuing creative solutions.
Moreover, research on meeting productivity from Otter.ai suggests that employee productivity increases when they have the freedom to skip unnecessary meetings.
"I'd be more productive if
I could sit out on unnecessary meetings."
Percentage
Agree
84%
Neutral
13%
Disagree
3%
Additionally, 70% of respondents stated their job satisfaction would improve if they attended fewer meetings.
Why are meetings unproductive?
Poorly organized meetings can have a lasting impact on employee satisfaction and organizational success.
Zippia found that:
55% of workers have engaged in some type of multitasking during meetings,
45% of surveyed employees are overwhelmed by how many meetings they attend, and
39% of respondents have admitted to dozing off during a work meeting.
Unsurprisingly, employees turn to multitasking during some meetings. Work interruptions can hinder attention and productivity, with most people requiring around 23 minutes to bounce back and refocus on their tasks.
This was certainly the case in 2020, as evidenced by The State of Meetings report from Clockwise. According to 78% of respondents, scheduling overload was a prime factor undermining meeting productivity.
Moreover, this number went up for people at the beginning of their careers — 82% experienced scheduling overload. Upper management was the main culprit for 38%, while 16% blamed their direct manager.
Unfortunately, ineffective meetings don't just hinder organizational success. They also negatively impact employee well-being and can leave severe physical and psychological consequences.
Virtual meetings have a more positive impact on productivity
Although the shift to the work-from-home (and work-from-anywhere) model increased the general meeting time, it also caused higher productivity and engagement.
While employers have traditionally linked on-site work and in-person meetings to peak productivity, the numbers suggest that the workforce doesn't share this view.
Namely, 67% of respondents stated in Owl Labs' State of Remote Work Report for 2022 they're more productive when working from home. This flexibility allows them to better manage their time and ensure that meetings don't disrupt their workflow.
Another reason for improved productivity is improved training on the part of employers.
Owl Labs states that half (50%) of surveyed organizations have trained leadership on managing virtual meetings. Additionally, 54% of businesses have focused on educating employees on ensuring that hybrid meetings are inclusive and effective.
Respondents in Buffer's State of Remote Work report for 2023 also favor virtual meetings, particularly when the camera is on. Around 62% of surveyed remote workers stated keeping the camera on allowed them to gauge the nonverbal cues of other participants. Another 16% of respondents believe these meetings help them feel less isolated.
When managers and higher-ups know the best practices for leading virtual meetings, productivity and motivation follow suit. In 2023, in-house training should cover:
For midsize and large businesses, training on meeting role delegation should also be one of the top priorities. Depending on their objectives, some companies may benefit from tracking meeting costs and opting for asynchronous work.

Statistics on the cost of meetings
Meetings still pose a massive cost to companies and teams.
Earlier projections show that unproductive meetings cost businesses $34 billion a year.
Atlassian made similar estimates, revealing that unnecessary meetings cost US businesses $37 billion in salary costs.
Research on meeting expenses in 2021 by Fellow shows that meetings cost companies between $43,008 and $56,448 per manager annually.
The research also shows that the average time spent in meetings is 16–21 hours. As directors spend the most time in meetings, and their average salary is $145,000, Fellow estimates that a director's 1-hour meeting costs around $98.
When translated into weekly costs, companies pay between $1,568 and $2,058 per week or between $75,264 and $98,784 annually for directors to attend meetings.
In The Cost of Unnecessary Meeting Attendance report, Otter.ai underscores a simple solution to cut costs. The report suggests that eliminating unnecessary meetings can result in significant savings for companies. In particular, businesses with 100-400 employees could save almost $2.5 million annually, while companies with 5,000 employees could save over $100 million.
Statistics on the most common types of meetings
The pandemic and remote work also affected the most common types of workplace meetings organizations and teams conduct.
One-on-one meetings became the most common, but group sessions persisted.
In the US, this was explained by a larger volume of check-in meetings and catch-ups to maintain team connection and support employee mental health.
The rise of one-on-one meetings
Before the pandemic, internal collaboration meetings were the predominant workplace meeting type.
Reclaim's meeting survey showed that one-on-one meetings prevailed in workplaces throughout 2020 and beyond.
Namely, the research indicated a staggering 500% increase in one-on-one meetings in 2020.
Before the pandemic (February 2020), there was less than one 1:1 meeting per week, compared to 5.6 1:1 meetings per week in October 2021.
Meetings statistics for 2021 from Fellow align with these findings, indicating that 64% of respondents attended one-on-one meetings once a week.
As opposed to pre-pandemic years, the meeting landscape in 2020 and 2021 became predominantly virtual — this also applies to one-on-one meetings.
Analyzing data from 2020, Doodle concluded that one-on-one meetings rose by more than 1,230% from January to December. Although these meetings saw the highest increase, they comprised approximately 42% of all scheduled meetings.
🎓 Pumble Pro Tip
To improve the quality of your one-on-one meetings, read this exhaustive post:
Group meetings are still relevant
Despite the rise of one-on-one meetings, group team meetings focused on internal collaboration are still very common. In Fellow's report on workplace meetings for 2021:
89% of professionals said they regularly attend weekly team meetings and
77% of respondents said they regularly participate in weekly project meetings.
Group meetings serve different purposes, but most often, they are a tool for:
Networking,
Knowledge sharing,
Training,
Marketing, and
Professional and personal development.
Although group meetings are supposed to be engaging and inspire innovation, data from Atlassian suggests that's not always the case.
With 91% of respondents admitting to daydreaming during meetings, questions arise about whether our calendars are too swamped with back-to-back sessions.
Statistics on how meetings are perceived
Unfortunately, meetings are usually considered a waste of time and a major cause of employee stress.
The main factors impacting people's attitude towards meetings are:
The stress of preparing reports or presenting,
A distraction from their work, and
Peer pressure.
In previous years, people mainly saw meetings as the biggest distraction from their work.
In 2018, Udemy's Workplace Distraction Report found that 60% of professionals perceived work meetings as distracting. In the following years, employee perception of workplace meetings remained the same.
For example, over 25% of respondents in HubSpot's Webcam Survey from 2021 reported feeling some form of peer pressure to turn on their cameras, even during meetings that don't mandate this explicitly.
Deputy revealed in their meeting statistics that 28.6% of Americans cite preparing reports as the biggest stressor connected to meetings, while 23.7% cite participating in discussions.
Interestingly, men are more likely to experience stress preparing reports, while women more often feel stressed about participating in meeting discussions.
In the same survey, professionals also expressed what they would rather do instead of spending time in work meetings:
58% would go to a doctor's appointment,
25% would sooner get stuck in traffic, and
17% would choose jury duty.
The available data suggests meetings have become a significant source of stress and anxiety for employees, which can severely restrict their attendance and productivity.
According to the CompPsych StressPulse report, stress causes:
54% of employees to miss 1-2 days of work each year,
31% to lose 3-6 days annually, and
16% to miss more than 6 days every year.
The biggest meeting pet peeves
Clockwise's survey reveals US professionals across all generations and industries consider arriving late the biggest meeting taboo. Respondents found meeting tardiness more frustrating than:
Cell phone use,
Interrupting,
Lack of agenda, and
Eating food during meetings.
As expected, younger generations are 15% less likely to find cell phone usage irritating but 10% more likely to be annoyed by someone eating during a meeting.
According to data from Zippia, there's no shortage of meeting pet peeves in 2023. Among their biggest frustrations, workers cite:
Unnecessary sessions that would be better off as an email,
Attendees with loud background noise,
Late starts,
Technical difficulties,
Unprepared attendees,
Off-topic conversations,
Vague meeting agendas, and
Boring discussions.
Statistics on meeting behavior
As we already mentioned, meeting insight from Atlassian showed some shocking statistics on meeting behavior:
96% of professionals have missed meetings,
91% have daydreamed during meetings,
73% have multitasked during meetings, and
39% have slept during meetings.
After analyzing data on meeting behavior, Zippia also came to some interesting revelations:
More than half of surveyed workers report using their mobile device during meetings (approximately 55%),
Almost the same number of employees have multitasked during a meeting (around 52%),
A considerable number of the respondents have admitted to snacking during meetings (approximately 45%), and
Over a third of surveyed employees have checked their social media accounts while participating in a work meeting (around 38%).
Communication and decision-making in meetings
In 79% of organizations across America, one or two people generate the majority of conversations and ideas in meetings, Klaxoon's study finds.
Similarly, most respondents in a 2020 Clockwise survey cite one person dominating the discussion as one of the biggest meeting challenges.
The previously cited survey by Doodle indicates that professionals attending 5 or more weekly meetings are likelier to assume an active role in those meetings.
Namely, 70% of individuals attending 5 or more weekly meetings have a crucial role in discussions.
When it comes to decision-making in meetings, it is most commonly impacted by the best ideas and groupthink. According to Klaxoon, the best ideas are the primary catalyst for decision-making during meetings, with a 38% share. Other key factors include:
Groupthink (29%),
Upper management (25%), and
Team vote (9%).
Interestingly, decision-making factors in meetings vary depending on the size of the organization.
For example, in micro-companies with 1 to 9 employees, the best ideas are used in decision-making 47% of the time.
On the other hand, in large enterprise-size companies with over 1,000 employees, the best ideas influence 33% of decisions.
Fellow reports that in addition to working across different time zones and off-topic discussions, several other factors can lead to a break in communication during a workplace meeting. These include:
Ill-prepared participants,
Lack of engagement,
Lack of accountability, and
Unclear meeting roles.
🎓 Pumble Pro Tip
Decision-making challenges can affect an organization of any size. To prevent similar problems and learn about the most efficient ways to come to a decision, check out this post:
Disruptive behavior during meetings
Have you ever been in a meeting where someone's phone kept buzzing or attendees kept interrupting each other?
According to Doodle's research from 2019, these are just a few examples of disruptive behaviors that can seriously affect the quality of a meeting.
In fact, 55% of respondents said phone calls and texting during meetings were the biggest culprits.
Other disruptive behaviors included:
Not listening to others' contributions (50%),
Late arrivals and early departures (49%), and
Long, irrelevant conversations (46%).
In 2020, Clockwise came to similar conclusions, but respondents also reported being bothered by a single person taking control of the entire meeting.
🎓 Pumble Pro Tip
To learn how to keep disruptive behaviors at bay during virtual meetings, check out this helpful blog post:

Statistics on the best meeting practices
Reviewing statistics and following the best meeting practices is essential to enhance meeting productivity and overcome common drawbacks.
More inclusion and detailed meeting preparation provide a winning formula for more successful meetings.
Practice #1: Preparing a detailed plan
According to the previously mentioned survey by Clockwise, setting clear meeting objectives is vital for engagement.
When asked what impacts their interest and excitement about meetings, 64% of professionals said it's a well-planned meeting. Interestingly, younger generations emphasized free lunch more (72%).
In addition, the previously cited Fellow report also found that a clear purpose and detailed agenda are the determining factors for people's interest in meetings. These are followed by:
Active collaboration, and
Actionable takeaways.
Employees believe better meeting facilitation could improve meeting quality. Statistics from Slido's The Online Meeting Revolution show that as many as 54% of employees think their managers need to improve their facilitation skills.
Practice #2: Including more voices in the conversation
Meeting environments need more inclusion for better diversity of ideas and innovation.
As we mentioned, professionals often report that one or two people dominate the conversations in their meetings.
Slido also finds that 42% of respondents didn't get to express their point of view in a meeting. Moreover, 64% of professionals in the previously cited Fellow report said their biggest meeting pet peeve is one person dominating the conversation.
Meeting organizers can make participants feel more at ease by:
Practice #3: Sticking to the allotted time
When businesses grow, they take on new employees, and naturally, the number of work meetings multiplies. So, the company risks slowing down its workers unless leadership sticks to the predetermined time frame.
If the invite states the meeting length is 30 minutes, the host should be wrapping up the discussion around the 29-minute mark.
Statistics on the most common meeting difficulties
Arguably the most critical ingredient for successful and productive meetings is that employers try to ensure every participant feels included.
Owl Labs' data for 2022 on remote and hybrid work indicates that more than a third (34%) of hybrid workers are hesitant to interrupt a colleague during a meeting.
When it comes to remote meetings, 32% of respondents state they've had trouble seeing the faces of other participants and may misinterpret visual cues.
On the flip side, in-room participants reported a set of different complications. Their most commonly cited challenge was starting at the agreed time due to malfunctioning technology (30%).
Moreover, 27% of respondents stated that even when the technology worked properly, they had to move and rearrange the equipment so that remote employees could get a better view.
However, remote and in-office workers attending virtual meetings seem to agree on one thing.
Namely, 24% of remote attendees and 23% of in-person participants feel left out during work meetings. With equity and inclusion becoming a top priority for modern organizations, we hope to see more initiatives that help employees feel included during work meetings in 2023 and beyond.
Statistics on the use of conference platforms for meetings
According to Dialpad's State of Video Conferencing report for 2022, companies started investing in video conferencing equipment more significantly during the 1990s. However, it wasn't until 2020 that the use of video and audio technology for meetings became more widespread.
This could be explained by the pandemic and the global shift to remote work, when many people had to install these tools for the first time. In 2021, most professionals and organizations were already settled in remote offices with conferencing platforms installed.
In 2019, professionals surveyed in the US State of Work report by Workfront predicted that within 5 years of communication, long-distance meetings would be powered by artificial intelligence (AI) to help remote workers feel physically present in company meetings.
Four years later, we can see some changes, especially in how virtual conference platforms are integrated into corporate meeting environments.
Statistics on the impact of virtual meetings on corporate perception
In The Impact of Video Conferencing Report, Lifesize examined what workers thought of businesses that used different video conferencing tools. They found that:
55% of respondents thought companies that used video conferencing technology promoted better collaboration,
50% believed such businesses are more innovative,
41% thought employees of such organizations were more engaged, and
30% stated that these companies were more successful than their competitors.
Statistics on how organizations use conference platforms
Dialpad concluded that most respondents (approximately 83%) spend around a third of their workweek participating in meetings.
The report also underscored that 76% of employees liked holding meetings on a specific day or time.
Interestingly enough, the respondents weren't bothered by feeling overwhelmed by frequent meetings.
Instead, audio issues ranked as the top problem of workplace meetings for nearly half of the surveyed employees (approximately 50%).
When asked whether all virtual meetings should be accompanied by video, 82.9% of employees stated, "No."
And, when determining the most time-efficient type of meeting, Dialpad arrived at standup meetings. On average, these sessions have a maximum of 20 attendees and last for no longer than 13 minutes.
Statistics on how many employees prefer audio over video meetings
Before the pandemic, professionals felt more comfortable in audio-only meetings. Moreover, most people (88%) believed that video conferencing is best suited for interviews and training, according to a report on enterprise conferencing from LoopUp.
It seems like people's preferences haven't changed in this regard.
The global shift to video conferencing gave rise to the increase in fatigue in professionals spending long hours on camera. Described as the particular mental and cognitive exhaustion caused by frequent on-camera meetings, Zoom fatigue was experienced by 49% of professionals in HubSpot's 2021 study.
Research from Stanford supports these findings.
A study on the mental strain of video conferences concluded that attendees of virtual meetings experience higher cognitive loads than employees who attend meetings in person.
Dialpad suggests that walking meetings may be an optimal solution for lessening this exhaustion. Their report also indicated that for meetings where screen sharing wasn't necessary, around 45% of employees leaned toward holding an audio-only meeting.
Statistics on the use of conference platforms across industries
From 2020 onward, organizations have adopted video conferencing as the most flexible means of communication, collaboration, and meeting technology.
But, the use of these tools varies across industries.
One part of the Dialpad report focused on how often professionals from different industries have work meetings.
The results show that the real estate industry has entirely accepted video conferencing tools, using their features to bring potential buyers on virtual tours.
When it comes to the advertising and marketing industry, professionals have gradually been implementing video conferencing tools into their workflows. However, unlike what we saw with other sectors, there was no sudden spike when the COVID-19 pandemic began.
The energy industry and the professional services sectors continue to resist change. As a result, the number of meetings per employee per month before the pandemic was low, and no significant change occurred in the years afterward.
The below chart provides a more detailed look.
Average number of virtual meetings per employee
(per month)
Industry
21
Marketing and Advertising
10-12
Real Estate
7-12
Education
9
Professional Services
8
Energy
The above numbers indicate that although video conferencing isn't a universal solution for all organizations, it aids them in their daily operations as their needs evolve.
In the following years, video meetings will become natural for most employees in nearly every industry.
In fact, the Fortune Business Insights report states the video conferencing market was worth $6.28 billion in 2021 and is expected to reach $14.58 billion by 2028.
Statistics on the impact of conference tools on meeting productivity
In the pre-pandemic years, a lack of relevant and functional tools negatively affected meeting productivity.
In Barco's meeting survey from 2018, respondents said 11% of meeting time is lost on setting up unsophisticated technology.
But, according to The New Reality of Video Conferencing from Blue Jeans, around half of all conference rooms (50%) have been upgraded with sophisticated video conferencing tools.
This effort to combat loss of time and productivity seems to have yielded excellent results. The same report states that nearly all businesses (84%) relying on video conferencing technology believe it positively impacts productivity.
With appropriate solutions, employees can collaborate and enjoy uncompromised audio and video quality.
As businesses invest more in high-quality meeting equipment, they should also strive to address other causes of unproductive meetings.
For example, Dialpad's research highlights that employees believe the most unproductive meetings are those that:
Show no progress and fail to reach a conclusion (32.7%), and
Drift off from the original goal or agenda (28.59%).
Statistics on the top virtual meeting equipment
The quality and productivity of virtual meetings largely depend on the technology employees can access.
Meetings statistics from the 2021 Gartner Digital Worker Experience report show that for video meetings:
31.7% of workers use laptops,
28.1% use a mobile phone, and
11.9% use a desk PC.
Although most employers are ready to cover hardware costs, there's room for improvement. According to Buffer's data on remote work in 2023, around 64% of surveyed employees reported that their companies covered the cost, while 25% stated they wished that were the case.
When upgrading company technology, investing in quality in-office equipment is essential. This initiative prevents on-site employees from feeling left behind during remote meetings. Moreover, it helps leadership develop a proactive strategy to combat proximity bias.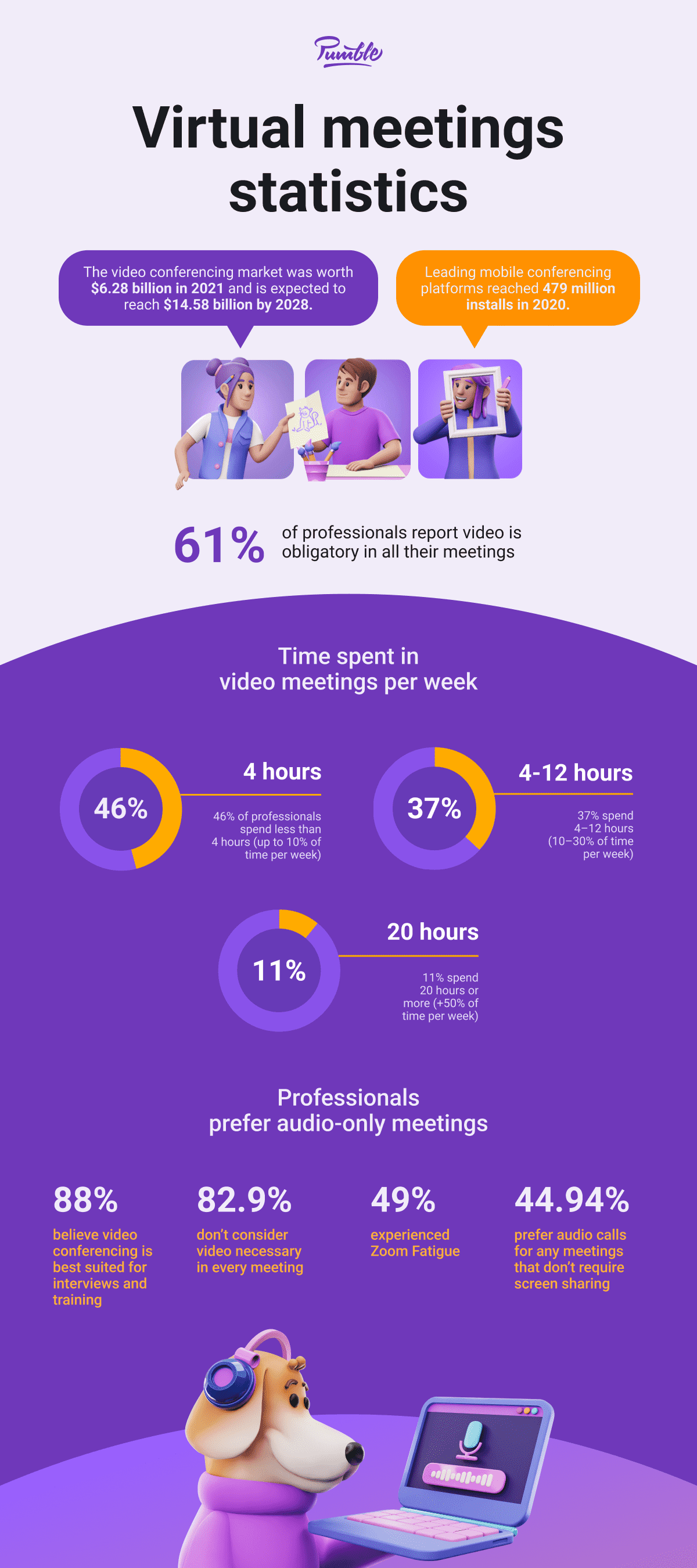 Fun facts about virtual meetings
Virtual remote meetings have brought entirely new sets of behavior and phrases that were completely unimaginable in the in-office era.
From children and pets' appearances to funny backgrounds and filters, virtual work settings have humanized how we approach meetings.
We'll look deeper into some fun facts about virtual meetings to see how much they've changed workers' day-to-day lives.
Fun fact #1: Employees have favorite meeting days
In 2020, when virtual meetings quickly became the norm for most employees, Clockwise analyzed meeting preferences and found that:
29% of workers preferred to meet on Tuesdays,
25% choose Wednesdays,
22% picked Mondays,
12% selected Thursdays, and
12% opted for Fridays.
However, when asked on which day they disliked attending meetings, employees had more pronounced opinions, with:
47% picking Mondays, and
40% selecting Fridays.
Overall, employees prefer to keep the start and end of the week a meeting-free zone.
But, in 2022, Dialpad found that Monday was by far the most popular day for holding meetings. On the other hand, the data showed that fewer meetings are held on Fridays. This decrease may be due to the fact that employees like to take Fridays off for an extended weekend.
Fun fact #2: Some companies have implemented No Meeting days
Given how frequent meetings can disrupt employee focus and damage productivity, several businesses have taken steps to alleviate excess pressure.
And, their efforts seem to be paying off.
For example, a 2022 study on meeting-free days from the MIT Sloan Management Review showed that even companies that implemented a no-meeting day once a week experienced significant improvements in employee efficiency and independence. Furthermore, there was a substantial drop in perceived stress and micromanagement.
The results showed that organizations that adopted a single no-meeting day had an average increase in productivity by as much as 35%. For those that adopted 2 no-meeting days, productivity rose by 71–73%.
While some organizations used these policies only during the COVID-19 pandemic, others, like Canva and Shopify, have carried them into 2023.
Shopify, the e-commerce industry leader, holds no meetings on Wednesdays and has eliminated all meetings with fewer than 3 attendees.
Canva also chose Wednesday as their no-meeting day, implementing it as a company-wide policy that would benefit employees working across different time zones.
Fun fact #3: Employees have trouble skipping or declining meetings
Although many employees would like to skip unnecessary meetings, they still show up or accept the invite. When Otter.ai asked respondents why they did so, 47% stated they feared offending or upsetting the organizer.
Breaking the numbers down further, the data revealed that:
45% didn't want to appear disengaged from their jobs to coworkers and
39% didn't want to trouble colleagues by asking for meeting updates.
"Why don't you decline meetings?"
Percentage
"I don't want to offend the organizer."
47%
"I don't want my coworkers to think
I'm disengaged from my job."
45%
"I don't want to bother colleagues by asking them
to bring me up to speed."
39%
On the other hand, 90% of surveyed employees stated they were comfortable with declining a meeting when it conflicted with their schedule. And, 88% would calmly decline a meeting if they got the green light from their manager.
Unfortunately, 78% of respondents revealed that their manager has never broached the subject of declining meetings.
Fun fact #4: Workers sometimes struggle to connect to each other
While Zoom fatigue has the most noticeable impact on employee meeting experience, struggling to connect to colleagues might be a close second.
In Apollo's The State of Virtual Meetings, 50.1% of respondents stated that personal connection was the leading challenge in the remote environment.
🎓 Pumble Pro Tip
Even remote-first companies can ensure their employees form warm personal relationships through virtual team building events. To get some helpful ideas, check out this blog post:

What is the future of workplace meetings?
Given the rise of remote workers, the increased use of technology will undoubtedly impact how we plan and hold meetings in the future.
In 2022, Frost & Sullivan studied market trends, estimating that small huddle rooms will replace around 70% of large conference rooms by the end of the year.
These office layout changes suggest that organizations are trying to ensure that both on-site and remote employees feel included during meetings and can collaborate more effectively.
In addition to these adjustments, the following years may bring businesses more sophisticated conferencing software due to machine learning and AI development.
AI may allow employers to analyze meeting statistics and optimize conferencing to benefit their employees. However, most workers believe that video conferencing will remain more important for their work than either machine learning or AI.
According to data from Lifesize:
69% of surveyed workers think voice assistants will be less important than meeting technology, and
55% believe that conferencing technology will be at least as important, if not more, than robotics or automation.
In 2023, companies like Google and Snapchat have already rolled out their AI technologies to customers.
While these advancements may change how we conduct work meetings, it's up to employers to ensure workers receive the proper introduction and training.
Wrapping up: More deliberate planning can turn the tide of meetings
Meetings have come a long way from being the biggest waste of time and resources to slowly becoming more focused and efficient collaboration spaces.
The virtual work environment and the use of conference tools had a share in revolutionizing the way we approach meetings.
In addition to changing the format of workplace meetings, the virtual meeting environment also brought a shift in perspective for both employees and organizations. Organizations and teams still need to work on making their meetings shorter, more inclusive, less frequent, and more engaging. These efforts will help create a more productive meeting experience for all involved.
References
28+ Incredible Meeting Statistics [2023]: Virtual, Zoom, In-Person Meetings And Productivity – Zippia. (2023, February 14). Zippia. https://www.zippia.com/advice/meeting-statistics/
Adobe Workfront. (2019). 2019 US state of work – Adobe Workfront.https://www.workfront.com/sites/default/files/files/2019-01/2019%20US%20State%20of%20Work.pdf
Allen, J. A., & Rogelberg, S. G. (2013). Manager-led group meetings. Group & Organization Management, 38(5), 543–569. https://doi.org/10.1177/1059601113503040
Allen, Joseph A.; Lehmann-Willenbrock, Nale; and Sands, Stephanie, "Meetings as a positive boost? How and when meeting satisfaction impacts employee empowerment" (2016). Psychology Faculty Publications. 189. https://digitalcommons.unomaha.edu/psychfacpub/189
Amex GBT – United States. (n.d.). 2023 Global Meetings and Events Forecast. https://www.amexglobalbusinesstravel.com/meetings-events/meetings-forecast/
Atlassian. (n.d.). You waste a lot of time at work [Infographic]. https://www.atlassian.com/time-wasting-at-work-infographic
Bailenson, J. N. (2021, February 23). Nonverbal overload: A theoretical argument for the causes of zoom fatigue. Technology, Mind, and Behavior. https://tmb.apaopen.org/pub/nonverbal-overload/release/2
Bain. (n.d.). Busy CEOS spend nearly one day each week managing communications, two days in meetings. https://www.bain.com/about/media-center/press-releases/germany/2014/your-scarcest-resource/
Barco. (n.d.). Barco reveals true extent of time lost in meetings, and shows how businesses can reclaim this time to their advantage. https://www.barco.com/en/News/Press-releases/Rethinking-collaboration-Barco-reveals-true-extent-of-time-lost-in-meetings-and-shows-how-businesses.aspx
Beenote. (2022, February 14). Statistics – the results 2017- current state of meetings at work. https://www.beenote.io/state-of-meetings-at-work-the-results/
Beezy. (n.d.). Report: 2021 – Digital workplace trends & insights. https://www.beezy.net/hubfs/Beezy%202021%20Digital%20Workplace%20Report.pdf?hsLang=en
BlueJeans. (n.d.). State of the modern meeting 2018: Bluejeans by Verizon. https://www.bluejeans.com/resources/ebook/state-modern-meeting-2018
Buffer | State Of Remote Work 2023. (n.d.). Buffer: All-you-need Social Media Toolkit for Small Businesses. https://buffer.com/state-of-remote-work/2023
Chew, D., & Azizi, M. (2022, January 13). The State of Video Conferencing 2022. Dialpad. https://www.dialpad.com/blog/video-conferencing-report/
Clockwise. (2020, February 10). The state of meetings in 2020: Clockwise. https://www.getclockwise.com/blog/the-state-of-meetings-in-2020
Cook, J. (2023, January 27). Are meetings a waste of time or necessary for growth? – Business Leader News. Business Leader. https://www.businessleader.co.uk/are-meetings-a-waste-of-time-or-necessary-for-growth
DeFilippis, E., Impink, S. M., Singell, M., Polzer, J. T., & Sadun, R. (2020, July). Collaborating during coronavirus: The impact of covid-19 on the … – NBER. NBER. https://www.nber.org/system/files/working_papers/w27612/w27612.pdf
Deputy. (2022, January). How much time Americans spend in meetings. https://www.deputy.com/blog/how-much-time-americans-spend-in-meetings
Doodle. (2021, April). State of Meetings 2021. https://downloads.ctfassets.net/oggad6svuzkv/325tJmPxGEWQOgc6eGskKy/b69cb86ada52cfe97e468daadf20b741/2017_Full_Citizenship_Report.pdf
Doodle. (n.d.). Resources/research-and-reports-/the-state-of-meetings-2019. Doodle. https://doodle.com/en/resources/research-and-reports-/the-state-of-meetings-2019/
Fellow. (2021, May 4). Meeting statistics in 2021: The Future of Meetings Report. https://fellow.app/blog/meetings/meeting-statistics-the-future-of-meetings-report/
Fortune Business Insights. (n.d.). Video conferencing market size, share, Trends & growth [2029]. https://www.fortunebusinessinsights.com/industry-reports/video-conferencing-market-100293
Gartner 2021 Digital Worker Experience Survey Results: The Real Future of Work. (n.d.). Gartner. https://www.gartner.com/en/webinar/445654/1051189
HubSpot. (2021, April). The Webcam Survey – Exhausted or Engaged? https://f.hubspotusercontent00.net/hubfs/5929454/The%20Webcam%20Survey%20Full%20Report%20April%202021.pdf
Jabra. (n.d.). Productivity at the Office – Challenges 2015. https://www.jabra.com/blog/wp-content/uploads/dlm_uploads/2015/10/Report_Productivity-in-Business-2015_final1.pdf
Kauffeld, S., & Lehmann-Willenbrock, N. (2012, April). Meetings matter effects of team meetings on Team and organizational success. ResearchGate. https://www.researchgate.net/publication/258187597_Meetings_Matter_Effects_of_Team_Meetings_on_Team_and_Organizational_Success
Klaxoon. (n.d.). Klaxoon's study reveals insights on the future of teamwork in America – articles. https://klaxoon.com/community-content/klaxoons-study-reveals-insights-on-the-future-of-teamwork-in-america
Loopup. (2018). Enterprise conferencing – User behavior & impact report. https://loopup.com/app/uploads/2018/01/enterprise-conferencing-impact-report-2017.pdf
Mark, Gonzalez, & Harris. (n.d.). No Task Left Behind? Examining the Nature of Fragmented Work. Donald Bren School of Information and Computer Science University of California, Irvine. https://www.ics.uci.edu/~gmark/CHI2005.pdf
Microsoft. (2020, October 26). The rise of the 30-minute meeting. https://workplaceinsights.microsoft.com/workplace-analytics/the-rise-of-shorter-meetings-and-other-ways-collaboration-is-changing-with-remote-work/
OECD. "Hours Worked: Average annual hours actually worked", OECD Employment and Labour Market Statistics (database) https://www.oecd-ilibrary.org/employment/data/hours-worked/average-annual-hours-actually-worked_data-00303-en
Owl Labs. (n.d.). State of remote work 2021. https://owllabs.eu/state-of-remote-work/2021
Reclaim. (2021, November 2). Productivity trends report: One-on-one meeting statistics: Reclaim. https://reclaim.ai/blog/productivity-report-one-on-one-meetings
Research Proves Your Brain Needs Breaks. (2021, April 20). Research Proves Your Brain Needs Breaks. https://www.microsoft.com/en-us/worklab/work-trend-index/brain-research
Rogelberg, S. G., Scott, C., & Kello, J. (n.d.). The science and fiction of meetings – UNC Charlotte. https://orgscience.charlotte.edu/sites/orgscience.charlotte.edu/files/media/Rogelberg%20et%20al.%20-%202007%20-%20The%20science%20and%20fiction%20of%20meetings.pdf
Rogelberg, S.G., Allen, J.A., Shanock, L., Scott, C. and Shuffler, M. (2010), Employee satisfaction with meetings: A contemporary facet of job satisfaction. Hum. Resour. Manage., 49: 149-172. https://doi.org/10.1002/hrm.20339
The online meeting revolution – slido. (n.d.). https://static.sli.do/ebook/The+Online+Meeting+Revolution+-+Slido+2021+Trend+Report.pdf
State of Remote Work 2022. (n.d.). State of Remote Work 2022. https://owllabs.com/state-of-remote-work/2022
The Cost of Unnecessary Meeting Attendance. (n.d.). Otter.ai. Retrieved May 16, 2023, from https://public.otter.ai/reports/The_Cost_of_Unnecessary_Meeting_Attendance.pdf
UNION OF INTERNATIONAL ASSOCIATIONS. (n.d.). International Meetings Statistics Report. https://uia.org/publications/meetings-stats
Zoom. (2022, April 27). Here's how you zoomed over the past year. https://blog.zoom.us/how-you-zoomed-over-the-past-year-2021/