Meeting statistics you should know (2022)
Are we still stuck in unnecessary meetings that should have been an email?
Is there a breakthrough in sight?
Meeting statistics show that professionals now spend more time in meetings than ever before. On average, they spend more than 50% of their workweek in meetings, with an average meeting usually lasting 30 minutes to 1 hour.
However, only 17% of senior managers consider their meetings productive.
US businesses waste $37 billion on unproductive meetings.
On the other hand, the surge of new virtual conferencing platforms has made meetings more productive, cost-effective, and stress-reducing.
In this guide, we bring you all the interesting facts, figures, and statistics on meetings.
You'll learn about:
The evolution of meetings and how the pandemic changed how we organize, conduct, and perceive meetings
The adoption of new conference tools and how they affected meeting productivity
How people behave during meetings and what are their biggest meeting pet peeves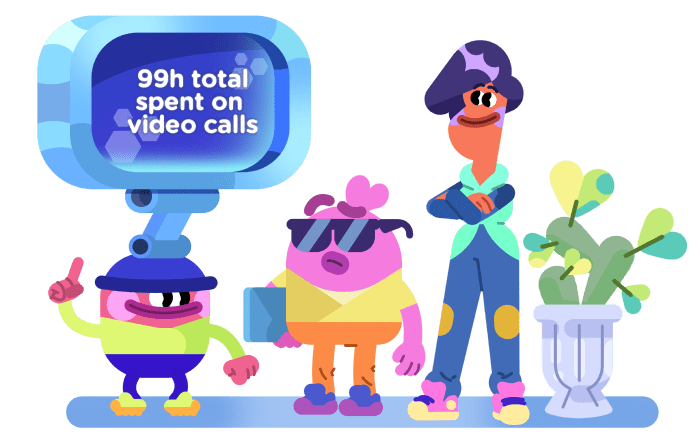 Time spent in meetings
Nothing says time is relative better than sitting in meetings.
Engaging and constructive discussions can make hours seem like minutes.
On the other hand, unstructured conversations can feel like days.
Let's take a closer look at the data on time spent in meetings to get a more accurate picture.
Statistics on time spent in meetings pre-pandemic
Here are the numbers for time spent in meetings before the pandemic.
Time spent in meetings in 2014
Meetings used to take up around 15% of the entire workforce's working hours, according to research from Bain and Company in 2014. The research shows meeting time has maintained an upward trend each year since 2008.
Some studies from the same year show even higher numbers. A 2014 survey by Fuze revealed the following data for US information workers:
52% spent 13 hours in meetings per week
34% reported spending between 4 and 10 hours in meetings per week
Time spent in meetings in 2015
A 2015 research by Jabra surveyed knowledge workers in 10 different countries to analyze productivity at the office. The numbers show that meetings took up approximately 10% of the average workweek.
Time spent in meetings in 2017
By 2017, meeting statistics showed professionals spent 17% of their work hours in meetings — according to one 2017 survey by the Organization for Economic Cooperation and Development (OECD).
Time spent in meetings in 2018
The State of the Modern Meeting 2018 global study by Blue Jeans by Verizon found that the upward trend in meeting length continued through 2018:
64% of professionals attended more meetings than a year before
43% of employees reported having more spontaneous meetings
Similarly, Klaxoon revealed that 41% of US professionals reported having more meetings in 2018 than a year before.
In addition, meeting groups were getting bigger — 63% of respondents stated that there were more participants in the meetings they attended.
Time spent in meetings in 2019
54% of respondents in a 2019 survey by Doodle reported that their meetings lasted between 30 minutes and 1 hour on average.
Average time spent in meetings per week before the pandemic
An average meeting before the pandemic lasted between 30 minutes and one hour.
More precisely, according to the above-mentioned study by Klaxoon, 89% of meetings in the US before the pandemic lasted less than an hour.
48% attended meetings several times a week, according to Beenote.
Approximately, people used to spend 50 days a year in meetings, Barco finds.
The survey revealed that people attend approximately 10 48-minute meetings per workweek — which amounted to spending one day a week on average in meetings, or 50 days a year.
These statistics are supported by earlier research revealing that executives went from spending less than 10 hours in meetings on average in the 1960s, to spending nearly 23 hours a week 50 years later.
The aforementioned Doodle survey compared data on meeting times across countries.
Here's how much time professionals in the UK, Germany, and the US spent in meetings in 2018, as reported by Doodle:
UK professionals spent the most time in meetings per week — with 30% of the respondents saying they spend 5 or more hours per week in meetings.
23% of US workers spent 5 or more hours per week in meetings.
Professionals in Germany spent the least amount of time in meetings — with 23% of respondents reporting they spent 2.5 hours in meetings per week.
Statistics on time spent in meetings during COVID-19 times
The COVID-19 pandemic forever changed the way we communicate, collaborate and conduct work meetings.
And, how much time we spend doing so.
In addition to the most obvious transition — from in-person to virtual meetings — the second-largest shift noticed was tied to the type of meetings organizations around the world conducted as a direct response to the challenges caused by the pandemic.
Time in virtual socialization meetings increased
A large amount of research shows that professionals attended more meetings in 2020.
On average, meetings were shorter and mostly focused on:
The National Bureau of Economic Research (NBER) observed the impact of COVID-19 on collaboration and found that the nature of work has changed for the majority of knowledge workers — especially in terms of:
Meetings,
Communication, and
Workday hours.
Namely, there are 12.9% more meetings per person and 13.5% more attendees per meeting.
However:
The average length of meetings has been reduced by 20.1%
People spend 11.5% less time in meetings post lockdown
Workdays are longer by 8.2% (or 48.5 minutes)
Doodle has had similar insights.
In their 2021 State of Meetings report, they found that 2020 was the year when there were more meetings focused on socializing:
1:1s increased by 18%
Check-ins and team socialization meetings jumped by 10%
Around 50% of these meetings were recurring
💡 Pumble Pro Tip
If you're looking for a free solution for your one-on-one meetings, check out Pumble:
Shorter meetings prevailed throughout 2020
A sudden shift to remote work gave rise to an increase in meeting time. Organizations started scheduling more meetings to recreate the in-person communication people were used to in the office.
Although people were attending more meetings, they had approximately more time to socialize and recharge — as they had more informal check-ins that were shorter than a year before.
As showcased by Microsoft, the overall meeting time increased by 10% in 2020. However, there was also a 22% increase in short meetings (for meetings lasting 30 minutes or less).
Doodle also found that shorter, 15-minute meetings went up by 10.8% in 2020.
One of the most notable ways the pandemic has impacted work meetings is the shift to a virtual environment. However, the previously mentioned research by Doodle indicates that virtual meetings still accounted for 42% of all meetings in 2020.
Meeting time is still on the rise
As work from home started becoming the new normal, the meeting time continued to increase.
On average, professionals now spend more than half of their 40-hour workweek in meetings, according to a survey by Reclaim. This translates into professionals spending 21.5 hours in meetings per week in 2021 — which is 7.3 hours more than in February 2020.
The report also reveals an average meeting in 2021 usually lasts 30 minutes to one hour.
According to another study on virtual on-camera meetings, more than 60% of respondents noticed that the number of meetings they attend has drastically increased since the pandemic.
One 2021 Beezy survey detailing digital workplace trends shows that 54% of professionals now attend more (virtual) meetings than they used to pre-pandemic (in-person). Moreover, close to half of the respondents (43%) said they now attend between 4 and 7 more meetings per week than they used to pre-pandemic.
The Future of Meetings Report 2021 by Fellow shows the average time spent in meetings per week is between 16 and 21 hours.
Employees now attend between 11 and 15 meetings per week on average.
31% of managers attend 16+ meetings per week.
45% of executives report attending between 6 and 15 meetings per week.
Meeting time across industries and US states
One Deputy 2022 survey analyzed the time US workers spend in meetings with special emphasis on how it varies across industries and states.
In general, the survey reveals the average US employee still spends between 30 minutes to 1 hour per meeting (41.8%).
Here are some of the most interesting insights on meeting length in the US by industry:
The military industry — the shortest meeting length with an average meeting lasting less than 15 minutes.
The food service industry — meetings rarely go over 30 minutes.
The agriculture industry — meetings last up to 1 hour (70% of respondents report this).
The legal services industry — meetings last between 1 and 2 hours (law enforcement professionals attend the longest meetings — over 2 hours).
When comparing meeting length by state per week, the survey finds that 4.48 hours per week is the national average. Here are the top 3 states in terms of time spent in meetings:
Georgia tops the list with an average of 8.39 hours per week in meetings.
Next up is Massachusetts with 7.67 hours per week.
Nevada has the least amount of hours in meetings per week — 2.28.

Statistics on meetings and productivity
Meetings are still largely considered unproductive by professionals across industries, seniority levels, and generations.
Professionals cite unnecessary meetings as one of the key distractions preventing them from finishing their work.
However, virtual meetings seem to have the potential to shift this situation around.
Statistics on why productive meetings are important
When conducted properly, meetings drive innovation, collaboration, and creativity.
In meetings, people develop relationships and exchange critical information.
Meeting productivity affects organizational revenue
In a 2012 study, researchers found that ineffective meetings that include dysfunctional meeting behavior (digressions, too much opposition, criticizing) are directly correlated to lower levels of organizational revenue.
Meeting productivity affects employee performance and team productivity
The same study showed that the more functional meeting interaction processes — e.g. team members engaged in constructive problem-solving and action planning — trigger higher team productivity and organizational success for up to 2.5 years after the meeting.
Meeting productivity determines job satisfaction
Productive meetings improve personal productivity, according to 55% of
respondents in the earlier mentioned survey by Jabra.
Overall, employees that feel engaged and motivated during a productive meeting are more likely to experience better job satisfaction.
What percent of meetings are unproductive?
The previously mentioned study by Steven G. Rogelberg and colleagues found that only 17% of senior managers consider meetings productive:
71% consider meetings they attend unproductive
65% report that meetings get in the way of their work
64% say meetings disrupt deep thinking
Moreover, US professionals surveyed by Workfront (2019) report that 8% of the week is spent on unproductive meetings.
Participants in the same survey (62% of them) reported that unproductive meetings disrupt their regular workflow.
Why are meetings unproductive?
Several pieces of research investigated the main factors that make meetings unproductive.
For example, professionals surveyed in a previously mentioned Doodle report, cited poorly organized meetings as the main issue causing:
Insufficient time to complete their work (44%)
Confusion as a result of vague actions (43%)
Decrease in focus on projects (38%)
Hindered progress due to irrelevant participants (31%)
Client relationships deterioration due to inefficient processes (26%)
Moreover, 51% of professionals cite attending irrelevant meetings, while 61% of C-suite executives blame a lack of clear objectives for the general unproductiveness.
Scheduling overload is another factor worsening meeting productivity, according to 78% of respondents in a 2020 survey by Clockwise.
Moreover, this number goes up for people at the beginning of their careers — 82% experience scheduling overload. Upper management is the main culprit for this for 38% of people, while 16% blame their direct manager.
What's more, respondents ranked scheduled meetings as the #4 most common cause of workplace interruptions.
A lack of meeting feedback may be another issue hindering meeting productivity, according to a Fellow report:
23% of respondents said their company never collects meeting feedback
41% of respondents said this rarely happens
23.2% of respondents said their organization sometimes solicits meeting feedback
8.6% of respondents said this usually happens
3.7% of respondents said their company always collects meeting feedback
Virtual meetings have a more positive impact on productivity
Although the shift to the work from home (and work from anywhere) model brought an increase in the general meeting time, it also caused higher productivity and engagement.
More than half of participants in the previously mentioned Doodle research noticed that the increase in virtual meetings positively affects productivity.
Employers reported employees' focus remained unhindered while working from home, and collaboration either improved or stayed the same.
Similarly, 61% of US professionals said virtual meetings are more engaging than face-to-face meetings, according to one Slido survey. This number is even more significant if we consider that 80% say they now attend more meetings than they would in the office.
On the other hand, the volume of meetings people attend is still a major issue that negatively affects productivity. Namely, 85% of respondents believe the volume of virtual meetings prevents them from finishing their job successfully, according to the previously cited survey by Beezy.

Statistics on the cost of meetings
Meetings still pose a massive cost to companies and teams.
Earlier projections show that unproductive meetings cost businesses $34 billion a year.
Similar estimates were made by Atlassian revealing unnecessary meetings cost US businesses a staggering $37 Billion in salary costs.
A previously mentioned 2019 Doodle research revealed several figures indicating the cost of meetings:
Professionals lose 2 hours per week or 13 days a year in unproductive meetings which adds up to $399 billion in financial costs for US companies and over 16 billion in hours lost.
Unnecessary meetings are considered the biggest cost to the companies by 34% of American professionals.
More recent research by Fellow shows that every year meetings cost companies between $43,008 and $56,448 per manager.
The research also shows that the average time spent in meetings is 16–21 hours. As directors spend the most time in meetings, and their average salary is $145,000, Fellow estimates that the cost of a one-hour meeting for a director is around $98.
When translated into weekly costs, companies are paying between $1,568 and $2,058 per week or between $75,264 and $98,784 per year for directors to attend meetings.
Statistics on the most common types of meetings
The pandemic and remote work also affected the most common types of meetings organizations and teams conduct.
One-on-one meetings became the most common.
In the US, this was explained by a larger volume of check-in meetings and catch-ups aimed at maintaining team connection and supporting employee mental health.
The rise of one-on-one meetings
Before the pandemic, internal collaboration meetings were the predominant meeting type.
According to a 2018 global study by Blue Jeans by Verizon, 73% of meetings were team collaboration meetings, followed by:
Presentations (57%),
External meetings (56%),
Training (51%), and
Webinars (42%).
But, as shown in the previously cited Reclaim survey, one-on-one meetings prevailed in workplaces throughout 2020 and beyond.
Namely, the research indicated a staggering 500% increase in one-on-one meetings in 2020.
Before the pandemic (February 2020) there was less than one 1:1 meeting per week, compared to 5.6 per week in October 2021.
The increase in one-on-one meetings in 2020 is reported by other surveys as well:
A 2021 Doodle research shows one-on-one meetings grew a whopping 1,230%
Fellow found that 64% of respondents attend one-on-one meetings once a week
As opposed to pre-pandemic years, the meeting landscape became predominantly virtual — this applies to one-on-one meetings as well. Doodle reports a 117% increase in virtual board meetings across the world in 2020.
Group meetings are still relevant
Group team meetings focused on internal collaboration are still very common, according to a Fellow report:
89% of professionals said they regularly attend weekly team meetings
77% of respondents said they regularly attend weekly project meetings
Doodle brings an in-depth analysis of the most common types of meetings conducted throughout 2020.
The report also shows the most common group size in meetings organized in Europe, the US, and the UK:
UK, US, Europe — Group meetings of 3 or more people rose by 613%.
UK, US, Europe — Group meetings of 5 people were the most common group meetings.
Europe — group meetings of an average of 10 people were the most common.
US — group meetings most commonly consisted of 6 people.
UK — 8 was the most common number of attendees in group meetings.
UK, US, Europe — Virtual recruitment and onboarding meetings increased by 64%.
UK, US, Europe — Sales pitches also increased by approximately 12.8%, whereas virtual sales pitch meetings went up by 28%.
UK, US, Europe — 30% of respondents reported that clients were less likely to cancel virtual meetings in comparison to when these meetings were in person.
UK, US, Europe — Nearly half of all meetings in 2020 were internal (46,2%).
Statistics on how meetings are perceived
Unfortunately, meetings are considered a waste of time and a major cause of stress for employees.
The main factors impacting people's attitude towards meetings cited are:
The stress of preparing reports or presenting,
A distraction from their work, and
Peer pressure.
In previous years, people mainly saw meetings as the biggest distraction from their work. In 2018, Udemy found that 60% of professionals perceived work meetings as a distraction.
More recent research reveals other ways professionals find meetings disruptive.
For example, over 25% of respondents in a 2021 HubSpot survey reported feeling some form of peer pressure to turn on their cameras, even during meetings that don't mandate this explicitly.
Deputy reveals that 28.6% of Americans cite preparing reports as the biggest stressor connected to meetings, while 23.7% cite participating in discussions.
Interestingly, men are more likely to experience stress preparing reports, while women more often feel stressed about participating in discussions in meetings.
In the same survey, professionals also expressed what they would rather do instead of spending time in work meetings:
58% would rather go to a doctor's appointment
25% would rather get stuck in traffic
17% would choose jury duty
In a previously cited survey by Clockwise, people said they would rather go to the dentist or talk politics at family dinner than attend a meeting that could have been an email.
The biggest meeting pet peeves
The aforementioned survey by Clockwise reveals US professionals across all generations and industries consider arriving late the biggest meeting taboo. Respondents placed late arrivals before
Cell Phone use,
Interrupting,
Lack of agenda, and
Eating food during meetings.
As expected, younger generations are 15% less likely to find cell phone usage irritating, but 10% more likely to be annoyed by someone eating during a meeting.
According to the above-mentioned Fellow report, here are some other biggest meeting pet peeves:
Status updates
Digressions
Lack of preparation
No clear takeaways
Time management
Statistics on meeting behavior
One or two people dominate the majority of conversations in meetings, while the biggest meeting challenges are off-topic conversations.
Previously cited meeting insights by Atlassian show some shocking statistics on meeting behavior:
96% of professionals have missed meetings
91% of professionals have daydreamed during meetings
73% of professionals have multitasked during meetings
39% of professionals have slept during meetings
Communication and decision-making in meetings
In 79% of organizations across America, one or two people generate the majority of conversations and ideas in meetings, Klaxoon's study finds.
Similarly, the majority of respondents in a 2020 Clockwise survey cite one person dominating the discussion as one of the biggest challenges in meetings.
One previously cited survey by Doodle indicates that professionals attending five or more meetings per week are more likely to assume an active role in those meetings. Namely, 70% of individuals attending five or more meetings per week have a key role in discussions.
When it comes to decision-making in meetings, it is most commonly impacted by best ideas and groupthink. According to the previously mentioned study by Klaxoon, the best ideas are the number one catalysts for decision-making in meetings with a 38% share. Other key factors include:
Groupthink (29%)
Upper management (25%)
Team vote (9%)
Interestingly, decision-making factors in meetings vary depending on the size of the organization.
Namely, in micro-companies with 1 to 9 employees, the best ideas are used in decision-making 47% of the time.
On the other hand, in large enterprise-size companies with over 1,000 employees, best ideas influence 33% of decisions.
💡 Pumble Pro Tip
To get a better insight into the state of workplace communication, check out our post on the topic and get all the latest facts, figures, and trends:
Disruptive behavior in meetings
Small talk, phone calls, and interruptions are some of the most common examples of people's behavior during meetings that affect said meetings' quality.
Small talk and office gossip ranked first in the previously mentioned Udemy report.
As many as 54% of professionals cited small talk and gossip as the main causes of disruptions in meetings.
A close second is irrelevant conversations — cited by 45% of respondents.
37% of respondents said late arrivals/early departures were causing the most disruptions.
Doodle's 2019 research revealed the following disruptive behavior affected meeting quality the most:
Phone calls and texting during meetings (55% of respondents)
Attendees interrupting each other during meetings (50% of respondents)
People not listening to others' contributions (49% of respondents)
Late arrivals/early departures (49% of respondents)
Long, irrelevant speeches/conversations (46% of respondents)

Statistics on the use of conference platforms for meetings
Although video conference platforms have been around before the pandemic, they saw the largest growth in 2020.
According to Statista, in Q2 2021, leading mobile conferencing platforms experienced a 58% decrease in installs compared to the same quarter the year before — 200 million vs 479 million.
This could be explained by the pandemic and the global shift to remote work, when a large number of people had to install these tools for the first time. In 2021, most professionals and organizations were already settled in remote offices with conferencing platforms installed.
In 2019, professionals surveyed in the US State of Work report by Workfront predicted that within 5 years of communication long-distance meetings will be powered by artificial intelligence to help remote workers feel like they are physically present in company meetings.
Three years later, we can see some changes happening, especially in the way virtual conference platforms are integrated into corporate meeting environments.
Statistics on how organizations use conference platforms
From 2020 onward, organizations have been adopting video conferencing tools as the most flexible means of communication, collaboration, and meeting technology.

In fact, the Fortune Business Insights report states the video conferencing market was worth $6.28 billion in 2021 and is expected to reach $14.58 billion by 2028.
Video conferencing has replaced traditional in-person meetings.
According to the previously mentioned report by HubSpot, 61% of professionals surveyed said video is obligatory for all meetings they participate in.
Around 60% of respondents in the same research report that the formal meetings have replaced informal office chats which may indicate that a large portion of the organizations doesn't necessarily use collaboration tools for casual check-ins and informal updates.
Interestingly, 65% of respondents in this study believe that camera-on meetings are most suitable for building better team connections, even though only 11% report this is the main purpose of camera-on meetings in practice.
Statistics on the impact of conference tools on meeting productivity
In the pre-pandemic years, a lack of relevant and functional tools had a negative impact on meeting productivity.
The previously cited Jabra research indicated issues with conference tools were one of the biggest challenges to meeting productivity.
Similarly, 33% of respondents in a Udemy survey said tech/connectivity issues were the major cause of disruptions in meetings.
Respondents in a 2018 Barco survey said 11% of the time in meetings is lost on setting up unsophisticated technology.
Conversely, another survey (Fuze) revealed that video conferencing significantly:
Reduces multitasking, and
Improves productivity and engagement.
Namely, only 4% of respondents reported multitasking during video conferences — compared to 56% of respondents that multitask during phone conferencing.
Moreover, 63% of professionals said they spend more time preparing for video conference calls than in-person meetings.
Interestingly, respondents also reported that they would prefer working remotely and switching to video conferencing:
57% of professionals mentioned reduced commuting as one of the main benefits
67% of professionals reported they would feel more comfortable in a remote setting and would experience better engagement with their coworkers.
Surprisingly, a 2020 Clockwise survey indicated that tech industry respondents were 54% more likely to experience technical issues in virtual meetings than people from other industries. This may be because their area of expertise (which mandates they use different technologies) makes them more receptive to technology malfunctions.
After all, one Statista survey indicated that 58% of professionals find software/technical issues to be the biggest challenge in remote work.
In line with that, almost half (49%) of professionals say at least two of the virtual meetings they attend each week are disrupted by technology issues (Beezy 2021).
Statistics showing how virtual meetings drive productivity
With the emergence of more user-friendly conferencing technologies, we are starting to see virtual meetings' positive effects on productivity.
The 2021 State of Remote Work report by Owl Labs shows that:
71% of respondents said it's easier to present to a group in virtual meetings
70% of respondents find virtual meetings less stressful
67% of respondents consider virtual meetings as productive as in-person meetings
66% of respondents find it easier to contribute during virtual meetings.
64% say they prefer hybrid meetings (even though around one-third of respondents often experience issues with video conferencing)
Moreover, 43% of professionals from the previously cited HubSpot survey stated that on-camera meetings improved their productivity. This may be connected to the fact that 66% of respondents agree that being on camera reduces their ability to multitask.
New insights from a 2022 survey by Dialpad show that a majority of professionals (83.13%) now spend around a third of their workweek in video conferencing meetings.
Dialpad surveyed 2,800 US professionals from companies of all sizes and across industries — they combined these results with the anonymized data from Dialpad's own meetings, starting from 2019 through June 2021.
Here are their key insights on the hours an average professional spent in video meetings in 2021:
46% of respondents spent less than 4 hours in video meetings per week — up to 10% of their workweek
37% of respondents spent between 4 and 12 hours — which is 10 to 30% of the week
11% of respondents spend 20 hours or more — which is over 50% of their workweek in video meetings
What's also interesting is the insight into the challenges connected to meetings.
Namely, in the predominantly video conferencing meeting setting, the sheer number of meetings isn't the biggest issue anymore.
Over half of the professionals surveyed reported that audio-related issues were their biggest pain points.
Statistics showing preferences: audio-only is the most preferred meeting format
Before the pandemic, professionals felt more comfortable in audio-only meetings. Moreover, the majority of people (88%) believed that video conferencing is best suited for interviews and training, according to one LoopUp report.
It seems like people's preferences haven't changed in this regard.
The global shift to video conferencing gave rise to the increase in fatigue in professionals spending long hours on camera. Described as the particular mental and cognitive exhaustion caused by frequent on-camera meetings, Zoom fatigue was experienced by 49% of professionals in a 2021 study by HubSpot.
This is supported by the research on the effects of video conferencing on the human mind — the Zoom fatigue — which suggests that "nonverbal overload" produced by the virtual conference tools such as Zoom has an exhausting effect on the human mind.
Moreover, a 2022 survey on video conferencing by Dialpad indicates that 82.9% of professionals don't consider video necessary in every meeting.
Almost half of the respondents (44.94%) believe audio calls are a better alternative for any meetings that don't require screen sharing.
The previously mentioned Statista survey shows that 28% of professionals said too many meetings/video fatigue is a key challenge associated with video meetings and working remotely.

Fun facts about virtual meetings
Virtual remote meetings have brought entirely new sets of behavior and phrases that were completely unimaginable in the in-office era.
From children and pets' appearances to funny backgrounds and filters, virtual work settings humanized how we approach meetings.
A global 2021 survey by Zoom analyzed some of these interesting facts about virtual meetings:
Wednesday was the most popular day for virtual meetings (followed by Tuesday, and Thursday)
The average virtual call lasted 54 minutes
The average number of attendees per meeting was 10
68% of people wore casual clothes for meetings
71% of respondents have used the phrase "You're on mute"
57% had asked if everyone could see their screen
43% of parents had their children show up during a meeting
36% had their pets show up
75% of people wave at the end of their meetings
Statistics on meetings best practices
When looking to improve meeting productivity and reduce the common disadvantages, it's important to take into account the statistics and tips on best practices for meetings.
More inclusion and detailed meeting preparation seem to provide a winning formula for more successful meetings.
Minding the time
Professionals prefer mid-week and midday meetings, according to the majority of research data.
Tuesday and Wednesday are voted the best days for meetings, according to 29% and 25% of respondents in a Clockwise survey, respectively.
Mondays and Fridays are the worst days for meetings — according to 47% and 40% of respondents respectively.
However, if they had to choose between Mondays and Fridays, 72% of professionals would prefer Mondays compared to 28% who favor Friday meetings, a 2021 Deputy survey reveals.
The survey also showed the ideal time for a meeting for the American workforce. Namely, American professionals across generations and industries prefer meetings between 10 a.m. and 12 p.m.
It's interesting to note that the majority of people still prefer to meet in person (56.8%) before virtual meetings (25.4%) or in hybrid settings (13.6%).
Gen Z prefer team meetings over one-on-one structures (73%), while Baby Boomers show only a slight preference towards team meetings (54%)
Still, the previously mentioned Dialpad survey revealed that meeting preferences may be changing. Namely, Mondays are the most popular day of the week for video conferencing meetings, whereas the longest meetings are on Wednesdays.
Preparing a detailed plan
Setting clear meeting objectives is key for engagement, according to one previously mentioned survey by Clockwise.
When asked what impacts their interest and excitement about meetings the most, 64% of professionals said that it's a well-planned meeting. Interestingly, younger generations placed greater emphasis on free lunch (72%).
In addition, the previously cited Fellow report also found that a clear purpose and detailed agenda are the determining factors for people's interest in meetings. These are followed by:
Psychological safety
Active collaboration
Actionable takeaways
Employees also believe better meeting facilitation could improve meeting quality. As many as 54% of employees think their managers need to improve their facilitation skills (Slido, 2021).
Including more voices in the conversation
Meeting environments lack more inclusion for better diversity of ideas and innovation.
As previously mentioned, professionals often report that one or two people dominate the conversations in their meetings.
Slido also finds that 42% of respondents didn't get to express their point of view in a meeting. Moreover, 64% of professionals in the previously cited Fellow report said their biggest meeting pet peeve is one person dominating the conversation.
💡 Pumble Pro Tip
One of the ways to achieve better inclusivity in meetings is to assign several team members appropriate meeting roles.
Check out our guide on the blog to learn more about the key roles and responsibilities:
Wrapping up: More deliberate planning can turn the tide of meetings
Meetings have come a long way from being the biggest waste of time and resources to slowly becoming more focused and efficient collaboration spaces.
The virtual work environment and the use of conference tools had a share in revolutionizing the way we approach meetings.
In addition to changing the sheer format of the meetings, the virtual meeting environment also brought a shift in perspective for both employees and organizations.
Organizations and teams still need to work on making their meetings shorter, more inclusive, less frequent, and more engaging — in order to create a more productive meeting experience for all involved.
References
Adobe Workfront. (2019). 2019 US state of work – Adobe Workfront. Retrieved May 18, 2022, from https://www.workfront.com/sites/default/files/files/2019-01/2019%20US%20State%20of%20Work.pdf
Atlassian. (n.d.). You waste a lot of time at work [Infographic]. Retrieved May 18, 2022, from https://www.atlassian.com/time-wasting-at-work-infographic
Bailenson, J. N. (2021, February 23). Nonverbal overload: A theoretical argument for the causes of zoom fatigue. Technology, Mind, and Behavior. Retrieved May 18, 2022, from https://tmb.apaopen.org/pub/nonverbal-overload/release/2
Bain. (n.d.). Busy CEOS spend nearly one day each week managing communications, two days in meetings. Retrieved May 18, 2022, from https://www.bain.com/about/media-center/press-releases/germany/2014/your-scarcest-resource/
Barco. (n.d.). Barco reveals true extent of time lost in meetings, and shows how businesses can reclaim this time to their advantage. Retrieved May 18, 2022, from https://www.barco.com/en/News/Press-releases/Rethinking-collaboration-Barco-reveals-true-extent-of-time-lost-in-meetings-and-shows-how-businesses.aspx
Beenote. (2022, February 14). Statistics – the results 2017- current state of meetings at work. Retrieved May 18, 2022, from https://www.beenote.io/state-of-meetings-at-work-the-results/
Beezy. (n.d.). Report: 2021 – Digital workplace trends & insights. Retrieved May 18, 2022, from https://www.beezy.net/hubfs/Beezy%202021%20Digital%20Workplace%20Report.pdf?hsLang=en
BlueJeans. (n.d.). State of the modern meeting 2018: Bluejeans by Verizon. Retrieved May 18, 2022, from https://www.bluejeans.com/resources/ebook/state-modern-meeting-2018
Chew, D., & Azizi, M. (2022, January 13). The State of Video Conferencing 2022. Dialpad. Retrieved May 18, 2022, from https://www.dialpad.com/blog/video-conferencing-report/
Clockwise. (2020, February 10). The state of meetings in 2020: Clockwise. Retrieved May 18, 2022, from https://www.getclockwise.com/blog/the-state-of-meetings-in-2020
DeFilippis, E., Impink, S. M., Singell, M., Polzer, J. T., & Sadun, R. (2020, July). Collaborating during coronavirus: The impact of covid-19 on the … – NBER. NBER. Retrieved May 18, 2022, from https://www.nber.org/system/files/working_papers/w27612/w27612.pdf
Deputy. (2022, January). How much time Americans spend in meetings. Retrieved May 18, 2022, from https://www.deputy.com/blog/how-much-time-americans-spend-in-meetings
Doodle. (n.d.). Resources/research-and-reports-/the-state-of-meetings-2019. Doodle. Retrieved May 18, 2022, from https://doodle.com/en/resources/research-and-reports-/the-state-of-meetings-2019/
Doodle. (2021, April). State of Meetings 2021. Retrieved May 18, 2022, from https://downloads.ctfassets.net/oggad6svuzkv/325tJmPxGEWQOgc6eGskKy/b69cb86ada52cfe97e468daadf20b741/2017_Full_Citizenship_Report.pdf
Fellow. (2021, May 4). Meeting statistics in 2021: The Future of Meetings Report. Retrieved May 18, 2022, from https://fellow.app/blog/meetings/meeting-statistics-the-future-of-meetings-report/?utm_source=google&utm_medium=cpc&utm_campaign=Dynamic_Intl&utm_term=-&utm_content=523055701422&adgroupid=101732089620&gclid=Cj0KCQjw-JyUBhCuARIsANUqQ_KnPXFlspAhbA8gESzPu87nw3yB5qGoi2gmbDuDB5_IMsLxC09fPykaAkR9EALw_wcB
Fortune Business Insights. (n.d.). Video conferencing market size, share, Trends & growth [2029]. Retrieved May 18, 2022, from https://www.fortunebusinessinsights.com/industry-reports/video-conferencing-market-100293
Fuze. (2021, June 29). Fuze Survey reveals U.S. workforce hampered by multitasking and disengagement. Fuze. Retrieved May 18, 2022, from https://www.fuze.com/blog/fuze-survey-reveals-u-s-workforce-hampered-by-multitasking-and-disengagement
HubSpot. (2021, April). The Webcam Survey – Exhausted or Engaged? Retrieved May 18, 2022, from https://f.hubspotusercontent00.net/hubfs/5929454/The%20Webcam%20Survey%20Full%20Report%20April%202021.pdf?hsCtaTracking=a61273bf-e1f5-4b11-8929-1ccfc3fa46f9%7C760e3fa0-e1d8-4439-a3e5-73273b1c7044
Jabra. (n.d.). Productivity at the Office – Challenges 2015. Retrieved May 18, 2022, from https://www.jabra.com/blog/wp-content/uploads/dlm_uploads/2015/10/Report_Productivity-in-Business-2015_final1.pdf
Kauffeld, S., & Lehmann-Willenbrock, N. (2012, April). Meetings matter effects of team meetings on Team and organizational success. ResearchGate. Retrieved May 18, 2022, from https://www.researchgate.net/publication/258187597_Meetings_Matter_Effects_of_Team_Meetings_on_Team_and_Organizational_Success
Klaxoon. (n.d.). Klaxoon's study reveals insights on the future of teamwork in America – articles. Retrieved May 18, 2022, from https://klaxoon.com/community-content/klaxoons-study-reveals-insights-on-the-future-of-teamwork-in-america
Loopup. (2018). Enterprise conferencing – User behavior & impact report. Retrieved May 18, 2022, from https://loopup.com/app/uploads/2018/01/enterprise-conferencing-impact-report-2017.pdf
Microsoft. (2020, October 26). The rise of the 30-minute meeting. Retrieved May 18, 2022, from https://workplaceinsights.microsoft.com/workplace-analytics/the-rise-of-shorter-meetings-and-other-ways-collaboration-is-changing-with-remote-work/
OECD. "Hours Worked: Average annual hours actually worked", OECD Employment and Labour Market Statistics (database) Retrieved May 18, 2022, from https://doi.org/10.1787/data-00303-en
Owl Labs. (n.d.). State of remote work 2021. Retrieved May 18, 2022, from https://owllabs.eu/state-of-remote-work/2021
Reclaim. (2021, November 2). Productivity trends report: One-on-one meeting statistics: Reclaim. Retrieved May 18, 2022, from https://reclaim.ai/blog/productivity-report-one-on-one-meetings
Rogelberg, S. G., Scott, C., & Kello, J. (n.d.). The science and fiction of meetings – UNC Charlotte. Retrieved May 18, 2022, from https://orgscience.charlotte.edu/sites/orgscience.charlotte.edu/files/media/Rogelberg%20et%20al.%20-%202007%20-%20The%20science%20and%20fiction%20of%20meetings.pdf
Slido. (2021). 2021 meeting trends. Retrieved May 18, 2022, from https://www.sli.do/meeting-research
Statista. (2021, September 16). Zoom, Microsoft Teams, and google meet global app installs 2021. Retrieved May 18, 2022, from https://www.statista.com/statistics/1263757/zoom-microsoft-teams-and-google-meet-global-app-installs/
Statista. (2022, February 16). New work virtual meeting challenges worldwide 2021. Retrieved May 16, 2022, from https://www.statista.com/statistics/1255656/challenges-experienced-online-video-meetings-global/
Zoom. (2022, April 27). Here's how you zoomed over the past year. Retrieved May 18, 2022, from https://blog.zoom.us/how-you-zoomed-over-the-past-year-2021/