12 Best books on communication
Communication skills are an invaluable asset in every aspect of life, especially business. From knowing how to convey a clear message to building trust, good communication can significantly improve your quality of work and life. Therefore, if you want to work on yourself — this is a good start.
There are many ways to go about it, for example:
Reading books and blog posts,
Listening to podcasts,
Paying attention to what good communicators around you are doing,
Enrolling online courses, and so on.
This time, we are going to focus on books.
What are the best books to improve your communication skills?
Let's find out the answer!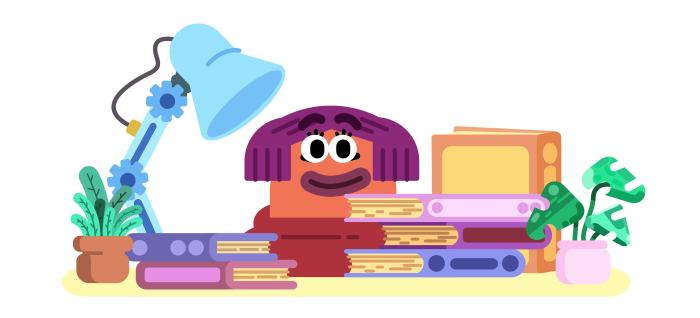 Never Split the Difference: Negotiating As If Your Life Depended On It
Amazon: ★★★★★ 4.8 (22.272 ratings) | Goodreads: ★★★★☆ 4.37 (98,321 ratings)
Chris Voss, the former lead international kidnapping negotiator for the FBI, wrote a book that contains the nine key principles that helped him and his colleagues when it mattered most — when people's lives were at stake.
This book will teach you how to master the art of negotiating as if, well, your life depended on it.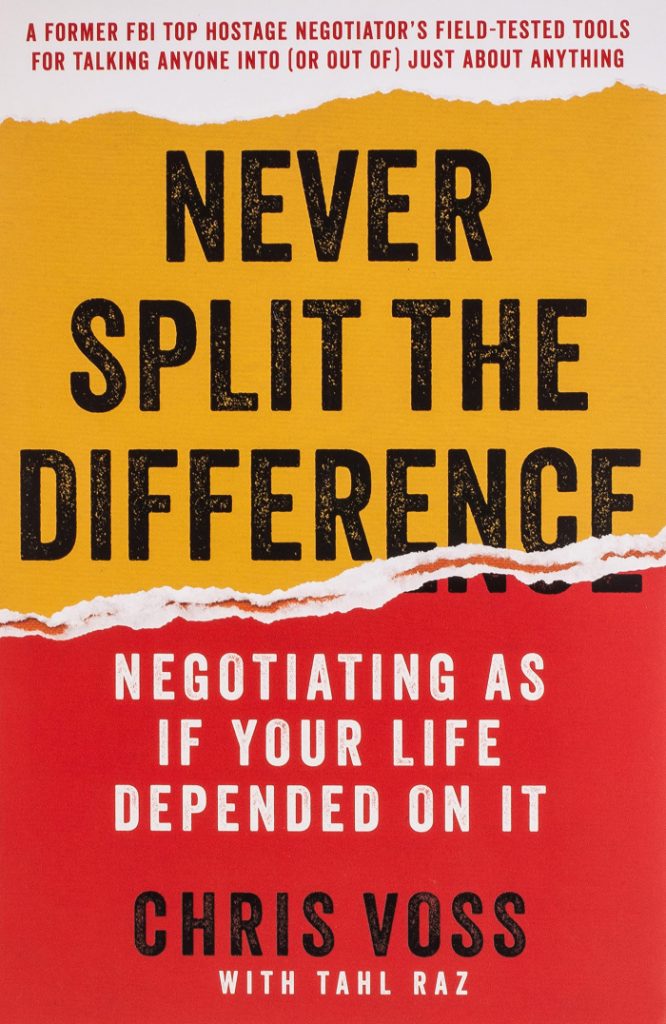 🔸 Authors: Chris Voss, Tahl Raz
🔸 Quote: "Negotiation is not an act of battle; it's a process of discovery. The goal is to uncover as much information as possible."
🔸 What you'll learn?
Even if the stakes of your negotiations are not as high, this book can help you to:
Win discussions
Ask the right questions
Get people to trust you and share information with you (just, don't abuse this knowledge)
🔸 Key Takeaways
People are emotional and biased by nature — thus, the key to being a successful negotiator is having emotional intelligence and empathy.
The most valuable skill to have is active listening — the more information you know, the better you'll be at negotiating. And the most important information you have to find out is what the other person actually needs.
"No" is not a bad word — it's an opportunity (both for you and the other party) to clarify what you really want by eliminating what you don't want. That's often when the real negotiation begins.
How to Win Friends and Influence People
Amazon: ★★★★★ 4.7 (54,363 ratings) | Goodreads: ★★★★☆ 4.21 (773,035 ratings)
This book was released almost a century ago (in 1936, to be exact) and since then, it has sold over 15 million copies. This timeless bestseller teaches you the six ways to make people like you, the twelve ways to win people to your way of thinking, and the nine ways to change people without arousing resentment.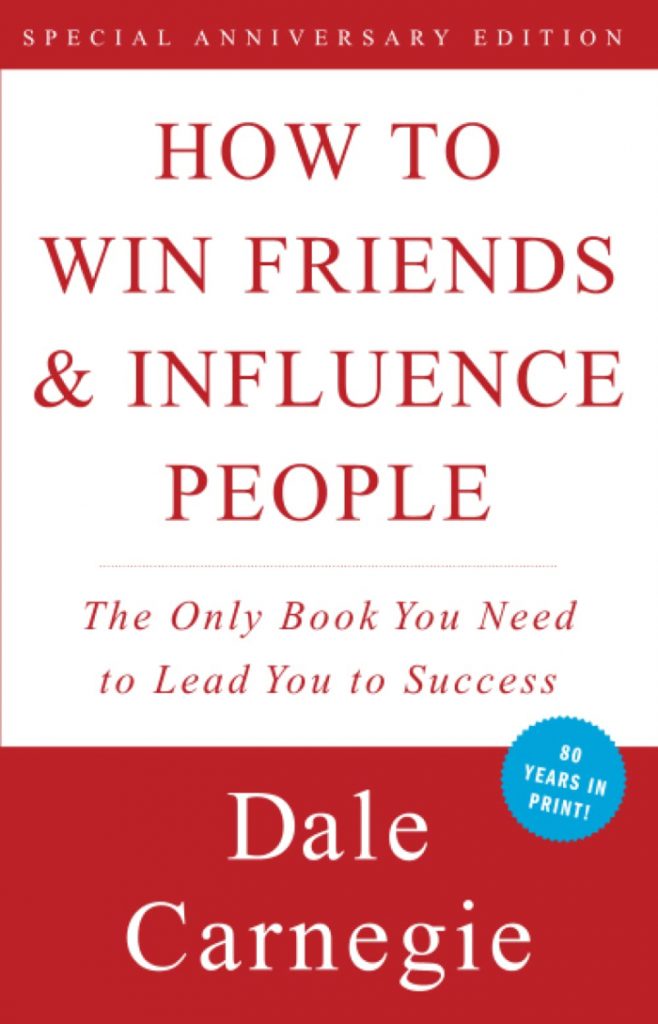 🔸 Author: Dale Carnegie
🔸 Quote: "You can make more friends in two months by becoming interested in other people than you can in two years by trying to get other people interested in you."
🔸 What you'll learn?
You'll learn exactly what the title says — how to win friends and not only handle, but also influence people. Since humans are social creatures, knowing how to interact with people will help you in any setting — from a grocery shop to a workplace.
🔸 Key Takeaways
Be genuinely interested in other people and make them feel valued and important.
Don't criticize, complain, and argue (if possible).
Influence others by focusing on them — or, as Dale Carnegie put it, "The only way on earth to influence other people is to talk about what they want and show them how to get it."
Crucial Conversations: Tools For Talking When Stakes Are High
Amazon: ★★★★★ 4.7 (8,983 ratings) | Goodreads: ★★★★☆ 4.04 (58,297 ratings)
When conflict arises and stakes happen to be high, managing your emotions and acting rationally is far from easy. How to accomplish the desired result when you're stuck in a sticky situation (whether it's at work or at home)? The answer is — by having a hard conversation.
This book will help you handle those crucial conversations and communicate what's on your mind in the right way.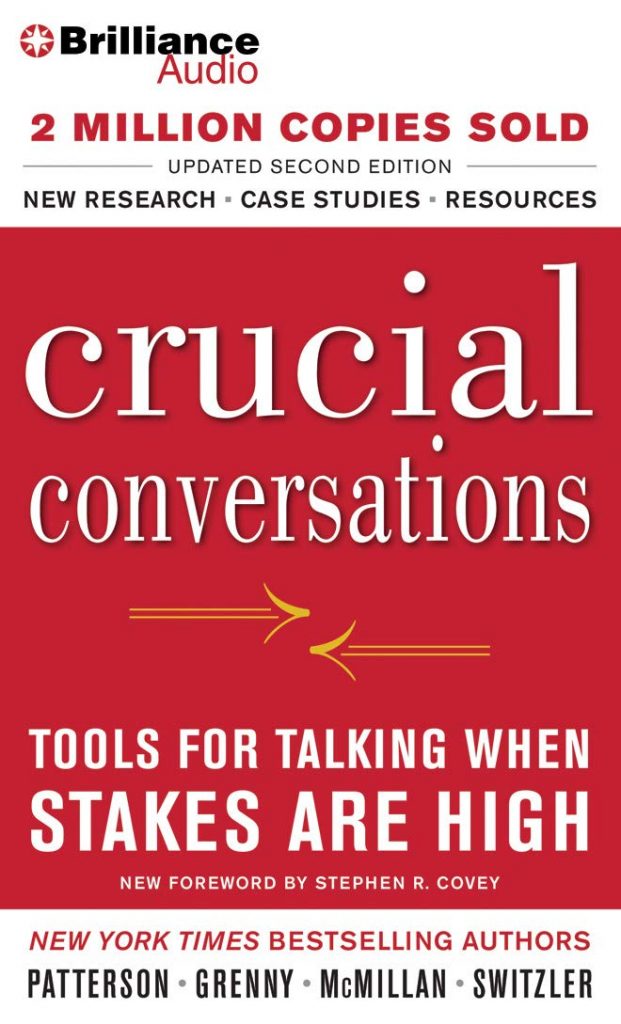 🔸 Authors: Kerry Paterson, Joseph Grenny, Ron McMillan, Al Switzler
🔸 Quote: "It's the most talented, not the least talented, who are continually trying to improve their dialogue skills. As is often the case, the rich get richer."
🔸 What you'll learn?
After studying successful communicators for 25 years, authors summed up what they learned and wrote a book that teaches you:
What crucial conversations are and how to master them
How to make it safe to talk about almost anything
How to speak persuasively, but not abrasively
🔸 Key Takeaways
We need to work on ourselves first and examine our personal role in the problem we're in.
The key is to make the other person feel safe and let them know you care about their best interests and goals.
When communicating, stay focused on your goals to avoid reacting emotionally.
Never Eat Alone: And Other Secrets to Success, One Relationship At a Time
Amazon: ★★★★★ 4.5 (833 ratings) | Goodreads: ★★★★☆ 3.84 (45,620 ratings)
If you want to be good at business, you have to be good at forming and maintaining relationships, too.
Ferrazzi, one of the book's authors, discovered early in life that what distinguishes highly successful people from others is the way they use the power of relationships in a way that everyone wins. He used that power to get a scholarship at Yale, get into a Harvard Business School, and get top executive positions, among other things.
In the book, Ferrazzi teaches us not only specific steps, but also the inner mindset that he used to connect to thousands of friends, colleagues, and associates.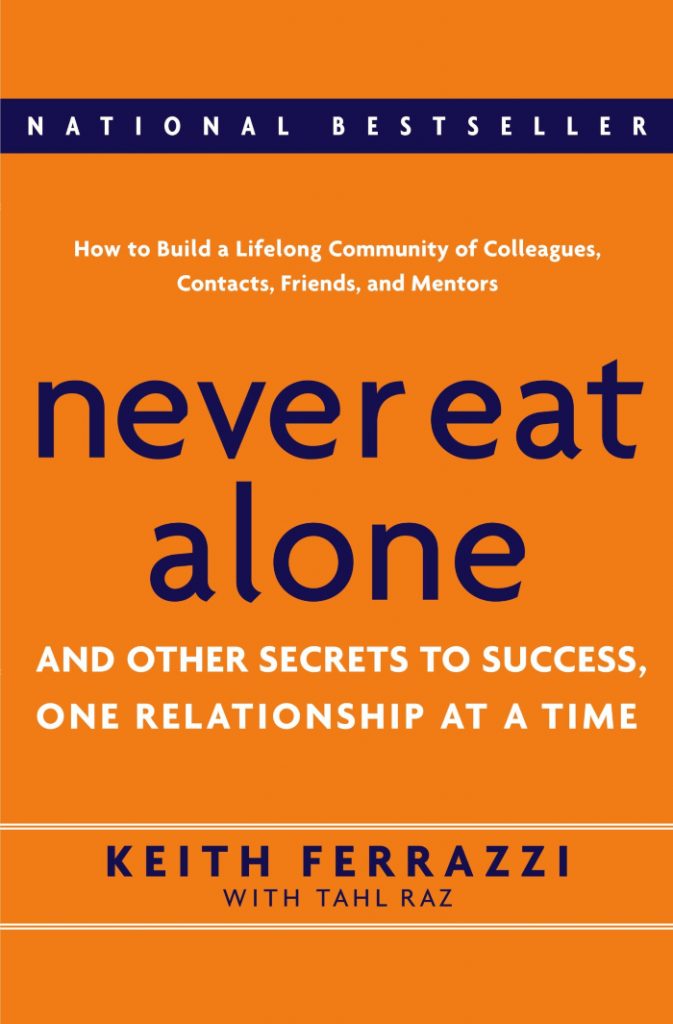 🔸 Authors: Keith Ferrazzi, Tahl Raz
🔸 Quote: "Success in any field, but especially in business, is about working with people, not against them."
🔸 What you'll learn?
It's seldom that someone succeeds solely because of their talent and hard work — usually, you need others' help and support. This book will teach you how to build your personal network and brand.
🔸 Key Takeaways
Generously help others and don't be afraid to ask for help in return. Relationships are like muscles: they grow stronger with regular use.
With that being said, relationships take time to build, so don't wait until you need someone's help to start reaching out to them.
Develop the right social skills, such as learning how to approach people, make small talk, and find the right networking opportunities.
Building an initial connection isn't enough: you must deliberately nurture your connections.
How to Talk to Anyone: 92 Little Tricks for Big Success in Relationships
Amazon: ★★★★☆ 4.4 (500 ratings) | Goodreads: ★★★★☆ 3.74 (24,209 ratings)
Everyone knows at least one person who seems to be liked by everyone: everyone wants to be their friend, they successfully climb the corporate ladder, and they somehow have a way with everyone.
What's their secret?
They probably just know how to deal with people. The good thing is — you can learn that too.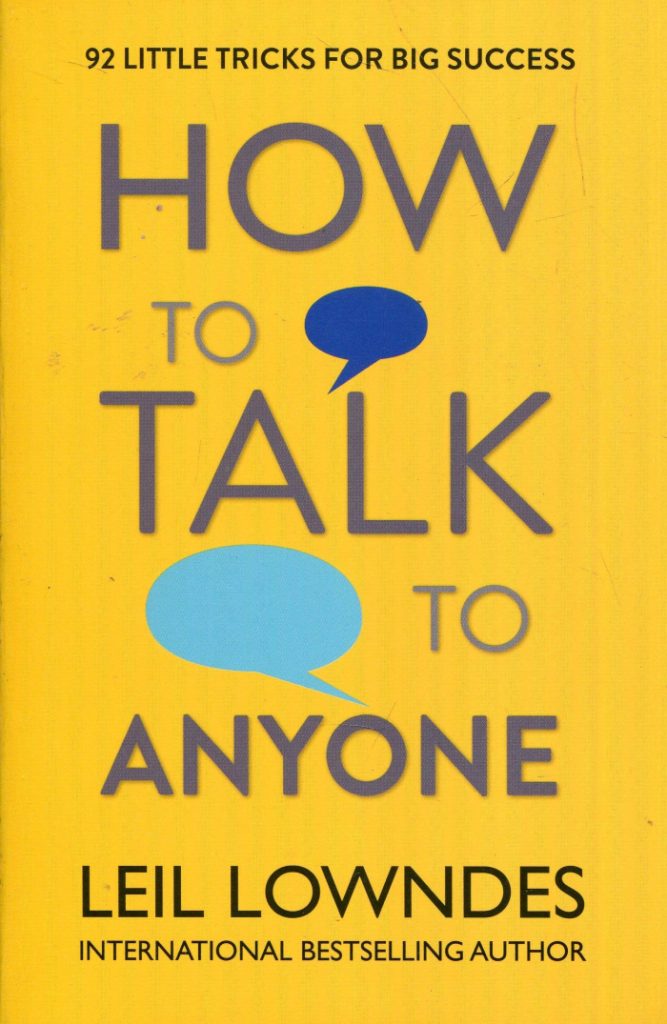 🔸 Author: Leil Lowndes
🔸 Quote: "Great posture, a heads-up look, a confident smile, and a direct gaze.The ideal image for somebody who's a Somebody."
🔸 What you'll learn?
How to make a great first impression
How to master small talk, "big talk," and body language
How to establish deep subliminal rapport with anyone
How to make your phone a powerful communications tool
And much more
🔸 Key Takeaways
While there are many takeaways from this book (92, to be precise), these are the ones that stood out to me the most:
Your body, the way you move, is your autobiography in motion — the way you look and move is more than 80% of someone's first impression of you.
Authentic and specific praise is extremely powerful.
The key to a good conversation are active listening and asking good questions.
The Definitive Book of Body Language
Amazon: ★★★★★ 4.5 (1,983 ratings) | Goodreads: ★★★★☆ 3.96 (24,906 ratings)
Nonverbal communication is just as important as communicating through words — or, arguably, even more important.
Knowing the secrets of body language can help you find people's true intentions, leave a good impression, and communicate more effectively.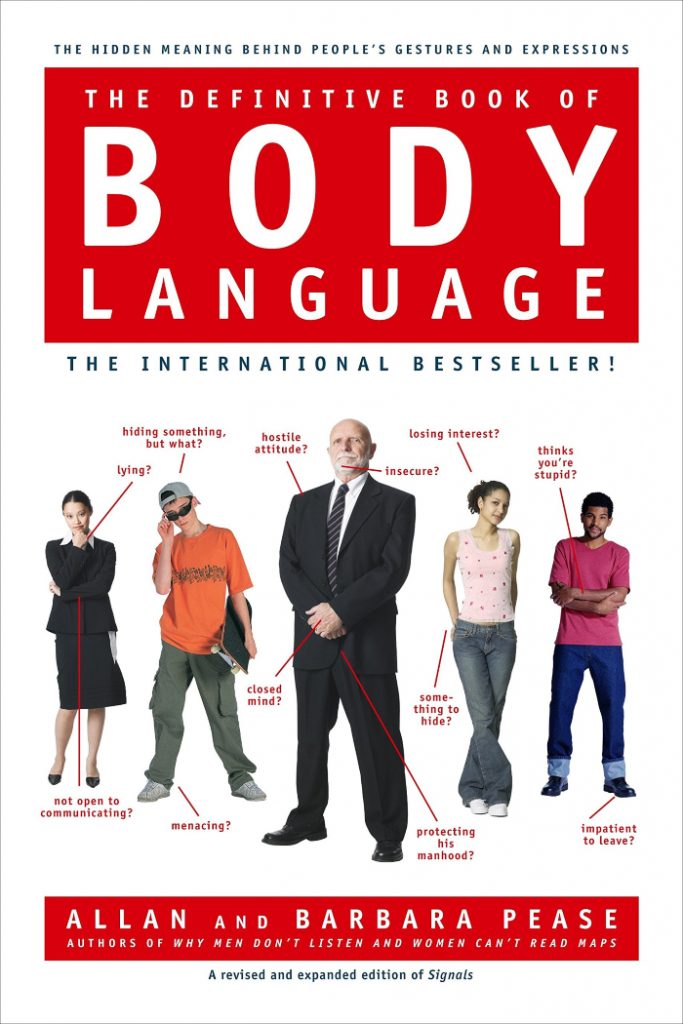 🔸 Authors: Barbara Paese, Allan Paese
🔸 Quote: "Whether we realize it or not, we automatically copy the facial expressions we see."
🔸 What you'll learn?
You'll learn how to "read" people by paying attention to their body language, for example:
How palms and handshakes are used to gain control,
What are the most common gestures of liars, and
How to use nonverbal cues and signals to communicate more effectively and get the reactions you want.
This book goes through all body parts and what secret messages each movement conveys.
🔸 Key Takeaways
As cultural differences are becoming less and less relevant in a globalized world, most basics of body language are the same for everyone.
Never interpret a gesture in isolation of other gestures or the overall context. Also, if words and nonverbal gestures are not in alignment, trust the nonverbal cues.
Some body language cues can be faked for some time (such as open palms for appearing honest), while a lot of cues (such as dilated pupils or blushing) can't be consciously faked at all.
Power Questions: Build Relationships, Win New Business and Influence Others
Amazon: ★★★★★ 4.5 (612 ratings) | Goodreads: ★★★★☆ 3.82 (1,254 ratings)
Never underestimate the power of good questions.
This book reveals a set of thought-provoking questions that will transform your conversations, lead the discussion where you want it to go, and let you express your thoughts more clearly. It also includes examples of conversations with CEOs and billionaires, as well as authors' clients, colleagues, and friends.
At the end of the book, there are over 200 additional questions that facilitate navigating professional challenges.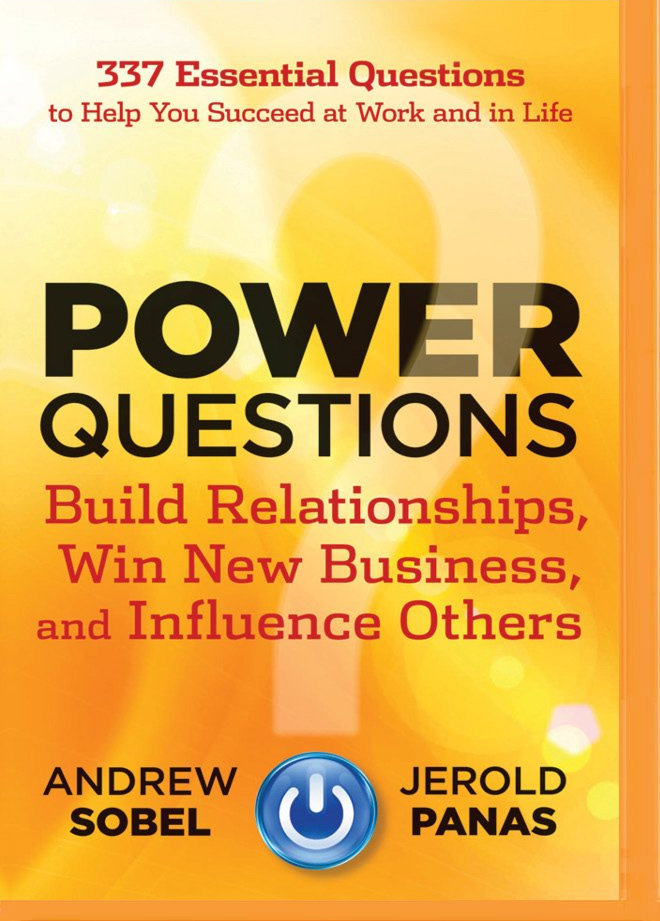 🔸 Authors: Andrew Sobel, Jerold Panas
🔸 Quote: "If you knew you had only three years to live, what would you hope to achieve personally and professionally?"
🔸 What you'll learn?
This book is especially useful for professionals, leaders, job seekers, and everyone else who tries to navigate the business world — but even if you're not a part of it, you can still learn:
What questions work and what don't
What questions are the best to ask
How questions can solve problems in your daily life
🔸 Key Takeaways
Good questions trump easy answers, they are often more powerful than answers.
Don't be the person who does all the talking: "If you do all the talking, you learn nothing about the person. If you do all the talking you're in the spotlight. If you do all the talking, you don't empower the other person."
You can tell how experienced and insightful a person is by the quality of their questions and how carefully they listen.
Extraordinary PR, Ordinary Budget: A Strategy Guide
Amazon: ★★★★☆ 4.4 (14) | Goodreads: ★★★★☆ 3.90 (21)
Good PR strategy is paramount to organization development, but many companies think they don't have the resources for it.
Contrary to popular belief, PR is not a luxury only few can afford — with the right framework, even organizations on a budget can have an effective communication strategy.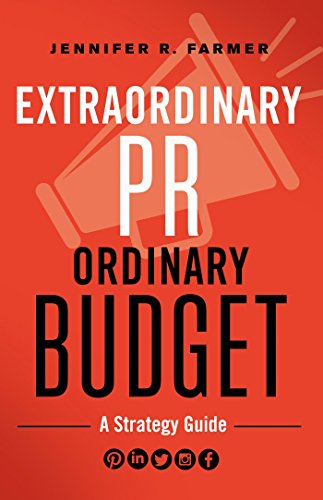 🔸 Author: Jennifer R. Farmer
🔸 Quote: "If reporters don't find you credible (meaning they don't trust that you are an expert in your field or providing accurate information), if you aren't finding creative ways to garner attention, if you aren't responsive when the media reaches out or relentless when they don't, you're likely to experience minimal success."
🔸 What you'll learn?
This book will teach you what low- or no-cost PR strategies can help your organization, as well as what are the best communication strategies for startups and mission-based organizations.
🔸 Key Takeaways
PR is important for all organizations regardless of their size, and it doesn't have to be expensive.
The key to breaking through in the media is to follow the CCRR framework: be credible, be creative, be responsive, and be relentless.
Fearlessness is fundamental if you want to succeed.
Leadership Presence: Dramatic Techniques to Reach Out, Motivate, and Inspire
Amazon: ★★★★☆ 4.4 (130 ratings) | Goodreads: ★★★★☆ 3.89 (278 ratings)
Halpern and Lubar, authors of this book, have helped tens of thousands of executives to improve their leadership skills and confidence, motivate others, and build credibility. They take a unique approach to leadership — since they're professional actors, they connect acting with leadership and presentation skills.
Whether you are a young professional seeking promotion or a CEO of a multinational organization, this book aims to help you become a better leader.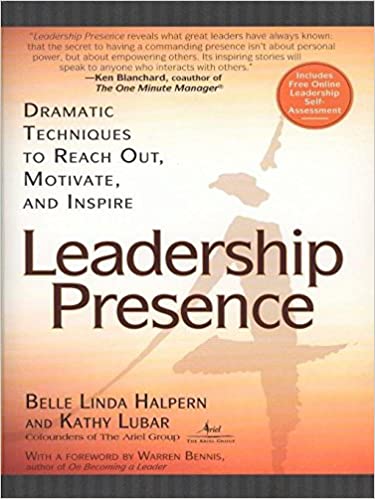 🔸 Authors: Belle Linda Halpern, Kathy Lubar
🔸 Quote: "Presence is the ability to connect authentically with the thoughts and feelings of others."
🔸 What you'll learn?
How to handle tough situations with confidence
How to build your relationships to enhance collaboration and business development
How to express yourself dramatically and motivate others
How to integrate your personal values into communication to inspire others and become a more effective leader
🔸 Key Takeaways
The key to good leadership is connecting profoundly to those you lead and to yourself.
The secret to having a commanding presence isn't about personal power, but about empowering others.
Great actors do not pretend, but apply their life experiences to bring out the truth of the moment in them — leaders can use the same principle to connect to others.
Just Listen: Discover the Secret to Getting Through to Absolutely Anyone
Amazon: ★★★★★ 4.7 (1,328 ratings) | Goodreads: ★★★★☆ 4.04 (6,119 ratings)
If you want simple, yet powerful techniques to get to anyone, from stubborn clients to unreachable bosses, this book can help. Combining scientific research with his background in psychiatry, business consulting, and coaching, the author, Mark Goulson teaches us the art of effective communication and turning negative interactions into positive ones.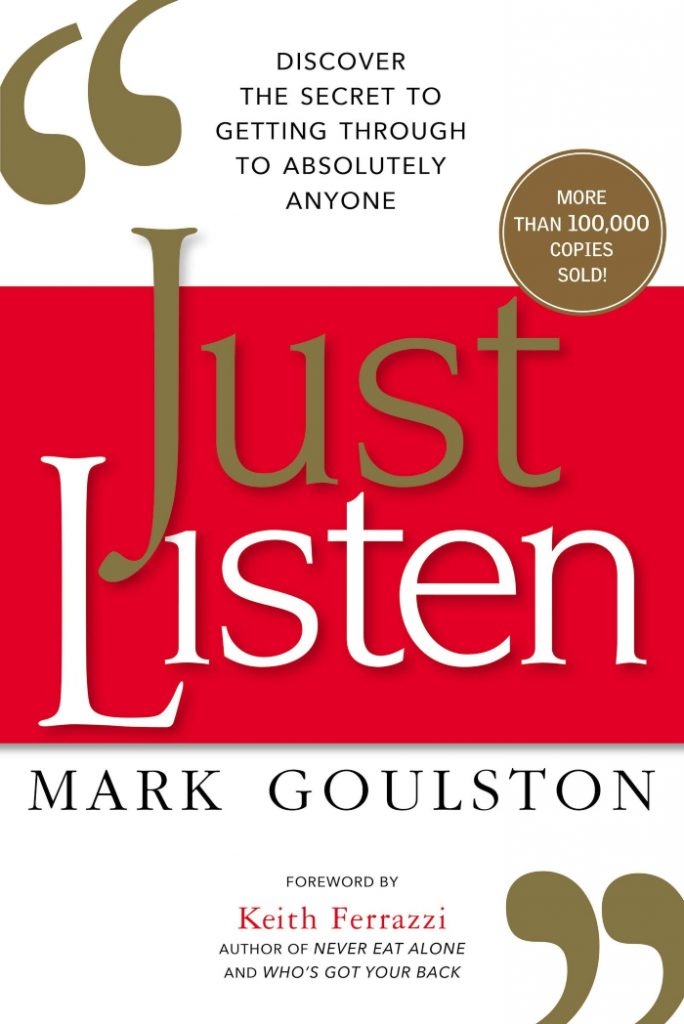 🔸 Author: Mark Goulston
🔸 Quote: "One absolutely crucial element in moving your brain from panic to logic is to put words to what you're feeling at each stage."
🔸 What you'll learn?
How to make a powerful first impression
How to listen effectively (and calm down enough to listen, when in a stressful situation)
How to talk an angry or aggressive person toward a more productive mindset
How to achieve buy-in — the linchpin of all persuasion, negotiation, and sales
🔸 Key Takeaways
Stop trying to be interesting, be interested instead — everyone wants to feel valued and "felt".
Steer clear of toxic people (as much as possible!).
Think about the reason behind someone's behavior: "So when you encounter problem people, realize that there's a reason they're behaving the way they do. It may be a new problem: a health scare, money problems, or job pressures. It may be a long-term problem: anxiety about not being good enough for a job, anger at not being respected, fear that you don't find them attractive or intelligent. And, yes: It may be that they're actually just jerks (but they're usually not). Open your own mind and look for the reasons behind the behavior, and you'll take the first step toward breaking down barriers and communicating with an "impossible" person."
Simply Said: Communicating Better at Work and Beyond
Amazon: ★★★★★ 4.5 (529 ratings) | Goodreads: ★★★★☆ 4.16 (411 ratings)
We all communicate at our workplaces, but not all of us do it well. That is a shame, since being a skillful communicator can truly boost your career.
This book will teach you how to master business communication — from delivering successful presentations to breezing through everyday transactions.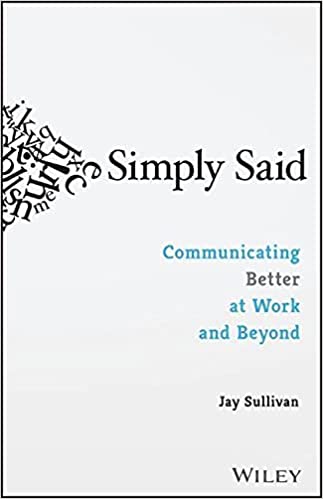 🔸 Author: Jay Sullivan
🔸 Quote: "If we put the focus on what the other person is trying to gain from the exchange, we will do a better job communicating because we will select more pertinent information, drill down to the desired level of detail, and make the information we are sharing more accessible to our audience."
🔸 What you'll learn?
How to shift your focus from yourself to other people
How to develop your written and oral communication skills
How to inspire and influence others
How to communicate more effectively in any business or social situation
🔸 Key Takeaways
Good communicators focus on their audience, not themselves.
Simplify your message — try to be as clear and concise as possible.
You are the critical factor in how effective or ineffective your communications are.
Five Stars: The Communication Secrets to Get from Good to Great
Amazon: ★★★★★ 4.5 (188 ratings) | Goodreads: ★★★★☆ 3.99 (650 ratings)
Do you consider yourself to be a great communicator? Well, it's time to become a great one!
Carmine Gallo talked to neuroscientists, economists, historians, billionaires, and business leaders of companies like Google, Nike, and Airbnb to show how they use their words to influence people.
As technology and artificial intelligence is evolving, communication is becoming more and more important — not less.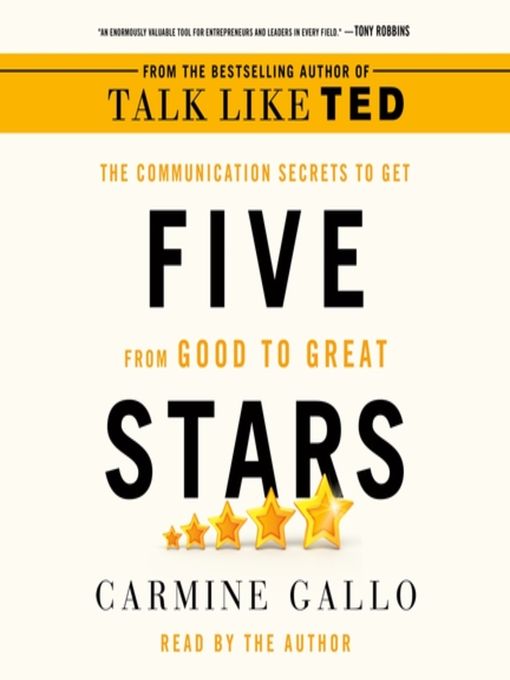 🔸 Author: Carmine Gallo
🔸 Quote: "Your career is your business. You are its CEO. Complacency breeds failure. As the CEO of your career, you must continually improve your skills, especially the art of communication."
🔸 What you'll learn?
You'll learn how to be an exceptional communicator, as well as:
What skill will, according to Warren Buffet, raise your value by 50%
Why you should speak in third-grade language to persuade adult listeners
What brain hack helped Steve Jobs, Leonardo da Vinci, and Picasso to unlock their best ideas
🔸 Key Takeaways
The art of persuasion is fundamental — not just another soft skill.
Better communication skills lead to better opportunities for a leadership position.
Average skills get you below average results. You need a little extra something to make an average living — it can be anything from computer skills and soft skills to special training.
Wrapping up: Reading is great, but don't forget to apply what you've read
You can read all of the books from the list, a few of them, or just one.
Either way, remember that reading book(s) is only the first step in the process. They are a helpful tool to teach you something new, direct you, and motivate you, but the most important part is applying what you've learned and using it in your everyday life.
Even the most helpful book in the world won't do much if you don't put the work in.