When people work closely together, it's only natural that they have conflicting ideas on how to approach a task or project. They might also clash due to differences in personalities and beliefs, as well as misguided emotions. As sure as the sun will rise, coworkers will enter into conflicts. So you shouldn't look for ways to avoid disagreements at all costs — they can even be beneficial.
As you will almost certainly find yourself participating in a conflict, you need to learn how to navigate it. In this article, we'll tell you why words get you in trouble in conflicts and provide 15 useful phrases (with examples in use) to help you steer any disagreement in a healthy and constructive direction.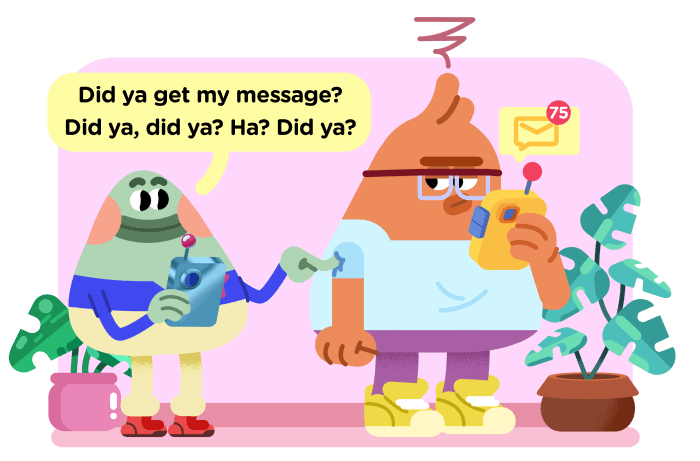 Why words get us in trouble in conflicts
Conflicts in the workplace are a normal and expected occurrence. They alone are not harmful by default — it's how we communicate around them that can result in heated confrontations. According to Linda A. Hill, Ph.D. of Harvard Business School, there are three main reasons that explain why we choose the wrong words in conflicts:
The stakes are high when emotions are high — Conflict usually involves negative emotions, and as most of us are not comfortable with them, the discomfort makes us say (mean) things we don't mean;
Our first instinct is to prove we're right — Our first reaction is to try and prove our position is more valid than the other person's, instead of focusing on solving the problem together, which is why we can get confrontational or defensive;
Misalignment between intent and impact — People often mean to say one thing, but the other person misinterprets it to imply something else.
Once you become aware of these "traps", you can better notice them in yourself and others. As a result, you'll be able to avoid letting them sway you into a heated argument — and focus on healthy conflict resolution instead.
Perfect phrases for conflict resolution at work (and those to avoid)
Here, we'll cover 15 amazing phrases for conflict resolution that skilled communicators use to settle any argument without hostility. We'll provide additional context for their use, explain why they work, and list some of the alternatives you should avoid at all costs in a given situation.
We'll also provide examples of each phrase in use in the team chat app Pumble.
#1 'Let's take a break and get back to this issue when we've thought about it and cooled down a bit'
🔶 When to use: You can use this phrase when you notice the argument is getting out of hand, and one or both of you is succumbing to negative emotions. You can also pull this card if you come to an impasse that makes you both impatient for your argument to win.
🔶 Why it works: Taking a break from a confrontation allows you both to cool off and get a fresh perspective on the matter. In most cases, there is a logical solution to the problem, and what's preventing you from seeing it is your instinct to prove you're right. However, once you agree to take some time off to think things through, it's also essential to specify when you'll get back to the issue so that it doesn't end up unaddressed in the end and come back to haunt you.
🔶 Use it instead of these phrases:
"I can't deal with this right now."
"You're clearly wrong!"
"This will never work."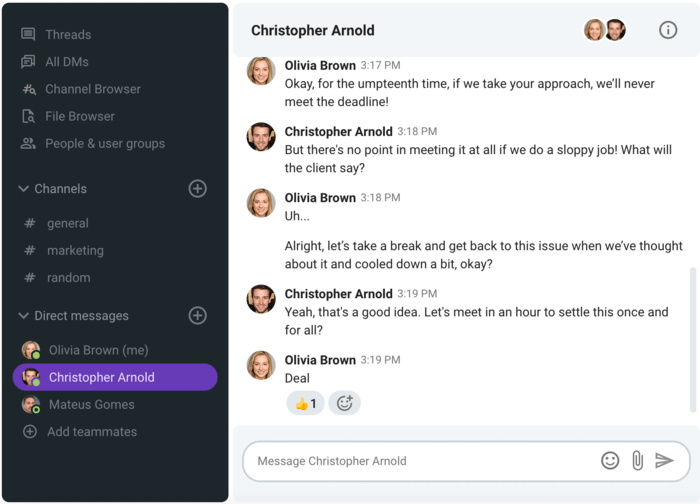 #2 'Help me understand where you're coming from'
🔶 When to use: When you don't necessarily agree with what the other person is saying or you don't understand how they came to the idea they're advocating, you can say this to elicit more information.
🔶 Why it works: One of the biggest communication challenges among coworkers are negative attitudes, and they can exacerbate a conflict. If someone offers critical feedback to you and you get defensive, you're missing out on the opportunity to understand where the other person is coming from, even if you don't agree with them. By asking for clarification, you get further insight into their motives and rationale.
🔶 Use it instead of these phrases:
"What exactly are you implying?"
"That makes no sense."
That's ridiculous!"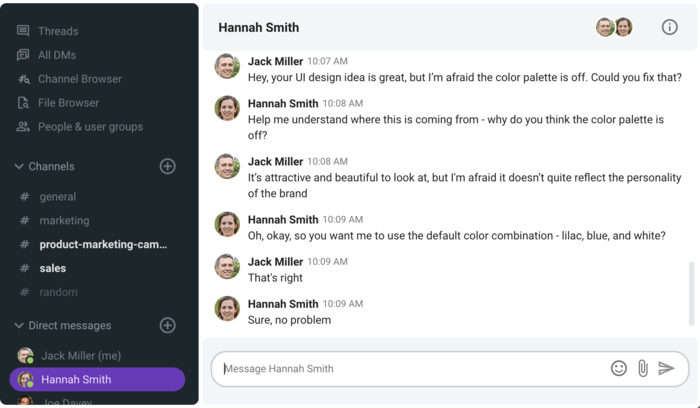 #3 'Thank you for being honest with me'
🔶 When to use: This phrase is best for situations where someone is being critical of you, especially if it's a subordinate who's providing upward feedback. It's also great to use when a colleague is directing criticism at you and they are upset about the issue at hand.
🔶 Why it works: The phrase is incredibly effective because it lets the other person know that you've truly heard them and, more importantly, you appreciate that they chose an assertive communication approach instead of going behind your back. It also allows you to put yourself in a positive frame of mind so that you can consider what they're saying instead of just getting hurt and passive-aggressive.
🔶 Use it instead of these phrases:
"Wow, I didn't realize you thought so little of me."
"I'm ___ (e.g. sloppy)? Look who's talking!"
"What's that supposed to mean?"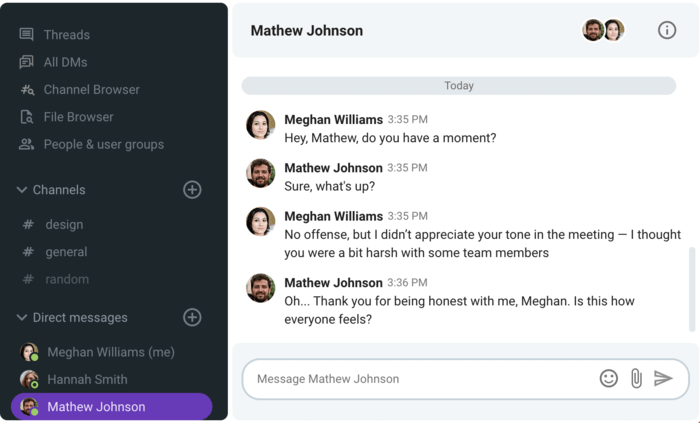 #4 'How can I support you?'
🔶 When to use: This phrase should be a staple of any leader's communication style and vocabulary. You can use it if one of your employees feels upset, hurt, underappreciated, or is coming to you with a complaint. However, the phrase is not reserved for leaders alone — anyone at the workplace can benefit from using it.
🔶 Why it works: It works because you're showing the other person that you truly care about them and want to do what's best to ease the situation for them. It also showcases your willingness to actively listen and understand where their pain, stress, or frustration is coming from. By offering support, you disarm them and help them let down their guard.
🔶 Use it instead of these phrases:
"What am I supposed to do about it?"
"That's a 'you' problem."
"You're such a baby!"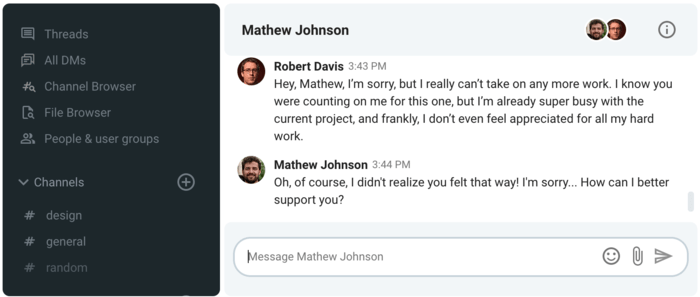 #5 'What I heard you say is… Did I get that right?'
🔶 When to use: When you're not sure you've understood something correctly, especially if that something has the potential to wreak havoc on your interpersonal relationships at work, it's best to check if you've got the gist of the issue.
🔶 Why it works: One of the most important rules of workplace chat etiquette is to keep the conversation clear and simple so that there's no danger of it leading to misunderstandings. That's why asking for clarification is important. If you throw a fit before you've checked whether you've correctly understood your interlocutor, you risk starting a fight where there needn't have been one.
🔶 Use it instead of these phrases:
"You're kidding me, right?"
"I can't believe you've just said that to me!"
"Can't you just speak plain English?"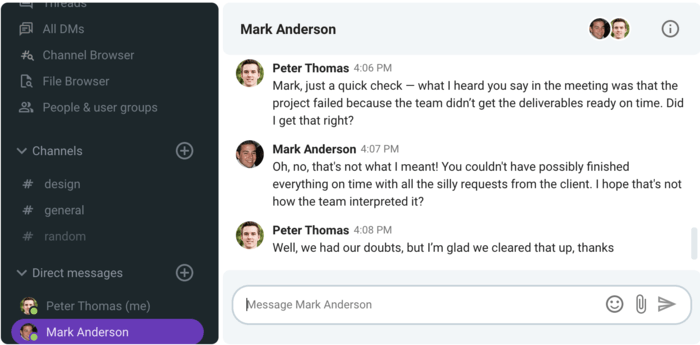 #6 'When you said/did that, I felt…'
🔶 When to use: You can use this phrase when you want to confront a coworker about something they said or did that (inadvertently) affected you in a bad way.
🔶 Why it works: Language plays a vital role here. Instead of attacking them with "you made me feel…", implying they're directly responsible for your feelings, you take ownership of your emotions ("I felt…") while letting them know their words or actions were hurtful. So you're not accusing them of being a bad person, but rather their words/actions of being inappropriate, which makes a world of a difference and is less likely to make them defensive.
🔶 Use it instead of these phrases:
"How could you have possibly done that?"
"You're a terrible person!"
"You make me boil with rage!"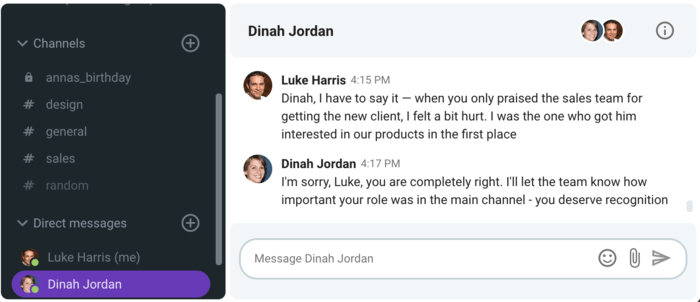 #7 'I agree with you on…'
🔶 When to use: When you're having a disagreement with someone at work (usually about the way to proceed on a shared task or project), but there are still some points about which you're on the same page, it's best to start from them if you want to diffuse conflict and improve collaboration.
🔶 Why it works: Agreement on some points sets a common ground from which you can build on. Acknowledging the fact that your views on the matter are not entirely opposing can also reduce the frustration that can build up due to your inability to find a solution and focus your minds on the solvability of the problem, rather than leaving you mentally stuck in a stalemate.
🔶 Use it instead of these phrases:
"That's a stupid idea."
"I give up! Just do whatever you want."
"We'll do it my way or I'm out!"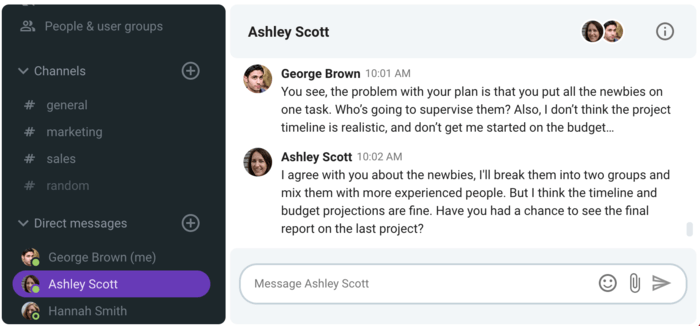 #8 'Let's work on this problem together'
🔶 When to use: This phrase can come in handy when you want to avoid finger-pointing and playing the blame game, especially if you're a manager trying to stop a conflict from escalating. It can also work well if you want to help someone fix a mistake they made, without making them feel under attack.
🔶 Why it works: It's great because it inspires healthier team communication and team spirit. Also, when you point out an issue this way, you're setting a safe psychological space to work from instead of making the person feel threatened.
🔶 Use it instead of these phrases:
"This is all your fault!"
"You need to fix this."
"We could have avoided this if John didn't mess up — just saying!"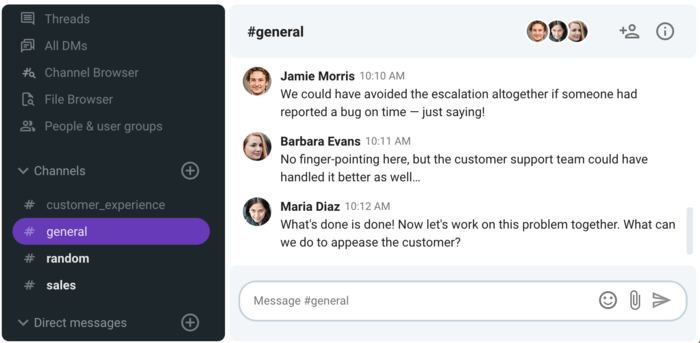 #9 'I see how I've contributed to the problem'
🔶 When to use: When someone points out you did something wrong, which you didn't realize before, but now you see it, it's best to admit it straight up and start the conversation from there.
🔶 Why it works: Admitting your mistakes is always a good idea — it's human to make them, but it's incredibly irresponsible not to admit you've made them. What's more, when you recognize you've made a mistake, you're showing the other person that you're willing to cooperate and let yourself be vulnerable with them. This vulnerability is bound to dispel negative emotions.
🔶 Use it instead of these phrases:
"Why are you always picking on me?"
"Oh, so everything's always my fault!"
"Sure, you're entitled to your opinion."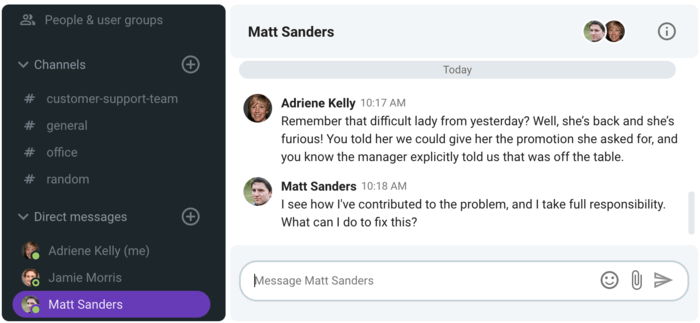 #10 'I'm sorry'
🔶 When to use: Building on the previous example, once you've realized you've made a mistake, especially when you've directly wronged the other person, it's only decent to let go of your ego defenses and apologize.
🔶 Why it works: A sincere apology has the power to mend a relationship in a heartbeat. However, beware that an insincere one can further exacerbate the conflict because it can sound dismissive. So don't apologize just to stop the argument if you don't mean it — you'll produce a countereffect.
🔶 Use it instead of these phrases:
"Whatever, my bad, can we just move on?"
"You're lying."
"I wouldn't have done it in the first place if you hadn't ____ (messed up first)!"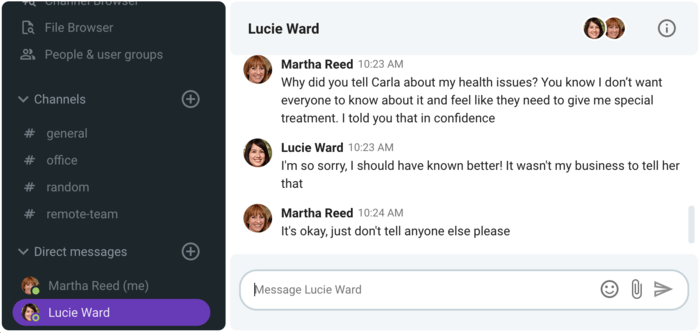 #11 'What do you suggest we do about this?'
🔶 When to use: This phrase is universally applicable — every conflict involves at least two people, and the best way to de-escalate it is to work together on it.
🔶 Why it works: It's effective for multiple reasons. The "we" part implies that you're willing to approach the problem as a team rather than blame each other for it. Furthermore, your asking for their advice lets them know that you value their opinion and input and are taking the issue seriously.
🔶 Use it instead of these phrases:
"I really don't care about this."
"That's not my problem."
"Subject closed!"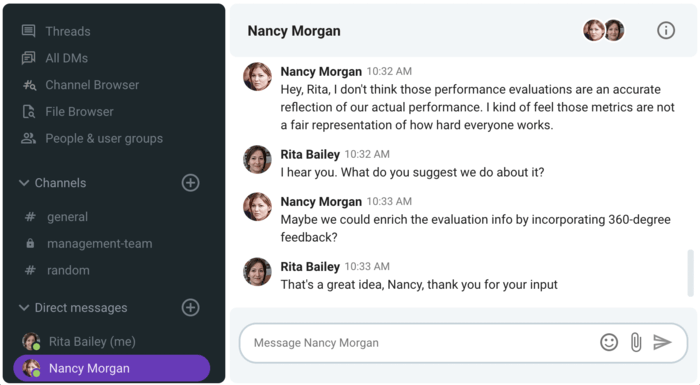 #12 'Let's see how we can prevent this from happening in the future'
🔶 When to use: You can use this phrase when you want to shift focus from finding someone to blame to figuring out what caused the problem and how you can stop it from happening again. Leaders usually use this when they understand that no single person failed, but it was a flaw in the system as a whole that caused the problem.
🔶 Why it works: This phrase puts the conflicted parties at ease because it pits them against the problem — not against each other. They are encouraged to find the solution instead of finding each other's faults. The phrase also shows the willingness to solve the problem once and for all and leave it behind.
🔶 Use it instead of these phrases:
"Whose 'brilliant' idea was this?"
"Okay, who messed up this time?"
"Who came up with this stupid plan?"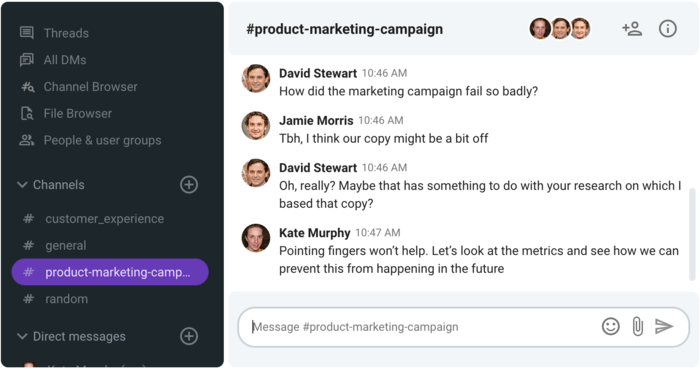 #13 'I hear your point, but I have a different view'
🔶 When to use: This is a great phrase to use to present your arguments while also acknowledging the validity of the other person's perspective. It's a nice way to set a respectful tone of the argument from the start, instead of getting impatient and giving in to negative emotions.
🔶 Why it works: Even if the other person was feeling passionate about their point of view and started the argument with the sole purpose of winning, this phrase will help ground them and remind them that it's not a competition.
🔶 Use it instead of these phrases:
"Are you listening to yourself?"
"That makes no sense."
"I don't care what you think!"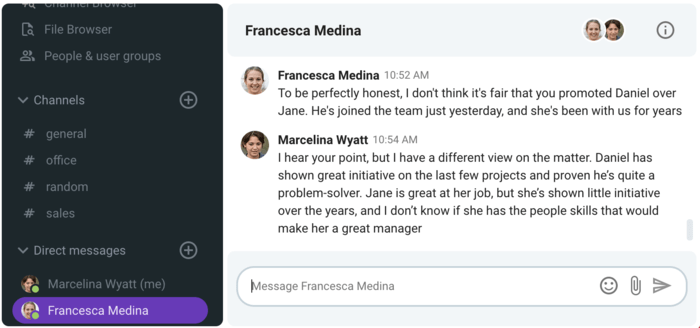 #14 'Agree to disagree?'
🔶 When to use: You can resort to this "conclusion" when you're in the middle of a bitter argument on a subject you really don't have to agree on, i.e. it's non-essential for your day-to-day tasks or your relationship with the other person.
🔶 Why it works: Respectfully disagreeing on a non-essential subject can save you from damaging your work relationship over a trivial matter. When you make it clear to the other side that you appreciate the debate and respect their opinion but are unwilling (or unable) to change your stance on the issue, both of you can breathe a sigh of relief and go on with your day without harming your relationship.
🔶 Use it instead of these phrases:
"You clearly have no idea what you're talking about."
"I don't understand how you could even think that."
"Stop trying to persuade me, it's never gonna work!"
#15 'I recognize your hard work…'
🔶 When to use: This is a good way to start a conversation if you want to provide critical feedback on the results of someone's work, but let them know you appreciate their efforts. This type of recognition is especially important in downward communication, i.e. from higher-ups to subordinates.
🔶 Why it works: Letting people know you believe they made an effort, even if it was unsuccessful, will put them at ease because it shows them you appreciate them and their work. They won't feel like you're placing blame on them, but rather like you are trying to help them grow.
🔶 Use it instead of these phrases:
"You messed up big time!"
"You idiot, how could you miss that?"
"What were you thinking?"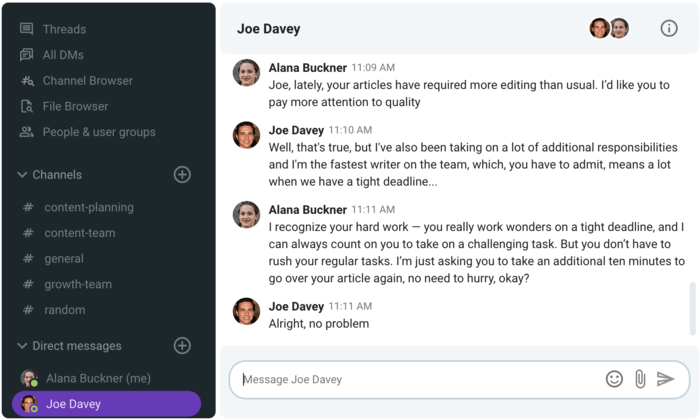 💡 Pumble Pro Tip
If all the conflict resolutions in the world can't solve an issue with a coworker, chances are you might be dealing with a difficult person. To learn all the steps to dealing with the person causing you trouble, visit the link below:
Wrapping up: Fight the problem — not each other
As you can see, conflict at work doesn't have to result in a catty argument and hurt feelings if you handle it well. The next time you find yourself part of a conflict, we hope some of these phrases will come to mind and help you remember that you're not in it to win it — you're there to work together on solving the problem which has led to the argument in the first place.