Sharing good news is such a great experience!
If you're a manager or human resource specialist who announces promotions, you are familiar with this feeling, aren't you?
However, a promotion announcement is not only about sharing exciting news and honoring individual employees. It's also about boosting other employees' motivation and engagement.
In this blog post, you'll find out how to write and share promotion announcements professionally and effectively.
Plus, we've got you covered with great promotion announcement examples and templates that will save you time.
So, let's get started!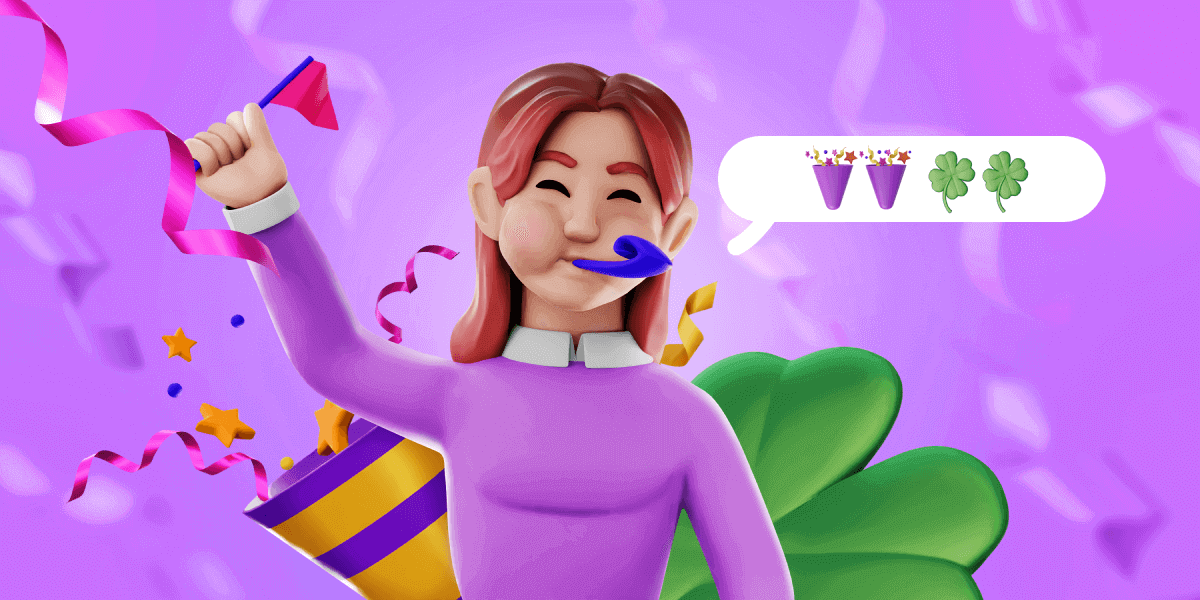 What is a promotion announcement?
A promotion announcement is a formal statement that congratulates the newly promoted employee and informs others about the change.
As such, this type of recognition serves several purposes, including:
Congratulating the promotee,
Keeping the rest of the team informed about the promotion, and
Describing the employee's new role and responsibilities.
Depending on the corporate communication and work model, companies use different communication channels to announce promotions, such as email and team communication apps.
On the other hand, some companies find it convenient to announce promotions during all-hands meetings.
Either way, the most important thing is to share announcements promptly regardless of the company size.
Namely, companies should do so as soon as the person accepts the offer and before the starting day.
Most importantly, companies should inform people who are the most affected by the change in a timely manner, such as current and future teammates who directly collaborate with the promotee.
Why announce a promotion?
As we mentioned, promotion announcements have multiple importance and serve both promotees and other employees.
So, let's get an in-depth look at the key reasons why a promotion announcement contributes to a positive work environment.
Promotion announcement improves employee recognition.
Promotion announcement communicates changes in the company.
Promotion announcement shows development opportunities for other employees.
Promotion announcement boosts employee morale.
Benefit #1: Promotion announcement contributes to employee recognition
Employee recognition refers to acknowledgment and appreciation for employees' accomplishments and contributions to the company.
According to the SEISENSE Journal of Management's article, employee acknowledgment impacts overall employee performance. In addition, the article about the impact of reward and employee recognition indicates that recognition has a positive effect on employee retention.
As a powerful form of employee recognition, promotion announcements make promoted employees happier with their job, which boosts their motivation and improves performance and retention.
Benefit #2: Promotion announcement communicates changes in the company
Not only does the person being promoted experience the change but others in the team are also included.
As changes are associated with fear of uncertainty, people typically resist change both in their private lives and in the work environment.
However, research The importance of communicating change reveals that transparent change communication leads to a positive attitude toward change.
In other words, if companies communicate changes directly and include employees in the process, they will most likely adapt to change successfully and quickly.
The same applies to the promotions process ― so, that's why an announcement is a good way to give employees enough time to prepare for the change in the organization.
Benefit #3: Promotion announcement shows development opportunities for other employees
In addition to providing a smooth transition, a promotion announcement helps employees put themselves in the promotee's shoes.
Namely, this type of announcement lets others know how they can achieve the same or similar success.
In other words, it makes them feel informed about their career growth opportunities, which is essential to employee engagement.
Benefit #4: Promotion announcement boosts employee morale
All things considered, sharing promotion announcements is important not only to keep everyone in the loop but also to boost employee morale.
As a result, employees get more motivated, which leads to multiple positive effects, such as:
Improved employee engagement,
Increased employee productivity, and
Better employee well-being and satisfaction.
Therefore, making promotion announcements is a great motivation booster for both the promotee and other employees.
💡 Pumble Pro Tip
Professional praise is a way of congratulating colleagues for their great work and progress. If you're looking for some professional praise phrases, make sure to read our blog post:
How to craft a great promotion announcement?
Now that you're aware of the power of promotion announcements, it's a good moment to go over the critical elements you shouldn't leave out in your announcement.
So, let's start!
Element #1: Congratulations
The ideal way to start an announcement is to congratulate the newly promoted employee and welcome them to their new role.
You can start with the following phrases:
"I'm thrilled to announce the promotion of Sabrina Day to the role of Brand Marketing Manager"
or
"We are pleased to announce Sabrina Day's promotion to Brand Marketing Manager ".
Remember to make your introduction to the point, so everyone can understand what's happening as soon as they start reading.
Element #2: Basic information about the promotee
After a brief congratulatory part, introduce the newly promoted employee, including their previous job position and the period they've worked with the company.
For example, you can simply write:
"Sabrina came to the company 5 years ago as a Marketing Assistant."
Element #3: Career story of the promotee
According to the article The power of organizational storytelling, storytelling is an excellent tool for evoking strong emotions.
On the other hand, Harvard Business Review's article emphasizes the impact of emotions on motivation.
All things considered, stories motivate people, which especially applies to the work environment.
Thus, a great way to inspire other employees is to incorporate the career story of the promotee in the announcement.
Most importantly, the career story provides the context for the promotions, so people can understand the key accomplishments, skills, and experiences that brought the promotee to this point.
Here's what Ryan Miller, a Director of Client Success at Employment Boost and certified career coach, says: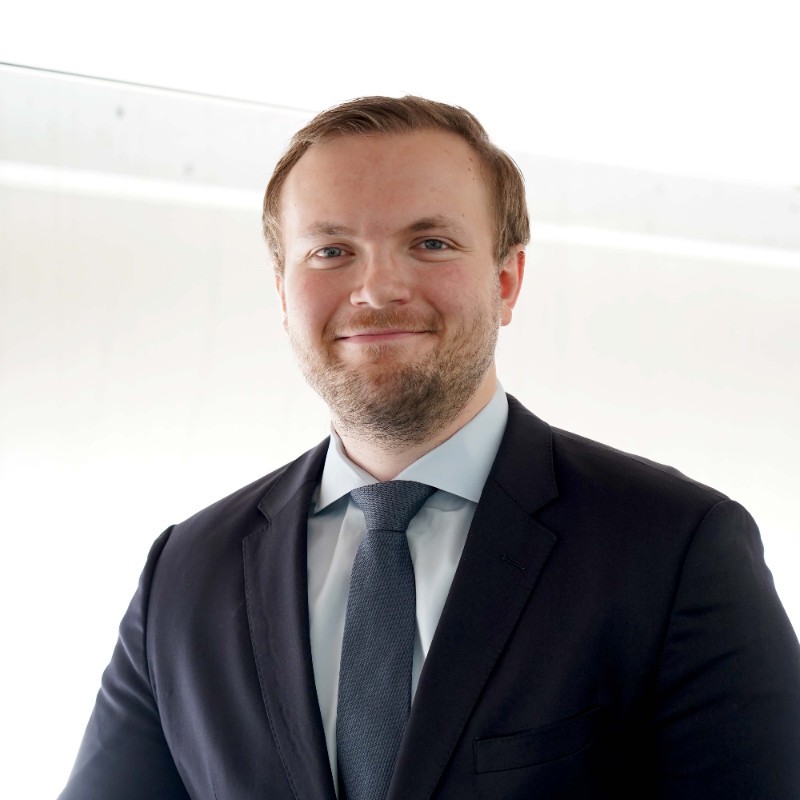 "It's essential to highlight the reasons behind the promotion, such as the employee's:

Achievements,
Contributions, and
Demonstrated capabilities.

This helps reinforce the value and merit of the promotion, instilling confidence in both the promoted employee and the wider team."
Let's take a look at the example:
"During that time, Sabrina has progressively advanced through various marketing activities. Her innovative content marketing ideas resulted in a more than 40% increase in engagement with our target audience.

We were especially impressed with Sabrina's great contribution to the performance of influencer marketing campaigns last year, which resulted in a 25% increase in brand awareness and consideration."
Element #4: The promotee's new responsibilities and starting date
Once you explain why the person got promoted through a brief inspiring story, it's a good time to tell more about their new role and responsibilities.
So, dedicate a sentence or two to the summary of their new responsibilities, including the starting date of the new role.
Let's look at the example:
"Starting on September 1, Sabrina will be responsible for developing our brand strategy, including analyzing our brand position, developing strategies, and managing marketing campaigns. She will also manage our marketing team."
Element #5: Encouraging others to join in congratulating
At the end of the announcement, encourage others to join you in congratulating.
For instance, you can simply say:
"Please join us in congratulating Sabrina on her well-deserved promotion!"
If you're sharing news in an email, make sure to mention how they can send their congratulatory message.
Promotion announcement email examples
Now that you're familiar with the crucial elements of a promotion announcement, it's a good idea to see great examples of announcement emails you can use for inspiration.
Example #1: Promotion announcement email for HR manager
"Hello everyone!
We're excited to share that Charlotte Evans has been promoted to Human Resource Manager!
Congratulations, Charlotte! We're proud to have you as a part of the company.
Charlotte joined our HR team 3 years ago as a Talent Sourcer, and 10 months later she moved up to a Talent Acquisition Specialist role. During this time, she demonstrated great communication skills, which resulted in a high acceptance rate of over 85%. We were especially impressed with Charlotte's innovative ideas for improving our onboarding process.
Considering all her accomplishments and constant contributions to our company, we are confident that she'll be the perfect fit for this position.
Starting from October 10, Charlotte will be managing our HR team and developing new recruitment strategies.
I encourage everyone to wish Charlotte the best of luck on her new adventure on our #general channel in Pumble!
Wish you all a great week!"
Example #2: Promotion announcement email for project manager
"Dear all,
I'm pleased to announce that Daniel Jackson has been promoted to Project Manager!
Daniel, congratulations on your huge success!
Over 3 years as an Assistant Project Manager at our company, Daniel has demonstrated amazing growth and contribution to the project team.
We were impressed when Daniel managed to implement project risk management practices. Additionally, last year, he managed to improve the project completion rate by 15% in only 2 months, which was a great contribution to the team.
Because of all of this, we truly believe that Daniel will succeed in his new role and we're looking forward to seeing him thriving as our new Project Manager.
Starting from July 20th, Daniel will be responsible for coordinating the team and developing project plans, ensuring that our projects are delivered on time.
Please join me in congratulating Daniel on his advancement in Pumble!
Cheers!"
⏬ Download a free promotion announcement email template.
Example #3: Multiple promotion announcement email
"Hello everyone!
I'm more than happy to announce that two employees have been promoted.
Congratulations to Anthony Rivera and Sarah Hayes on their great success!
Sarah has been promoted to Content Director. She started her journey at our company almost 5 years ago as a Content Writer, and 3 years later she got promoted to Content Manager. In this role, Sarah has demonstrated great analytical and organizational skills.
What's more, she's been managing a team of 7 content writers and collaborating with several cross-functional teams to deliver on-time projects. Because of her great growth, we are confident that she's the perfect fit for the position of Content Director.
As a Content Director, Sarah will be responsible for developing and executing content strategies to boost our website traffic and conversion rates.
Anthony will be taking over Sarah's old position as Content Manager. Anthony joined our company 3 years ago as a Content Writer and has demonstrated great detail-oriented skills and a strong ability to execute tasks effectively and efficiently.
Sarah and Anthony will begin their new roles on June 1, so I encourage you to wish them the best of luck in Pumble!
Have a great day!"
⏬ Download a free multiple promotion announcement email template.
How to announce promotions in a team communication app?
When you announce a promotion in a team messaging app, make sure to craft a concise and skimmable message. To achieve so, use paragraphs and bold or italic text to give certain emphasis on crucial parts of the message.
To make your message more effective and enticing, don't forget to take advantage of emojis.
Let's see what a promotion announcement looks like in Pumble, a team communication app.
When crafting a promotion announcement message in Pumble, don't forget to include a call to action at the end, so others can reply in a thread to congratulate.
By using threads, employees can easily join you in congratulating the newly promoted employee without adding clutter to the main view of the conversation.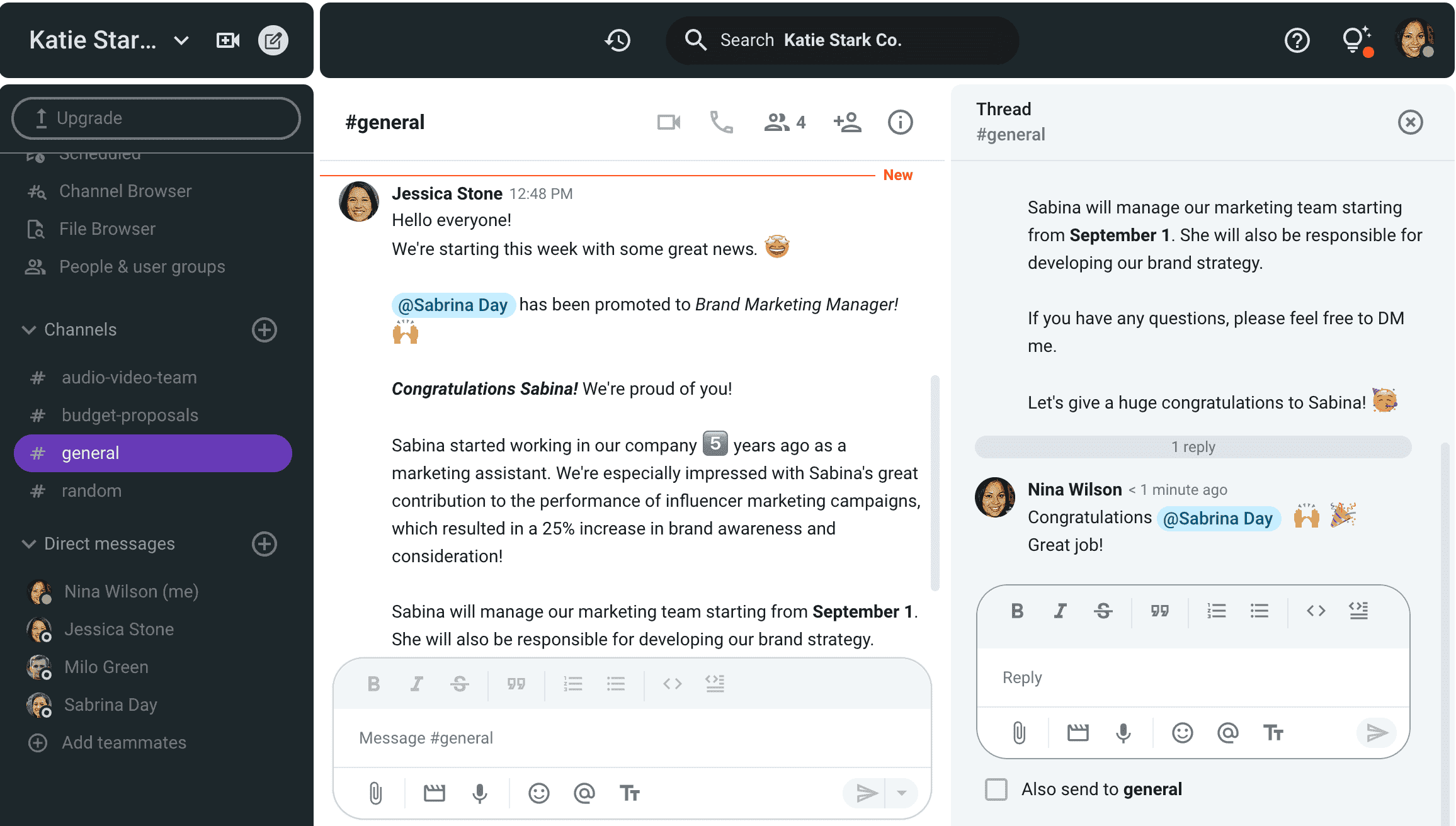 💡 Pumble Pro Tip
Formatting messages is a good way to make your announcements easier to read and provide faster access to important information. To learn more about how to format messages at work, make sure to check out our blog post:
Additional tips on making an effective promotion announcement
Even though we've already discussed the critical elements you should include in a promotion announcement, let's go over additional tips for making your announcement effective.
Tip #1: Use an appropriate communication channel
As we mentioned, companies use various delivery methods to announce promotions.
On-site companies can share news in person during their all-hands office meetings. However, this delivery method is typically appropriate only for smaller companies with regular meetings where all employees are present.
For medium and large companies, the best way to deliver promotion news is via email, since you can reach out to all employees at once.
Email communication is also the best option to keep external stakeholders in the loop, such as your clients or business partners if the promotion affects their collaboration with your company.
On the other hand, for companies with hybrid and remote work models, the most appropriate communication channel for promotion announcements is a remote work app like Pumble.
In addition to messaging, Pumble allows teams to easily organize video meetings ― so, managers can easily organize an online meeting with the team to announce promotions.
Tip #2: Make your announcement promptly
One of the most important rules regarding promotion announcements is to make it in a timely manner.
Don't let employees find out about promotions before the official announcement ― that would be unprofessional and disrespectful.
Therefore, the ideal time to announce a promotion is after the promotee officially accepts the offer.
Tip #3: Include personal details about the employee
When crafting a promotion announcement, ensure to add specific details about the employee being promoted.
This way, you show that you recognize their work and appreciate their contribution to the company.
Moreover, by doing so, you let the promotee set the right example to other employees, so they can understand clearly what brought the promotee to the advancement.
Final thoughts: Promotion announcements boost the morale of both promotees and other employees
Promotion announcement is not only about sharing the news but recognizing employees' hard work and contribution to the company.
What's more, when crafted effectively, a promotion announcement is a great motivational tool that boosts employee morale and inspires them to go the extra mile.
Whichever delivery channel you use to share promotion news, make sure to make it concise and to the point. Most importantly, include specific details about the promotee, such as their unique accomplishments and skills.
All in all, a promotion announcement is intended for both newly promoted employees and their colleagues, so tailor the announcement to both sides.
✉️ What about you? How does your company announce promotions? Have you ever had a chance to make a promotion announcement? Do you have any additional tips on how to write an effective promotion announcement email or message?
Let us know at blogfeedback@pumble.com and we might include your answers in this or future posts. And, if you liked this blog post and found it useful, share it with someone you think would also benefit from it.