How do you communicate with your peers on a daily basis?
How does your leader communicate with you and your team ― by organizing a weekly or monthly announcement, via a business messaging app, or another way?
What strategies and tactics does your company utilize to communicate with customers and leads?
Answers to these and similar questions arise from corporate communication ― the way a company communicates with its internal and external audiences.
In this article, you'll find out:
What actually corporate communication is,
Why it is critical for every organization and business,
What functions corporate communication includes, and
What an effective corporate communication plan should include.
So, let's get right to it!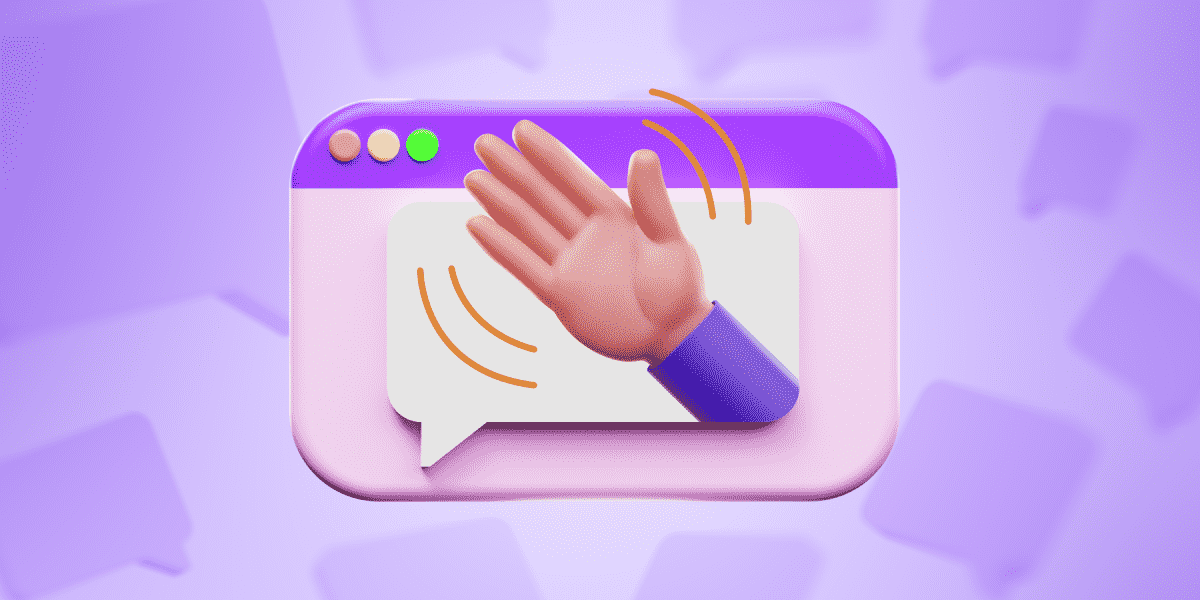 What is corporate communication?
Corporate communication refers to the set of organizations' activities dedicated to managing and coordinating internal and external communications, which reflect on brand image and identity.
It enables businesses to promote their brand identity in a favorable way, which has a great impact on both employees' and external audiences' behavior.
By doing so, companies can communicate a consistent and coherent message to all their stakeholders ― put differently, they can establish an integrated communication structure that introduces both internal and external stakeholders with:
The company's mission,
Vision,
Values, and
Objectives.
These stakeholders include the following audiences:
Employees,
C-suites,
Investors,
Partners,
Customers,
Leads,
Media,
General public,
Government bodies, and
Other third-party regulators.
Therefore, companies need to communicate with their internal and external audiences in a consistent and authentic way that reflects their brand identity and fosters corporate reputation.
To achieve this, corporate communication needs to align with the company's vision, mission and values, so each company needs to develop a corporate communication strategy that will help them project a favorable image to each audience.
Functions of corporate communication
Showcasing the brand's personality through various strategies and tactics, as well as aligning internal and external communications are essential purposes of corporate communication departments.
Additionally, typical functions that this department covers include:
Messaging to external audiences through press releases, advertising, social media, etc.
Information exchange within the company through knowledge sharing, team meetings, etc.
Paying attention to any mentions of the company and responding to any disinformation or negative mentions.
Managing crisis communication.
So, let's dig deeper into the functions that a corporate communication team is expected to fulfill. These are divided into external and internal corporate communication functions.
Function #1: External corporate communication
A company's efforts for messaging effectively to outside audiences can be segmented into coherent external communications activities dedicated to various functions.
So, let's learn more about the core external communication purposes:
Public relations (PR) and media,
Marketing and customer communication, and
Crisis communication.
Public relations (PR) and media
Public relations (PR) refers to external communication tools intending to manage an organization's identity and build a positive brand reputation.
Thus, the responsibilities of PR professionals are dedicated to establishing a good public and media perception of the company.
To achieve so, they typically utilize the following PR tools:
Press releases,
Video news releases,
Press conferences, and
Media interviews.
So, let's dig deeper into the specifics of each of them.
PR tool #1: Press releases
With press releases, companies and organizations share news about their businesses with the aim to gain media attention ― in other words, they are official statements for important events or announcements written for media outlets that target specific audiences.
According to the Forbes article, the most common types of press releases are the following:
General news,
Launch release,
Event press release,
Product press release,
Executive, staff, and employee press releases, and
Expert position press release.
Unlike general news, the vast majority of press release types need to be recognized as newsworthy in order to provide value to the target audience and serve them.
Additionally, they require reader-friendly content, which can be digested effortlessly. All important information should be easily skimmable, so the reader can note all important information quickly, such as:
Headline,
Summary,
Date of publication,
Location.
Most importantly, a press release has to attract readers' attention with an engaging headline and provide accurate information.
PR tool #2: Video news releases
According to the Public Relations Society of America (PRSA), a video news release (VNR) is the video equivalent of a press release.
VNRs empower companies with effective promotion of their products and services in a way that is far more interesting and engaging than reading material.
So, in recent years, many businesses have taken advantage of this powerful PR tool to attract new customers.
PR tool #3: Press conferences
A press conference is a media event organized by businesses and organizations for the purposes of communicating important news to the media, which will distribute them further to the target audience.
Due to their efficiency and flexibility, virtual press conferences have become a popular and powerful PR tool.
PR tool #4: Media interviews
Media interviews are a great way to gain coverage from media outlets, which allows companies and organizations to reach their target audience and potentially impact their attitude and behavior regarding their businesses.
Regardless of the type of news outlet, the objective of media interviews is always the same ― to get positive information out about the business, which, ultimately, leads to:
Brand awareness,
Increased interest, and
Engagement of prospects.
Marketing and customer communication
Although customer communication and marketing departments' efforts have typically overlapped and intercorrelated in recent years, most companies still differentiate marketing and customer communication activities.
When it comes to a customer communication department, the core function implies the incorporation of a messaging strategy that meets customers' needs and expectations.
Aside from contributing to increasing the number of happy customers, adequate customer communication helps businesses establish a high rate of customer retention and loyalty.
Furthermore, when you meet the expectations of your loyal customers, they may serve you as brand advocates who bring your business more potential customers.
Marketing departments, on the other hand, focus more on encouraging people to engage with their products and services and become their customers. To achieve so, they use various marketing tools and optimize their activities toward their goal by:
Creating and optimizing promoting campaigns via TV, radio, social media, etc.
Managing social media accounts.
Building and maintaining a strong website that makes their brand recognizable, and so on.
In Pumble, a business messaging app, the guest role access feature allows clients and other non-company persons to easily communicate with the company's employees.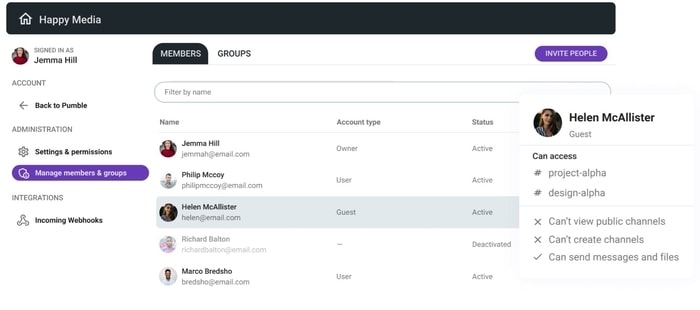 💡 Pumble Pro Tip
Establishing strong relationships with external audiences isn't an easy task. To learn more about how to successfully communicate with stakeholders, check out our blog post:
Crisis communication
When a crisis or unexpected situation occurs, businesses rely on crisis communication strategies to avoid a potential threat to the company's success and reputation.
In these cases, companies have to respond immediately and confidently to their both internal and external audiences in order to give them accurate answers and explain the further steps.
For instance, KFC encountered a major crisis a few years ago when they ran out of chicken as their key ingredient, which resulted in the closure of hundreds of locals across the UK.
Even though this was such a disaster for their reputation, they managed to handle the situation by openly admitting their mistake and explaining what had caused the issue and how they would cope to ensure they do everything possible to tackle the crisis.
Errors are an inevitable part of most businesses ― what damages their success and reputation is not a crisis, but an inappropriate way of communication or, making things worse ― ignoring the mistake.
Therefore, a strong crisis communication plan is significantly important for every business success and customers' loyalty.
Some of the crucial steps for establishing effective crisis communication that will be helpful for regaining trust include:
Responding promptly,
Transparently admitting the mistake,
Explaining the crisis causation,
Answering the questions relevant to both external and internal audiences, and
Providing resolution.
Function #2: Internal corporate communication
Internal corporate communication refers to communication with internal stakeholders, so it flows within companies among their employees.
Unlike external communication, internal communication focuses on companies' staff — from new employees to top management.
With an effective internal communication plan, companies ensure all employees get motivated and well-informed about all relevant information.
Moreover, studies show that effective internal communication has a positive impact on employees' job satisfaction and participation.
So, let's take a look at different types of internal corporate communication that reflect on employees' engagement and businesses' success.
Internal corporate communication type #1: Leadership communication
When it comes to the leadership-generated communication, it refers to the communication from the top of management to employees on the lower hierarchical levels, so its function lies in informing staff of:
Business updates,
Formal announcement,
Directions, and
Feedback.
Furthermore, it plays an important role in increasing leaders' visibility and influence.
💡 Pumble Pro Tip
Giving constructive feedback is especially challenging in remote teams. However, it's significantly important for professional growth and better performance. To learn more about the most effective ways of giving constructive feedback, make sure to read our blog post:
Internal corporate communication type #2: Employee-to-management communication
Aside from sharing information from top management to employees, every company must encourage their employees to play an active role and give them a voice.
Namely, corporate communication within a company is a two-way process, and giving a chance to employees to be heard is vital for every healthy work environment.
The most common situations of employee-to-management communication are asking for:
Feedback,
Input, and
Suggestions.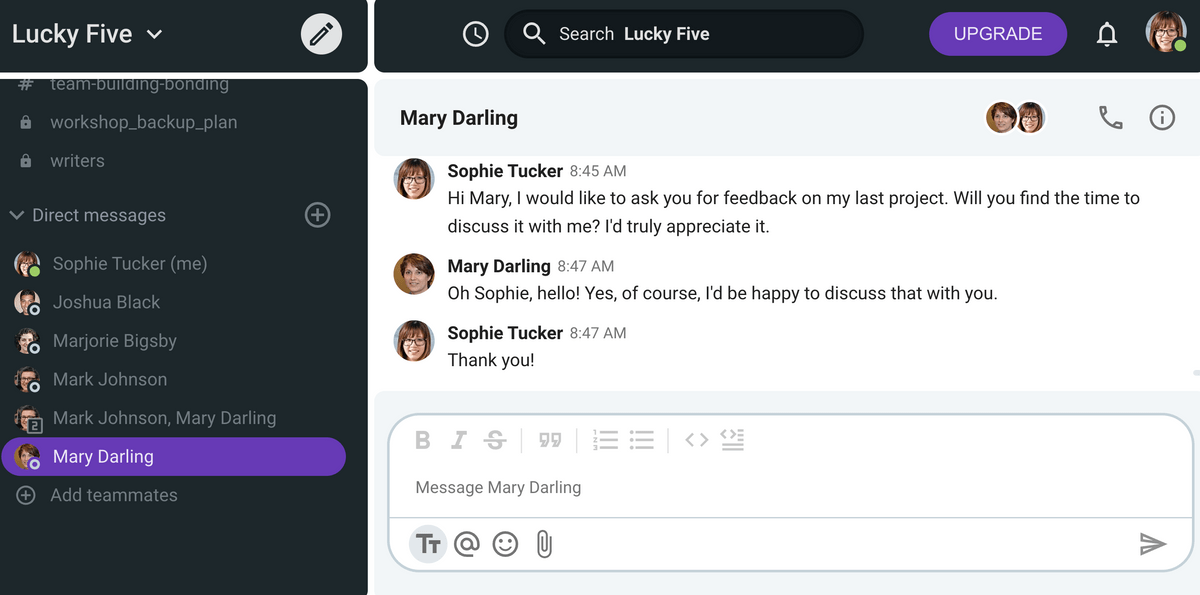 💡 Pumble Pro Tip
How do you ask your boss for feedback? If you're not sure how to do so professionally and effectively, check out our blog post:
Internal corporate communication type #3: Peer-to-peer communication
Promoting lateral communication is critical for establishing a positive work environment.
Some companies make a dreadful mistake by overlooking communication among employees and prioritizing solely leadership communication. 
However, encouraging employees to communicate with each other on a daily basis is crucially important for effective internal communication and running the business smoothly.
According to the Harvard Business Review's article, surveys have shown that appropriate internal communications lead to:
Improved efficiency,
Boosted compliance,
Better customer satisfaction, and
Reduced risk and turnover.
In order to establish strong internal communication, businesses and organizations need the right team communication tool that will empower their employees to get involved and contribute to overall corporate communication.
Namely, using an employee communication app is a great way to provide employees with easy access to all important corporate information and tools.
Pumble is a free internal communication software, which helps employees easily communicate, connect and engage regardless of their location and the device they're using. Plus, it makes information from all over the company accessible to everyone, whenever they need it.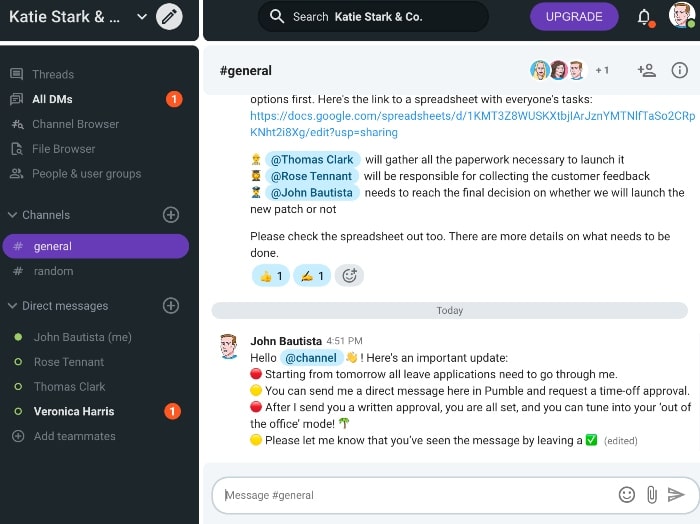 Why does corporate communication matter?
All things considered, we can note that corporate communication functions strongly indicate their importance and influence on business performance.
So, let's dig deeper into the key reasons why both external and internal communication plays a major role in every business's success.
Reason #1: Corporate communication builds a strong reputation among customers and potential investors
First of all, with external corporate communication strategies, companies manage to establish a strong reputation among customers, which ultimately helps them:
Convert leads into customers,
Increase customers' retention and loyalty, and consequently
Get more revenue.
Positive public perception is an essential business asset not only when it comes to customer attraction and retention, but also for gaining investors' trust ― all cooperative communication activities help companies to shape a corporation's image and strengthen their relationship with:
Customers,
Clients, and
Investors.
This is especially important in crisis situations, when the reputation of the company might be potentially damaged.
Reason #2: Corporate communication improves relationships, employee experience, and engagement
According to Engage for success' article: "Companies need to wake up to the fact that internal communications can no longer be treated as an afterthought; it's an important business function that, when done well, helps keep employees engaged and loyal to the organization. When neglected, it's likely to have the opposite effect."
Thus, strong internal communication helps companies improve employee experience, which contributes to employee engagement and retention.
Furthermore, studies show that upward (employee-to-management) communication is as important as downward communication (management-to-employee), since encouraging employees to speak up and be heard by their boss leads to a higher level of employee engagement.
Reason #3: Corporate communication improves employee productivity
Moreover, in connection with the previous fact, studies show that employee engagement has a great impact on an organization's productivity ― more engaged employees are likely to contribute more in terms of the organization's productivity.
Thus, companies that foster a supportive work environment where employees are involved and get heard tend to achieve their goals effectively.
💡 Pumble Pro Tip
For a productive remote workplace, a good employee connection is an essential factor. To learn about how to achieve so, read our blog post:
How to create a corporate communication plan?
To establish effective cooperative communication, companies need to be strategic in developing a cooperative communication plan.
A cooperative communication plan defines how a company needs to communicate internally and externally, including defining:
Their target audience,
The information they need to share with them, and
Communication channels.
So, let's see what elements should be incorporated into a cooperative communication plan.
Clear objectives — Every message has to be crafted with a defined purpose — which needs to align with the overall company's goal.
Target audiences — When communicating with both external and internal audiences, it is crucial to bear in mind their attributes such as interests, job level, age, education, etc.
Effective messages — When creating messages to target audiences, it's important to write them in an engaging way to get the readers' attention and interest — hence, paying attention to tone and word choice is always the priority.
Appropriate media channels — With various media channels, companies need to be aware of the most effective way to approach their internal and external audiences.
Corporate communication metrics — Identifying cooperative communication key performance indicators (KPIs) is vital for each organization and company to fulfill its goals. The most usual ways to measure internal corporate communication performance are the following:
Email open, read, and click rates,
Employee surveys,
Employee feedback,
Employee turnover rates,
Effectiveness of crisis communication,
Focus groups, etc.
On the other hand, external corporate communication performance can be measured by comparing the performance against your competitors in the following areas:
Media outreach,
Social engagement,
Event promotion,
Geographical presence, etc.
💡 Pumble Pro Tip
Setting S.M.A.R.T. goals is a helpful way to grasp which segments of the workplace should be improved. To learn what S.M.A.R.T goals are, and how to define them, check out our blog post:
Final thoughts: Corporate communication is a key success factor for every company
All things considered, we can note that corporate communication is one of the key success factors for companies and organizations — it ensures:
Spreading consistent brand messaging among external and internal audiences,
A strong company's reputation,
Employee engagement and productivity.
Therefore, in order to make the business run smoothly, companies have to establish internal communication strategies where all employees are involved and informed.
Also, companies have to communicate with external audiences effectively and strategically, keeping in mind the target audience and the objective of communication.
Both external and internal corporate communication need to be aligned with the company's mission, vision, and values in order to ensure sending consistent messaging to all internal and external stakeholders.
✉️ What about your company? What PR and marketing strategies does it utilize to strengthen its relationship with external stakeholders? What about your communication with coworkers? What would you change in your company when it comes to corporate communication?
Share your experience at blogfeedback@pumble.com and we may include your answers in this or future posts. In the meantime, be sure to share this post with someone who would also benefit from it.