Skype vs Slack: Which app fits you best?
With an overwhelming amount of apps designed for business communication, it's hard to make an informed decision. 
If you are torn between Skype and Slack, this blog post will help you!
A quick overview of these two apps will introduce you to the main features and differences between the two.
After that, we will compare Skype and Slack in these categories:
Pricing,
User interface,
Max participant capacity,
Notifications,
Search,
Communication,
Integrations,
Support, and
Security.
As a result, you will be able to reach a conclusion on which of these two apps you prefer.
Let's start!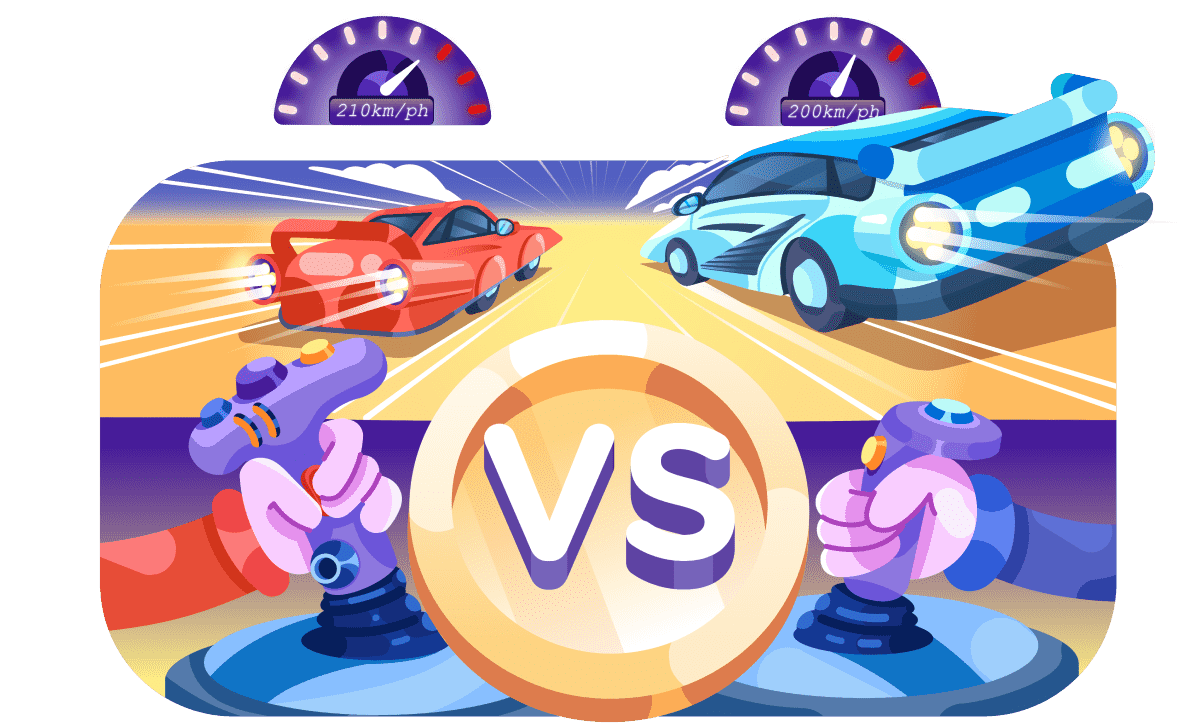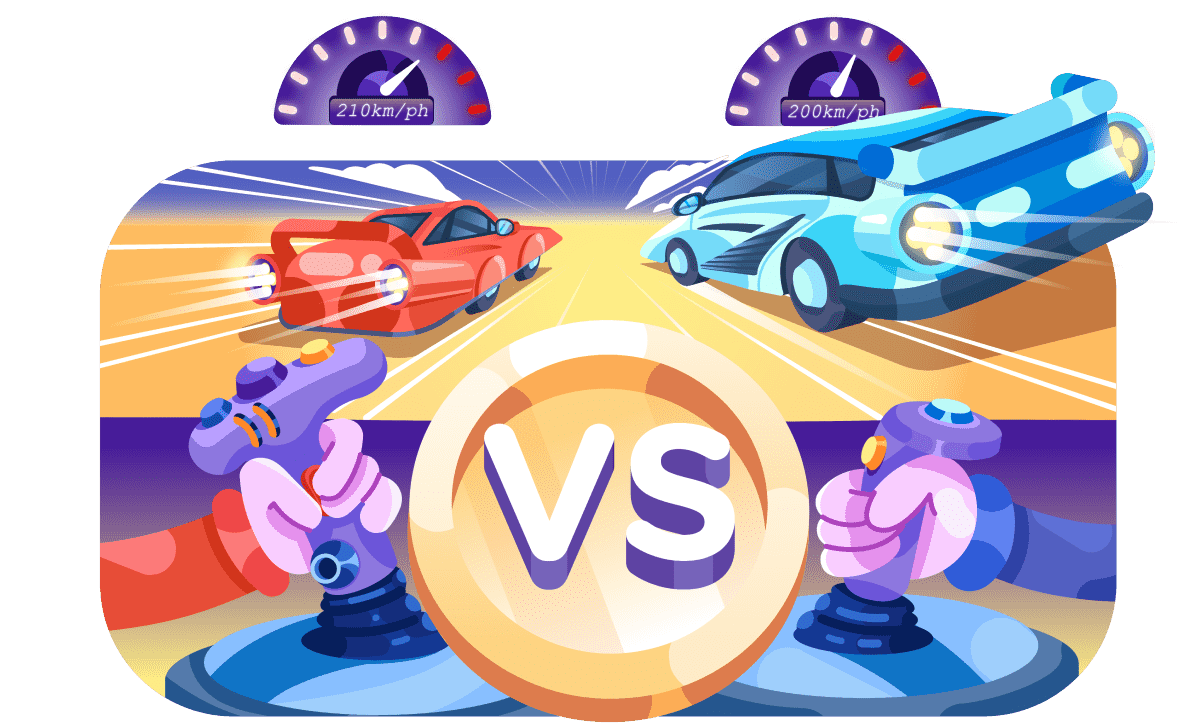 Skype vs Slack overview
Skype has been around since 2003, and it still serves as a communication tool for millions of users worldwide.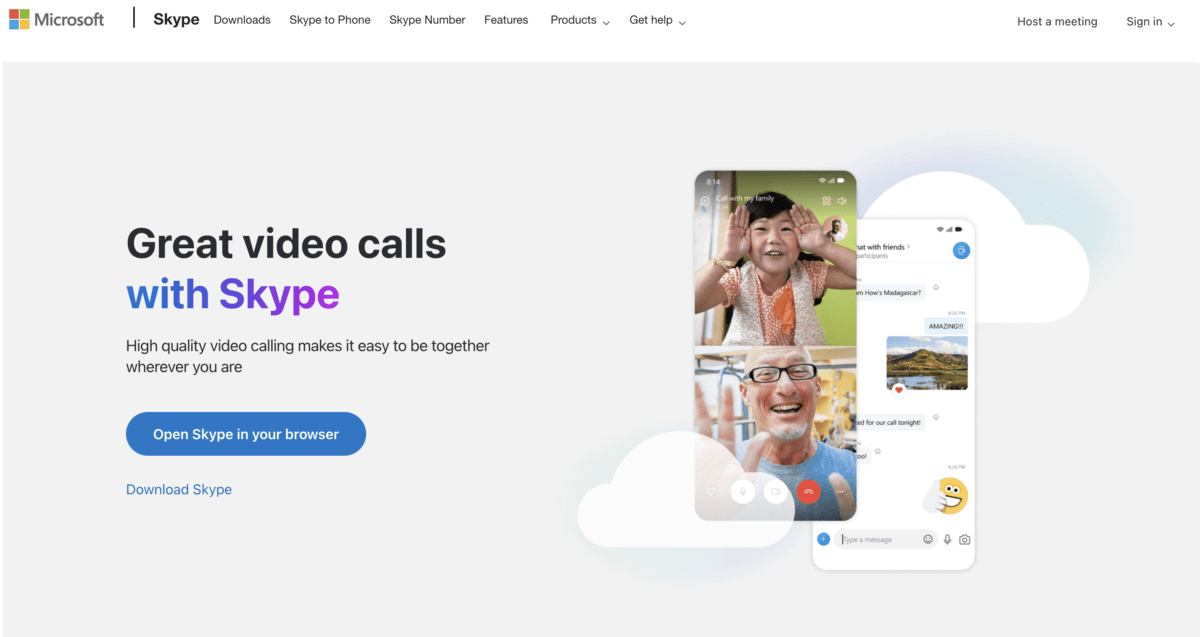 With Skype, you can:
Host a video or audio conference,
Record your calls, or
Message your friends, family or colleagues.
Also, you can call those who aren't on Skype.
Namely, Skype can call landlines and mobile phones from anywhere in the world at low rates, as well as send SMS texts.
Skype has long been used to stay in touch with long-distance friends and family.
And, in recent years, Skype has rebranded to appeal to businesses for team communication as well.
So, whatever needs you have, Skype promises to fulfill them.
Slack is a communication platform, mostly used by businesses to boost collaboration and communication.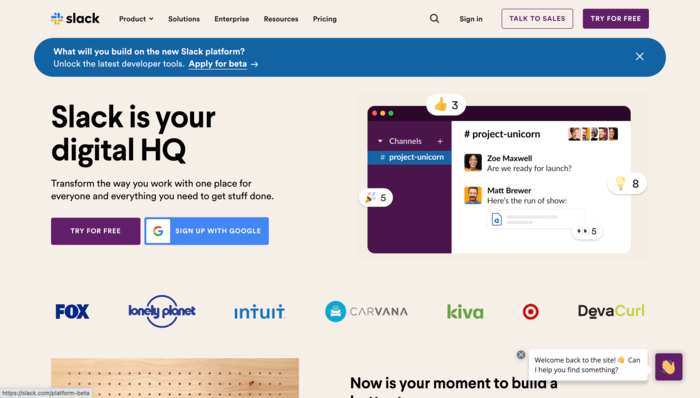 Slack eliminates the need for emails and makes communication easier and quicker.
With Slack, you can exchange messages with your team members, but also with people outside your work.
Slack lets you share files, connect by audio or video calls, and use other useful apps integrated with Slack.
Slack organizes your workspace in channels – designed to keep all messages, files, and people related to a particular topic in one place.
Furthermore, Slack allows for integration with more than 2400 apps, so all of your necessities can be accessed from one workplace.
Here's an overview of the main features of both apps:
Features
Skype
Slack
Pricing
– $0
– No premium plans
– Free
– Pro ($7.25 per user per month)
– Business+ ($12.50 per user per month)
– Enterprise Grid
User interface
Clean, user-friendly
Simple
Max participant capacity
100
– 2 for free
– 50 for paid
Notifications
Advanced notification configuration
Advanced notification configuration
Search
Basic text search
Advanced filtered search options
File sharing and storage
Starting from 5GB per user
– Free: past 90 days of message history
– Pro: 10GB per member
– Business+: 20GB per member
– Enterprise Grid: 1TB per member
Communication
– Screen sharing
– Recording meetings
– Group and individual messages during a call
– Live meeting transcription
– Instant messages
– Audio and video calls
– Channels and threads

Integrations
Doesn't support third-party integrations
Over 2,400 integrations
Support
Limited support
– Email/Help Desk
– FAQs/Forum
– Knowledge Base
– Customer success teams in paid plans
Security
Standard security
Standard security
Now, let's take a detailed look.
Skype vs Slack pricing 1:0
When it comes to price, these two products are vastly different.
Skype is entirely free, whereas Slack does offer a free plan, but with limited features.
Skype offers their product at no cost.
You have access to all of the features that make Skype great.
This means that you can chat or connect via HD video calls with up to 100 people for up to 24 hours.
Smart messaging offers mentions, emojis and reactions.
You also get access to other useful features such as:
Live meeting transcription,
Screen sharing, and
Meeting recording.
Slack, on the other hand, can get pricey.
Their Free plan offers:
Access to the most recent 90 days of message history,
10 integrations with other apps like Google Drive or Office 365,
1:1 audio and video conversations with screen sharing.
The Pro plan will set you back $7.25 per user per month, and it includes:
Full message history,
Unlimited integrations,
Audio and video conversations with screen sharing with up to 50 people,
Secure collaboration with outside organizations or guests from within Slack.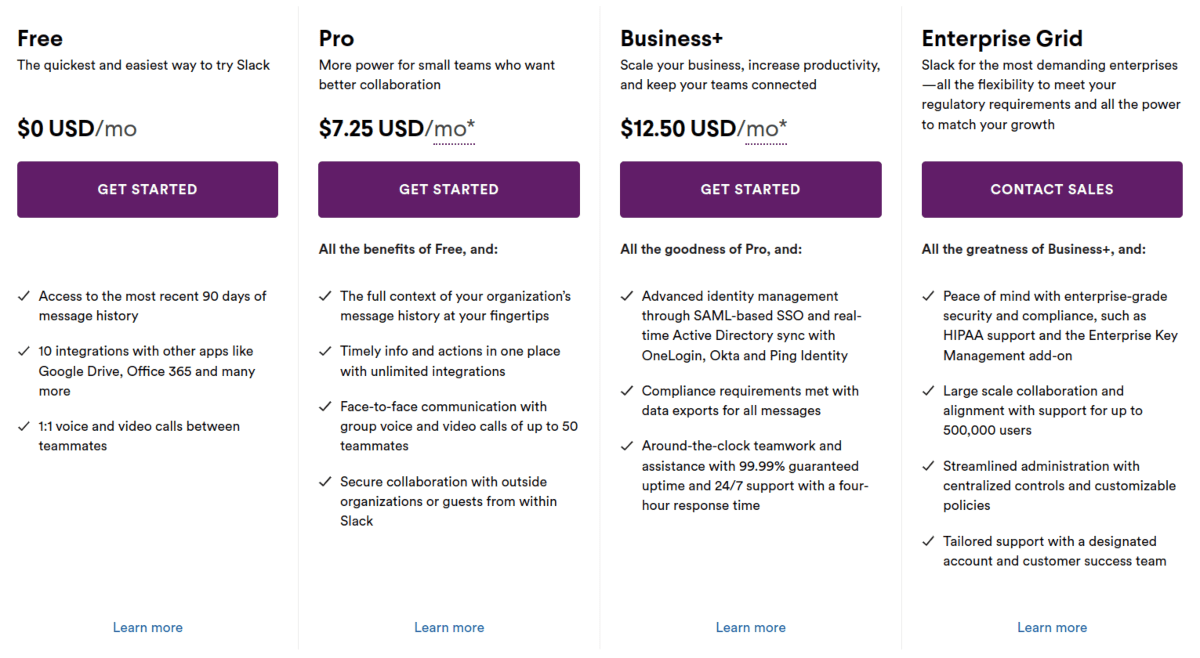 If this still doesn't fulfill your needs, Slack offers the Business+ plan for $12.50, which comes with advanced security features and 24/7 support.
The Enterprise Grid plan is reserved for large-scale enterprises with up to 500,000 users, and the price is based on your company and needs.
Even though Slack offers great features in the paid plans, Skype still takes this round, since it is completely free of cost.
| Pricing plans | Skype | Slack |
| --- | --- | --- |
| Free plan | Yes | Yes |
| Free trial | Yes | Yes |
| Cheapest paid plan | / | $7.25 per user per month |
| Overall impression | ⭐⭐⭐⭐⭐ | ⭐⭐⭐ |
Skype vs Slack interface 0:1
Both Skype and Slack have a straightforward, user-friendly interface.
Skype has long been known for its simple and clean approach.
But, if you want, you can customize it by changing themes or layouts.
Skype also features:
Grid view,
Spotlight view,
Together mode, and
Large gallery mode.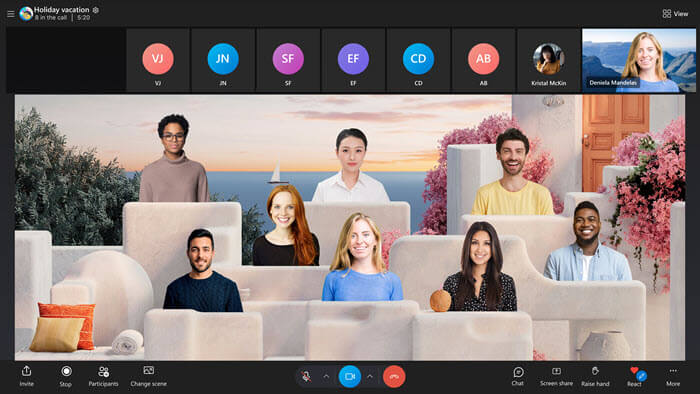 Slack's interface is also user-friendly and simple.
However, the additional features make it more customizable, and the use of channels makes team communication easier.
Channels are a great way to sort your conversations by topic and engage with people who are also interested in that topic.
This makes for a cleaner workspace, which is easier to navigate.
In Slack you can:
Customize the sidebar,
Customize welcome messages and emojis,
Choose theme colors, and
Chat in threads.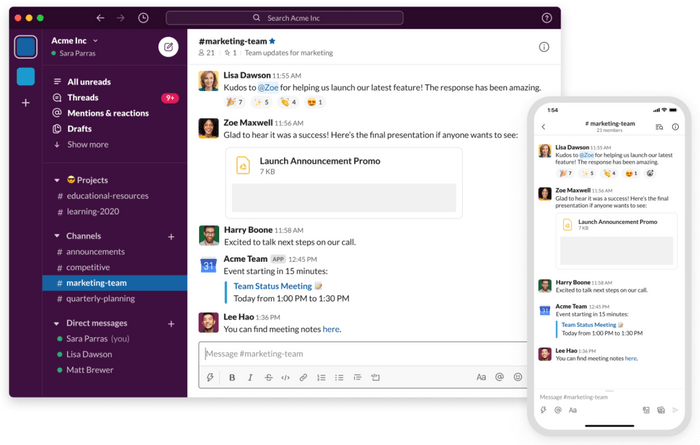 Although both apps are simple to use, Slack wins this round thanks to the abundance of customization options, and the use of channels and threads.
| Interface | Skype | Slack |
| --- | --- | --- |
| Layout | Clean, user-friendly | Simple |
| Customization | Standard | Advanced |
| Overall impression | ⭐⭐⭐⭐ | ⭐⭐⭐⭐⭐ |
Skype vs Slack max participant capacity 1:0
When it comes to max participant capacity, it's a no-brainer.
For Skype, the maximum participant capacity on calls is always 100 people. As it doesn't offer paid plans, that number can't get higher.
On the other hand, Slack's free plan allows for only 2 people on a call.
With their paid plan, the number goes up to only 50 participants.
Skype offers a chance for more people to connect on a call, therefore this round goes to Skype.
| Max participant capacity | Skype | Slack |
| --- | --- | --- |
| Max participants in the free plan | 100 | 2 |
| Max participants in paid plans | 100 | 50 |
| Overall impression | ⭐⭐⭐⭐⭐ | ⭐⭐⭐ |
Skype vs Slack notifications 1:1
I believe there are two types of people in the world — the ones who are always on Do Not Disturb mode and the ones who don't want to miss a single notification.
Whether you belong to one or the other, both Skype and Slack have you covered.
Skype will notify you when:
A message comes through,
A contact comes online,
Someone reacts to your message,
Someone makes a poll, and
A scheduled call is about to start.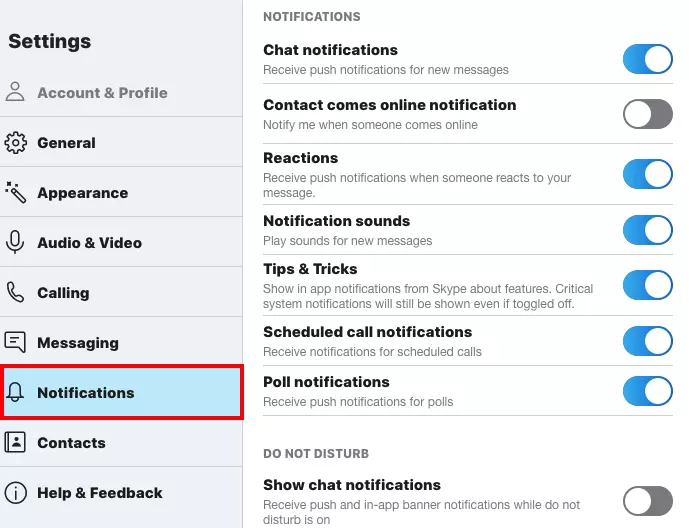 Skype will also send notifications about system updates, tips or tricks.
If you enable Smart notifications, Skype will only notify you when you've been quoted or mentioned in a message.
Furthermore, Skype can alert you to missed messages or calls through your email.
Of course, all of these features can be enabled or disabled whenever you please.
And if you need your peace and quiet, Do Not Disturb mode is readily available. You can also customize this mode, and turn on notifications for important calls.
With Slack, notifications are also highly customizable.
You get to choose what channels, messages, and threads you will be notified about.
Some of the notification settings available include:
Notifications triggers,
Keyword notifications,
Notification schedule,
Sound and appearance,
Badge notifications,
Mobile notification timing,
Email notifications, and
Channel-specific notifications.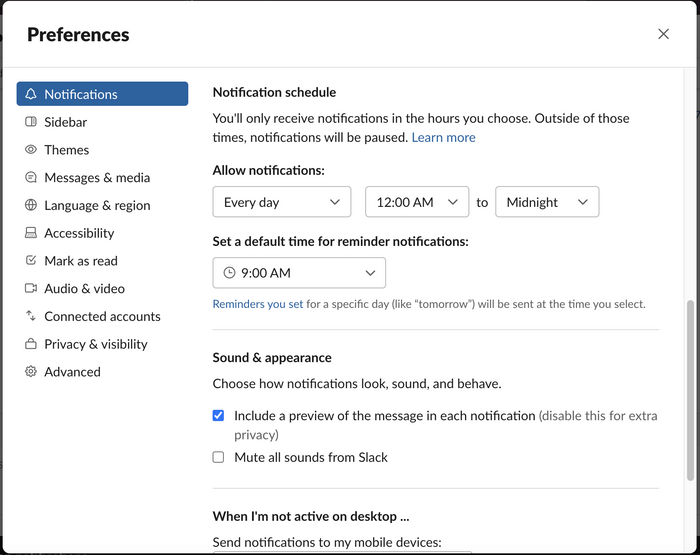 Do Not Disturb mode is available for when you want to immerse yourself in work, or conversely, punch out for the day.
As far as notifications and their customization, Skype and Slack offer great notification systems and highly customizable alerts. So, this round is a tie.
| Notifications | Skype | Slack |
| --- | --- | --- |
| Notification configuration | Advanced | Advanced |
| DND mode | Yes | Yes |
| Mute channels and direct messages | Yes | Yes |
| Overall impression | ⭐⭐⭐⭐⭐ | ⭐⭐⭐⭐⭐ |
Skype vs Slack search 0:1
Good search options are a surefire way to increase productivity.
Instead of spending your time manually searching for that one specific message, you should be able to sort through your conversations and quickly find what you are looking for.
Skype offers standard search options.
In the search bar, you simply type the word or phrase you're looking for.
The results will start with the most recent message, and go on to show results from the previous six months.
Unfortunately, Skype doesn't have options to filter your results or narrow down your search.
Searching for specific information is a more enjoyable experience in Slack.
Not only can you search through messages, but you can also search:
Files,
People, and
Channels.
Slack also allows you to search within the shared files.
Narrowing down your search is easy with Slack. You can:
Pick a time frame for your search,
Exclude certain channels, and
Pick file types.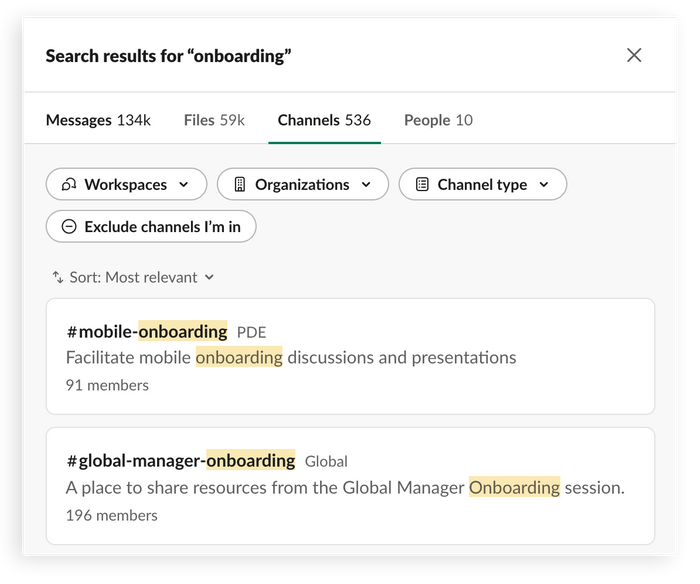 Many options for a successful search are what won this point for Slack.
| Search | Skype | Slack |
| --- | --- | --- |
| Message and channel search | Yes | Yes |
| File and people search | No | Yes |
| Filters | No | Yes |
| Overall impression | ⭐⭐⭐ | ⭐⭐⭐⭐⭐ |
Skype vs Slack communication 0:1
Let's look at the communication features these two apps have in store for you.
When it comes to Skype, here are some of the features included:
Chat publicly or privately during meetings,
Share files and screens,
Record your video calls and save the sessions for up to 30 days, and
Create polls.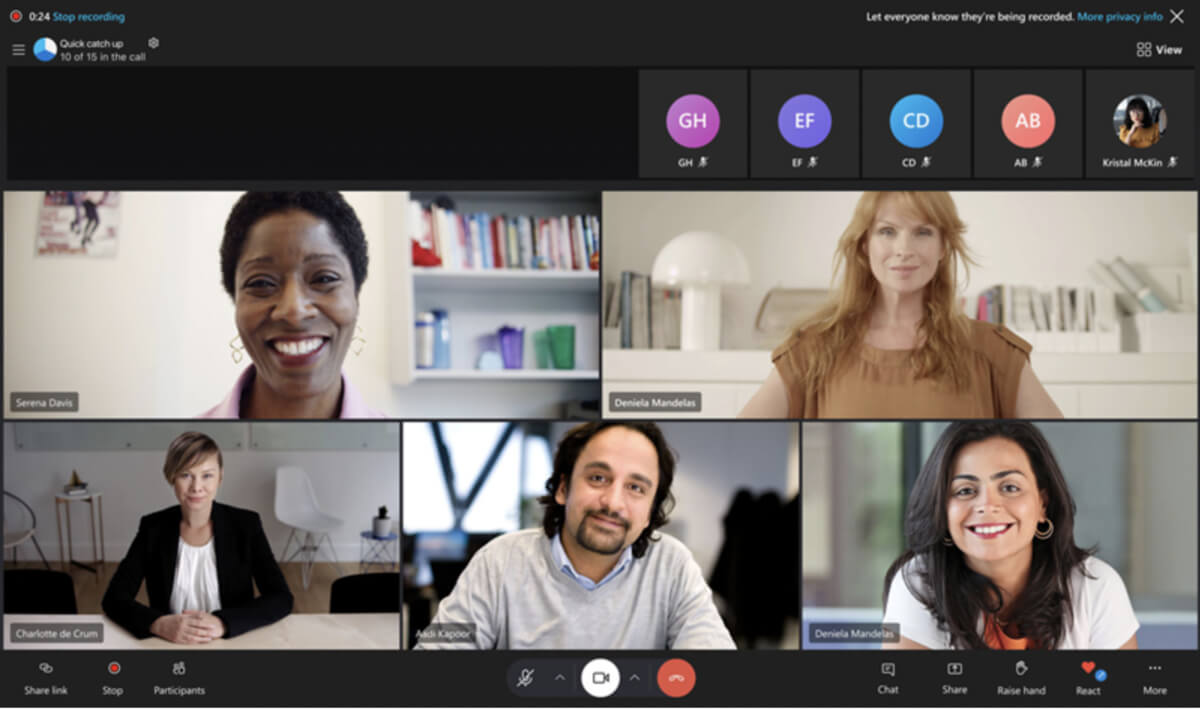 Additionally, you can have live captions and simultaneous translation during video calls, for up to 10 languages.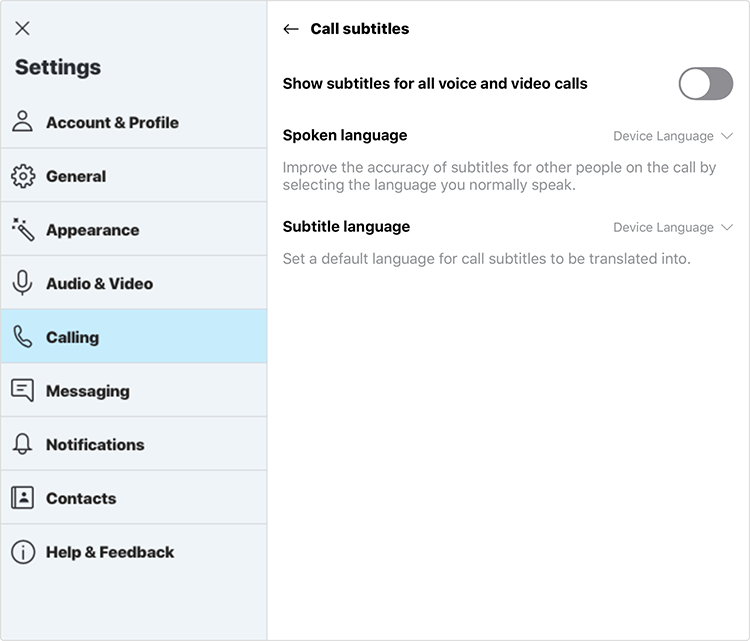 To add to that, Skype has the ability to call landlines and mobile phones, using Skype credit. You can also send text messages.
For this service, you can pay as you go or purchase a subscription.
In any case, prices are affordable, with one minute in a phone call costing around 1 cent.
Slack offers features that help you with asynchronous team communication.
In Slack, you can:
Pin and save messages,
Edit, format and delete messages,
Set messages as reminders,
Schedule messages,
Turn questions into polls, and
Slack's use of threads and channels keeps your workspace clutter-free.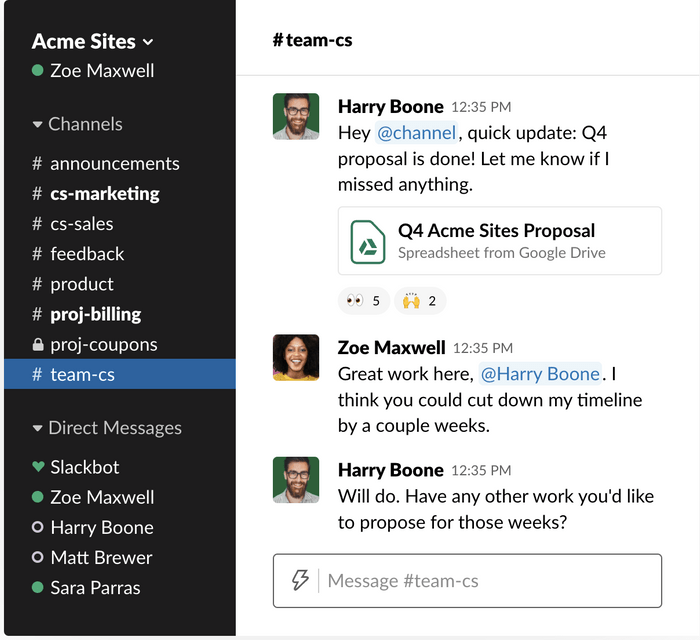 A downside to Slack is the fact that with the free plan, you only have access to messages from the last 90 days in your chat.
Huddles are Slack's way of incorporating video calls into their app.
You can start a huddle in any channel or chat, to begin a discussion with your teammates.
Features available in a huddle include:
Screen sharing,
Reactions,
Emojis, and
Dedicated notes thread.
However, in the free plan, you can only create a 1-on-1 huddle.
As for the paid plans, the maximum capacity goes up to 100.
All things considered, Slack gets another point in this category, due to a plethora of useful options.
| Communication | Skype | Slack |
| --- | --- | --- |
| Chat history | Unlimited | Last 90 days with the Free plan |
| Mentions | Yes | Yes |
| Share messages and files | Public, group, or direct messages and files | Public, group, or direct messaging and files |
| Breakout rooms | No | Yes |
| Channels and threads | No | Yes |
| Message formatting | Yes | Yes |
| Overall impression | ⭐⭐⭐⭐ | ⭐⭐⭐⭐⭐ |
Skype vs Slack integrations 0:1
Third-party integrations help immensely when it comes to communicating with your team.
Organizing your tools and apps into one streamlined workspace means improved productivity and less anxiety.
Unfortunately, Skype doesn't offer any third-party integrations.
In contrast, Slack allows for integrations with over 2400 different apps.
Slack even categorizes these apps, for easier browsing.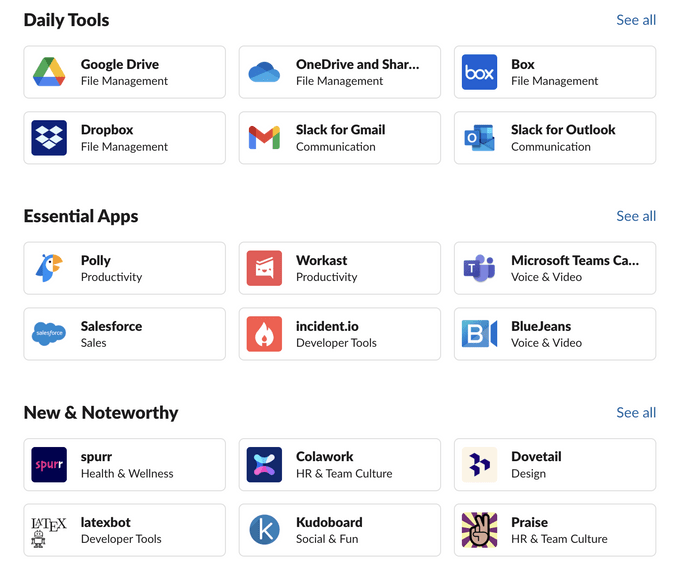 Design, File Management, or Productivity are some of the categories in the extensive Slack App Directory.
A few other ones include:
Essential apps – Slack for Gmail, Slack for Outlook, Zapier, and Asana.
Working from home apps — like Google Drive, Zoom, Trello, and Google Calendar.
Daily Tools apps — such as Slack for Gmail, Dropbox, Box, and Google Sheets for Workflow Builder.
The clear winner of this round is Slack. Among over 2400 integrations, you are sure to find everything you need for a seamless workflow.
| Integrations | Skype | Slack |
| --- | --- | --- |
| Number of integrations | No third-party integrations | Over 2,400 integrations |
| Overall impression | ⭐ | ⭐⭐⭐⭐⭐ |
Skype vs Slack support 0:1
When it comes to customer support, Skype offers some options:
Help center,
Virtual agent,
Skype community, and
FAQ page.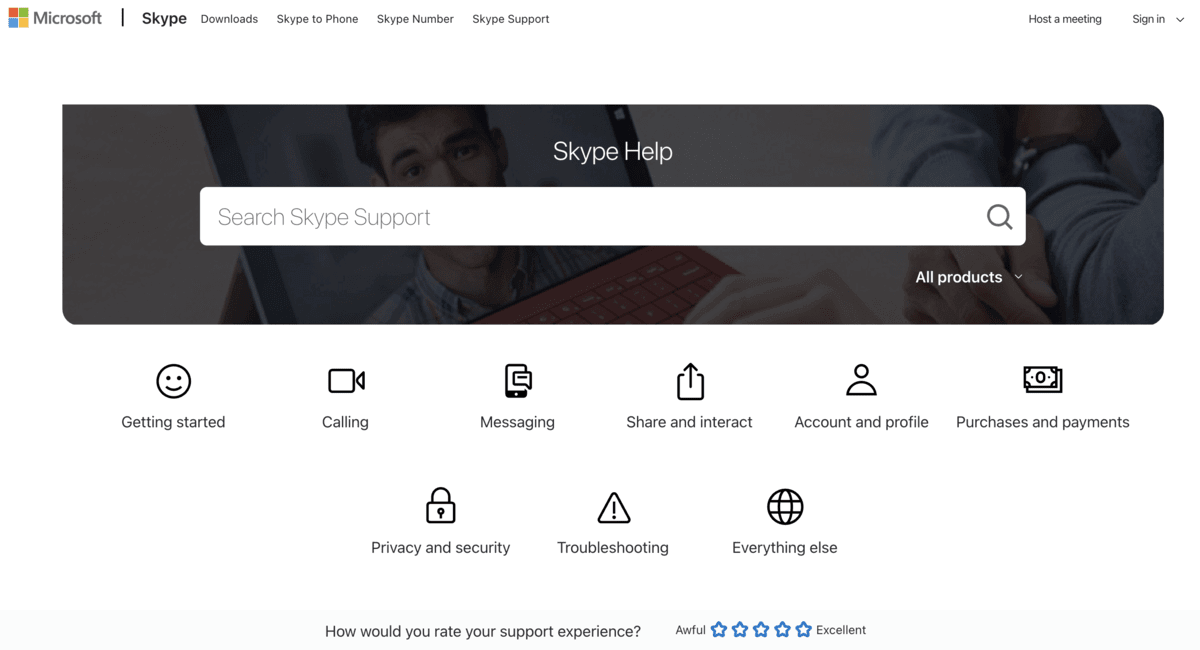 However, phone lines or web support lines are not available in Skype — so if you're having a specific issue, you're on your own.
In contrast, Slack offers a wider variety of support options, depending on the plan you have chosen.
In the free plan, you have the following features at your fingertips:
Email/Help Desk,
FAQs/Forum, and
Knowledge Base.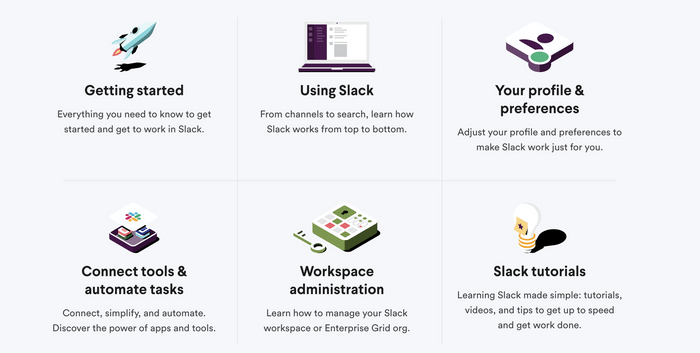 All of the paid plans offer 24/7 support, as well as 99.99% guaranteed uptime.
The Business+ plan, on top of all the formerly mentioned features, guarantees a four-hour response time.
The Enterprise plan means your needs are a priority, thanks to tailored support with a designated account and a customer success team.
The clear winner in this round is Slack, due to its advanced customer support.
| Support | Skype | Slack |
| --- | --- | --- |
| Customer support | Limited | Advanced |
| Knowledge base | Yes | Yes |
| Video tutorials | No | Yes |
| Overall impression | ⭐⭐⭐ | ⭐⭐⭐⭐⭐ |
Skype vs Slack security 1:0
In the final round, we will compare the security features of these two apps.
An important factor when choosing a platform for team communication is data security.
Unfortunately, neither Skype nor Slack offers top-notch safety features, so if safety is number one priority, you may be a bit disappointed.
Skype uses AES (Advanced Encryption Standard), which is the gold standard of online communication safety.
Encryption protocols prevent anyone outside of the conversation from seeing your messages. Only the people in the conversation have the "key" to unlock the contents of the encrypted messages.
On the other hand, Slack doesn't have advanced encryption.
Slack encrypts data at rest and in transit, which is a less safe method of encryption.
Both Skype and Slack use multi-factor authentication.
All in all, both Skype and Slack are generally safe, with Skype scoring this point thanks to their advanced encryption.
| Security | Skype | Slack |
| --- | --- | --- |
| Advanced encryption | Yes | No |
| Multi-factor authentication | Yes | Yes |
| Overall impression | ⭐⭐⭐⭐ | ⭐⭐⭐ |
Skype vs Slack verdict 4:6
The final verdict is in — the winner is Slack!
| Features | Skype | Slack |
| --- | --- | --- |
| Pricing | 1 | 0 |
| User interface | 0 | 1 |
| Max participant capacity | 1 | 0 |
| Notifications | 1 | 1 |
| Search | 0 | 1 |
| Communication | 0 | 1 |
| Integrations | 0 | 1 |
| Support | 0 | 1 |
| Security | 1 | 0 |
| Total score | 4 | 6 |
It was a fair fight, but in the end, Slack triumphed!
Even though Skype offers great features at no cost, Slack still wins this duel, thanks to an abundance of customization options, and the ease of communication.
Integrations make for a more productive environment, and if you ever run into a problem with the app, Slack's support system will take care of it.
Both Skype and Slack are among the best team chat apps — so, at the end of the day, it's a matter of what you and your team need.
But if you're still on the fence, we have another recommendation.
Looking for a Skype or Slack alternative? Try Pumble
If you still can't decide between Skype and Slack, maybe you just haven't found the right fit!
Try Pumble, a free business messaging app.
Pumble offers a wide range of features, such as:
Free 1-on-1 video calls,
An intuitive and user-friendly interface,
Unlimited users and chat history for free,
Guest access,
Customizable notifications, and
10GB of free storage space per workspace.
So, if you are in the market for a safe and effective app for business communication, sign up for a free Pumble account right now and try it out yourself!
✉️ What about you? Have you tried Skype or Slack? What are your favorite features? Share your experience and tips at blogfeedback@pumble.com and we may include your answers in this or future posts. And, if you liked this blog post and found it useful, share it with someone you think would also benefit from it.