One App For All Your Work
Start a channel, share documents, make a video or voice call, invite external partners, and be secure in all your work.
Seamless Communication
Direct messages
Instantly communicate with teammates.
Channels
Follow topics important to you.
Threads
Start mini conversations in channels.
Explore channels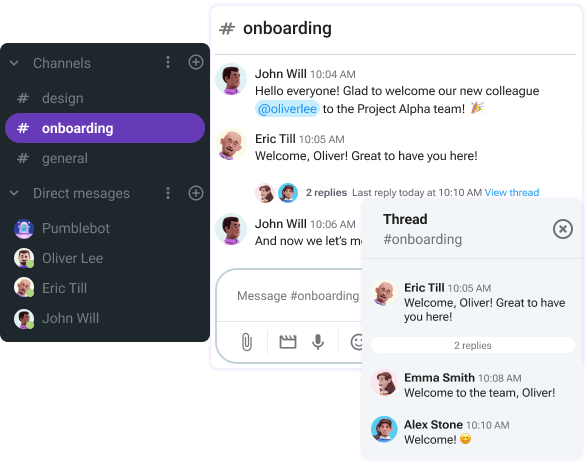 ---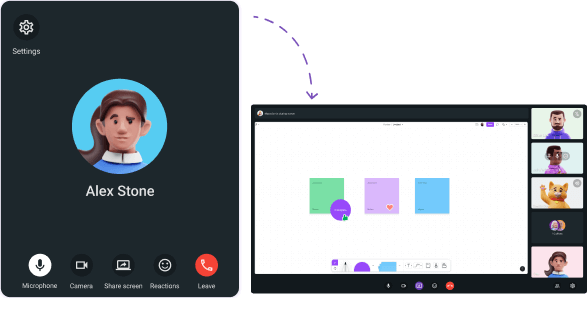 Productive Meetings
Voice calls
Start a voice call with your team members.
Video conferencing
Meet face-to-face with the whole team or guest.
Screen sharing
Show your team presentations, and ideas.
Discover meetings
---
Collaborative Teamwork
Guests
Collaborate with people outside of your company.
File sharing
Send documents, images and link to others.
Notifications
Stay informed about all new messages.
Initiate collaboration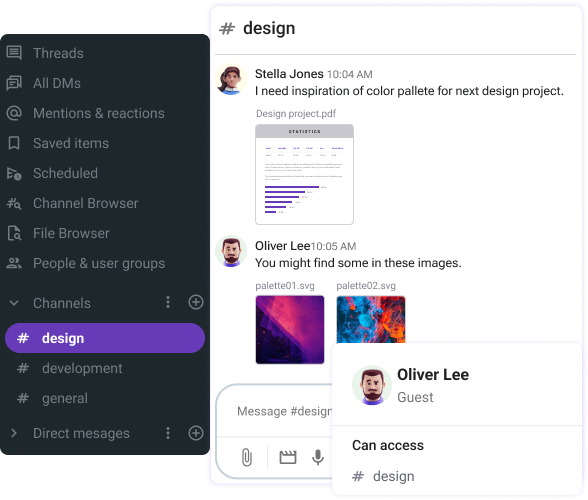 ---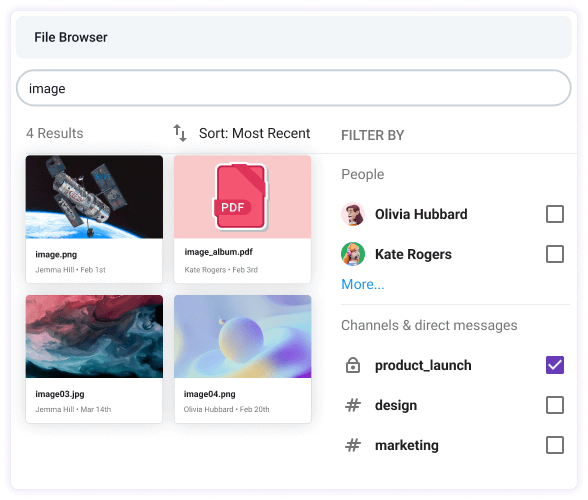 Transparent Sharing
History
Access all your messages and chat history.
Search
Find information you need, when you need it.
File browser
All documents and images, in one place.
Start sharing
Everything A Modern Team Needs
From security to support, everything your team needs.
Unlimited search
Searches cover your entire organization — all the teams and channels that you're part of.
Data encryption
Pumble encrypts all data at rest and in transit for all customers.
On every platform
Use Pumble on browser, desktop (Mac, Windows, Linux) or mobile (iOS, Android).
Secure and compliant
Pumble has certifications for ISO 27001 and SOC 2 to protect the information.
Integrate with other apps (soon)
Integrate Pumble with all apps you need to do all you work from one place.
24/7 support
Have 24/7 coverage and a guaranteed response from our customer experience team.
Trusted By Worldwide Companies
Read customer stories
"Got me hooked right away"

"I have looked into many messaging platforms for the last year and tried many trials. This app was one that got me hooked right away. Not only is the free platform very useful and easy, but to upgrade and get the max features for only $20 a year is amazing. I highly recommend this app.

Once I tried, I was instantly annoyed that it wasn't the first one that I had tried in the first place."
"It doesn't have limit on messages"

"Overall, I find it very easy to use. In fact, we migrated everything from Slack to Pumble now. I don't worry about messages being deleted anymore.

It doesn't have a limit on message and files history compared to Slack. This is what matter's most to me as I really would love to review messages from time to time."
"Easy to keep intouch with co workers"

"I have had a good experience. I love the faces that you can choose to have or you can have your own picture. Easy to keep intouch with co workers or your supervisor.

Easy to communicate with other employees or the Supervisors. You can check and see what is going on or leave messages if you need to. You can send attachments if needed."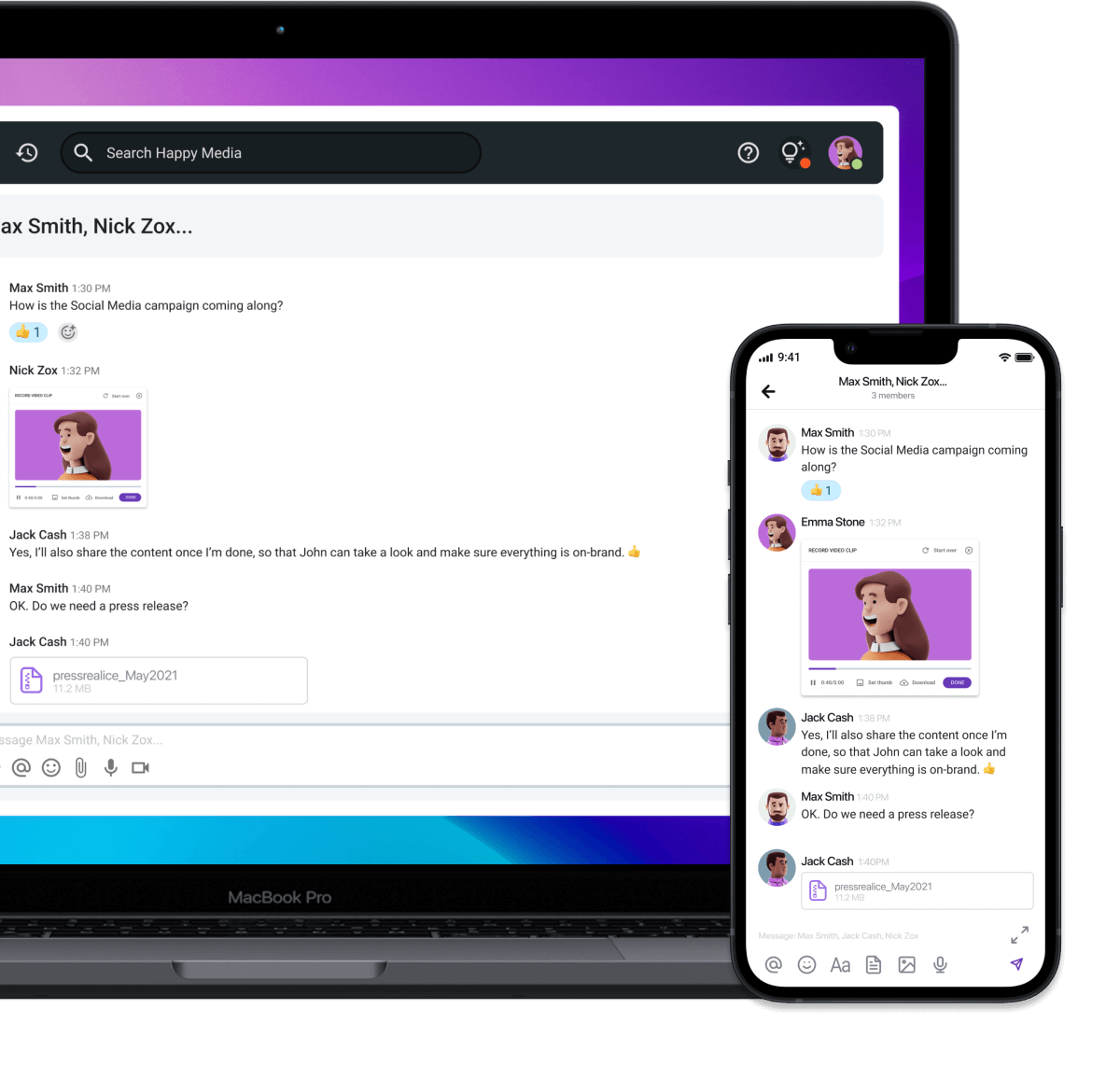 Chat from anywhere
Communicate with your team no matter what device you use.
Web app
Use Pumble for desktop, too
Pumble is supported on any Mac, Windows or Linux computer.
Download for desktop
Free forever
Unlimited users • Unlimited chat history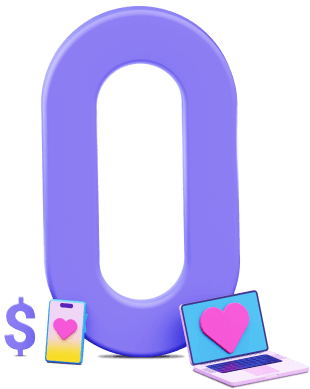 World-class customer support
We're here 24 hours a day, every day of the week, including holidays.
24/7
support anytime, anywhere
1h
95%
satisfaction (12k+ ratings)
99.99%
Contact us
Email • Phone • Chat