Congrats on landing your new remote job! You've made it to your first day of work, ready to tackle that new role in a completely new environment.
Well, not entirely new, as you'll most likely be switching from your kitchen to living room, to bedroom – and if you're lucky – to a home office even.
But, hey, it's the new normal, so we'll make the most out of working in our PJs and doing laundry during our lunch breaks.
But before you embrace all the pros of working a remote job, such as flexible hours, increased productivity, and reduced commute expenses, remember to account for the challenges of starting a new job remotely. Remote work can be a slippery slope to burnout if you're not paying attention. As the home environment often blurs the lines between work and rest, remote workers tend to put in longer hours, which can potentially lead to burnout over time.
Whether it's your first job at a remote company, or you've adjusted to working from home since the beginning of the pandemic, you'll still have some fine-tuning to do. Take it from someone who just started their new remote job a week ago.
Just the sheer fact that you're entering an entirely new organization with its own set of rules and practices is a challenge in and of itself.
So, let's get you ready to make the most out of your first day as a remote worker. Here are seven tried-and-tested tips you can use to crush your first day of work at a remote company.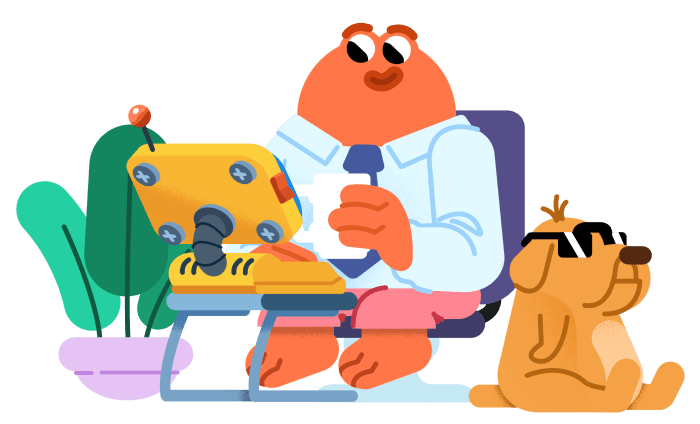 Set the stage
The number one thing that will help you be up for the challenge of starting a new job remotely is proper preparation.
You don't want to add to the pressure with any negative surprises such as your internet connection lagging, or your laptop camera not working properly.
A May 2020 Stanford University survey shows only 65% of US respondents had a solid internet connection able to support video calls. These slip-ups could be excused due to companies being caught off guard at the beginning of the pandemic with no time to prepare. Now that we're in what is generally considered the post-pandemic era, you simply have no excuse for showing up to your first day at a new job with malfunctioning equipment.
Here's a step-by-step process on how to set the stage for your first day of work at a remote company. If you can, try to attend to this a day earlier before the actual first day of work.
Set up a home office
Your home office space is where you'll be spending most of your time when working remotely, so it's paramount to make it as comfortable, distraction-free, and organized as possible. Of course, if you don't have enough space in your home to dedicate an entire room to your work, there are plenty of ways you can create flexible, multi-purpose spaces inside any size apartment.
When arranging your work from home space, be sure to factor in good lighting as you'll need all the natural light especially when working long hours or flexible, evening shifts.
Another key factor that will set you up for success in your new remote job is removing distractions in your home office. Furnish your space with images and colors that serve as a subtle motivation, and remove any distracting elements, such as your phone, or a TV. I personally find myself most productive when working at a desk in my bedroom with nothing but a blank white wall in front of me. Of course, this isn't the same for everyone. Find your most work-inspiring corner and set it up.
Set boundaries with family members or roommates. Let them in on your new work schedule to reduce the chances of them barging into your home office space during your first orientation meetings. Even though your new company may not mind, it's just not a good look for your first day of work.
Plan ahead
There's hardly anything as nerve-racking as equipment failure on your first day of work. Especially if you're working remote, with no quick access to company tech support.
Of course, if you're lucky, you'll have all equipment set up and ready, plus you'll have the support team just one team chat app ping away. Yet, even if the VPN settings are all in place, you'll still have to at least set up your new work email and check your calendar the day before, as it can provide a good insight into all meetings and tasks lined up for your first day. That way, you will have enough time to get into the right mindset and start your first day focused on the main priorities, instead of worrying about potential equipment malfunction.  
I even went as far as food prepping for the first couple of days as I knew I would get so caught up in my new job that I'll probably forget to eat at all, or won't have enough mental capacity to decide what to eat. This is a good option to try out if you have enough time the day before. If you're not sure how to batch cook and what to prepare, you can find thousands of recipes online for a week of meal prep.
Consider what to wear on your first day of virtual work
It's finally your first day at a new job. You're rolling out of bed in your PJs, commuting to your kitchen for some caffeine enhancement to help you crush your first remote workday.
While you're at it, consider adding a couple of more minutes to this routine and stop by your wardrobe to get a slightly more polished look.
Now, there's nothing wrong with dressing for comfort, but you can still add a few details to help you look and feel the part of a new employee. Some grooming here and there, a touch of makeup, and a nice, comfortable shirt can make the world of difference in terms of tricking your mind to believe you're in a professional setting and not on your couch holding a laptop.
Be proactive and attentive during onboarding and orientation
First impressions last, so make sure to put your best foot forward from day one. Let's go through some of the major first day of work tips to make the most out of your onboarding and orientation as a remote employee.
Introduce yourself
Take time to introduce yourself to the team and show your enthusiasm.
I had the amazing advantage to have all resources ready, and the lovely HR team initiated the introduction, so it was a pretty smooth process. Basically, all I had to do was sign up to a company workspace in Pumble, our team chat app, greet everyone, and start the onboarding.
Even if you're left to navigate this on your own, be sure to sign up to your company team chat app as soon as you can, and introduce yourself to your future teammates.
Take notes
If you're not sure what to expect on the first day of a new job, take all introductory meetings and get all the details. Pay close attention when getting trained to use a new piece of software or a tool you're unfamiliar with. Take notes when introduced to new information to optimize your learning and avoid distracting your colleagues with too many questions later on.
Speaking of questions, now is the best time to ask for additional info on any topic. If you find some inconsistencies in materials or documents, feel free to ask for clarifications. Many times, these documents just aren't updated regularly, and you can save yourself a lot of confusion later on in your work by simply asking.
For example, we had the last part of every introductory and training meeting reserved for questions during my onboarding, and I've found that to be super-useful.
This is also the perfect time to get acquainted with all the procedures, tools, and company documents. Bookmark all the key URLs to keep them on hand for future use. A colleague shared valuable info in your conversation in Pumble? Pin those important messages to keep the key info top of mind.
Another great first-day-of-work tip is to organize all your passwords in the notes app on your computer. Let's face it, it's impossible to keep track of all the credentials. This method lets you relax knowing all your key passwords are neatly organized and easily accessible when you need them.
Define your role and responsibilities with your superior
When working from home, your manager isn't around checking in on you all the time. This is both good and bad news. As much as no one likes the outright micromanaging method, it can get rather challenging to have to figure out your role and expectations in detail on your own.
This is why it's particularly important to prepare for your first one-on-one with your team leader. Keep in mind that they have a limited time slot in their busy schedule, and understandably they won't be able to provide every detail you may need. It's up to you to come prepared with questions that will help you get a comprehensive insight into your new role expectations. Some of the key questions to ask on your first day of work include your managers' expectations regarding communication style and tools, productivity and performance expectations, and task management.
Keep the communication open
According to recent stats on workplace communication, strong team communication is one of the key factors affecting the company's overall success. It is the bridge that gaps all departments while nurturing collaboration and building a healthy, productive culture. Remote and hybrid environments are putting more emphasis on improving team communication as insufficient face-to-face interaction and general disconnect can creep up on remote teams, often causing pesky team silos and decreasing productivity.
To get off on the right foot and do your part in keeping the communication open, consider adopting a proactive approach.
Observe during team meetings, in company chat app conversations, or email chains, to figure out what communication styles are predominant among teams and adjust your approach accordingly.
Be proactive
Regardless of the methods your new workplace uses when addressing and training new hires, you should strive to keep a proactive approach. Ask the right questions in meetings and training sessions from day one. Now is the perfect time to set the right tone and get as much input to help you integrate faster and set yourself up for success.
Ideally, you should receive regular feedback from your manager and teammates. Even if this is not a regular practice at your new remote job, you can politely ask for feedback starting from your first task. This will help you establish some expectations and enhance your performance over time.
Remember to always keep a positive and grateful attitude towards people helping you settle in. There's bound to be a ton of questions you as a beginner will ask your manager, teammates, work buddy, people from related departments, and HR staff. Show that you appreciate their time and effort in helping you adjust to your new role.
💡 To get more info on the do's and don'ts of team virtual communication, be sure to check out our guide on chat etiquette tips to follow at work.
Mind the work-life balance
As mentioned above, remote work can make you lose track of time pretty easily. Trust me, before you know it, you can find yourself working through the entire day wondering what happened.
The key word here is structure. And you better build one sooner rather than later.
Your first day at a new remote job is the perfect time to assess your workload and set the initial schedule for yourself and optimize your work hours for optimal productivity.
While you're at it, it's a good idea to install one of those time tracker tools to help you understand your peak productivity hours. That way you can organize and prioritize your tasks for maximum productivity.
Remember to take regular breaks. Taking a couple of minutes to stretch, move around, or grab a coffee or a quick bite are all beneficial ways to recharge and get a fresh perspective, especially if you are stuck on a task.
Consider adding some light physical activity into your daily schedule to reduce the negative side effects of a sedentary lifestyle and improve your posture, and overall energy levels. I find doing some easy yoga flow early in the morning really helps relieve stress and prevent back pain.
Use your first day to test out your schedule and see how it resonates with you and your new job responsibilities. You can adjust it later on until you reach a structure that works best for you.
Make the connection
In an effort to show our professionalism and dedication, most of us tend to adopt an "All work and no play mindset" on our first day, and probably well into our first few months at a new job.
While there's nothing wrong with prioritizing the work side of your job, it's still important to keep in mind the social side of the company culture you're entering. While you focus on doing your job diligently and to the maximum of your capabilities, it's good to not lose track of the humane side of it all. And it's an especially important aspect of remote work which is known to threaten the regular social structures within organizations.
With this in mind, do your best to find ways to bond with your new teammates over similar interests or social groups outside the work spectrum. For example, give thumbs up (👍) to your colleague's post about their new haircut in a company chat in Pumble. Contribute with a photo of your dog to a thread or channel about pets.
In gist, try your best to show your friendly side, and, before you know it, you'll find yourself making new friends and bonding with your work buddy over your beginner driver experience, or something similar.
Take your time
Before you get overwhelmed trying to take in all the new information on your first day of a new job, remember to breathe and take it day by day. After all, it's only day one. And as much as you'd like to make the best first impression and integrate perfectly, there's only so much you can do in one day.
It's a lot to juggle when starting a new job remotely, settling in, and adjusting to a completely new structure. So remember to take it easy on yourself.
Wrapping up
The first day of work before the transition to a remote workplace was challenging enough already. When you add the awkwardness of starting a new job remotely, the entire experience gets even more daunting. I hope my story and tips offered in this blog post will help make the transition smoother and help you have a great first day of work at a remote company. Remember to keep a positive attitude and take it day by day. Good luck!