According to Global Workplace Analytics, businesses can save as much as $11,000 per employee, per year, when they allow the said employees to work from home at least half of the time. Moreover, according to FlexJobs, employees can save an average of $4,000 per year by working remotely.
These numbers only scratch the surface of the benefits that come with working remotely, explaining why the number of people working from home is only expected to rise in the future — despite the communication challenges often associated with such a work arrangement.
In this guide, we'll talk about the current state of remote work and team communication, as well as how you can improve work-from-home communication within your team.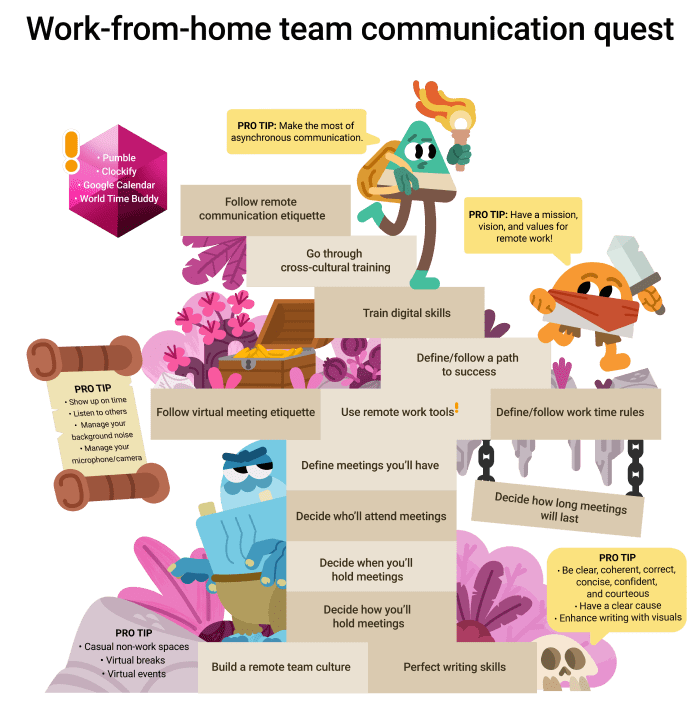 What is the current state of remote work and team communication?
Remote work comes with its fair share of communication-related and other challenges, which may make managers hesitant to introduce such a work arrangement to their teams — despite the benefits working from home can bring to both employees and managers, and its growing popularity and necessity in recent times.
Challenges of remote work and team communication
Challenges of remote work and team communication range from different communication preferences that hinder productivity to technology-related problems that hinder communication itself. According to various research, only 22% of people tend to participate in relevant virtual team training, and 32% of companies cite training issues as a major problem they face while operating with virtual teams.
Management-related challenges
According to SHRM, onboarding problems (27%), conflict management (31%), as well as personnel and other management issues (27%), are all major problems companies associate with remote work.
Home-related distractions
According to a Buffer report, 12% of remote workers find it difficult to focus on work because of various home-related distractions. These distractions may involve street noise, interruptions by family members, needy pets, but also overzealous colleagues. After all, all remote workers are likely to experience an abundance of alerts and notifications from their virtual communication apps, which is likely to disrupt their focus on the priority tasks they are currently working on — if not managed properly.
Different communication preferences
According to a survey Workplaceless conducted within their remote community, 59% of professionals believe written communication is the most important type of communication for remote teams. However, an additional 23% of people attach importance to visual communication, while 11% attach importance to verbal communication — indicating that different communication preferences may disrupt the efficiency of remote team communication.
Over-communication that turns into micromanagement
Remote teams need to make a more conscious effort to communicate, seeing that they can't just walk up to each others' desks to talk. In an effort to get their points across, some people may over-communicate their thoughts, ideas, and opinions. Now, over-communication itself is rarely a problem, seeing that it's always better to double-check whether you are understood rather than risk misunderstandings and confusion. But, over-communication can also easily turn into micromanagement — which is likely to hinder the productivity of both the micromanager and the person being micromanaged.
Technology-related problems
According to one report by Gartner, 54% of HR leaders believe that poor technology is a crucial barrier to effective remote work. In line with that, as a survey by WhistleOut shows, 35% of people say that weak Internet has at one point prevented them from carrying out their work since the Covid19 pandemic started.

Managers were at first unsure of their ability to manage remote teams…
According to a report by Upwork titled "Future Workforce Report", as much as 69% of managers who are Millennials or belong to Gen Z, allow their teams to work remotely.
But, according to a study presented in the Harvard Business Review by Sharon K. Parker, Caroline Knight, and Anita Keller, about 40% of managers and supervisors have low self-confidence in their ability to properly manage remote teams.
The preliminary findings in this study that covered 215 supervisors and managers, 24 different countries, and several different industries, indicated that a manager's self-doubt about managing remote workers stems from a:
Lack of confidence that they can coordinate remote teams effectively and influence remote workers to perform their best work;
Lack of belief in their remote employee's essential skills, competence, and abilities to stay motivated;
Lack of trust that the remote workers are actually working when the managers cannot "see" them.
…but, remote work is becoming the new norm
According to the US Census Bureau and the Bureau of Labor Statistics, 4.7 million people in the US alone were already working from home when the Covid-19 pandemic started.
Gartner reports that these numbers skyrocketed after the Covid-19 outbreak, as 88% of organizations worldwide started encouraging or made it mandatory for employees to work from home.
Moreover, the future of work also seems to be centered around remote arrangements:
25-30% of the workforce will be working remotely multiple days per week by the end of 2021 — according to the forecast made by Kate Lister, President of Global Workplace Analytics.
73% of teams will have remote workers by 2028 — Upwork also reports that remote work will become more widespread across industries, and not limited to certain job types.
74% of professionals and 76% of entrepreneurs believe remote work will become the new normal — according to a 2020 study by Growmotely.
97% of employees would prefer not to return to the office full-time — According to the same study, the majority of employees and entrepreneurs pick a blend of working from home and in an office as the ideal solution.
61% of employees would prefer to be fully remote — Some employees may still want access to an office space, but others may not require one at all, which may bring the mere concept of physical offices into question sooner or later.
Employees can find value in remote work
Why are teams reluctant to go back to full-time office work?
Well, it seems that the benefits of full-time, or even part-time remote work, outweigh the benefits an employee experiences when working in an office full-time.
For starters, the average US citizen can save $4,000 a year by working remotely — or, anything from $2,000 to $5,000 per year, depending on the US state.
But, there are other benefits as well.
Remote work eliminates commute time
An Upwork survey titled "Where Remote Work Saves Commuters Most" shows that remote workers save 49.6 minutes per day on commutes — or four days per year. The cumulative savings that come from reduced commutes currently stand at $758 million per day. Moreover, according to the above-mentioned Owl Labs survey, as much as 78% cite "avoiding a commute" as a crucial benefit of remote work.
Remote work increases employee happiness (and decreases stress)
A survey conducted by Owl Labs indicated that remote workers are 22% happier than those working in offices. Moreover, they are also 78% less stressed than in-office workers.
Remote work improves work-life balance
According to SHRM, as much as ¾ of remote workers believe flexible work arrangements help them strike a better work-life balance. Moreover, according to the Owl Labs survey, as much as 91% of employees cite a better work-life balance as a crucial benefit of remote work.
Remote work is more inclusive
As much as 44% of respondents of the Owl Labs survey cite better inclusion and accommodation of workers with disabilities as an important benefit of offering a work-from-home option.
Managers can find value in remote work
Have managers done away with their lack of confidence, belief, and trust in the concept of remote work?
Well, the value they can find in a remote work arrangement indicates that this is a possibility.
For starters, estimates by Global Workplace Analytics show that employers can save more than $11,000 per year per employee, if the said employee works remotely at least part-time.
But, other benefits also build the case for introducing a remote work arrangement.
Remote work increases employee engagement
According to a Gallup State of the American Workplace report, remote workers are more engaged than office workers, with a share of 32%, compared to 28%.
Remote work increases the employee's sense of belonging
The same Gallup report indicates that employees who work remotely have a higher sense of belonging than their in-office counterparts because they feel like their opinions are heard and appreciated.
Remote work increases employee retention
According to Owl Labs' 2019 State of Remote Work report, remote workers are 13% more likely to stay in their current companies for the next five years, than their in-office counterparts.
Remote work improves productivity
Becker Friedman Institute for Economics at the University of Chicago surveyed 10,000 employees and concluded that 30% of the said employees believe working from home makes them more productive.
Remote work boost performance
According to a study by Stanford University, employees' performance is boosted by 22% when they work from home.
—
In order to overcome the challenges of remote work and enjoy its benefits, all teams need to work on how they communicate. In the following section, we'll talk about what teams can do to improve team communication when working remotely.
How to improve communication in remote teams
The lack of communication/engagement with co-workers worries as much as 78% of remote managers who've had no training on how to work remotely. In contrast, 67% of managers who've had this training show concerns about the lack of communication/engagement with co-workers.
But, remote communication can be just as efficient, or even more than, in-person communication at the office — if both managers and employees make the effort to implement and follow the right strategies.
Cover remote work training
The first step towards improved remote team communication involves undergoing the necessary training to carry it out efficiently. Employers and team leaders should make the effort to educate their remote teams about the digital skills they need to possess, explain the remote communication etiquette they need to follow, and also cover cross-cultural training for culturally diverse remote teams.
Cover the necessary digital skills
In order to work together properly, remote teams need to use the right technology.
These tools are meant to help:
Remote team members and managers communicate and collaborate on a daily basis;
Remote managers manage projects and tasks on a daily basis;
Remote team members and managers track and indicate progress with projects and tasks.
Because of this, it's important that the said remote team members and managers hone their digital skills and learn how to use the prescribed communication and collaboration apps, project management tools, and other software meant to help them carry out their work from afar.
Cover cross-cultural training
A work-from-home arrangement has another crucial benefit to your HR department — the opportunity to attract and hire top-notch professionals, regardless of their current geographical area. But, operating in such cross-cultural remote teams also brings a crucial challenge to everyone involved — cultural differences in terms of norms, customs, and beliefs that may trigger stereotyping, prejudices, and biases in some teammates, unless proper cross-cultural training is implemented.
🔸 Example: Boing, the largest aerospace company in the world with 330,000 employees spanning across 28 countries, implements a mixed approach to cross-cultural training. Namely, they:
use internal and external trainers;
organize employee rotation programs;
implement online training modules;
coordinate afternoon seminars;
arrange 1-on-1 training sessions.
This helps staff be more culturally aware when interacting with passengers, but also, each other.
For maximum effect, the internal and external trainers you introduce should dispel stereotyping, prejudices, and biases about different cultures, as well as help cross-cultural teammates learn about each other's cultures. For this purpose, the trainer can organize informative lectures, activities, and virtual events — but also encourage people to get to know each other through informal conversations. The better teammates understand each other's cultures, the better will they be able to communicate.
Cover remote communication etiquette
In order to communicate effectively when operating in a work-from-home arrangement, remote teams also need to follow a clear remote communication etiquette.
REMOTE COMMUNICATION ETIQUETTE FOR MANAGERS:

Organize regular check-ins — To track what people are currently working on, organize regular 1-on-1 or group check-ins to allow the members of the team to ask questions or provide/solicit feedback.
Over-communicate, but don't micromanage — Feel free to over-communicate a task or project you are delegating to ensure expectations and desired outcomes are clear. But, don't micromanage the way the delegatee will work on the said task or project.
Manage work across different time zones — If the remote team members operate in different time zones, organize virtual events, meetings, and team-building activities at times that work for everyone. If this is not possible for all members of your remote team, organize virtual events, meetings, and team-building activities in groups.
Manage language differences — If the members of your remote team have different mother tongues, identify the language they are most comfortable communicating in (e.g. English, Chinese, Spanish, etc.) and conduct all team communication in this language.

REMOTE COMMUNICATION ETIQUETTE FOR EVERYONE:

Attend relevant meetings — If unable to attend a meeting where your attendance is expected for whatever reason, notify the team beforehand.
Manage asynchronous communication — To avoid misunderstandings and confusion in situations where people cannot always count on receiving answers to their questions in real-time, offer detailed wiki pages with answers to FAQ (e.g. sick leave, vacation, workflows, work hours, work conduct, and other official policies). Make your schedule/to-do list publicly available online, so that people understand when is the best time to contact you, and what you are currently working on.
Keep an eye on app notifications — Try to answer calls and messages as fast as possible, but clarify when you don't want to be disturbed.
Check whether someone is currently online, before sending a message — If the person you want to message is currently offline from the team communication app, either wait for them to be online, or send them a message now and be patient before they reply.
🎓 In Pumble team chat app, you can notify your remote team that you wish not to be disturbed by pausing notifications for 5 minutes, 30 minutes, 1 hour, or 2 hours — depending on the length of uninterrupted focus you need to finish a task at hand. Alternatively, you can create a fixed notifications schedule that will clarify your work hours, and when people should reach out to you to talk.
Define and follow work expectations
One of the most important prerequisites for successful remote communication is making sure expectations are clear and complied with. What is the remote mission and vision of your team? What are the values you uphold? What are the work hours? What communication and collaboration tools will you use? The managers need to be clear when defining their expectations, and employees need to be diligent in following them.
Define a mission, vision, and values for remote work
A mission statement is a sentence or a short paragraph that explains the existence of a business, nonprofit, or organization. A vision statement brings a team together around the same goal, provides guidance and motivation for all teammates, and strengthens the feeling of belonging to a team. Values are the philosophies, beliefs, and principles that drive your company, nonprofit, or organization.
Every remote team needs them, so managers should make extra effort in communicating them to employees clearly.
When defining a mission, vision, and values for your remote team, ask yourself the following questions:
What does your ideal remote team look like?
How does your remote team work together?
What makes the vision of your remote team unique?
What makes the mission of your remote team unique?
What are the key values you work by?
What drives your ideas?
What makes your ideas different?
How do you see your remote team in the future?
How do you plan to inspire people who join your virtual team?
🔸Example of a mission statement:
The mission statement of GitHub, a famous remote team:
"To help every developer—regardless of experience level—learn, code, and ship software effectively."
🔸 Example of a vision statement:
GitHub's vision statement:
"To remain an open platform for all developers."
🔸 Examples of team values:
GitHub's values:
"Collaboration, Empathy, Quality, Positive Impact, and Shipping"
Define and follow work time rules
Establishing clear rules about work time is crucial for the success of a remote team:
Will you work a fixed 9-to-5 schedule?
Will you mandate that teammates work 8 hours per day, at their own discretion?
Will you prescribe a flexible work schedule that mandates employees work 8 hours per day between certain hours of the day (e.g. start from 7 am – 11 am, and then work 8 hours).
Will you prescribe a hybrid solution that mandates employees work 5 hours per day on a fixed schedule, and 3 hours per day at their own discretion, with a total of 8 hours per day?
Whatever rules about work hours managers want to implement, they should communicate them clearly. Employees should, in turn, make the effort to abide by these rules about work hours, and ask questions if they find something unclear.
Use the right remote work tools
Tools for remote workers are crucial for successful communication within remote teams.
They help remote managers plan, organize, direct, and control resources from afar.
They help remote employees collaborate and communicate with teammates and managers from afar.
🔸Tools for remote working that are suitable for all types of remote teams include:
Google Calendar is a scheduling tool for organizing and syncing meetings, events, and other team activities.
Pumble is a free team chat app alternative to Slack and Microsoft Teams that facilitates team communication and collaboration, thorough direct messages, as well as public and private topic-related channels.
Clockify is a free time tracker for unlimited teams who wish to record work hours across projects and track employee attendance.
Asana is a project management tool for managing tasks and projects across to-do lists and Kanban boards.
Zoom is a cloud-based video communications app for video and web conferencing.
Evernote is a note-taking app for organizing team notes and clipping photos, links, PDFs, and web articles.
Google Drive is an online storage space for uploading and sharing resources, with the option to create documents, sheets, and presentations, and then edit them together with your team, in real-time.
Freshteam is an HR software for onboarding, recruiting, and managing time off.
World time buddy is a time converter app for organizing synchronous work across different time zones.
🔸Tools for remote working that are industry-specific include:
Figma is a collaborative interface design tool for designers and software developers that allows simultaneous editing in real-time.
Demodesk is a screen-sharing platform that helps sales teams demonstrate products remotely.
GitHub is a code hosting platform that helps software developers manage version control and collaborate.
Freshdesk is a customer support software that helps remote agents assist customers through predefined sets of responses.
Hootsuite is a Social Media management system meant to help marketing teams manage the Social Media accounts of their clients.
Moodle is a course management system that helps educators establish a learning environment online.
Define and follow meeting rules
Considering that remote teams cannot meet for in-person meetings whenever they like, extra effort should be made to make virtual meetings efficient and productive. So, think about the types of virtual meetings you'll implement, their agendas, attendees, lengths, etiquette, and other logistics.
Define the types of virtual meetings — and their agendas
First, decide what type of meetings you will implement — the type of meetings will also determine their agendas:
Will you have meetings where you'll discuss progress on projects and tasks?
Will you have all-hands meetings?
Will you have 1-on-1 check-in meetings?
Will you have wellness meetings between the HR team and groups of teammates?
In gist — you should have all the above-listed meetings:
Project progress meetings will help everyone stay on track with who is working on what, and how the project is developing on the whole.
All-hands meetings are a great opportunity for the CEO and senior managers to share key company news, opportunities, and plans for the future.
1-on-1 check-in meetings are a great solution for managers to provide and get feedback.
Wellness meetings are a great opportunity for teammates to share work-from-home challenges and bond.
Decide who'll attend virtual meetings
Once you've decided the types of virtual meetings you wish to implement, decide who will attend them:
Teammates who are actionable contributors to the progress of a project should attend the project progress meetings.
All employees should attend the all-hands meetings.
The manager and individual teammates should attend check-in meetings.
The HR department can divide teammates into diverse groups and schedule wellness meetings accordingly.
Decide when you'll organize the virtual meetings
Once you've decided who will attend your virtual meetings, decide when you will organize them:
Project progress meetings should be organized on a daily or at least a weekly basis.
All-hands meetings should be organized every quarter, i.e. every three months.
1-to-1 check-in should be organized on a weekly or bi-weekly basis.
Wellness meetings can be organized on a monthly basis.
Decide how long the virtual meetings should last
After you've decided when you'll organize the virtual meetings, decide how long these meetings should last:
Project progress meetings should last between 15 and 30 minutes, depending on the size of the project team.
All-hands meetings should last up to 1 hour — that's enough time for the CEO and senior managers to present new information and answer questions, without losing the interest of the audience.
1-to-1 check-in meetings should last no longer than 30 minutes.
Wellness meetings can last 45 minutes or 1 hour, depending on the size of the group and topics covered.
Decide how you will organize these virtual meetings
Now we get to the crucial question — considering you can't organize in-person meetings on a regular basis (or, in some cases, at all), how will you carry out virtual meetings for your remote team?
Well, you can handle various types of virtual meetings in various ways.
All-hands meetings are usually akin to public speeches — one or two people talk, and the others listen. In line with that, virtual all-hands meetings should put an emphasis on the speakers and help their words make a mark on the audience. So, a video call that allows the inclusion of visual components — such as presentations that highlight key numbers and facts — is the ideal choice.
1-to-1 check-in meetings can be handled via video or audio calls, or via direct messages.
Group wellness meetings should be handled via video calls — the participants should be able to see each other.
You can organize video calls for daily or weekly project progress meetings. Alternatively, if key teammates often don't have the time to attend virtual video meetings, you can have teammates write their progress reports in threads within your team chat app. This way, you'll also have a written record of everyone's project progress, for future reference.
A thread for project progress meetings in Pumble chat app
Establish and follow virtual meeting etiquette
In our guide to how employees can improve team communication, we already talked about the common meeting etiquette that includes the following items:
Show up on time;
Don't look at your phone;
Have a positive attitude;
Stay mentally present;
Listen to others;
Have an open mind;
Ask questions when you don't understand something;
Answer questions when you propose an idea.
The above-listed rules should apply to your virtual meetings as well — alongside other, more specific pointers:
According to a survey by Owl Labs, the prospects of background noises interrupting calls are a great concern for 73% of remote managers who've had no training in remote management and 63% of remote managers who've had this type of training. So, all attendees should make the effort to actively manage background noise, by:
finding a suitable quiet space with minimal background noise before joining the meeting;
noise-canceling headphones to block outside noise people have no control of and cannot get away from;
informing family members or roommates of the meeting schedule so they don't interrupt;
using a specialized app to block unwanted noise in calls (e.g. Krisp, Noise Gate, Cadmus, etc.).
Manage the microphone
Everyone should put their microphones on mute when they're not speaking, to minimize background noise further.
Depending on previous agreements, everyone should turn their cameras on or off.
Virtual meetings can make it even more difficult for everyone to speak up. The manager or team leader should actively solicit input from individuals.
As meetings such as daily project progress meetings draw to a close, the manager or team leader should make conclusions and plans for the future with clear action items.
Share notes and additional materials
At the end of progress report and all-hands meetings, the managers, CEOs, and team leaders can share a recap of the discussions and conclusions made, and share resources mentioned during the meeting.
Establish a remote team culture
Considering that remote teammates are physically distanced, building a remote culture can be a challenge.
But, it's always worth the effort, considering that a well-established team culture:
provides a support network across the team;
builds trust;
improves morale;
strengthens professional relationships;
improves the sense of belonging;
helps resolve conflicts quicker;
helps attract top talent.
In order to establish a team culture in a work-from-home arrangement, managers can help create casual non-work spaces for socialization, organize virtual breaks, and hold virtual events where employees can participate in fun activities and get to know each other better.
Create and participate in casual non-work spaces
Instant messaging platforms like Pumble are a great place to start, when it comes to providing your team with a virtual "water cooler". Instead of simply creating public and private channels for work (e.g. #sales, #development, 🔒devops, #support, #pediatrics, #class_resources, etc.), you can also create public and private channels where teammates can:
share news and insightful articles (e.g. #current_news, #hbr, #nytimes, etc.);
discuss hobbies (e.g. #hobbies, #art, #books, etc.);
swap playlists (e.g. #spotify_playlists, #music, #productivity_music, etc.);
talk about cooking (e.g. #recipes, #desserts, etc.)
vent (e.g. #kids, #house_work, etc.);
share travel stories (e.g. #travel_recommendations, #travel_photos, etc.);
Have some fun (e.g. #mini_games, #memes, #quizzes, etc.)
recommend movies and games (e.g. #movie-recommendations, #game_recommendations, etc.);
A public channel dedicated to recommending movies in Pumble chat app
Hold virtual breaks
Virtual breaks are a great opportunity to socialize with the people you work with — so, each day you can organize/participate in different 5 to 15-minute break activities. During these virtual breaks, you can instruct people to use video calls to help them better connect during breaks.
Activities you can organize include:
An online coffee and tea tasting experience
Send your teams coffee and tea kits and have people taste them during a particular break. Then, comment on the impressions.
Mini-games with sports, history, and pop culture trivia during which people will compete individually or in groups. You can even organize prizes for the winners.
Virtual guided meditation
Quick 5-minute mindfulness exercises, to help everyone achieve stress relief, as well as a better physical and mental balance.
Quick 5 to 10-minute workouts (e.g. a total-body cardio blast, stretching workouts, plank, etc.) to help people get energized, and ease the negative effects of sitting in front of the laptop/computer for hours on end.
To help remote teammates get to know each other better, you can organize and participate in personal trivia quizzes that pair up employees and then have them guess their childhood nicknames, favorite subjects in school, childhood pets, and similar fun trivia about their colleagues.
Hold virtual events
According to a survey conducted by TeamBonding, as much as 65% of remote employees report that they have never had a team-building or virtual event. However, such events are a great opportunity to help teams develop trust, establish collaborative relationships, and improve team culture on the whole.
You can organize and participate in:
Virtual game nights can include longer versions of the pub-style trivia and personal trivia quizzes, popular multiplayer video games, and mini-competitions in succession.
Virtual cultural festivals
Your remote team can flex their culture muscles with virtual film and music releases, art exhibits, online talks, workshops, and webinars in various online spaces.
Virtual wellbeing classes
A combination of workout exercises, yoga, meditation, and dance fitness is a great way for remote teams to stay healthy, relieve stress, relax, and have some fun together.
Virtual tours of your colleague's home offices
Teams who work in an office setting get to tour the office premises, at one point. Remote teams can have some fun by enjoying virtual tours of their remote teammates' home offices, apartments, and houses. These virtual tours can be done on a weekly basis — pick a day of the week when a teammate will guide a virtual tour around their premises, and talk about their work routine.
Virtual team-building activities
Team building activities for remote teams can involve
ice-breaking games that will help assimilate new team members;
time management/planning games that will help teams practice the time management and planning skills they need for real-life work activities;
communication games that will help teammates hone the skills they need to communicate effectively.
Perfect your writing skills
As previously mentioned, a survey by Workplaceless implies that 59% of people believe written communication is the most important type of communication for remote teams.
After all, written communication brings several benefits to remote teams:
It is suitable for long-distance communication;
It is suitable for asynchronous communication;
It creates a permanent record people can use for future reference;
It gives people the time to think about and formulate what they want to say;
It can be sent to several people at a time;
If clear, exact, and concise, written communication can minimize ambiguity;
In line with that, you should make the effort to perfect your writing skills. To do so, you'll need to ensure that your written communication follows the seven Cs of effective written communication, that you avoid assumptions, and that you enrich your written words with visuals, where appropriate.
Follow the 7 Cs of effective written communication
No matter whether you are initiating a written conversation with a teammate or manager, or replying to them, always make sure you follow the seven Cs of effective written communication:
Ensure your writing is clear in purpose and expressions, and thus easy to understand. Use plain language to avoid misunderstandings and confusion. Use bullet lists to make important information easy to find.
Ensure your writing represents a logical flow of interconnected ideas whose individual parts contribute to the intended meaning of a whole. Pick your words and phrases carefully. Organize your sentences, paragraphs, and the information they offer in a logical manner.
Ensure the reason for your writing is clear both to you and the person you are communicating with. Ensure the other person understands your expectations.
Ensure your writing sticks to the point. Leave out what you don't need, to avoid overwhelming or confusing the other person. Pay attention to your wording, to communicate your thoughts in the most efficient way you can.
Ensure you use the correct tone, appropriate language, as well as correct grammar and spelling errors. After all, erroneous writing harms your credibility as a communicator.
Ensure your writing demonstrates your competence, professionalism, and your ability to think and express yourself clearly.
Ensure your writing is open, friendly, and honest. Don't be passive-aggressive or patronizing. Instead, be direct and assertive, but attentive to the opinions of other people, and empathic to their needs.
Always state your assumptions
You may assume that the person you are writing to understands the context of your request. That they understand why you are asking them a particular question. That they understand why you are addressing them about a particular subject.
Whatever you assume about the person you are communicating with — don't.
Instead, make sure the said person is familiar with the report, work directive, or policy you are referencing — by stating your assumptions directly and thus making the effort to clarify whether they are true or false.
Whatever you are unsure of, ask.
If the other person has some additional questions, answer them with credible information.
When considering whether to assume something or over-communicate it — always choose to over-communicate it.
Enhance your writing with visuals
The previously mentioned Workspaceless survey highlights that 23% of people attach great importance to visual communication — so, when appropriate, try to enhance your written words with some visuals.
To convey a specific reaction or emotion — use emojis.
Emojis in Pumble chat app
If there is a TED Talk that gives credibility to your idea, share a link to it.
If there's an infographic that perfectly summarizes your point of view, a copyright-free image you want to use in your new sales presentation, or an illustrated report about a relevant topic, share it as an attachment.
Visual communication will almost always enhance the effect of the ideas, thoughts, and opinions you write to initiate a conversation, or as a reply — after all, a report by Wyzowl shows that people are 80% more likely to remember what they see.
Wrapping up
Operating in a work-from-home arrangement where teammates are physically remote may seem like a serious obstacle to effective communication.
But, if the managers organize a thorough remote work system, and if the employees follow it, everyone can enjoy the benefits of remote work.
The steps to take towards a successful remote work system include remote work training, clearly defining and following expectations, defining and following meeting rules, establishing a remote team culture, and perfecting the team's writing skills.
As a result, you'll establish a work environment where effective communication thrives and helps you build excellent teamwork— even though your workstation is not located next to your teammate's desk, but rather a couple of blocks away, or even on another continent.
References
Arruda, W. (2020). 6 Ways COVID-19 Will Change The Workplace Forever. Forbes. Retrieved 16.04.2021, from https://www.forbes.com/sites/williamarruda/2020/05/07/6-ways-covid-19-will-change-the-workplace-forever/?sh=5c2f90d5323e
Becker Friedman Institute. (n.d.). Key Economic Findings About COVID-19. Retrieved 16.04.2021, from https://bfi.uchicago.edu/key-economic-facts-about-covid-19/
Clockify. (n.d.). Work-Life Balance & Quality: Statistics & Facts. Retrieved 16.04.2021, from https://clockify.me/work-life-quality-balance
Gartner. (2020). Coronavirus in Mind: Make Remote Work Successful! Retrieved 16.04.2021, from https://www.gartner.com/en/documents/3981830/coronavirus-in-mind-make-remote-work-successful-
Gartner. (2020). Gartner HR Survey Reveals 88% of Organizations Have Encouraged or Required Employees to Work From Home Due to Coronavirus. Retrieved 16.04.2021, from https://www.gartner.com/en/newsroom/press-releases/2020-03-19-gartner-hr-survey-reveals-88–of-organizations-have-e
Global Workplace Analytics. (n.d.). Work-At-Home After Covid-19—Our Forecast. Retrieved 16.04.2021, from https://globalworkplaceanalytics.com/work-at-home-after-covid-19-our-forecast
Parker, S.K., Knight, C., & Keller, A. (2020). Remote Managers Are Having Trust Issues. Harvard Business Review. Retrieved 16.04.2021, from https://hbr.org/2020/07/remote-managers-are-having-trust-issues
Upwork. (n.d.). Where Remote Work Saves Commuters Most. Retrieved 16.04.2021, from https://www.upwork.com/press/releases/where-remote-work-saves-commuters-most
Workplaceless. (n.d.). Remote Work Communication Challenges – Are You Prepared? Retrieved 16.04.2021, from https://www.workplaceless.com/blog/remote-work-communication-challenges