What's the first thing that comes to mind when you think of leadership?
For many, it's probably not the word "servant", right? While traditional leadership approaches highlight control and authority, servant leadership takes us down a different path. Servant leaders stand out because of their care for team members and focus on providing value to the entire community.
In this post, we'll delve deeper into the topic and examine:
The 10 principles of servant leadership,
The characteristics servant leaders exhibit,
The benefits and drawbacks of this leadership style,
How servant leadership compares to other approaches, and
Tips on becoming an effective servant leader.
Without further ado, let's jump right in.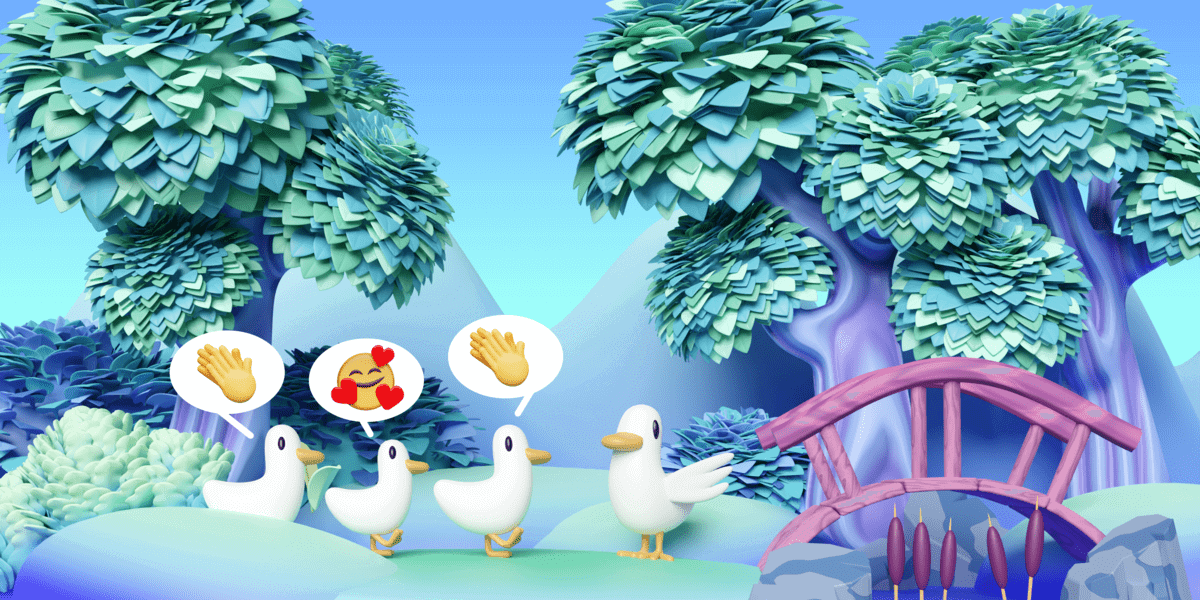 What is servant leadership?
Servant leadership is a somewhat contradictory concept. After all, leaders are powerful people who exert influence over others. However, the servant leadership theory manages to blend the notions of serving and leading. Thus, it challenges the mainstream outlook on leadership roles and offers a fresh perspective.
The origins of the servant leadership theory date back to the 1970s. Robert K. Greenleaf, the founder of the Greenleaf Centre for Servant Leadership, published his highly influential essay, The Servant as a Leader, in 1970. The text provided the first modern servant leadership definition, with Greenleaf writing:
"The servant-leader is servant first. [… ] It begins with the natural feeling that one wants to serve, to serve first. Then conscious choice brings one to aspire to lead. That person is sharply different from one who is leader first."
Greenleaf then goes on to explain why servant leaders stand out:
"The difference manifests itself in the care taken by the servant-first to make sure that other people's highest priority needs are being served. The best test, and difficult to administer, is: Do those served grow as persons? Do they, while being served, become healthier, wiser, freer, more autonomous, more likely themselves to become servants? And, what is the effect on the least privileged in society; will they benefit, or, at least, not be further deprived?"
Over the years, researchers and scholars have proposed different versions of the servant leadership model. But, the general consensus remains close to Greenleaf's ideas, agreeing that a servant leader:
While a good starting point, Greenleaf's servant leadership definition doesn't touch on the principles behind the approach. For this reason, we'll now dedicate the following lines to the 10 servant leadership principles to provide a comprehensive overview.
The 10 principles of servant leadership
Building on Greeleaf's work, Larry Spears, a modern authority on this leadership model, articulated the 10 principles guiding servant leaders toward success. These servant leadership principles are:
Listening,
Empathy,
Healing,
Awareness,
Persuasion,
Conceptualization,
Foresight,
Commitment to the growth of people,
Stewardship, and
Building community.
Let's learn about each one in more detail.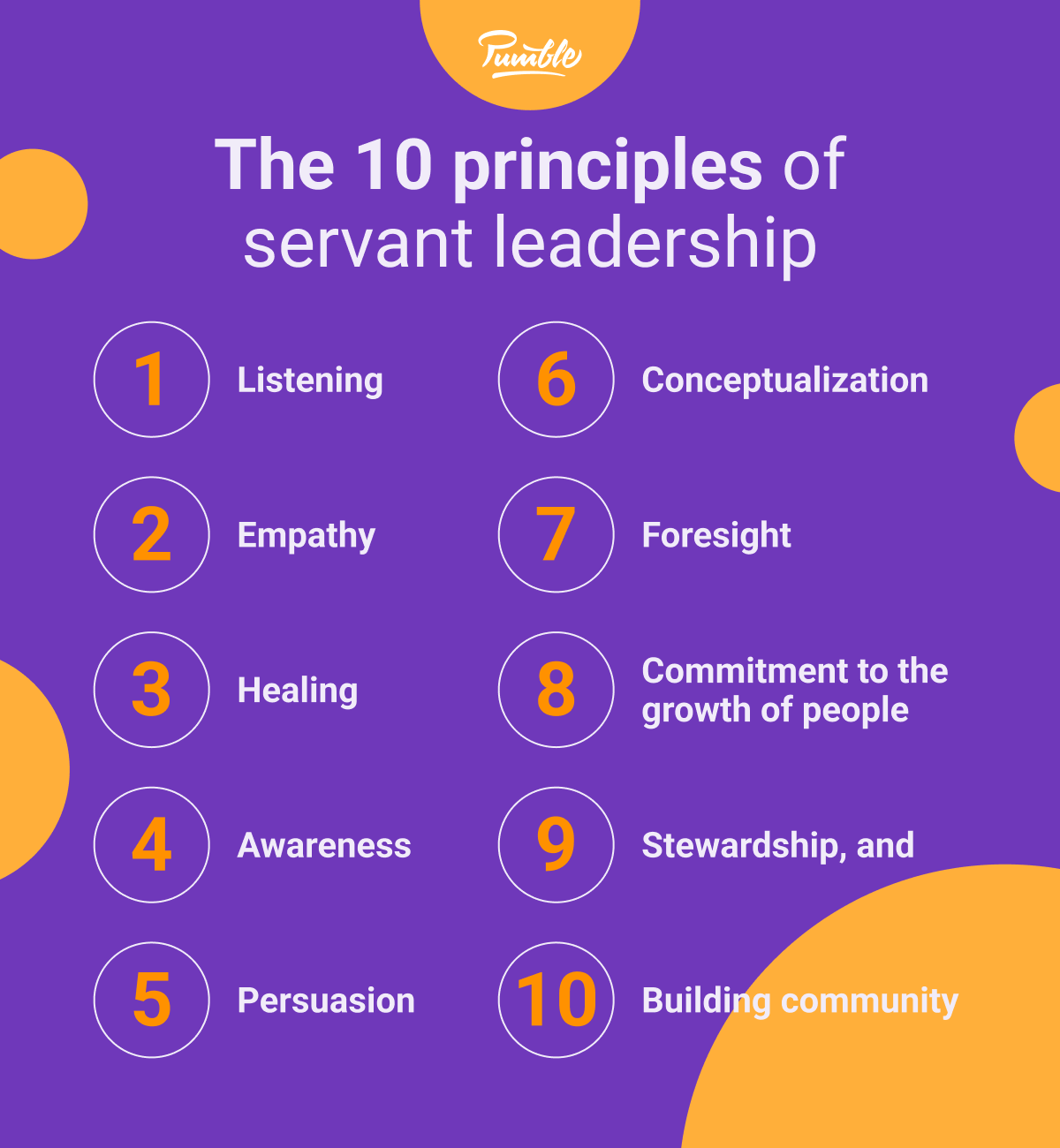 Principle #1: Listening
Servant leaders are effective communicators not only because they have a way with words but also because they listen first.
Sending and receiving messages in verbal communication is an interactive process, and servant leaders always begin by hearing out the other side. Thus, they validate the feelings of their interlocutors by taking the time to adopt a different viewpoint.
💡 Pumble Pro Tip
Listening is a skill, and you can master the discipline even if you're yet to assume a leadership role. To learn more about active listening and how it aids in conflict resolution and nurturing mutual understanding, check out this guide:
Principle #2: Empathy
Similar to how a servant leader engages in deep listening to better understand their interlocutor, they have no qualms about taking a metaphorical walk in someone else's shoes. Because they know that no situation is simply black or white, they strive to learn about it from all angles before reaching a decision.
In a business setting, this benefits employees as their superior will try to find impartial solutions that will strengthen their team the most.
Principle #3: Healing
According to Greenleaf, healing refers to a leader's desire to help followers overcome personal and professional hurdles. Hence, he views it as a holistic practice leaders can facilitate through:
Mentoring,
Coaching, and
Discussions.
Through the above activities, all participants take part in what Greenleaf terms "the search for wholeness." This pursuit allows them to open doors to opportunities for personal development and professional growth.
Principle #4: Awareness
Self-awareness is crucial in becoming a better servant-leader. This quality allows you to:
Navigate ethical dilemmas,
Wade through power dynamics, and
Consider different values.
Additionally, it helps you see circumstances from an interconnected perspective, without leaving anyone behind.
In a professional environment, it's an invaluable problem-solving tool, assisting leaders to approach an issue first inwardly, examining internal factors before moving on to external ones.
Principle #5: Persuasion
Another core principle servant leaders rely on is persuasion. In the business landscape, leaders hold executive and managerial positions, and some choose to lead solely by leveraging their positional status and power.
Servant leaders actively engage in persuasive communication rather than coercing someone to reluctantly agree with them. Consequently, they're simultaneously reasonable and empathetic in their conversation.
💡 Pumble Pro Tip
Persuasion is only one part of effective leadership communication. To read up on the subject, see this exhaustive blog post:
Principle #6: Conceptualization
Spears, who espoused Greenleaf's ideas and contributed to the contemporary iteration of the servant leadership model, believes that servant leaders ought to find that sweet spot "between conceptual thinking and a day-to-day operational approach."
Interpreted like this, conceptualization is a leader's commitment to preventing day-to-day activities — which may become overwhelming in a professional environment — from eating away at their energy and the organization's vision.
For example, if the tech industry is going through massive layoffs worldwide, it would be unsurprising for a CEO of an up-and-coming startup to panic.
However, a person following the servant leadership model would reassess the business's bigger picture. After careful consideration, they would inform their employees how to move forward and schedule a meeting to ensure everyone is in the loop.

Principle #7: Foresight
The principle of foresight refers to how servant leaders consider both the past and present situation to make sound decisions for the future. Without foresight, Greenleaf believed, leaders would lose the capacity to confidently guide others to future successes.
Principle #8: Commitment to the growth of people
One of the most powerful things about servant leaders is that, despite someone's current skill level, they firmly believe that everyone can grow and change for the better.
Consequently, the leadership is collaborative, guided chiefly by a team-centric mindset.
Principle #9: Stewardship
Historically, stewards had the task of preparing future monarchs for taking the throne, instilling in them the principles of what makes a good sovereign.
Stewardship, in Greenleaf's interpretation, takes inspiration from this medieval notion. Therefore, a servant leader is responsible for acting in the best interest of the people around them.
For instance, a business owner who has been offered a significant lump sum to sell their company will surely be tempted to say goodbye to his venture. Yet, because they care for the employees, the business owner will reject the offer after realizing the interested party doesn't care much for the workforce.
Principle #10: Building community
All humans have specific social needs, which are present even when we join the workforce. When these needs for communal bonds are not met, we may experience poor mental health, symptoms of burnout, and isolation.
For this reason, servant leaders go the extra mile to create a positive environment that validates the sense of belonging of others.
What are servant leadership characteristics?
Over the years, researchers have proposed several attributes that define servant leadership. In the below lines, we've outlined the 7 most common characteristics of servant leaders.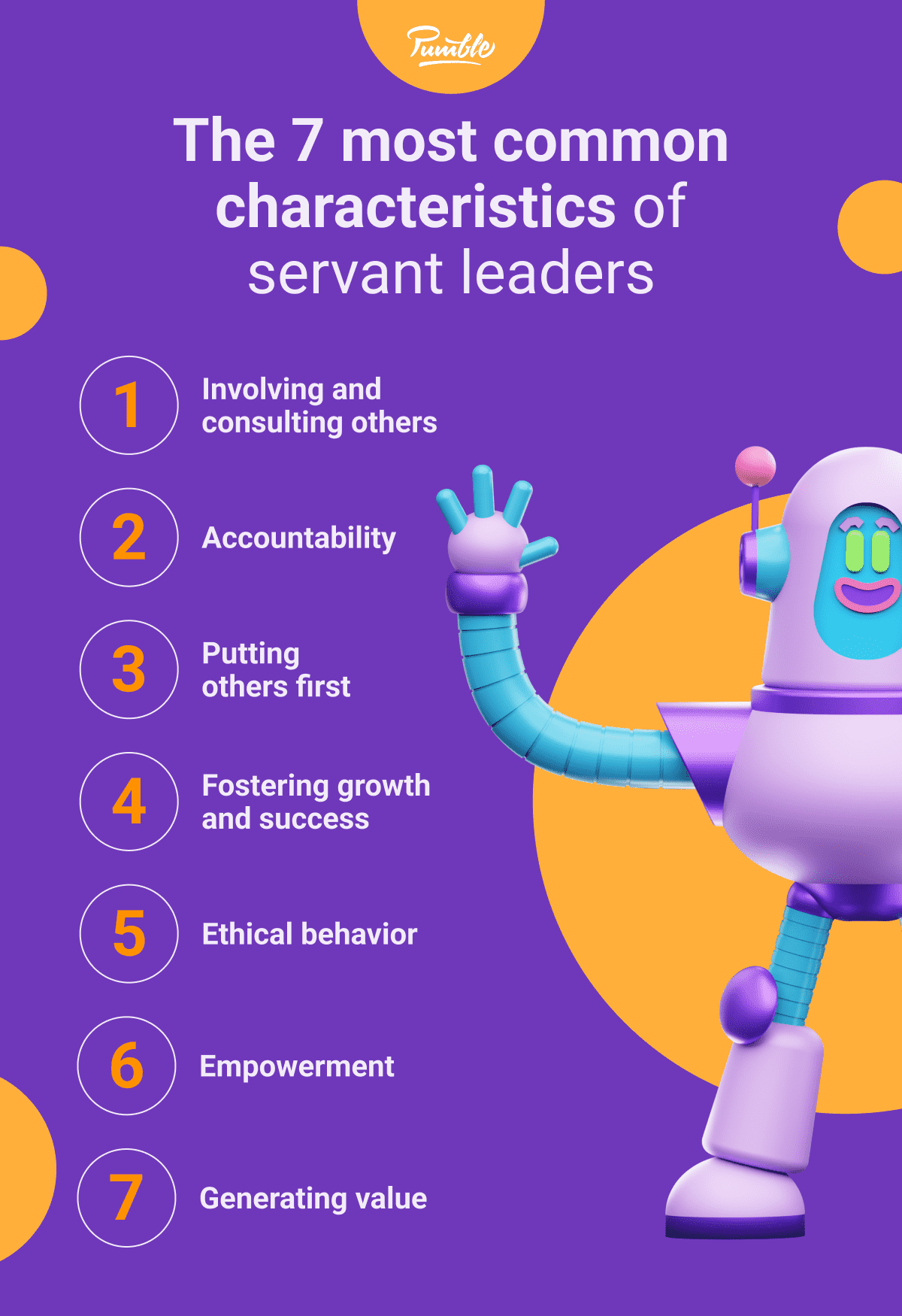 Characteristic #1: Involving and consulting others
The attitude of servanthood isn't about standing out from the crowd and being a one-person show. Rather, it is about teamwork and collaboration and making sure everyone is involved in the decision-making process.
Characteristic #2: Accountability
Accountability is arguably the gold standard of effective leaders. This characteristic entails following through on commitments and showing others they can rely on you to deliver on your promises.
Accountable leaders readily take responsibility for their actions and consistently deliver results, whether in-person or in a remote work environment. More importantly, they inspire accountability in others, regardless of their role or status.
💡 Pumble Pro Tip
For remote workers, staying accountable and on track can sometimes be a struggle. To find more information on how to establish accountability as a remote worker, see this blog post:
Characteristic #3: Putting others first
For those who follow the serve-first mindset, the bottom line doesn't trump putting people first. Some servant leaders come up with creative ways to express appreciation, but for others, it could be as simple as saying a few kind words.
No matter how small, kind gestures contribute significantly to solidifying a strong, loyal, and tight-knit community.
Characteristic #4: Fostering growth and success
Traditional top-down leadership styles have often placed too much emphasis on end goals. These approaches may work in the short term, but people suffer in the long run, usually losing their drive and energy.
Servant leaders, on the other hand, prevent this situation by giving their followers a sense of purpose and valuing their expertise. Thus, they foster sustainable growth and success in an environment where everyone has the support necessary to thrive.
Characteristic #5: Ethical behavior
Servant leaders are also known for their ethical conduct. Decision-making and ethical considerations go hand in hand in nearly all iterations of the servant leadership theory.
Namely, servant leaders use personal values, such as integrity and honesty, as guideposts that help them do the right thing and fulfill obligations. As a result, their conduct establishes a benchmark for other people, compelling them to act in a similar manner.
💡 Pumble Pro Tip
Ethical behavior also encompasses ethical communication. To read up on this topic, see this blog post:
Characteristic #6: Empowerment
As a psychological construct, empowerment covers several aspects:
Allowing employees to work on goals that align with their personal values,
Giving people a higher sense of capability and competency, and
Providing people with the ability to make autonomous decisions regarding their tasks.
Servant leaders are aware of the above points and strive to create an environment that fosters empowerment. So, the behavior associated with servant leadership is beneficial not only for the leader but for those around them too.
Characteristic #7: Generating value
In one sense, servant leaders are like guides who turn work into a meaningful journey.
Thanks to their empowerment and guidance, employees are fulfilled, and this happy attitude becomes part and parcel of how they interact with customers.
As employee and customer satisfaction increase, turnover rates decrease, generating value for the entire business. Hence, the servant leadership model can be useful for companies looking to increase profits while operating on a more human-centered model.
Examples of servant leadership
Knowing the principles of this leadership style is helpful, but who are the people who embody them?
To get a clearer picture, we'll look at a few famous servant leadership examples.
Example #1: Dr. Martin Luther King Jr.
"Everybody can be great, because everybody can serve."
Renowned activist and human rights leader, King is one of the most recognizable representatives of servant leadership. He advocated for equality by emphasizing moral standards and bringing attention to the well-being of underrepresented communities.
Example #2: Howard Shultz, former CEO of Starbucks
"When you're surrounded by people who share a passionate commitment around a common purpose, anything is possible."
Serving as the CEO of Starbucks, Shultz aimed to empower employees to launch the company to new heights. Advocating for a more relationship-driven approach, Shultz was behind several initiatives, including open forums where employees could ask questions and suggest new resources to improve performance. Such practices allowed the company to reach its business goals and cultivate an atmosphere of transparent communication.
Example #3: Herb Kelleher, the co-founder of Southwest Airlines
"I have always believed that the best leader is the best server. And if you're a servant, by definition, you're not controlling. We try to value each person individually and to be cognizant of them as human beings — not just people who work for our company."
While Kelleher served as the company's CEO, Southwest's top priority wasn't revenue or customer satisfaction. Instead, the business centered around employee engagement and experience. The company's impressive financial success was a direct result of this strategy.
Example #4: Bob Chapman, CEO of Barry-Wehmiller
"The job of leaders is to steward the people who are in their care."
The manufacturing services and technology supplier employs approximately 12,000 people, yet Chapman has taken steps to position caring and people at the core of the business model. According to Chapman, when people sense that you value and respect them, they carry that same behavior forward. The ripple effect is an environment where people are happy to be at their workplace because their contributions matter in a tangible and human sense.
How servant leadership compares to other approaches
While suitable for the above-mentioned people, servant leadership may not always be the most appropriate option. To assess how it fares against other approaches, we'll lay out 3 comparisons below.
Comparison #1: Servant leadership vs. traditional leadership
Traditional leadership sits directly opposite servant leadership, using vastly different methods. The leader's authority and influence over the business's direction are at the center of this leadership style. On the other hand, as we've seen, servant leadership is only effective when there's input from team members and ongoing collaboration.
Another facet of traditional leadership is its use of punishments and rewards to condition desired behavior. In a business setting, this may include benefits, perks, bonuses, and demotions. However, servant leadership forgoes these external motivators and underscores the importance of empathy and understanding internal motivations and needs of team members.
As traditional leadership is typical of organizations with a strict hierarchical structure, leaders leverage their status and authority to get followers to comply and spur business growth. This goal takes a backseat in servant leadership because the development and success of followers is the long-term aim.
| Leadership style | Traditional leadership | Servant leadership |
| --- | --- | --- |
| Methods | Authority and influence | Feedback from followers and team members |
| Conditioning behavior | Through rewards and punishments (bonuses, benefits, demotions, etc.) | Through empathy and internal motivation |
| Main goal | Organizational growth | Success and development of followers |
Comparison #2: Servant leadership vs. transformational leadership
Unlike traditional leadership, the transformational approach is much closer to the serve-first model.
Similar to how servant leaders strive to provide followers with value, purpose, and job satisfaction, transformational leaders seek to inspire others and unleash their full potential.
But, there is a slight difference. Servant leaders wish to cultivate a serve-first mentality, which turns long-term organizational goals into a community effort. In transformational leadership, the purpose of the company remains the primary purpose, and leaders seek to realize it by aligning the individual goals of their followers with company priorities.
That's not to say that one of these models is better in any significant way.
Any effective leader knows that running a successful organization with a high-performing team means understanding the attitudes, behaviors, and emotions within the environment.
Both of these models encourage examining employee feelings — both positive and negative — to tailor a strategy that doesn't stifle creativity and motivation. Thus, taking elements from both leadership styles may work for those looking for a customizable, supporting leadership model.
| Leadership style | Transformational leadership | Servant leadership |
| --- | --- | --- |
| Leader's role | Inspiring followers to act in the best interest of the organization | Serving followers |
| Follower's role | Achieving organizational goals | Becoming more independent, confident, and skilled |
| Desired outcomes | Organizational gain | Continued development and satisfaction of followers |
💡 Pumble Pro Tip
For a deeper look into transformational leadership, check out this comprehensive blog post:
Comparison #3: Servant leadership vs. followership
Followership involves effectively following directions and supporting the actions of a leader to maximize an organization's performance. Additionally, it can be seen as a relationship in which subordinates view carrying out the orders of their superiors as best as they can as one of their primary responsibilities.
Hence, followership entails accepting and fulfilling your role as a supportive team member and collaborating with your peers to bolster the efforts of your leader.
Depending on the leader's behavior, someone's followership experience may be positive or negative. For servant leaders, creating and maintaining a positive experience for followers beats any other priority.
Comparison
Servant leadership
Followership
Behavior
Creating positive experience for followers
Leading with humility and integrity, and inspiring followers to do the same
Being a supportive team member and collaborating with peers
Following directions and supporting the actions of a leader
The pros of servant leadership
On paper, servant leadership seems like an excellent choice for many businesses and organizations. But, what of its tangible benefits? In the following sections, we'll probe deeper into the pros of servant leadership.
Pro #1: Servant leadership creates a supportive environment
Arguably one of the most significant benefits of servant leadership is that it helps establish a supportive environment. We spoke to Bayu Prihandito, a Certified Psychology Expert, Life Coach, and Founder at Life Architekture, who elaborates on this: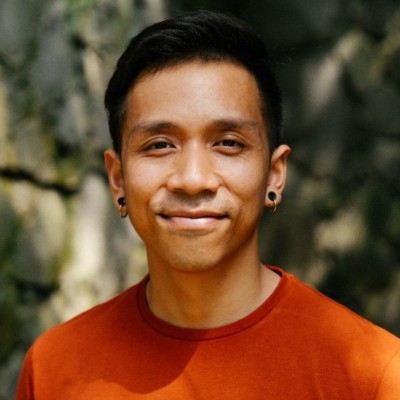 "Servant leaders adopt a holistic approach, focusing not only on business objectives but also on the personal growth of their team members with their unique talents and ambitions."
He further explains: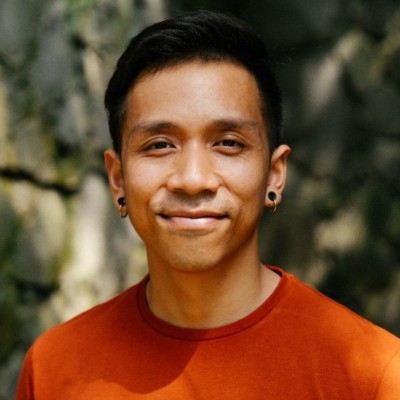 "Servant leaders prioritize their team's growth and well-being, which tends to create a supportive environment and increase employee engagement and loyalty."
Pro #2: Servant leadership promotes psychological safety
According to Google's research from Project Aristotle, team performance primarily hinges on psychological safety. In psychologically safe environments, people feel at ease, and this safety fosters a sense of belonging and inclusion. This in turn builds trust between leadership and staff.
We talked with Brenda Boyle, a Certified Organizational Leadership Specialist and Founder of Fireheart Coaching & Consulting, who also stresses the connection between servant leadership and psychological safety:
"A main benefit of servant leadership is fostering psychological safety. As a leader, when your focus is centered on others, you can naturally facilitate the 4 stages of psychological safety:
Inclusion,
Learning,
Contributing, and
Challenging.
If you view your role as a leader to serve others, you are likely being proactive in drawing out the unique perspective of your team."
💡 Pumble Pro Tip
For an detailed rundown on psychological safety in the workplace, check out this post:
Pro #3: Servant leadership encourages others to be more proactive
Servant leaders become examples of ethical behavior to the people around them. Therefore, their conduct can inspire and cultivate leadership qualities in their followers.
By providing autonomy, leaders can serve their team members and inspire them to become leaders themselves. This approach is highly beneficial for any business, as it fosters a culture of personal responsibility and encourages employees to go above and beyond.
Companies that embrace servant leadership often experience a great sense of community and camaraderie among their staff.
The cons of servant leadership
We'd be remiss to mention the pros of servant leadership without touching on the model's drawbacks. No leadership style is without its flaws, and there are several things you should consider before opting for a serve-first approach.
Con #1: Servant leadership may undermine managerial authority
Servant leaders should recognize that prioritizing their employees' needs can occasionally backfire.
When your team sees you going the extra mile to meet their every demand, your authority as a manager can take a hit.
It can also land you in a tricky situation when your superiors want you to push the team to increase performance, but you don't feel comfortable assuming a more assertive position.
Ultimately, being a caring and empathetic leader doesn't mean you neglect to set high expectations and clear boundaries. You can, in fact, do both, all the while taking care of your team.
Con #2: Servant leadership can make it difficult to balance individual and organizational needs
Unfortunately, the servant leadership model can have adverse effects, especially for well-meaning managers who overprioritize staff needs over organizational goals. Effective leaders need to keep both in mind when making decisions, and focusing too much on one aspect can be counterproductive.
Managers who are overly concerned with avoiding criticism and upsetting their staff may refrain from making tough choices or providing constructive feedback.
Con #3: Servant leadership may demotivate some employees
Another drawback of adopting a servant leadership style is that it can lead to a dip in employee motivation.
Servant leaders are naturally inclined to swoop in and resolve problems as soon as they arise. Consequently, they may offer to finish tasks employees could not finish.
Yet, when this happens repeatedly, it can have a demotivating effect on employees. If they believe their manager will always be available to solve any problems that crop up, they might start slacking at their jobs, seeing as there are no negative consequences.
Tips to become a better servant leader
You may have already begun adopting some principles of servant leadership. However, completely transforming your mindset and getting tangible results takes time, and you might wonder what more you could do.
To make the transition easier, we've shared a few tips that will help aspiring servant leaders lead with both their heads and their hearts.
Tip #1: Work on your communication skills
Smooth and fruitful communication is the pinnacle of a high-performing team. If the leader doesn't work on their communication skills, a shared purpose won't do much to motivate team members.
Thus, continuously working on becoming a good communicator is always a good idea.
And, the first step to successful communication is listening.
Hold off on making any hasty remarks — no matter how constructive — and simply listen. By doing this, you can create an environment where people feel heard and valued.
Asking questions is also vital to creating a dialogue where everyone can share their ideas, thoughts, and concerns. It's essential to be open to new ideas and to, when necessary, challenge them constructively.
But, it's equally important to be vulnerable and honest about your own limitations. When you're wrong, acknowledge your shortcomings, and don't be afraid to ask for help. Not only will you show you're humble, but you'll also indirectly tell your team you believe in their capacity to overcome challenges.
💡 Pumble Pro Tip
Interested in honing your communication skills and advancing your career? Take a look at this thorough guide:
Tip #2: Plan ahead
Many things can catch you off guard when you're in charge of motivating and managing a group of people. This is especially true if you're part of the business world where numerous factors are just out of your control.
Fortunately, careful planning can make navigating challenging times less overwhelming. Thinking about potential obstacles and your responses is a good start. Yet, it would be even better to hold a team meeting so that everyone has the opportunity to give feedback.
You may not have encountered trouble thus far, but when you eventually run into an issue, you'll have a detailed plan with actionable steps. Since you've approached planning as a joint effort between teams and leadership, the team members will have faith you'll react in a measured way should trying times arrive.
Tip #3: Be a role model
When a crisis hits, people flock to leaders seeking support, guidance, and inspiration. During these circumstances, you can model exemplary behavior and demonstrate the serve-first attitude others can adopt.
Regardless of how stressful the situation may be, embodying gratitude, calmness, and selflessness can compel people to rise to the occasion and prioritize the collective goal.
Tip #4: Talk about expectations and preferences
Engendering outstanding work and consistent performance doesn't have to lead to daunting deadlines, burnout, or overworked teams.
Nurturing others' success is easier when everyone is clear on expectations and preferences. Boyle admits that some confusion stems from misconceptions people have about servant leadership:
"Many of my leadership coaching clients think they have to choose between being an empathetic, service-oriented leader or a leader who holds the team accountable to high standards. That's a false dichotomy — you don't need to choose between servant leadership and high-performance expectations."
She goes on to explain how you can get clarity on expectations, commitments, and preferences to keep everyone on the same page:
"Ask specifically — what excites someone about the company and their role? What stresses them out about work? What are their preferences on how they like to be recognized and receive feedback? What do they expect from you as their manager or leader, and what do they commit to you?
Having two-way conversations like these will set the foundation for effective servant leadership."
Quotes to inspire servant leaders
Now that we've learned everything we need to know about servant leadeship, we've picked out the best servant leadership quotes to help you tap into the serve-first mentality.
"Servant leadership is all about making the goals clear and then rolling your sleeves up and doing whatever it takes to help people win. In that situation, they don't work for you; you work for them."

― Ken Blanchard, speaker, author, and business consultant
"You have to find the intersection of doing something you're passionate about and that, at the same time, is in the service of other people. I would argue that if you don't find that intersection, you're not going to be very happy."

— Tim Cook, CEO of Apple
"It is better to lead from behind and to put others in front, especially when you celebrate victory when nice things occur. You take the front line when there is danger. Then people will appreciate your leadership."

— Nelson Mandela, philanthropist, activist, and politician
"It's not about trying to find something to help you be a more effective leader. It's about trying to be a better person. The other will follow."

― James A. Autry, author and business coach
"Servant leadership is more than a concept, it is a fact. Any great leader, by which I also mean an ethical leader of any group, will see herself or himself as a servant of that group and will act accordingly."

― M. Scott Peck, author and psychiatrist
"A lot of people are waiting for Martin Luther King or Mahatma Gandhi to come back — but they are gone. We are it. It is up to us. It is up to you."

― Marian Wright Edelman, civil rights activist
"Allow the way to your great work to be guided by your service to others."

— Mollie Marti, Adjunct Professor of Psychology at the University of Iowa
Wrapping up: Servant leaders uplift others for sustainable success
You don't have to be the CEO of an established company to reap the rewards of servant leadership.
As we've seen, becoming a servant leader is not beyond your grasp, and you can be a positive influence on others so long as you:
Put your team first,
Listen to team members and collaborators,
Are unafraid to walk in other people's shoes,
Connect with people on an emotional level,
Show enthusiasm about helping people develop their skills and talents.
We'll leave you with some poignant words from Robert Greenleaf:
"If the leader is principle-centered, he or she will develop moral authority. If the follower is principle-centered, he or she will follow the leader. In this sense, both leaders and followers are followers. Why? They follow truth. They follow natural law. They follow principles. They follow a common, agreed-upon vision. They share values. They grow to trust one another."
✉️ What do you think about servant leadership? Do you have any additional advice on becoming an effective servant leader?
Let us know at blogfeedback@pumble.com, and we might include some of your responses in this or upcoming posts. Also, if this piece was helpful, feel free to share it with someone whom it would benefit.