When a team or even a company is experiencing an existential crisis, leadership that's only after short-term goals can do more harm than good.
Instead, during trying times, most companies would be better served by leadership with a strong vision.
One style of leadership that is exemplified by that very characteristic is transformational leadership — a concept we'll examine in this article.
Going forward, we'll talk about the:
Definition and history of transformational leadership,
Main characteristics of this style of leadership,
Benefits and weaknesses of the transformational leadership style, as well as
Steps you can take to become a transformational leader.
On top of that, we'll also discuss some real-life examples of transformational leadership.
But first, let's start by defining transformational leadership as a practical management philosophy.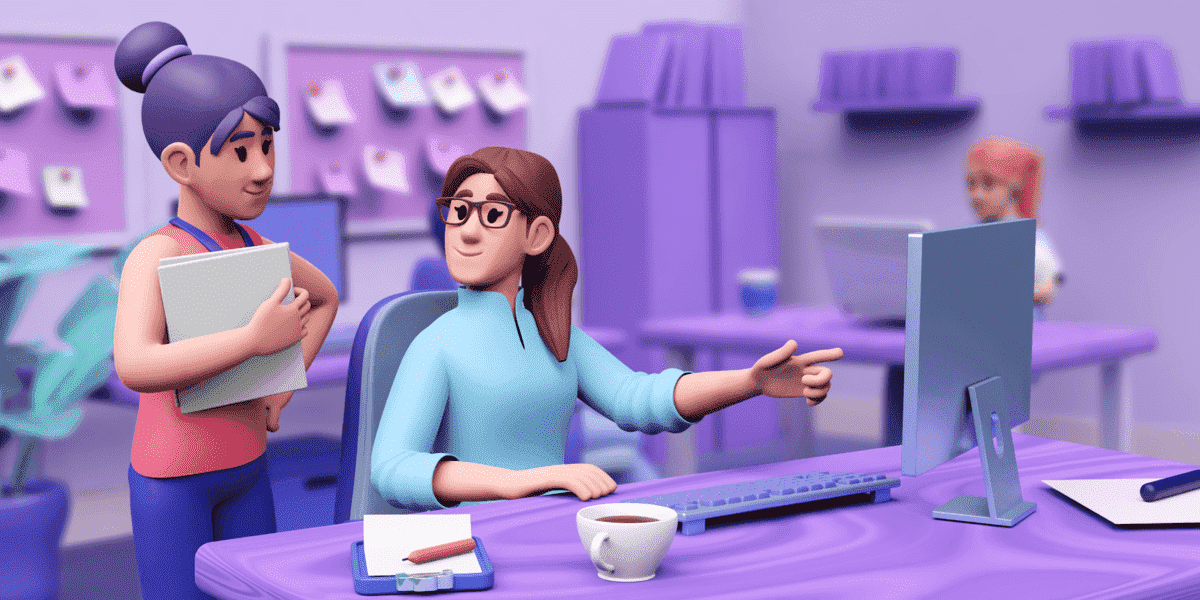 What is transformational leadership?
Transformational leadership is a management style that aims to change organizations and individuals alike through intrinsic motivation.
Basically, leaders are trying to get people personally invested in their work by making it more satisfying, fun, and rewarding, so that they're not working solely for the paycheck.
To achieve this transformation, leaders who practice this leadership style have to be:
Energetic,
Inspirational, and, most importantly,
Involved.
Having a clear vision of what they want to achieve and taking steps to bring it to life makes their team members more engaged with their own work, too.
In other words, transformational leaders lead by example.
Of course, this brief overview of the transformational leadership style doesn't give us a greater context of its inception or a deeper understanding of its characteristics.
With that in mind, let's talk about the history of transformational leadership theory.
The history of transformational leadership theory
By all accounts, the person who came up with the term "transformational leadership" was James V. Downton, a sociologist primarily known for his research on charismatic leadership, activism, and new religious movements.
A few years later, the concept was further developed by presidential biographer and leadership expert James MacGregor Burns.
In his 1978 book Leadership, Burns defined transformational leadership as a process through which leaders and followers help each other ascend to "higher levels of morality and motivation."
In his words, leaders must engage their followers (or, in our case, employees):
"The function of leadership is to engage followers, not merely to activate them, to commingle needs and aspirations and goals in a common enterprise, and in the process to make better citizens of both leaders and followers."
Arguably, the more significant contribution that came from Burns' book was his comparison of 2 major approaches to leadership — transactional and transformational leadership. But, we'll talk more about the differences between these models later.
In any case, the researcher who left the biggest mark on the study of transformational leadership was leadership and organizational behavior expert Bernard M. Bass.
The fact that the study of this approach to leadership is often referred to as Bass' transformational leadership theory should tell you exactly how influential Bass' contributions were.
The book Transformational Leadership, written by Bass and Ronald E. Riggio, represents a comprehensive overview of Bass' work on the matter.
Among other things, it also mentions the so-called 4 I's of transformational leadership Bass identified in 1985, which we'll soon discuss.
But, before we get to that, allow us to backtrack a bit.
A note on charismatic leadership
At this point, we should note that the concept of transformational leadership originally emerged from the study of charismatic cult leaders.
Even though transformational leaders do also tend to be charismatic, the motivations behind these 2 types of personalities are noteworthy.
Unlike charismatic (cult) leaders, whose success is typically the result of manipulation and narcissism, transformational leaders are less interested in personal gains and more focused on their teams.
Transformational leaders don't seek praise — they have more altruistic motivations.
Specifically, their reward is seeing the fruits of their labor through their followers' development. In a corporate setting, their focus would be on their employees' professional growth.
Even so, these 2 types of leadership personalities are similar enough for an overlap to occur.
That is what led researchers to identify a pseudo-transformational leadership style that corresponds to that intersection.
Those who take this approach to leadership may seem to have a strong vision but are actually more interested in taking advantage of their followers through manipulation.
Having said that, we can move on to discussing the main elements of transformational leadership.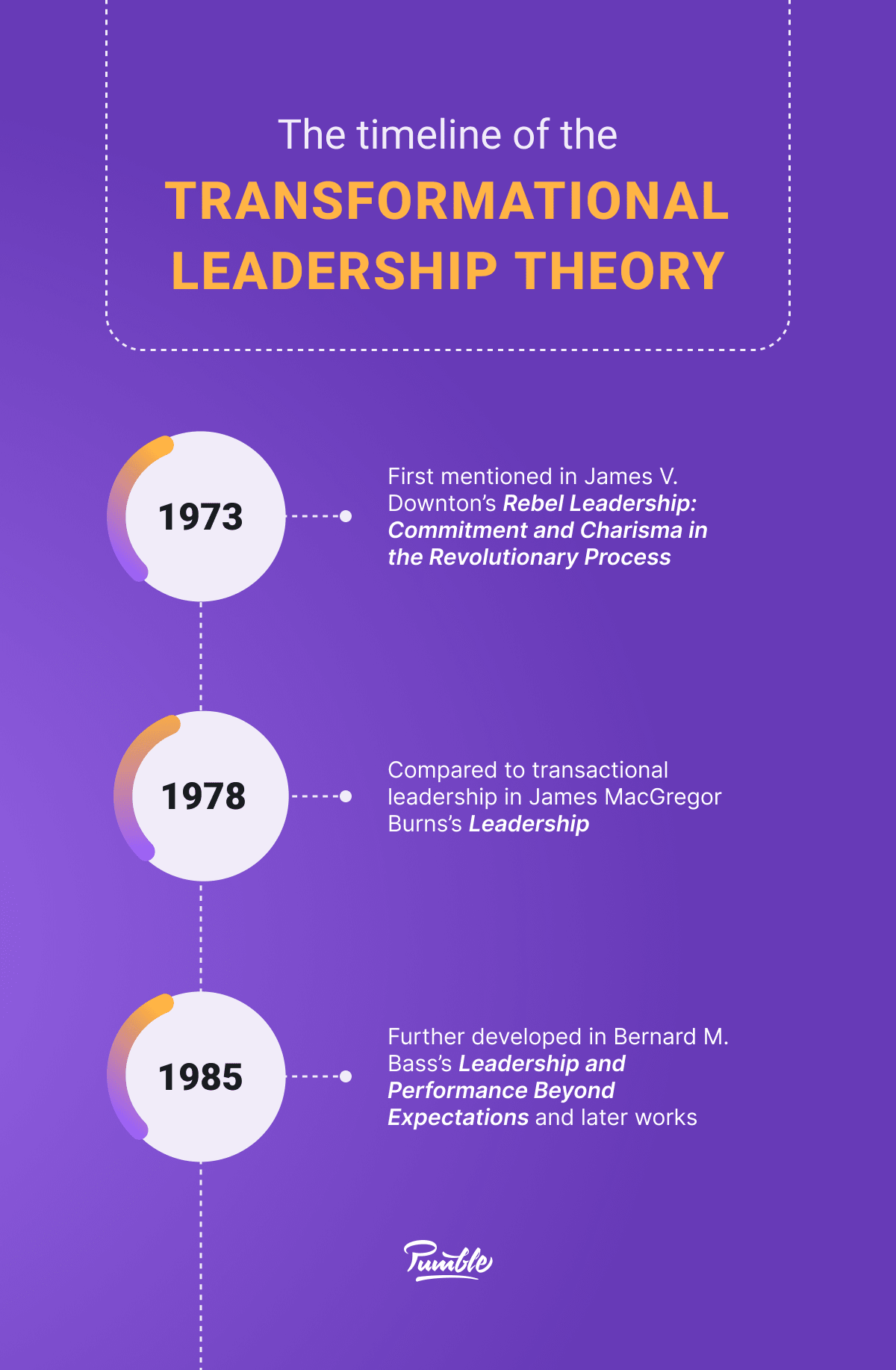 Transformational leadership characteristics
At this point, you already have some idea of the elements that constitute the transformational leadership style.
But, if you need more clarity, just consider the 4 I's of transformational leadership:
Idealized influence — meaning that the leader should be perceived as a role model by their followers,
Inspirational motivation — meaning that the leader should have the ability to communicate their vision and spark a passionate response in their followers,
Intellectual stimulation — meaning that the leader should encourage creativity and provide learning opportunities for followers, and
Individualized consideration — which means that the leader has a supportive relationship and open communication with each of their followers.
Going forward, we're going to elaborate on the characteristics of transformational leadership through this framework.
Element #1: Idealized influence
According to Bass' book on transformational leadership, idealized influence is one of the core tenets of this management philosophy.
But what does that entail, exactly?
Well, in simple terms, it means that the leader represents a role model to their followers.
Transformational leaders are ethical, honest, and fair, on top of being charismatic and passionate.
Moreover, they are, as we have previously stressed, personally involved in their work. They're the primary driving force behind the project the team is working on.
This cocktail of characteristics leads people to have positive expectations of the leader, which makes them want to perform better — whether it is to emulate their leader or to impress them.
Element #2: Inspirational motivation
The second characteristic of transformational leadership is all about the leader's ability to communicate their vision and evoke a passionate response from their followers.
In other words, it's about providing motivation through inspirational communication.
Think of the kind of rousing speech a coach might deliver to their team before a big game — that's the kind of communication we're talking about.
Basically, a transformational leader should be able to:
Communicate their vision precisely so that everyone understands what changes are necessary and how they can be achieved,
Boost employee morale so that everyone has the energy necessary to carry out the leader's plans, and
Spark interest in the project and inspire creative thinking, ensuring that employees feel free to contribute to the overall vision in any way they can.
As we learned from keynote speaker and professional training expert with over 25 years of experience Paul Bramson, this element of transformational leadership is crucial for getting employees on board with any changes you wish to make: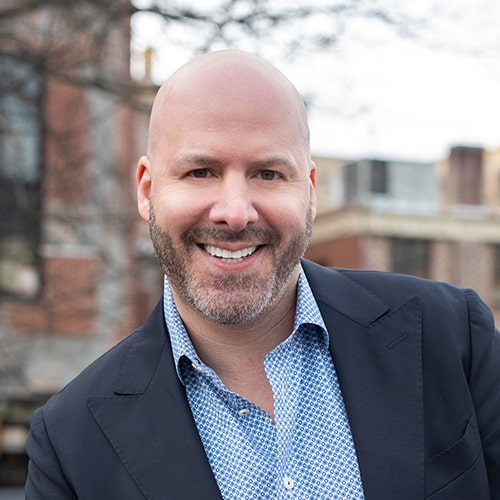 "Transformational leaders have a profound impact on their followers, inspiring them to exceed expectations, embrace change, and achieve extraordinary results."
Of course, in addition to acting as a role model and a source of inspiration, transformational leaders also need to provide intellectual stimulation to their followers or employees.
Element #3: Intellectual stimulation
At this point, it becomes evident that these 4 characteristics of transformational leadership are intertwined.
The followers' perception of the leader's traits and actions grants them idealized influence, which they use to provide inspirational motivation. That helps them open the door for the discussion of ideas, which provides intellectual stimulation to their followers.
In a way, it all hinges on the effective communication of the leader's vision.
Having explained their vision, a transformational leader should be able to relinquish control and let their employees contribute their creative ideas.
In other words, they should be able to provide their followers with:
Of course, transformational leaders are aware that trusting their employees and letting them have more decision-making authority may lead to mistakes — but they do it anyway.
As a business psychologist, decision scientist, and executive leadership coach, Constance Dierickx, Ph.D., told us: transformational leaders don't focus on minor failures.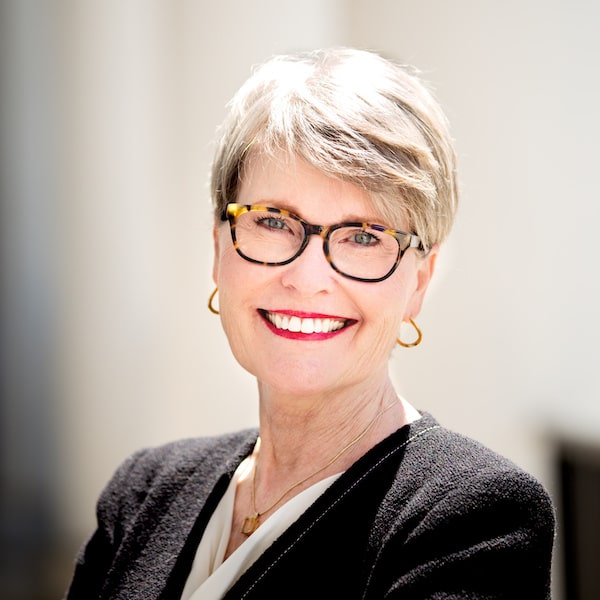 "Leaders with whom I've worked who I think of as transformational tend to say they are more empathetic as a result of accepting their own shortcomings and are also more willing to challenge people because they believe in the ability of people to learn and grow."
Encouraging independence as well as accountability helps employees grow their professional skill set. And, after all, that is one of the primary goals of transformational leadership.
Element #4: Individualized consideration
The goal of any leader is to foster the spirit of teamwork and collaboration in the workplace.
It should come as no surprise to learn that engaging employees on that level is a big part of transformational leadership, too.
However, transformational leaders have another crucial task to perform — getting each individual on their team to perform to the best of their ability.
That's where individualized consideration comes into play.
In simple terms, transformational leaders also take a special interest in the (personal and) professional development of their employees.
To do this, they should:
Be receptive to the employees' ideas,
Provide recognition and support, if needed,
Encourage the personal and professional development of team members, and
Take note of their employees' unique characteristics in order to play to their strengths and help them work on their weaknesses.
That last point is key, as it stresses the importance of knowing one's team members and understanding how to prompt their professional development.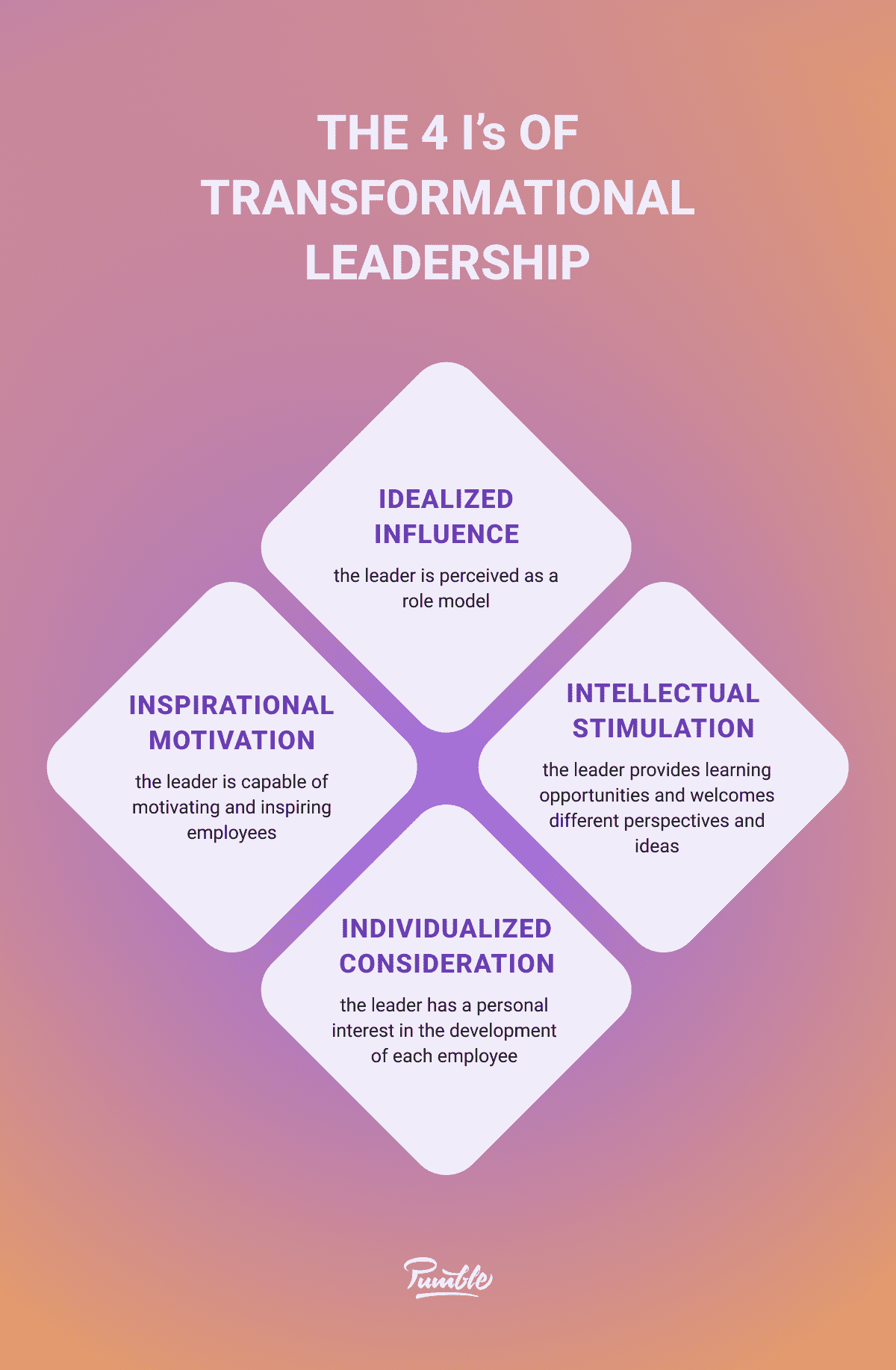 To sum up our examination of the characteristics of transformational leadership, we can say that this management philosophy has 3 major focal points:
Change — as transformational leaders strive to reshape their surroundings and the systems within which they operate,
Plans for the future — which are inspired by the leader's original vision but further developed by the employees' ideas, and
People — a focus that is exemplified by the leader's investments in the development of their employees.
Transformational leadership examples
When it comes to specific examples of transformational leadership, there are too many to list.
From John D. Rockefeller and Henry Ford to Jeff Bezos and Elon Musk, many famous leaders have found themselves referred to as transformational leaders.
But, for our purposes, we're going to focus on 4 examples:
Steve Jobs,
Meg Whitman,
Nelson Mandela, and
Jacinda Ardern.
Example #1: Steve Jobs, CEO of Apple
Steve Jobs was arguably one of the most famous and successful leaders of his generation.
As we might imagine, the work that needed to be done to establish Apple as the tech giant it is today was, at its core, transformative.
Because of that, many researchers have used Jobs as the exemplar of transformational leadership over the years.
Some have even gone as far as to analyze the adjectives people used to describe Jobs at the time of his death in 2011 and cross-check them with common traits of transformational leaders.
The above-mentioned research found that Jobs was primarily described as innovative, creative, visionary, and passionate.
Though some reports also described him as "temperamental and secretive," his approach to leadership had a lot of overlap with the transformational style.
He may have even been aware of his transformational influence, if his own thoughts on leadership are any indication.
The quote below best exemplifies his transformational approach:
"Technology is nothing. What's important is that you have faith in people, that they're basically good and smart, and if you give them tools, they'll do wonderful things with them."
Example #2: Meg Whitman, former CEO of eBay, HP, and more
Though most people may not think of Meg Whitman's name in relation to transformational leadership, her leadership has indeed transformed many organizations we all know.
In the 1980s, Whitman served as the vice president of Strategic Planning in The Walt Disney Company, later going to DreamWorks, Procter & Gamble, and Hasbro. Her career then led her to serve as the CEO of eBay from 1998 to 2008, and then hold the same position at HP from 2011 to 2018.
Most recently, Whitman became the US ambassador to Kenya, which seems to be in line with her political ambitions.
In retrospect, it's clear that every twist in her career path led her to an environment in sore need of a change:
At eBay, she oversaw changes that took the company from making $5.7 million to $8 billion in sales.
At HP, she oversaw the company's split into HP Inc. and Hewlett Packard Enterprise.
Yet, the most obvious hint at her transformational leadership style is shown in the way she talks about success and optimism:
"Success happens when good people with good intentions cooperate and work together over a shared interest. Believing that people are basically good is what fuels most inspired individuals. Cynics and pessimists do not change the world."
Example #3: Nelson Mandela, the first President of South Africa
Nelson Mandela is perhaps the best example of transformational leadership in the political realm.
After all, what's more visionary than conceiving and bringing about the end of the apartheid?
Mandela's politics was focused on fostering racial reconciliation in South Africa, which greatly influenced the current racial relations in the country.
Though his anti-colonial activism led him to spend 27 years in prison, Mandela was eventually released in 1990.
Four years later, he succeeded in converting his influence into political power, when he was elected the first President of South Africa.
By all accounts, Mandela believed in the persuasive power of kindness, which makes him a truly transformational leader:
"If you want the cooperation of humans around you, you must make them feel they are important — and you do that by being genuine and humble."
Example #4: Jacinda Ardern, Former Prime Minister of New Zealand
Jacinda Ardern is known for serving as the Prime Minister of New Zealand from 2017 to 2023.
Though her time in office was marked with tragedy (notably, the Christchurch mosque shootings and the Covid-19 crisis), Ardern managed to navigate these challenges fairly gracefully.
Though she did have detractors, her resignation announcement in January 2023 was met with an outpouring of gratitude and support from the people who benefited from her leadership.
While in power, Ardern's style of leadership was notably reliant on soft power, which even benefited New Zealand's international reputation.
Ultimately, her transformational leadership style is most exemplified by her compassion, as seen in the quote below:
"One of the criticisms I've faced over the years is that I'm not aggressive enough or assertive enough, or maybe somehow, because I'm empathetic, it means I'm weak. I totally rebel against that. I refuse to believe that you cannot be both compassionate and strong."
Transactional vs. transformational leadership
At this point, we know what transformational leadership is and what it looks like in real life.
However, we've already established that this type of leadership isn't the only approach that exists.
After all, in his 1978 book, James MacGregor Burns compared transformational leadership to its antithesis — transactional leadership.
So, how do we differentiate between transformational and transactional leaders? The table below should provide some answers.
| TRANSFORMATIONAL LEADERS | TRANSACTIONAL LEADERS |
| --- | --- |
| Proactive | Reactive |
| Prioritize vision | Prioritize protocol |
| Focus on commitment | Focus on short-term goals |
| Motivates using intrinsic rewards | Motivates using extrinsic rewards |
| Establish team collaboration | Establish a strict management structure |
| Work to change organizational culture | Work to uphold organizational culture |
To learn more about the main differences between these approaches to management, let's elaborate on each of these points.
Difference #1: Proactive vs. reactive
As we are now aware, transformational leaders tend to be proactive.
They step onto the scene with a clear vision of what they're hoping to achieve and begin taking steps to bring it into existence.
They take the same hands-on approach to employee engagement and development.
Meanwhile, transactional leaders are usually more reactive.
After assigning tasks to employees, they don't engage unless necessary — unless a response or reaction is warranted.
They tend to monitor employees to ensure certain standards are met and deliver corrective action if they notice any deviations.
That makes this style of leadership more suitable for environments where employees are:
Already aware of their professional responsibilities,
Capable of doing their jobs without intervention, and
Consistently delivering acceptable results.
In other words, the transactional leadership style is best used on teams that are already performing at an optimal level.
Difference #2: Vision vs. protocol
As we have established, having a strong and compelling vision for change is another key aspect of transformational leadership.
By contrast, a transactional leader is more likely to prioritize the structure of existing processes in the interest of reaching certain performance goals.
After all, transactional leaders are, at their core, supervisors.
As such, they're good at creating and upholding structure and protocols to maximize employee efficiency.
So, while transformational leaders are more interested in increasing engagement and creatively challenging their employees, transactional leaders are more focused on exerting control in order to improve performance.
Ultimately, both styles of leadership have merit in different situations.
Difference #3: Long-term commitment vs. short-term goals
As we have learned earlier, transformational leaders want to increase employee engagement, which, in turn:
Increases profit,
Improves performance,
Decreases work-related stress and burnout, and
Reduces employee absenteeism and turnover.
Of course, that's not to say that transactional leaders don't want those benefits, too.
However, they tend to be less focused on improving employee engagement.
Instead, they work toward more short-term goals, such as:
Reaching daily, weekly, and monthly quotas,
Resolving tasks, and
Completing group projects.
To do this, transactional leaders usually rely on smart or, rather, S.M.A.R.T. goal-setting to achieve:
Specific,
Measurable,
Achievable,
Relevant, and
Time-bound results.
Crucially, this model of goal-setting can also be useful for transformational leaders. As we'll discuss later, leaders who have a lofty vision but no way of achieving it can't truly be called transformational leaders.
Having a solid realization plan is essential.
Difference #4: Team collaboration vs. strict management structure
The goal of a transformational leader is to get everyone on their team to collaborate in the interest of achieving something as a group.
Even though individual consideration is a big aspect of this approach to leadership, the philosophy is ultimately about getting everyone on the same page.
Meanwhile, transactional leaders are more likely to appeal to an individual's self-interest — both in the way they motivate their employees and in the kind of team structures they maintain.
While transformational leadership advocates for open communication across organizational units and hierarchical levels, transactional leadership upholds existing management structures.
That means having everyone operate within their teams and sticking to their primary responsibilities as much as possible.
💡 Pumble Pro Tip
In some cases, sticking to a strict management structure may lead to the formation of team silos. To learn more about those, check out this guide:
Difference #5: Changing the organizational structure vs. maintaining the status quo
Going back to the very core of transformational leadership, we can see that its primary mission is to bring about change.
More often than not, that also includes the organizational structure of the company or team they are working in.
Transformational leaders might make unexpected and unconventional decisions such as promoting people who have more potential than experience in the interest of reshaping the company landscape.
Conversely, transactional leadership will always want to keep things as they are because they thrive within hierarchical structures.
So, if someone from a different department wanted to assign a task to a transactional leader's direct subordinate, they would have to go through the proper channels before speaking to the employee in question.
Ultimately, in this kind of system, the employee's main task is to simply obey the leader's instructions.
💡 Pumble Pro Tip
If you've ever been approached about a project by a coworker from another department, chances are, you've participated in cross-functional collaboration. To learn more, check out our article on the subject:
Difference #6: Intrinsic vs. extrinsic rewards
Last but certainly not least, there's the matter of motivation.
As we have previously noted, transformational leadership relies on intrinsic motivation.
Essentially, these leaders use their enthusiasm and charisma to inspire genuine interest and engagement in their employees.
In other words, they want their employees to be led by internal rewards, like pride or personal satisfaction.
On the other hand, transactional leaders see work as a straightforward trade — employees work for a paycheck.
In this case, employees are motivated by extrinsic rewards such as money or promotions (or even praise).
That is what we mean when we say that transactional leaders appeal to an employee's self-interest.
Of course, that also means that transactional leaders don't hesitate to dole out punishments (such as docking pay or demoting employees) if goals are consistently not reached.
Benefits of transformational leadership
As we have mentioned, there's a time and a place for both transactional and transformational leadership.
Even so, transformational leadership is undeniably more appealing from a human standpoint.
After all, there are plenty of benefits to employing this style of leadership — from increasing employee well-being to improved performance.
Having said that, let's take a look at the different benefits of the transformational leadership style.
Benefit #1: Transformational leadership is great for communicating new ideas
Since inciting change is the primary mission of the transformational leadership style, learning that communicating ideas is one of its main benefits should come as no surprise.
Simply put, a transformational leader is able to:
Envision a better way of getting things done or a future they want to work towards,
Come up with a specific plan to achieve their vision, and, most importantly,
Communicate their vision in a way that gets others excited about it, too.
Basically, as a transformational leader, you'll be able to get others on board with new ideas more easily than you would be as a transactional leader.
Besides, as we have previously explained, a transactional leader would most likely not be open to incorporating new ideas anyway.
Yet, a transformational leader's contagious enthusiasm tends to make others more receptive to change.
Benefit #2: Transformational leadership fosters employee empowerment and independence
Taking a transformational approach to leadership has a way of making people understand the value of professional development.
Transformational leaders invest in their own professional development as well as the development of each individual they work with.
Because of that, we can say that creating empowered employees is one of the biggest benefits of this leadership style.
So, how can you make sure your employees feel empowered? Well, a transformational leader might:
Ask for their opinions during every step of a project,
Seriously consider any ideas they bring to the table to make sure that they feel comfortable sharing them in the future,
Let them workshop their ideas and do whatever you can to help them succeed, but
Allow them to mess up without consequences.
Ultimately, providing these learning opportunities will help your employees develop their professional skills. But, of course, having more skilled workers on your team isn't the only benefit you'll experience.
Namely, seeing that their opinions and ideas are appreciated will establish trust between you and your team.
💡 Pumble Pro Tip
Fostering employee independence starts with making sure your team feels free to talk to their leader whenever they need to. To set yourself up for success, check out these guides:
Benefit #3: Transformational leadership improves employee engagement and performance
Unlike transactional leadership, which prioritizes the company's bottom line above all else, transformational leadership places more emphasis on creativity and innovation.
With that being said, you'd think that performance metrics would naturally be higher in a workplace ruled by transactional leadership, wouldn't you?
And yet, many experts note that transformational leadership leads to improved performance.
Having trained more than 400,000 professionals in the span of his 25-year career, Paul Bramson claims that the main benefit of transformational leadership is the fact that it promotes a culture of excellence: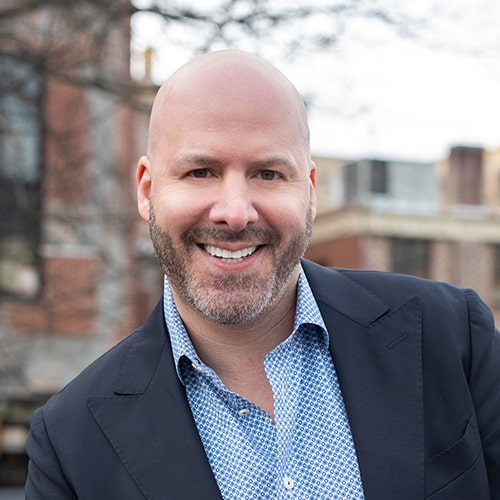 "The one benefit that stands out to me is that transformational leaders encourage high standards of performance and promote a culture of excellence. Their ability to articulate a compelling vision and provide individualized support helps employees reach their full potential, resulting in improved performance and productivity."
In other words, the inspirational motivation transformational leaders provide has a way of improving employee engagement and performance.
After all, transformational leaders make employees feel as though they have a personal interest in their team's — or company's — success.
Moreover, this style of leadership also makes employees feel more loyal to their leaders — and, sometimes, the organization itself — which decreases employee turnover.
Benefit #4: Transformational leadership builds company culture
Since Bramson already mentioned that transformational leadership promotes "a culture of excellence" we might as well double down.
Remember, transparent two-way communication and relationship-building are core tenets of the transformational leadership style.
These 2 factors can naturally lead to the development of a stronger company culture.
After all, when a leader takes a personal interest in their development, the company culture becomes more employee-centric, rather than hierarchical.
On the other hand, having a transformational leader at the helm will also make it easier to communicate the company's values to its employees, consumers, and other external parties.
Benefit #5: Transformational leadership improves employee well-being
Last but certainly not least, we should mention that transformational leadership usually improves employee well-being — which is, of course, correlated to employee engagement and performance.
Namely, having better communication and stronger relationships in the workplace allows people to avoid miscommunication and the strain that comes along with it.
On top of that, communicating expectations effectively also reduces the chances of employee burnout.
As practicing lawyer, executive leadership coach, and business consultant, Diane Rosen, told us, this approach is ultimately about seeing leadership as more than transactional: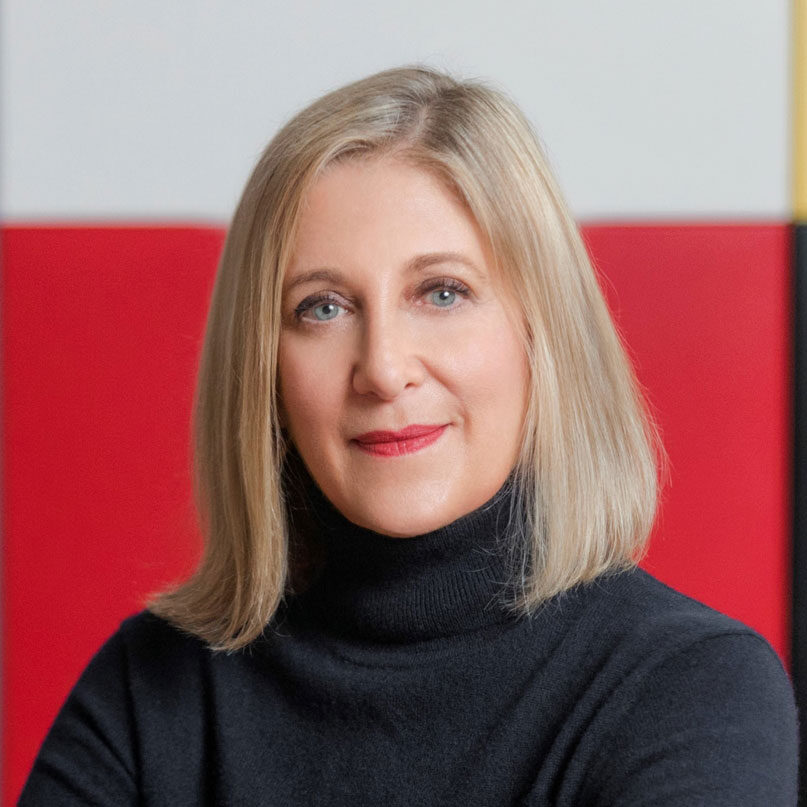 "The benefit of this style is to see leadership as more than transactional. This model emphasizes:
Self-awareness,
Personal growth,
Followers' needs, and
A sense of responsibility and accountability."
Above all, transactional leaders should be ruled by emotional intelligence. Being able to accurately sense what employees are lacking and what you can do to respond to their needs will naturally improve the employee experience.
On top of that, it will also make you a better leader all around, but especially if you're looking to embody this style of leadership.
💡 Pumble Pro Tip
Due to its emphasis on employee engagement and well-being, transformational leadership has a lot in common with empathetic leadership. To learn more about that, check out this article:
Weaknesses of transformational leadership
Now that we've discussed the benefits of transformational leadership, let's even the playing field with some weaknesses.
The leadership experts we've spoken to had a lot to say about this subject, so, without further ado, let's just dive into it.
Weakness #1: Enthusiasm can be exhausting
One of the most commonly referenced weaknesses of transformational leadership is that it can be rather exhausting — for both the leader and their followers.
Namely, maintaining the heightened level of enthusiasm that exemplifies this style of leadership can be pretty draining for some leaders, especially if it doesn't come naturally.
In addition to maintaining that passion, transformational leaders are expected to continuously engage with employees through ongoing communication, which can also be fairly wearisome.
And, to be clear, we're not just talking about the leader's energy levels here.
A transformational leadership style can also be exhausting for the team.
After all, employees aren't always in the mood for passionate speeches and optimism.
Furthermore, the situation can be worse still if the optimism isn't backed up by a specific plan for the realization of the leader's vision.
Weakness #2: Visionaries can be delusional
At this point, we all know that transformational leaders should be passionate about their vision.
However, that vision doesn't always come with a clear roadmap to achieving it.
The leader's long-term commitment and efficacy depends on the strength of their plan.
The more grandiose and unachievable the leader's vision seems (especially to their employees), the more precise their plans need to be.
As Constance Dierickx, Ph.D., told us, transformational leaders can benefit from a dose of realism: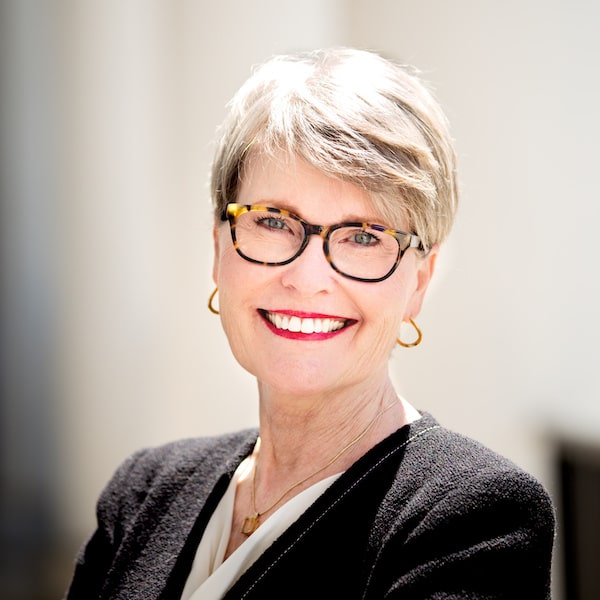 "Transformational leadership is hopeful and must be tempered with pragmatism to avoid overconfidence."
In other words, a leader should have the wisdom to know whether their vision can be achieved at all.
But, in addition to running the risk of becoming delusional, transformational leaders can sometimes lose their footing and slip into narcissism.
Weakness #3: Leaders can be self-absorbed
Egomania is a weakness that haunts leadership in general, but it can be especially harmful when combined with the transformational leadership style.
Transformational leaders who lose sight of what's important (namely, their vision and their team), run the risk of developing blind spots, as Diane Rosen told us: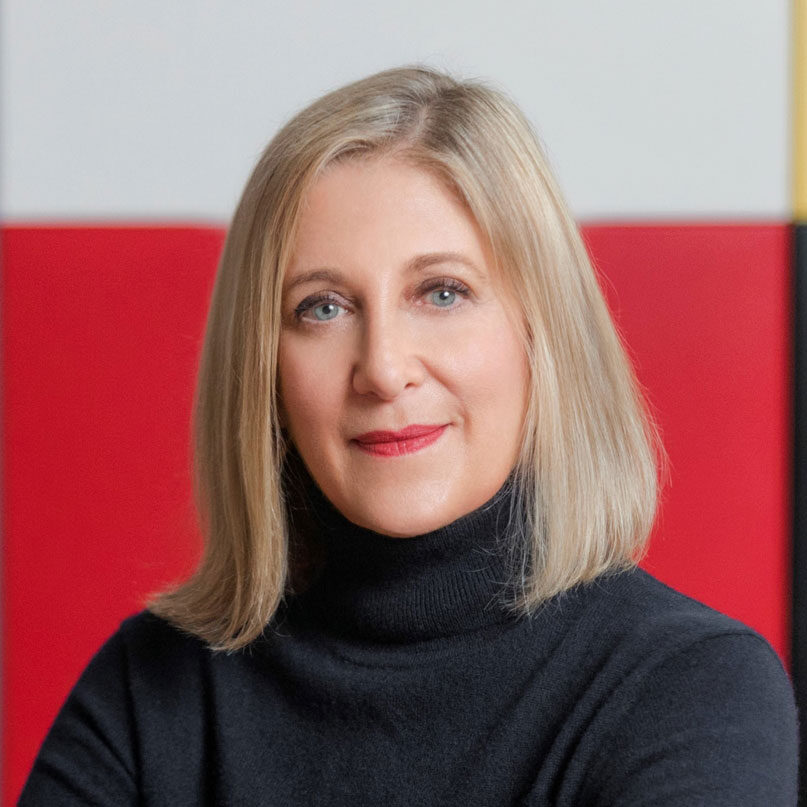 "The downside is that individuals who strive to be transformational may not be authentic as they pursue goals and ideas that will transform. They can be tone-deaf and have blind spots if they are not good listeners, and in the worst case, they create a cult of personality."
Going back to the link between charismatic cult leaders and the theory of transformational leadership, it's safe to say that narcissism can quickly grow into pseudo-transformational leadership, in this case.
That's why transformational leaders should be self-reflective at all times and make a concerted effort to stay humble.
Weakness #4: Relying on employees can backfire
Even if a transformational leader stays true to his course, there's still the question of how their environment will respond to their efforts.
For one, even if a leader wants to give their employees opportunities to prove themselves, trusting employees to work without supervision doesn't always work out.
A good leader should be able to observe their employees and figure out whether they'll be able to thrive under transformational leadership.
On top of all that, Paul Bramson noted that transformational leadership often relies on the leader's presence and support: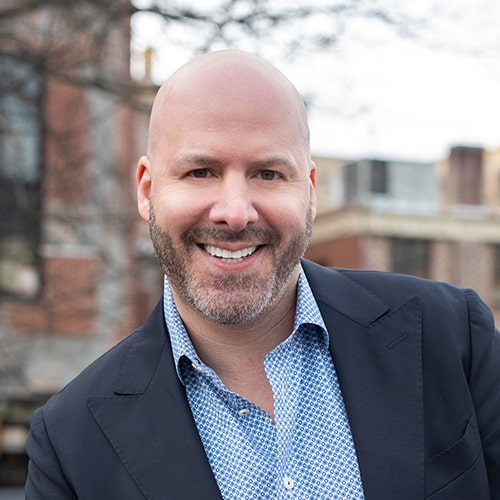 "The glaring weakness is that the transformational leadership style heavily relies on the presence and influence of the leader. If the leader is absent or fails to provide guidance, followers may struggle to sustain their motivation and productivity."
So, even if employees were inclined to oblige the leader and do their best, they might need continuous motivation and supervision to get their work done.
Weakness #5: Transformational leadership can be disruptive
As we have previously mentioned, transformational leadership works best in environments that require significant systemic changes.
However, even if you happen to work at an organization that fits that description, you have to understand that not everyone will appreciate working under a leader who's out to change how everything is done.
As keynote speaker, author, executive coach, and a member of 100 Coaches, John Baldoni, noted, transformational leadership can be rather destabilizing: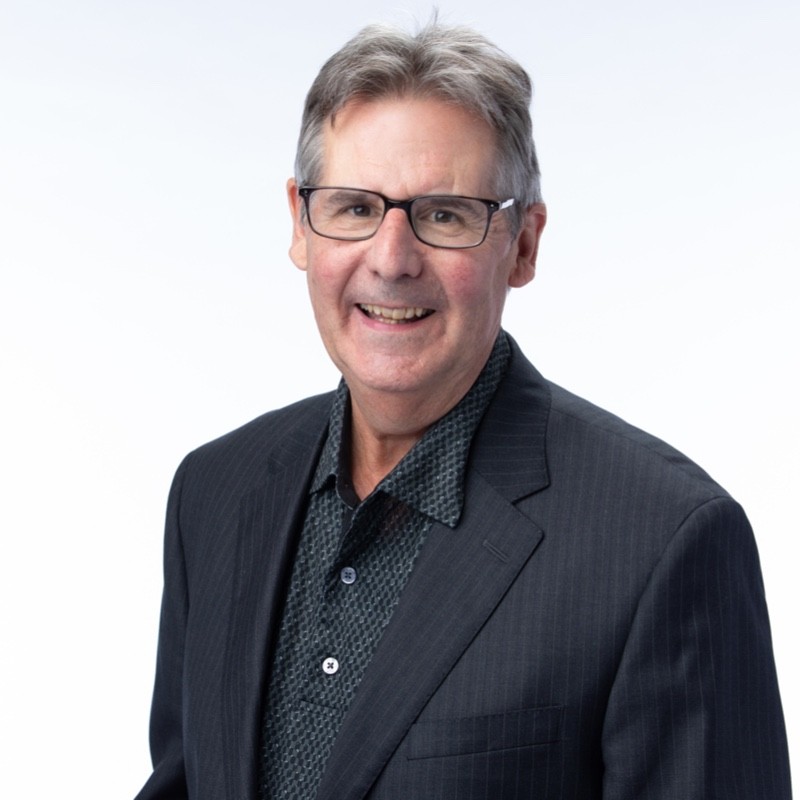 "Transformational leadership is 'root and branch' change that often upends the status quo. It can be unsettling and disruptive. Looking back, it is necessary; [but] going through it can be hellish. […] It can be alienating, leaving broken systems and broken employees in its wake."
Even so, Baldoni admitted that some workplaces are in need of transformation, saying: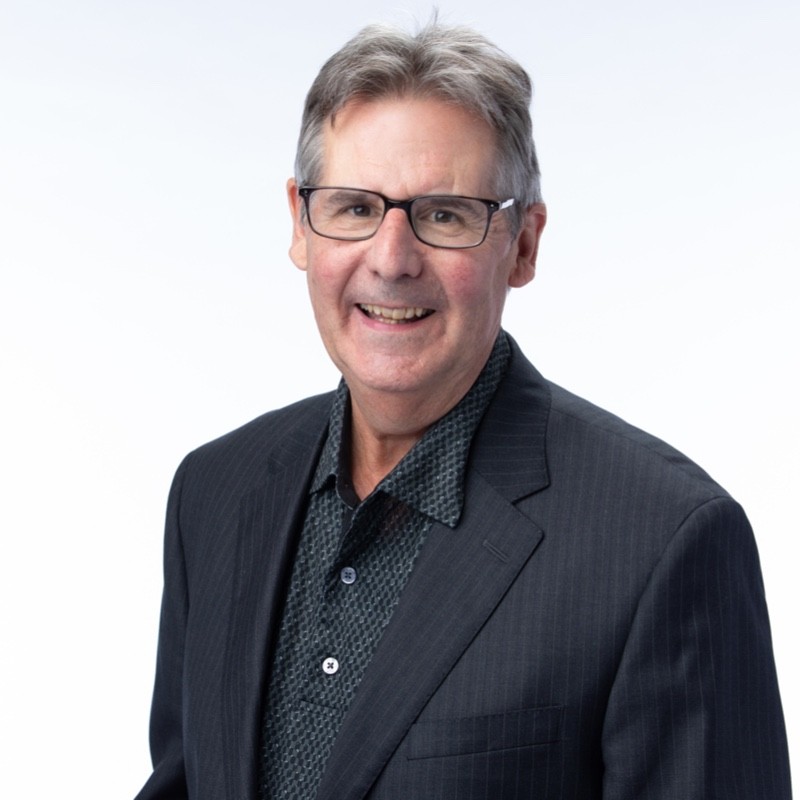 "The urgency of the situation dictates the need for transformation. If the organization needs prodding then a leader needs to step up and provide direction. They also need to include members of the team in order to discuss next steps and what role they will play."
So, how can you make sure you're using transformational leadership in a way that doesn't wreak havoc on your employees and organization?
How do you learn the "right way" to be a transformational leader?
Well, you can start by following our tips.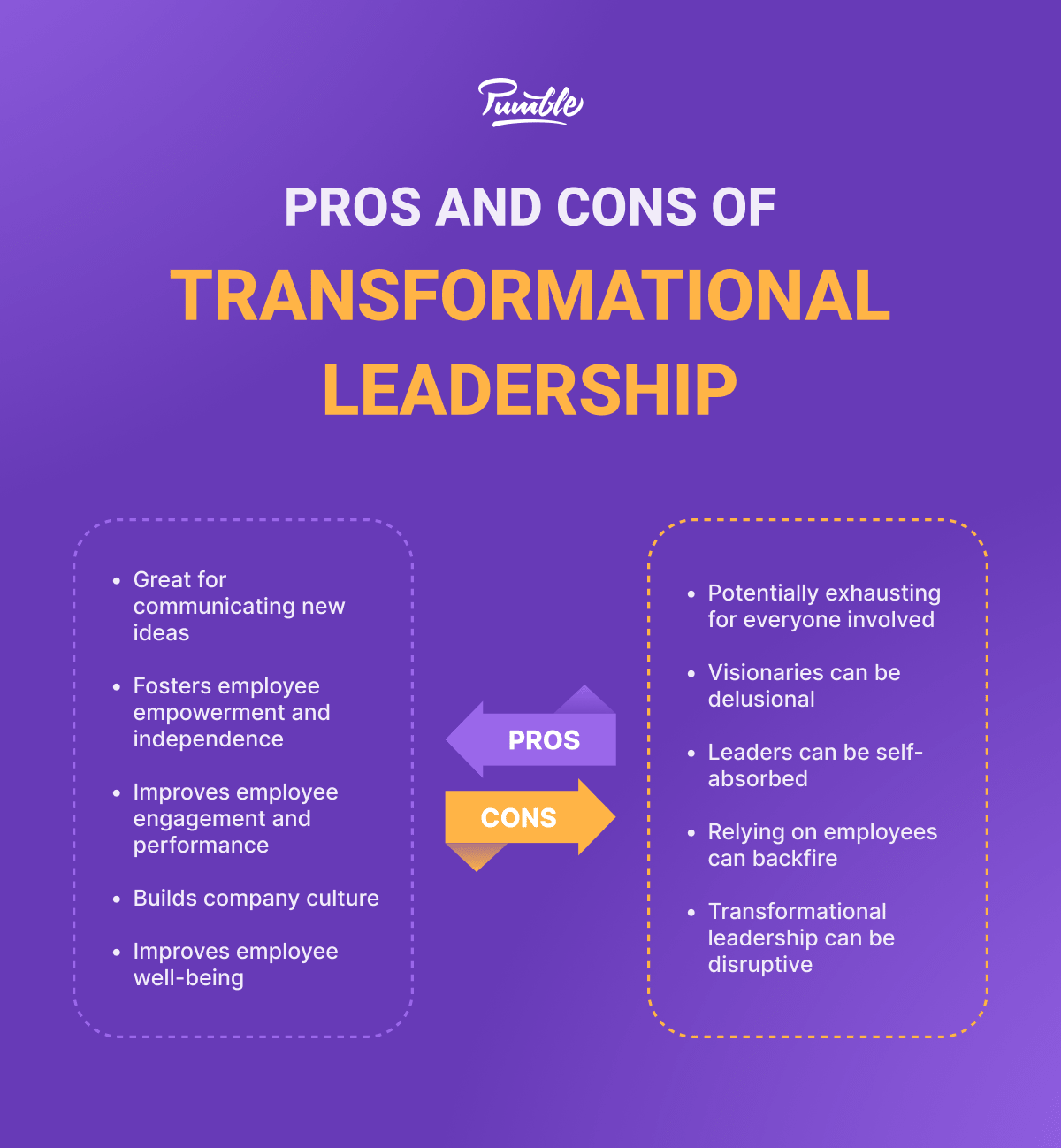 How to become a more transformational leader
At this point, all that's left to do is give you some pointers on how to become the best transformational leader you can be.
To do that, we've come up with a list of 7 tips, which include:
Investing in your personal and professional development,
Taking a class in transformational leadership,
Getting to know the people you work with,
Learning how to your vision effectively,
Encouraging creativity,
Knowing how (and when) to adapt, and
Measuring your progress.
So, how do you do all of that? Let us explain.
Tip #1: Invest in your personal and professional development
Before you can try to help others develop their professional skills, you have to make sure you're standing on a strong foundation yourself.
That's why self-improvement goes hand in hand with transformational leadership.
Constance Dierickx, Ph.D., advised our readers to make learning a priority: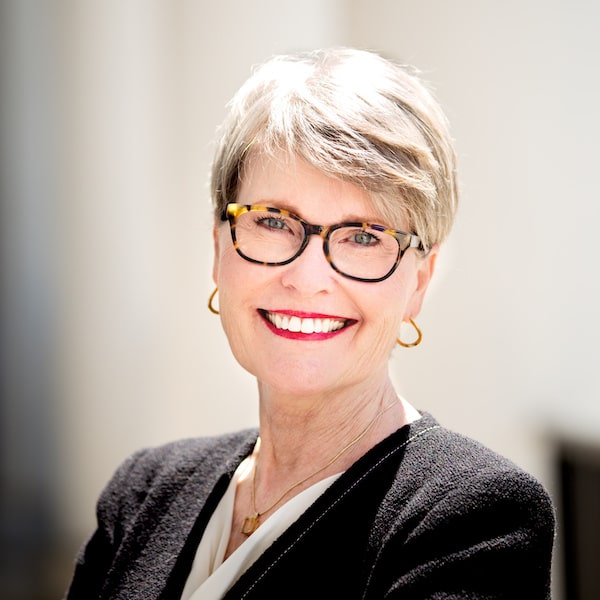 "Start with yourself — make your own learning a priority and let others be your teachers."
Becoming more mindful, self-aware, and authentic will set you up for success later on. One way to do this and keep your ego in check is to journal, meditate, or go to therapy.
These solutions will also help you develop the emotional intelligence and collaboration skills you need to become a good transformational leader.
In fact, while you're on your journey of self-development, you should put in the extra effort to become a more effective communicator, too.
In Paul Bramson's words, communication is a key element of transformational leadership: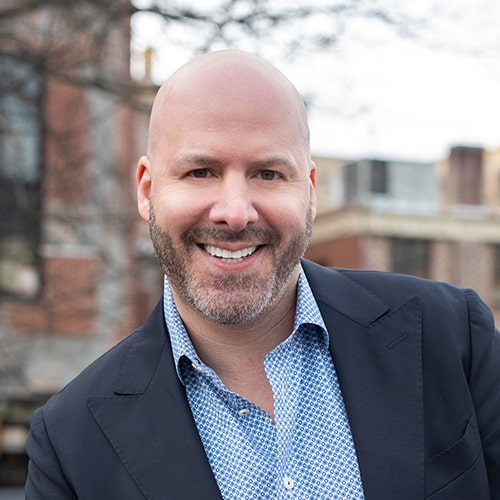 "Get really effective at communication. All transformational leaders have this strong skill set. Clearly and passionately articulate your vision, goals, and expectations to your team. Be open, transparent, approachable, and vulnerable in your communication, which fosters an environment of trust and collaboration."
Discover your leadership communication style and practice active listening to make sure your employees feel heard.
Tip #2: Take a class in transformational leadership
While we're on the subject of self-improvement, we should note that there are places that offer classes in transformational leadership, specifically.
So, if you want to have someone tell you exactly how to become a transformational leader — and have a certificate to show for it, in the end — you could look into the following resources:
If you're a student, you may find that your university or college has a transformational leadership course. A brief online search led us to the following courses:
The Institute for Transformational Leadership at Georgetown University offers a certification program (which does have some required courses),
The University of Texas at Dallas has a certification program that lasts 9 months, and
Some schools, like the Massachusetts Institute of Technology, have shorter, 8-week programs, if you're not looking for full course-length education.
In other words, if you're interested in developing the skills you need to effectively implement the techniques associated with transformational leadership, you'll find no shortage of courses at all price points and accessibility levels.
Tip #3: Get to know your team
According to Diane Rosen, transformational leadership is all about developing a genuine interest in your team: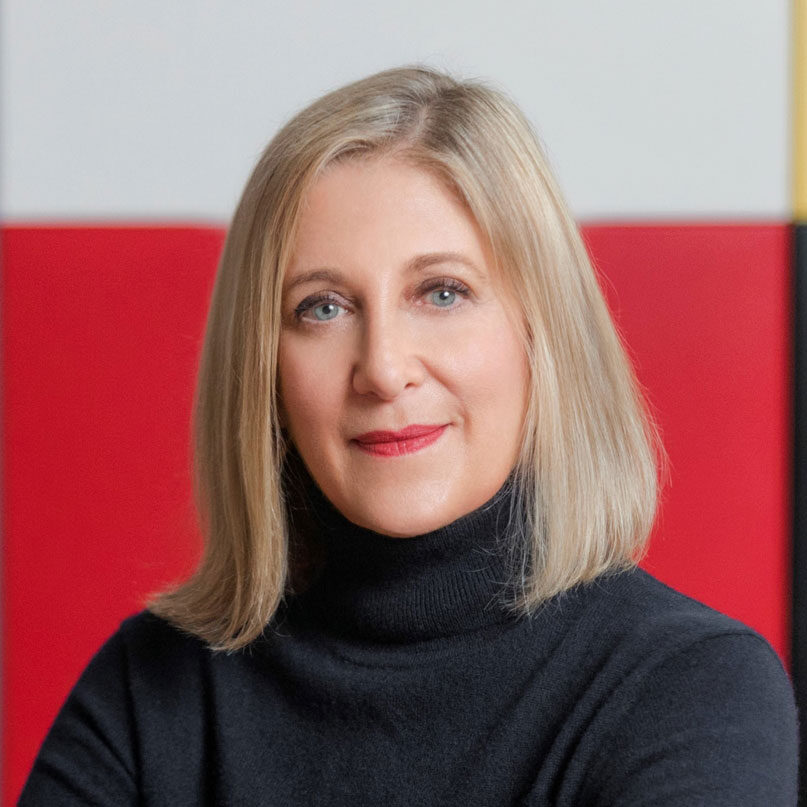 "The big takeaway from the transformational leadership style is:
To lead from intrinsic motivation rather than a quest for status and rewards,
To engage with reciprocity and mutuality, and
To have an eye toward not only oneself, but the team, organization, and beyond."
With that in mind, the next step on your journey to becoming a transformational leader should be all about getting to know your employees as a group and as individuals. You can start by:
Making an effort to understand your team members on a deeper level will help you build trust and lasting relationships in your organization.
After all, having a network of reliable people you can turn to is one of the hallmarks of transformational leadership.
You can start building those relationships even if your company is remote.
As an example, here's how you might set up a video call with a team member on Pumble, a team communication app.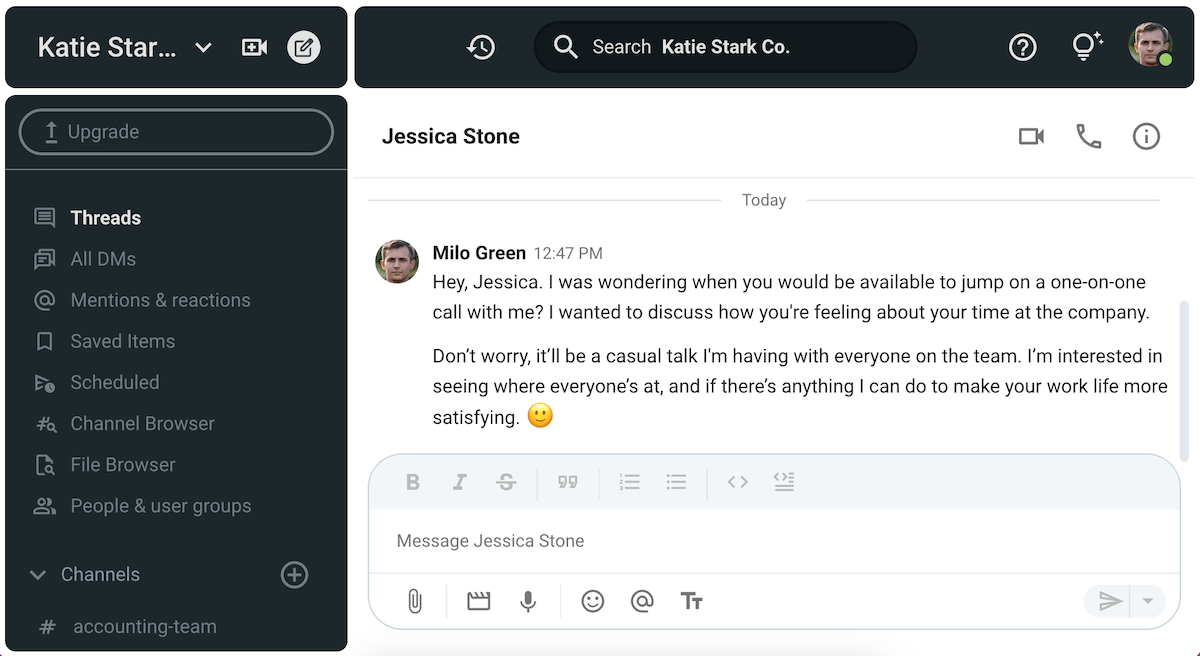 Tip #4: Share your vision
As we know, having a clear vision is a crucial part of transformational leadership.
However, having a plan for its realization and knowing how to communicate it is arguably more important.
As a transformational leader, you'll have to know how to:
Communicate your ideas in an inspirational and effective way,
Ask for and acknowledge your employees' input,
Assign roles and responsibilities,
Motivate everyone to achieve great results, and, most importantly,
Follow through on the plan.
In transformational leadership, understanding the long-term goals behind every project — the big picture of it all — will help you and your team stay motivated.
Tip #5: Encourage creativity
Leaders, especially managers, often feel the need to keep a tight leash on their employees.
However, that approach comes from the tradition of transactional leadership.
Conversely, allowing your employees to have more freedom is conducive to the kind of creativity you'll need if you want to make any changes in your environment.
So, offer support and guidance when needed, and do your best to make sure your employees know they can approach you with any ideas they have about the way your business is run.
In the spirit of transformational leadership, be proactive about encouraging participation and collaboration, and reward people when they do come to you with great ideas.
💡 Pumble Pro Tip
Encouraging creativity is all about creating a more open work environment. To do that, you might want to consider a more team-centric approach:
Tip #6: Know how and when to adapt
Transformational leaders are still leaders.
As liberal as this approach might seem, those who practice it will still need to make difficult decisions at some point.
For one, what if the vision and plan you set out at the beginning of a project doesn't look like it'll work out?
It might have seemed like a good idea at one point, but if it's not panning out, no amount of passion and enthusiasm will make the vision come to life.
Luckily, adaptability is one of the key traits of transformational leadership.
A leader should know when to switch strategies and how to come up with a new direction on the fly.
Besides, doing so will allow you to show your employees the kind of leader you are — so it plays into the idealized influence aspect of transformational leadership.
Tip #7: Measure your progress
Finally, the analytically-minded among us will be pleased to know that there are 2 great ways to check if this leadership style is having any impact.
The first method involves asking your team members to explain your vision back to you.
If you've been communicating effectively, everyone should be able to describe your ideas back to you consistently in their own terms, without parroting back your exact language.
Remember, the goal is to get everyone's enthusiastic participation. They shouldn't just be along for the ride because the boss has a crazy new idea and they might as well go through with it since they'll be paid either way.
The second method is to explain transformational leadership and the traits associated with it to your employees.
Once you have done that, ask your team to rate the extent to which they believe you exhibit those behaviors.
That should tell you whether you're on the right track.
Of course, there are different ways to go about getting these measurements. For example, you can use anonymous polls or surveys or schedule virtual or in-person feedback sessions.
💡 Pumble Pro Tip
Feedback sessions can be a great way to determine what you're doing right and what can be improved. But, have you heard about feedforward? To learn more about this fascinating subject, check out this article:
Final thoughts: Everyone can become a transformational leader
Upon seeing the lofty names we offered as an example of transformational leadership, you may have thought that this approach is beyond your ability.
But, at this point, you should know that everyone can become a transformational leader, as long as they:
Set clear and actionable goals,
Prioritize their vision and values,
Are open to new ideas and taking risks,
Commit to the practice of active listening,
Help others unlock their potential, and
Strive to inspire an enthusiastic response in others.
In the words of Diane Rosen, it's about being self-reflective: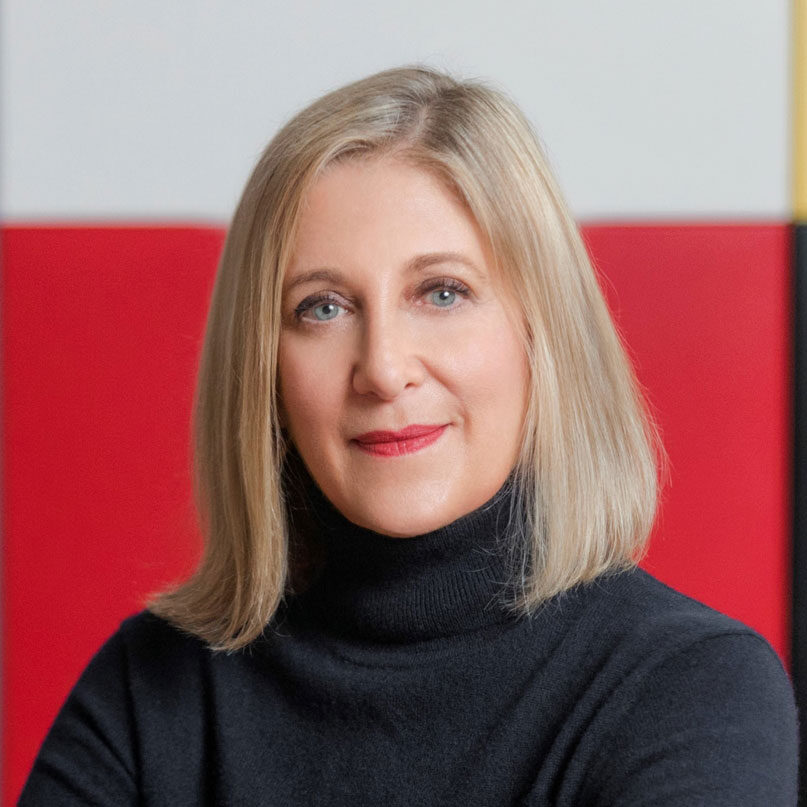 "Every individual has the capacity to be an authentic, positive leader — perhaps not all the time or in all contexts — by being self-reflective, committed to learning, engaging respectfully with others, and creating space for others to grow and develop."
✉️ What are your thoughts on transformational leadership? Do you have any tips to share on how a young professional could become a transformational leader?
Let us know at blogfeedback@pumble.com and we may include your answers in this or future posts. And, if you liked this blog post and found it useful, share it with someone who might benefit from it.