Being a good leader is one of the greatest skills you could have in the business world. Yet, leadership doesn't come naturally to most people.
In fact, 69% of company managers report feeling uncomfortable communicating with employees. That tells us that the majority of leaders haven't been properly trained to be good leaders.
After all, being an effective communicator is certainly one of the key traits a good leader should have.
Yet, the kind of communication leaders rely on is naturally different than the business communication most of us engage in on a daily basis.
With that in mind, we set out to answer some of our burning questions about leadership communication, such as:
How do we define leadership communication (and what are some of its main characteristics),
What makes someone an effective leader (and which skills would they need to nurture to become an effective leader),
What are the 7 leadership communication styles, and
How would someone go about developing their leadership communication style?
Along the way, we'll also provide some examples of successful communication in leadership roles.
So, without further ado, let's dive into the subject of leadership communication.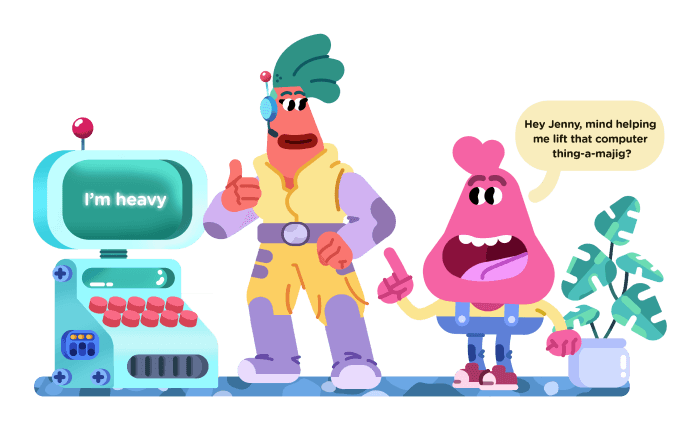 What is leadership communication?
Leadership communication is often seen as downward communication that relays information concerning an organization or company and its employees from those in leadership positions to employees.
However, many leaders are also called upon to communicate that type of information to external parties such as clients, customers, or shareholders.
In the interest of providing a more specific definition, we reached out to a management consultant, executive coach, and the Founder/CEO of DSC Consulting Solutions, Dawn S. Cone, Ph.D.
She noted that the style of delivery is a big aspect of leadership communication, saying: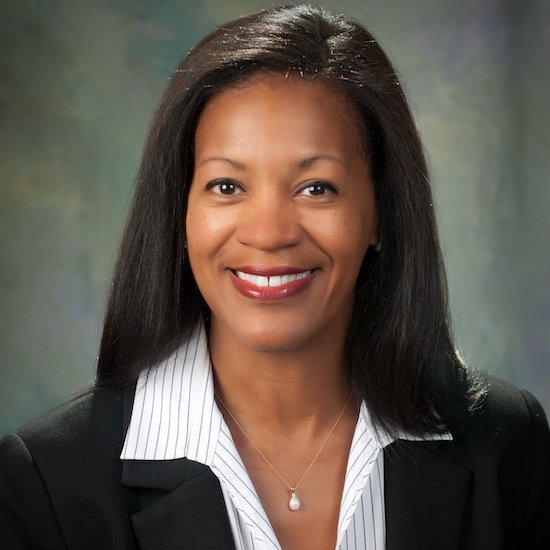 "Leadership communication involves all of the ways the leaders of an organization deliver messages internally and externally that build and reinforce its culture/core values, vision, mission, and strategic priorities.
It includes both what they communicate and how they communicate it.
There is an inherent inspirational nature to it — largely because of the leader's position of power and influence. This means a leader's communication has the ability to inspire either positive or negative attitudes, behavior, and performance."
Having determined that the style of communication is a big part of communication in leadership roles, we set out to find the most common characteristics of leadership communication with the help of more experts.
💡 Pumble Pro Tip
Everyone has their own ideas of what communication at the workplace should be like. However, many of those ideas are based on misconceptions. Check out this blog post to learn more:
Leadership communication is action-oriented
According to Paul Gunn Jr, a thought leader, WSJ best-selling author, and member of the Forbes Business Council, the strength of a great leader lies in their ability "to communicate difficult orders and directives with expectations even in the face of not being liked."
When asked to elaborate, he put forward the idea that leadership communication is action-oriented: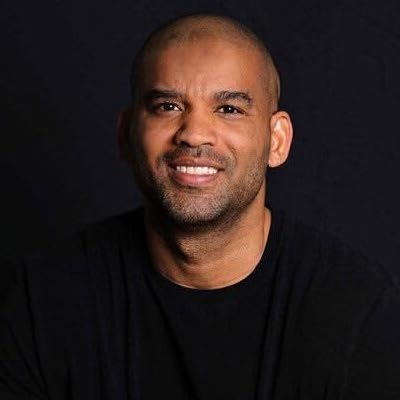 "When an employee or a team states that they don't understand something, leadership communication addresses the concern by showing the team members they hear them, and if there are steps to be taken, they move on to get it done. They speak from the heart and consider others on the team."
In other words, effective leadership communication allows leaders to:
Share information quickly and clearly,
Empower employees to reach their goals,
Respond to their employees' needs and desires, and, above all,
Drive change and results.
Ultimately, this type of communication is usually focused on boosting productivity. However, that doesn't mean that leadership shouldn't take their employees' emotions into account.
Leadership communication is purposeful
Understanding the emotional and motivational aspects of professional communication is a huge component of leadership communication. After all, leaders need to be able to:
Creating an environment in which employees feel safe to make progress at their own pace and contribute to their organization's success is a key task of communication in leadership positions.
For another perspective on this, we turned to Harvard Business School Professors Anthony Mayo and Joshua Margolis.
In their course on leadership, they examine leadership styles through 3 distinct frameworks:
Imprint — which looks at the way others perceive their leaders,
Functions — which looks at the ways leaders mobilize their teams, and
Motivations — which looks at the various stimuli or incentives that prompt leaders to do things in a certain way.
Mayo and Margolis believe that looking at our impacts through these frameworks can help us discover our leadership styles and become more effective in our roles.
Leadership communication is adaptable
According to Diane DiResta, a workplace communications coach and author, effective leaders should utilize a variety of communication styles when interacting with employees, partners, and customers.
After all, in addition to impacting employees, leadership communication is also crucial for establishing strong relationships with third parties and building a reputation for the business.
Therefore, the communication style leaders use should depend on the circumstances of the exchange. DiResta highlights some of the most prominent communication styles being:
Directive and to the point, e.g. a leader who sticks to doling out business-related tasks,
Expressive, warm, and personal, e.g. a leader who easily engages in friendly small talk,
Methodical, step-by-step, e.g. a leader who plans for contingencies and isn't afraid to embrace collaborative leadership by building consensus,
Analytical, e.g. a leader who carefully weighs the pros and cons of any situation before reaching a decision, and
Asking questions, e.g. a leader who deliberates before moving ahead with any plan.
The way leaders communicate shouldn't always be the same — it's always good to look at things from different perspectives.
Thankfully, there are many leaders who successfully communicate with their employees, partners, and community.
But, before we list the people we can look up to in that regard, let's talk about what an effective leader even looks like.
How can we recognize an effective leader?
According to DiResta, an effective leader is characterized by a unique set of traits: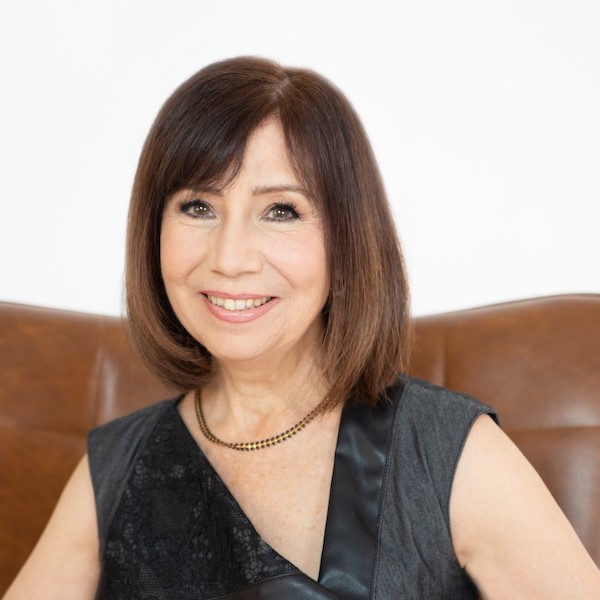 "Effective leaders:
Build trust,
Develop people,
Respect differences, and
Demonstrate good listening skills.
They inspire and lead by example.
The best leaders have emotional intelligence, self-awareness, curiosity, and continually innovate."
In line with DiResta's perspective, Cynthia Moore, a leadership coach, mentor, and speaker, gives her view of what makes an effective leader: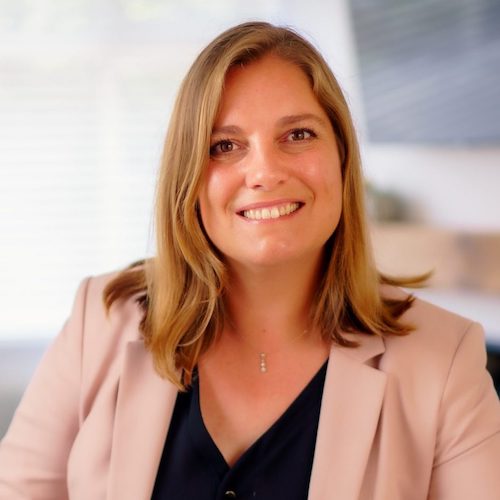 "Effective leaders display characteristics such as:
High emotional intelligence, including awareness (of self and others, situation, organizational, strategic, social),
Self-regulation,
Motivation,
Empathy,
Adaptability, and
Result-orientedness.
From this flows a strong ability to manage oneself, particularly in challenging situations, which in turn enables leaders to stay present and focused on the situation and people involved as well as the desired outcome."
Learning about the traits and skills that set the stage for successful leadership communication will help us examine the various leadership communication styles we'll discuss later on. With that in mind, let's see which communication skills tend to come in handy for people in leadership roles.
What are the most important communication skills for effective leaders?
To understand what makes a good leader and a good communicator, we asked Dr. Cone to share her point of view. She suggested that perspective is one of the most important skills a leader should develop: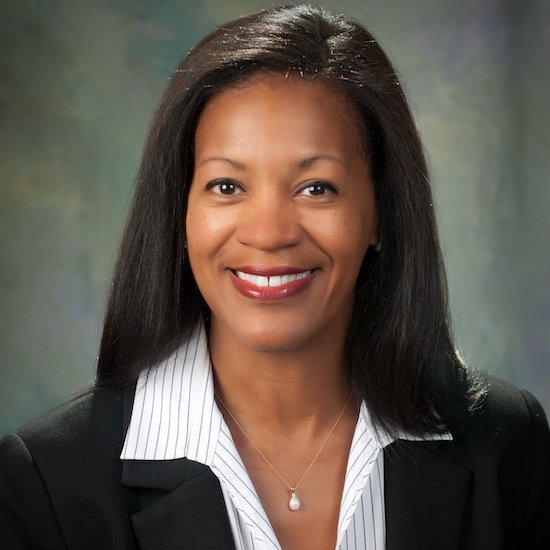 "A good leader is keenly aware of the business goals as well as the strengths and weaknesses of their people, and seeks to create an environment that encourages forward momentum through a combination of critical information and motivating engagement and buy-in."
We can agree with Dr. Cone on this — the role of a leader isn't an easy one, particularly in the newly established remote or hybrid work environments. The leaders of these so-called distributed teams face a whole new set of challenges.
With so many employees working from different locations and sometimes even countries, keeping everyone connected is not the only concern.
But, despite the recent changes in workplace and employee management, some things — such as the communication skills necessary to become a successful leader — haven't changed. Namely, some of the most prominent skills that define a good leader include:
Those last few traits are crucial, according to Paul Gunn Jr: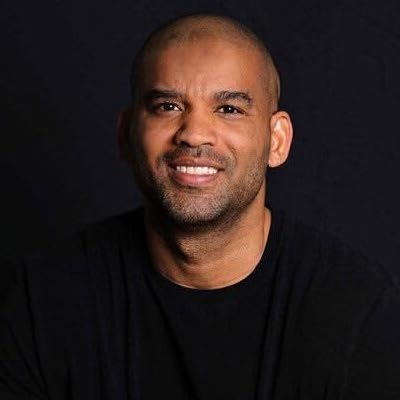 "Empathy, kindness, and compassion are critical traits of a leader. This allows them to make difficult decisions with the best results in mind. They are not concerned with being agreeable, which is often confused with kindness. Kindness will make a tough decision even if it is seen as not being nice because the communication called for compassion for all involved."
Ultimately, good leadership is reflected in a leader's ability to see beyond all the numbers, all the setbacks, and all other issues, and actually help others go through rough times.
4 Real examples of successful leadership communication
Effective leadership communication can take on many forms. As we have established, leaders need to be able to adjust their approach to various circumstances.
Going forward, we will discuss the ways in which 4 widely celebrated leaders approach leadership communication in practice.
Empathy: New Zealand PM Jacinda Ardern
Even before she was elected for a second term as PM of New Zealand, Jacinda Ardern stirred the world with her authentic, kind, and empathetic approach to leadership. Her decisiveness and resolution have proved crucial for her country in times of trouble.
In her own words, leadership is all about bridging the gap between different opinions:
"To me, leadership is not about necessarily being the loudest in the room, but instead being the bridge, or the thing that is missing in the discussion, and trying to build a consensus from there."
Ultimately, Ardern's greatest strength is her ability to show empathy through her work, which has secured her position. What's more, she's well aware that engaging her people and calming them in times of crisis is what will ultimately get the job done.
Culture: HubSpot Co-Founder Brian Halligan
In the early days of HubSpot, culture wasn't Brian Halligan's main concern. According to him, the founder's job is never done, so there's no time to pause and reflect on what you're building:
"As a founder, you're always fighting a fire, there's always a problem, you're always working on some issues where you can't really step back and look back and take stock of what you've done."
According to a Jungle Ventures interview, both Halligan and his co-founder Dharmesh Shah believed that thinking about company culture was a "waste of time" at the beginning of their careers.
So, what changed their minds? Well, talking to other CEOs, notably iRobot founder Colin Angle, helped Halligan and Shah understand that culture helps leaders build a big company. That made them invest in their company's culture as one of the major products of their company — and the thing that helps them attract talented employees.
The decision that helped HubSpot transform the way it communicates with prospective and current employees was elevating an employee from the marketing team, Katie Burke, to be their first HR employee. The move exemplifies Brian's thoughts on employee communication at HubSpot — it's a marketing approach.
Even though Halligan stepped down as CEO of HubSpot in September 2021, the influence of his leadership communication style is still felt in the company. That much is evident by the number of awards HubSpot continues to receive on an annual basis from Comparably's user base.
💡 Pumble Pro Tip
The founders of HubSpot took a while to realize the importance of company culture. If you want to prioritize it from the get-go, check out this guide to building a collaborative company culture:
Values: Founder of Brother Vellies and the 15 Percent Pledge Aurora James
Awarded the CFDA/Vogue Fashion Fund for emerging talent, Aurora James has quickly become a big name in the fashion industry. She stands behind Brother Vellies, a people-oriented and sustainable luxury brand with workshops in Ethiopia, South Africa, Kenya, and Morocco, providing jobs for hundreds of people.
More recently, in June 2020, James launched the 15 Percent Pledge with the goal of diversifying the beauty and fashion community and closing the racial wealth gap.
Her initiative prompts retailers to dedicate 15% of their shelf space to Black-owned brands. James remains hopeful that the fashion industry will be able to reevaluate what business usually looks like and have more consideration toward the people they work with.
Aurora James' enterprise is primarily influenced by her social values — and so is her style of leadership.
Ultimately, according to Aurora James, it's all about being reflective:
"Success is evident in thoughtfulness and longevity."
Persistence: Peloton Founder and CEO John Foley
Back in 2013, John Foley and a few engineers of Peloton only had a prototype in their hands. Fast-forward to today, and we're looking at a billion-dollar business led by Foley, an aspiring visionary.
Putting his team first has helped Foley establish Peloton as one of the best companies to work in — a company that "sells happiness".
In an interview for ​​the Radiate CEO Series by Nasdaq, Foley said that most great leaders are characterized by the same things — hard work, compassion, and leading from the front.
Ultimately, Foley believes that work environments that allow employees to make mistakes are the road to success.
According to Foley, perfection is overrated — which is why his advice to young leaders boils down to making incremental progress:
"Don't let perfect be the enemy of good. Just get stuff done, every day. If it's not perfect, fix it the next day. But keep putting points on the board every day."
Leadership styles vs leadership communication styles: What's the difference?
Now, before we examine the various leadership communication styles, we ought to understand the differences between leadership styles and leadership communication styles. According to Cynthia Moore, distinguishing between the two is fairly easy: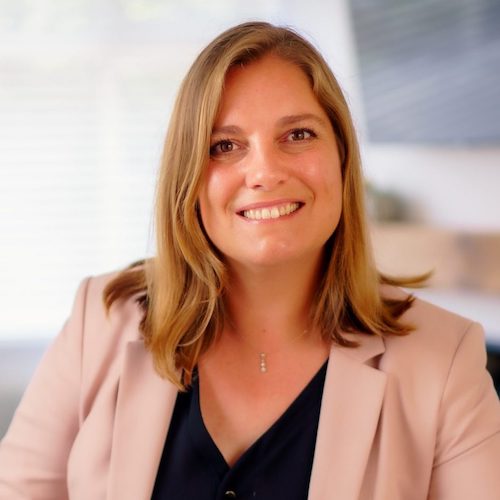 "Leadership styles, e.g. authoritative, collaborative, etc, are closely linked to leaders' communication styles, however, the style used doesn't determine the leader's communication style definitively."
In other words, leadership style is about the type of leader someone is, whereas leadership communication style is about the way they communicate.
But, why do we place such emphasis on these concepts at all?
Well, at this point, most people understand the impact poor workplace communication can have on teams. That's why leaders should work hard to develop their communication skills.
As DiResta told us, great leaders should be on a continual journey of self-improvement: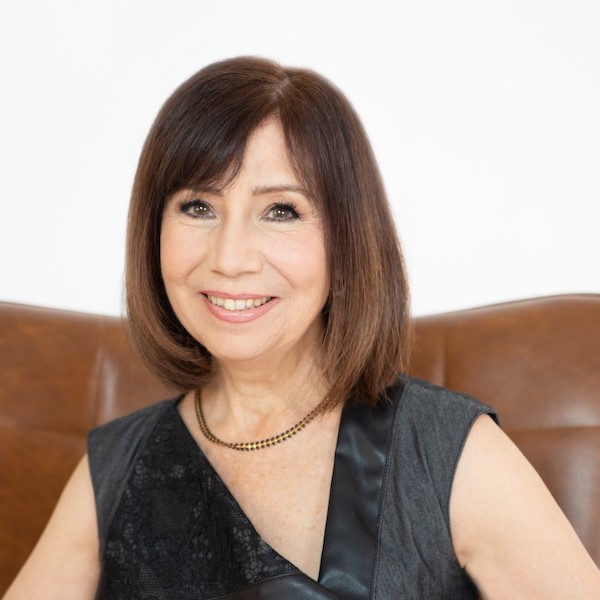 "Self-knowledge and continual training enhance the way a leader communicates. Asking for feedback from followers, peers, and superiors will elevate a leader's communication skills. This requires suspending the ego."
Getting this feedback usually requires leaders to develop an internal communication strategy that fits their style of communication and reflects the company culture.
Having said that, let's take a look at 7 communication styles you can use for communication in leadership roles.
7 Types of leadership communication styles
Now that we've seen some examples of good leadership, let's talk about the communication styles they all use.
According to a Forbes article by Ashira Prossak, an internationally recognized communication coach, trainer, and speaker, most leaders should be able to fall back on the following leadership communication styles:
Listening,
Coaching,
Teaching,
Directing,
Advising, and
Motivating.
Though there is some overlap between these communication styles, Cynthia Moore noted that the delegating communication style ought to be on the list too.
Going forward, we'll talk about:
What each of these communication styles looks like,
When is an appropriate time to use a particular communication style, and
Phrases that will get you in the mindset of a certain style.
On top of that, we'll also showcase an example of an exchange for each of the leadership communication styles we'll discuss. To do this, we'll show messages exchanged between leaders and their team members on Pumble, a business messaging app.
So, without further ado, let's explore the 7 communication styles in leadership.
Leadership communication style #1: Listening
Listening has proved essential to effective leadership — and, according to Moore, it's one of the pillars of communication in general.
Leaders who devote themselves to actively listening to their employees are usually very good at solving issues quickly and efficiently.
Ultimately, great listeners tend to be fully present in every conversation. They don't interrupt, and they don't have hidden agendas when participating in conversations. Instead, they:
Ask follow-up questions,
Listen more than they speak,
Share their interlocutor's interests,
Let others take their time when speaking, and
Focus on learning (which makes them great at summarizing what they've heard).
Leaders who practice this style of communication are genuinely interested in learning what goes on in their organization. They are actively seeking out employee feedback, ideas, and thoughts because they know it will help them do better.
As such, this style of leadership communication should be helpful when:
Useful phrases to support listening communication style
Some of the phrases you could use to show your employees you're actively listening include:
Go on…
I'm all ears…
I'm listening…
Could you clarify this?
Please, tell me more…
Please give me more details…
So what I'm getting from you is…
Let me see if I understood you correctly…
Please continue, I'm following what you're saying.
I'm familiar with the issue, but I'd love to hear your thoughts on it.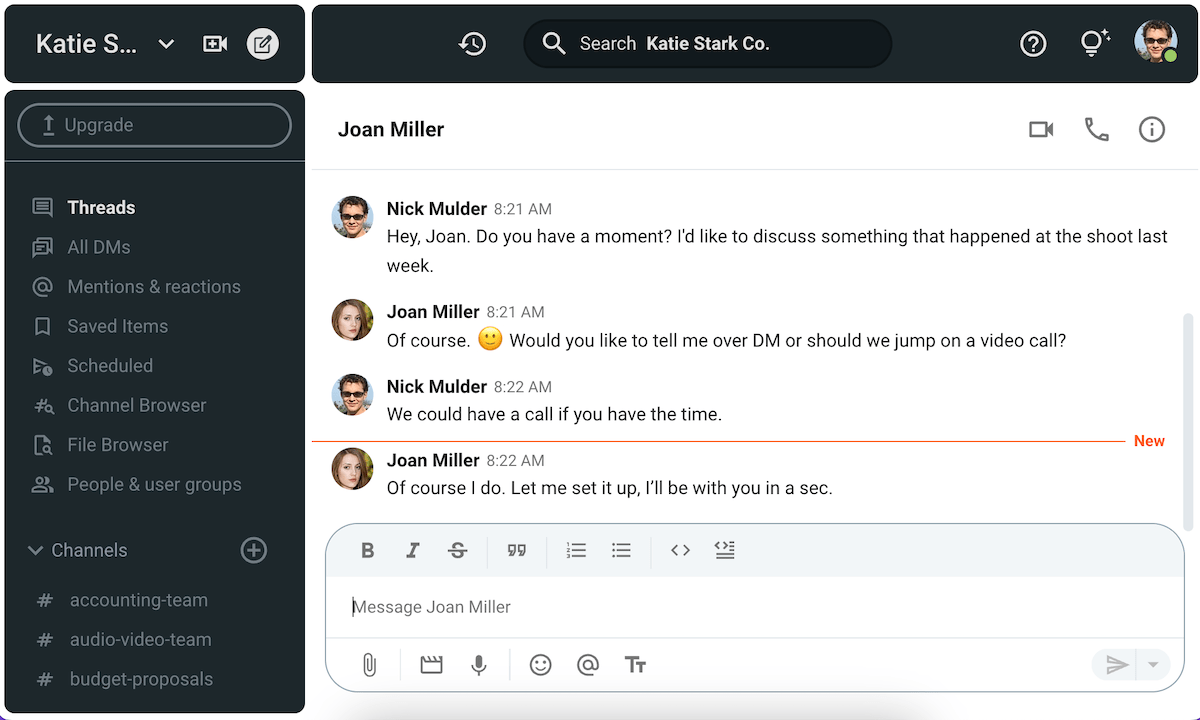 Leadership communication style #2: Coaching
According to Prossak, coaching can help employees build and develop a wide range of skills — but only in low-pressure situations.
This style of communication is similar to teaching and advising styles. Namely, it's a style that requires leaders to provide their workers with a framework — while also letting them reach their goals by choosing their own path.
Coaches tend to understand how to get the most out of people — they can:
Inspire others,
Communicate effectively,
Teach and train future leaders,
Show genuine interest in their team,
Make their employees feel emotionally safe,
Guide and empower those under their leadership, and
Ask the right questions, ensuring that employees retain their autonomy and ownership.
When deciding whether to employ a coaching communication style, most leaders will have to take time into account.
Coaching is only effective in situations that don't require immediate decision-making because it takes time for this communication style to develop.
In other words, this style of communication is useful when:
There's enough time to achieve the goal,
You are certain that an employee only needs a little support,
Employees need your advice to make progress with a task or project, or
You see that your employees are struggling with getting started with a project.
Useful phrases to support coaching communication style
If you want to try the coaching communication style, use the following phrases:
Let's start over.
What isn't working?
Who can you consult?
What are we dealing with?
What can you do to make this work?
Let's identify the underlying problem.
What would you do in this situation?
Have you learned something from this?
I want to help you overcome this obstacle…
I see your point but let's view this from another angle…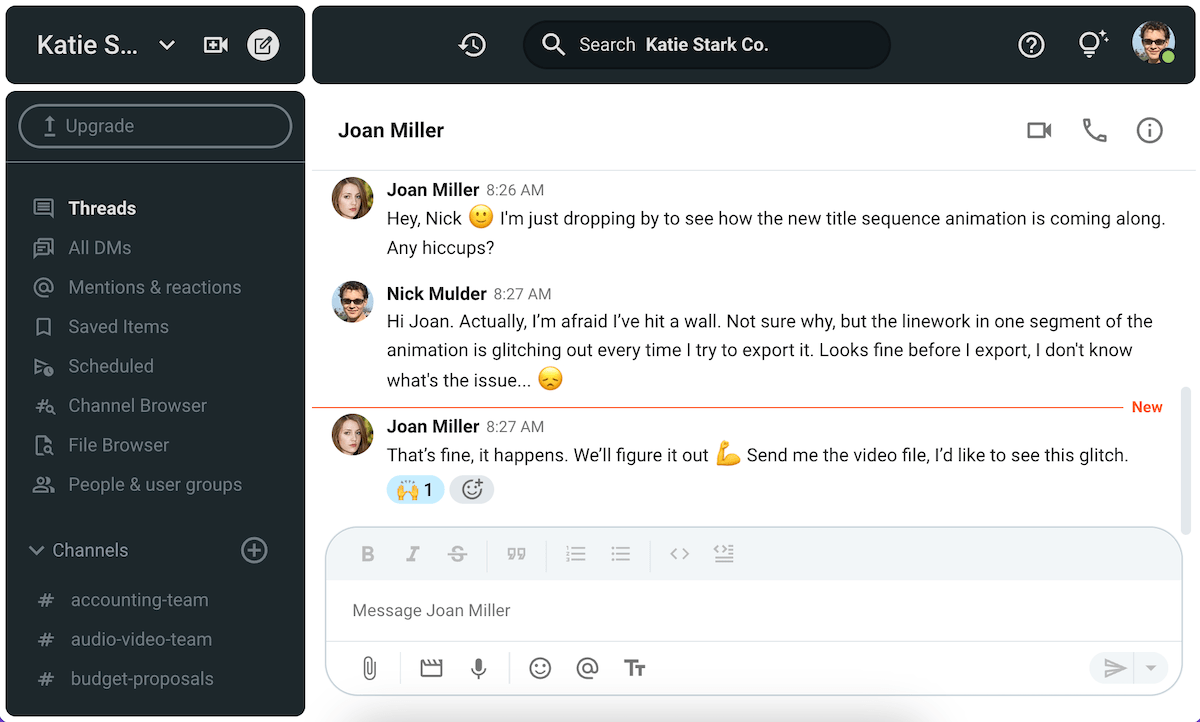 Leadership communication style #3: Teaching
Fundamentally, strong leaders are also amazing teachers.
That's why this leadership communication style is essential for helping employees master new skills and improve their performance.
Now, there are 3 key points when it comes to the teaching style of leadership communication:
Laying out a foundation for employees to follow,
Outlining the steps to take, and,
Explaining the benefits of learning a new skill.
To avoid confusion, you should focus on explaining the WHY behind everything, especially if you want to teach your employees a new skill.
Ultimately, teachers should be able to explain the reasoning behind their instructions and the best practices they share. On top of that, they should also be able to adapt to every situation easily and keep their students engaged.
So, how do you know you've got what it takes to be a great teacher? Well, outstanding teachers are usually:
Great listeners,
Empathetic and kind,
Patient and practical,
Flexible and adaptable,
Engaging and motivating,
Focused on collaboration, and, above all
Always willing to share their knowledge.
The teaching communication style should be reserved for situations where employees are struggling with mastering certain skills or completing tasks.
Useful phrases to support teaching communication style
When using the teaching communication style with your employees, consider some of the following phrases:
Let's start with…
I'm always available for…
What can we learn from this?
Have you tried this method…?
I see you're struggling, let me…
Why don't you go back to the start?
Have you read the instructions/policy/strategy…?
Now that you have all the facts… you can get to work.
I have some resources that might help you get this done.
I found this difficult when I was starting out, too. Let me show you…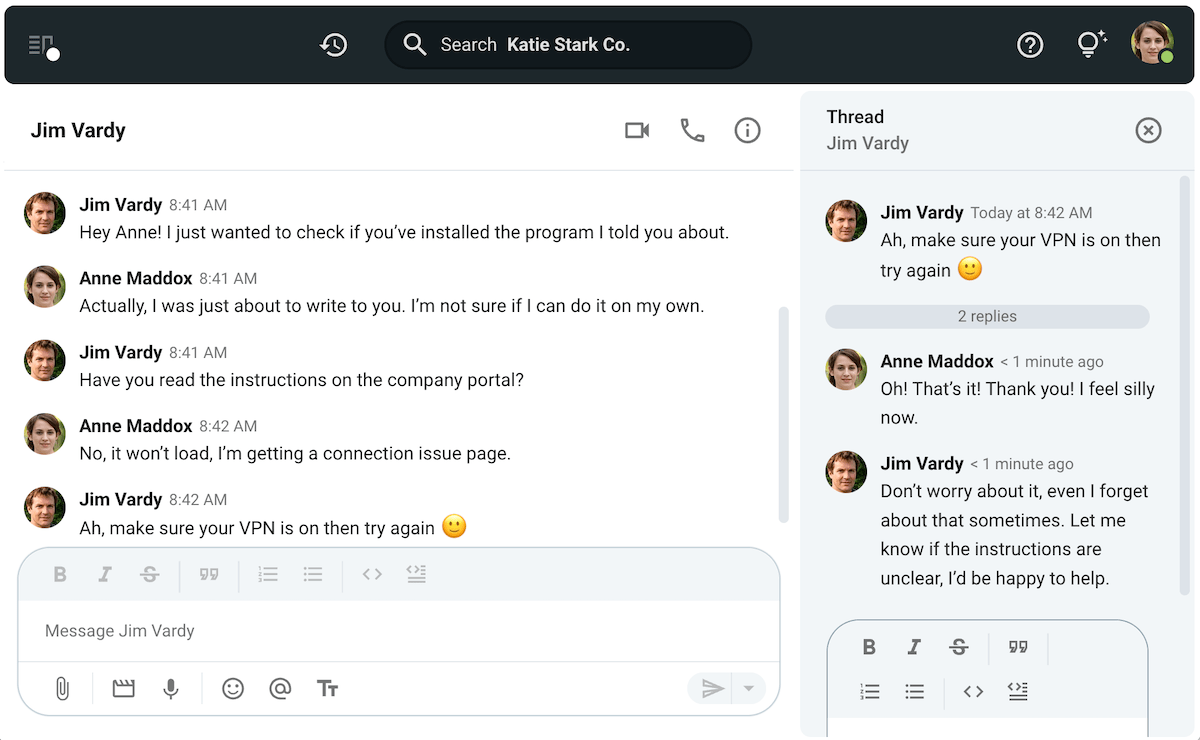 Leadership communication style #4: Directing
The directing style of communication allows leaders to specify the steps employees should take to make progress on a project.
As such, this style is particularly helpful when employees are struggling with finishing a project or are stuck on a certain task.
Since the directing communication style is mostly task-oriented, it can be a useful tool when you need to:
Support new employees with their daily tasks, or
Ensure the completion of less creative and even mundane tasks.
The problem is that some people confuse directing with dictating. The key difference is in the leader's style of delivery — they should be providing instructions, rather than orders.
Leaders who employ this style of communication should use emotional intelligence to regulate their emotions. They shouldn't get upset about small issues.
Instead, strong directors should:
Provide clear instructions and guidelines,
See the "big picture" behind every project,
Successfully navigate stressful situations, and
Value and respect diverse perspectives and viewpoints.
With mindful directing, most leaders will be able to help their employees finish tasks and projects successfully and produce desired outcomes.
Useful phrases to support directing communication style
Use the following phrases to get into the directing spirit:
Let's go with…
Let's go over…
Who can take over…?
You should try to do this…
Could you do… by tomorrow?
Why don't you consider the… approach?
Let's all take a break and return to this later.
Let me know if anything about these instructions is unclear.
Leadership communication style #5: Advising
Most leaders will spend a lot of their time advising the people in their surroundings, including their employees and even business partners.
As experts in their field, the majority of leaders will be able to provide advice to help employees resolve a misunderstanding or handle a tricky situation.
Still, it's important to know when taking the role of an advisor is warranted. Namely, leaders should only turn to this style of communication when they need to:
Clarify a specific situation,
Answer employees' questions,
Provide an alternative perspective,
Help a team go through a roadblock, or
Resolve conflict between employees.
In those situations, a leader acting as an advisor can be a positive role model by:
Showing their expertise,
Taking everyone's opinion into account,
Helping achieve result-driven objectives,
Creating a collaborative work environment,
Being passionate about tackling new challenges, and
Having a genuine interest in providing constructive advice to others.
Still, overusing this communication style can make some leaders fall into the trap of complacency.
Ultimately, the advice you dole out should promote your employees' professional development.
Eventually, they should be able to work through any issues and push forward without needing the leaders' advice.
Useful phrases to support advising communication style
When in advisory mode, try using these phrases:
I would advise…
I can recommend…
In my experience, …
It might be wise to…
Perhaps … is worth a try.
Maybe it's a good idea to…
Have you thought about…?
Can I give you advice on this?
Would you like to hear what I think?
When I had this problem, …worked for me.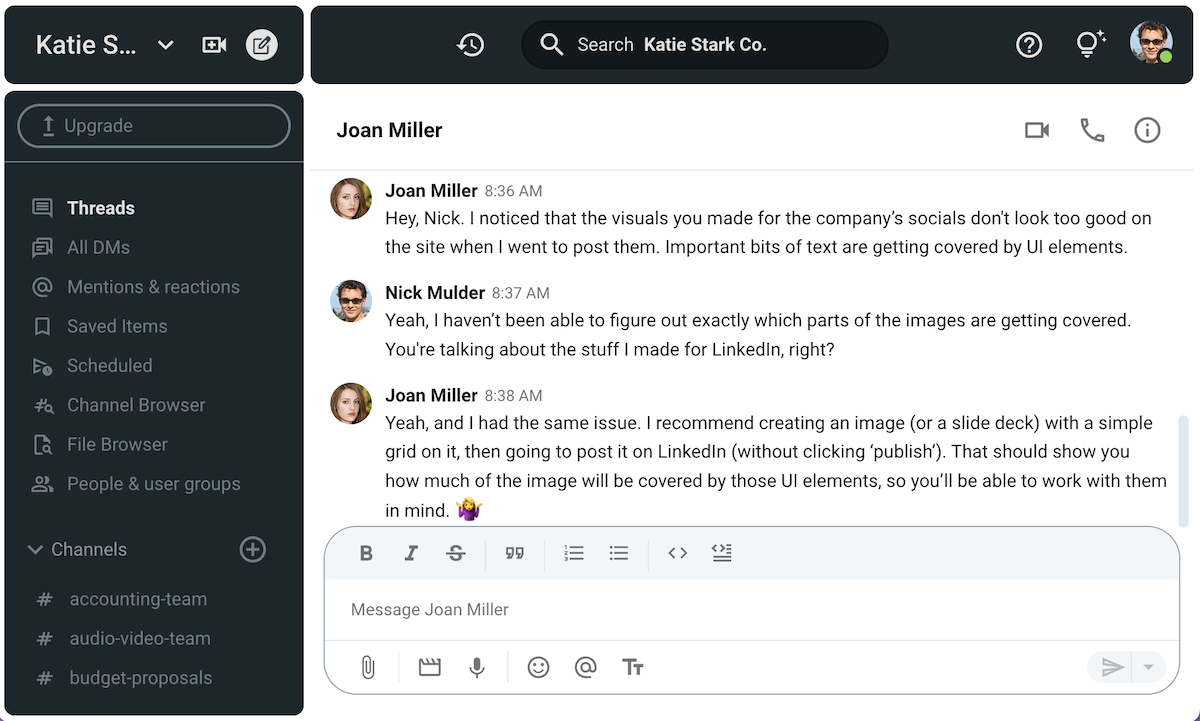 Leadership communication style #6: Motivating
Knowing how to motivate employees is an integral part of a leader's job description. Thanks to a strong call-to-action approach, good motivators are able to help people move forward and inspire them to do their best work.
Leaders who use this style of communication tend to be pretty optimistic. They also:
Support teamwork,
Have a clear vision and goals,
Inspire employees to do their best,
Praise and reward individual achievements, and
Recognize the importance of effective communication.
However, the successful implementation of this style of leadership communication depends on the leader's perception.
In other words, knowing your people and the motivation methods they respond to is crucial. While some respond well to motivational quotes about teamwork, others may prefer a verbal show of appreciation for their skills, insight, and perspective. The leader's job is to know which method to employ.
On top of that, you should also know when this style of leadership communication is necessary.
Generally, a motivational approach should work best when you have to:
Encourage employees and boost morale,
Help an employee who is struggling in their new/old position,
Deliver company news or communicate upcoming changes, or
Give your team the final boost they need to complete a task or project.
Useful phrases to support motivating communication style
Here are some useful phrases to help you inspire and motivate your team:
I'm amazed by your…
I believe you can do this.
You've demonstrated great…
I'm sure we can … together.
Wow, that was a great idea!
I appreciate your contribution!
Great to have you on the team!
How insightful/inspiring/exciting!
You're on the right track. Tell me more!
We couldn't have done this without you!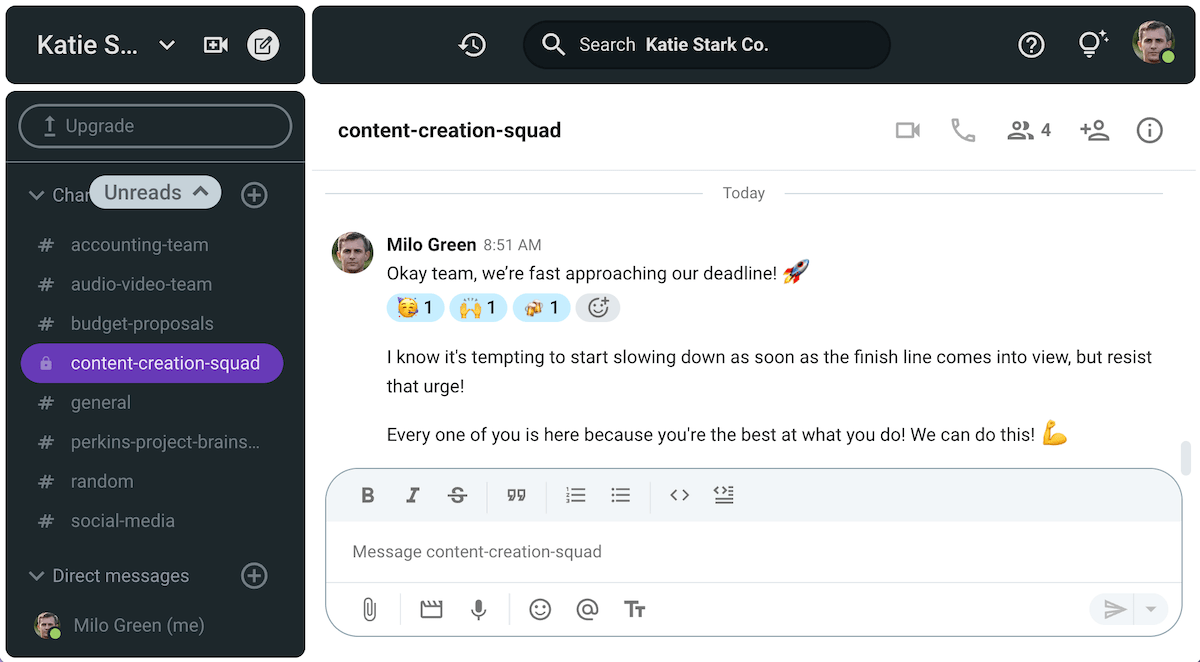 Leadership communication style #7: Delegating
The delegating communication style is arguably the most hands-off of all leadership communication styles we've mentioned here.
After all, delegation assumes the transfer of responsibility to the employees — especially when there's a clear goal to strive for, a specific task or project to complete.
It's a great way to approach self-driven employees and offer them more autonomy and a chance to learn valuable leadership skills.
Great delegators know:
What to delegate and when,
How to define the desired outcome,
Their employees' strengths and weaknesses,
How to encourage better communication among team members, and
How to provide the necessary information, resources, and tools.
But, as always, leaders who opt for this way of communication have to be aware of the pitfalls of its ineffective use.
Namely, according to Cynthia Moore, delegation can be a "disastrous approach for newly-formed and inexperienced teams."
Additionally, Moore shared some caveats concerning the optimal conditions for the use of this style of communication, saying: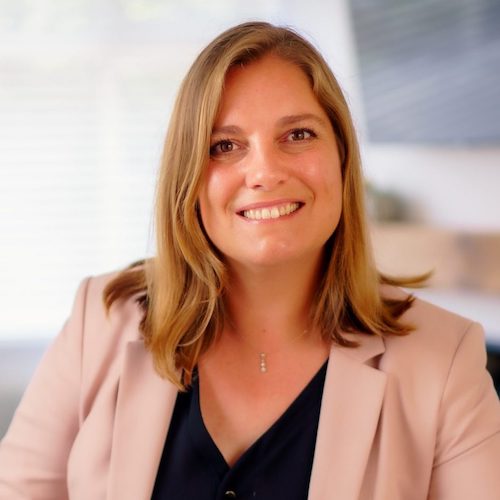 "[The] delegating communication style could work very well on mature, self-sustaining teams but it has to be combined with the right level of direction, depending on ability and experience within the team."
So, ultimately, this style of leadership communication works best in combination with some of the previous styles we have discussed.
Useful phrases to support delegating communication style
If you're about to delegate responsibility, have these phrases in mind:
Who would like to…?
Could you manage…?
You're responsible for…
How can we break this up…?
Could you be in charge of…?
Let's break it into smaller tasks…
I would appreciate your initiative…
Would you consider steering the wheel on this one?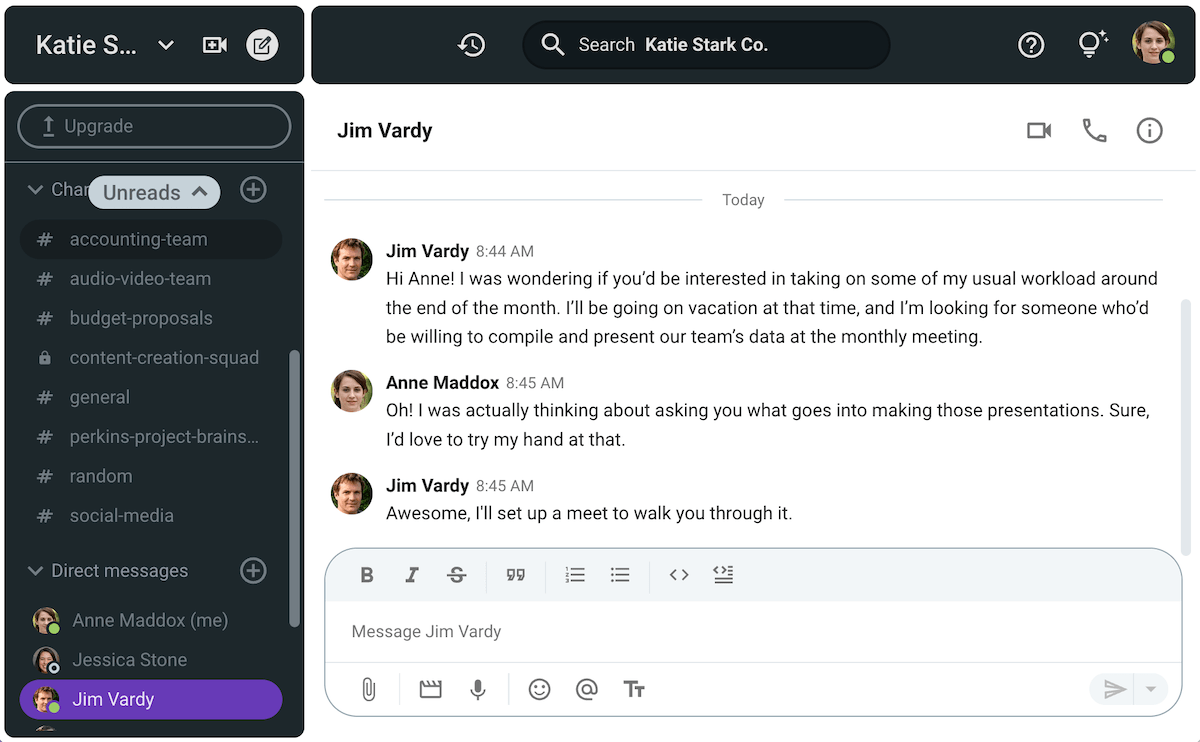 💡 Pumble Pro Tip
While working with different types of people, you'll likely engage in various communication situations. To learn more about them, check out our guide:
6 Tips for improving your leadership communication skills and developing your communication style
As Diane DiResta notes, adaptability is the key to honing your leadership communication skills.
She believes that one style won't work with every employee or every situation — a stance shared by Prossak and Moore.
DiResta goes on to explain that leaders can develop a leadership communication style by: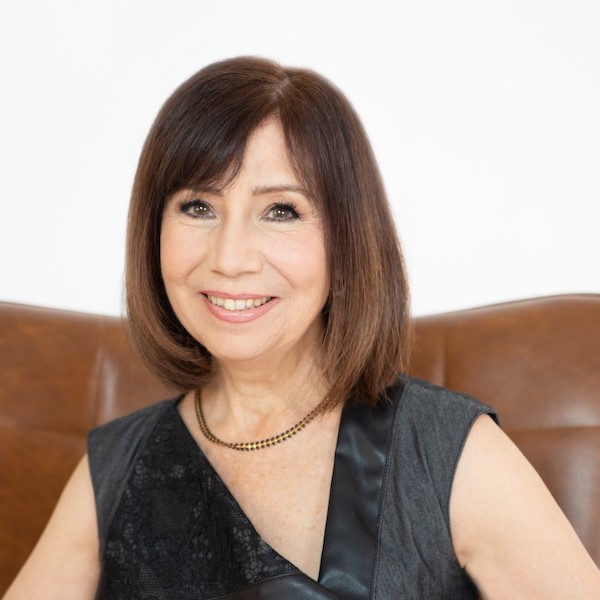 "1. Clearly understanding the different styles,
2. Understanding how they naturally communicate and leveraging that style, and
3. Practicing flexing their styles so that they can adapt to any situation."
In essence, there's no leadership communication style that fits all occasions and overcomes all communication challenges.
Ultimately, being a good leader is all about being wise enough to know when to use each of the leadership communication styles we've discussed.
So, how do you become a better leader? Well, adhering to the following tips won't hurt!
Tip #1: Drop the ego — focus on your team
When we spoke to Cynthia Moore about leadership communication styles, she noted that a true leader should never be blinded by their ego.
Rather than being "focused on themselves as a leader," Moore finds that the more helpful stance would be "a more emphatic one that focuses on what is important for the people the leader leads."
Ultimately, this seems like a key point for improving communication as a leader, because it allows you to develop your communication style in a more assertive way.
When leaders put their egos aside and approach situations and people from a different perspective, Moore argues they become "less driven by fears of how they are perceived [and] more driven by identifying what serves the team/department/organization's goals and its members."
Finally, by choosing to put the psychological safety of your people above everything else, you'll get out of your comfort zone and expose yourself to negative perceptions.
For Moore, this represents a possibility to escape "the paradox of potentially creating a situation where people don't feel 'heard' and thereby potentially leading to negative perception."
Tip #2: Let go of your insecurities — learn to listen
On a similar note, Moore notes that leaders often get stuck on the way they are perceived: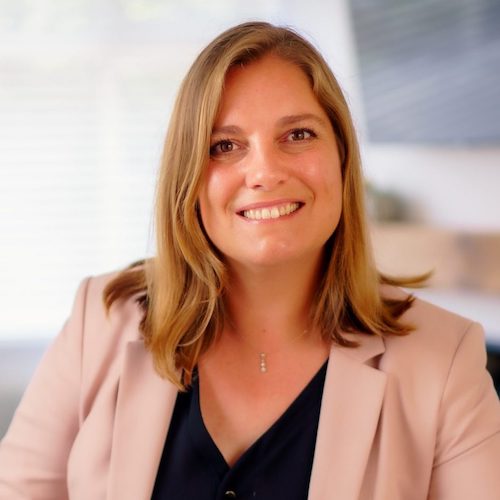 "Leaders (new or not so new) can at times question how they come across, how they are perceived. This type of insecurity can lead to the internal creation of the type of leader they want to be; high standards, but fair, somewhat feared, etc. These are genuine descriptors budding leaders have used verbatim."
This insecurity can — and should — drive leaders to constantly be on a journey of self-improvement.
As Moore sees it, "enhancing a leader's communication often starts with strengthening the listening skill." She believes that listening without judgment is vital to gaining a good understanding of the situation.
Being self-confident and quick-witted is similarly crucial for improving communication skills for leaders. Moore emphasizes the importance of being able to think of quality responses while still listening and not missing vital information on the way.
Lastly, having a role model to look up to can greatly contribute to the way you communicate as a leader. It can give you an idea of what to aspire to, what to improve, and what traits you may want to mirror.
Tip #3: Be flexible — adjust to the circumstances
As we have established, when practicing leadership communication, adaptability and flexibility will be your best friends.
Keeping an open mind is essential for successful communication, particularly if you work in a cross-generational, hybrid, or distributed work environment.
Considering that Prossak, DiResta, and Moore all emphasize the ability to adapt to every situation and each employee as essential for enhancing leadership communication styles, there's no reason to fear or resist this step.
In fact, according to Cynthia Moore, great leaders should be able to switch between various communication styles even within a single conversation.
Even Dr. Cone noted that leaders should operate beyond leadership communication strategies to ensure the best results: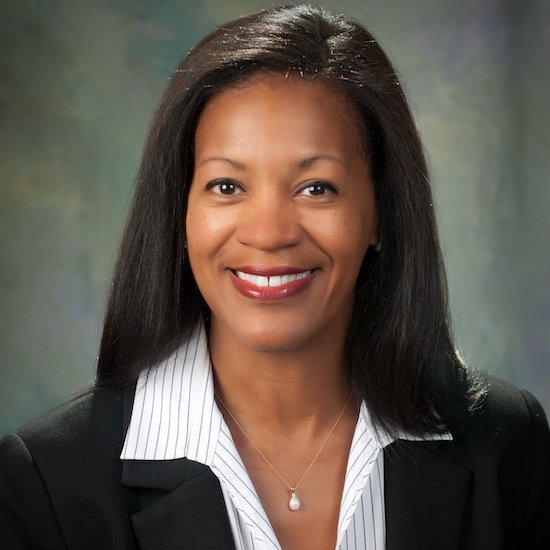 "There are well-recognized practices for leadership communication such as transparency, confidence, listening, using stories, etc. However, rather than simply following a universal set of leadership communication strategies, the key for leaders is to craft their communication based on the desired culture and goals of the organization. Being clear about the 'end in mind' will help leaders focus on the right purpose and structure of their communication for maximum results."
In other words, take into account the unique nature of your team before opting for any of the leadership communication styles we have discussed.
Tip #4: Learn to delegate — empower your employees
Perhaps the best way to showcase your leadership skills is to learn to empower your people by delegating.
Trusting your employees in this way will make them more excited to show you what they can do.
Teaching your workers to be good at decision-making and prioritizing will also make your job easier in the long run.
In any case, you won't know who's got the skills to do it until you actually give them a chance.
And, even if you have to be away for some time, you'll be sure that the ones you've left in charge can keep work going.
Tip #5: Encourage employee recognition
Whether you decide your team is ready to take on more responsibility or not, it's still important to make sure everyone feels like their work is valued.
After all, who doesn't want to know they are contributing to the company and its vision?
With that in mind, you can start by giving credit where it's due. For example, you can provide employee recognition by acknowledging everyone's contributions to the team project.
On top of that, you could also organize some team-building events — or even try some virtual team-building activities. Finishing the activities with an awards ceremony of sorts can be a great way to acknowledge your employees' efforts in a more public — yet still casual — way.
These kinds of solutions will create a culture of employee recognition and pave the way for more peer-to-peer recognition as well. So, in addition to being able to connect with your team, encouraging employee recognition will also foster a sense of community and cohesion in your company.
Tip #6: Create a good work environment
Working conditions can have a great impact on how your people see you as a leader and how they respond to your leadership communication style.
Furthermore, it can also affect their performance, their communication with others, and their devotion to the company.
Luckily, there are concrete steps you can take to establish a healthy work environment for your team.
For one, you can start by creating a good internal communication strategy. That sets the stage for more open communication, which in turn increases employee engagement and makes employees feel more valued.
The first step to establishing that kind of open communication is finding a team communication tool that works for your team.
On top of that, you should try to keep your workplace as stress-free as possible. Keeping your employees' mental health in mind should help you circumvent burnout and other stress-related consequences of overwork.
Lastly, in a good work environment, employees should have access to any relevant company information at all times. After all, you can't commit to being a good leader if you're constantly fielding questions on working hours, company policies, health care plans, holidays, etc.
💡 Pumble Pro Tip
Having good business messaging software can increase the level of communication on the team. But, as the leader, it's your job to keep conversations organized in their designated channels. For inspiration, check out this guide:
Final thoughts: There's no 'one-size-fits-all' leadership communication style
One way or another, poor communication will be responsible for the majority of your company's issues, including but not limited to:
Increased stress levels,
Decreased productivity, and
Missed performance goals.
Adding poor leadership communication into the mix will only expedite the rate of employee turnover and project failures.
Luckily, leadership is a skill like any other — it can be learned, practiced, and perfected — but only if you're ready to work on it every hour of every day.
By choosing to focus on your own improvement, you will be providing your employees with a great role model who can:
Inspire them to keep improving themselves,
Assess what is behind them and shed light on what lies ahead,
Teach them to make decisions confidently and independently, as well as
Be considerate and understanding of whatever might be going on in their lives.
Only through constant self-improvement and introspection will you be able to communicate your mission and vision to your team.
So, choose your words wisely, practice active listening, and be as flexible as the situation requires you to be.
✉️ So, have you already developed your leadership style or are you still working on it? Which of the leadership communication styles we've mentioned has had the most influence on you?
Let us know at blogfeedback@pumble.com and we may include your answers in this or future posts. And, if you liked this blog post and found it useful, share it with someone who might benefit from it.