Why people choose Slack
Arriving as a ready-made substitute to email, Slack has taken the familiar format of instant messaging and infused it with a broad set of collaboration features.
It enables both 1-on-1 and team-level communication, structuring conversations around specific themes through dedicated channels and threads.
It also allows file-sharing, screen-sharing, and integrates with a large number of other popular products, such as Google Docs, Trello, Jira, etc.
It allows teams to keep and organize all their relevant conversations and files in one place while providing all essential communication tools for remote teams. It is quick, fairly simple, and effective.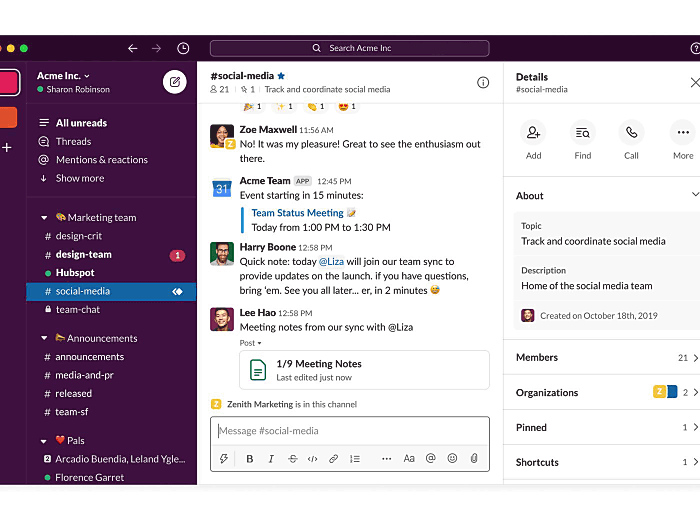 Why people ditch Slack
However, while admittedly a powerful tool, Slack is not an ideal fit for every team. The key downside for many is its affordability.
Yes, Slack has a free plan, but it is hardly suitable for any substantial professional communication. The free plan imposes significant limitations on chat history (10,000 most recent messages) and storage (up to 5GB for the whole team), as well as available integrations (up to 10).
Essentially, it is designed to give teams a taste of what it can do, but any serious doing requires a switch to a paid plan.
The basic paid plan charges $8 monthly per user. While it removes the limitations of the free plan, the cost itself can outweigh the benefits.
As an illustration, a modest 10-person team would pay Slack $80 a month, while a 100-person organization would pay $800 (almost $10,000 annually).
Regardless of the budget, this is a sizable investment.

It can also be quite impractical for large or complex projects where many facets of work need to be discussed. Some have found Slack's frenetic pace of communication itself to be distracting and often trivial.
In short, it does not work equally well for everyone.
Why you should consider Pumble
Pumble holds the essence of what Slack does well while eliminating its biggest downsides.
Pumble is super-easy to sign up, set up, and involve others — it is available across all mobile and desktop platforms.
It enables real-time communication in all its relevant forms, from 1-on-1 conversations to invitational group chats and public channels.
Group discussions can be dedicated to specific teams, projects, or particular aspects of work. Conversations can be further structured via threads that allow a more detailed discussion on particular points of the conversation without overwhelming the whole channel.
Users can also pin important messages to the top of the conversation and mention (e.g. @johnsmith) specific people in order to draw their attention to a message.
Furthermore, users can share files, browse through files contained within specific conversations, and sort and filter the search results so that they can easily find exactly what they're looking for — with no limitations to how far you can go in your messaging history.
Pumble also features smart notifications, enabling users to stay up-to-date with all relevant information while also allowing them to set their preferences, mute channels they only use periodically, or activate a do-not-disturb mode that stops all notifications when we need focused, continuous work.
Best of all, Pumble does all of this for free!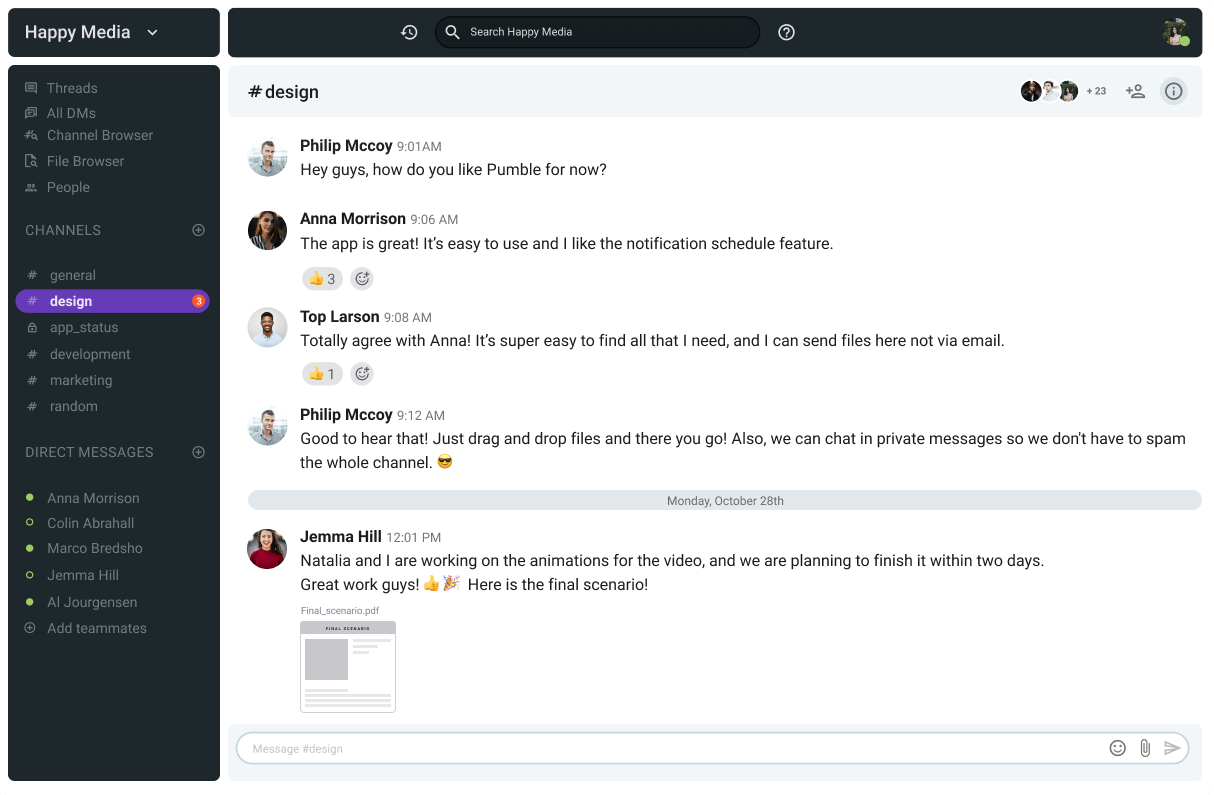 What users have to say about Pumble
According to existing Pumble users, the main reasons for switching from Slack to Pumble include a better cost-value ratio, unlimited free chat history, a simple, user-friendly approach to communication, and trust built by previously using Clockify (a time tracker created by the same team).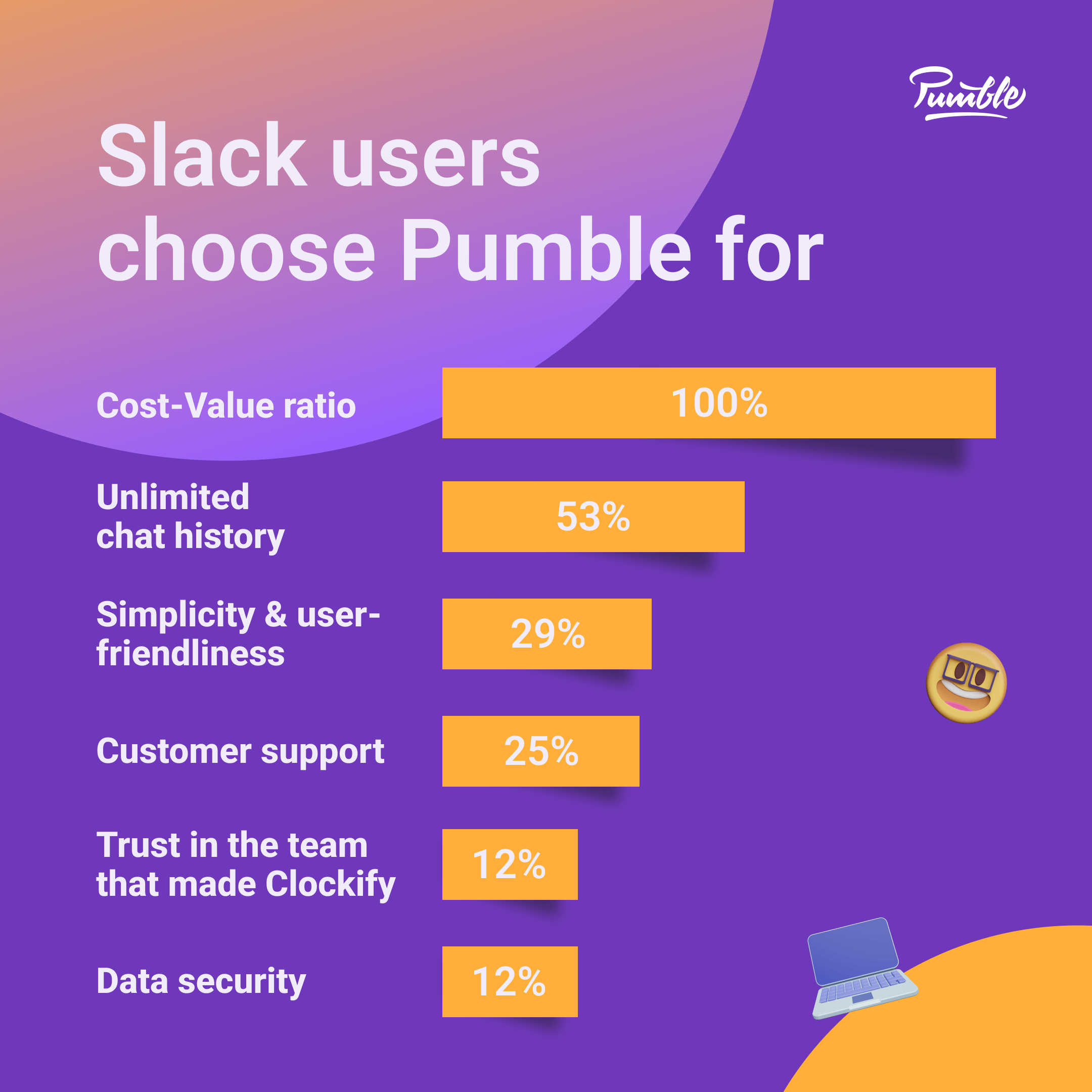 User reviews
"The Slack plan that we had didn't have the feature of keeping the history of our chats, which might be not critical for some departments (such as marketing), but for projects' discussion, it's important to see what has been discussed previously to have a paper track."
"It-s Free Forever! It-s easy to set up and use. Its features and look and feel are similar to Slack though not as extensive. But the main features needed are present."
"Overall, I find it very easy to use. Same as much as slack. In fact, we migrated everything from slack to pumble now. I do not worry about messages being deleted anymore.
It doesn't have a limit on message and files history compared to slack. This is what matters most to me as I really would love to review messages from time to time to check message threads."
"It's free and very similar to Slack in terms of functionality. Very easy to use. The interface is great. You can have multiple workspaces as well."
"What I have received so far is definitely amazing. It's a very good app and I'm lucky to have found Pumble. Everybody in my team now uses Pumble and they love it too."
"Easy to use, simple and clean layout. Using the software is not really complicated and it does not have a steep learning curve. I also like that you can download the app. Good alternative for Slack or Teams if you don't need all the bells and whistles."
"Easy to use, free, functional and always improving. Definitely give this one a try if you're looking for a Slack alternative! Clean and intuitive UI, good team behind Pumble (same team as Clockify)."
"Easy to use, very user-friendly design and simplicity make it very fast and with on-time delivery messages."
Awesome free plan
Pumble is committed to keeping its core features free forever!
Pumble has a generous free plan that provides unlimited chat history to an unlimited number of users. This means that ANY team with ALL of its members can FOREVER keep all the relevant information and files shared through its ongoing conversations.
To illustrate, let's say a team of ten people exchanges 50 messages a day per member (a conservative estimate). If using Slack, the team would burn through the 10,000 message limit in 20 workdays, making all prior messages and shared files inaccessible. This limitation would require the team to store all relevant information and files elsewhere, or risk losing them forever. With Pumble, there is no such worry.
The free plan also imposes no limitations to channels, group conversations, threads, or notification options, allowing teams to structure and carry the communication in an organized manner. It also doubles the available storage provided by Slack — 10GB storage per workspace.
Tip: Learn more about how we keep Pumble free
Affordable paid plan
Pumble's paid plan is a highly affordable route towards making the most of the app. For $1.99 monthly per user, teams can enjoy all the benefits of the free plan while gaining 10 GB of storage space per user. Organizations can also create separate workspaces for different teams, projects, and companies, and easily switch between them. The paid plan also enables guest access to specific channels and conversations for people outside the organization (clients, collaborators, vendors, etc.), as well as a higher degree of administration and customization options.
Additionally, paying users receive priority customer support.
Tip: Learn more about Pumble's pricing
Pumble is a simple, powerful, and efficient communication and collaboration tool designed to fit any budget and any professional scenario.