Working across time zones can be challenging at best. It's tough to keep the collaboration and team spirit high with one team leaving the virtual office just as another is starting their workday.
As remote work and distributed teams are becoming more common, organizations are looking into ways to optimize their structure and operations to better align with the demands of diverse teams working across time zones.
Despite the obvious challenges, including the problem of scheduling meetings across time zones with extreme time differences, the benefits still largely outweigh the limitations — at least from a business perspective.
Let's get a closer look at what working across time zones entails and how you can adopt better strategies to accommodate the demands of a globally distributed team.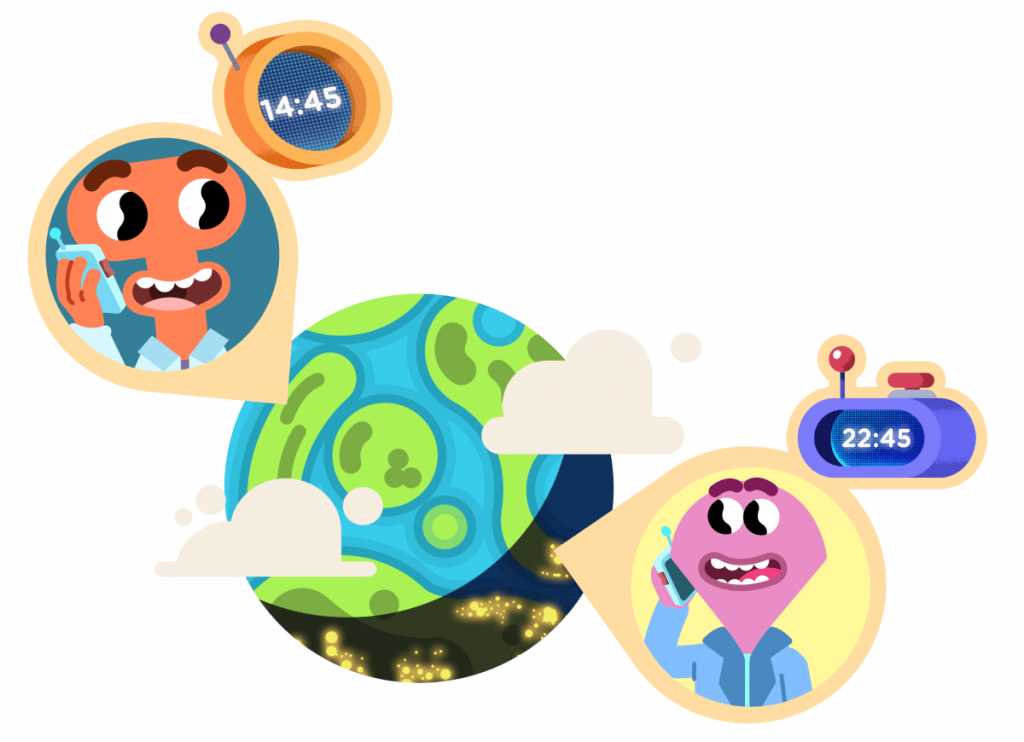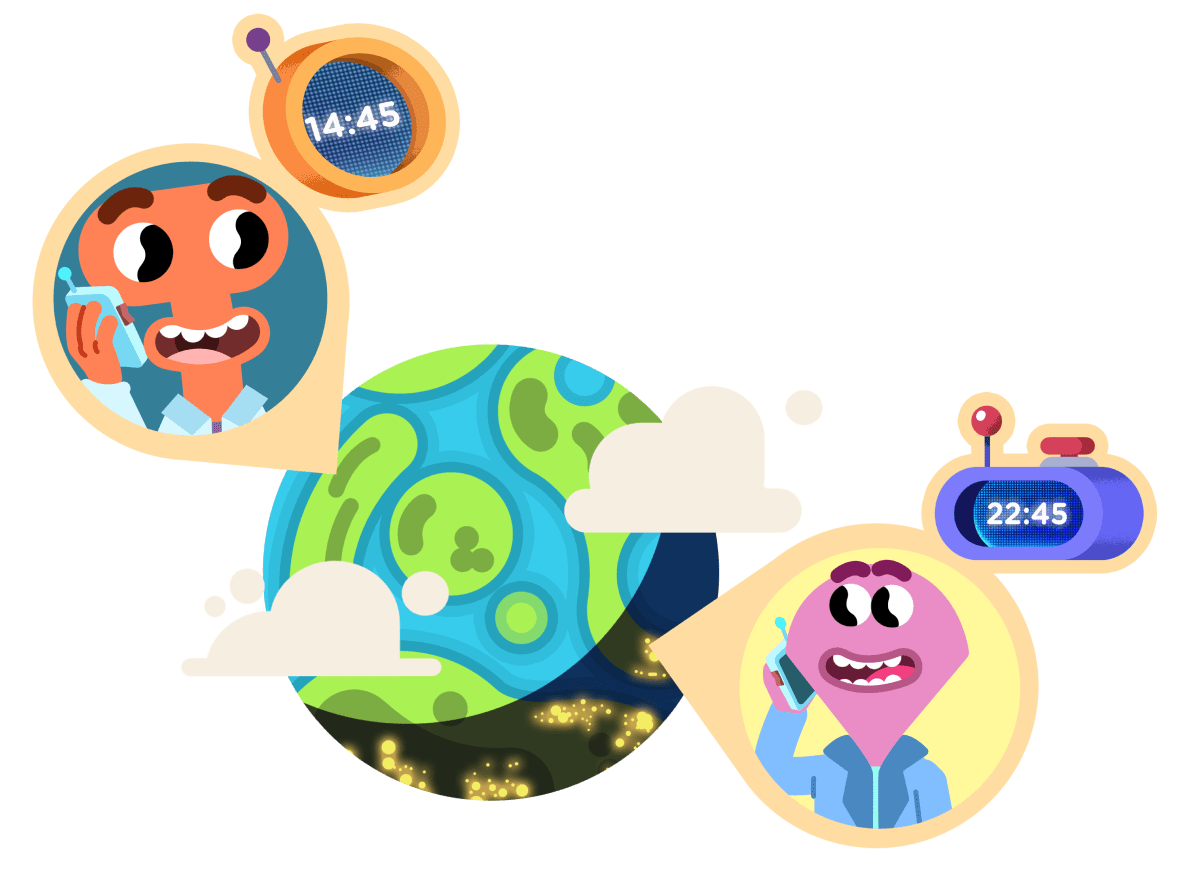 What types of teams are likely to work across time zones?
Cloud-based technology allowed a number of industries to adopt some form of remote work model. Naturally, organizations jumped at the opportunity to select from a global pool of talent which is, essentially, the key factor that led to the formation of teams that span across different time zones. Still, as much as it might be pretty seamless for a tech company to adjust their operations to working across time zones, for some industries and teams, this practice is simply not viable. Let's get a more detailed look at what types of teams are leading the way in working across time zones.
IT – A no-brainer, really, especially if we consider that information technology is what made remote work possible in the first place. IT companies pioneered distributed work, long before the world got shut down by the pandemic. At first, the remote workforce offered the perfect way for companies to reduce costs until they realized additional benefits such as global talent and diversity-led innovation.
Marketing – Social media marketing teams, in particular, are prone to working across time zones. Again, this makes perfect sense since it's an industry that serves global markets — it's a perfectly reasonable practice to be present on different social media platforms during different times of the day or night, depending on the time zone of the target audience.
Sales – Simultaneously, sales teams that heavily rely on social media for lead generation, are more likely to employ international teams that operate across time zones.
Customer service – Virtual tech support teams often employ global staff for the simple convenience of covering diverse customer demographics across time zones.
Advantages of working across time zones
Although it can get challenging at times to manage a geographically dispersed team, there are still many more benefits to the approach. And this is particularly why we're seeing a consistent increase in the number of companies employing globally. Let's break down all the benefits of working across time zones to get a better understanding of the trend.
Access to a global talent pool
Being able to select the best talent regardless of the location is one of the main factors that impacted the entire movement in the first place. Organizations saw the immense potential in the ability to transcend the boundaries of the traditional, in-office, or remote-friendly work model that requires at least some onsite work, and gladly utilized the opportunity to enter a global hiring market.
Innovation and profitability increase
Diversity and inclusion drive innovation and positively impact overall business targets within remote companies that span across time zones. Organizations employing culturally diverse staff, especially in the higher management positions, tend to escape the echo-chamber effect and conformity since they are exposed to multiple perspectives and viewpoints. Understandably, this approach largely supports innovation and ultimately leads to more profit in the long run. In fact, one prediction by Gartner shows that 75% of companies employing diverse decision-making teams can expect to outperform their business objectives in 2022. Moreover, one McKinsey study found that the more ethnically and racially diverse companies outperform their less diverse peers by 36% when it comes to financial targets.
Productivity boost
An overwhelming amount of research has been conducted over the past year to analyze the effects of the pandemic-mandated remote work. And the vast majority of the studies came to the same conclusion – flexibility and freedom offered within the approach largely impact productivity in the virtual workplace. A 2020 Statista study shows 73% of respondents reported feeling more efficient working outside the office. A general lack of distractions, in addition to reduced commute time and the overall comfort of the home or other chosen work environment, have made the significant productivity boost possible. And, as the pandemic is dying out, and companies are issuing the return-to-the-office memos, it's pretty much business as usual for teams working across time zones. These benefits aren't going away with the pandemic for teams operating in international virtual offices.
Fewer distractions for individuals
As much as it's important to keep a strong bond between remote coworkers through continual communication and real-time collaboration, there's also a strong case for the asynchronous, no-distraction work. This is especially true for creative work that requires maximum focus. We're familiar with the premise that it takes around 25 minutes to resume your workflow flow after an interruption. Multiply this by the number of pings an average employee receives on a regular workday, and it becomes pretty obvious that there are tons of benefits to working alone, or in a smaller team, at least for several hours without overlap with the entire company. Therefore, any amount of time difference can be used as an advantage for distributed teams, considering it gives employees time to work undistracted.
Uninterrupted workflow for the remote company
Similarly, working across time zones is beneficial to companies on a larger, operational level. Having distributed teams working across time zones essentially implies round-the-clock workflow. Companies employing diverse teams spanning multiple time zones enjoy complete time zone coverage. Having all shifts and time zones covered is especially convenient for support and customer service as people don't need to work past the conventional work hours in their countries, in the case of an emergency. However, other departments and industries can benefit from the approach as well. Huge news just broke? There's a team on call to get timely coverage.
Challenges of working in different time zones
Managers and decision-makers are the ones facing the harshest challenges when working with teams who operate across time zones. Along with aligning operations, other risks could seriously disrupt major processes, if left unchecked. Let's get a better insight into the challenges of globally distributed teams to get a clearer idea of what to look out for and how to prevent any larger issues.
Inconsistent collaboration and communication
The actual time difference poses one of the biggest barriers to effective communication across distributed teams.
If teams don't experience any overlap in work hours, there's bound to be some time wasted as one team is waiting for the instructions or the input from another one, working at a later time. And, as team communication is directly correlated to productive collaboration, it can lead to unnecessary delays, missed messages, and an overall drop in productivity.
Moreover, a lack of communication across teams carries another set of risks. For one, it threatens to disrupt the trust between team members, as there's not sufficient information and knowledge sharing going around. Of course, differences in locations and backgrounds can also add another layer to the misunderstanding and distrust. If left unattended, this malpractice can take root and degenerate further into team silos. Understandably, this doesn't necessarily affect larger globally distributed teams, as there's bound to be plenty of overlap between teams' work hours in most cases, which ensures plenty of communication and collaboration opportunities.
Narrow meeting windows
Probably one of the most talked-about challenges of working in different time zones is the effort it takes to schedule meetings. And rightfully so. It can get overwhelming trying to set up a time that works for everyone.
How does one decide which team gets to sacrifice their evening time to join a meeting, for example?
Or, how do you schedule a time when there's no reasonable overlap between large globally distributed teams?
An enormous amount of effort is needed to overcome this particular downside of global remote work.
Of course, there's the argument that the vast majority of meetings may not be necessary, and flexibility is pretty much a part of the remote job description. Still, some form of meetings is vital for organizations looking to keep the connection and interaction across distributed teams.
Insufficient social connection
Speaking of connection among teammates, working across time zones makes it almost impossible to keep the team spirit and social engagement up. Almost by definition, remote work tends to facilitate isolation among team members, and the matter only gets worse once we add the time zone dimension to the equation. Companies employing smaller internationally distributed teams are more likely to have staff members experience feelings of isolation and being left out from the company culture and general social interactions.
Limited opportunities for employee effort recognition
A common drawback to managing a team that operates across time zones is the lack of space for sharing insight about work progress. The already limited communication opportunities leave no room for staff to share what they're working on, talk about ideas, or future plans. This can leave employees feeling their work is being overlooked, and potentially affect their career advancement as it doesn't allow enough insight into their effort and contribution. Larger teams can especially be vulnerable to this challenge when working across time zones, especially if there aren't ample initiatives in place to develop and optimize more efficient channels of communication and emphasize information sharing.
How teams can best manage working across time zones
So, what is the difference between global teams that succeed, and those that don't? How does one make sure to reap all the benefits and suffer no drawbacks of working across time zones? Let's find out. We're breaking down the seven tested and tried steps geographically dispersed teams can implement to strengthen formal and informal communication and build more trust and better collaboration across all teams.
Prioritize effective communication
When working to establish functional global teams, organizations need to primarily focus on optimizing their communication. Teams working in multiple time zones can't rely on synchronized communication, facial expressions, or non-verbal cues to decipher the message. As mentioned earlier, this can cause misunderstandings that can seriously affect operational processes and cause unnecessary delays.
To allow more space for effective communication to happen, companies working across time zones need to rethink traditional channels of communication, such as email, and adopt more flexible solutions and methods. Asynchronous communication has emerged as a preferred method for organizations operating across time zones. In addition to removing the time constraint of the traditional synchronous approach, the asynchronous method, ideally, ensures communication records remain at hand.
🎓 To learn more about the pros and cons of asynchronous communication for remote teams, be sure to check out our in-depth guide on the blog.
To successfully utilize key principles of asynchronous communication to their advantage, distributed teams need to prioritize efficient, written communication. When working on a report, for example, globally distributed teammates won't necessarily have the opportunity to ping a coworker and get the missing info right away. This is why it's paramount to keep detailed written records of all the processes and projects. Make sure to always assess each document, guide, or message for clarity. Also, ensure every person involved has the right admin access to avoid late-night calls, hold-ups, and rescheduling.
To support streamlined communication between globally distributed teams, organizations can find great use in team chat apps and collaboration tools that secure efficient file sharing, unlimited chat history, seamless search, and file browsers. Another key feature of such team chat apps is the pin option as it helps keep the important documents top of mind and easily accessible.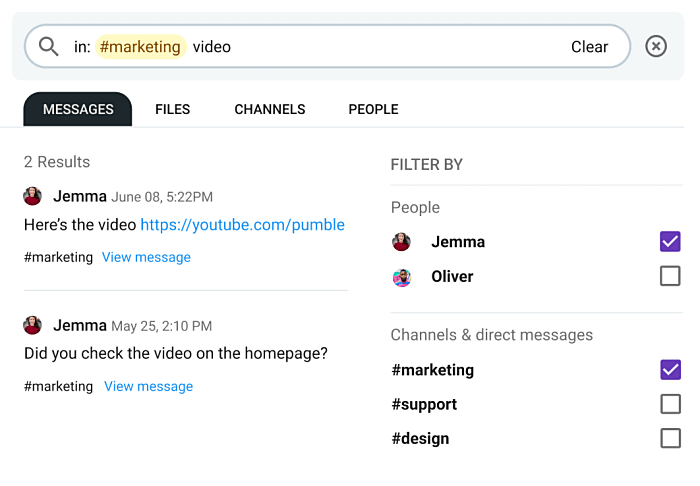 Embrace asynchronous collaboration
Asynchronous collaboration is the default workflow globally distributed teams turn to to optimize their processes and overall culture. This is not surprising, given that the flexibility of asynchronous collaboration represents the ideal response to the challenges of working across time zones.
Geographically dispersed teams can also consider going the extra mile and adopting a full-on asynchronous collaboration approach that encompasses a complete set of structures and processes necessary for optimal operational efficiency across time zones. Yet, this can be another challenge.
Let's outline all the key steps companies can take to better manage working across time zones within the asynchronous collaboration framework.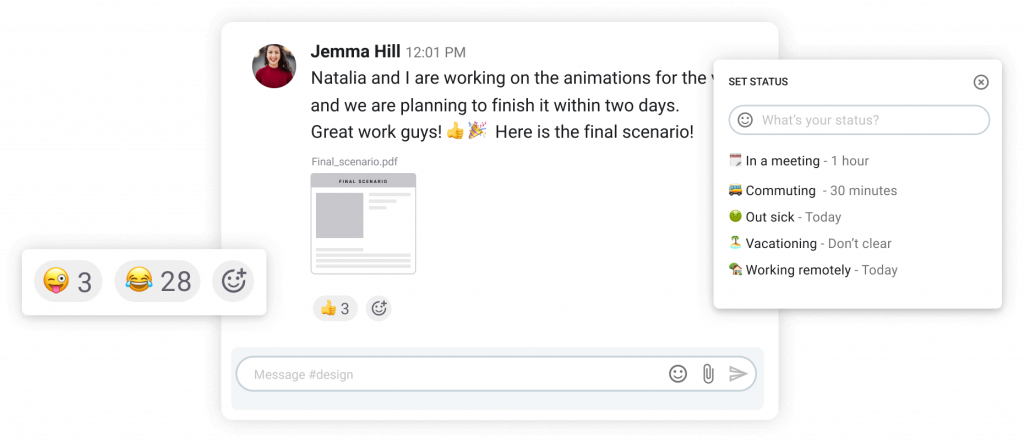 Step 1: Role definition
Teams that thrive working across time zones have clearly defined roles that fit the model of asynchronous work. To build a successful team that operates autonomously, companies should consider setting clear employee expectations regarding personality traits and soft skills best suited for this work model. These can be used as a reference point throughout the hiring process and as additional coaching with established teams. Ideally, managers and other higher executive positions would exhibit high levels of flexibility, empathy, openness to consider multiple perspectives, and strong written communication skills with high attention to clarity. Similarly, the rest of the team should be comfortable working autonomously with minimum instruction and interference to ensure maximum productivity.
Step 2: Alignment building
For asynchronous collaboration to work, teams need clear processes and guidelines on hand at all times to get a clear direction and understanding of priorities, boundaries, and goals. With the limited opportunities for verbal communication and even virtual meetings across time zones, distributed teams need to rely on written and video records to obtain all the information. Additionally, team members can create a shared document with their work schedules highlighting no-contact hours to ensure clear boundaries are being set and respected.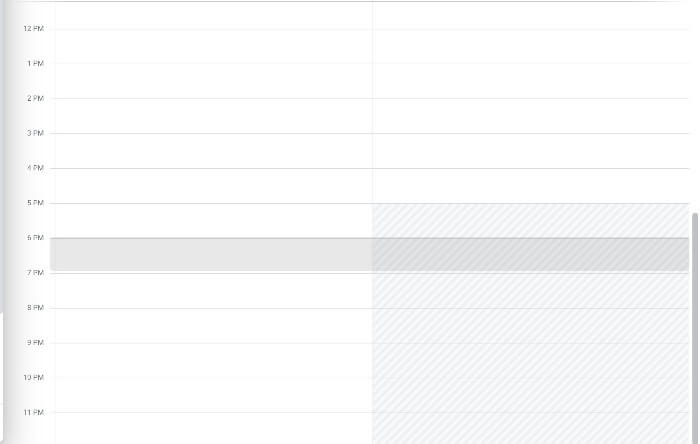 Tool adoption
Finally, a successful asynchronous collaboration calls for a set of functional tools to seamlessly tie all autonomous teams and operations together. Using a single, multifunctional tool such as Pumble, to streamline diverse conversations and collaborative projects across time zones can increase overall productivity by 30%. Teams operating across time zones require a unique set of functionalities specifically customized to meet the needs of the asynchronous workforce. When assessing team chat and collaboration apps for your distributed team, look for features that allow flexibility, autonomy, seamless collaboration, and transparent availability status options.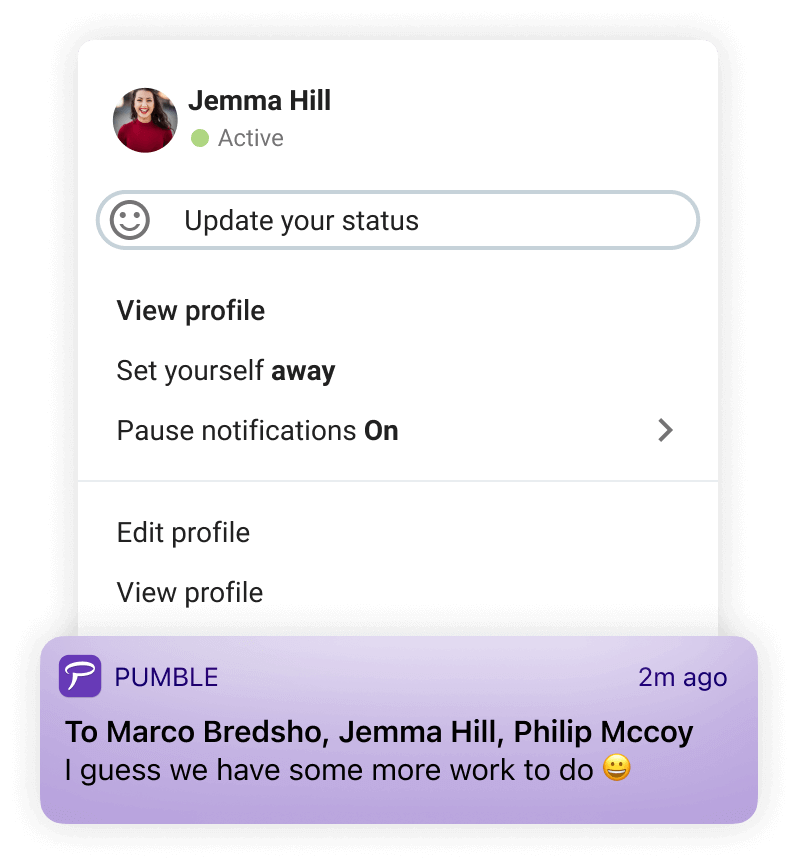 Be mindful when scheduling meetings across time zones
The logistics of working out the perfect meeting schedule that aligns with your team's work hours can often be outright impossible. Sure, there are plenty of apps that can help you get a clear insight into international time differences between your team locations, but a lot of times you'll find a lack of a reasonable overlap to schedule your meetings around.
If we take a look at the general meeting overload phenomenon the modern workplace culture is experiencing, we can start to rethink the entire concept, especially in regards to the specific characteristics of working across time zones. Research shows that organizations spend around 15% of their time on meetings. We can only imagine what these numbers mean for distributed teams that need to put extra effort into planning a perfect schedule that won't disturb the regular work and sleep schedules of the people involved.
Although there's no one ideal solution that could alleviate the problem for each specific organization, the mindful approach may provide the optimal framework for the majority of organizations looking for better ways to manage scheduling meetings across time zones.
For one, organizations should consider setting and respecting their team's time zone boundaries. For example, teams can create shared calendars showing their availability across different hours in a day to ensure no time zone boundaries are crossed.
Moreover, companies should rethink the overall effectiveness of each meeting. It's a good practice to schedule the meetings only for the exchange of information that can't be communicated over a team chat app, a document, an email, or a memo. Sure, a team brainstorming session is most effective over a video conference, however, a general weekly update doesn't necessarily require a 5 a.m. all-hands call.
Consider setting one official time zone
With all the apps and tools available, the time zone difference can create plenty of confusion among employees working across time zones. When each manager is scheduling meetings and project deadlines according to their own time zone, there's bound to be unnecessary mixups as people working in different time zones try to translate this to their official time zone.
To prevent this common hurdle of working across time zones, organizations can set an official time zone for all team members to reference when scheduling meetings or setting deadlines. That way, teams can avoid confusion, misalignment, and delays. With a uniform time zone in place, employees can easily figure out the time difference for their location and plan accordingly.
Mind the cultural norms
Teams employing a globally distributed workforce should pay special attention to learning and optimizing for different cultural specifics. Your employees' communication styles, collaboration methods, and work schedules are largely impacted by their cultural, religious, and ethnic backgrounds. Consider making a record of all culture-specific holidays to make sure no meetings or group work sessions are scheduled around those dates. To ensure an inclusive and productive work environment for all members of their remote team, organizations should show understanding and provide space for diverse cultural representations to thrive and simultaneously drive the innovation forward.
Encourage virtual watercooler chats
Teams working remotely and across time zones lack the spontaneous chats in-office coworkers are accustomed to. The social disconnect can breed various productivity and personal obstacles that could wreak havoc on your organization over time. To foster better relationships within your team, be intentional about cutting across time zones, cultural, and generational differences and creating more opportunities for connection between your remote team members.
Of course, for organizations working across time zones, this type of effort would involve coming up with creative ways to have everyone on board and involved in the conversation. It takes really getting to know your team members and tapping into their shared interests to get the casual conversation going.
Some of the best practice examples suggest encouraging employees to craft their own shared experiences in company team chat apps. The most popular company channels in team chat apps usually include those public, #random channels, or some more specific channels that gather people who share the same interests (e.g. #books, #gaming, #memes). Ideally, these virtual spaces would inspire teams to add to the informal chat thread, regardless of the time they logged in.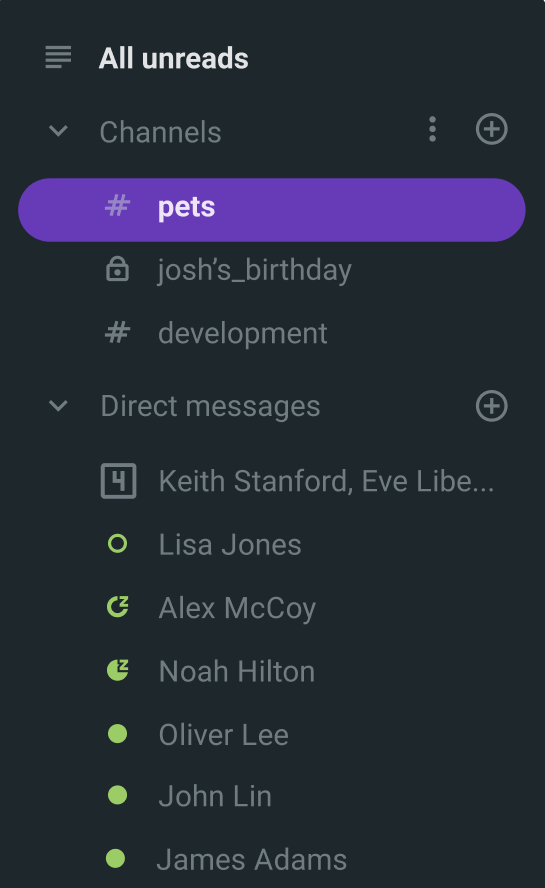 Plan occasional get-togethers
As the world is moving toward a fully distributed work model, there's still plenty of value in in-person team meetups. After all, there's only so much that can be conveyed virtually. While the digital workspace can perfectly support all the work processes, the social component takes the biggest hit in organizations promoting a remote-first work culture. To help your distributed workforce connect, consider facilitating live meetups when possible. Understandably, these events can strain the company's financial resources, however, an occasional company team-building event can produce invaluable returns to the overall productivity, trust, and team morale within your distributed organization.
Of course, if you can't afford to fly your entire team to a location very often, you can turn to virtual team-building events to keep up the team spirit in the meantime. You can invite your team members to join a private group or a public channel in the team chat app you use — for example, you can name the channel #group-activities, #team_fun_times, or simply, #team-building. There, you can suggest interesting team activities and play fun team-building games designed for virtual team settings. Just make sure that the timing for these activities works for the schedules of everyone involved.
Wrapping up
Working across time zones brings unique challenges rarely encountered within the more traditional work models. As the rewards largely outweigh the drawbacks, it's worth exploring the best team practices provided above to make working across time zones work. They will help you craft your perfect blend of flexibility, asynchronous work, and inclusive mindset to push your distributed team towards perpetual success.