Team collaboration with Pumble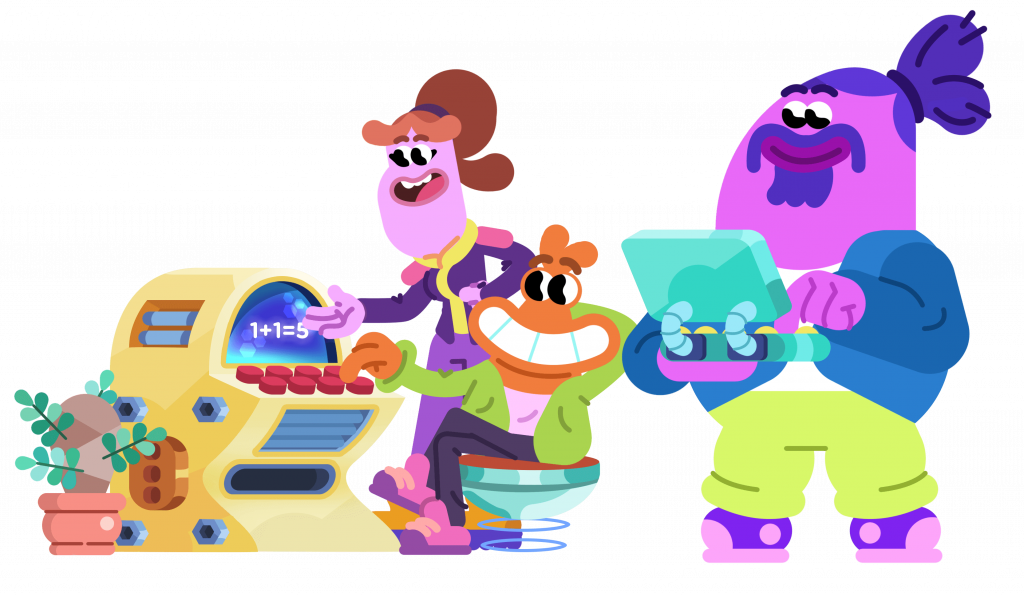 A well-established communication and collaboration tool, such as Pumble, helps in overcoming common challenges in the collaborative process, improves knowledge sharing, creative thinking, engagement and efficiency of your team.
In this guide, we'll cover how you can communicate with teammates, create channels for public discussions, share and search files, and include external members in your workspace.
What is team collaboration?
In a professional setting, collaboration refers to the relationship between individuals in which they contribute their unique skills to a joint effort towards the achievement of a business goal.
Teamwork and collaboration are often seen as synonymous terms, but in reality, there is a difference in the ways in which their processes are organized to achieve a goal.
To put it simply, teamwork is the culmination of individual contributions, while team collaboration is a collective, synergistic effort.
Collaboration thrives on differences and synergies between different skillsets. It reaches its full potential through the clash of viewpoints, reinforcement of active dialogues and free exchange of ideas, feedback and insights.
Leveling up your team collaboration is possible with Pumble – digital team communication and collaboration tool.
How Pumble improves team collaboration?
If you've perfected the coordination within a team, and are now wondering how to strengthen collaboration to empower your team to achieve its full potential, think of modern digital tools that make communication and collaboration easy.
In a modern office setting and remote working environment, having the right communication and collaboration tool can make all the difference.
With advanced team messaging apps like Pumble, you can direct your energy towards the things that matter, and we will take care of the rest. Read on if you wish to see how Pumble can make your day-to-day collaboration easier.
Channels dedicated to specific topics
Pumble allows you to have private one-on-one conversations, group chats that are invite-only, and public chats with anyone who wants to participate.
Channels provide a venue for communicating messages, images, and files among a group of people. It's where the majority of collaboration takes place.
🎓 When creating a channel, you can choose whether it will be public or private. A public channel can be turned into a private one afterward, but a private channel cannot be made public for privacy reasons.
Dedicated channels will let your team members keep their discussions focused on a single topic, while being free from any interfering messages that can aim conversations in another direction. It will also make you feel safe that everyone who should be included in the discussion, is there.
Threads
If a topic provokes various sets of questions, you can use threads to stay on top of each, structuring chats in a way that allows themed conversations.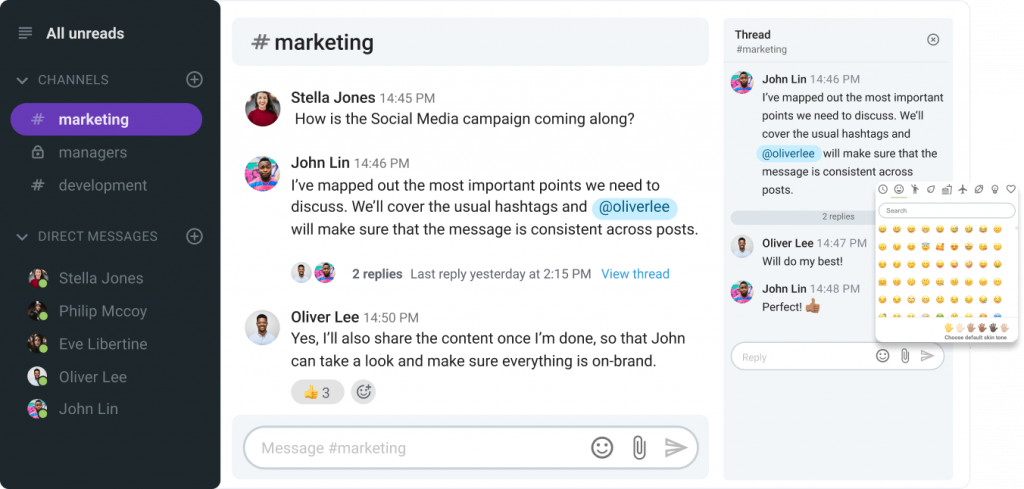 You can also set a default skin tone for emojis by clicking on the emoji icon and selecting the color you wish before including the emoji in your message.
User groups
To further structure the team, you can add relevant team members to a user group. Then you will be able to mention a specific group, set default channels for all group members, and add multiple users to channels via groups.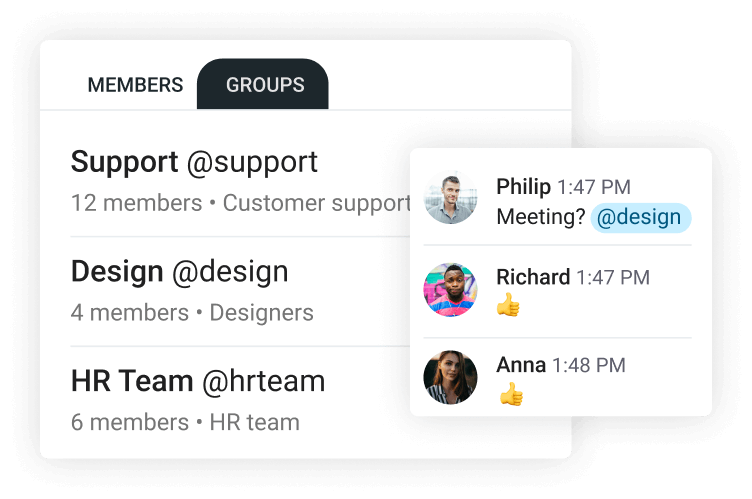 Message formatting
Visual effects are sometimes needed for a written message to be understood correctly, to emphasize what's important and to visually separate segments of the information shared.
Eliminating possible misunderstandings in communication will make sure that the collaboration process runs smoothly and without unnecessary complications.
Pumble allows you to shape your message exactly in the way it should be delivered, through message formatting.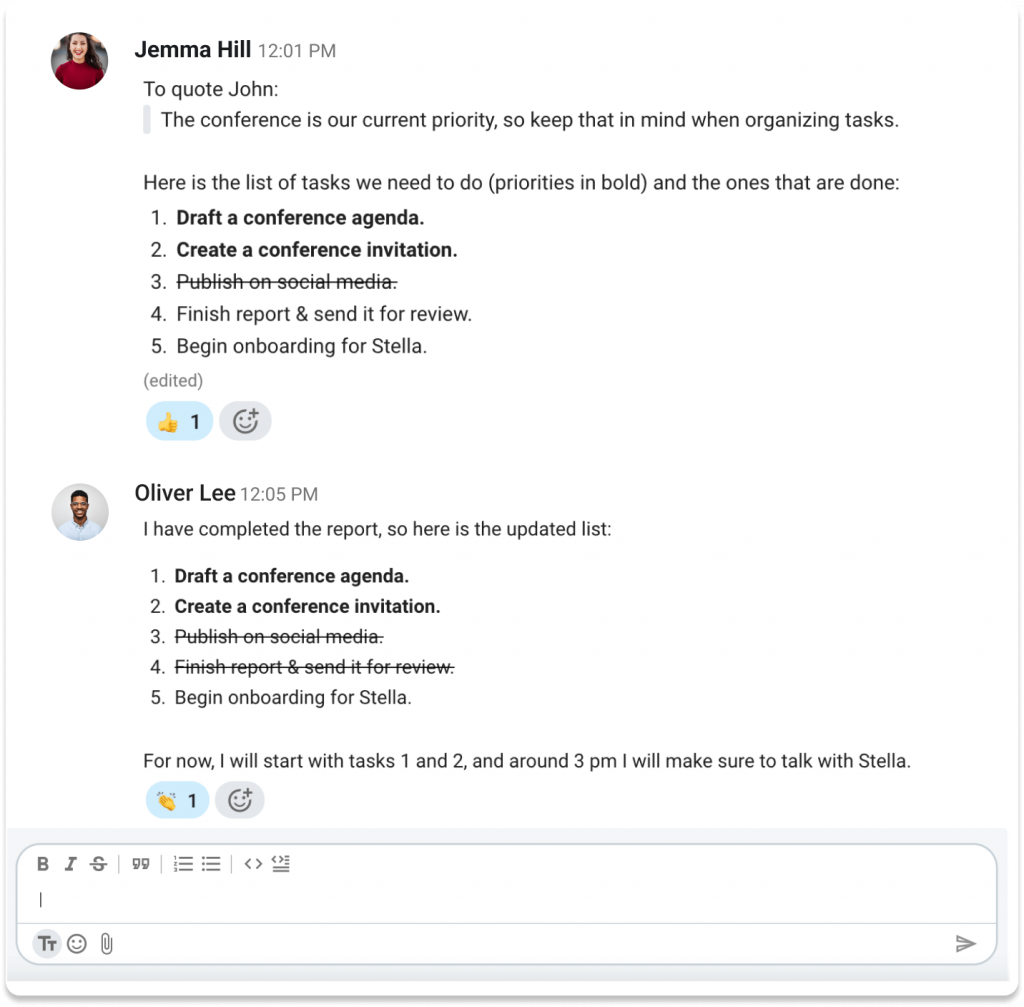 Mentions
To make sure the right people are seeing your messages timely, use a mention feature that allows you to intentionally communicate something with specific people.
One of the most important collaboration aspects is giving and receiving feedback. Through constructive feedback, different perspectives are fed into one solution providing suggestions on upgrades and improvements to finally reach a desirable result.
For example, if you want to share a recent design solution you completed, you can:
start the conversation in the general #project_alpha channel,
mention a specific user group such as @design_alpha, and
simply write your message and invite colleagues to give you feedback on it.
Here, feedback can be given using a thread option, where all channel members can use emoji reactions to showcase their agreement or disagreement with previous statements.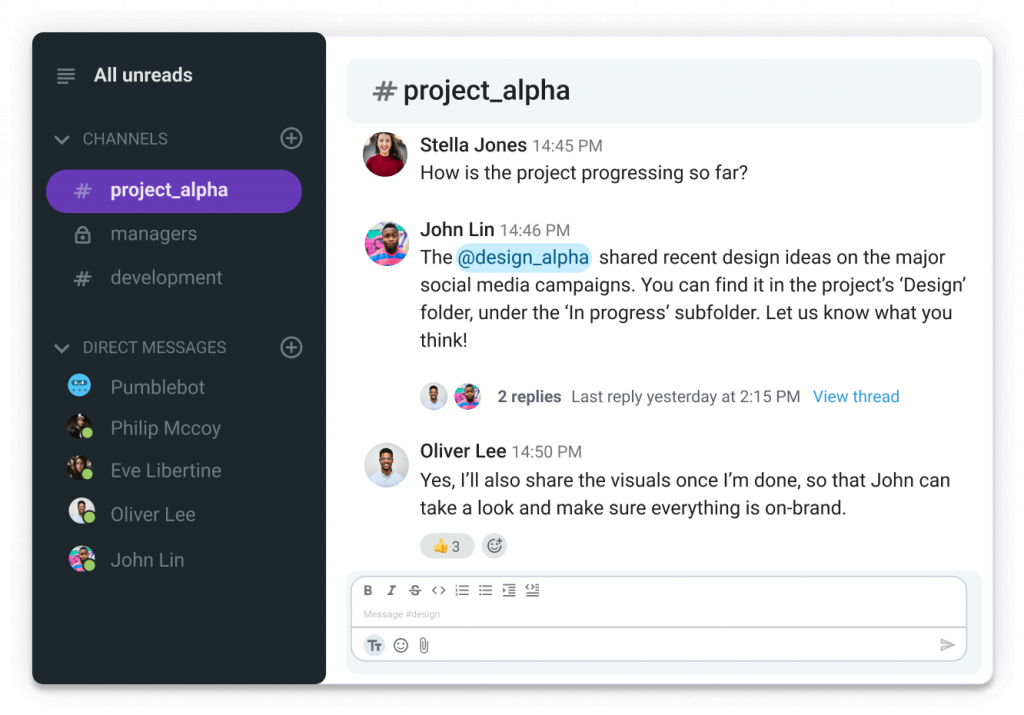 Pumble has no limitations on chat history, so you can access all shared messages whenever you need them.
File sharing & storage
Every group project demands frequent information exchange, which can include messages, images, videos, links, or file exchange. One of the best Pumble features is that it enables its users to share files of all types, and store them for future access also.
In the FREE plan, each workspace can have 10 GB of space in total. While in the PRO plan, each user will have 10 GB of space at their disposal.

By keeping files in the same location where discussion about a certain topic took place, you can minimize information loss – which is especially important when adding new team members to a project. This will make an impact on the information accessibility and transparency of information, which is one of the key aspects of successful collaboration.
You can also use the search option to browse files in public or private channels, or in individual conversations. To get the wanted results more quickly, make sure to apply filters.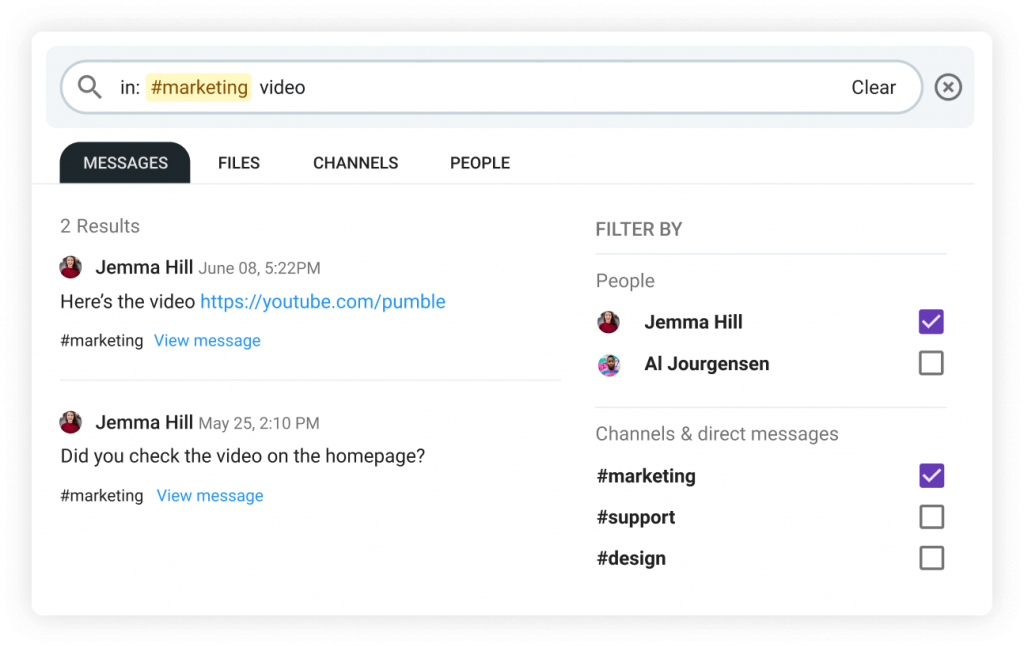 Voice & video calls
In some cases, nothing can replace one-on-one conversation to get the job done efficiently.
Collaboration tools should enable employees all necessary means for effective discussions which can make their day-to-day run more smoothly. This principle is embedded in Pumble, which offers 1-on-1 voice & video calls.

Just open a chat with a team member, click on a phone icon to start a voice call, or on a video icon to start a video call.
With voice & video calls you will be able to organize productive meetings, foster stronger relationships between team members and make sure everyone is on the same page.
Screen sharing
Demonstrating content visually allows the speaker to highlight some of the most important information. It makes it easier to catch the interest of meeting attendees and increase comprehension of the content.
Pumble offers a screen-sharing possibility, whenever you need to visually represent your ideas or communicate complex ideas more clearly.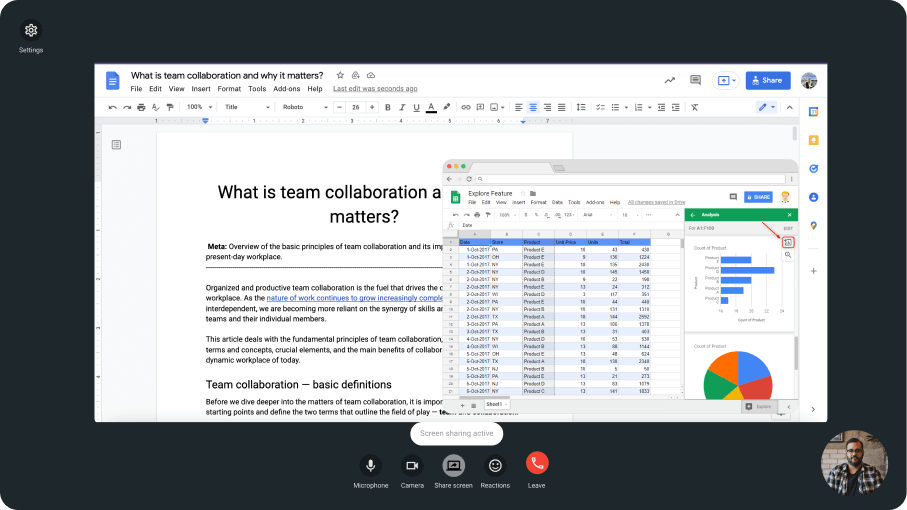 Collaborative work often demands working with members outside of your organization. Instead of writing long email chains, worrying whether you've included everyone, use Pumble's guest role access feature to simplify your communication and collaboration with outside members.
Guest role access gives a limited access to a certain workspace for a limited period of time.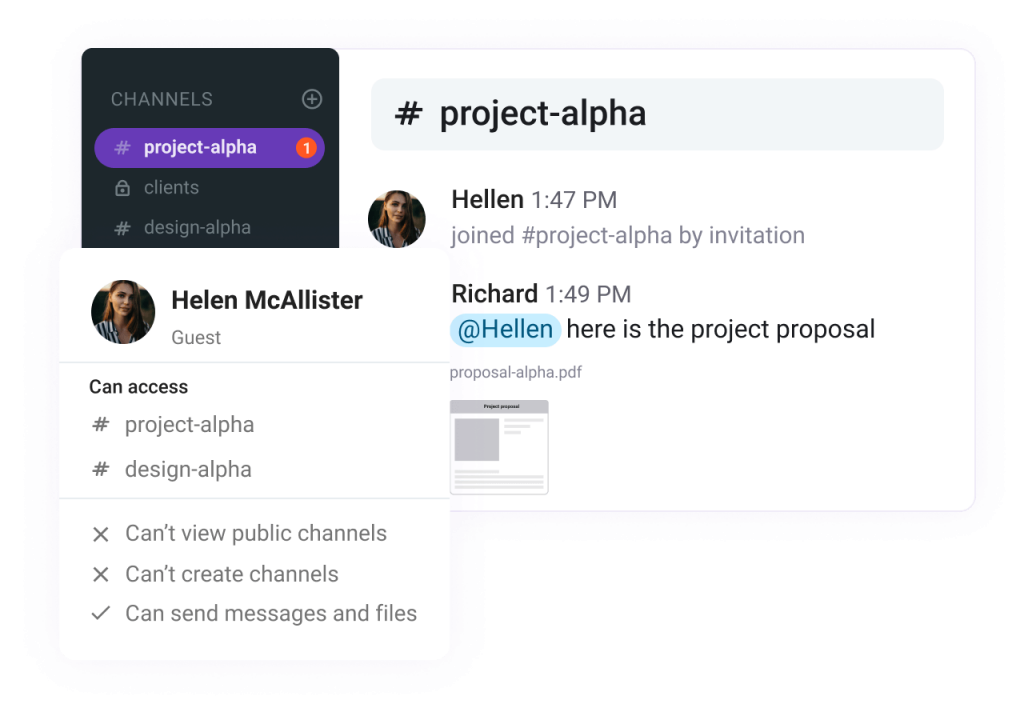 There are two types of guest users: multi-channel users and single-channel users.
Multi-channel users have access to the channels you specify and can be added to an unlimited number of channels, while single-channel users can only access one channel, public or private.
For example, to keep someone in the loop on the major updates only, you can grant them single-channel guest access to a general project channel (e.g., #project_alpha).
But if you collaborate closely with someone who is in charge of, let's say, marketing, you can grant them multi-channel guest access on a general project channel (e.g., #project_alpha), and a channel dedicated to marketing (e.g., #marketing_alpha).
Conclusion
The benefits of good collaboration are numerous. Good collaboration brings people together, helps them learn from each other and increases the overall capacity for problem-solving.
A great deal of that is providing your employees with effective digital communication and collaboration tools.
Start with Pumble. It's available on all platforms, as a web browser app, a desktop app on Windows, Mac, Linux, as well as on mobile — Android and iOS.