Table of Contents
What is Slack pricing?
There are four Slack tiers: Free, Pro ($8.75 user/month), Business+ ($15 user/month), and Enterprise plan (you have to contact their sales team to find out more).
Also, there are up to 20+ Slack alternatives that provide similar functionality. Some of these alternatives are less expensive than Slack, while others are more costly. Because the majority of Slack competitors essentially provide the same features, it's reasonable to ask if it's worth paying for Slack.
Slack offers both free and premium membership plans. Searchable messages, screen sharing, third-party app integrations, and more advanced features are available with premium memberships.
Let's see what all Slack's plans have to offer to users — by breaking down each tier.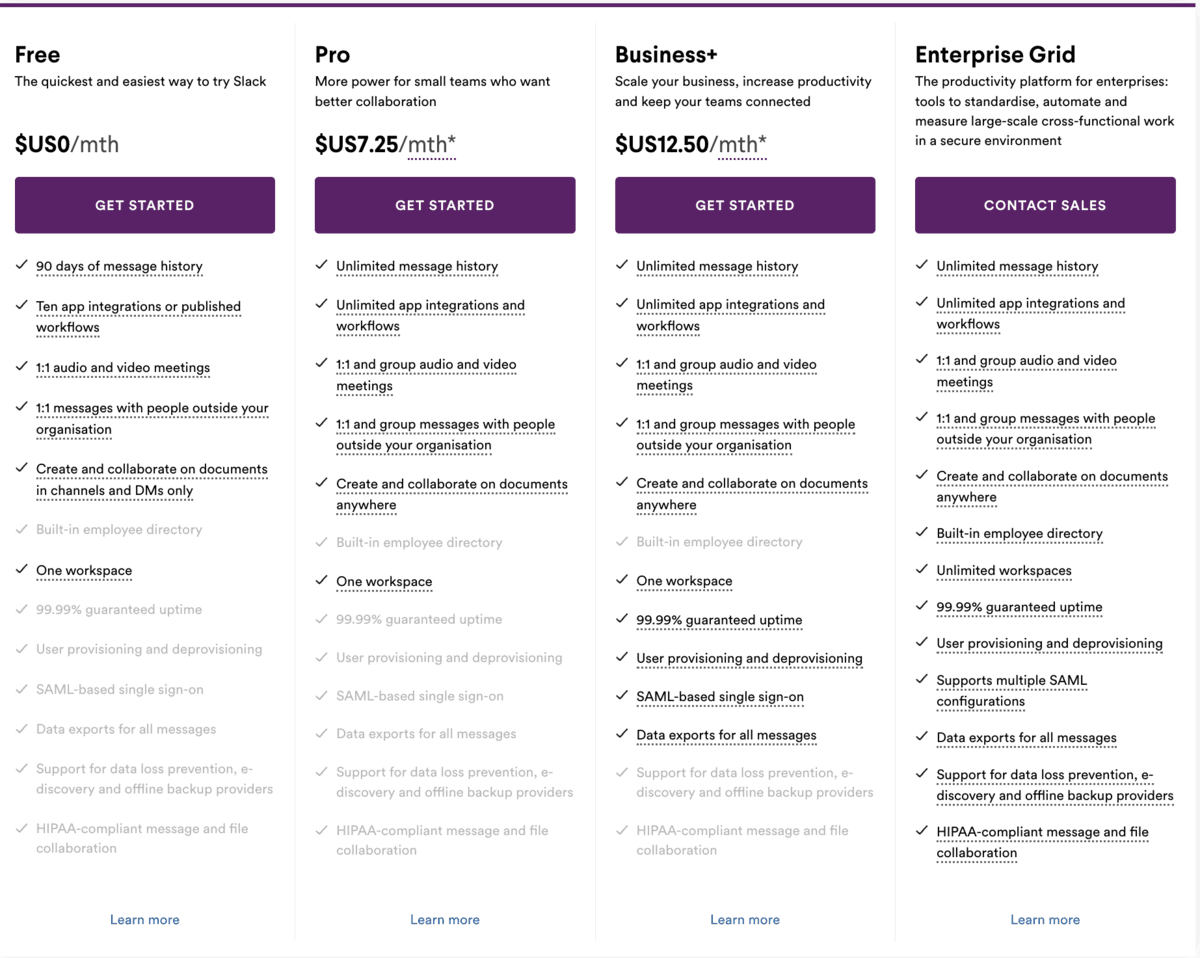 Slack's pricing plans
Slack Free plan
Slack has had a freemium strategy since its debut. However, the Free plan only includes a few basic functions with significant limits. The most important functions available in this plan — although in limited form — involve searching your message history to the past 90 days and file storage, integrating your favorite apps, and making one-on-one video and audio calls. Although this is an improvement in the terms of limit in numbers, there's a limit on days. So, what you'll do if you need some data from four or six months ago?
Free users' plans have expanded access to new features, which allow anyone to send audio and video and screen-share messages in direct messages and channels as a way to provide asynchronous team updates and reduce the number of meetings needed.
What do you get with Slack's Free plan? What are the limitations of Slack's Free plan?
Using Slack for free sounds like a fantastic deal, right?
It all depends on your perspective.
Features in the Slack Free plan include:
Search only 90 days of your message history,
Up to 10 third-party app integrations,
One-to-one video calls, and
5GB of free file storage for 90 days.
As you can see, there are specific limitations in Slack's Free plan that may be a dealbreaker for some teams — let's observe these limitations in more detail.
Search up to 90 days of your message history
The Free version gives you access to a lot of Slack's features — but members on this plan can only see the workspace's messages in the last 90 days. This means that, even in workspace search results, older messages are unavailable.
Do you think most Slack teams on the free plan are active enough to send 10,000 messages every 90 days? That's only 111 messages every single day, or 156 every weekday!
Up to 10 third-party integrations
Workspaces with free memberships are limited to installing ten applications. Only if you upgrade your workspace or delete some of your current applications, can you add new apps.
Slack's Free edition does not provide you unlimited access to all third-party apps; no tier does. Slack's pricing model does not apply to apps. Apps each follow their own set of rules. In the Free plan, if you want to integrate the platform to an eleventh app, you'll either have to delete any one of the old integrations or stick to your original set of integrations.
One-on-one video calls
If you're on the Free plan, you won't be able to have large team meetings or conferences. While Slack has the audio/video capability, in the Free plan, it can only be used to communicate with one person at a time. If you want to chat with two or more team members at the same time, you'll need to upgrade.
File Storage Limit
Free users of Slack also have to deal with the 90 days limitation of their file storage. Your team members can't continue uploading files once this limit is reached. Slack, though, will start archiving the oldest files to make room for new ones due to which members won't be able to view the archived file in channels, search results, or direct messages.
Deleted files cannot be restored if you upgrade to a paid plan later on, and deleted content won't be included in a workspace data export.
However, all the archived files will become visible again once you upgrade to a paid subscription.
Conclusion for Slack's Free Plan
Slack might be a wonderful choice for small teams — if you can live with restricted searchable messages, file storage, and integrations.
Slack's Pro plan
The Pro plan is definitely an upgrade from the Free plan. It is meant for small and medium businesses and reduces the majority of the limitations from the free tier.
What do you get with Slack's Pro plan? What are the limitations of Slack's Pro plan?
On September 1, 2022, monthly Pro plans increased from $8 USD to $8.75 USD per user per month, and annual Pro plans increased from $6.67 USD to $7.25 USD per user per month.
Features included in the Slack Pro plan:
Screen sharing,
Unlimited app integrations,
Group video calls with up to 15 people,
Guest accounts,
Share channels with other organizations,
Unlimited message searching,
10 GB storage per user, and
Slack Huddles, that lets you start a live voice conversation in a channel or direct message.
You also gain access to Google login and priority customer service – but not 24 hours a day, 7 days a week as in the Business+ and Enterprise plan. So, it isn't the entire Slack package yet, but it has a lot of useful features.
But what's the whole story?
Let's assume you have a medium-sized company with around 80 employees, all of whom need to be on Slack. You'll have to pay at least $700 every month in this case. That's at least $8,400 per year. If you have a larger staff, for example, 1000 team members, the yearly Slack price ($105,000) will undoubtedly have a significant impact on your budget.
Conclusion on the Pro Plan
For many businesses, these costs represent a significant investment — so bear that in mind when considering upgrading your Slack account.
Slack Business+ Plan
One more Slack's paid plan is Business+, which is more expensive than the Pro plan. Benefits that you can gain using this plan include:
Advanced identity management through SAML-based SSO and real-time Active Directory sync with OneLogin, Okta, and Ping Identity,
Compliance requirements met with data exports for all messages,
Around-the-clock teamwork and assistance with 99.99% guaranteed uptime and 24/7 support with a four-hour response time.
When you subscribe to the Business+ plan, you have access to extra services such as guaranteed uptime of 99.99%. This implies that if Slack's servers are down for an extended length of time, you will be refunded. You also get access to customer support 24 hours a day, seven days a week. If you pay annually, this will cost you $12.50 per user — or $15 per user per month if you pay monthly.
Enterprise plan
Extra-large companies (with hundreds of thousands of employees) can use the Enterprise plan. Such companies can divide their organizations into smaller and more manageable Slack Workspaces, without reducing the ability to contact anyone or collaborate across departments — because of the possibility to create shared channels for connecting departments. The cost of this plan varies depending on a number of criteria, but it may be worthwhile to pay the extra money.
Enterprise Plan also offers security and governance features that are non-negotiable in regulated industries like financial services and healthcare, as well as eDiscovery capabilities that are essential for in-house legal teams that need to gain access to files and conversations in Slack.
Some of the benefits of Slack's Enterprise Plan are:
Administrators can divide a large organization into separate Workspaces,
Easier administration for Admins and users,
Improved security,
Allowed integration with Monitoring and Data Loss Prevention (DLP) solutions,
Archiving and Data Retention,
Integration with solutions that streamline early case assessment and eDiscovery.
Businesses can use an Enterprise plan to construct communication systems with centralized control. The structure reflects the way your company operates. When needed, channels from multiple workspaces may be shared, and you can also interact with outside partners.
Is Slack the best solution for your team communication?
While admittedly a powerful tool, Slack is not an ideal fit for every team. The key downside for many is its affordability — or lack thereof.
This is not the only issue users find with Slack. There are frequent concerns about data security — all data is stored on its cloud servers.
It can also be quite impractical for large and or complex projects where many facets of work need to be discussed. Some have found Slack's frenetic pace of communication itself to be distracting — and often trivial.
In short, Slack does not work equally well for everyone. Enter the more affordable Slack alternative — such as Pumble.
What is Pumble?
Pumble is a free team messaging app that allows teams of all sizes to collaborate. Unlike Slack, it offers unlimited users and history — all for free. It's available on all platforms — primarily as a web browser app but also accessible on desktop and mobile.
What does Pumble offer?
Unlimited users,
Unlimited chat history,
Voice, video calls, and screen sharing,
Permissions for messages, invitations, and channel management,
User and workspace administration tools,
24/7 web support.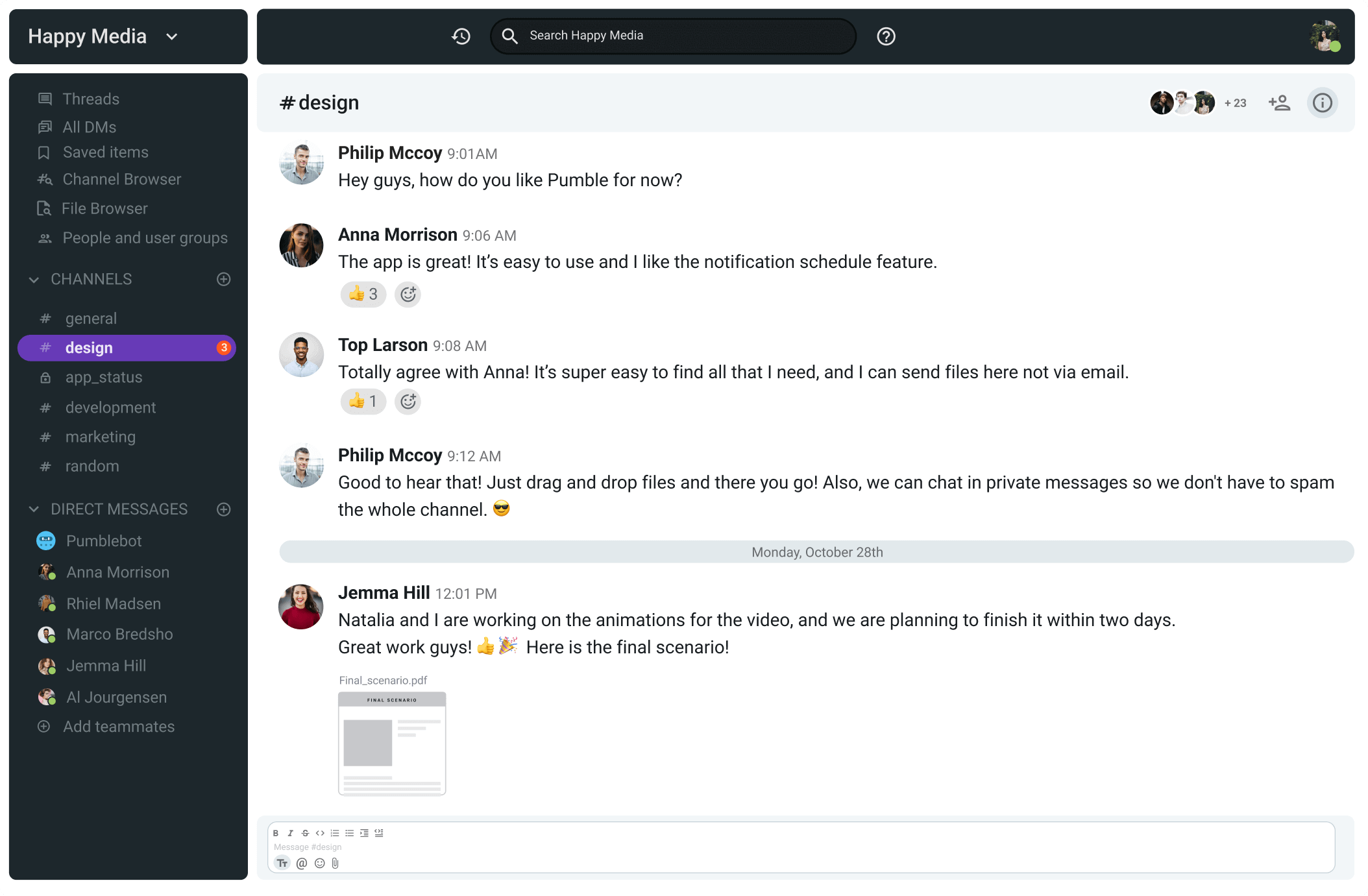 Pumble workspace screenshot
Pumble holds the essence of what Slack does well while eliminating its biggest downsides. It is super-easy to sign up, set up, and involve others. Pumble enables real-time communication in all its relevant forms, from one-on-one conversations including video and voice calls, and screen sharing to invitational group chats and public and private channels.
How does Pumble compare to Slack in terms of pricing?
According to existing Pumble users, the main reasons for switching from Slack to Pumble include a better cost-value ratio, unlimited free chat history, a simple, user-friendly approach to communication, trust built by previously using Clockify (a time tracker created by the same team).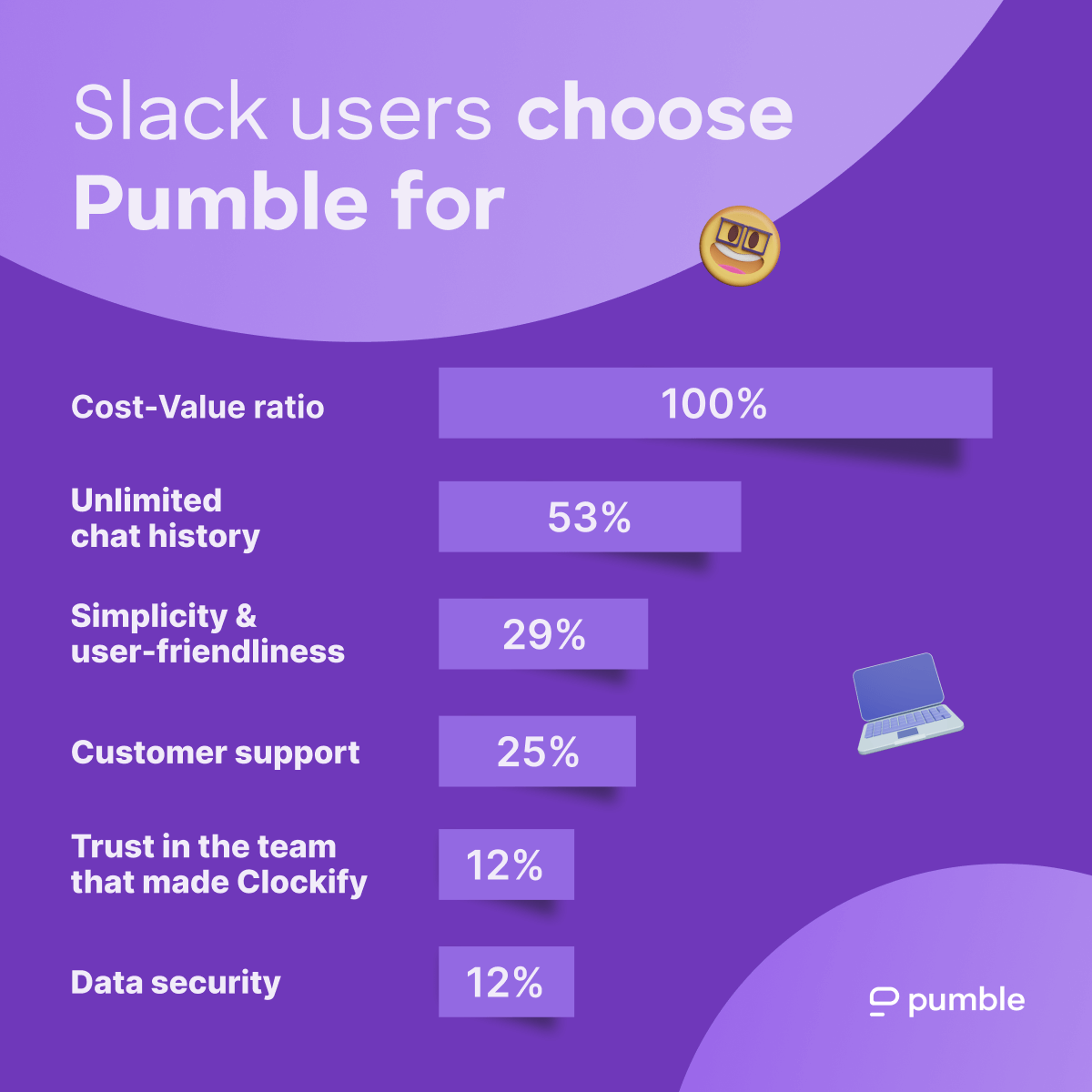 Why do people choose Pumble instead of Slack
Pumble is committed to keeping its core features free forever! The app has a generous free plan that provides unlimited chat history to an unlimited number of users. This means that any team with all of its members can forever keep all the relevant information and files shared through its ongoing conversations.
Pumble's paid plan is a highly affordable route towards making the most of the app.
For $1.99 monthly per user, teams can enjoy all the benefits of the free plan while gaining 10GB of storage space per user. Organizations can also create separate workspaces for different teams, projects, and companies, and easily switch between them. The paid PRO plan also enables guest access to specific channels and conversations for people outside the organization (clients, collaborators, vendors, etc.), as well as a higher degree of administration and customization options.
Pumble has world-class customer support available 24 hours, every day of the week for its users. You're assured of 99.99% uptime, which might we add, is an industry-leading standard of availability. Paid users also get priority support, which means their queries are resolved before the queries of freemium subscribers.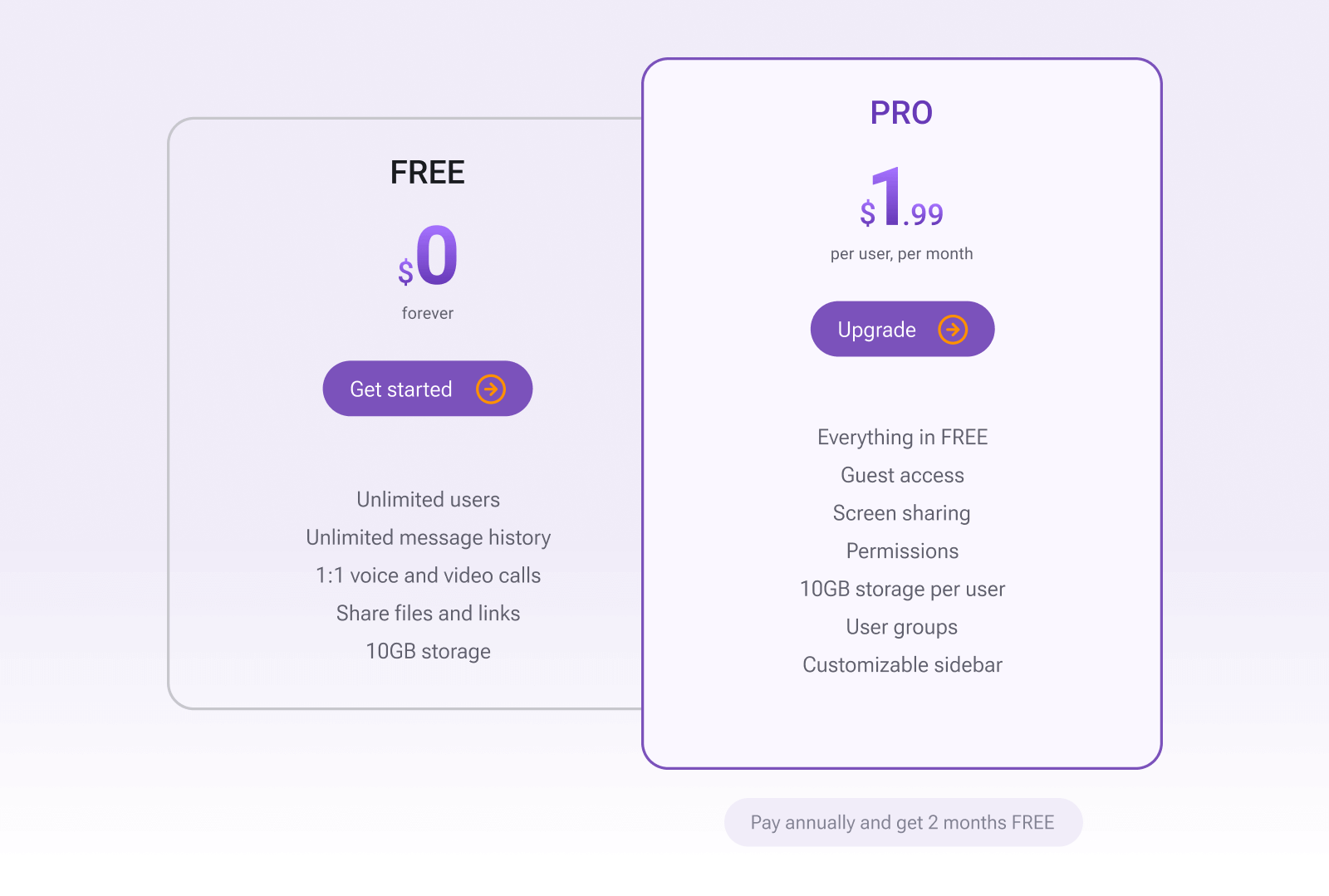 Pumble pricing plans
Conclusion
When we look at the price for Slack, we can find that both the freemium and paid subscriptions have important limitations. The most significant drawbacks are the message history without time restriction and the fact that Slack paid plans may be extremely expensive for larger teams.
However, if you want to pay less for the same, or even better features, Pumble covers all of it — and, you'll get the most important of these features, like unlimited messages history, for free.