The trouble with Slack
If Slack is the most used team communication tool, then it must be best, right? Well, not exactly, according to a growing number of users.
Slack boasts an opulence of features and integrations with other popular tools. That is why, on paper, it makes sense for a wide variety of professional teams with different collaboration needs. In practice, its limitations and downsides are quickly revealed.
The free plan
Let's start with Slack's free plan. Non-paying users are awarded a chat history limited to 10,000 messages. It means that all communication exceeding that number is lost to the wind. 10,000 may still seem like a large number, and, depending on the team's size and volume of communication, it may very well fit the needs of certain teams. But, on larger teams with active communication, it's easy to imagine the frustration of not being able to access an important conversation or a file exchanged a couple of weeks ago. For instance, a team of ten people and a (conservative) daily average of fifty messages per person would burn through the limit in less than a month. This means that all relevant files and communication must be stored elsewhere, which is not ideal for an all-in-one solution.
The free plan provides only 5 GB of storage space for the whole team, which is fairly insignificant considering the volume of file exchange in the modern workplace.
Furthermore, the free plan limits integration, allowing users to add up to 10 apps, whether from Slack's app directory or custom-built.
Finally, free users can only make 1-on-1 voice and video calls, without the option of group calls.
The paid plan
The above limitations are all eliminated via different paid plans, which also unlock a variety of additional features. However, the pricing is fairly steep, with the lowest entry point being $6.67 monthly per user (when paid annually — with monthly payments it balloons to 8$ per month). Multiply that with the number of team members over the span of, say, 12 months, and you can see how communication expenses can quickly escalate. As an illustration, a 100-strong team would pay a minimum of $667 per month. For larger organizations, this may not be a big issue, but for smaller teams and startups it can become a budget burner.
The biggest issue with Slack that isn't removed with any of the paid plans is the lack of a self-hosted option. Slack stores all information on external AWS servers, and organizations can not host the workspace on their own internal servers. With so many data security and compliance issues in today's workplace, for many organizations, this alone might be enough to disqualify Slack as an option.
To Slack or not to Slack?
All of this is not to say that Slack is necessarily bad. Ultimately, the choice of a team chat tool should be dictated by the unique make-up of a team and its needs. If Slack (either in its free plan or in any of the premium options) fully covers those needs, then there's no reason not to go for it. However, if any of the above-mentioned downsides seems insurmountable, you should definitely consider the alternatives.
With that in mind, we have compared eight popular alternatives to Slack to highlight their strengths and weaknesses and allow you to make the most informed choice. Just for fun, we have done it in a head-to-head tournament format. Keep in mind, the goal is not to merely pick a winner, but to help you choose the ideal communication tool for your team.
Without further ado, we present…
Best Slack alternatives — the ultimate showdown
Our ultimate showdown features eight communication apps hand-picked based on their market performance. The contenders all come with a broad range of features in their arsenal and different tactical approaches. They will reveal the full scope of their qualities in a direct encounter with the competition until there is one team app left standing.
Qualifications for the tournament
While the Ultimate Showdown is, admittedly, an invitational tournament, it does not represent a random selection of available team chat apps. The eight contenders were carefully chosen based on a variety of criteria, including:
The number of users
Feature package
Pricing
Quality of the free plan
Adaptability to different team settings
In order to cover the breadth of the market, we have strived to include apps that represent a part of a broader ecosystem (Google, Microsoft, Facebook), comprehensive standalone team chat apps (Pumble, Mattermost, Flock), as well as a few popular wildcards that take a somewhat different approach to team communication (Discord, Twist).
We are aware that there are many other products out there, but we believe that our selection is a representative sample of the current market and that other options are not too dissimilar to those represented here.
The bracket
In the spirit of sports, the bracket has been set through the tried and true method of random selection, via papers in a hat. Neutral delegates were present to ensure no irregularities.😉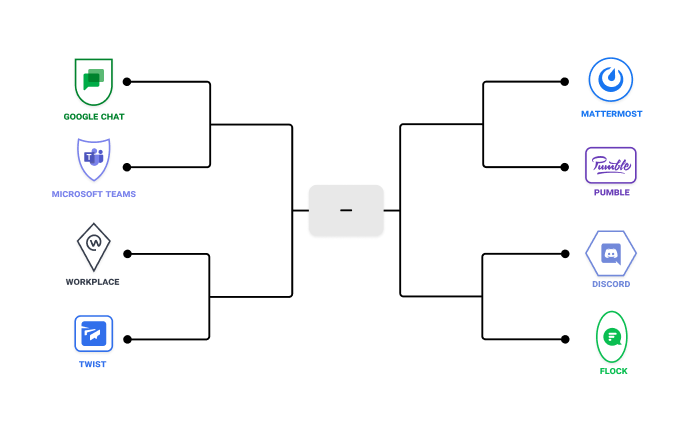 Slack alternatives — the quarterfinals
Now that we have set the ground rules, let's take a closer look at our contenders and how they stack up against one another. In the quarterfinals, Google Chat will face Microsoft Teams, Mattermost will face Pumble, Workplace will face Twist, and Discord will face Flock. Let the games begin!
Google Chat vs. Microsoft Teams
Our first encounter of the quarterfinals features two technology giants looking to leave their mark in the collaboration arena.
SCOUTING REPORT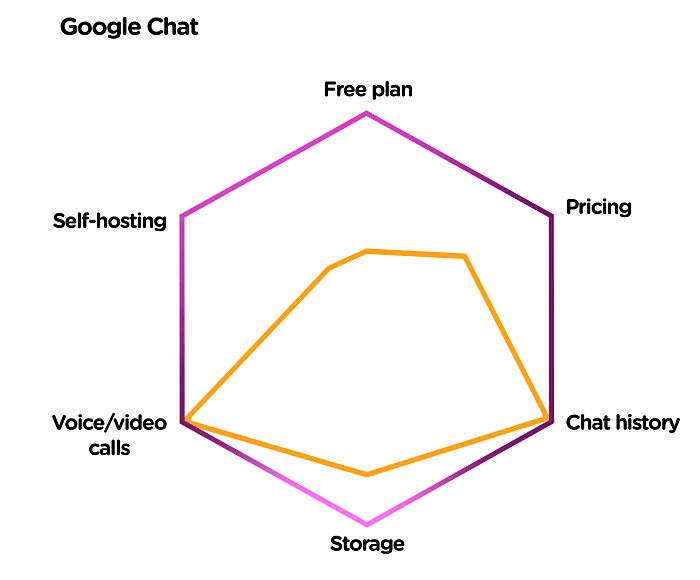 Google Chat harnesses the power of familiarity. It represents an extension of the popular free Google Hangouts chat familiar to anyone with a Gmail account. Along with other Google products such as Meet, Drive, Docs, or Calendar, Google Chat is available as part of the Google Workspace package. In addition to the basic features of Hangouts, Google Chat provides additional collaboration-focused functionalities such as group chats, file sharing, and convenient integrations with other Google products (e.g. Meet for video calls).
SCOUTING REPORT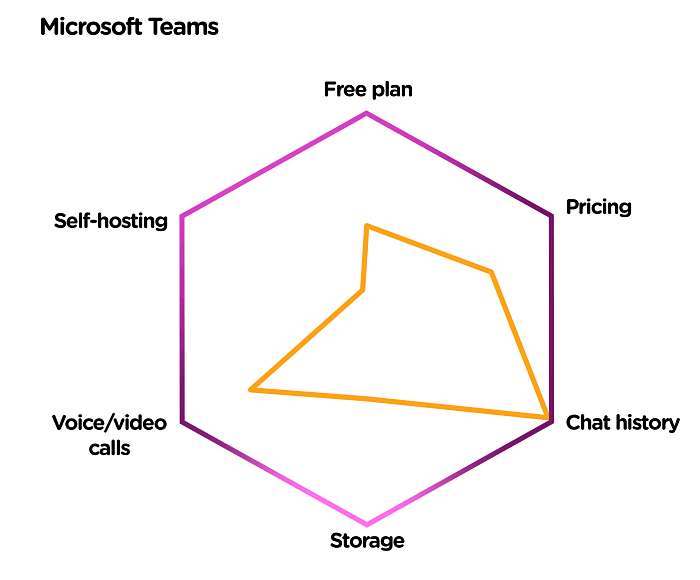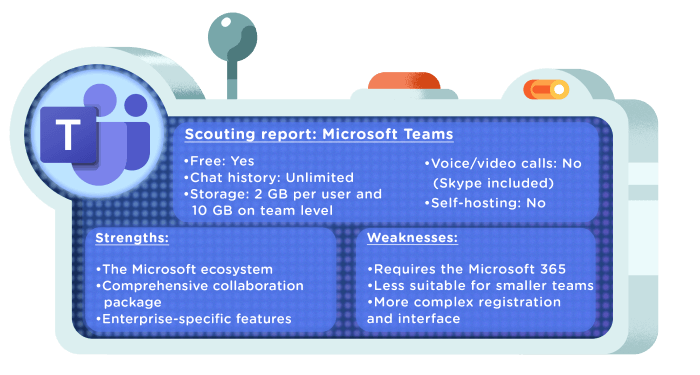 Built on the foundation of Skype for Business, Microsoft Teams (as well as other products within the Microsoft 365 package) represents the tech giant's foray into the collaboration space. While the free version is available, its lack of in-built integrations with other relevant Microsoft products (for instance, Skype, or OneDrive) makes it highly impractical for use outside of the package. However, signing up for the Microsoft 365 bundle provides you with a robust team communication and collaboration tool. Its comprehensive list of enterprise-specific features and integrations has made Microsoft Teams a popular choice for larger-scale organizations, although its more complicated registration process, more complex interface, the necessity of a paid plan, and great reliance on other Microsoft Products make it a less popular choice for smaller teams and startups.
The match between Google Chat and Microsoft Teams
A match-up between the people's champion in Google Meet and a corporate darling in Microsoft Teams makes for a formidable encounter. Both apps are powered by the robust supporting infrastructure of their parent companies, containing intuitive integrations with other relevant products. While both competitors have a demonstrated track record of suitability for a variety of team set-ups, Google Chat proves itself to be a more versatile solution, applicable in a greater variety of scenarios. It also benefits from the ubiquitous nature of Google as a comprehensive platform for online work.
🏆 THE WINNER — Google Chat
The battle of tech giants is decided by fine margins, with Google winning out on the strength of its convenience and adaptability to almost any professional scenario.
Workplace vs. Twist
The second quarterfinals match-up brings us an extension of an omnipresent social media platform and an unconventional underdog. While it may seem like the battle of David and Goliath, the proverbial David has a few tricks up its sleeves.
SCOUTING REPORT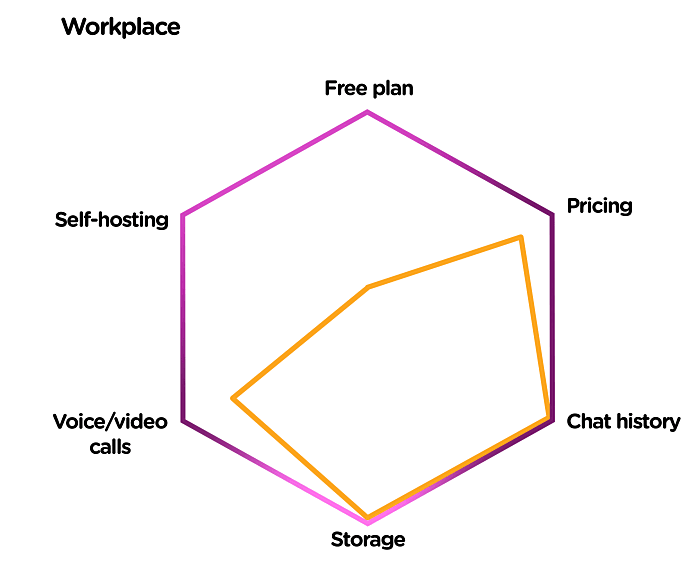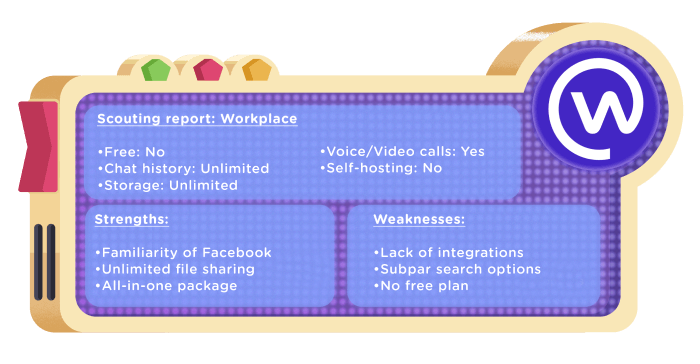 Workplace represents Facebook's foray into internal communications and team collaboration. Relying on the familiarity of the Facebook interface, Workplace is a comprehensive tool envisioned as a one-stop solution for team communication and collaboration. Its biggest strength is the intuitive use for anyone familiar with Facebook, as well as unlimited file sharing. However, it has seen a growing number of critics calling it out for lack of integrations, lacking search functionalities, data security concerns, and the recent cancelation of a free plan, among other things.
SCOUTING REPORT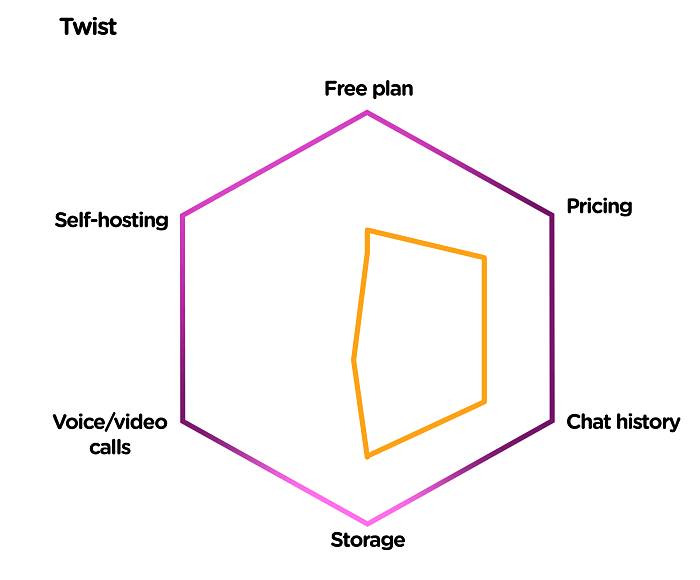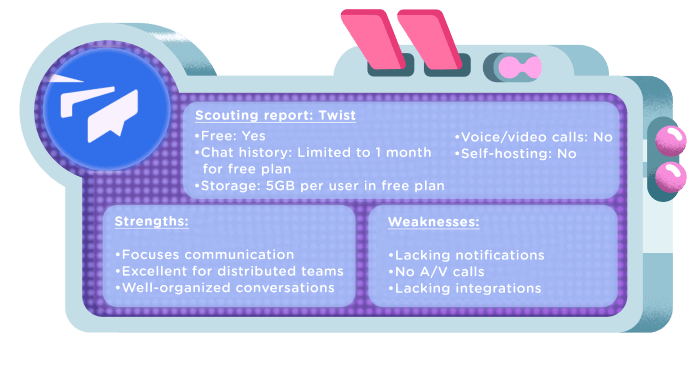 Twist is the most left-field contender in the bracket. Created by a distributed remote team at the Doist company to cover the needs of, well, a distributed remote team, it functions as a sort of a middle ground between an email and a chat. Its design and functionalities discourage the trivial and often "spammy" aspects of team chats, allow a higher degree of organization of topics and conversations, while also keeping things more immediate and responsive than with an email. The key principle of Twist is to enable efficient and structured team communication without constant disruptions. The lack of video/voice call options, however, may prove to be a deal-breaker for many.
The match between Workplace and Twist
With a novel approach to tactics and a unique underlying philosophy, Twist is an unfamiliar animal to Workplace. Its dedication to the beautiful game and idealistic principles can make it a cult favorite, but it is not a match for a robust and comprehensive collaboration tool with a full set of functionalities we have come to expect. Twist loses out, albeit in a noble and dignified manner.
🏆 THE WINNER — Workplace
Too comprehensive and robust for its opponent to handle.
Mattermost vs. Pumble
Both competitors have a strategic approach that relies on defense via self-hosting. That's pretty much as far as similarities go, as both are wholly different in style and execution.
SCOUTING REPORT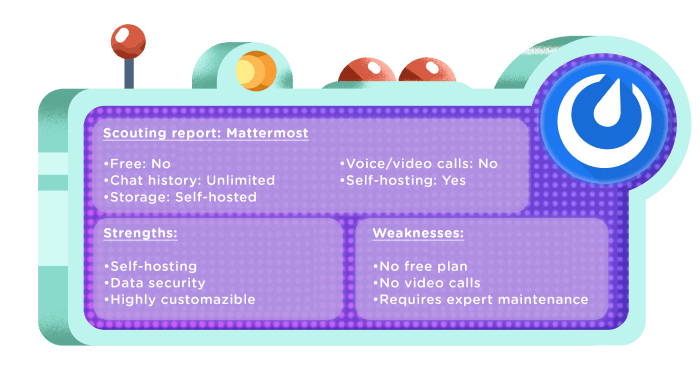 Marketed as an open-source alternative to Slack, Mattermost is the favorite of the software development community, although its relatively complex setup and use of advanced features may turn off less tech-savvy users. The option of self-hosting Mattermost has also made it popular among organizations in need of increased data security. However, it does not offer a free plan, there is no option of video calls, and its setup and maintenance may be too much hassle for smaller teams with no major concerns over data security.
SCOUTING REPORT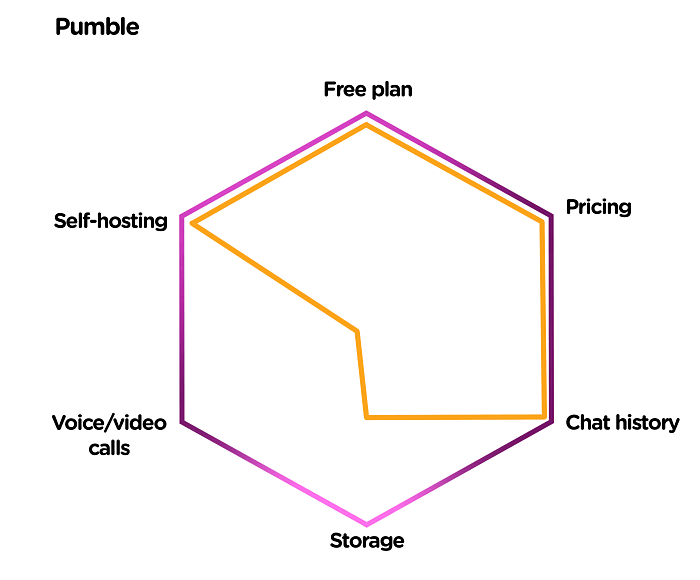 Pumble acts as a disrupting factor in the productivity arena, delivering the core of what Slack does well, but for free. By placing no limitations on the chat history and the number of users on a single workspace, Pumble aims to become the people's champion. The recent introduction of a paid plan has made no changes to the above while enabling organizations to customize the app to their working environment. The fact that it can also be self-hosted on internal servers (a premium feature) is a big security plus, and the announced addition of voice and video calls could very well push it to the top.
The match between Mattermost and Pumble
It's the battle of two self-hosted Slack alternatives. Mattermost comes off as a highly specialized unit, while Pumble has a more versatile, all-around game. With drastically different tactics and key features, both sides are fairly evenly matched, yet Pumble takes the cake for the more universal, crowd-pleasing features it delivers without even asking you to pay for the ticket.
🏆 THE WINNER — Pumble
The opposition's focus on data security leaves it lacking in other areas of the user experience.
Discord vs. Flock
This should be fun! On one side we have Flock, designed in the classical mold of a professional team chat, and on the other stands Discord, an intruder from the world of gaming with a highly unorthodox technique and strategy.
SCOUTING REPORT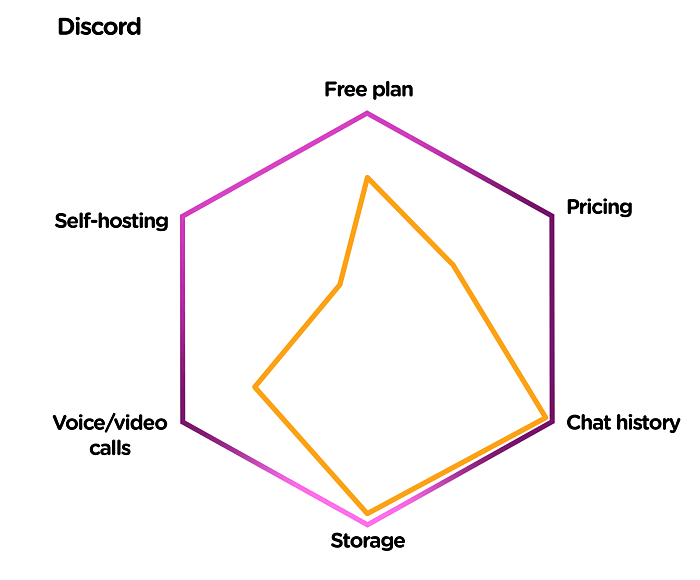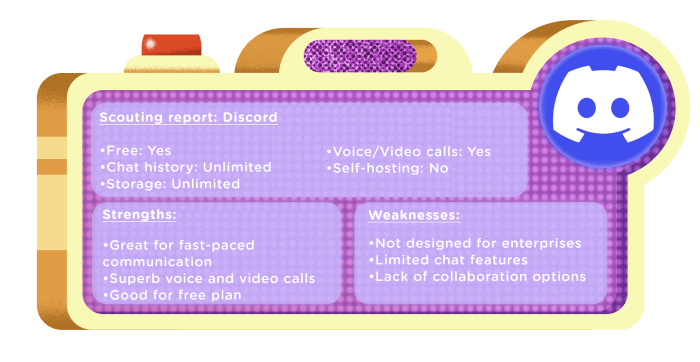 While primarily recognized as the gaming community's communication tool of choice, Discord has also found its use among a number of professional teams. The main reasons for Discord's use in the professional context are its familiarity, superior voice and video calls, and a fairly generous free plan. However, Discord is not primarily a team chat app, and some of its drawbacks (lack of standard text communication options such as threads, for instance) in a team setting are quickly revealed.
SCOUTING REPORT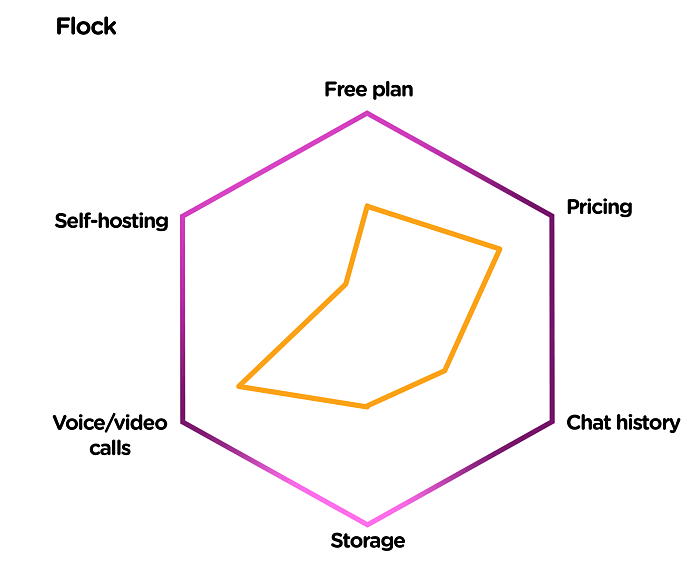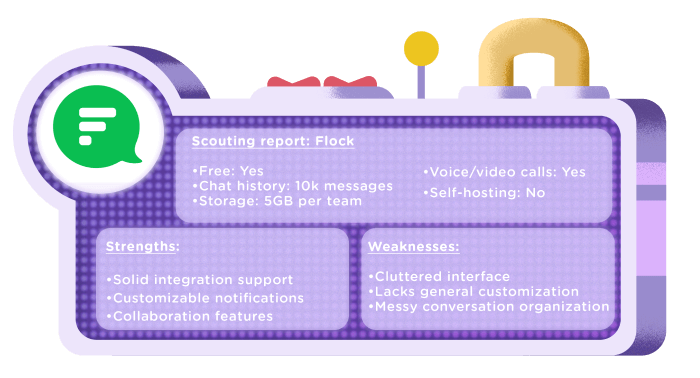 Flock serves as a direct competitor to Slack, aiming to provide slightly more for slightly less. Its free plan is a tad bit more generous, and the paid plans are slightly more affordable. However, Flock fails to impress, as it doesn't offer any new features or a new approach to team collaboration. Furthermore, its interface seems unnecessarily complex for a tool that provides most of the same functionalities as its competitors.
The match between Discord and Flock
With its "unserious" gaming background and an obvious set of weaknesses for the professional arena, Discord should be no match for a proper team communication and collaboration tool. However, Flock's game is fairly uninspired and workmanlike, drawing little enthusiasm from the crowd. Discord utilizes its novel, fast-paced style to counterattack the favorite, and scores a surprise win.
🏆 THE WINNER — Discord
While it is certainly an imperfect chat tool for the professional context, its unique qualities are enough to overpower an opponent that does a bit of everything without excelling in any particular department.
Slack alternatives — the semifinals
The four contenders left standing feature two global giants, an emerging star, and an eccentric outsider. Let's see where the chips fall.
Google Chat vs. Workplace
If we were to make a football comparison between the two opponents, Google Chat would be like an established traditional powerhouse (think Real Madrid, Bayern Munich, or Man Utd), while Workplace would be the "new money" upstarts along the lines of Manchester City. This makes all the difference in this encounter.
The match between Google Chat and Workplace
Google Chat's tried and tested formula of "simplicity meets functionality" and its reliance on the entire Google ecosystem prove to be simply too much for Facebook's attempt to reshape a social network into a collaboration platform.
🏆 THE WINNER — Google Chat
Workplace's somewhat innovative approach is no match for Google's tried and tested tactics and execution.
Pumble vs. Discord
The second semifinal matchup is a battle of opposing philosophies. Pumble's game reveals a dedication to the fundamentals, a thorough tactical approach to collaboration, and a relentless work ethic. Like an elite athlete in one discipline trying its hand in another (think: Usain Bolt having a go at soccer), Discord relies on an incomplete set of dominant traits to make up for its fundamental deficiencies.
The match between Pumble and Discord
Discord was the breakout surprise of the previous round, but this is where its race runs its course. Faced with a comprehensive, user-friendly team chat app focused on collaboration and productivity, it just does not stand up to closer scrutiny. While its different approach may sit well with some audiences, Discord's lack of work-related features makes this a fairly easy win for Pumble.
🏆 THE WINNER — Pumble
Discord blurs the lines between work and fun, but you'd want Pumble when work needs to be done.
Slack alternatives — the finals
We have seen a selection of eight contenders fall one by one until there were only two standing. Does the humble Pumble stand a chance against the gigantic Google? Let's find out.
Google Chat vs. Pumble
It is the match-up of two people's champions. Google Chat's familiarity and the comprehensiveness of the entire Google Workspace package are pitted against the simplicity, practicality, flexibility, and affordability of Pumble.
The match between Google Chat and Pumble
While the power of Google Chat lies in its smooth integrations with other members of the Google family, as a stand-alone team communication platform it does lack in structure, organization, and customization, compared to Pumble. It is a fairly balanced encounter, but the imminent arrival of voice and video calls pushes Pumble over the top, with enough weapons in its arsenal to match and, in some aspects, even exceed Google Chat's armory.
🏆 THE ULTIMATE WINNER — Pumble
Without the entire Workspace package, Google Chat is a less formidable beast. A versatile, comprehensive, and budget-friendly opponent can topple even a multi-industry giant.
Post-match commentary
It has been an exhilarating tournament that has revealed the full extent of diversity on display in the team collaboration arena. In a broad range of different tactics, playing philosophies, and practical execution, we have found that Pumble strikes the best balance in responding to diverse team scenarios. It is simple, efficient, highly affordable and security-conscious, and its overall value more than makes up for any deficiencies.
Ultimately, the best team chat tool is the one that works best for you. We hope that the Ultimate Team Chat Showdown has given you enough information to understand which solution would suit your team the best and to pick your team's champion!