In business communication, where every utterance is a strategic move, words become not just tools but potent weapons.
The lexicon we use in business communication can be a double-edged sword. Words can influence and impact situations and people around us, both positively and negatively.
In this blog post, we'll delve deeper into emotive language in business communication and explore the nuances of loaded terms that can make or break a deal, shape a company's reputation, and leave a lasting mark on the minds of your audience.
We'll answer the following questions:
What is emotive language?
Is the use of emotive language positive or negative?
What is loaded language?
How to best show emotion in business communication?
We've also prepared examples of emotive language in action, ranging from advertisements to famous speeches. Additionally, we've covered the loaded language fallacy and prepared examples of loaded terms.
Let's start.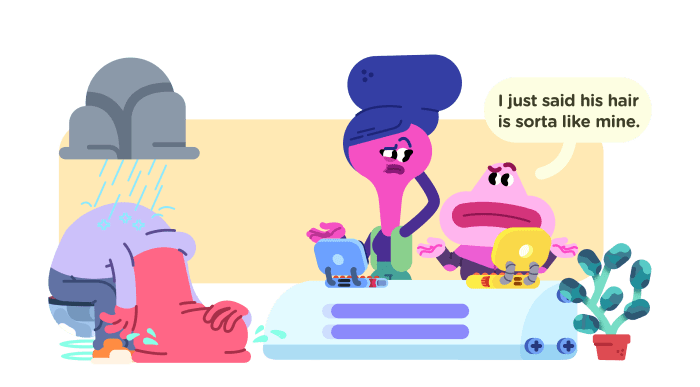 What is emotive language?
Emotive language refers to the use of words, phrases, or expressions specifically chosen to elicit strong emotions and reactions.
Emotive language can evoke positive emotions, such as:
Joy,
Excitement,
Interest,
Hope, and
Gratitude.
However, emotive communication can also evoke negative emotions, such as:
Fear,
Anger,
Frustration,
Shame, and
Sadness.
Emotive language is used in various forms of communication, including:
Literature,
Advertising,
Political speeches, and
This type of language is used to persuade or influence people by appealing to their emotions rather than relying on rational arguments, especially in advertising and journalism.
For example, consider the following sentence:
"She held a speech after her win."
This is an objective description of events. We have no way of knowing how she felt, what the speech was about, or how the audience reacted.
In contrast, we have the following sentence:
"Her heartwarming story of perseverance and triumph moved the entire audience to tears."
This example evokes emotions in the reader. You may sense a feeling of joy for her win, respect for her hard work, and empathy for the teary-eyed audience.
In this example, words like "heartwarming", "perseverance", "triumph", and the expression "moved to tears", are examples of emotive language. They are specifically used to elicit an emotional response from the reader.
Emotive language can also be used in business communication. Although professional communication typically emphasizes clarity, professionalism, and objectivity, the judicious use of emotive language can be a powerful tool for achieving specific goals.
What kind of words are used in emotive communication?
The words you choose have a significant impact on how your message is received. This is the main principle behind emotive language.
For example, describing a dress as "vintage" carries a positive connotation. It evokes nostalgic and sentimental feelings and has the reader imagining all the previous good memories made in the dress. However, an "old" dress doesn't evoke any of the positive emotions mentioned before.
This is because certain words carry more than one meaning — they have an emotive meaning with positive or negative connotations. These words are called loaded terms.
Here are just a few examples of loaded terms:
Precious,
Natural,
Authentic,
Traditional (values),
Green (energy).
Some synonymous words can carry vastly different connotations. Bertrand Russell first described this phenomenon as emotional conjugation. The most famous example that Russell gave for emotional conjugation is the following:
"I am firm, you are obstinate, he is a pig-headed fool."
Although all three words are synonyms for stubborn, each one carries a different connotational meaning.
The word firm has a positive connotation, as it's often used to describe people who are confident in their beliefs and in control.
Obstinate is usually a fairly neutral term to describe someone who is stubborn.
On the other hand, calling someone pig-headed may land you in trouble because of the strong negative connotation the term carries.
Therefore, your choice of words can greatly influence the way your message is interpreted and what kind of emotions it evokes.
Is the use of emotive language positive or negative?
The use of emotive language is not inherently positive or negative. It can sway both ways depending on the:
Context,
Intent, and
Ethical considerations.
When used responsibly and authentically, emotive language can have positive effects and can:
Inspire change,
Evoke genuine emotions, and
Raise awareness about important issues.
However, emotive language can have negative consequences when used inappropriately.
If emotive language is used in a manipulative and deceptive way, it can:
Mislead and deceive,
Reinforce bias and prejudice,
Divert attention from a lack of substance or evidence,
Perpetuate harm, and
Exploit vulnerable individuals.
Is the use of emotive language at work positive or negative?
In the context of professional communication, emotive language can have both positive and negative effects.
Let's go over some of them.
Positive aspects of using emotive language at work
Here are some positive aspects of using emotive language in business communication:
Boosted motivation and team morale — Emotive language can inspire and motivate team members to perform their best. Expressing encouragement, enthusiasm, and appreciation can boost team morale and motivation.
Improved leadership communication — Leaders who connect with team members on an emotional level can build stronger relationships and create more supportive teams.
Better conflict resolution — Using empathetic language can help resolve conflicts and deal with difficult conversations. Showing understanding and empathy can help de-escalate situations and find mutually beneficial solutions.
Positive company culture — Emotive language can contribute to building a positive company culture by reinforcing shared values, goals, and a sense of belonging.
Boosted creativity and innovation — Encouraging employees with positive and emotive language can foster creativity and innovation in the workplace.
Negative aspects of using emotive language at work
On the other hand, emotive language is not always appropriate at work.
Here are a couple of negative effects emotive language can have at work:
Manipulation — Emotive language can be used to manipulate or coerce employees into certain decisions or behaviors. It can also be a gaslighting tactic.
Inauthenticity — If employees perceive emotive language as insincere, it can erode trust and damage relationships in the workplace.
Conflict escalation — Emotive language can also negatively affect conflicting situations. If used inappropriately, emotive language can lead to heated arguments or misunderstandings.
Bias and prejudice — Using loaded language in the workplace can lead to discrimination, harassment, or exclusionary behavior. This can turn a positive work environment into a hostile one.
Overemphasis on emotion — If rational and logical aspects of decision-making are overlooked in favor of emotions, it can lead to poor choices and missed opportunities.
___
If we take into consideration all of the positive and negative aspects of emotive language in business communication, we can conclude that it's mostly dependent on context and intent.
The use of emotive language at work can motivate, inspire, and build positive relationships. It can contribute to a healthy work environment and help leaders connect with their teams.
However, you should be careful to use emotive language with authenticity, empathy, and sensitivity to avoid manipulation, conflict, or reinforcement of biases.
💡 Pumble Pro Tip
Using emotive language in the workplace can lead to heated arguments. If you want to know how to diffuse conflicts in the workplace, here are 15 phrases you may find useful:
Is the use of emotive language in marketing positive or negative?
Marketing experts are well aware of the impact emotive language can have on individuals and their incentive to spend money. Therefore, emotive language is often used in advertising to influence customers to buy more.
CEO Brand Strategist and Founder of FreshSage Brand Agency, Emma Weise, explains how using emotive language in advertising can be a double-edged sword:
"People buy based on emotions. So when you're building a brand [especially one that's online], emotions are used to connect with potential clients, create a clear picture, and build trust. When used properly, emotive language is powerful.
We see it playing out on web pages, company brand collateral, and social media.
That being said, there is danger in using emotive language in a disingenuous way — as it could easily break trust or manipulate the audience, and needs to be used wisely."
Therefore, as in any other sphere, emotive language in advertising can be a powerful tool only if used correctly.
Is emotive language appropriate in all circumstances?
The answer is — not necessarily.
Business communication emphasizes professionalism and objectivity. However, as we've explored, there are instances where emotive language can be appropriate and even beneficial.
However, it's crucial to strike a balance between emotive language and factual and professional communication.
You need to be able to discern when using emotive language is appropriate.
We talked to Douglas Noll, a lawyer and a professional mediator with decades of experience, who agrees that emotional intelligence is needed to be able to use emotive language appropriately: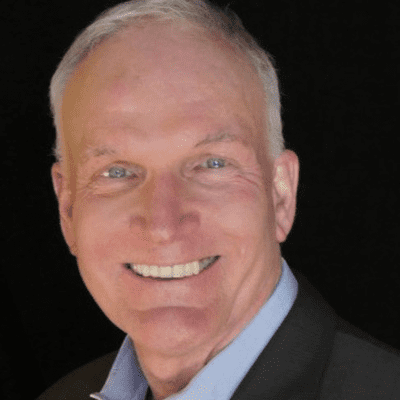 "The emotionally competent person will use discernment when to express emotions. The emotionally incompetent person will have little discernment."
Additionally, the appropriateness of emotive language may vary on factors such as:
Audience,
Cultural considerations,
Level of professionalism, and
Situational context.
Therefore, it's essential to approach each situation with nuance and consideration for the specific context.
💡 Pumble Pro Tip
If you want to learn more about emotional intelligence and why it's so important in the workplace, make sure to read our blog post:
Examples of positive and negative emotive language
After considering the possible positive and negative effects of using emotive language, let's see it in action.
We have a couple of examples of emotive language in advertising and business communication to show how emotive language can be used in different situations.
Emotive language examples in advertising
Firstly, we'll take a look at a couple of examples of emotive language in advertising. We've included famous examples by Nike, Nivea, and Coca-Cola.
Emotive language used by Nike
Firstly, Nike's iconic slogan, "Just Do It", is an example of emotive language. It inspires people to take action, overcome obstacles, and push forward.
Additionally, in their Facebook ad, Nike used expressions such as "gear up for your next personal best", "greatest energy return", and "propulsive feel through the finish line" to make the audience feel like world-class athletes — or at least the best version of themselves.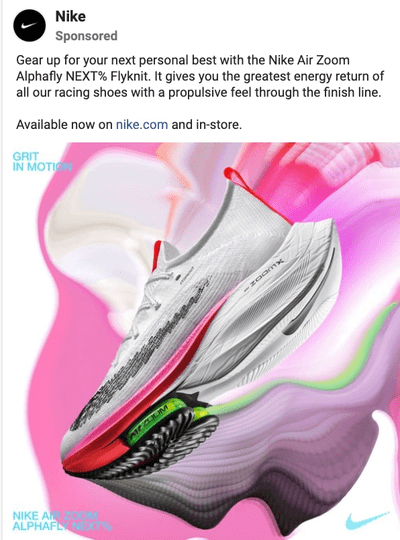 As a result, they will connect that feeling and Nike's shoes, making them more likely to buy Nike's products over another brand's.
Emotive language used by Nivea
In the example below, two out of three words Nivea used in their campaign were loaded words ("white" and "purity"), which caused accusations of racial insensitivity.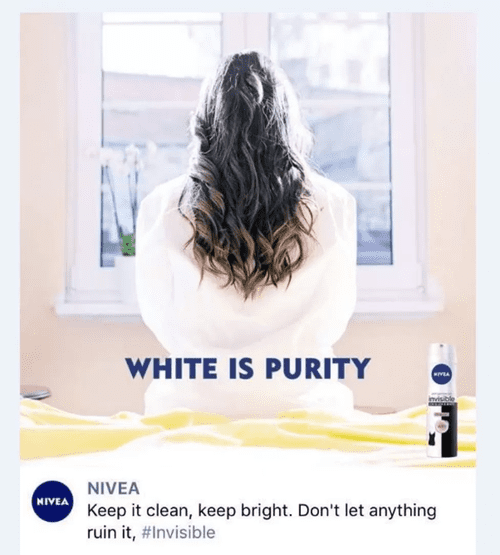 In this example, it's evident that emotive language was used inappropriately and, instead of bringing in customers, Nivea alienated a big part of their consumer base by using these loaded words.
Some brands go down the route of controversial ads on purpose, as they tend to evoke strong emotional responses. That's no accident — when people feel strongly about something, it's more likely they will comment on it and share it, giving the brand free promotion.
This is especially true in today's advertising, where "going viral" is the best form of marketing.
Emotive language used by Coca-Cola
Coca-Cola's "Open Happiness" campaign is a prime example of emotive language in advertising. It's a simple phrase that suggests that by drinking a Coca-Cola, consumers will unlock happiness and share moments of joy with others.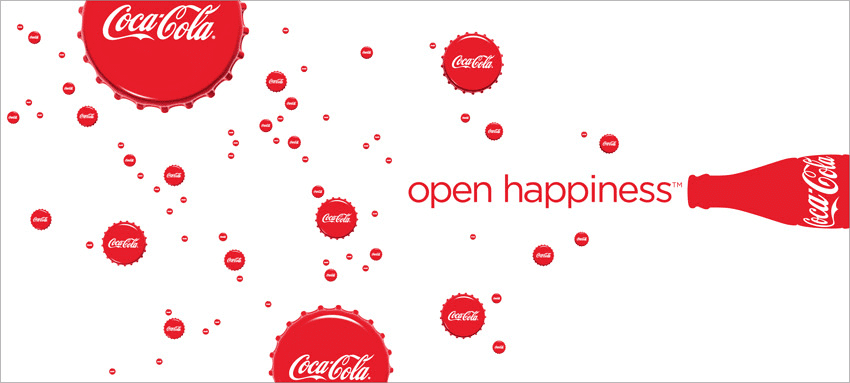 The campaign uses emotive language to associate feelings of joy and happiness with their own product.
Emotive communication in PR
Emotive communication is also commonly used in PR, which comes as no surprise. According to British authors Trevor Morris and Simon Goldsworthy, "Public Relations is the planned persuasion of people to behave in ways that further its sponsor's objectives."
They use words that trigger emotions such as anticipation or sadness, as well as words that help the audience envision what they're talking about.
For example, "Sorry that I'm organizing this press conference so early in the morning, but I was anxious to share this huge news." or "I'm heartbroken to announce that…".
Emotive language examples in business communication
Emotive language can be used in the workplace in different ways. Let's explore some examples of positive and negative emotive language in business communication.
Examples of positive emotive language in business communication
Emotive language can, for instance, be a way to show passion for what you're working on. As such, it's a great tool to motivate your team and inspire them to do their best.
You should give it a try if you want to improve employee engagement.
In the example below, John uses expressions such as "I'm thrilled", "incredible job", and "we will continue to do more amazing things" to emphasize how proud he is of his team and to motivate them to keep up the good work. If you got a similar message from your team leader, wouldn't you feel happy and valued too?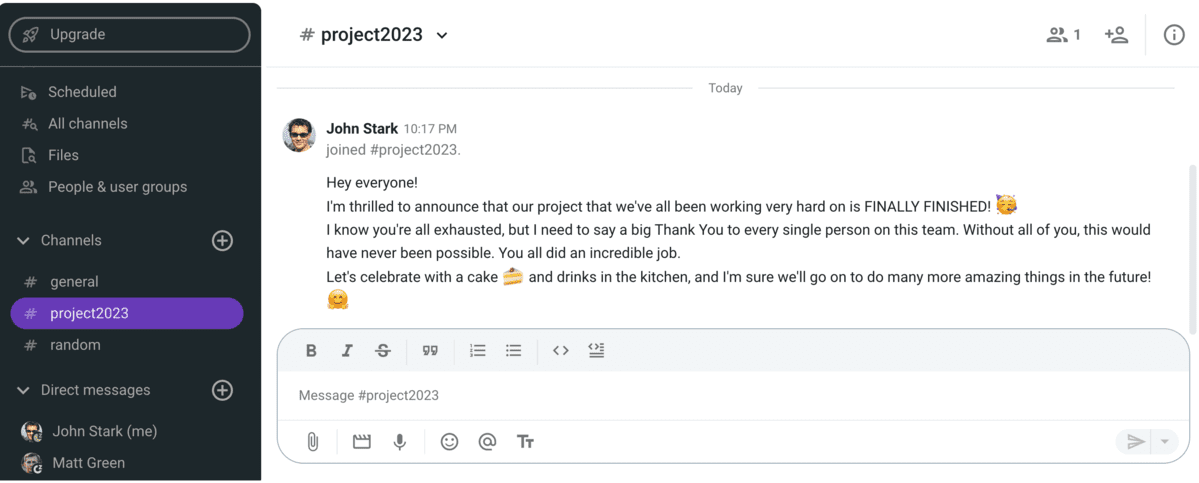 Examples of negative emotive language in business communication
On the flip side, emotive language can be used in much sneakier, more manipulative ways — such as using euphemisms and ambiguous wording to:
Make difficult tasks sound easier and more desirable to do,
Get others to do what's beneficial for you (but not necessarily for them), or
Write a job listing in a way that makes a position sound much better than it actually is.
In the example below, Sarah uses emotive language to persuade Matt to take on her workload.
She uses expressions such as "huge favor", "lend me a hand", and "save the day" to make him feel obligated to help her. She also emphasizes how hard it is for her by saying that she's "overwhelmed" and "drained".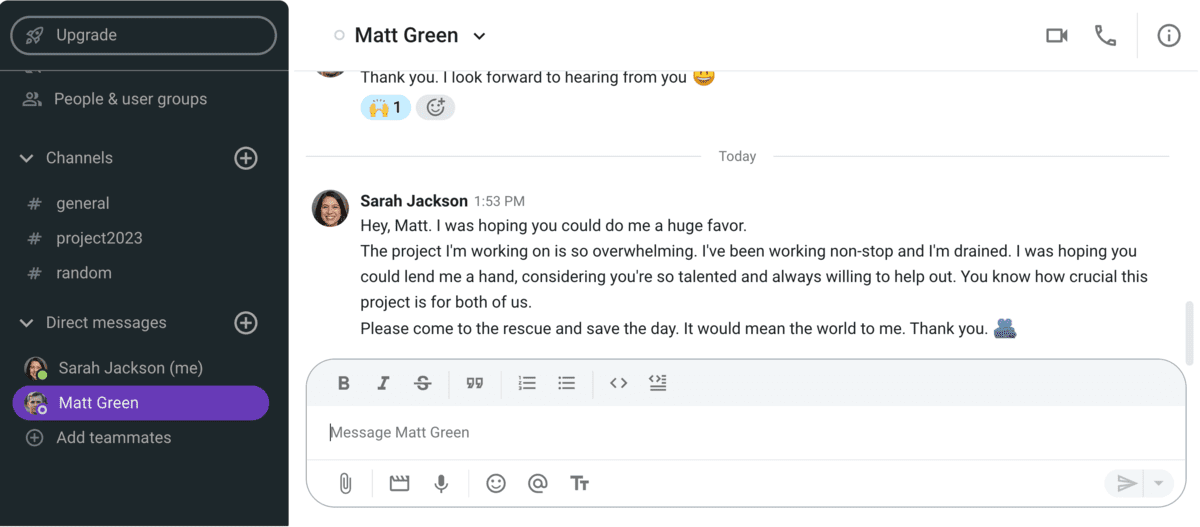 Although these phrases are not negative or harmful by nature, using them to manipulate others is an example of how emotive language in the workplace can be a malicious choice.
Pro tip: If a job listing contains phrases such as "we wear a lot of hats", "our ideal candidate doesn't rattle easily", or "you have to be able to work in a dynamic environment", that probably means you'll be stressed and overworked.
Examples of loaded language
Loaded language can shape the perception of issues, ideologies, and individuals by using emotional or biased language.
Loaded terms can be found in various contexts, including:
Everyday life,
Social issues,
Politics, and
Advertising.
Loaded terms have a meaning beyond the literal meaning of the word. They have an emotive dimension, with connotations that are not explicitly stated.
In psychological terms, loaded words have an emotional valence, because they generate a reaction that leads to an emotion.
Let's take a look at some examples of loaded language.
Example #1: Freedom fighter vs terrorist
The term "freedom fighter" carries a positive connotation, implying that the fight is for a just cause.
On the other hand, the term "terrorist" is highly negative and implies unnecessary violence and harm to innocent people.
Example #2: Undocumented immigrant vs illegal alien
The phrase "undocumented immigrant" is seen as a more neutral and empathetic term that highlights the lack of legal documentation.
However, "illegal alien" focuses more on the violation of laws and naturally carries a negative connotation.
Example #3: Renewable energy vs green energy
"Green energy" carries an environmental meaning, implying a commitment to sustainability in multiple areas of life.
"Renewable energy", on the other hand, is a neutral term that simply describes energy sources that are naturally replenished.
Example #4: Estate tax vs death tax
The terms "estate tax" and "death tax" refer to the same tax policy. However, the difference lies in the emotional impact and framing of this tax.
Those in favor of this tax prefer the neutral term "estate tax". They emphasize the role of the policy in revenue collection and wealth redistribution.
Conversely, those who oppose this tax often use the term "death tax" to create a negative emotional association. They portray it as an unfair burden on grieving families.
—
Here are some more examples of loaded words paired with their more neutral synonyms:
| Neutral term | Loaded term |
| --- | --- |
| Slim | Bony |
| Public servant | Beaurocrat |
| Investment | Spending |
| Government | Regime |
| Message | Propaganda |
| Crime-fighter | Vigilante |
| Specific | Categorical |
| Public health concern | Obesity epidemic |
Using loaded terms isn't necessarily bad, but it can lead to negative emotional responses or misunderstandings.
Furthermore, relying on loaded language to prove your point can lead to the loaded language fallacy.
What is the loaded language fallacy?
The loaded language fallacy occurs when emotionally charged words or phrases are used to manipulate and persuade the audience that your claim is true. Instead of presenting rational arguments such as facts or evidence, people who commit this fallacy appeal to emotions.
To better understand how this fallacy comes into play, let's have a look at the example below.
Imagine a debate about a proposed increase in taxes to fund education. A politician in favor of the tax increase presents their case:
"We absolutely must support this tax increase. It's the only way to ensure our children have a good education and bright future, and anyone who opposes this is simply heartless and wants to see our children and schools fail."
In this example, the speaker is using loaded language to make their argument. They characterize those in opposition of the tax increase as "heartless" and imply that supporting the increase is the only way to secure a "brighter future".
By using these loaded words, the speaker tries to sway the opinions of others through emotional manipulation rather than presenting a rational case for the tax increase.
This fallacy is often employed, both consciously and unconsciously, in various situations, including:
Advertising,
Politics,
Entertainment,
Storytelling, and
Persuasive writing.
It's important to be aware of loaded language and to consider the underlying reasoning behind arguments rather than just the emotional impact of the words used.
What are instances of famous emotive language?
Emotive language resonates with people and can leave a lasting impact.
This can be observed in many contexts, such as:
Literature,
Speeches,
Public addresses.
Let's analyze some notable examples of emotive language that has had or still has a lasting impact.
Example #1: Martin Luther King Jr.'s "I Have a Dream" speech (1963)
In this iconic speech about civil rights, King used emotive language to convey his message and vision of racial equality and justice.
His speech has been described as one of the defining moments of modern American history and as one of the greatest speeches ever delivered. Over 200,000 people were present and, with his emotive and motivational speech, Martin Luther King Jr. managed to connect with the audience and leave an impact still felt more than 50 years later.
The phrase "I have a dream" is an example of emotive language in this speech. King repeated it multiple times to create a rhythmic and emotional cadence that reinforced the central theme of the speech.
Throughout the speech, King appealed to the emotions of his audience and used emotive language to convey the pain and injustice of racial discrimination. Phrases such as "the chains of discrimination" and "the heat of oppression" evoked strong feelings among the audience.
He also spoke of "the sons of former slaves" and employed the word "brotherhood", both of which are examples of loaded language.
King also drew references from the Declaration of Independence and the Bible to connect his message to the nation's foundational values and principles.
King repeated the loaded term "freedom" in the phrase "Let freedom ring". He created a sense of progression and emotional intensity by repeating this phrase and listing locations where freedom should ring. The ending of the speech was a call to action, where he urged the audience to "Let freedom ring" and work together toward a brighter future.
Example #2: John F. Kennedy's Inaugural Address (1961)
Another example of emotive language in speeches is John F. Kennedy's Inaugural Address. He used emotive language to engage the audience and inspire in them a sense of unity and duty as American citizens.
The phrase "My fellow Americans" has been used by politicians before and after Kennedy as a means of bringing politicians closer to the regular citizen. Kennedy employs it several times throughout the speech to appeal to the emotions of the audience.
The famous line "My fellow Americans: ask not what your country can do for you — ask what you can do for your country." is an example of emotive language used to emphasize the ideas of selflessness, civic duty, and patriotism.
Kennedy used phrases such as "pay any price" and "bear any burden" to invoke a sense of determination and commitment to the cause of liberty in the American people.
He conveys the message that a new era of American history has begun by using emotive language, such as "Let the word go forth" and "The torch has been passed".
Kennedy also used many other loaded terms to emphasize his points and evoke emotions, such as:
"Bondage of mass misery",
"Free society",
"My fellow citizens of the world", and
"Eternal vigilance".
The emotive language used in John F. Kennedy's speech was strategically employed to engage the audience and underscore the importance of the values and goals he strived to achieve.
Example #3: Franklin D. Roosevelt's "Day of Infamy" speech (1941)
Franklin D. Roosevelt's address following the attack on Pearl Harbor is another example of emotive language in speeches. His speech was so powerful and impactful that it galvanized public support for the US to enter into World War II. It's an example of how emotive language can influence history.
One of the most iconic and emotionally charged phrases in the speech is the famous line "A date which will live in infamy". The term "infamy" is loaded with a negative connotation and used in the speech to emphasize the shock and outrage felt by the American people in regard to the attack.
Roosevelt highlighted the sense of betrayal by using loaded terms to describe the attack, such as:
"Sudden",
"Deliberate",
"Unprovoked", and
"Dastardly".
He also stated that "the US was at peace with that nation", where the phrase "at peace" highlights the contrast between the nation's peaceful status and the sudden act of war.
The term "premeditated invasion" is another example of emotive language Roosevelt used in this speech. It suggests careful planning and malicious intent on the part of the attackers and further emphasizes the gravity of the situation.
To suggest that the US is on the side of justice and moral righteousness, Roosevelt uses the phrase "righteous might".
Roosevelt successfully used emotive language to convey the negative feelings of the American people and to mobilize the nation for war.
Example #4: "Pride and Prejudice" by Jane Austin (1813)
On a less serious note, emotive language is one of the pillars of literature, particularly fiction works centered around love, hardships, and complex emotions.
For example, Jane Austin uses emotive language in "Pride and Prejudice" to convey:
Character's feelings,
Societal expectations, and
Complexities of romantic relationships.
In the pivotal moment of the novel, Mr. Darcy proposes to Elizabeth. His speech is filled with emotive language as he confesses his love. However, his use of terms loaded with negative connotations lead to an initial rejection by Elizabeth.
He describes his love for Elizabeth as "constant" and "unyielding", which shows the intensity of his feelings. He uses emotive language to describe her beauty, describing her with the phrase "the most beautiful creature I have ever beheld".
Mr. Darcy makes readers' hearts flutter with the most famous line of the book — "You have bewitched me, body and soul". The term "bewitched" carries a sense of enchantment and fascination and puts into words just how much Elizabeth has captivated him.
However, his emotive language puts him in an uncomfortable position when he references her family's low social status. He described her background as "inferior", which carries a very negative connotation. This makes Elizabeth reject his advances and leaves him heartbroken.
Austin's clever way of using loaded terms can completely change the tone of conversations of the characters and subtly show the social and emotional intricacies of the time period in which the novel is set.
How best to show emotion in business communication?
Leaving aside speeches and literature, you're probably wondering how you can best use emotive language in your workplace.
Well, you certainly don't need to start your next presentation with the phrase "I have a dream" or describe your upcoming project as "bewitching" to show emotions.
So, how do you appropriately show emotion in the workplace?
Here are a couple of tips to help you navigate emotions in business communication.
Tip #1: Know the difference between "I" statements and "You" statements
Knowing how to express yourself in an appropriate way starts with acknowledging your own emotions.
Our contributor, Douglas Noll, believes that knowing the difference between "I" and "You" statements is crucial: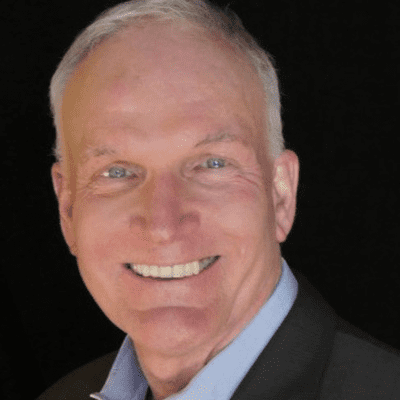 "Appropriately expressing emotions requires knowledge of the difference between "I" statements and "You" statements. "I" statements are used to express one's emotions, such as "I am disappointed and frustrated that this report is not what I expected." "You" statements are used to reflect the emotions of others, such as "You are frustrated and disappointed that the report is not what you expected." These are skills that must be taught and mastered and are not innate."
The key to understanding the difference is the fact that "You" statements imply that the listener is responsible for something, which can cause hostility and defensiveness on their part. On the other hand, when using "I" statements, you take responsibility for your feelings and it sounds less hostile.
Tip #2: Use emojis when appropriate
Even though remote work has numerous benefits, it has some disadvantages too — one of them being that it can be hard to show your personality through a computer screen.
When you're chatting with your team, don't be afraid to sprinkle a few emojis here and there. According to Statistics on emoji use in internal communication, emojis positively impact likeability (69%) and credibility (59%), as well as make positive news more sincere (72%). The same statistics reveal that 88% of survey respondents are more likely to empathize with a person if they use an emoji.
They can be used to:
Show friendliness,
Express approval,
Laugh, and
Celebrate the team's successes.
However, there are a few don'ts when using emojis:
Don't overuse them — Your work messages shouldn't look like middle schoolers' texts.
Don't use emojis in serious situations.
Don't use them when you're communicating with serious, older coworkers — unless you know for sure they're fans of emojis themselves.
Don't use ambiguous emojis, to avoid misunderstandings.
💡 Pumble Pro Tip
If you're unsure about using emojis in business communications, read the article below to find out more:
Tip #3: Regulate your emotions before responding
You shouldn't bottle up your emotions, it's very unhealthy.
You can't escape from them — even if you repress emotions in your conscious mind, they may appear in your dreams.
Bottling up your feelings can also make you more aggressive, according to a study from the University of Texas. The same study also states that not acknowledging your emotions actually makes them stronger.
However, you should try to regulate them before you respond. Elizabeth Suárez, director of the HERS (Higher Education Resource Services) Institute, recommended the CURE tactic in her article for The Business Insider:
C: Calm your body. The best way to do this is to take deep breaths, as it enables more air to flow into your body, releasing tension and reducing stress.
U: Use positive nonverbal cues. Have open body language, maintain eye contact, and use a calm and pleasant tone of voice.
R: Respond by restating what the other person said and asking for clarification. In the heat of a moment, a speaker can say something they didn't actually mean or a listener may misunderstand the speaker.
E: Engage the other person in conversation by being the first one to admit your mistakes, if you were in the wrong. You can also propose a solution or ask them to help you come up with one that will benefit both of you.
By regulating your emotions before responding, you have a moment to think about what the other person said, and, more importantly, think about how you're going to react. This can prevent conversations from becoming heated and leading to arguments.
Tip #4: Be solution-oriented
When you're dealing with negative emotions, such as stress or frustration, you should be very aware of the way you express them.
Being passive-aggressive with your coworkers or making snarky remarks is not how a professional should behave.
Instead, try to be solution-oriented:
Identify what made you feel that way and if there's a way to remove the stressor.
Analyze the situation and think if there's something you should've done differently.
Seek advice or help if needed.
Think about what you can do to de-stress.
Conclusion: Emotive language can be a positive force when used appropriately
Emotive language can be a powerful tool to:
Express yourself,
Motivate and inspire others,
Connect on a personal level,
Be persuasive, and
Make others see your point of view.
It's an incredibly useful tool in advertising and public relations, and it can also be employed in everyday communication with team members.
However, the key to successful emotive communication is to be aware of its potential negative effects and try to avoid them as much as possible.
Furthermore, being aware of the dark sides of emotive language can help you discern between manipulation or coercion and genuine arguments supported by facts.
✉️ What are your thoughts on emotive language? Do you use emotive language? Do you have any tips to share on how to best show emotion in business communication?
Let us know at blogfeedback@pumble.com and we may include your answers in this or future posts. And, if you liked this blog post and found it useful, share it with someone who might benefit from it.