The last year has brought on great changes. While social distancing was a great solution for saving people's lives, it created a gap between them, affecting mostly the way they communicated with each other, especially at work.
Organizations, companies, and enterprises that never allowed employees to work from home had to give in to save their businesses, which ultimately led to the expansion of the now popular hybrid work model.
Despite all difficulties, research conducted by the Society for Human Resource Management found that 52% of 1000 US employees would be okay with staying 100% remote while 35% would agree to a pay cut if they could still work from home.
To understand the depths of the hybrid moment and its impact on communication and work, we'll start by exploring the advantages and challenges of hybrid communication. We'll move on to define steps for creating an effective hybrid communication strategy and explain more about how to overcome common obstacles that might occur with hybrid communication.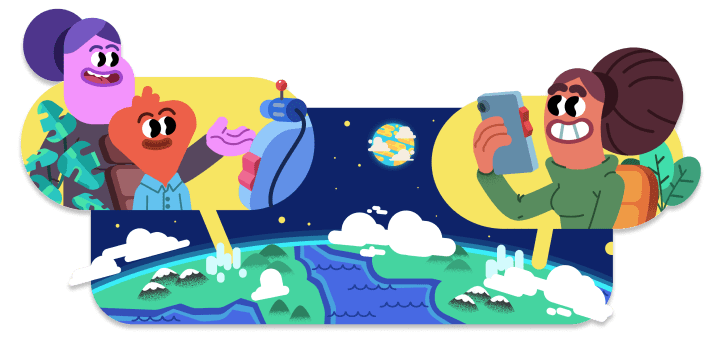 What is hybrid communication?
Hybrid communication is the synchronous and asynchronous exchange of information between in-office and remote employees.
Basic definitions relevant for hybrid communication
noun: hybrid /ˈhʌɪbrɪd/
a thing made by combining two different elements
noun: hybrid communication /ˈhʌɪbrɪd kəmjuːnɪˈkeɪʃ(ə)n/
the synchronous and asynchronous exchange of information between in-office and remote employees
The dictionary definition of hybrid is a good start to the story about hybrid communication. Just like hybrids represent a thing made by combining two elements, the same way hybrid communication connects two completely different types of workers: in-office and remote employees. This sounds quite easy to grasp when you put it like this, yet hybrid communication had to evolve pretty quickly to meet the needs of the modern post-Covid-19 world. But it did a great job, providing the hybrid workforce with a powerful tool for fulfilling their everyday tasks. Overall, the role of hybrid communication in professional settings is reflected in:
Providing flexibility in choosing the most adequate working environment
Keeping everyone in touch regardless of their location
Helping employees achieve a healthy work-life balance
Ensuring real-time exchange of important information
Allowing workers to structure business meetings around their everyday activities
Boosting productivity and reducing stress levels
Enabling continuous workflow
Thanks to this new way of communicating, the future of hybrid offices seems bright. However, this doesn't mean that all the hard work is done. On the contrary, the need to stay up-to-date and follow the latest communication trends becomes even greater, testing the limits of hybrid communication and pushing it to become better.
Hybrid work and its effects on hybrid communication
In essence, the hybrid work model was designed to allow employees to choose where to work from. On some days, they can work from the office and on other days, they can work from their homes. Based on this, we can make a distinction between five hybrid workplace models:
Static hybrid — With this model, each teammate has a fixed work location, either in the office or at home.
Dynamic hybrid — Employees get to decide where they want to work from, in the office or remotely.
Synchronized hybrid — Team members work remotely and in the office, but they come to the office at the same time.
Default digital — WIth this work model, workers can work from wherever they want without any expectations. This model is sometimes called the remote-first model.
Fully distributed — In essence, a fully distributed work model is what some refer to as fully remote.
Not all businesses are the same, so your choice of the type of hybrid work model should not align with the current trends. Choosing a suitable hybrid model will depend on a company's size, setup, and specific needs. So, taking your time to choose the appropriate work model will be beneficial for everyone in the long run.
Modes of hybrid communication
When we take a closer look at hybrid communication, we notice that it's like a coin — it has two equally important sides: the synchronous and the asynchronous side. For each team, an appropriate balance between synchronous and asynchronous communication will allow them to function properly, keep in touch during work hours, and finish projects no matter where they are.
Synchronous communication
Synchronous communication happens in real-time and it's meant to provide immediate responses. The majority of communication that goes on in typical in-office settings is synchronous. Yet, with hybrid teams, synchronous communication is a bit harder to maintain and usually comes with an additional layer of planning and scheduling. Examples of synchronous communication are the following:
EXAMPLES OF SYNCHRONOUS COMMUNICATION
🙂🙂 Face-to-face conversations
📞 Phone calls
💻 Video conferencing
📱 Instant messaging
Due to this added scheduling moment, synchronous communication tends to be less popular with hybrid and distributed teams. Although this can be problematic when team members are divided by several time zones, there's no reason to avoid creating synchronous moments for your team. To support a hybrid workforce and the further growth of the hybrid work model, synchronous communication can be used for:
One-on-one meetings aimed at discussing delicate issues or giving/receiving important feedback
Complex project planning that requires immediate attention
Company emergencies or urgent situations
Brainstorming sessions for new or important projects
Fostering stronger relationships among teammates, especially through virtual celebrations or happy hours
Casual meetings among employees who want to stay in touch even after office hours
Synchronous communication can help remote and hybrid teams that rarely meet in person to build trust and intimacy. This can go a long way in creating a sense of belonging and making employees feel connected to other employees.
Asynchronous communication
Asynchronous communication usually doesn't happen in real-time, considering there's a time delay between the person delivering the information and the person receiving it. When we're talking about remote and hybrid teams, they're likely to thrive on this type of communication but it's generally suitable for in-office settings as well.
Thanks to asynchronous communication, all parties involved can take their time to process the information and respond when it fits their usual schedule. Asynchronous communication includes:
EXAMPLES OF ASYNCHRONOUS COMMUNICATION
📧 Emails
📠 Fax
💬 Team chat apps and platforms
⌨️ Collaboration tools
📄 Shared documents
⏩ Video messaging
Asynchronous communication is great for relieving pressure off of having to immediately respond to messages or emails. Employees tend to cherish the time they can spend on generating a proper response, rather than answering automatically to important questions and requests. Plus, it's sometimes wiser to let the information sink in before you reply.
If your goal is to ensure high-quality communication in your company, asynchronous communication will be your loyal ally. It can be beneficial for both on-site and remote work, especially if the following practices are reinforced:
Outlining clear and realistic communication expectations.
Providing your team with adequate tools to support this type of communication.
Embracing over-communication, a common side-effect of asynchronous communication.
Setting reasonable time expectations for replies.
Resisting the urge to turn asynchronous into synchronous communication.
Giving everyone enough time for adjustments.
Thanks to its stress-reducing aspect, asynchronous communication can indeed make an impact on how hybrid teams interact in the long run. Although hybrid communication requires a little bit of both types, asynchronous communication can help scattered teams work more effectively and productively.
Advantages of hybrid communication
The development of hybrid offices and hybrid communication was additionally sped up when the pandemic hit in 2020, making companies across the globe find a way to stay in business. Skepticism was high when many employees were allowed to work remotely, as it didn't seem they would be able to keep their productivity levels up and finish projects on time. Yet, thanks to less commuting, fewer distractions, and more time for finding an adequate work-life balance, remote workers proved a productive force that kept most businesses afloat. In general, most successful remote organizations that have already adopted a hybrid approach to work have found a communication formula that functions quite well. It goes something like this:
70% asynchronous communication that includes using collaboration tools like Pumble, Trello, and Google Drive
25% synchronous communication that includes using Google Meet or Zoom
5% in-person activities and meetings that include team building or team bonding activities several times a year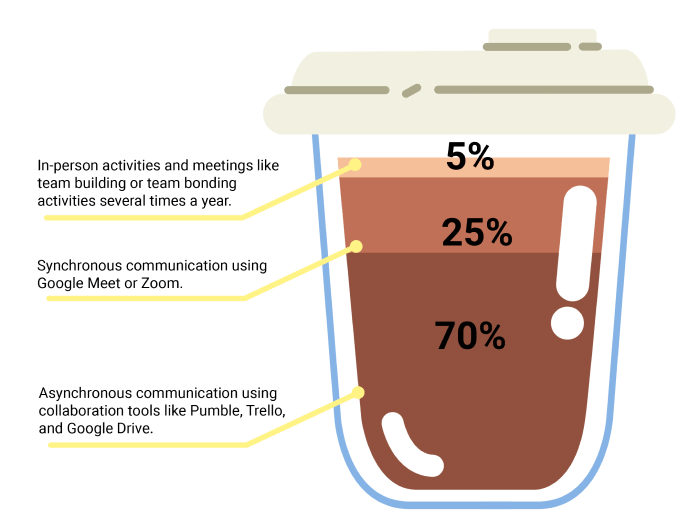 If you're still unsure if hybrid work is the right solution for your team, let us point out some of the most relevant benefits that come from introducing a suitable hybrid work model accompanied by a proper hybrid communication strategy.
Increased productivity
For most US workers, going remote in 2020 had a significant impact on work. According to Owl Labs research, about 70% of full-time workers in the US were working from home during the pandemic while 75% stated they were the same or more productive in these conditions. In most cases, the stress surrounding the formal in-office work was relieved when most employees were allowed to work remotely. Instead of stressing about commuting, they could focus more on simply waking up and starting work as soon as they felt like it. With a proper set of collaboration tools at their disposal at all times, communicating with their colleagues doesn't seem like a mission impossible anymore.
In addition, with asynchronous communication taking up the majority of their time, employees aren't beating themselves up about delayed messages or not replying immediately to emails. This way, stress levels are much lower which stimulates employees to do better and provides them with a stress-free working environment.
More flexibility
The flexible aspect of hybrid offices is what most companies are in need of now, especially if they want to retain their workforce and give them room for progress. Since going back to the office still seems like an uncertain move, allowing employees to have flexible work arrangements will do wonders for their morale and efficacy.
In essence, the flexibility of hybrid communication is reflected in the continued use of various communication tools and apps. With communication shifting to mobile phones now more than ever, employees can stay in touch even when they leave their home offices.
Trust among employees
Scattered teams can sometimes have a hard time building meaningful relationships. Lack of trust and miscommunication can be serious problems, especially now when companies go hybrid. This is where hybrid communication steps in, supporting tighter interaction among in-office and remote employees.
When used daily, various communication and collaboration tools can go a long way in building trust among employees. Although their primary use should be for work purposes, in most cases, it's the casual small talk that leads to more meaningful employee relationships. Having at least one person of trust at work can help employees feel understood even if they are miles away.
Improved collaboration
Taking care of your hybrid team includes ensuring timely collaboration. How teammates work on projects and how successful they are in completing their daily tasks will be affected by internal communication. Thanks to hybrid communication and the tools that support it, employees are more likely to successfully finish group projects.
Considering that about 86% of employees in companies with digital output believe that remote work is the "future of work", investing in an effective communication strategy feels like a smart move in the long run. Despite being scattered geographically, employees are an essential part of any company. Making sure they're comfortable enough to collaborate with people they haven't even met in person should be a primary focus.
Employee commitment
When workers feel comfortable communicating among themselves, it's reflective of how they feel about the company overall. Although for some distance seems like a big deal, hybrid communication doesn't always have a negative effect on the way employees feel about their company.
Most companies and enterprises are capable of providing their hybrid workforce with a nurturing work environment despite the distance — and that's what keeps people close. Being able to do their jobs without pressure, having a great team just a click away, and using adequate tools and apps to perform daily tasks is what most employees will appreciate.
Enhanced employee performance
As a cherry on top, employee performance seems to be thriving once all communication channels are up and running. As a result of a positive and empowering company culture that brings forward effective communication, most workers will feel like a part of a great team and strive for perfection.
What's more, Gallup has found that two major factors influence employee performance: well-being and engagement. Thanks to continuous communication with their employees, managers, and leaders can get insight into what keeps them motivated to perform well at work and find ways to increase their engagement and performance.
Barriers to effective hybrid communication
When companies started getting back to "normal" work after almost a year, they had three options at their disposal:
In-office vs Remote vs Hybrid work
🏢
BACK IN THE OFFICE
– Due to the nature of their business, some companies had to find a way to get everyone back in the office.
🏠
REMOTE WORK
– Other companies decided to allow people to work from their homes. Here we can make a distinction between fully remote, remote-first, or remote-friendly companies depending on the approach they've decided to take.
🏠 🏢
HYBRID MODEL
– This way of work assumes that companies allow their employees to choose when they want to work in the office and when from home. Several major companies have already announced this as their plans for the future, including Microsoft.
Although the majority of businesses recognize the benefits of hybrid work and communication, they also noticed that this way of work is likely to come with a few challenges. Now, to ensure that the hybrid work model is successfully implemented, companies should make sure to properly address the following issues and enable a successful implementation of hybrid communication:
The loss of physical office
Since fewer people come to the office to work, companies' needs for large office spaces reduce and they feel encouraged to reconsider their use. If office space is left unused, companies are bound to lose money that could otherwise be invested in supporting hybrid communication.
Depending on the type of hybrid model, companies have to take into account the number of employees that would be coming to the office to work, how often they would come in, and how many days per week. Failing to address these issues could bring on unwanted financial issues and negatively affect communication and productivity.
Unconscious employee bias
A major obstacle to effective communication in hybrid work settings is the bias that can arise between in-office and remote workers. Oftentimes, those working remotely feel as if they're missing out on whatever is going on in the office — both on a professional and social level. This can have detrimental effects on employees' self-worth, decreasing their performance and focus on work.
Most leaders and managers have learned that favoring those who come to the office to work over those who stay at home is unfair and unnecessary. Plus, it can drive the workforce away and lead to ruin. Professional performance and success shouldn't depend on the place of work, especially if the results are the same.
Dilution of company culture
The hybrid work model is highly likely to lead to dilution of company culture. A problem with remote workforce lies in the fact that they sometimes don't feel connected to the mission of their company. This can further lead to their disillusionment with the company or making the "office life" the sole focus of corporate culture.
According to recent data, about 60% of employees don't know what their company stands for. This can make it harder for them to feel like an important part of the company and relate to its unique goal. New work arrangements are making leaders rethink and redefine their company cultures to avoid losing more talented personnel.
Siloed workplace
As the conventional work environment makes a shift to a more hybrid structure, business organizations have to work hard to address the problem of team silos, communication breakdowns, and information loss. Turning to remote and hybrid work has brought attention to how reluctant remote employees may be to interact with other teams and team members.
Some companies have already experienced the devastating effects of siloed communication which usually leads to alienation and estrangement. If left unaddressed, this problem can have long-term negative effects on communication and overall business success.
Lack of transparency
Until now, communicating in person was how a lot of organizations notified their staff about important formal and informal company updates. With the expansion of hybrid work, the access to information has changed significantly and more than half of employees said that getting important information from colleagues or superiors was very difficult, sometimes even impossible.
What's more, lack of transparency caused frustration and dissatisfaction among employees, which ultimately made them quit in search of a more transparent and nurturing work environment.
Employee wellbeing
Last but not least, employees' physical and mental health is another major issue that can stand in the way of effective hybrid workplace communication. Considering that remote workers come from different backgrounds, it was only natural that some found it difficult to adapt to the hybrid way of working.
According to a TELUS international survey that included 1000 American employees, about 75% said they struggled with anxiety while working from home during the pandemic. What's more, the survey revealed that 4 in 5 remote employees found it hard to "shut off" even after office hours. With these numbers in mind, not taking into account employee wellbeing would be a reckless business move.
—
As more and more organizations realize the inevitable challenges of hybrid communication, they become more focused on identifying and addressing them. Providing all employees engaged in a hybrid work model with a consistent and satisfactory experience can facilitate the transition from traditional office-based work to a more relaxed, flexible model. Let's see what hybrid communication strategies can help employers tackle the issue.
Steps for finding a proper hybrid communication strategy
Somewhere about now, you should have already realized that hybrid work is very likely to stay a predominant work arrangement. Yet, that doesn't mean that companies have got it all figured out. Those who have just implemented new working arrangements or are planning on doing so might not be sure if they are doing the right thing.
A good move forward after choosing the right hybrid work model for your company would be to implement an effective hybrid communication strategy. Although this has to be unique to each company, most can agree that it should be based on a clear set of consistent rules and transparent policies. These are some of the steps that can help company leaders find a suitable communication strategy:
1. Assessing your existing communication strategy
The first step toward finding a good communication strategy for your hybrid team is evaluating the already-existing systems. If you're not sure where to begin with the assessing process, ask yourself the following questions:
How do your employees communicate on a daily basis?
How much of your company's daily communication is synchronous? How much of it is asynchronous?
What are the rules for conducting formal, one-on-one meetings and feedback sessions?
How is relevant company information documented and communicated across the entire company?
Does every employee have access to relevant information? Are all workers able to access it easily when necessary?
Does the communication strategy you're using change depending on where employees choose to work from on that day?
Do you use adequate communication and collaboration tools?
Have you provided the company stall with adequate and timely training on how to use these tools effectively and securely?
2. Determining adequate hybrid policy and workflow
After you've examined your current communication strategy, it's time to see what's going to work from now on and what would benefit from an update. Since your hybrid team now consists of both in-office and remote employees, the next step would be to establish a consistent hybrid policy that would ensure a good workflow for all employees equally.
It's essential that you don't rush with this step as it can bring problems further down the road. You can start by creating a detailed hybrid work policy template based on the needs and expectations of your team and company. Your policy should answer the following questions:
How will employees communicate during office hours?
When are hybrid workers expected to be available during the day?
What will be the standard protocol for hybrid team meetings?
What collaboration tools will your hybrid team use for daily communication and collaboration?
What modes of communication will be used for conducting one-on-one sessions?
When you gather all the answers, you can define a hybrid policy and workflow that your company will benefit from.
🔽 To easily create an efficient hybrid work policy, you can download our free template here: Hybrid work policy template.
3. Getting to know your new hybrid workforce
Understanding your employees will prove paramount for coming up with an all-encompassing hybrid communication approach. If your goal is to find a high-functioning communication strategy, you should try to learn more about the daily routines of your hybrid workers, such as establishing when they usually check their emails, or what's most likely to engage them. Some of the ways to get to know your employees better could be through:
Focus groups: These will allow you to pick the minds of certain groups of employees on qualitative information and in-depth insights.
Surveys: Engaging surveys with a few relevant questions will help you gather your employees' feedback on important issues.
Polls: Short and frequent polls about formal and informal company issues can help you understand what works for your staff best.
Embedded questions into emails: This approach is great for gathering interest from employees and motivating them to take part in a more detailed survey.
Anonymous suggestion boxes: A great solution to collect ideas and suggestions from employees who don't want to express their ideas openly and in front of everyone.
Make use of the response, ideas, and suggestions you collect from your staff. They can help you find the weakest links and deal with them successfully.
4. Executing your hybrid communication strategy
While executing everything you've come up with on paper might sound easy, don't let that trick you into believing your work is done. Putting theory into practice is without excuse meant to meet some obstacles along the way. But you know what? That's normal and expected.
Transitioning to a hybrid work model can't, and won't happen, overnight, which is why it's important that everyone stays communicative and flexible. A positive mindset and the right set of collaboration tools will make sure that everyone on the team is prepared for the next steps. Educating your team about the nature of hybrid work and what to expect from the whole process will give them time to adjust and allow them to navigate all hybrid communication challenges gracefully.
5. Tweaking your hybrid communication strategy
A final, but also quite important step in this process is fine-tuning your hybrid communication strategy. If you've taken the necessary steps to implement it and have now realized that you've made some mistakes along the way, this is your chance to make things right. Track the root of the problem and reassess it to find a more suitable solution. Companies that want to ensure long-term success should perform this step regularly.
Not dealing with obvious issues and problems quickly and adequately will most definitely lead to company failure, turning your workers away and creating financial problems. A quarterly or yearly plan designed to reevaluate your hybrid communication policy, your staff's performance, and collaboration tools everyone uses will draw attention to certain weak points and help you find the fitting resolutions.
Tips for bridging hybrid communication gaps
Once you've implemented a hybrid communication strategy that works for all employees, you should make sure it stays that way. What does this mean? Well, as your company settles on the new hybrid work model, certain gaps may appear and indicate what needs to be addressed to avoid communication breakdown. Ultimately, the goal of your hybrid communication approach should be to make your remote team feel more connected to the in-office team. Here's how you can do that:
Creating basic hybrid communication rules
Communication among team members is essential for getting work done, especially for hybrid teams. A basic set of rules on how employees are expected to communicate during office hours will provide a solid framework for keeping things afloat. Depending on the size of your company, you have a few options:
Microenterprises (1 to 9 employees) can come up with a general set of communication rules that would fit all employees equally.
Small enterprises (10 to 49 employees) should focus on creating a basic set of rules that each team could easily adapt to their needs.
Medium-sized enterprises (50 to 249 employees) should invest more time in creating a detailed plan to cover the needs of all teams and employees.
Larger enterprises (over 250 employees) will have to come up with a structured plan and outline rules for each team due to the high number of their employees.
Even if something's not working well, it's always a great idea to listen to your staff's feedback about what works for them and what doesn't. Hybrid communication will thrive on continuous assessment and updates.
Organizing regular team meetings and check-ups
Communication among team members can easily be broken, but frequent team meetings and check-ups are there to save the day. With hybrid communication, the importance of interaction between teams and team members has become the number one priority.
Making sure that your team doesn't miss important messages and attend essential meetings will help them feel like they're really contributing to the company's success. Allowing them to share their ideas and give positive feedback will encourage team spirit even in hybrid organizations.
Providing additional IT support
Being able to easily utilize the necessary IT equipment and collaboration tools will greatly affect hybrid communication. But, the hybrid work model brought on the use of new collaboration tools and apps. This is why providing additional IT support will help the company personnel adapt quicker to the new working conditions.
On one hand, it's always a great idea to have a capable team of IT experts available to help employees with all sorts of IT issues. On the other hand, educating employees on how to use company equipment, software, and other programs will reduce the risks of major IT and security issues.
Using adequate collaboration tools
Effective communication goes hand in hand with the right set of collaboration tools. When teams are scattered across the globe but are expected to work together on important projects, giving them the best possible tools and apps is essential.
For example, Pumble is the best team chat app that allows teams of all sizes to communicate on a daily basis. Since it's a great enabler of real-time communication and productive collaboration, Pumble represents a great solution for hybrid teams. The app itself is completely free for an unlimited number of users and offers unlimited chat history. This is great news for big corporations and enterprises. Plus, employees can master it quite easily thanks to its user-friendly interface.
Supporting relationship building among employees
Nurturing positive relations among employees is a great way to ensure effective hybrid communication. Yet, as hybrid teams are usually robbed of spending in-person quality time together, leaders have to find other ways to promote a collective mindset in their hybrid workforce. Some of the following practices might be useful:
Encourage productive socialization through online game playing, casual weekly "meetings", or happy hours.
Support team-building and team-bonding activities both online and in real life.
Empower employees by celebrating individual achievements.
Show gratitude for your teammates' contributions.
Create various team communication app channels that employees can use to talk about random topics, share ideas, and exchange personal experiences.
Connect senior employees to newbies to avoid hierarchy barriers.
Organize online presentations and lectures to give employees a chance to showcase their skills and knowledge.
Be forgiving to error-making.
Acknowledging individual needs
Although it might be hard to get to know the ones who work remotely most of the time, acknowledging everyone's needs from the very beginning will help you create a nurturing work environment for everyone.
You can try to listen to what employees have to say and make an effort to read between the lines. Gather their feedback with surveys or polls to learn more about what they need or what bothers them, even if these are little, seemingly insignificant things. Not taking the needs of every employed person into consideration could make them become disillusioned with the company and quit their jobs.
Ensuring accessibility and transparency
Company hierarchy can affect how teams communicate and get things done. With hybrid teams, it's essential that communication is organized across seniority levels and teams to ensure productivity and allow everyone to access relevant data to finish their daily tasks.
CEOs and VPs should also make themselves available at least once a week or month for communicating with lower-level staff. Answering questions, sharing relevant company updates, or simply being there for a casual chat will increase transparency in the company and motivate your hybrid workforce to do their best.
Providing feedback
Constructive feedback has become a powerful tool for creating a positive atmosphere in the hybrid workplace and improving communication among team members. Company leaders have become more focused on keeping employees accountable for their work and making sure everyone is making the same contribution to the company's success.
Obsessive control over remote employees should have already become a matter of the past, especially when everyone is meeting their work goals and finishing projects on time. Besides reviewing specific tasks, projects, and problems, the notion of feedback has expanded to include one-on-one meetings aimed towards acknowledging an employee's input.
Preparing for the future
The thing with hybrid work is that it has just begun to evolve. Although many companies have found ways to reinforce a hybrid work mode tailored according to their company's needs, no one can know which direction hybrid workplaces and communication will go in.
You've probably come up with and implemented a suitable hybrid communication strategy, but don't let your guard down. Keep yourself informed about the latest hybrid work updates and make sure to share relevant information with your company. Staying up-to-date with the latest communication trends and constantly updating your communication policies will make sure that your team is prepared for future events.
Final thoughts
Hybrid workplaces, hybrid employees, and hybrid communication are most likely to become our future. The days of traditional in-office work and conventional face-to-face communication are long gone, but what the future holds might be just what most people have been waiting for their entire careers — a chance to get the best of both worlds.
We are witnesses of how the conventional and established methods of doing business are being reinvented to fit the framework of hybrid work. It isn't surprising that the communication among in-office and remote employees is improving by the day with the recent improvements in hybrid communication strategies. With a proper hybrid work model accompanied by a hybrid communication strategy, most companies will see their employees connect better and their businesses thrive.