Team communication with Pumble
Team communication is a crucial component of a happy, productive, opportunity-filled workplace life. With Pumble teams can increase productivity for 30% by using one place where everyone can create channels around their needs and stay in sync. When everything happens in one place, teams can stay transparent and productive no matter when or where they're working from.
In this guide, we'll introduce you to team communication in Pumble and highlight its importance for successful teamwork, through the basic definitions of team communication, channels, direct messages, search, and notifications. We'll focus on the crucial benefits communication through Pumble brings for teams, and offer some advice on how to get started to effectively communicate within a team.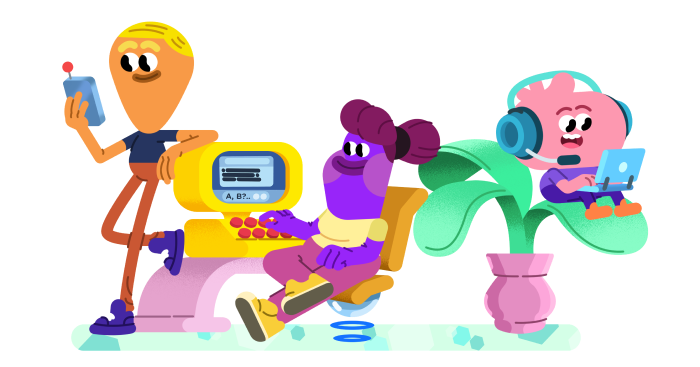 What is team communication?
Sharing information within a group of colleagues working toward a common goal should be considered team communication. Doesn't it appear to be rather simple?
Yes, yes it does. However, there are several opportunities for team communication to evolve into misunderstanding. Just because the information is exchanged doesn't mean it is always done efficiently.
Communication is the foundation of every element of a business. It's the process of sharing information among team members while keeping in mind what you intend to say, what you actually say, and how your team perceives it.
As you can see, communication is complex. Almost every problem in a company may be addressed or fixed by changing the way it communicates. Although it is not the management's responsibility to initiate discussions, they may help by creating a suitable work environment for discussions and providing tools, platforms, and touchpoints that facilitate it. Employees should have a voice in how they interact with one another, and they should offer feedback on this on a frequent basis. Today, communication in remote workforces is being revolutionized by tools like Pumble.
How Pumble improves team communication
What role does Pumble play in effective team communication? Well, it can play a crucial role in several different scenarios.
For example, Pumble can play a role in a large company where employees work from an office. Instead of seeing each other every day and spending time together in meetings or over lunch, organizations may establish relationships by allowing employees to spend time with each other through technology.
What happens, though, when it comes to remote work?
In the remote world, it's pretty crucial to ask questions and get involved. Nothing is more frustrating than keeping your coworkers in the dark about your project's development.
Channels help you discuss a particular topic
Teamwork and communication take place by channels in Pumble. A channel is a single location where a group of people may communicate messages, images, and files. They can be organized by team, project, or anything else that is important to a company. Members of the team can enter and leave channels when they want.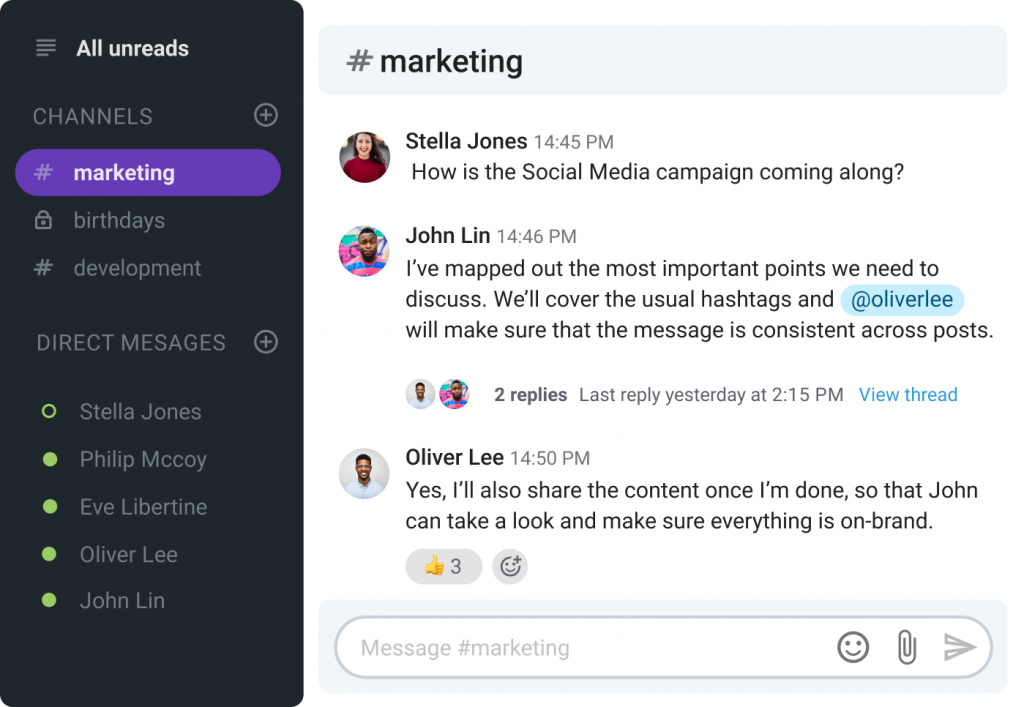 There are two types of channels — public and private. Public channels any team member from your organization can join or find it in a Channel browser or via Search. By using public channels, you're allowing everyone to gain from the context of your communications by increasing transparency. For example, two default public channels are general and random channels and everyone who joins your workspace will be automatically added. Public channels are used as a team group chat for a certain project component, such as marketing. All discussions concerning the project's marketing progress take place in the marketing channel.
On the other hand, private channels are for sensitive and confidential conversations. Only those who are invited can view the channel or find its contents in search. People must be added to a private channel by someone who's already a member of the channel. Messages or files posted in a private channel can only be searched by members of that channel.
🎓 Tip: When you create a channel, you can decide if it will be public or private. It can be turned from public to private afterward, but it can't be made public if it's a private channel for privacy concerns.
Let's see now what features you can use in channels, how to know which channel is for you, and how you can benefit from them.
Channel description
Every channel should have a clear purpose. This purpose will be specified in the description field at the top of the channel or in details. Anyone entering or exploring the channel will be able to quickly and simply discover what information they can access, contribute, or question, resulting in increased efficacy.
Threads
Within DMs and channels, threads help you in organizing conversations around certain messages. Within channels, threads allow for focused and structured conversations. Replies are linked to the original message when you initiate or reply to a topic. They allow you to go further into a topic without disturbing a channel or direct message chat.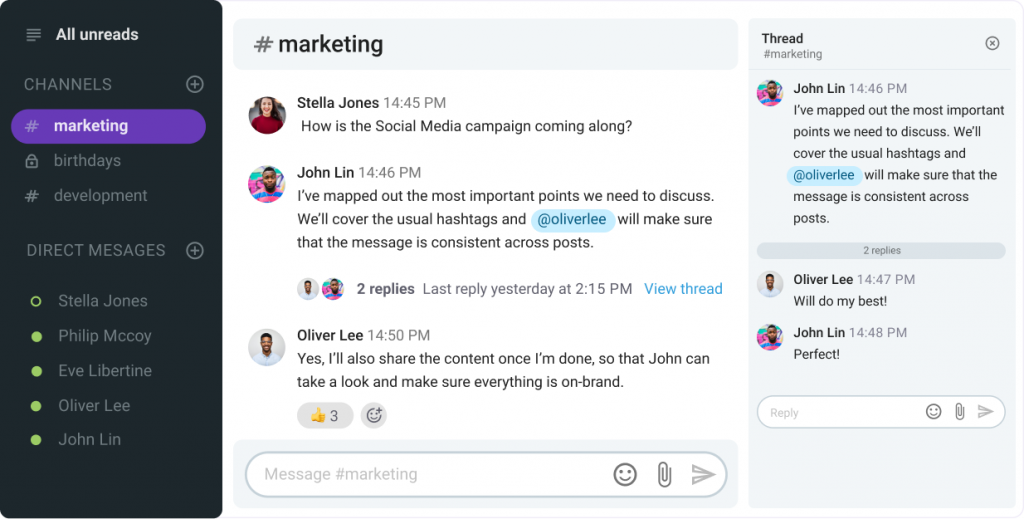 If you want to start a discussion about, for example, social media strategy for the Christmas and New Year's Eve holidays, in a marketing channel start a thread on this topic and discuss with your colleagues what you will do in the next few months.
User groups
Think of user groups like an email list. They allow you to communicate with many members at once but don't limit you to communicating within a channel. You can mention with "@" sign a user group's name – @designers, @backend_dev – anywhere, and everyone will be notified, no matter where you send the message, originally.
Pin important messages
People can easily discover answers to their most common questions, onboarding can be sped up, and repetition can be reduced by pinning key resources to a channel. Highlight the most important resources and keep them on the sidebar at all times.
Emoji reactions can be fun, but also serious
Emojis are, obviously, entertaining. Often, a simple emoji response to a message is sufficient, and you may spare yourself the time and effort of attempting to answer with an amusing phrase. Emoji reactions, on the other hand, may be quite useful if you use the right ones. Instead of responding to a basic job by saying whether you completed it or not, simply drop ✅.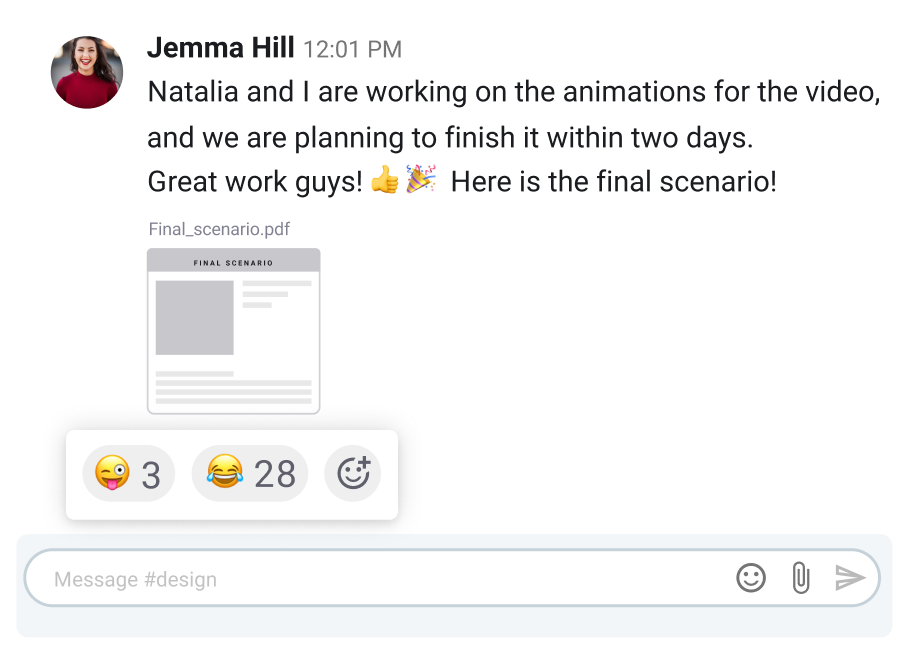 Direct messages help you communicate with groups and individuals
One of the best aspects of working for a remote firm is having access to all members of the team. You're never more than a click away from your colleague, even if they're on the other side of the world. A remote company is about as intimate as it gets these days as compared to attempting to get a word in with practically anyone in a 200-person typical office environment.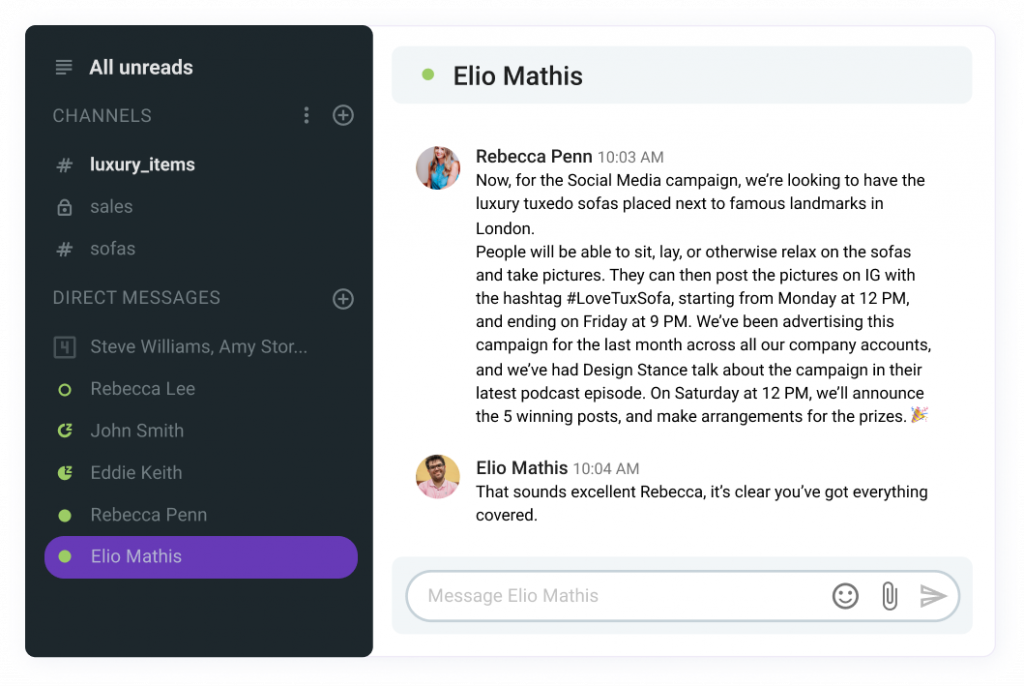 When a conversation on a certain topic begins to take up too much space in the chat, it's necessary to switch to a more focused setting to fix the problem. This doesn't suggest that every longer discussion should be moved to a DM or group message, but it does indicate that there are times when it makes sense.
It's frequently preferable to move the conversation to a more concentrated location when discussing assignments or specific projects with a clear action item, for example. You'll be able to assign a task to the right person in the right spot in this manner.
Another example is channel conversations, which may quickly develop into two-person conversations. To prevent overcrowding the channel with 50+ notifications, it's best to continue the conversation in a DM in this situation. If required, you can ping the channel with a resolution or notes from your private conversation.
Set up your current status to show availability
The practice of setting status is very good for informal updates like when you're going to lunch, if you're starting later because of a doctor appointment, or you just need to walk your dog that morning. Something as simple as updating your team with what you're about to start working on can make the biggest difference to both productivity and a sense of connectedness.
Knowing about important things happening in the company, and keeping everyone in the loop for any big decision is essential. Nobody likes to be kept in the dark.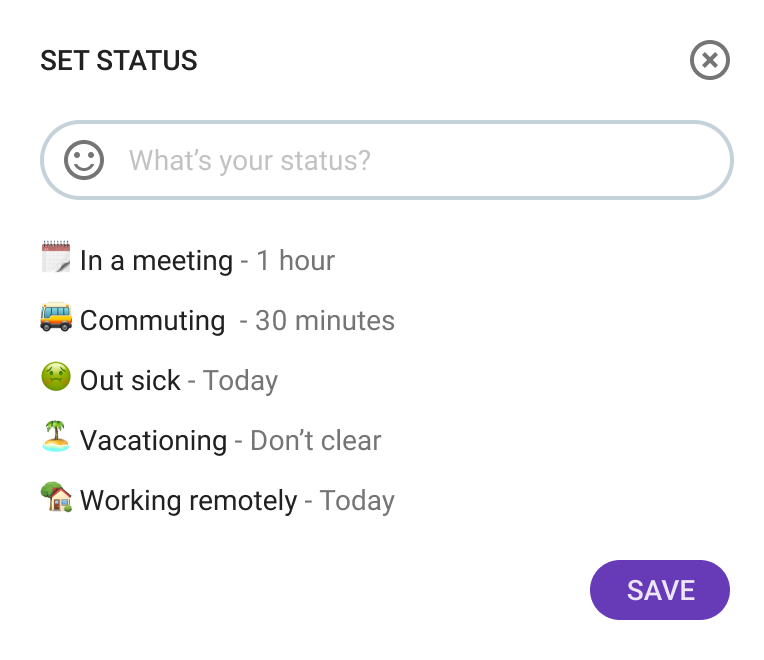 Manage notifications to have more time for focused work
Separating personal and professional life is one of the most common challenges for those who work remotely. This is especially true for individuals who work from home, where distractions abound and employers urge "work-life integration" or "work-life mix." We were pushed into the deep end of an "always-on work" culture especially in the remote work environment when we can be available 24/7.
As it's one of the perks of working with Pumble, you can always choose your availability and inform your colleagues about it. Set your notification options, enable Do Not Disturb mode, and turn off any notifications that could be disturbing. Flexible working has numerous advantages, but they must be balanced by effective time management, clear communication, and setting expectations.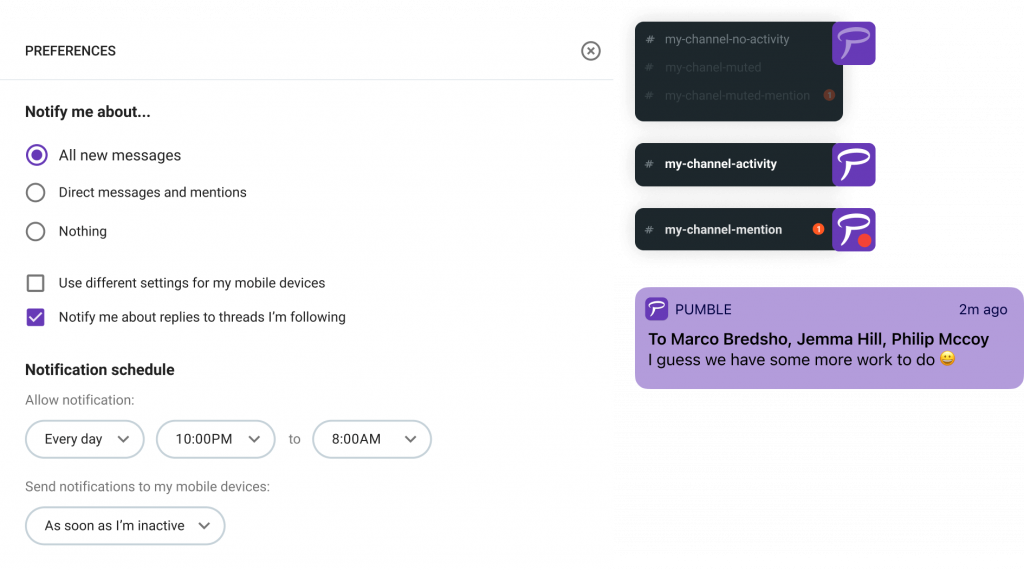 As a Pumble user, you may be a member of several channels and therefore receive notifications from all of them, even though some of them may not be of value to you. This may cause you to become distracted. As a result, it's a good idea to mute any channels that you're not using right now. It's also a good idea to put yourself "away" until you're ready again when you're not focused on an important assignment. Knowing these Pumble tricks might help you boost your productivity to new heights.
Search options help you find what you need
Learning how to use the Pumble app to get the exact right information may save you a lot of time and increase your productivity. Use search filters like "in:#channel" or "from: user" to narrow down your search queries and discover what you're searching for faster, whether you're looking for a certain channel, person, or file.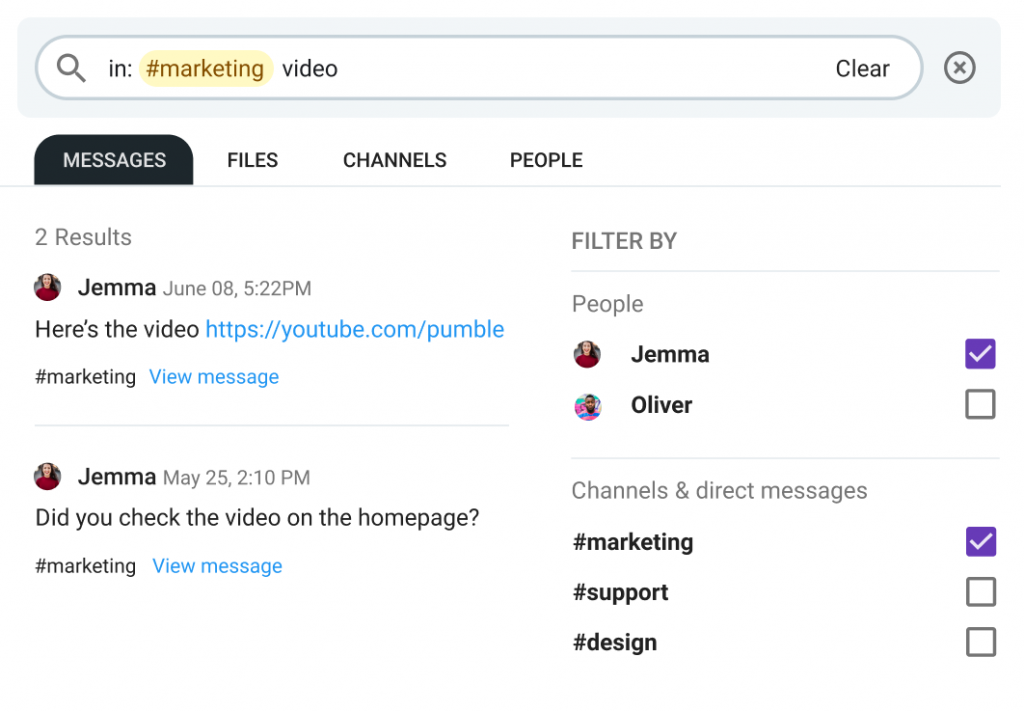 One of the big advantages of Pumble is unlimited chat history. Pumble lets you see all the messages ever sent, for free. You can search your team's conversation history and find an important message no matter how long ago it happened. Use the search bar to type the term you're searching for and no matter how long ago the conversation happened, you will find it.
Conclusion
An engaged employee is one that enjoys their job and wants to benefit the company they work for. A disengaged employee doesn't really care about their job and tends to do the bare minimum to keep it.
Well, use all tools that you have to keep your employees engaged and in the loop with every important information. Most importantly, keep your team communication on a high level and you will have high-performing employees.