19 Best virtual team bonding activities for remote teams
Maybe your first association to team bonding activities is the TV series "The Office" and Michael Scott's relentless attempts to woo his colleagues and prove to them that he's cool. But trust us, team bonding doesn't have to be lame. The cringe factor can be dialed down to the minimum, and even digital natives – i.e. Gen Z and Millennials — might enjoy these activities, if you carefully choose them.
Now, since the whole world went remote, even team building and team bonding activities had to migrate to the internet. But, how does this work? How can you virtually bond with your team members? Is it even possible?
In the following paragraphs, we'll explain the difference between team bonding and team building, deal with the importance of virtual team bonding, discover how to easily organize team bonding activities, and give you some examples of virtual team bonding activities you could try out with your coworkers. 
The difference between team bonding and team building
Before we dive into the importance of virtual team bonding activities, let's address the difference between team bonding and team building. Although sometimes used interchangeably, there is a slight difference in meaning between these two terms.
Namely, team building refers to any activities that have productivity as the main focus for the team. They help your team perform more effectively.
On the other hand, the focus of team bonding is strengthening relationships within a team and improving employees' soft skills. Since research has shown that 85% of job success comes from having developed soft skills, it is crucial for companies to work on improving their employees' soft skills. This is precisely why companies should invest more of their resources into developing these kinds of skills, and what better way to do that than team bonding activities?
Why should you organize virtual team bonding activities?
The benefits of virtual team bonding activities are manifold. If you're unsure whether you should try them out, just look at some of the reasons why your answer to this question should be "Yes".
Team bonding improves communication and collaboration
Getting to know your colleagues in a relaxed environment eases the tension you feel when surrounded by people you are not close to. That's why it's important for the coworkers to gain insight into one another's more personal side.
Team bonding activities are a perfect tool to that end since they enable team members to see one another in a different light.
Even your introverted colleagues benefit from this kind of structured communication since these activities give them guidelines for communication.
Team bonding boosts employees' engagement and job satisfaction
Loss of motivation in a workplace is a serious problem with employees. Usually, the part of the blame lies with the management. Namely, the managers just have to stop demotivating their employees. To maintain the enthusiasm their employees felt at the beginning of a new job, managers should respect their employees and work on their relationships with them.
Perhaps unsurprisingly, according to the Forbes article, 66% of the employees would quit if they felt unappreciated. Fortunately, there is an easy fix. Since feeling valued at work is good for the employees' well-being, the management can work on this aspect, in order to boost employee morale and job satisfaction. Namely, employees like to be a part of something that is more than a job. They want something fun to look forward to, so, when management encourages employees to have fun, employees become more engaged. In accordance with that, they become more motivated and are more satisfied with their job.
Team bonding improves productivity
When team members are closely knit, they usually collaborate better, which ultimately leads to company success. If you motivate employees to work together through team bonding activities, you are setting them up for better performance in the work environment as well. Apart from that, team bonding activities sometimes reveal hidden talents in your employees, such as leadership qualities, which can later be beneficial for your company.
Moreover, according to Workplace communication statistics (2021), effective communication facilitates trust, which has beneficial effects on productivity.
Team bonding builds trust and respect among coworkers
Team bonding activities are designed to develop friendships and healthy professional relationships among coworkers. Since they are the best possible icebreakers for new employees, they enable the newcomers to find their place in the team without even trying to do so. This way, they can develop relationships with their coworkers and bond with them, consequently making a workplace more enjoyable.
__
Now that we've seen reasons for organizing virtual team bonding activities, let's find the easiest way to do so.
How to organize virtual team bonding activities
To organize virtual team bonding activities that won't make your coworkers cringe, roll their eyes, and make up excuses for not participating, there are some guidelines you should follow. First of all, you should determine your timeline. Your coworkers need to know how long the activity is going to take, so they can decide whether they can make the time for it.
After that, create a budget and discuss with your team what kind of activities they would like. Working in a remote workplace has its own set of challenges, one of them is working in different time zones. Luckily, that's no reason not to have fun with your coworkers on the other side of the globe. Namely, virtual team bonding activities can take place in real-time, or asynchronously. There lies your chance to involve all the colleagues in fun activities. All that's left for you is to pick a communication tool, such as Pumble, get your team organized, and enjoy.
In the following paragraphs, we offer you some ideas for virtual team bonding, both real-time and asynchronous activities.
Feel free to try some (or all of them).
Virtual team bonding activities you can try out
The list of virtual team bonding ideas is practically never-ending. Still, we have gathered up some of them and divided them into activities that have to be played in real-time, and activities that can be played asynchronously. We're sure you'll find something you like among them. Without further ado, let's start with real-time virtual team bonding activities.
Real-time virtual team bonding activities
Real-time virtual team bonding activities are those activities that have to be played simultaneously with other co-players. They are useful for bonding with virtual coworkers that come from your time zone. So, here are some ideas:
Critical Thinking Virtual Icebreaker 🤔
This activity is perfect for those who like solving lateral thinking puzzles, which are great for improving creativity.
So, if your team likes these kinds of challenges, dive in.
🔸 Type: train your brain
🔸 Time: 2 minutes per person
🔸 Instructions: Begin the online meeting by posing this riddle: "Every month a woman writes two words on 50 sheets of paper. Why does she do this?" Give everyone some time to think this through and listen to their answers. Discuss them and try to find the one that would best describe the logic of this woman's acts.
"Big Talk" Virtual Icebreaker 🤓
Interested in everyday politics and global issues? Then, this is the icebreaker for your team.
🔸 Type: thinker
🔸 Time: about 10 minutes
🔸 Instructions: Before your weekly meeting, send out current news stories about global events and issues to your coworkers. Give them time to read it, so that you can briefly discuss these problems at the beginning of your meeting. Give your colleagues an opportunity to share their thoughts on the story. After everyone has shared their views, have a brief open discussion about these affairs.
"Name That Emoji Song Title" Virtual Icebreaker ♬
Here's one for ultimate fun. If you like music and emojis, this is the activity for you.
🔸 Type: fun, inspirational
🔸 Time: 3 minutes per person's turn
🔸 Instructions: Open a new channel on your business communication app or use the #random channel. Determine who goes first and set a timer on your phone. The first colleague looks at their last played song and gives a hint to the title of the song to their coworkers using only emojis. The other players take turns guessing the name of the song until the timer runs out (e.g. 3 minutes). After that, if no one had guessed, the first colleague reveals the title of the song.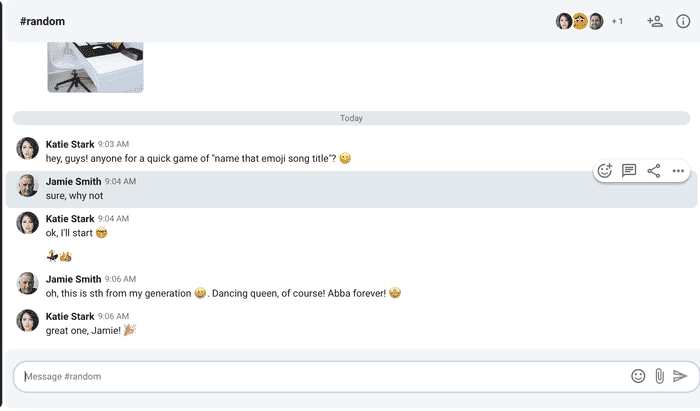 💡 If you're not sure whether you should use emojis in business communication, you can find your answer here.
Something in Common 💕
And now for something completely different. Brace yourself for a bit more personal game, but still, you won't have to leave your comfort zone.
🔸 Type: personal
🔸 Time: 3 minutes per person's turn
🔸 Instructions: This activity encourages your coworkers to learn more about one another. It is the quickest way for them to bond over shared interests. To play this game, you need to divide people into smaller groups and have each group identify three things they have in common. Maybe they'll discover a shared love towards Aki Kaurismaki's movies, or even a shared disdain for marshmallows. One thing is sure: they will certainly find something over which they can bond.
Tiny campfire 🔥: 100% Virtual Campfire
This virtual campfire includes singing songs, jokes of the day, ghost stories, and small team bonding activities, such as icebreaker games.
🔸 Type: fun
🔸 Time: 90 minutes
🔸 Instructions: Before your virtual team building, you register at the tiny campfire, and they send all the players a tiny campfire kit or share a list of things you need, so you can provide them yourself. The kit consists of a tiny candle, matches, marshmallows, chocolate, and cookies. All you have to do is light a candle, make some s'mores, and enjoy a virtual campfire with your colleagues.
Pancakes 🥞 vs Waffles 🧇
The rules of this game are simple, but the game itself isn't easy. Why? Because you have to renounce one of the two comparable objects for good. It's a real thinker but in a fun way.
🔸 Type: fun
🔸 Time: around 60 minutes
🔸 Instructions: The game starts with a simple question: "Pancakes or waffles?" It may sound innocent, but actually you have to decide whether you want to keep pancakes or waffles. The contender you didn't choose becomes eliminated from this world for good. How's that for serious? If you, for example, chose waffles, they are going to another round. So, the next question might be: "Waffles or ice cream?" This game gets ever more complicated and interesting and can go on as long as you like it.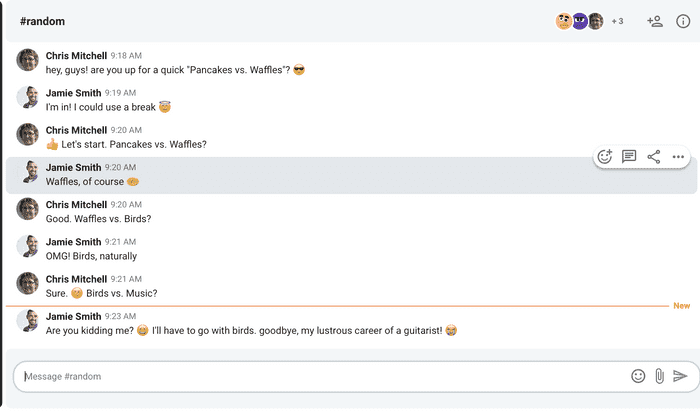 Virtual Pub Trivia 🍻 🧠
Although you probably can't go to the pub with your coworkers (since you probably don't live in the same city, maybe even the country), the pub can come to you. What is more, trivia can accompany it.
🔸 Type: fun, thinker
🔸 Time: around 60 minutes
🔸 Instructions: Invite your coworkers to a call and suggest that they prepare their favorite drink (beer, wine, or even coffee, anything goes). Organize them into smaller teams and read out questions. Your colleagues have to answer the questions as a team. With every correct answer, they win a point. It's up to you whether you'll have themed trivia, such as popular TV shows or science facts. The main thing is that you get to have a drink with your coworkers, get a little competitive, and enjoy your night in.
Virtual escape rooms 🏃
Escape rooms are a pretty popular team bonding activity. If you thought they can't migrate to the virtual realm, you're wrong. Sure they can!
🔸 Type: fun, adventure, problem-solving
🔸 Time: around 60 minutes
🔸 Instructions: There are several websites you can use to play this game. One of them is the game Black Noir. You and your team have to go through different rooms and solve puzzles. Actually, you're solving a mysterious murder and have to escape in time.
Virtual happy hours 🍻
Sure, we all know what a happy hour is (and we love it!), but how can you participate in a virtual happy hour? Isn't that a bit, well, sad? Sitting in front of your computer, sipping your beer? It doesn't have to be like that if you have co-workers willing to join you.
🔸 Type: fun
🔸 Time: as long as you like it
🔸 Instructions: Do you really need instructions for this one? OK, gather your coworkers on a video call, get your favorite beverage, chat, and enjoy. If you want to make this a bit more structured fun, you can always pick a theme. For example, one week the theme can be Margaritaville, the next one French vineyards, etc. An extra tip: dress accordingly, depending on the theme. If you're drinking French wine, don't forget to wear your brand new beret. You'll certainly have more fun! Cheers! I mean, salud!
Virtual scavenger hunt 🗒
This activity is easy and fun to do. All you need is a bit of imagination and inspiration (and a bit of time).
🔸 Type: fun, adventure
🔸 Time: 45 to 60 minutes
🔸 Instructions: First, you need to issue a list of different items participants should gather around their house. You can do that via video call or a business communication app. The first person that collects all the items from the list wins. Easy-peasy and loads of fun!
–
Now that we've seen some real-time virtual team bonding activities, it's time to tackle even more relaxed asynchronous ones.
Let's go!
Asynchronous virtual team bonding activities
As opposed to the previously mentioned real-time virtual team bonding activities, for asynchronous activities, you don't need to be by your computer at the same time as your colleagues. That's why these should be the activities of your choice if you're working in remote teams. Just because you don't share a time zone or even a continent with your coworkers doesn't mean you can't bond with them. Helping you with this are asynchronous virtual team bonding activities. We give you some suggestions you could try out.
Remote Work Bingo ⭐⭐⭐⭐⭐
We all know how bingo is played. This one's just moved online, and the theme is remote work. Just glance at it and you'll see you've probably ticked all the boxes one time or another. We give you a template for remote work bingo, which you can try with your colleagues. Have fun!
🔸 Type: fun
🔸 Time: a week or a month
🔸 Instructions: Send the remote work bingo templates to your coworkers. Choose a game timeline – this could be a week or a month. Players should track their performance and mark an X for each completed box. The first one that completes the row is the winner. Good luck!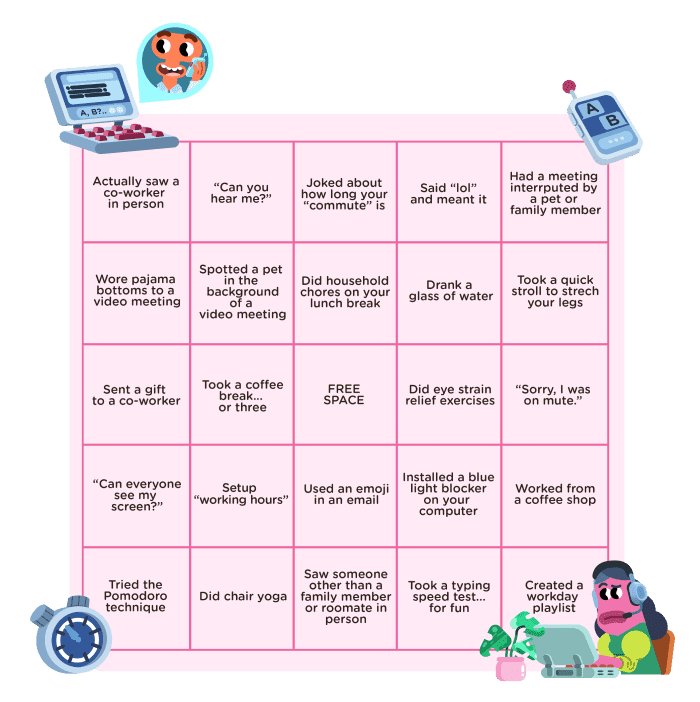 Water cooler channels in your business messaging app 🐶🐱
Business communication apps don't have to be exclusively about business. Sure, that's their primary function, but we all know that "all work and no play makes Jack a dull boy." So, let's browse through the channels of our favorite business communication app and find something we like.
🔸 Type: fun
🔸 Time: indefinite
🔸 Instructions: There are really no specific instructions for this activity. Pumble gives you opportunities to make your own channels or browse through the existing ones (and choose the ones you like).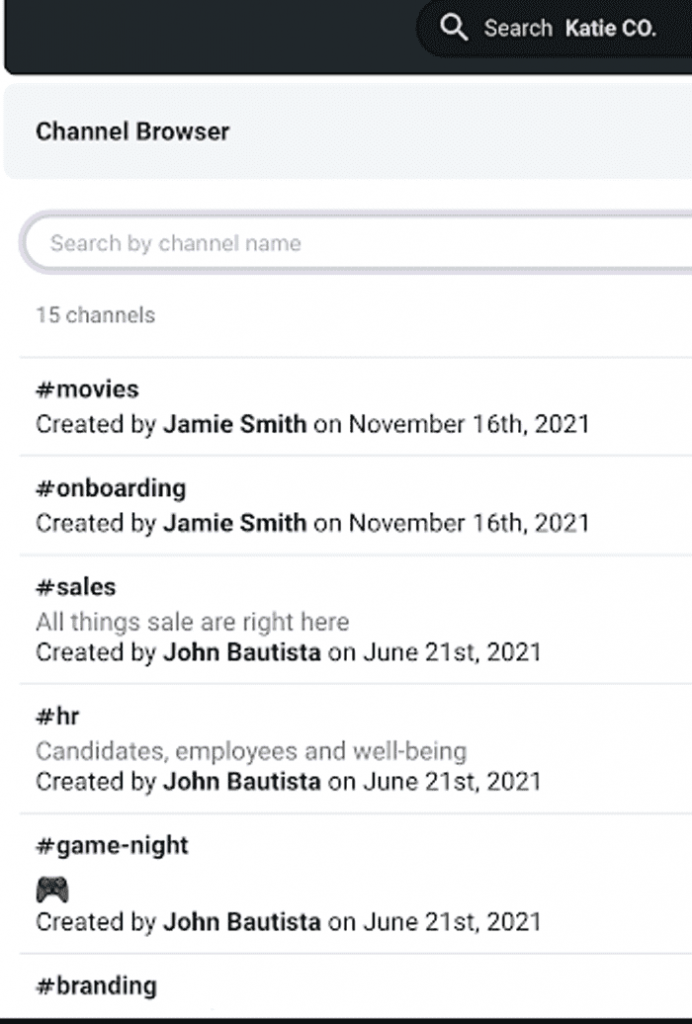 Here, you can explore a number of channels for your leisure, not related to work. The most popular ones are #pets, #random, #movies, etc.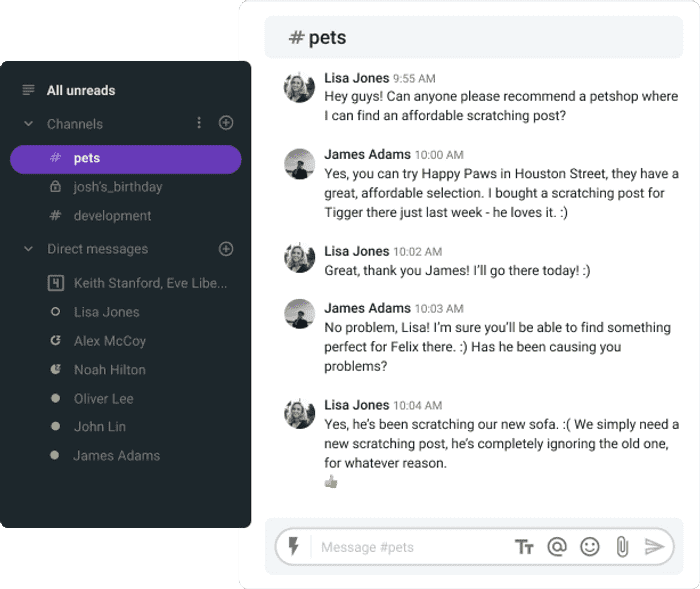 All you have to do is find similar-minded people and enjoy bonding with them.
Remote Team Cooking Challenge 🍳
Here's a great activity for all you Jamie Oliver wannabes. This is the challenge you've been waiting for. Finally, you can show off your skills, have fun, and compete with your coworkers. So, prepare your pots and pans, and let's go!
🔸 Type: fun, showing off skills
🔸 Time: monthly
🔸 Instructions: Organize your team, decide on ingredients for the month, and set the timeline. Let your team vote on an ingredient of the month. They will have a month to cook a dish with the chosen ingredient. There are no limitations. The dishes can be raw, cooked, boiled, baked, etc. After the team members have completed their task, they should take a photo of the dish and share it with the rest of the team. All that's left is voting for the best dish. Bon appetit!
MTV Cribs: Remote Team Edition 🏡
Hands up, all of you who like to sneak a peek into other people's houses, for strictly aesthetic reasons. If interior design is your thing, you must try this activity, inspired by the legendary TV show "MTV Cribs".
🔸 Type: personal
🔸 Time: 3 minutes per person's turn
🔸 Instructions: Participants should make a short video showing off their home, favorite reading nook, or piece of furniture. This is a great way for team members to get to know one another more personally. Apart from that, maybe they'll find some common interests, styles, and tastes. Perhaps you'll see you're not the only fan of mid-century modern style or massive bookcases. This is a great alternative to paying visits to your colleagues in real life. You won't even have to bring gifts, nor would they have to bother with appetizers and drinks. Pretty convenient, right?
Virtual movie club 🎥
Here's something for all of you movie buffs. Gone are the days when you're watching a movie alone because you and your partner can't decide on the same movie. We're sure you'll find a kindred movie spirit among your coworkers.
🔸 Type: fun
🔸 Time: monthly or weekly
🔸 Instruction: Gather a team of like-minded cinephiles and choose a movie for the month (or a week). Then, watch the movie at your convenience, so that you could later discuss it with your colleagues. You can even set a theme (female directors from Europe, or something similar). Movie marathons are always a good idea. For instance, you can decide on a Wes Anderson movies month or movies about New York. The cinematic world is your oyster!
"Who da baby?" 👶
Baby pictures are usually cute and can even be hilarious. Just remember those cute confused miniature faces marveling at the world around them. This is an activity for all of you who find baby pics of your friends and acquaintances charming.
🔸 Type: personal, cute
🔸 Time: indefinite
🔸 Instructions: Ask your coworkers to send you their baby photos. It would be best to use photos from around 2-3 years old because on them you can see distinct features. Post the images in a shared document and let your coworkers guess who the baby might be. After that, all that's left is to grade the scores and announce the winners. Trust us, it's the cutest activity ever!
Virtual book club 📖
Any bookworms among your coworkers? If so, this is the perfect activity for you.
🔸 Type: fun
🔸 Time: monthly or weekly
🔸 Instructions: After gathering a team of bibliophiles, choose a book. You can even set a theme, or make a book marathon (e.g. Aldous Huxley's books, books that have a name of a city in their title, etc.) Define the time you have for reading the book you've agreed upon. All that's left is for you to have a cup of tea with your colleagues over a video call and discuss the book. We're sure you'll be amazed at your coworkers' insights.
Whose Office Is It Anyway? 🖥
When you work in a remote team, it's usually hard to get to know your coworkers. This activity might be a good solution for finding out more about what your colleagues are like because our desks speak volumes about us.
🔸 Type: personal
🔸 Time: indefinite
🔸 Instructions: Ask your coworkers to take a picture of their home office and upload it to a shareable file. Participants should take the photo of the desk as it is, without tidying it up first because only then can you get a true representation of your coworkers. After all your colleagues have uploaded the picture, it's time for the guessing game. Whose desk is it? Have fun!
Employee virtual wellness session 🍎
This bonding activity can actually be a series of activities aimed at health and wellness.
🔸 Type: fun
🔸 Time: indefinite
🔸 Instructions: Choose a wellness activity for your team. It can be a meditation session for getting rid of stress and preventing burnout. Find an expert who will explain the benefits of meditation in a short introduction. After that, she or he should guide you and your coworkers through a meditation session.
This is just one idea for a wellness session with your team. You can find more wellness ideas for remote workers here.
A few helpful tips for virtual team bonding
Virtual team bonding isn't the same as team bonding in real-life physical space. So, you might want to pay attention to different sets of challenges since they are easier to overlook when you and your coworkers are not physically present in the same space. That's why we're bringing a few things to your attention.
Incorporate virtual team bonding in every meeting
Start every meeting with a quick team bonding activity to liven up a virtual team meeting. Choose from a variety of virtual icebreakers to relax the atmosphere. A good choice would be a game of Pancakes vs. waffles, but you can pick any of the activities above.
Don't forget the introverts
Although most often the most reserved people in the office, introverts are the quiet powerhouse of your workplace. However, in the remote work environment, introverts might find it even more difficult to share their thoughts, as well as easier to be invisible. Keeping in mind that they are a valuable asset to your team, your job is to animate them in a virtual environment. A good icebreaker is a completely acceptable way to engage your shy employees. Don't give up on the silent ones.
Follow the 2.5 rule
Long story short, do as many as 2.5 times more virtual than real-life activities. Also, if an in-person activity lasts 5 minutes, make sure that in a virtual environment it lasts 2.5 times longer than that. On the other hand, if you organize one company team-building offsite each quarter, you should plan two or three virtual ones for the same period.
Organize real-life meetings from time to time
Sure, virtual team bonding activities are great, but every once in a while, try to meet with your coworkers face-to-face. At the end of the day, nothing beats real-life contact. For instance, hiking tours in the mountains are a great way to get to know your colleagues in a healthy and relaxed environment. Make sure that you cover traveling costs for your colleagues coming from other cities or even countries.
Wrapping up: A remote workplace needs team bonding activities too
Even when working remotely, you need team bonding activities to maintain and strengthen relationships among coworkers. Understandably, remote work implies remote bonding activities that are taking place in a virtual environment. We have given you some ideas for these virtual activities. All that's left for you is to try them out, adapt them to your coworkers' affinities, or use them just as an inspiration for creating your own games. Explore the plentiful world of virtual team bonding activities and choose your favorite.