Table of Contents
What is MS Teams pricing?
Everybody knows what Microsoft is — and, when they released Teams in 2016, it was a big deal. According to the Business of Apps portal, many people use MS Teams as a management tool — but MS Teams is an online application that allows groups of people to collaborate and communicate remotely.
When it comes to pricing, Microsoft Teams has six paid options — and one free option.
Microsoft has announced that the prices of some of its commercial and business-focused plans will increase on 1 March 2022. Here are the changes you can expect:
Microsoft 365 Business Basic — from $5 to $6 per user,
Microsoft 365 Business Premium — from $20 to $22,
Office 365 E1 — from $8 to $10,
Office 365 E3 — from $20 to $23,
Office 365 E5 — from $35 to $38,
Microsoft 365 E3 — from $32 to $36.

Now, what does each of these plans have to offer to its users?

Microsoft Teams' pricing plans
MS Teams Free plan
MS Teams Free option is perfect for small teams or those that only have relatively infrequent video calls.
On the website, you can find that the Free plan is perfect for businesses that need to get started quickly — with secure online meetings, chat, and cloud storage, all in one app, for free.
But what do you really get and what are the limitations of the Free plan?
What do you get with MS Teams' Free plan? What are the limitations of MS Teams' Free plan?
Online meetings, screen sharing, and customizable backgrounds are all included in the Microsoft Teams Free plan. The free plan has a one-hour video call limit. It is also limited to 500K users, whereas the two business premium plans are not.
The free version of Teams includes the following:
Chat messages and search,
Built-in online meetings and audio and video calling for individuals and groups, with a duration of up to 60 minutes per meeting or call,
File sharing up to 2GB and file storage with OneDrive up to 10GB, and
Ability to communicate and collaborate outside your organization with up to 100 individuals.
The free MS Teams price choices do not need any payment — however, you are limited in terms of certain functionalities:
Duration of the meeting,
Free storage,
Limited guest users.
Duration of the meeting
In terms of participant capacity, the free plan allows up to 300 individuals to take part in any single meeting. But, MS Teams' Free plan has the limitation of 60 minutes per meeting. This means that if you start a larger discussion — you won't be able to finish all your meeting points during those 60 minutes.
It can also look bad if you're at a business meeting, and all of a sudden, your meeting ends. Sure, you can start a new call — but this interruption looks very unprofessional. And it may happen when you're on an MS Teams Free tier.
In addition to the limited time of the meetings, free users can't use the built-in functionality to record meetings.
Free storage
For free users, MS Teams offers a storage space of 2 GB per user. Apart from this, they get an additional 10 GB of shared space. But this is not enough, and, ultimately, free users need to upgrade for more storage.
Imagine you're sending a large PDF file of a few hundred megabytes every day to your team. That means that you'll spend your free storage space within a month. And, you have to use your shared space. But, it's not confidential anymore — since all can see it in a shared file. To surpass these limitations, you have to upgrade your plan and stop using the Free one.
Limited guest users
On the Free plan, you have the functionality to communicate with people outside your organization. And that sounds cool, right? But, it's limited to 100 participants — and to add more people, you have to upgrade your plan. More guest users mean more money you have to give.
Conclusion on the Free Plan
If you and less than 300 people need to chat over text, voice, and video, while sharing and collaborating through Microsoft Teams, you can start using Teams for free right now.
If you need access to the Teams' support, more storage, better security, more features for meetings, or other integrations, you have to upgrade to a paid plan.
Microsoft Teams Essentials plan
Microsoft Teams Essentials is priced at $4 per user per month and provides access to the core meeting features of Teams without the typical Office app bundling that requires a more expensive Microsoft 365 plan.
What do you get with the Microsoft Teams Essentials plan? What are the limitations of the Microsoft Teams Essentials plan?
Beyond what's available in the free tier, Microsoft Teams Essentials offers:
Unlimited group meetings for up to 30 hours,
Up to 300 participants per meeting,
10 GB of cloud storage per user,
Anytime phone and web support.
There are also integrations with Outlook and Google Calendar — for easy meeting scheduling, always-available chats, and a range of meeting features, including virtual backgrounds, a meeting lobby, Together mode, live closed captions, and live reactions. It's also possible to assign tasks to teammates, create polls for feedback, and access a new small-business group chat template.
Microsoft Teams Essentials is a great plan for small businesses that want the core features of Microsoft Teams without paying for extras they don't need. If you are looking for a more comprehensive plan, Microsoft 365 Business Basic may be a better option.
Microsoft 365 Business Basic plan
Business Basic Plan is the tier above the free edition of Microsoft Teams and Microsoft Teams Essentials. Each tier includes all of the features from the free version as a starting point. The more you spend after that, the more features you receive.
Now, let's see what you will get with the MS Business Basic plan and what its limitations are.
What do you get with the Business Basic plan? What are the limitations of the Business Basic plan?
Business Basic costs $5 per month per user. This plan includes:
Up to 250 people in a video conference or online meeting,
1 TB of file storage per user, and
Cloud-based versions of Microsoft Office apps including Word, Excel, and PowerPoint.
Business Basic is ideal for businesses that want comprehensive web connectivity. Users receive access to a collaboration center that brings together the majority of your organization's resources and staff on one platform.
This plan also includes 24/7 support for any questions, problems, or comments you may have during the use of the app.
Now, the main limitation of this plan is its price. If you have 300 participants, you'll have to pay $1,500 per month. That is at least $18,000 yearly. It's just a video conferencing platform, and it still has limited features. And what will you do if you have a larger organization?
Microsoft 365 Business Standard plan
Business Standard comes after Business Basic. The business standard edition costs $12.50 per user each month to get started.
What do you get with Microsoft 365 Business Standard plan?
With Microsoft 365 Business Standard plans you can:
Host email with a 50 GB mailbox and custom email domain,
Create a hub for teamwork to connect people using Microsoft Teams,
Store and share files with 1 TB of OneDrive cloud storage per user,
Use one license to cover fully installed Office apps on five mobile devices, five tablets, and five PCs or Macs per user,
Get help anytime via phone and web support from Microsoft.
You're mostly paying for a bigger capacity of the features contained in Basic at the Business Standard level. This tier, on the other hand, provides monthly upgrades, online and mobile app development resources, and process automation.
What is Pumble?
Pumble is a free team messaging app that allows teams of all sizes to collaborate. Unlike MS Teams, it offers unlimited users and history – all for free. It's available on all platforms, primarily as a web browser app but also accessible on desktop and mobile.
What does Pumble offer?
Unlimited users,
Unlimited chat history,
User and workspace administration tools,
24/7 web support.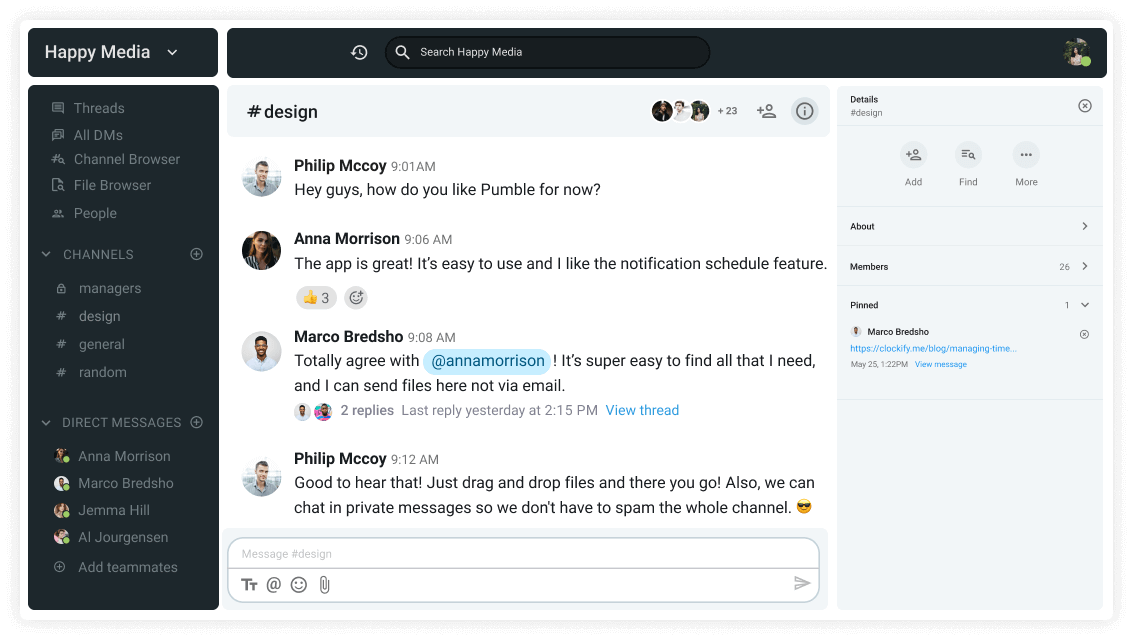 Pumble workspace screenshot
Joining Pumble is easy, setting up a workspace is easier and you can also easily invite others. With the app, you can enjoy communication and collaboration with your teammates, start discussions and follow them, send files and search for them, whenever you want — from all devices.
How does Pumble compare to Microsoft Teams?
There are several reasons why you should consider Pumble as a great MS Teams alternative. Some of them are:
User and workspace admin tools,
File browser,
Navigation, and
Web support.

Let's deep dive into each of these.

User and workspace admin tools

Microsoft Teams doesn't allow you to manage users and assign them a different role. In Pumble, besides the option to manage workspaces, depending on your role, you can also manage users (e.g. make users to be admins).

Manage members in Pumble

File browser

Within MS Teams, there is no option to search any file in a specific folder. If you store 50 files in one folder, you have to search the file manually.

When you use Pumble, easily search and find all files shared in DMs or channels via the File browser. You can also search all your messages and files history, for free.

Find files in Pumble

Navigation

In Microsoft Teams, the navigation is not so intuitive. You might find yourself clicking through multiple tabs and breadcrumbs to locate something⁠.

Pumble chat is very user-friendly — on the left, we have sidebars with all channels and DMs, and, on the right, we have chat and additional information.

Easily navigate in Pumble

Web support available 24/7

If you use Microsoft Team's free tier, forget about guaranteed up-time or 24/7 web support — it doesn't exist. You can search for the resolution of your problem only on a Help page or use overall Microsoft's support.

Pumble Help page is always available for all potential and current users. In addition, the support team is online 24/7 for all questions and doubts.

Pumble's pricing plans

Pumble is dedicated to making its basic features available for free forever!

The software includes a generous free plan that gives users unlimited conversation history and allows them to add as many users as they like. This implies that any team with all of its members may save all of the important information and files discussed in their conversations.

Pumble's paid plan is an extremely cost-effective way to get the most out of the app.

Teams may get all of the capabilities of the free plan plus 10GB of storage space per user for $1.99 per month per user. Separate workspaces for different teams, projects, and corporations may be created and switched between effortlessly. Guest access to certain channels and chats for people outside the organization (clients, collaborators, vendors, etc.) is also available as part of the subscription plan, together with more administration and customization possibilities. In addition, paying customers get priority customer service.

Pumble pricing plans
Conclusion
Comparing MS Teams to other alternatives like Pumble, in all pricing plans, the features are not so competitive. When we take into account the announced increases in a few months, organizations may consider other apps.
It all comes down to you, your company, and how useful or significant the many features are to you in most of today's team communications platforms.