18 Best team communication tools for business in 2023
Unsurprisingly, around 75% of employers believe collaboration and teamwork are significant aspects of a successful business.
Yet, what is the secret to ultimate business success?
What differentiates great businesses from average and bad ones?
Quite often, the answer is simple — they have all come up with a great internal communication strategy based on the active use of adequate team communication tools.
When properly integrated, communication tools bolster productivity and motivate teams — especially if the business chooses an app that best fits its purpose.
In essence, the best team communication tools should improve social presence — that is, they should successfully transmit social cues that promote emotional closeness and connection in the workplace.
In this post, we'll share a detailed list of the best team communication tools from the following categories:
Team messaging apps,
Video conferencing tools,
Online whiteboard platforms,
Document sharing and editing tools, and
Virtual presentation software.
Make sure to check them all out before picking the ones that suit your company and employees.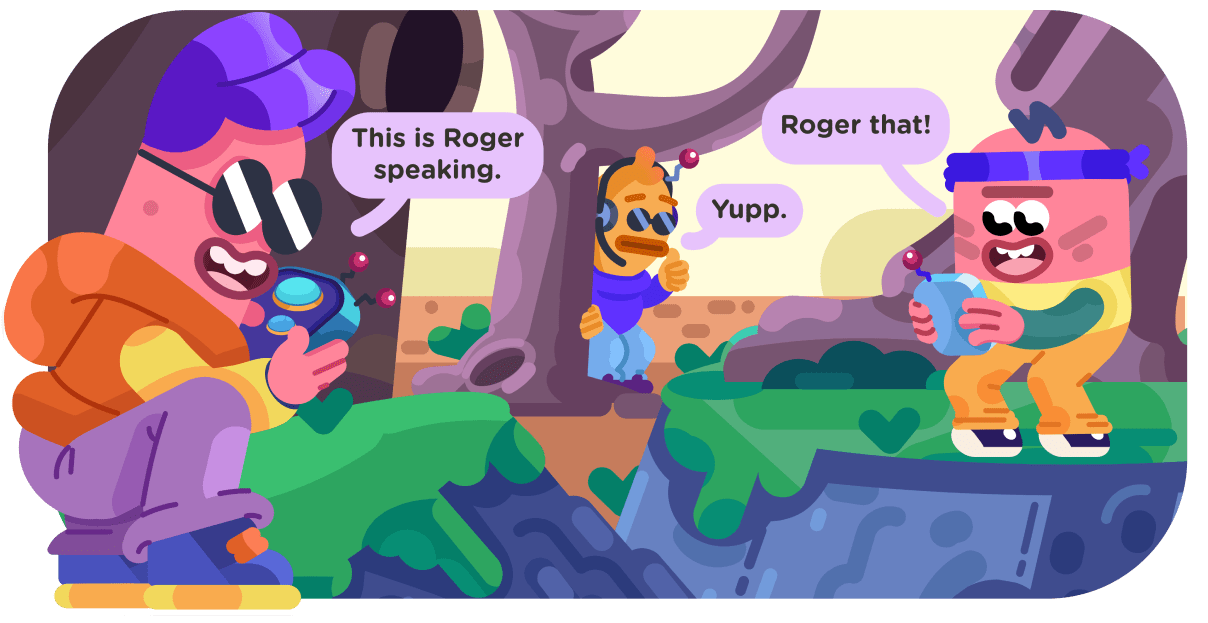 Pumble — for organized team chat and collaboration
Pumble is a free messaging and collaboration app that allows individuals and teams of all sizes to communicate on a daily basis and reduce the time wasted on typing emails.
Highlights
One of the key challenges remote and hybrid teams face is having to put more effort into maintaining communication instead of working on problem-solving and decision-making.
With unlimited chat history in the free plan, Pumble keeps your communication transparent and effective.
Unlimited access to every piece of information or file ever exchanged helps your team stay up to date with every critical decision and ensures no conversation is ever lost.
Instead of using several apps for one-on-one and group meetings, you can use Pumble as your one-stop shop for messaging and video conferencing.
Whether you're leading a new startup or a larger company, you can start a group video call directly from the app and bring the whole team together.
Pumble's affordability and generous storage space without time limits is something different organizations and professionals could use to their advantage.
Features
Some of Pumble's best features help the app stand out from similar business communication software and allow users to maintain effective communication.
These features cover:
🔸 Real-time communication, with the help of:
Direct messages,
Public and private channels,
Threads,
Mentions,
Pinned messages,
Voice calls, and
Video calls (one-on-one and group calls).
🔸 Productive collaboration, with the help of:
Availability status,
File and link sharing,
Message formatting, and
Reactions.
🔸 Shared knowledge, with the help of:
Profile pages,
Unlimited chat history,
The channel browser,
The file browser, and
Sort and filter options.
🔸 Smart notifications, in the form of:
Notifications,
The "Do not disturb" mode,
Preferences, and
The mute channel option.
🔸 A user-friendly interface, in the form of:
Dark and light themes,
Shortcuts, and
A customizable sidebar.
🔸 Better workspace administration, with the help of:
Roles and permissions,
Workspaces,
User groups, and
Guest access.
Why use Pumble?
Pumble has been recognized as one of the most convenient, practical, and cost-effective team communication apps on the market.
Thanks to Pumble, you'll be able to collaborate faster, generate fewer emails, and avoid spending your precious time on mundane tasks.
Pumble is suitable for different types of communication, from personal chatting to corporate exchange of information.
If your goal is to stay connected with your team members and colleagues from other teams, no matter where you are, Pumble should be your number one app.
Overall, Pumble's got it all covered. It's very easy to use and navigate, thanks to its practical and neat design. It also provides a highly secure multi-functional workspace across several platforms at a sensible price — a dream come true for most people.
🔸 Available for: Web, Windows, Mac, Linux, Android, and iOS
🔸 Suitable for: Remote, virtual, and hybrid teams of all sizes, freelancers
| Pricing | Pumble |
| --- | --- |
| Free plan | Yes |
| Free trial | Yes |
| Cheapest paid plan | $1.99 user/month |
Google Chat — for simple team messaging

Thanks to its distinguished place in the Google Family, Google Chat seems like a logical option for existing Google users.
Highlights
While Google Chat lacks the intuitive interface and feature-richness some other team messaging tools on this list offer, it remains a widely available and affordable solution. Consequently, many could still find it an optimal team communication app.
Google Chat is available under Google's Workspace package, and users have praised this business communication software's:
Simple one-on-one and group conversations,
Virtual rooms,
Channels,
Threaded conversations,
File sharing, and
Tight integrations with other Google products.
Features
In addition to being part of the well-known Google Workspace family, Google Chat has a practical and functional approach to chatting. The interface is uncomplicated, and the layout is easy to use.
Plus, you can use it directly in Gmail or as a standalone app for macOS, Windows, Android, and Apple mobile devices.
The app allows you to organize your communication in channels and dedicated rooms. The Chat even supports:
External users,
About 28 languages, and
8,000 members per room.
Besides the features mentioned above, Google Chat allows its users to take advantage of a few more benefits, which include:
Email notifications for unread messages,
Advanced search options,
Switching between several accounts, and
Pinned conversations.
Why use Google Chat?
If you're already a Google Workspace subscriber, you'll get most of Chat's features for free. While not as widely used as other business communication tools, Google Chat can still be an excellent way to streamline workflows and ensure all team members remain connected.
🔸 Available for: Web, Windows, Mac, Android, and iOS
🔸 Suitable for: Anyone in need of a simple chat app
| Pricing | Google Chat |
| --- | --- |
| Free plan | Yes |
| Free trial | Yes |
| Cheapest paid plan | $6 user/month |
🎓 To find out how Google Chat compares to Slack, be sure to check out our detailed comparison guide on the blog:
Discord — for great voice communication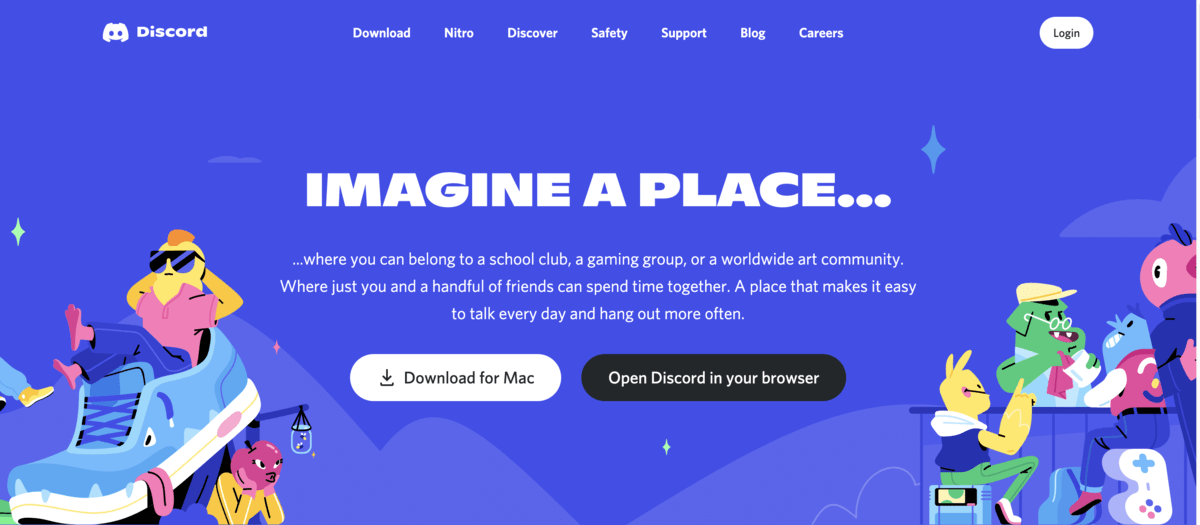 Discord is a free instant messaging, VoIP, and digital distribution platform.
Although many associate the software solely with the gaming industry, Discord has some robust capabilities and shouldn't be labeled as a tool unsuitable for business communication.
Highlights
Initially recognized as the gaming community's first choice, Discord is compatible with multiple platforms, and users can add up to 500,000 members onto a single server.
Thanks to these perks, the app can be a practical means of communication for many individuals and business professionals.
If you're unsure whether Discord is a good app for team communication, remember that it provides users with the following:
Tight IP security,
Protection against DDoS attacks,
Bots, and
Impressive audio sync capabilities.
Features
With its unlimited storage plan and chat history, simple layout, and generous pricing plan, Discord can hold its own against some of its well-known competitors.
Unlike many popular solutions on the market, Discord highlights voice communication over written communication.
This can be great for those who base their entire communication on voice features, as Disord can make it seem like the person you're talking to is right next to you.
A few features that Discord users praise include:
Servers,
Channels,
Direct messages,
User profiles,
Advanced voice channels,
Video calls and streaming, and
Developer tools.
Why use Discord?
Discord is attractive because it offers many features that support outstanding team communication and enable real-time collaboration.
Since millions have already chosen Discord as their team chat app, it's definitely worth a shot.
🔸 Available for: Web, Windows, Mac, Linux, Android, and iOS
🔸 Suitable for: Users coming from the gaming community
| Pricing | Discord |
| --- | --- |
| Free plan | Yes |
| Free trial | No |
| Cheapest paid plan | $4.99 user/month |
🎓 Want to know how Discord compares to other popular team communication tools?
Check out our comparison posts on the blog:
Slack — for streamlining different tasks and apps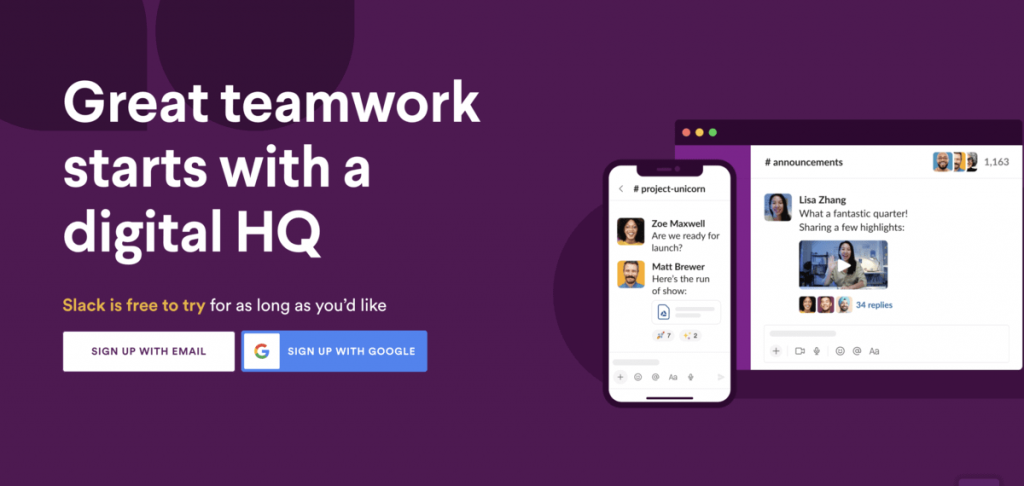 Slack is an outstanding communication hub whose primary goal is to "make work life simpler, more pleasant, and more productive."
Highlights
Slack is a great productivity app that easily integrates with many other tools. The app itself is a popular and powerful communication solution with a wide range of features and settings to choose from.
Slack users can take advantage of:
"/" commands for quick third-party app integration,
Search modifiers,
RSS feed subscriptions,
Notifications,
Reminders,
Slack Huddles, and
Slack Connect.
Slack Connect is one of the most popular Slack features that allows teams to easily connect and collaborate with external organizations.
Features
Some of Slack's most prominent features include:
Public and private channels,
Messaging,
Voice and video calls,
Workflow builder,
Integrations, and
File sharing.
Keep in mind that all Slack has to offer comes at a steep price — a price many are unable or unwilling to pay.
Why use Slack?
Slack is suitable for startups, mid-size businesses, and large corporations. Although it remains the first choice of many companies, some still find it a bit overwhelming — some due to its feature overload and others due to its cost.
As one of the team communication tools with the highest number of users, Slack does cover most user needs.
With a simple and intuitive interface and conversations organized into channels, Slack helps teams communicate and collaborate faster.
Slack can be a great choice if the financial side isn't an issue. However, the overall impression is that the market is slowly being filled with excellent yet more affordable Slack alternatives.
🔸 Available for: Web, Windows, Mac, Android, Linux, and iOS
🔸 Suitable for: Startups, mid-size businesses, and large corporations
| Pricing | Slack |
| --- | --- |
| Free plan | Yes |
| Free trial | Yes |
| Cheapest paid plan | $8.75 user/month |
🎓 While some assume that they can adopt a more casual approach in team messaging tools, you don't want to make a blunder by sending a poorly formatted message.
To make sure all your messages are polished and up to scratch, check out this blog post:
Google Meet — for safe and straightforward video conferencing

Google Meet is another great free product of Google used for video calls and conferences.
Highlights
As an integral part of Google Workspace, Google Meet is a well-known, well-established, and one of the safest choices for video calls and video conferencing.
It allows companies and enterprises to invite up to 100 employees and meet for 60 minutes, free of charge. In a matter of seconds, you can create a meeting and invite people to join or connect with coworkers, friends, or family.
The best thing about Google Meet is that it requires no client installation and is relatively straightforward. You can start a new meeting by sending the link to those you want to join or simply create an invitee list.
Once you start the call, Meet provides a range of options, too:
Pin or mute participants,
Use captions,
View video call info and attachments,
Send messages to participants, and
Change backgrounds.
Features
Although most of its features are available for free, Google Meet provides additional features with some Google Workspace packages.
Depending on the pricing plan you choose, you'll get access to a different set of features, some of which include:
Breakout rooms,
Polls,
Livestreaming,
Q&A,
Hand raising,
Noise cancellation,
Attendance tracking,
Meeting recording,
Presenting,
Whiteboards,
Anonymous joins,
Dial-in numbers,
Maximum call length, and
Host management.
Why use Google Meet?
Google Meet is perfect for remote or distributed teams that meet daily to discuss projects — if they are working in Docs, Sheets, or Slides at the moment, they can join meetings directly and save valuable time.
For most Google Workspace users, Meet would be the logical choice, considering it works seamlessly with other Google products.
Moreover, Google Meet can be a great communication tool for teachers, students, and business professionals who prefer documenting all their communication.
And, even if you don't use Google as your primary communication platform, you can take advantage of the many perks its virtual video conferencing app provides.
You can use it either for free or by opting for a paid business plan that suits the needs of your team or company.
🔸 Available for: Web, Windows, Mac, Android, and iOS
🔸 Suitable for: Individual users or remote teams
| Pricing | Google Meet |
| --- | --- |
| Free plan | Yes |
| Free trial | Yes |
| Cheapest paid plan | $6 user/month |
🎓 Even teams using the best communication software for business can encounter communication issues.
To find out more about communication barriers and learn how to overcome them, check out this in-depth guide:
Zoom Meetings — for collaborative video events

Zoom is one of the best and most popular video conferencing apps.
It offers several features packed into one (meetings, chat, and phone). It's available across multiple platforms, which has attracted a great number of customers across the globe.
Highlights
As one of the most popular team communication tools, Zoom is designed to suit many individuals, groups, and companies.
The greatest thing about Zoom is that anyone can use it for free, even if they don't have a Zoom account. You can sign in with Google, Facebook, or an email address and password.
Whether you use it for personal or professional needs, the app is quite easy to understand and navigate.
It's slightly more expensive than Google Meet, but you get a lot for the price.
Users particularly appreciate the following perks:
Meetings,
Video webinars,
Marketplace,
Rooms and workplaces, and
Developer platform.
Features
Zoom users can connect with coworkers and organize their workload with:
Virtual meetings,
Phone systems,
Team chat,
Calendar and email, and
Online whiteboards.
Those who want to experience more from Zoom can opt for its additional paid features, including:
Audio conferencing,
Cloud storage,
Large meetings, and
Premier support.
Why use Zoom Meetings?
Zoom Meetings is a bit more expensive than Google Meet, which can be a deal-breaker for startups, smaller companies, or even freelancers.
Still, it's great for hosting workshops, webinars, and even one-on-one meetings.
With so many excellent options available, Zoom for sure stands out as one of the most flexible, affordable, and practical video conferencing apps on the market, together with Google Meet.
🔸 Zoom is available for: Web, Windows, Mac, Android, and iOS
🔸 Suitable for: Individuals, small businesses, remote teams, and enterprises
| Pricing | Zoom |
| --- | --- |
| Free plan | Yes |
| Free trial | No |
| Cheapest paid plan | $14.99 user/month |
🎓 If you're unsure about either Google Meet or Zoom, check out this comparison post to learn more about each tool:
Microsoft Teams — for enterprise collaboration and web conferencing

Microsoft Teams is another solid option for teams and organizations looking to streamline their communication and collaboration in a single platform.
Highlights
As part of the Microsoft Office 365 suite of applications, Teams comes with plenty of integration options, solid security, and decent storage space.
Businesses would find Microsoft Teams' versatility highly useful, especially when it comes to navigating multiple conversations and projects in real time.
Built-in access to Microsoft apps and integrations with over 700 third-party apps allow for maximum flexibility and productivity.
Features
Microsoft Teams continues to rank high in the team communication tools space mainly due to its rich feature set that includes:
Chat,
Voice and video conferencing,
Breakout rooms,
Audience polling,
Call recording,
Screen sharing, and
Live meeting transcription.
Why use Microsoft Teams?
Although it has an elaborate interface that might be too complex to navigate for first-time Microsoft users, it's a good option for corporations and teams looking for a solution that integrates with Microsoft 365 apps.
🔸 Available for: Web, iOS, and Android
🔸 Suitable for: Enterprises familiar with the Microsoft ecosystem
| Pricing | Microsoft Teams |
| --- | --- |
| Free plan | Yes |
| Free trial | Yes |
| Cheapest paid plan | $4 user/month |
🎓 To discover how Microsoft Teams compares to other popular team communication tools, check out our detailed comparison posts on the blog:

BlueJeans Meetings is an online meeting platform designed to make video conferencing easier.
Highlights
BlueJeans Meetings offers a bunch of practical and interactive features, but you have to download the app to get the complete experience.
It's a well-designed, reliable, and secure video conferencing platform. However, unlike Google Meet and Zoom, BlueJeans is more oriented towards:
Livestreaming,
Workshops,
Webinars, and
Health-related meetings.
Some might find this range too narrow and not enough to satisfy the needs of the business world.
Features
The whole BlueJeans package covers the following:
Virtual meetings,
Webinars and events,
Connected rooms,
Gateway for Microsoft Teams, and
Telehealth.
If you use Microsoft products, you would be glad to know that BlueJeans Meetings offers a gateway for Microsoft Teams video conferencing.
Also, its solution for online webinars and events allows you to engage up to 50,000 participants.
Moreover, Telehealth allows healthcare providers to meet their patients and ensure high-quality care.
Why use BlueJeans Meetings?
Most companies and organizations can base their communication on BlueJeans Meetings, but the app is a bit more suited for current Microsoft Teams users and the healthcare industry.
Picking the best tool for conducting video meetings should depend on what the team as a whole requires.
Just like all previous examples, BlueJeans can be your ideal video conferencing app.
But, before you make BlueJeans your default communication software, make sure it's available in your country, as some countries are prohibited from using BlueJeans services.
🔸 Available for: Web, Windows, Mac, Linux, Android, and iOS
🔸 Suitable for: Healthcare companies already using Microsoft Teams
| Pricing | BlueJeans Meetings |
| --- | --- |
| Free plan | No |
| Free trial | Yes |
| Cheapest paid plan | $12.49 user/month |
Skype — for simple video calls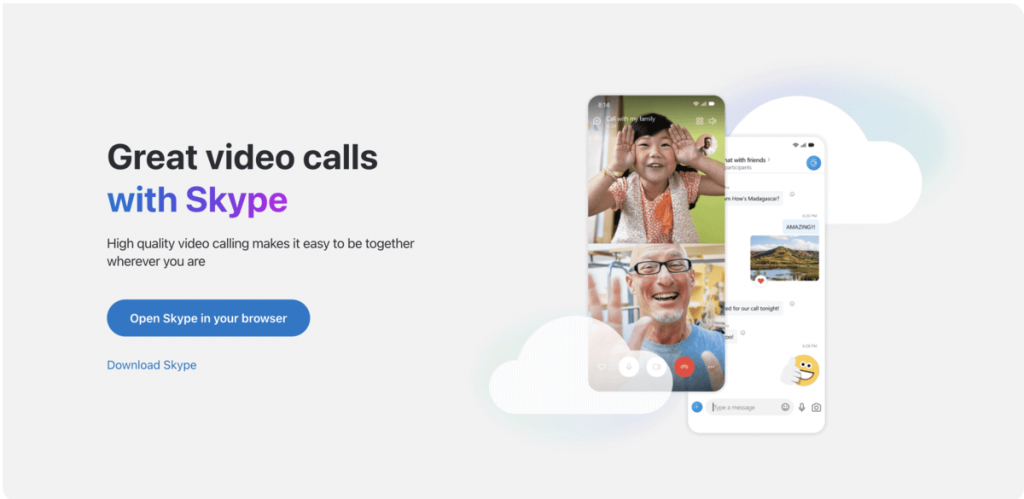 Skype makes our list of the best team communication tools as one of the most straightforward and affordable video conferencing solutions.
Highlights
If you're overwhelmed by the ever-growing list of advanced team communication tools, you can get back to basics with good old Skype.
It went through some redesign and got some new and improved features over the years — but, it has managed to preserve some of its signature user-friendliness and simplicity.
Features
While Skype features a more minimal design compared to other business communication apps, it has remained popular for years thanks to its reliable features, which include:
Chat,
Video calls,
Call recording,
Screen sharing,
Audience polling, and
A phone system.
Skype allows you to enjoy unlimited video calls of up to 24 hours for free. You will find this an invaluable benefit if you're running a small business on a tight budget.
Why use Skype?
Arguably the best thing about Skype is that it's free.
Smaller teams of up to 100 people can enjoy unlimited video calls on Skype and use basic collaboration functionality completely free of charge.
Plus, if you want to make your team meetings more inclusive, you'll be all set with Skype, which supports live captions and subtitles in 42 languages.
🔸 Available for: Web, iOS, and Android.
🔸 Suitable for: Individuals and smaller teams on a tight budget
| Pricing | Skype |
| --- | --- |
| Free plan | / |
| Free trial | / |
| Cheapest paid plan | / |
Chanty — for organizing tasks and conversations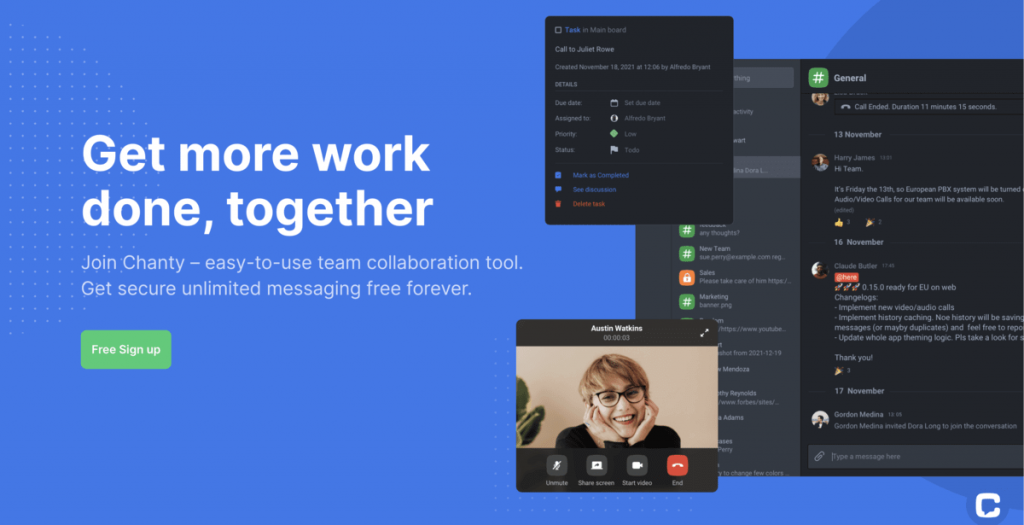 Chanty is another great option on our list of communication tools for businesses. Since there's no steep learning curve, the user experience is smooth and intuitive.
Highlights
This solution shines when it comes to workflow management, communication, and integrations. For example, the Kanban board view lets users quickly review and manage their tasks.
Plus, Chanty's import tool simplifies the onboarding process, allowing users to transfer data from their previous business communication app.
Teambook is one of Chanty's best and most popular features. Essentially, it allows you to organize all your tasks, conversations, pinned messages, files, and calls in one place.
Chanty developed this feature to help teams with conversations and tasks all over the place. If you fear you may miss an important piece of information or a deadline, Chanty's Teambook feature can help you quickly find everything you need.
Features
Some of Chanty's top-performing features include:
Chat,
Voice and video calls,
Screen sharing, and
Project management.
Why use Chanty?
If you're a small to medium-size business looking for a tool to help your team communicate and collaborate more efficiently, Chanty might be right up your alley.
This app lets you communicate with your teammates in private or public group chats and DMs, and pin important messages.
Chanty also allows you to leave voice messages as replies to urgent conversations while you're on the go.
Moreover, you can meet with your team over video, share screens, and collaborate in real time.
In addition to bringing all your communication and collaboration together in an easy-to-use interface, this communication software allows you to convert your conversations into tasks for peak productivity.
🔸 Available for: Web, Windows, macOS, iOS, and Android
🔸 Suitable for: Small and medium-sized businesses
| Pricing | Chanty |
| --- | --- |
| Free plan | Yes |
| Free trial | No |
| Cheapest paid plan | $3 user/month |
🎓 Interested in seeing how Chanty holds up against Slack? Check out our exhaustive comparison on the blog:
Yammer — for internal communication

Yammer is another communication software belonging to the Microsoft suite of applications.
Highlights
The software is engaging, intuitive, and easy to use, hence why many call the platform the "Business Facebook."
As such, Yammer supports:
Enterprise microblogging,
Private and public groups,
Link, file, and image sharing,
Message and content tagging, and
Document and user management.
Since the software centralizes all data and conversations, it ensures all team members are up to speed with the latest developments. This undisrupted flow of information may improve engagement and productivity.
The best thing about Yammer is that it offers a great way to help people in your organization feel more connected to each other and the organization's culture as a whole.
Yammer Communities have evolved into Microsoft Viva Engage, allowing people access to conversations and activities that fit their interests and communities.
Much like social media algorithms, the feature learns about your interests over time to serve you more relevant content in your feed.
Features
The software's main features that have appealed to countless users are:
Groups,
Inbox,
Notifications,
Search,
External collaboration,
Discovery feed, and
Integrations.
Why use Yammer?
Enterprises looking to achieve effective communication and strengthen team connections will find Yammer quite convenient.
This communication software lets you create a shared collaborative network with task tracking and lists. Yammer is essentially a private social networking tool that allows your team to communicate via messages, groups, and feeds.
With Yammer, you'll be able to facilitate better internal communication and overall more effective cross-functional collaboration.
In line with that, Yammer is an excellent tool for organizations to avoid or break down company silos and strengthen collaboration.
🔸 Available for: Web, iOS, and Android
🔸 Suitable for: Enterprise-level internal communication
| Pricing | Yammer |
| --- | --- |
| Free plan | Yes |
| Free trial | Yes |
| Cheapest paid plan | $5 user/month |
🎓 When messaging teammates through a business communication app, they can't gauge your facial reactions, meaning that your work message skills have to do all the heavy lifting.
Check out the following blog post to ensure you never get stuck in a misunderstanding:
Miro — for visual collaboration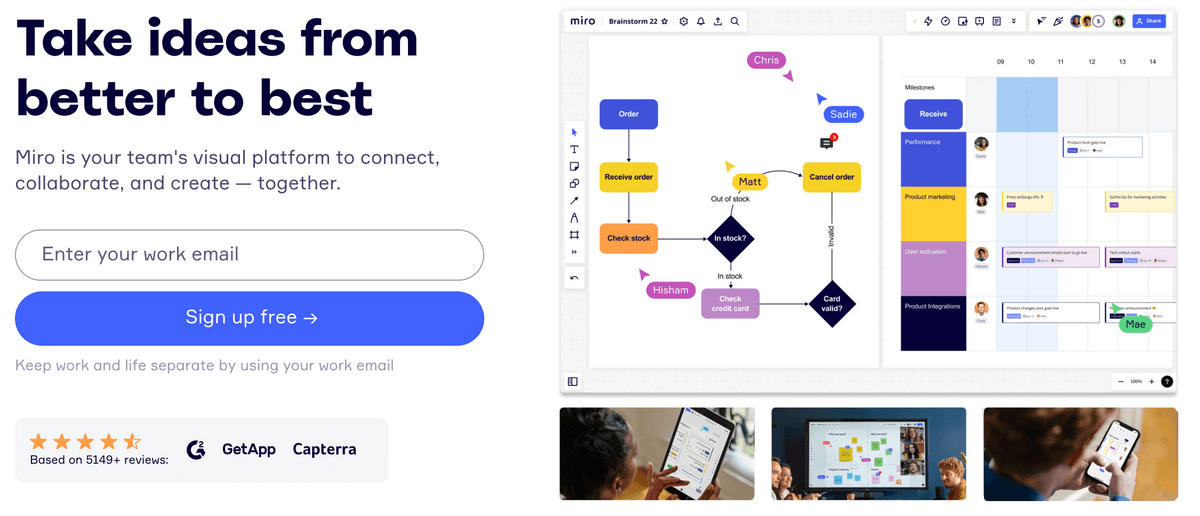 Miro is one of the leading online whiteboard platforms for visual collaboration. The primary goal of this team communication tool is to help users maintain a healthy work-life balance by being a comprehensive human-centered solution.
Highlights
The first thing that strikes you when you open up Miro in the browser is how easy and natural everything feels.
Miro's best feature is that it's packed with various interesting and creative options to showcase your ideas to colleagues and clients, including:
Diagramming,
Presentations, and
Mind mapping.
Even if you don't figure it all out quickly, the platform offers a generous library of written and video materials explaining how to use it to your advantage.
You can start off with a blank canvas or use the numerous templates for your board. The app seems like the best choice for:
Creating unique visual materials,
Collaborating with colleagues, and
Presenting your work.
Features
Miro's most popular services include:
Agile workflow,
Meetings and workshops,
Brainstorming and ideation,
Mapping and diagramming,
Research and design,
Concept mapping,
Mind mapping,
Strategy and planning, and
Online sticky notes.
Alongside the traditional whiteboard features during a meeting, Miro's bottom toolbar allows you to:
Move into presentation mode,
Start a video call,
Run a timer, and
Access board history.
You can even choose to video conference while you present your work as well.
Why use Miro?
Individuals and teams of all sizes can use Miro. Although it might be one of the more expensive whiteboard solutions on the market, it's worth the price.
In general, Miro is an outstanding blend of diverse software that allows remote and hybrid teams to communicate and collaborate on projects.
Trying Miro will give you plenty of options to express your creativity and share it with your teammates.
🔸 Available for: Web, Android, and iOS
🔸 Suitable for: Individuals and teams of all sizes
| Pricing | Miro |
| --- | --- |
| Free plan | Yes |
| Free trial | Yes |
| Cheapest paid plan | $10 user/month |
MURAL — for interactive communication and collaboration

MURAL is a great visual collaboration tool that allows individuals and teams to collaborate on projects and exchange ideas quickly and efficiently.
Highlights
MURAL has proven to be an outstanding online tool for effective team collaboration.
Although it doesn't support features like video conferencing, charts, tables, and reports, its charming layout and speed make it a solid whiteboard option.
The software is great at providing its users with a blank canvas to create on. For a lot of people, the platform is immediately easy to navigate. But, if you don't get everything straight away, you can dive into MURAL's learning resources and explore whatever you're interested in.
Interacting in MURAL is mainly based on its sticky note feature. It provides an easy and efficient way to brainstorm, share ideas, and monitor real-time updates.
The template library is comprehensive, so those who prefer not to start from scratch will love this.
Plus, collaborating in real-time is rather quick, which is one of the best things about MURAL. You can also zoom in or out with your mouse, an option unique to this platform.
Features
Some of the features MURAL offers include:
Creating murals,
Unlimited members,
A full template library and member-built custom templates,
Visual collaboration and facilitation,
Integrations with other apps, and
Flexible payment options.
Why use MURAL?
Besides being a great online whiteboard solution for individuals, small teams, and large organizations, MURAL can be an excellent option for educators, non-profits, and the consultant network.
🔸 Available for: Web, Windows, Mac, Android, and iOS
🔸 Suitable for: Individuals, small teams, and organizations in the education, non-profit, and consulting industries
| Pricing | MURAL |
| --- | --- |
| Free plan | Yes |
| Free trial | No |
| Cheapest paid plan | $12 user/month |
Google Drive — for document storing and sharing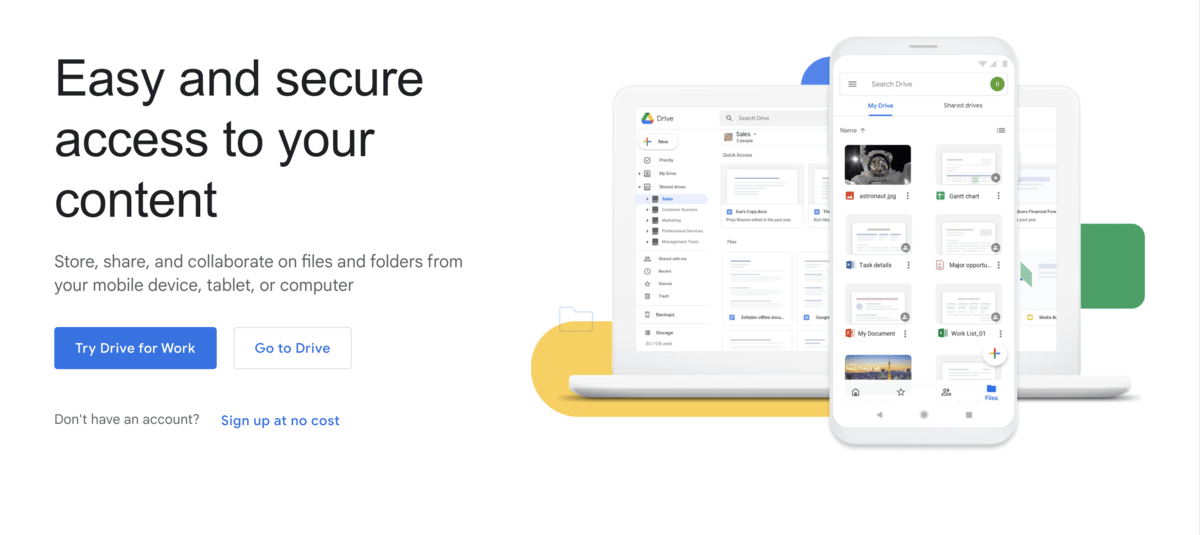 Google Drive is a well-known communication and collaboration solution that allows you to store, share, and edit documents online.
Highlights
Experience has shown that Google's products only get better and more functional with time. The same goes for Drive, Google's document management service.
Over the years, Google Drive has gained the popularity and trust of at least 1 billion users and has been installed over 5 billion times. And this is all thanks to its affordability, functionality, and the generous storage plan it offers.
Besides being easy to use, the most remarkable thing about Google Drive is its price-storage ratio. Google Drive offers the most generous Free plan with 15GB of free storage.
Moreover, Google Drive supports over 100 file types, including:
Images,
Videos,
PDFs, and
CAD files.
Google Drive also offers:
Drive File stream,
Data loss prevention, and
Offline access.
Features
With Google Drive, users can:
Scan documents safely and securely,
Invite people to view, edit, and comment on documents,
Access collaboration tools,
Use the content library,
Seamlessly incorporate other Google Workspace tools (Photos, Docs, Sheets, and Slides),
Integrate with third party tools and apps, and
Store and share photos, videos, recordings, and presentations.
Even if you use other tools (Microsoft Office, Adobe, Atlassian, etc.), you can still integrate with Drive — it integrates with practically everything.
Besides this, Drive acts as a perfect document-syncing service. You can rest assured that once you've finished working on your document or sheet in the evening, you can pick up right where you left off in the morning.
Why use Google Drive?
Google Drive can be used by anyone who owns a PC, laptop, or mobile phone. So, there's no need to pay anything if the Free plan satisfies your needs.
But, you can always opt for more — and all that at a reasonable price.
There's little to dislike about Google Drive. It's capable of satisfying both personal and professional requirements — anyone would miss out on its feature-rich offer and generous pricing plan if they didn't at least try it out.
🔸 Available for: Web, Windows, Mac, Android, and iOS
🔸 Suitable for: Anyone in need of a comprehensive storage and file-sharing solution
| Pricing | Google Drive |
| --- | --- |
| Free plan | Yes |
| Free trial | Yes |
| Cheapest paid plan | $6 user/month |

Microsoft OneDrive is Google Drive's main competitor in the category of document sharing and editing tools. It appeals to individuals and businesses who strive for effortless and secure collaboration.
Highlights
Compared to Google Drive, Microsoft OneDrive doesn't fall behind that much.
One of the main differences is that it offers only 5GB of free storage on its Free plan, whereas Google Drive provides 15GB.
Still, you might be interested in trying the service and enjoying immediate access to your data. Whether you're tinkering on your laptop while commuting or checking work tasks on your mobile device, OneDrive keeps your information safe and ready to go.
Features
Just like Google Drive, OneDrive has an intuitive user interface, and it's packed with valuable and practical features, including:
Document storing and sharing,
Document scanning,
Online photo storage,
Free online cloud storage,
Personal vault, and
PC folder backup.
Why use Microsoft OneDrive?
Now, the OneDrive Free plan might not be quite enough to satisfy everyone's storage needs, but other features more than make up for that.
OneDrive will be the logical and affordable storage choice for those who already use Microsoft products.
🔸 Available for: Web, Windows, Mac, Android, and iOS
🔸 Suitable for: Organizations that use Microsoft products
| Pricing | Microsoft OneDrive |
| --- | --- |
| Free plan | Yes |
| Free trial | Yes |
| Cheapest paid plan | $5 user/month |
Dropbox — for internal documentation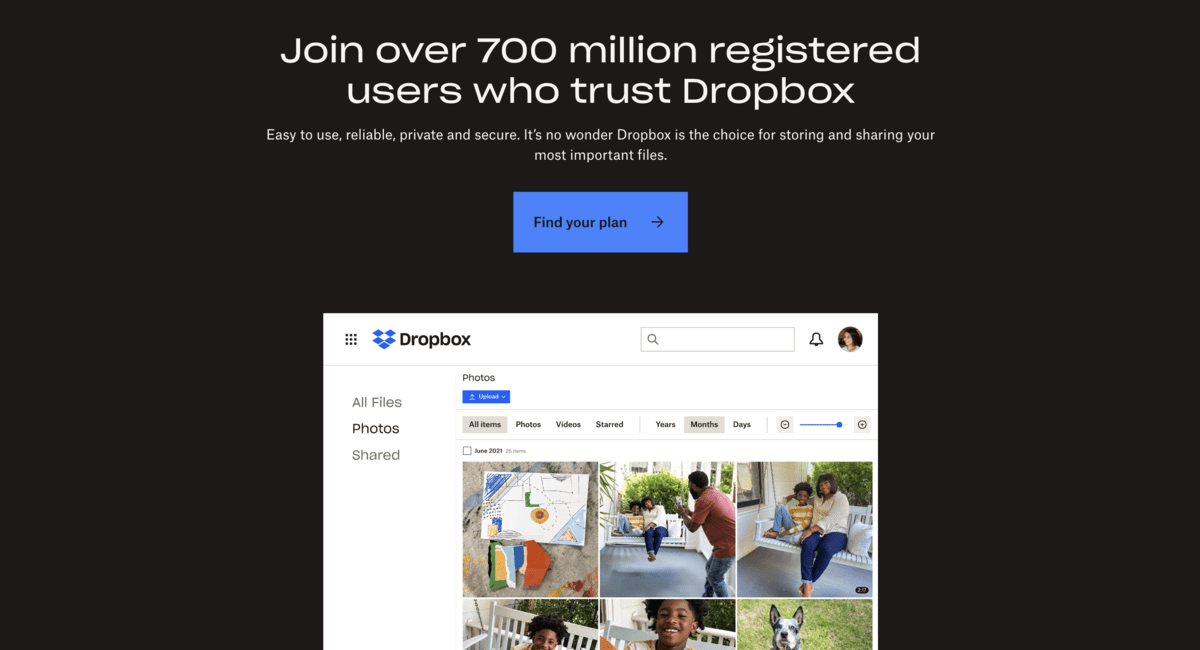 Dropbox is another excellent document storing and editing tool that can enhance internal communication.
Highlights
A pioneer among file storing and editing services, Dropbox represents a legitimate option for storing, sharing, and editing documents online.
Opting for Dropbox as your primary storage tool will give you access to some outstanding features, like signing documents online or extra security with the Vault feature.
It's a more expensive storage solution than Google Drive or OneDrive, but it makes up for it with additional features like the digital signature.
Features
With Dropbox, you can:
Share, store, and organize files,
Send and track documents,
Keep web shortcuts, Dropbox Paper documents, and cloud content in one place,
Secure business and personal files,
Sync devices,
Collaborate with your teammates,
Streamline task delegation,
Track progress,
Integrate with third-party apps,
Work remotely, and
E-sign documents.
The app aims to deliver a seamless customer experience. Thus, Dropbox is constantly improving and adding new features and services, the most recent being Dropbox Passwords, Dropbox Vault, and HelloSign digital signatures.
Yet, the downside is that each plan is limited to sending up to 3 documents for eSignature per month.
Why use Dropbox?
Dropbox can be used for personal and professional needs. It's suitable for individual work, smaller teams, and larger teams as well.
Some of DropBox's products are specifically designed to meet the needs of certain groups, including professionals, businesses, and enterprises.
However, when compared to Google Drive and Microsoft OneDrive, DropBox tends to be on the pricier side.
🔸 Available for: Web, Windows, Linux, Android, and iOS
🔸 Suitable for: Individuals, smaller and larger teams
| Pricing | Dropbox |
| --- | --- |
| Free plan | Yes |
| Free trial | Yes |
| Cheapest paid plan | $11.99 user/month |
Genially — for interactive visual communication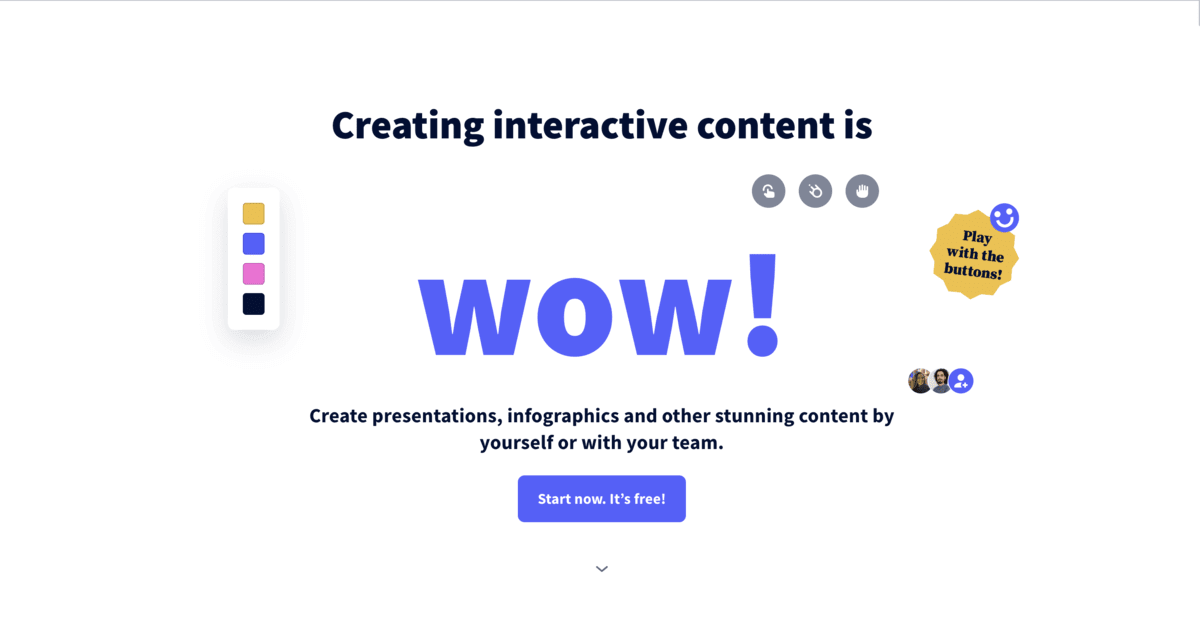 Genially is an online collaboration tool designed for creating visually interactive content.
This software leads in the category of virtual presentation solutions thanks to its affordability, functionality, and customization options.
Highlights
As a platform that supports interactive visual communication, Genially is highly intuitive, without complicated design or features.
Creating presentations has never been easier, even if you're not the creative kind.
As a web-based tool, Genially will let you start creating from scratch or by choosing from its free template library.
Features
In addition to its affordability, Genially has a great resource library to help the newbies master its distinctive features as quickly as possible.
You can choose a lesson from Genially's catalog and explore specific topics, features, and purposes. There's even the Learning Pills section which allows you to research "big lessons in small doses."
This tool helps users create:
Presentations,
Video presentations,
Infographics,
Interactive images,
Guides,
Training materials, and
Other interactive content like resumes, cards, or posts.
When you're satisfied with your creation, you can invite people to collaborate on your work or ask them to provide feedback once you've finished.
You can present your work, download it, or share it on Google Classroom or Microsoft Teams.
Why use Genially?
Genially is a great virtual presentation tool for individuals, including freelancers and remote workers.
It is also an outstanding solution for business professionals, teachers, marketers, journalists, designers, and others.
Being feature-rich, affordable, and extremely easy to use, Genially can become an invaluable team communication software for everyone.
🔸 Available for: Web
🔸 Suitable for: Freelancers and remote professionals
| Pricing | Genially |
| --- | --- |
| Free plan | Yes |
| Free trial | No |
| Cheapest paid plan | $9.90 user/month |
Google Slides — for simple virtual presentations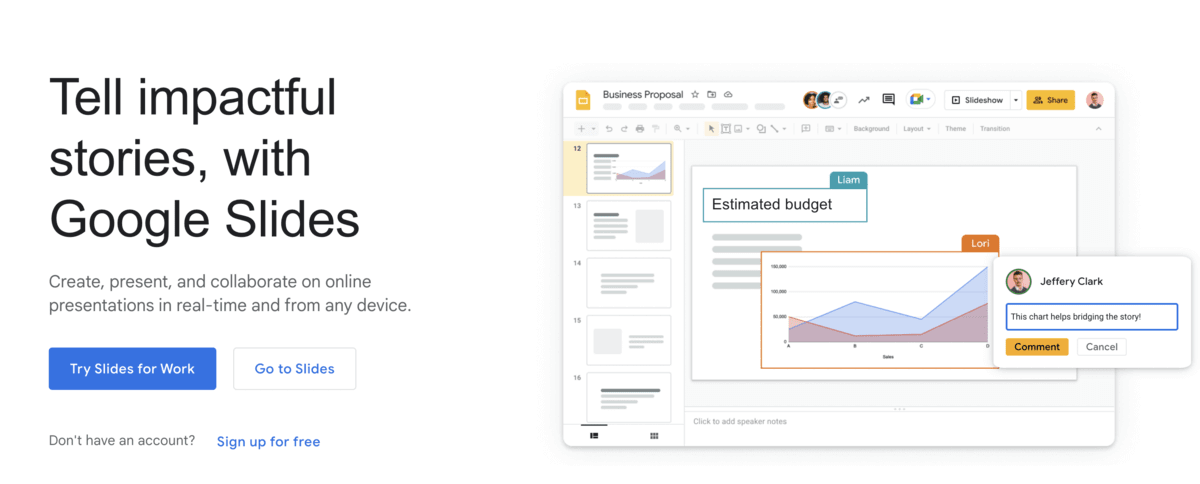 Google Slides is part of the Google Workspace package that provides individuals and business professionals with a great virtual presentation experience.
Highlights
Just like many other Google products, Google Slides is among the most budget-friendly, accessible, and easy-to-use virtual presentation software on the market.
Anyone with a Gmail account can use Google Slides for free and get access to most of its features.
Features
Thanks to this user-friendly platform, you'll have no problem:
Creating presentations for different purposes,
Commenting, chatting, and editing in real time,
Collaborating with others in real time,
Seamlessly incorporating other Google products, and
Integrating with third-party apps.
Like with Docs and Sheets, any change is immediately saved on your Drive, so there's no fear of data loss.
If you want to add eye-catching visuals to your work, you can import images from your computer or directly from the web.
Audio can be imported only from your Drive, while video materials can be imported from YouTube or the Drive.
In addition, you can experiment with backgrounds, layouts, and transitions.
Why use Google Slides?
Business professionals can use Slides under the Google Workspace package and get access to advanced features as well as other Google products.
Google Slides is so simple that anyone can use it. It's familiar, integrates with almost every app, and is quite affordable. For these reasons, many will find it just enough for their needs.
🔸 Available for: Web and Android.
🔸 Suitable for: Anyone in need of a simple virtual presentation solution
| Pricing | Google Slides |
| --- | --- |
| Free plan | Yes |
| Free trial | Yes |
| Cheapest paid plan | $6 user/month |
🎓 Finding a useful and reliable app for team communication is only one part of building a strong, tight-knit remote team.
To see what else you can do to help your team improve, check out this blog post:
Final thoughts: Always consider your team's needs and preferences
Picking the right team communication tools to work with can be an arduous process.
Deciding on the most effective, practical, and cost-effective tools will impact how your teams and teammates collaborate, communicate, and present their projects.
In some cases, it won't be possible to satisfy all the points from your checklist — but you always aim for a solution that everyone in your team will feel comfortable working with. After all, boosting productivity and fostering a positive employee experience by selecting the most suitable communication tool will ensure your business's continued prosperity.