30 Must-have tools for starting a remote-first company
As of recently, the remote-first work model has become a predominant way of work for many companies across the globe. Due to the specific nature of their work, industries like tech, IT, marketing, and education rely heavily on the remote work model. Despite all the challenges and obstacles, most managed to take advantage of going remote and continued their business operations without disruptions.
In this piece, we'll briefly define the remote-first model and showcase its most distinctive features. We'll go on to list some of the challenges that can come up when companies opt for this work model. Finally, we'll explain why adequate collaboration tools are important for starting a remote-first company and provide you with a comprehensive list of essential tools to support this work arrangement.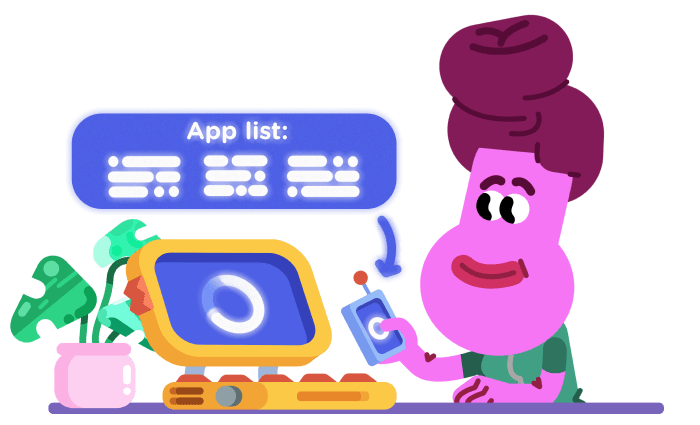 The ABCs of the remote-first work model
In simplest terms, a remote-first company is the one in which remote work is treated as the default way of working and prioritized over working from the office. In the past, remote employees used to be barely visible to upper management, which resulted in missed opportunities such as reaching important decisions, participating in big projects, and being promoted.
However, this working model has now been improved to the point where distinctions between in-office and remote employees are barely noticeable. Generally, they are all now being treated as equally important members of the collective.
With each company being different, there's no universal formula that could fit all. Companies shouldn't try to follow popular trends and compare themselves to other companies but rather find a way to make the remote-first work model function for them.
💡 If you are unsure about how to enhance the communication between your remote employees, make sure to check out our guide: How to improve team communication when working from home.
Distinctive features of the remote-first work model
A remote-first work model encompasses a set of best practices that can be used as a foundation each company can build its culture on. These can, and should, be tweaked to suit the needs of each company and its workforce. Overall, a remote-first company is expected to:
Provide an empowering work environment
Encourage employees to work remotely
Allow employees to work from the office if they want to
Support effective communication among in-office and remote employees
Rely mostly on written and asynchronous communication
Save costs
Reduce the time spent on commuting
Boost productivity
Ensure employees' mental health
Promote a healthy work-life balance
Yet, it's not always rainbows and butterflies. It's only normal that the remote-first work arrangement comes with a few challenges as well. Let's see what they are.
Common challenges of being a remote-first team
The key aspect of the remote-first model is communication among employees. Since remote employees are given the freedom to choose when to work during the day, the emphasis here goes to ensuring effective asynchronous communication. To avoid feeling neglected and disconnected, employees are expected to stay in touch and collaborate on projects on a daily basis. Yet, most companies that opt for the remote-first work model usually come across some challenges like:
Organizing team meetings across several time zones
Ensuring effective and timely communication
Creating an equally nurturing work environment for both remote and in-office employees
Finding suitable collaboration tools to support effective communication among employees
Tracking tasks and activities
Measuring productivity levels
Dealing with language and cultural differences
Ensuring regular payments
Taking care of employees' mental health
Making sure that all employees have access to relevant data and information
—
Most of the challenges listed here can successfully be solved by providing the remote workforce with a set of collaboration tools. Finding the appropriate ones for your business will mostly depend on the number of employees, the type of work they do, and their specific needs and responsibilities.
Take a look at our essential tools for remote-first companies checklist.👇
Essential tools for remote-first companies
Collaboration tools are great supporters of remote-first companies and enablers of effective communication. Thanks to the wide range of tools available, most remote teams have managed to overcome communication barriers and stay connected even when scattered across the globe.
Let's not forget that each company and every team come with a unique set of needs that have to be addressed. Resisting the urge to compare your company to others can be hard, but remember that what works for other companies doesn't necessarily have to work for yours, too.
When choosing the suitable tools for your team, you should make sure that they provide the following:
Easy navigation and use
A neat and clean design
Interactive and useful features
Safety
Cost-effectiveness
Availability across platforms
Great customer support service
Effective team collaboration
In general, all tools that support asynchronous communication will be of great benefit for remote-first teams. Their primary goal is to ensure effective communication among employees, regardless of their location, and support business progress.
So, without further ado, here are the must-have tools for starting a remote-first company.👇
📱Team chat apps
Team chat apps are great enablers of asynchronous communication and an integral part of the remote-first work model. Thanks to team chats, most remote companies can communicate daily, ensure a quick exchange of information, and get more work done. With team chat apps, employees can have one-on-one or group conversations, send links, and communicate across several important communication channels. Pumble and Microsoft Teams are two popular team chat app solutions.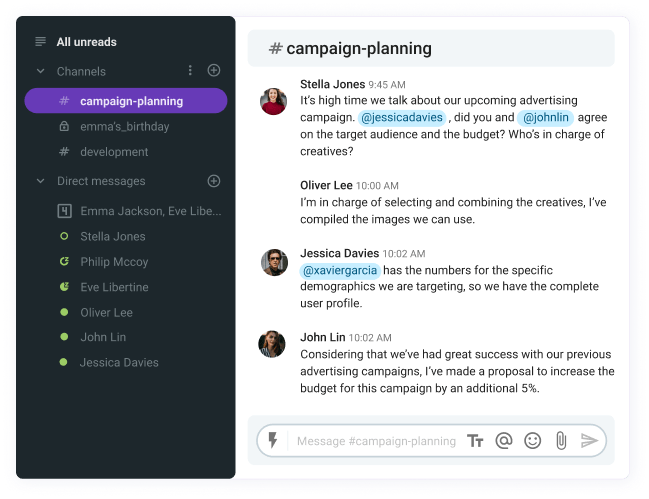 A great enabler of effective communication, Pumble is a free team chat app suitable for collaboration among remote and in-office team members. From the point of view of remote-first companies, Pumble is an outstanding tool that allows them to stay connected in real-time no matter where they are.
🔸 Pumble's role in remote-first settings: Master of unlimitedness
As a completely free team chat app, Pumble's strength lies in its unlimited chat history for an unlimited number of users. Plus, it has a generous 10GB of storage per workspace that remote users can rely on for sending relevant documents and images. Extra points go to Pumble's affordable pricing plan and a self-hosting service that can ensure maximum data security and privacy of remote-first companies.
🔸 Available for: Web, Mac (M1), Windows, Linux, Android, iPhone, and iPad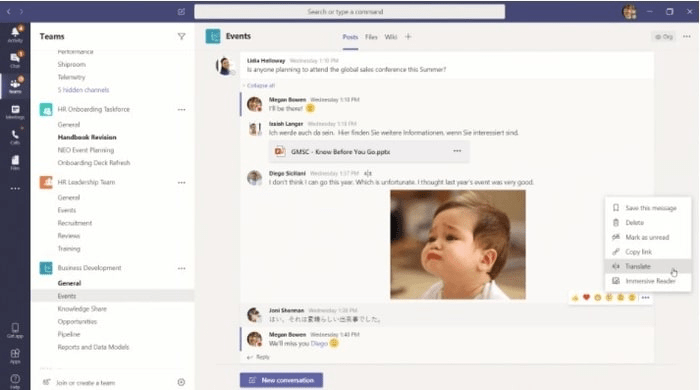 Microsoft Teams is another amazing cloud-based team chat solution aimed at providing remote organizations with a unique and all-encompassing experience. As of 2021, Microsoft Teams numbers a whopping 115M daily active users. Microsoft Teams is a fantastic option if you want to provide your remote team with a multi-functional communication tool.
🔸 Microsoft Teams' role in remote-first settings: Powerful digital workspace
Microsoft Teams is all about providing remote and hybrid companies with effective communication and natural workflow. Microsoft-prone organizations can indeed rely on Teams for quick one-on-one or group conversations, effective collaboration, and file sharing. But that's not all — the app includes a bunch of other features like video conferencing, a VoIP service, business phone, and screen sharing.
🔸Available for: Web, Mac, Windows, Android, iPhone, and iPad
📧 Email service
Email is a service that allows companies and enterprises to send individual or bulk emails and implement email marketing. Although email isn't a recommended tool for remote-first teams, a surprising 39% of businesses primarily use email for employee communication. Email is a convenient solution for initiating communication, gathering employee feedback, or handling external communication. We can recommend two popular email services, Gmail and Outlook.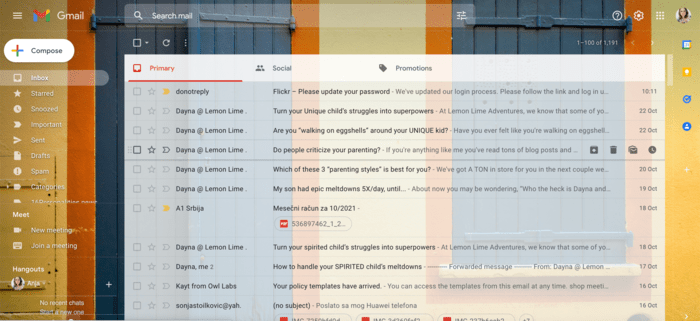 Gmail is one of the most popular and most secure cloud-based email services with over 1.8 billion users across the globe. Thanks to its intuitive design, cost-effectiveness, and availability across platforms, Gmail is the first choice for many remote-first and hybrid businesses, regardless of the number of their employees.
🔸 Gmail's role in remote-first settings: King of straightforwardness
As part of the Google Workspace package, Gmail allows its users to easily create and send emails and access other essential Google products. Neat and simple to use, Gmail makes emailing a breeze. Plus, it can easily be integrated with most third-party apps which can ensure easy workflow and save time. It's a great solution for companies whose employees are already emersed in the Google ecosystem.
🔸 Available for: Web, Mac, Windows, Android, iPhone, and iPad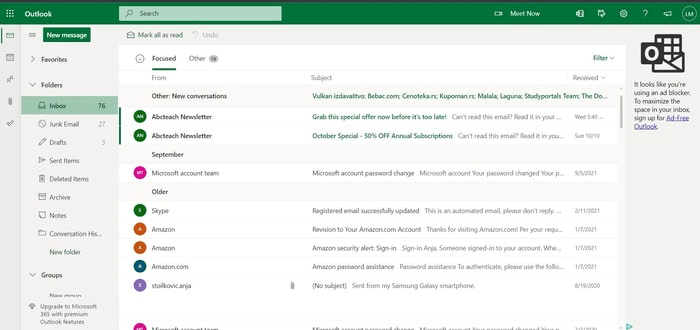 With about 400 million active users, Outlook is the second most popular email service in the world. Clean design, a variety of features, and an affordable pricing plan are what most remote-first teams are attracted to in Outlook.
🔸 Outlook's role in remote-first settings: Powerful integrator
A great thing about Outlook is that it integrates seamlessly with other Microsoft 365 apps and other third-party platforms, such as Trello or Dropbox. Even though email isn't the best way to communicate with your remote workforce, Outlook will be at your disposal when absolutely necessary. It's a practical and effective email solution for Microsoft-based remote companies.
🔸 Available for: Web, Mac, Windows, Android, iPhone, and iPad
💻 Video conferencing tools
Although not the same as in-person meetings, video conferencing tools have been improved to the point where they can provide pretty much the same experience. Remote and distributed teams rely on video conferencing apps for regular daily, weekly, and monthly meetings but also webinars, seminars, and workshops. We find Skype and Google Meet to be handy for meeting the needs of teams that work from different locations and across time zones.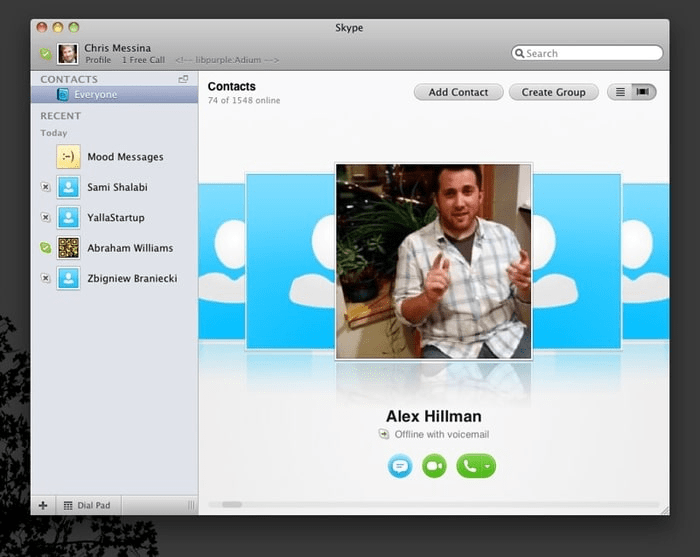 With its 300 million monthly active users, Skype is one of the most popular video conferencing tools worldwide. Besides being a great video meeting solution for remote and distributed teams, Skype represents a powerful communication service that also offers standard phones, rich text chatting, and live translation services.
🔸 Skype's role in remote-first settings: High-quality video supplier
Thanks to free high-quality one-on-one and group video calls, Skype seems to be one of the most convenient solutions for organizing video communication among remote employees. What's more, Skype allows easy screen sharing and has an affordable pricing plan that can satisfy the needs of larger teams as well.
🔸Available for: Web, Windows, Mac OS X, Linux, Android, iPhone, and iPad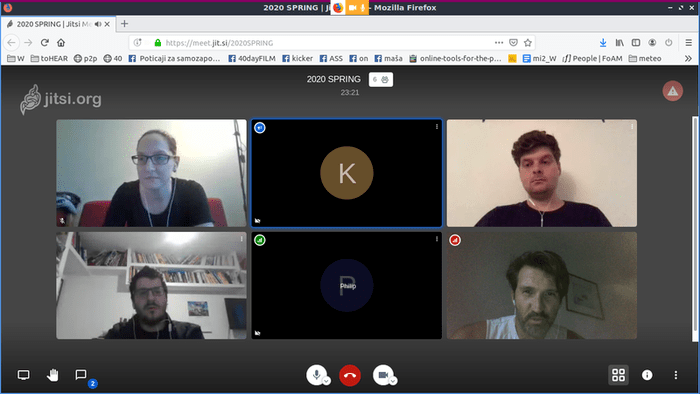 Companies that are deeply immersed in Google's ecosystem will find Google Meet a logical video conferencing solution. Overall, availability, security, and an intuitive layout are what make Google Meet stay among the leading video conferencing tools globally.
🔸 Google Meet's role in remote-first settings: Effortlessly familiar officer
Google Meet doesn't require an installation which makes it super easy to use — you can join meetings directly from other Google products like Docs, Sheets, or Calendar. With a Google Workspace subscription, you'll get access to other Google products to make your remote team's work even more effective and productive.
🔸 Available for: Web, Windows, Mac, Android, iPhone, and iPad
🗣️ VoIP service
A VoIP phone system is a technology that allows its users to make phone calls over the Internet instead of a regular landline or a mobile network. Since remote teams can be made of employees coming from different countries and time zones, a VoIP service can help them to communicate without additional costs. RingCentral and Nextiva are convenient tools that will ensure remote teams stay connected at all times.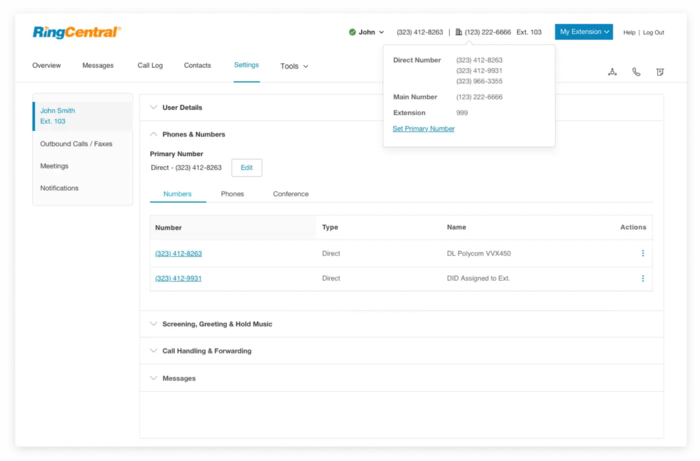 RingCentral is a cloud-based communication and collaboration software. Thanks to constant updates and a wide range of collaboration capabilities, RingCentral represents a secure and convenient VoIP solution for most remote and hybrid businesses.
🔸 RingCentral's role in remote-first settings: Comprehensive communication partner
RingCentral's highlight feature is its superb feature-price ratio. Not only does it provide its users with a diverse feature set, but it's also capable of handling the needs of small, midsize, and large remote companies for quite a reasonable price. Besides that, the platform also offers team messaging, video conferencing, and document sharing services.
🔸Available for: Web, Windows, Mac, Linux, Android, iPhone, and iPad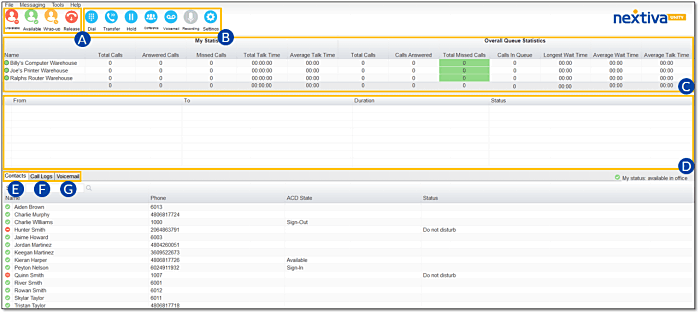 Nextiva is one of the most reliable cloud-based VoIP solutions that has grown to power more than 100,000 US brands. At the moment, Nextiva numbers over 80,000 customers around the world, including remote-first and hybrid businesses.
🔸 Nextiva's role in remote-first settings: Universally reliable servicer
The highlights of Nextiva include a stable and reliable VoIP service with almost 100% uptime and outstanding 24/7 customer support. And that's not all — with Nextiva, you can also get access to video meetings, a free virtual workspace for remote teams, and integrate it with third-party apps.
🔸 Available for: Web, Window, Mac, Android, and iPhone
📅 Calendar
The essence of a good calendar app can be summed up in its ability to help users spend less time scheduling and planning. Instead, a good calendar app should make it easy to create new events either from a phone or computer and keep everything synced regardless of the medium and time zone. Two great calendar apps that you can make use of are Calendly and Any.do.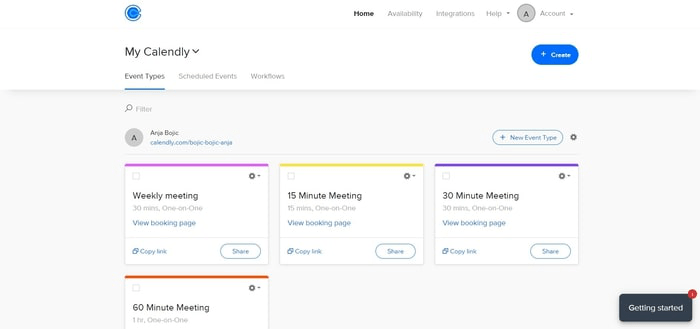 Calendly is a free online appointment scheduling software that allows in-office and remote employees to effortlessly schedule, conduct, and follow up meetings by eliminating the extensive use of email. According to their website, more than 10M users worldwide enjoy Calendly's service, most of which are remote-based workers.
🔸 Calendly's role in remote-first settings: Prudent helper
For most remote companies with a big number of employees and clients, Calendly is a great time saver. When working remotely, ensuring productivity and efficiency becomes a top priority — reducing the time spent on mundane tasks is what Calendly is all about.
🔸 Available for: Web, Windows, Mac, and Android,
Any.do is a useful and smartly designed mobile-optimized calendar app aimed at ensuring productivity in remote and hybrid companies and making sure their employees get more work done during the day. Millions are already using Any.do to stay on top of their busy agenda.
🔸 Any.do's role in remote-first settings: Seamless synchronizer
Thanks to a good combination of calendar features and to-do lists, Any.do saves remote employees' time by keeping track of their progress and reminding them of scheduled meetings and important events. With Any.do being available across several platforms, it will sync all meetings, to-do lists, and change availability on the go.
🔸 Available for: Web, Windows, Mac, Android, iPhone, and iPad
⏲️ Time-tracking software
Time-tracking apps are particularly valuable in a remote-first work setting. They allow remote employees to track the time they spend on specific projects and tasks. Plus, they give employers valuable insight into their employees' progress. These types of apps are used across many industries, but those who employ freelancers or hourly workers find them the most useful. Two excellent time-tracking apps that can help remote teams stay on top of their time management are Clockify and Hubstaff.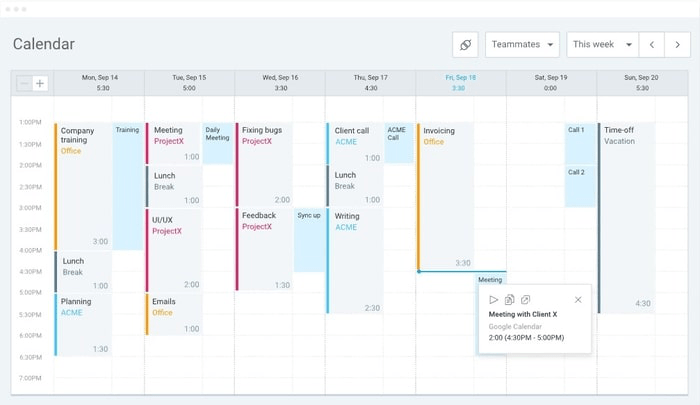 A free time-tracking software, Clockify will provide remote and hybrid companies with a comprehensive tool for monitoring their employees' progress. Remote and hybrid workforce can rely on Clockify for keeping track of how much time they spend on work-related activities.
🔸 Clockify's role in remote-first settings: Free productivity booster
The great thing about Clockify is that it provides remote employees with a completely free time tracking tool. You can use it to track the time remote employees spend on specific tasks and have an insight into how productive each employee is — regardless of their location. Clockify also allows you to create weekly reports and use them to analyze your remote teams' efficiency.
🔸 Available for: Web, Windows, Mac, Linux, Android, iPhone, and iPad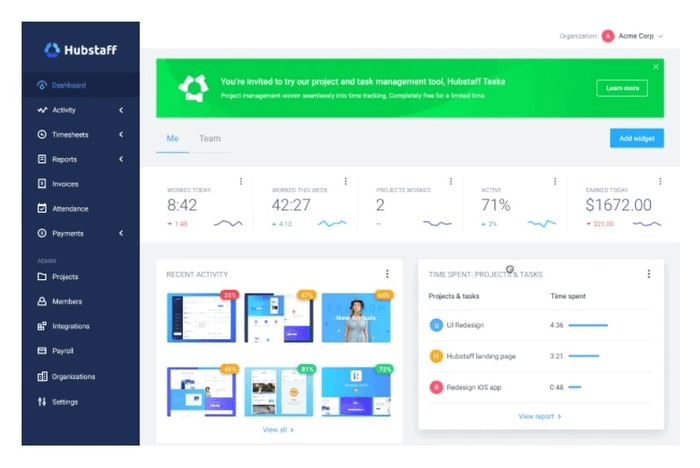 Hubstaff is a great all-in-one time tracking software that helps companies with remote and hybrid work arrangements manage their employees easily. With over 70,000 active monthly users, Hubstaff has gained the trust of more than 40,000+ businesses worldwide
🔸 Hubstaff's role in remote-first settings: The CEO of functionality
Starting with Hubstaff is pretty easy, thanks to its intuitive and functional interface. Depending on the number of employees, you can determine what your goals are and go from there. Hubstaff can help remote companies monitor the time employees spend on certain tasks, track the progress of different projects, or create detailed reports.
🔸 Available for: Web, Windows, macOS X, Linux, Android, iPhone, and iPad
⌨️ Project management platforms
Project management tools are great at helping plan, organize, and track employees' projects and tasks. In most cases, these provide information like who is working on what task at the moment, relevant info about each task, and due dates. They give team leaders a clear overview of the project and its progress. Trello and Plaky are two convenient and practical project management solutions.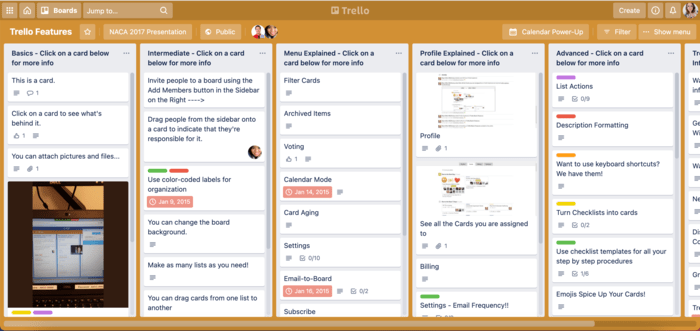 With more than 50M users and over 1M active teams, Trello is a handy project management tool designed to help remote-based and hybrid companies oversee project progress and monitor individual tasks.
🔸 Trello's role in remote-first settings: Kanban board captain
Thanks to its intuitive Kanban feature, Trello has become an invaluable collaboration tool for remote and hybrid teams. With Trello, remote-first companies can customize their boards according to their needs and create cards for each task. This way, you'll always have an overview of what has been done, what employees are working on at the moment, and what has to be done in the future.
🔸Available for: Web, Windows, Mac, Android, iPhone, and iPad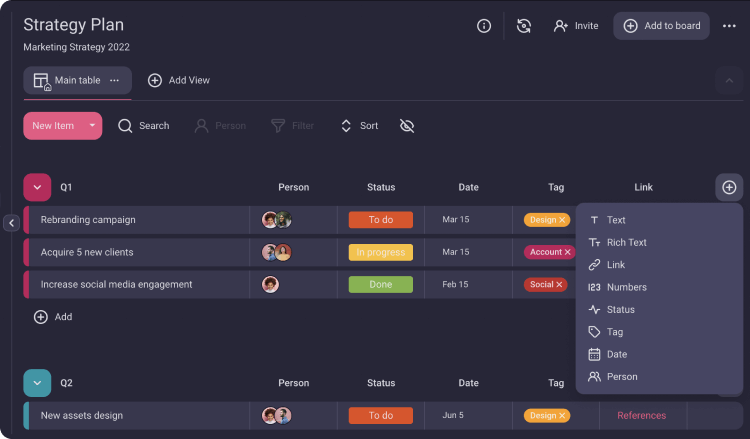 Plaky is a free project management platform that helps remote-first companies plan, track, and manage all sorts of projects and tasks.
🔸 Plaky's role in remote-first settings: Cost-effective task manager
Thanks to its free and unlimited plan, clean design, and diverse feature offer, Plaky is a useful tool that can ensure seamless remote project planning and development. Plaky will provide small and midsize companies with handy collaboration and task management software.
🔸 Available for: Web (iOS and Android coming soon)
📁 Document management service
Document management tools are used to store, share, and edit important company documents. Document management tools support asynchronous communication among remote employees and make it easier to collaborate on projects even when employees are working from different time zones. We've picked Google Drive and DropBox as the two most popular document management platforms.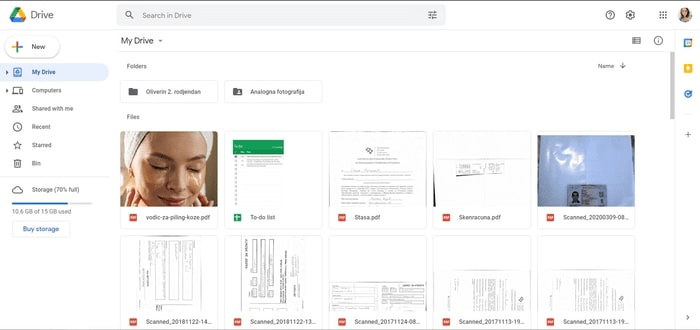 Coming from the great Google Family, Google Drive is a cloud-based document management service that provides remote-first companies with storage and syncing service. Over 1 billion users use Google Drive, including remote-based businesses and organizations.
🔸 Google Drive's role in remote-first settings: Generous storage wizard
Google Drive's distinguished reputation is maintained by its generous storage offer, affordability, and feature-richness. Creating, sharing, and editing documents has never been easier, even when your workforce is distributed across several countries and time zones. Whatever the storage needs of your remote-first company, Google Drive will be able to support it and ensure continuous workflow. It's particularly handy for existing Google Workspace users.
🔸 Available for: Web, Windows, Mac, Android, iPhone, and iPad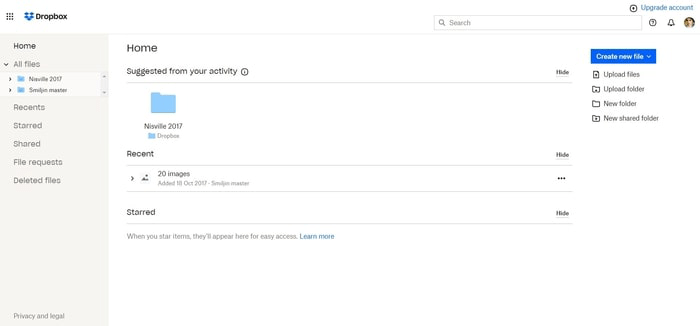 Since its launch in 2008, Dropbox has been one of the leading cloud-based document management software. According to recent updates, DropBox has over 700M registered users and 15.48M paying users.
🔸 DropBox's role in remote-first settings: Trustworthy storage magician
Designed to satisfy the needs of many, DropBox can be an invaluable storage solution for self-employed individuals, remote-based companies, and large corporations. Not only does it provide secure cloud storage and file sharing, but it also allows access to its productivity and content collaboration tools. Bonus points go to DropBox's additional features — Dropbox Passwords, Dropbox Vault, and HelloSign digital signature.
🔸 Available for: Web, Windows, Linux, Android, iPhone, and iPad
🪄 Graphic design programs
Graphic design tools are structured to help design professionals who work remotely create outstanding graphic materials and collaborate on current design projects. In most cases, graphic design tools are very easy to use so even employees from other teams can use them if necessary. Figma and Canva are two handy options that can satisfy the needs of most companies.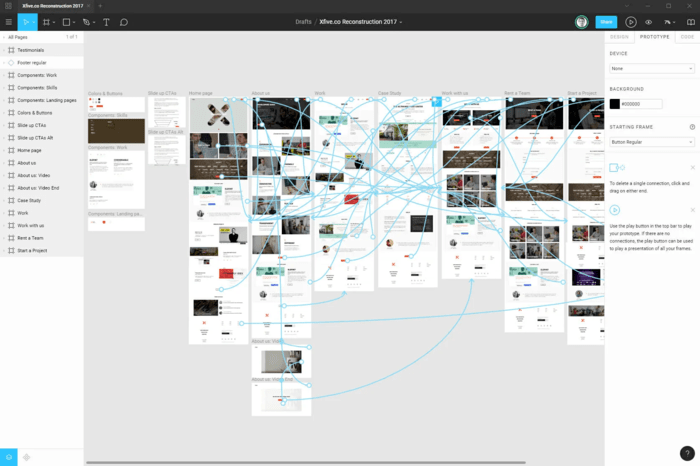 Figma is one of the slickest, most intuitive, and modern web-based tools designed for serious graphic design business, especially in remote and hybrid work settings. Since its launch in 2015, Figma has attracted over 4M users globally, including some of the tech industry's largest names — Twitter, Dropbox, Volvo, and others.
🔸 Figma's role in remote-first settings: Designer sanctuary
High-quality designs and effortless collaboration are what Figma is all about. Designers and non-designers will enjoy collaborating in Figma because it's so easy and smooth. Even when miles apart, employees would be able to deliver top-quality products in a heartbeat.
🔸 Available for: Web, Windows, macOS; Figma Mirror for Android, iPhone, and iPad
Canva is another notable tool that allows remote-first and hybrid organizations to collaborate on designs and create other visual elements. At the moment, Canva numbers over 55 million monthly active users.
🔸 Canva's role in remote-first settings: Queen of templates
Canva is a great solution for remote-first companies that don't want to hire a professional designer but still need a graphic design tool. With its template-packed library, Canva will turn everyone into an expert on creative design and allow them to generate unique visual materials, including presentations, video materials, and social media content.
🔸 Available for: Web, Windows, Mac, Android, and iPhone
🖍️ Online whiteboard platforms
Brainstorming, mapping, and diagraming are usually done with the help of online whiteboards. Online whiteboards are designed to ensure effective, real-time visual collaboration among remote team members, boost their productivity, and creativity. For these purposes, you can try out Miro or Lucidspark.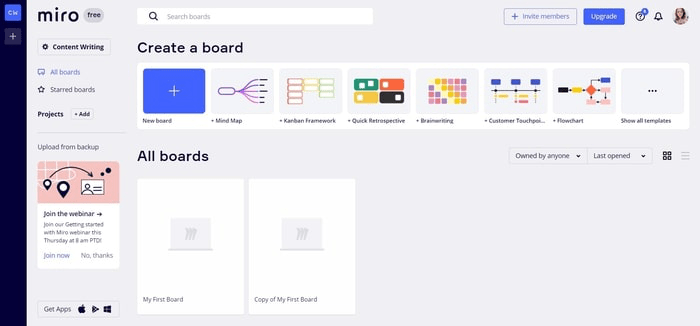 As one of the best online collaborative whiteboard platforms on the market, Miro provides remote-first and hybrid companies with the experience that in-office companies usually need — everyone can work together on projects as if they were in the same room.
Also, integration with other apps, such as Nifty, provides you a chance to connect this leading whiteboard software with the work that lives in other tools.
🔸 Miro's role in remote-first settings: Whiteboard charmer
For remote-first companies that rely heavily on brainstorming, building, and developing ideas in a visual setting, Miro is the way to go. Even working on complex projects and explaining complicated ideas seems like a piece of cake with Miro. Considering that more than 10M people across the globe have chosen this app to help them express their ideas visually and collaborate with their remote colleagues, you should give it a shot.
🔸 Available for: Web, Windows, Mac, Android, iPhone, and iPad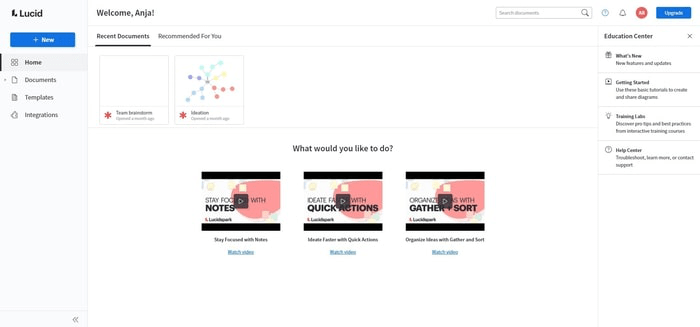 Lucidspark is another excellent tool designed to make the lives and work of remote-based teams as productive as possible. Lucidspark is a member of the Lucid Family, whose products are used in more than 180 countries by more than 30 million users.
🔸 Lucidspark's role in remote-first settings: Multilingual productivity canvas
Thanks to its brainstorming, diagramming, and presentation features, Lucidspark makes a solid whiteboard solution for most remote-first teams. But, what can be particularly attractive about Lucidspark is that it offers varied language support — besides English, the platform can be used in French, German, Russian, Portuguese, Spanish, Dutch, Italian, and Japanese.
🔸Available for: Web, iPhone, and iPad
🖥️ Virtual presentation software
Visual presentation software is designed to help remote teams organize visual content and include more structure in meetings. With this type of tool, each employee can create presentations, video presentations, infographics, and other visual materials. Communicating ideas visually and coming up with more innovative solutions has never been easier with Genially and Pitch.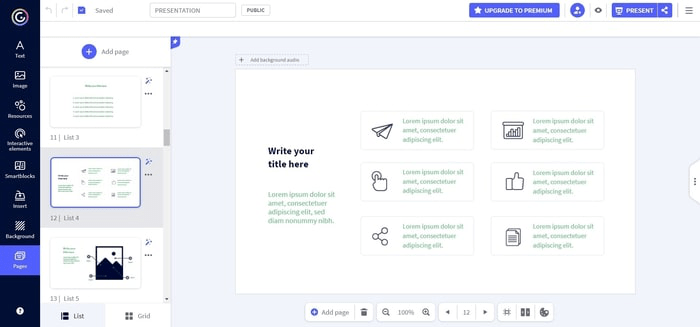 Genially is a unique web-based virtual presentation software that helps remote and hybrid teams collaborate and create interactive visual content in a blink of an eye.
🔸 Genially's role in remote-first settings: Affordable creative assistant
With Genially, all members of your remote-first company will become masters of creating visually interactive content. When in need of presentations, infographics, video presentations, and other visually interactive material, Genially will allow you to create it from scratch or give you a great template archive to choose from.
🔸Available for: Web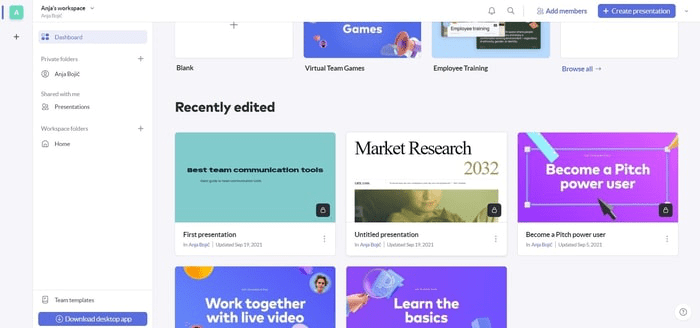 Satisfying the needs of tens of thousands of teams globally, Pitch is outstanding presentation software that ensures real-time collaboration among remote employees.
🔸 Pitch's role in remote-first settings: Elegant visual content librarian
No matter what industry your remote-first company is working in, Pitch will provide you with a wide range of templates to create unique and engaging visual content, like presentations, market research materials, and pitch and sale decks. Thanks to its avid media library, any remote worker will feel comfortable creating exceptional presentations.
🔸 Available for: Web, Windows, Mac, Android (beta), and iPhone (beta)
📝 Note-taking apps
Note-taking apps are a handy option to stay on top of important meeting notes, brainstorm new project ideas, and simply write down whatever seems important. Remote work is known to depend on written communication a lot, so having a reliable app to take notes on a daily basis can indeed make a difference. Evernote and OneNote can help with this.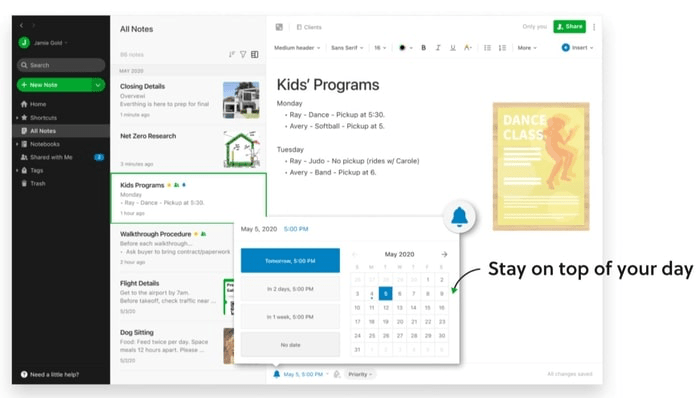 Evernote is an excellent cloud-based note-taking service that can help remote and hybrid employees stay on top of important tasks, weekly meetings, and keep everything in one place. Over 225M users have already chosen Evernote as their number one note-taking app.
🔸 Evernote's role in remote-first settings: Synchronized note organizer
With Evernote, remote employees will be sure that they can access all their important notes on their laptops, desktops, or smartphones. A customizable homepage gives a quick view of the most recent notes and showcases other handy features like a scratch pad, pinned notes, and a calendar. Plus, the app offers what few other apps have — a web clipping feature that allows you to clip content from the web and include it in your notes.
🔸 Available for: Web, Windows, Mac, Android, iPhone, and iPad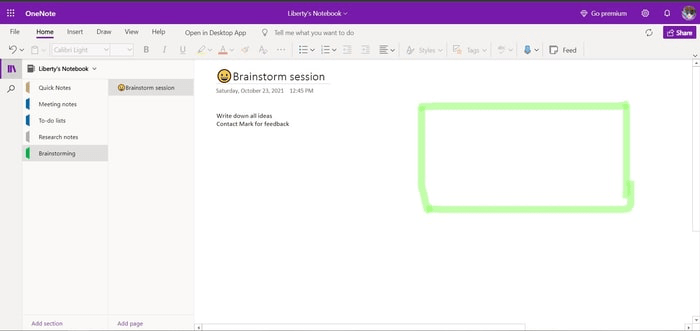 As part of the Microsoft Office 365 Family, OneNote is another first-rate tool for keeping notes organized, especially in remote and hybrid work settings.
🔸 OneNote's role in remote-first settings: Creative digital notebook
OneNote's highlight feature is reflected in its ability to easily create, organize, group, and synchronize your notes. Although its logical note-structuring is what most remote workers would be interested in, you'll be glad to know that OneNote can tend to the needs of creative minds as well. With OneNote, you can draw, add audio/video, images, and symbols into your notes.
🔸 Available for: Web, Windows, Mac, Linux, Android, iPhone, and iPad
✍🏼 E-signature tools
E-signature tools and platforms are a must-have for remote and distributed teams when it comes to signing important documents like contracts, NDAs, and other company records. A good e-signature platform will allow employees to sign any document in a matter of seconds, download the whole document, or send it directly to the employer. Thanks to SignNow and DocuSign, signing important documents over the internet has become an easy and secure procedure.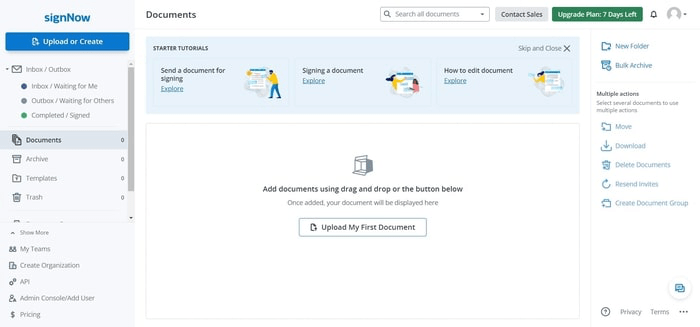 SignNow is a cost-effective e-signature service that can help companies with remote and hybrid workforces stay on top of important electronic document signing. The platform numbers more than 45,000 customers and almost 6M users.
🔸 SignNow's role in remote-first settings: Secure digital signer
Ever since its launch in 2011, SignNow has been updating its offer and is now providing its users with reliable advanced e-signature features, the ability to create document templates, and even a HIPAA-compliant digital signature solution. Capable of satisfying the needs of multiple industries, SignNow will ensure that the process of document signing becomes automatic.
🔸 Available for: Web, Windows, Linux, Android, iPhone, and iPad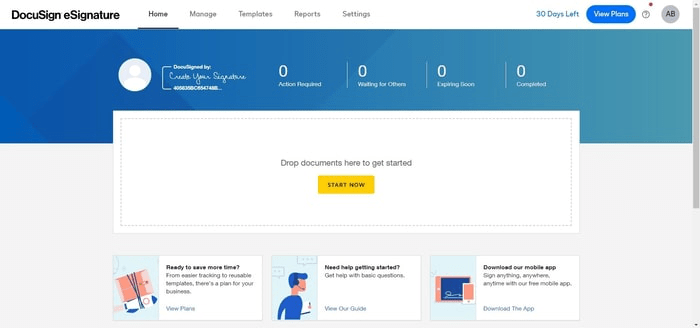 With over 1M paying customers and more than a billion users globally, DocuSign is an outstanding electronic document signing service that will ensure easy and secure document-signing even for remote employees.
🔸 DocuSign's role in remote-first settings: Economical e-signature aide
If your remote-first company needs a cost-effective platform for signing documents electronically, DocuSign is the right choice for you. The setup is pretty simple and the platform offers more than 350 integrations at a reasonable price. Additionally, DocuSign allows you to finalize your documents with appealing, unique branding options.
🔸 Available for: Web, Windows, Mac, Android, iPhone, and iPad
🧑👩 Employee recognition and reward programs
Employee recognition and reward programs are great tools used to give credit for special employee achievements, work anniversaries, and remarkable milestones. They can help define certain standards of performance and establish guidelines for evaluation methods of employee behavior. Two handy employee recognition and reward platforms are Nectar and Blueboard.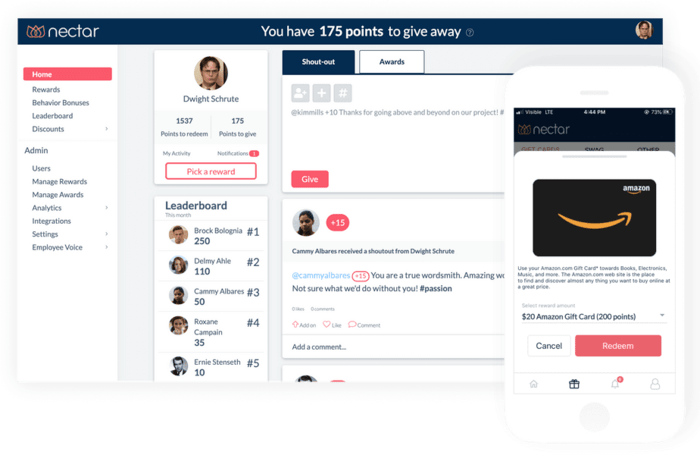 Nectar is a flexible, cost-effective 360 recognition software that allows remote and hybrid-based businesses to assess employee engagement and manage rewards.
🔸 Nectar's role in remote-first settings: Valuable recognition-enabler
Thanks to Nectar, remote companies can reinforce great work and motivate their employees to do their best regardless of their location. Promoting core values and fostering a nurturing remote work environment is made possible with manager-to-peer and peer-to-peer recognition. Besides integrating with third-party apps, Nectar has no implementation fees and allows companies to pay only for currently active users.
🔸 Available for: Web, Windows, Mac, Android, iPhone, and iPhone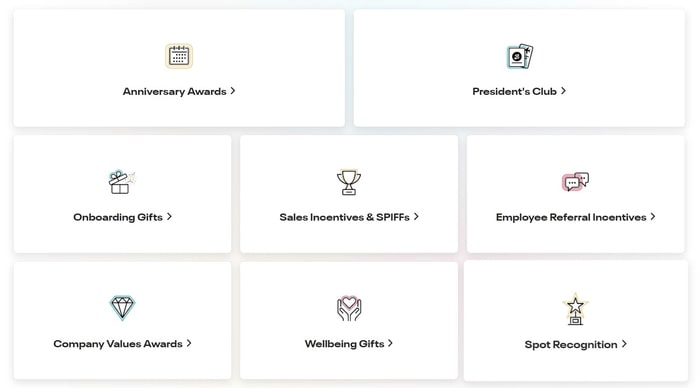 Blueboard is another user-friendly employee recognition and rewards platform that offers remote-first and hybrid-based organizations a wide range of amazing options to choose from.
🔸 Blueboard's role in remote-first settings: Memorable experience provider
Blueboard represents a unique platform that helps employers provide their remote workforce with personal, life-changing experiences. If you want to surprise your employees with unique gifts and rewards, Blueboard has got you covered. Skydiving, a tomato throwing experience, and a family zipline adventure are only some of the many exciting experiences available with Blueboard.
🔸 Available for: Web
💰 Invoicing
Invoicing apps are essential tools for handling the business accounting of multi-national teams. Thanks to invoicing apps, companies can keep track of all financial transactions and make regular payments to employees. Freshbooks and Zoho Invoice are practical and secure invoicing solutions.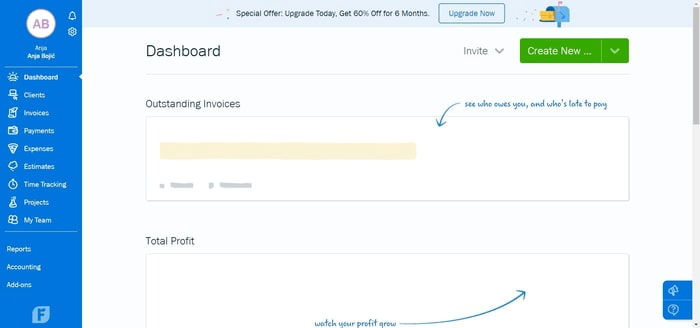 FreshBooks is a web-based invoice and accounting software designed to ease the work of freelancers, self-employed professionals, and remote businesses. According to their website, over 24 million people from 160 countries have already tried FreshBooks for invoice management.
🔸Freshbooks' role in remote-first settings: Automated billing assistant
With FreshBooks, remote-first companies won't have to worry about invoices and other accounting issues as the platform strives to make the whole process automatic. Plus, you'll get access to other useful features including expense tracking, time tracking, reporting, and managing payments.
🔸 Available for: Web, Windows, Mac, Android, iPhone, and iPad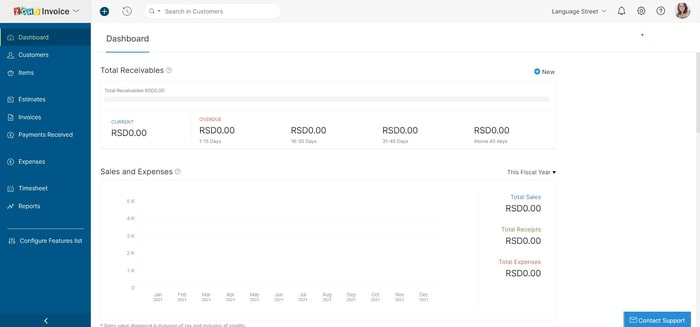 Zoho Invoice is a free, cloud-based invoicing solution designed to help starting businesses manage their invoices, even in remote and hybrid arrangements. At the moment, the whole Zoho Family of products numbers more than 60M users globally.
🔸 Zoho Invoice's role in remote-first settings: Reasonable financial helper
With Zoho Invoice, generating and sending invoices is done in a matter of seconds. The best thing is that the platform is completely free and allows companies to integrate with a number of third-party apps including Microsoft Office 365 and Google Workspace. A specially interesting feature for remote-based businesses is the fact that Zoho Invoice is available in 17 languages, which makes the whole process much easier.
🔸 Available for: Web, Windows, Mac, Linux, Android, iPhone, and iPad
💡 We know how difficult it can be to maintain effective communication in a remote-first setting. To help you with that, we've put together a piece on business communication words and phrases to use and avoid. Check it out!
Wrapping up
Starting a remote-first company might sound frightening at first, but don't let that intimidate you. With proper guidance, an adequate remote-first strategy, and the right set of tools to support your work model, the process can be easier than expected. Make use of our comprehensive must-have tools checklist to ensure the effortless transition for your businesses and your remote workforce.