As the world shifted to remote work, conducting performance reviews followed suit. Yet, the most recent workplace statistics revealed that managers generally dislike giving feedback to their employees. The same statistics revealed that, ironically, employees want more feedback.
With this discrepancy in mind, this blog post aims to shed new light on conducting virtual performance reviews in remote and hybrid work settings.
We will explain what a virtual performance review is and point out its importance in a remote work setting.
Finally, we will list and further elaborate on the best practices for conducting virtual performance reviews, so that both employers and employees can find a common ground.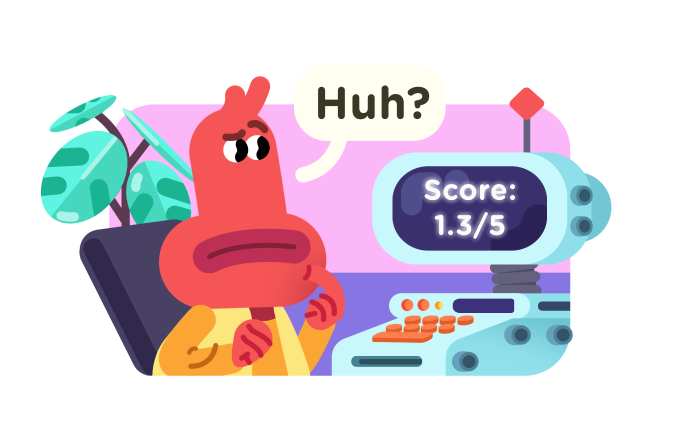 What is a virtual performance review?
A virtual performance review is a formal evaluation of an employee's performance conducted via an internet connection through a video conferencing tool of choice. 
Let's play a little game. Can you guess what Christina is doing?
Christina takes an early-morning bath to look fresh and clean.
She brushes her teeth and does her makeup (she aims for a natural look. She wants to avoid the impression of "trying too hard").
She puts on a nice shirt and nice pants (she doesn't want to be caught off guard if she has to get up to take something).
Christina sits up straight in her chair and joins a Google Meet call.
Her manager pops up on the other side, greeting her: "Hello, Christina! Ready?"
If your first guess was that Christina was preparing for a virtual performance review, you were right!
However, if you also thought that Christina was getting ready for a date… you wouldn't be too far off.
Much like on a first date, you're being evaluated during a virtual performance review, so you take great care of your presentation.
But what makes for a successful performance review?
Let me tell you a bit more about that.
Traditional performance review vs. virtual performance review
Just to paint a clearer picture about performance reviews, let's take a look at the definition. In most HR glossaries, a performance review (performance evaluation or performance appraisal) is defined as a formal evaluation in which a manager assesses their employees.
Performance reviews are focused on evaluating an employee's work performance, and more specifically on:
Identifying an employee's strengths and weaknesses.
Seeing if they made progress.
Talking about training opportunities.
Offering feedback.
Setting goals and expectations for future performance.
According to Bill Catlette, Partner at Contented Cow Partners (Leadership and Workforce Advisors), virtual performance reviews aren't that different from traditional ones: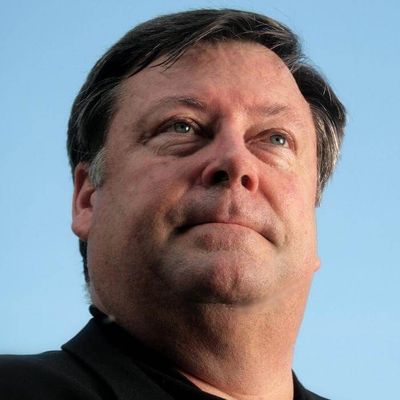 "As with a virtual meeting (e.g., virtual staff meeting) a virtual review is simply having the same discussion via connective technology such as Zoom. Ostensibly, the only thing that's different is that the parties aren't together in the same room.
That said, the same conversational practices and principles that enable other virtual meetings and conversations apply here as well.
Whereas you want the conversation to have good business-related information flow, take time to be human. Think of a physician or other clinician who has used good bedside manner with you. They were prepared, willing to listen, and let you be comfortable with the conversation."
Why are virtual performance reviews important?
In all work environments, virtual performance reviews play a paramount role in:
Promoting effective communication.
Providing useful feedback about job performance.
Rewarding top performers.
Helping struggling employees overcome obstacles and improve performance.
Giving employees direction and purpose.
Fostering better workplace relationships.
Contributing to an employee's professional development.
Increasing employee engagement and overall satisfaction.
But, as we moved to distributed and hybrid work arrangements, managers realized that providing employees with regular feedback helps avoid "blindsiding" them at formal evaluation time and reduces the stress that usually surrounds these reviews.
This often includes weekly or monthly one-on-one feedback sessions, sometimes even short emails or constant communicating via a team messaging app.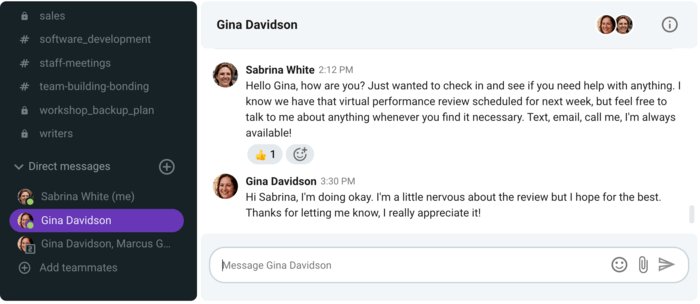 Catlette agrees that more regular check-ins are generally a good thing: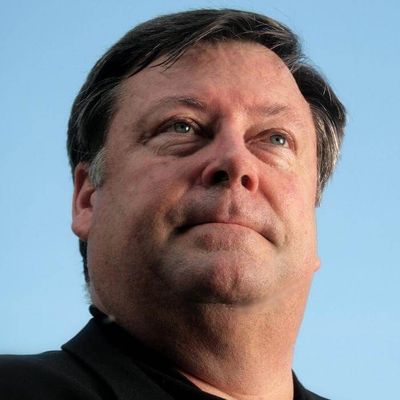 "One good change that some organizations have made is to have the conversational "check-ins" much more frequently so as to maintain recency, and avoid rehashing things that happened eight months ago."
What makes a virtual performance review good or bad?
In the following section, I'll focus on some key characteristics that can make or break your next virtual performance review. After all, we've learned that virtual reviews still differ from traditional ones, so they will come with their own challenges.
Bad virtual performance reviews
For a remote employee, a poor performance evaluation can be discouraging and demotivating. Here's what you should absolutely avoid when conducting a virtual performance review.
Performing a sermon: In some cases, a virtual performance review turns into a full-blown manager monologue with the manager listing all the things an employee has done poorly.
Approaching the review negatively: If you approach a performance review to criticize and make your remote employee feel awful about their mistakes, you're doing it all wrong.
Giving in to your personal dislike for an employee: Subjectivity and letting emotions rule will crush your employee's spirit and discourage them from even trying to speak out for themselves.
Not giving enough constructive feedback: If you want your employees' performance to improve, you have to provide specific steps for that.
Being biased: Although unintentional, proximity bias (i.e. the tendency to treat better those who work in your immediate vicinity) can be a silent killer of employee engagement and productivity in hybrid and distributed workplaces.
Not providing feedback regularly: If your practice is to give feedback only during the annual performance review, you'll have a lot to account for — just imagine what it would be like to have a year's worth of feedback given to you during a one-hour virtual performance review.
Good virtual performance reviews
When I asked Catlette what a good virtual performance review looks like, he said: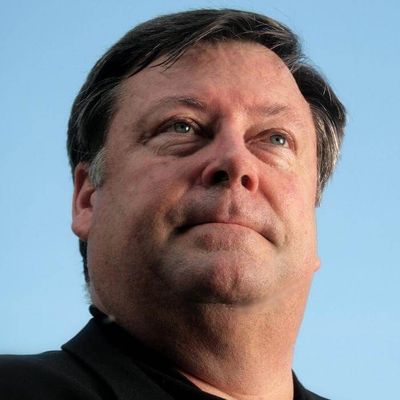 "Any performance review, virtual or otherwise, is intended to be a thoughtful, candid, and helpful conversation about various aspects of the person's recent work performance and intended career path with the organization."
To clarify this further, let's look at the elements of a good virtual performance review.
Empowering employees to do their best: When they are empowered rather than criticized, employees find it easier to reflect on their mistakes and come up with more effective solutions.
Creating a sharing environment: Inviting your employees to ask questions and share their standpoints during a performance review is a good way to help them relax and make them trust you.
Balancing out the positives and negatives: Don't let the negativity overshadow the positivity — focus on pointing out employees' strengths and offering help for working on their weaknesses. This will minimize the chances for a disconnect and give direction to both of you.
Clear expectations for future work: When employees know what was expected of them, it might be easier to understand where they fell short and show them what next steps to take.
Providing meaningful and specific feedback: Don't be afraid to be specific and honest when giving feedback, it's usually what every employee wants. Knowing you're making a genuine effort to help them will make them feel appreciated and valued.
Encouraging further growth and setting goals: Showing interest in your employee's personal and professional pursuits and helping them achieve them will encourage them to always have a plan for the future and never stop improving themselves.
Tips for conducting better virtual performance reviews
Considering that a remote performance review isn't a "one and done" thing, you should know how to behave before, during, and after it. Stay tuned for a detailed list of 14 useful tips to help you on this journey.
They will come in three groups:
Tips to implement before a virtual performance review.
Tips to implement during a performance review.
Tips to implement after a performance review.
1️⃣ What can managers do before conducting a virtual performance review?
Preparing for a performance review will help you feel more comfortable about the entire process and increase your chances of getting your message across.
Take a look at what I've highlighted as the most important steps to consider before the review itself.
Be serious about conducting virtual performance reviews
The way you approach remote performance reviews will determine how successful they will be. After all, knowing why you are doing this and taking the necessary steps to make it a mutually agreeable and beneficial experience will make it easier for you to follow through.
Catlette supports this point of view, emphasizing that leaders should set a good example: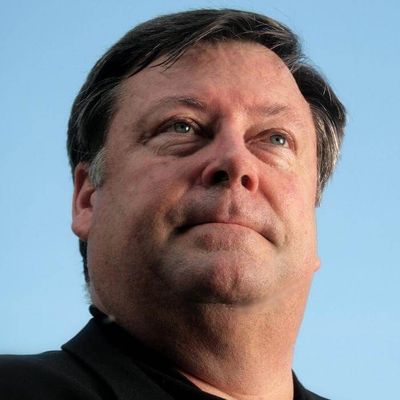 "Employers need to decide, from the very top of the organization, whether or not they are going to be serious about doing the reviews. If senior leaders aren't willing to prioritize and do them, setting a good example, then all bets are off."
It's a manager's job to establish reviews as a positive practice in the organization. So, consider doing this:
Talk about the performance review process more often, even in informal settings.
Discuss the concept of virtual performance review during weekly and monthly meetings to minimize the negativity surrounding it.
Prepare your remote employees for future virtual performance reviews by sending out a short guide.
Organize a virtual performance review mock-up to show your remote employees what to expect.
Acknowledge the working conditions of each remote employee
Working in remote, hybrid, and distributed work environments can make it hard to always be aware of the conditions each employee works in:
Some might be juggling toddlers, work from home, and household chores.
Others might be taking care of their elderly family members and working long hours in the evening.
Perhaps some of your remote employees don't even have a home office so they go to their friend's house or a different coffee shop each day to work.
Being aware of your remote employees' backgrounds and working conditions can help you understand their performance better and make sure to provide them with better chances for success.
💡 Pumble Pro Tip
Managing a remote or hybrid workforce comes with a unique set of challenges. Read more about what issues you can encounter and how to work on eliminating them:
Prepare some questions in advance
The benefits of having a set of questions ready before the virtual review are many:
It can make it easier to maintain the flow of the performance review and help avoid awkward silence.
It can help minimize the chances of miscommunication.
It can show your genuine interest in what is going on with your remote employee, both at work and in life.
It can help paint a wider picture of the employee's working conditions.
It can help you learn what skills your worker needs to work on.
Don't avoid asking even the tough questions because they can help employees get out of their comfort zone and support growth and progress.
Fine-tune your leadership communication skills
As executives, everything you say and how you say it affects not only your employees but your entire organization.
That's why you should adapt to every communicative situation and know which communication style to employ to reach your employee and get your message across.
Catlette believes that working on their coaching skills can help managers and leaders conduct better remote performance reviews: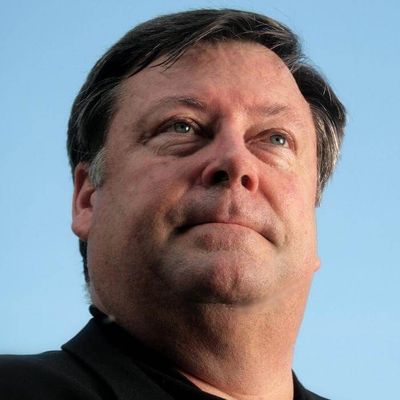 "Leaders would do well to work at strengthening their leadership coaching skills by adopting and practicing a defined coaching model that will guide them through these types of interactions.
I can recommend a book entitled "The Coach" (Starcevich & Stowell) which offers a very straightforward, well-researched, useful model."
To be a successful coach to your people, you should never stop improving your coaching skills.
💡Pumble Pro Tip
Being a successful leader requires constant work. To make sure you're going in the right direction, we have two resourceful texts written specifically for helping leaders improve their communication skills:
Have a set of backup collaboration tools ready
Adapting your collaboration tools to the remote working environment is essential to all aspects of communication, including completing the performance review successfully.
Besides a secure and reliable video conferencing tool, always have a list of backup tools you can use in case of malfunction. Consider the following:
VoIP service: This enables you to conduct calls over the Internet. This is a great solution for hybrid and distributed teams — especially the ones working across several countries and time zones.
Business messaging app: Instant messaging apps come in handy for communicating in real-time, particularly if there's an issue with other collaboration tools you use for conducting remote performance reviews.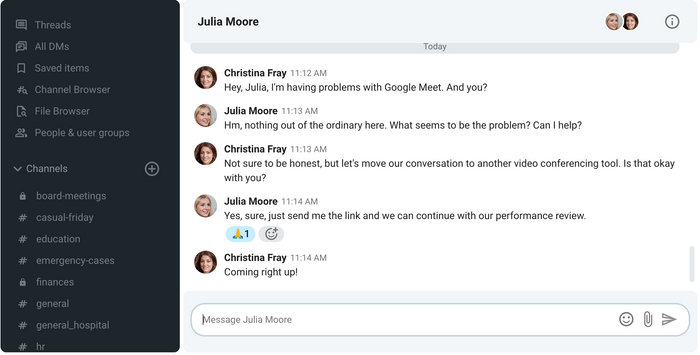 Mobile phone service: This should be your last resort in case of an internet malfunction. Although virtual performance reviews are better off done via a video conferencing tool, it's smart to have this as another backup option, too.
Use performance evaluation forms
Although the wide offer of online collaboration technology is making it easier to conduct remote performance reviews, having a few evaluation forms at hand can't hurt you.
You can use them before conducting the review to collect relevant information and know what to focus on during the review itself.
There are two types of evaluation forms you can use:
Goals-based Evaluation Form, and
Self-evaluation Form.
🔸Goals-based Evaluation Form
You can use this Goals-based Evaluation Form to evaluate the performance of your employee against a set of goals or objectives.
With our template, remote employees can:
Write down their observations and comments about previous goals.
Write down their observations and comments about future goals.
Add personal notes and comments.
You can download our free Goals-based Evaluation Form Template here:
⏬ Download: Goals-based Evaluation Form Template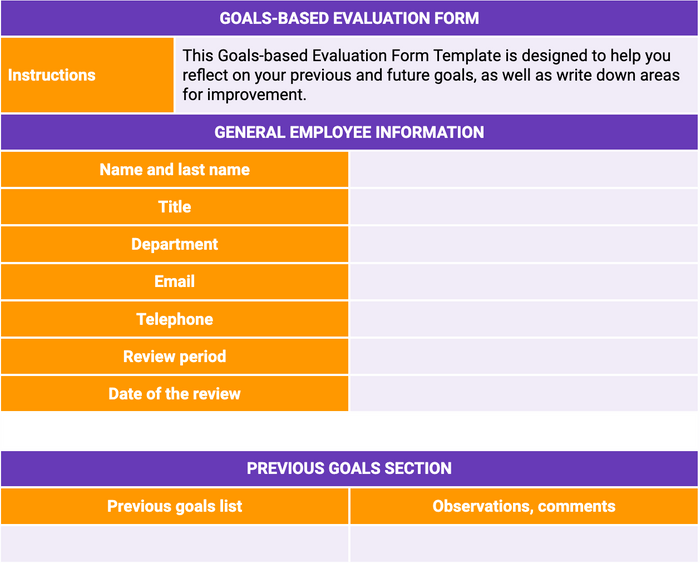 🔸Self-evaluation Form
You can use this Self-evaluation Form to encourage critical thinking in your employees and allow them to assess their own work experience.
Thanks to a self-evaluation form, employees can:
Reflect on their current responsibilities.
Assess their goals and objectives.
Evaluate how their work aligns with the company goals.
You can download our free Self-evaluation Form Template here:
⏬ Download: Self-evaluation Form Template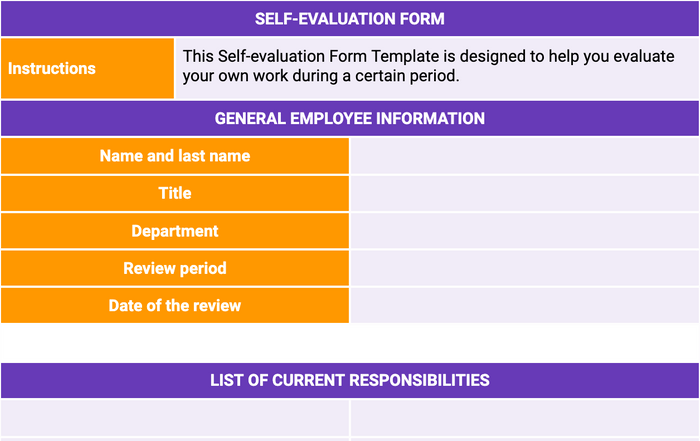 2️⃣ What can managers do during a virtual performance review?
As we focus more on a people-centered approach at work, we also have to minimize the stigma surrounding these performance reviews.
Of course, you have to dodge a few bullets to make a virtual performance review work — but why not make it a desirable experience in the workplace, too?
I hope that some of these tips will give you more direction on what you should do while conducting virtual performance reviews.
Create a positive and relaxed atmosphere
In 2021, the entire world went remote, with about 70% of all US employees working remotely, says the 2021 State of Remote Work report by Owl Labs.
This translated into countless daily, weekly, and monthly virtual meetings — and made the employees start to dislike meeting virtually with their managers and team members.
Since performance reviews now have to be done virtually, you should know that your employees might approach them with a "lets-get-it-over-with" attitude.
But, if you want to turn virtual performance reviews into an agreeable experience, here's what you can do:
Open up with a witty remark or remind them of a funny moment you had together before the review.
Share some details from your everyday life to help your employee relax and get comfortable.
Let them see how invested you are in the entire procedure by listening actively and even taking some notes.
If you appear nervous, your employee will sense it even over the camera. Remember, this should be a mutually enjoyable experience!
Make room for two-way communication
A virtual performance review should be seen as an opportunity for a sincere conversation between the manager and the employee. This is a great way to boost their morale and improve engagement.
According to Catlette, creating an environment in which two-way communication comes first can do the trick: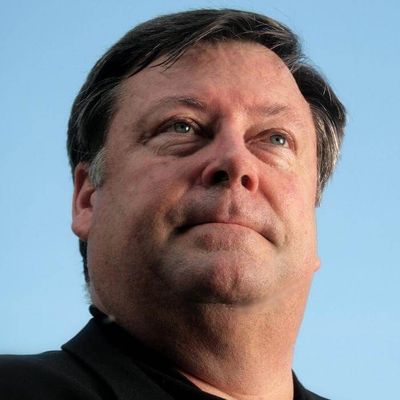 "The performance review process is intended to be an earnest conversation between two adults about the person's work performance and career path, NOT about filling out another form.
The parties to the conversation need to be prepared, respectful of one another, willing to listen (really listen), and willing to be coached."
Look for the empath in you
In Businessolver's 2021 State of Workplace Empathy study, 68% of CEOs said they are afraid of being less respected if they show empathy in the workplace.
But, it's high time that leaders and managers took to establishing empathy as another remote workplace essential, alongside hybrid communication and collaborative leadership.
Managers should also focus on rewriting their internal communication policies to make room for compassion, trust, and humanity in the workplace, too.
So, if you're performing virtual performance reviews for the right reasons, I'm sure you won't find it hard to showcase empathy and great listening skills along the way, too.
Let your remote employees know you're working in their best interest and they will be more than happy to return the favor.
Mind your words
Before you start the performance review, it's wise to remind yourself of what is acceptable to say and what isn't. Words can hurt, even when unintentional.
And, when I say mind your words, I don't mean to use corporate buzzwords and empty phrases when addressing serious topics. The point here is to make your employee feel comfortable enough to relax during the virtual review.
Make sure to maintain transparent communication and be specific when giving feedback. Employees genuinely want to know what they are doing well and what they should work on, so make sure to provide them with precise answers.
Here's a list of words and phrases to avoid when conducting remote performance reviews:
Generic words and phrases such as "good" or "bad", also "keep up the good work", "way to go", or "nice work".
First-person words and phrases like "I", "me", "my", etc.
Emotive language i.e. words and phrases that evoke an emotional response.
So, even if you have to talk about their weaknesses and point out mistakes, with the right choice of words you could make it all sound less scary and uncomfortable.
💡 Pumble Pro Tip
Since there's a lot of talking in most workplaces, we've got some tips on what to say and what to avoid. Check out these texts from our blog:
Talk about the future
Even though performance reviews are mostly focused on evaluating previous work, goals, and responsibilities, devoting some time to discussing future plans and goals is important, too.
How can this help?
You can find out more about what your employees have planned for their personal and professional development.
You can allow your employees to express their thoughts and ideas in a safe space.
You can help your employees learn more about their own expectations and goals.
You can get an insight into what you should work on to ensure a more enjoyable experience for your employees.
3️⃣ What can managers do after a virtual performance review?
I hope you know that completing a virtual performance review doesn't mean it's all over. To ensure the employee follows through with what you discussed in the review, it's desirable to do a few things after it, too.
If your idea is to proactively communicate with your people and remove the taboo label from performance reviews, here you can find concrete steps to achieve that.
Send a follow-up message
Staying in touch in the days and weeks after the virtual review can help your employee stay on track with their goals. This particularly rings true for virtual performance reviews that end on a negative note.
The truth is that the more you communicate with your employees, the easier it will be to support their professional growth and make them an invaluable asset to your organization.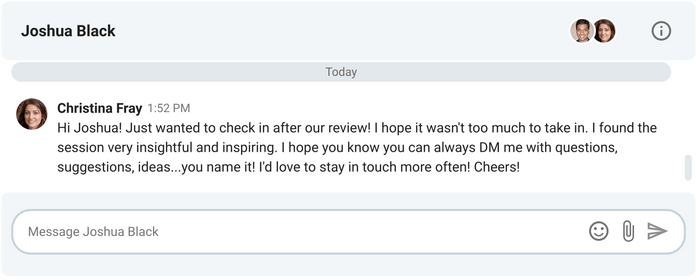 Choosing the right communication channel is essential for making an impact with your follow-up message.
For this purpose, try to steer clear from email and use an instant messaging app to send a follow-up message instead. It's quick, easy, and effective.
💡 Pumble Pro Tip
Pumble can help you replace email in communication and allow you to collaborate with your co-workers more efficiently. Take a look at Pumble's full offer and pricing here:
Provide support and guidance
According to the Global 2021 Burnout Study prepared by Dr. John Chan, the managing director of Infinite Potential, and Sally Clarke, a burnout expert, an author, and coach, burnout has increased over 5% globally in the past 12 months.
This indicates that employees are in desperate need of support and guidance at work, apart from the regular meetings and continuous feedback.
The participants of the Global 2021 Burnout Study identified actions that would provide them with more support at work, help them overcome common workplace issues, and minimize the effects of work-related stress:
Actions done by the organizations, such as embedding wellness practices into company culture, reviewing responsibilities to ensure manageable workload, and educating managers on understanding burnout and identifying common workplace stressors.
Actions done by the managers, like understanding better their employees' workload, modeling desirable wellbeing behaviors, and securing weekend time-off.
Actions in general, such as allowing employees to have a mental health day off without additional questions, recognizing workers for their contributions, and allocating time for learning new skills.
As highlighted before, performance reviews can be a source of stress for many employees. But, if you know what areas to address, you are already one step ahead.
Don't hesitate to reach out with additional support and guidance, your people will appreciate it.
Commit to regular feedback
Many agree that maintaining regular communication before and after the virtual performance review is key to breaking the stigma around them in the long run.
People and Culture Lead at Inspirant Group, Erin Mohideen, reflects on this: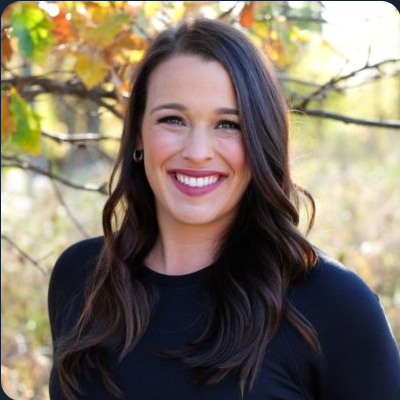 "I'd like to emphasize that virtual performance reviews are infinitely more effective when performance feedback is ongoing instead of performed on an annual basis.
You are giving feedback to someone because you care about them — so be sure to offer them the attention they deserve during the process."
Waiting for the next quarter or year to give your employees constructive feedback might be an unwise move.
The more you talk about potential improvements and discuss workplace obstacles, the better. Next time you're participating in a remote performance review, both you and your workers might actually enjoy it.
Final thoughts: Don't wait for the annual performance review to give constructive feedback
Employees want more feedback! And we want it more often. Even if it's not all "good news", we want to know.
It helps us see our weaknesses realistically and look for ways to improve.
It also shows us you value our efforts and are working in our best interest.
I hope that you (managers and team leads) have found this short guide on conducting virtual performance reviews useful. I did my best to provide you with a detailed list of specific tips you can use to improve the overall performance review experience.
I just want to remind you that there's no need to wait for the formal review to tell your employees what they need to hear — if you do it more often, you're giving them a chance to improve on the go.
Invest your time in communicating constantly with your people and you'll get to see them stress less about formal virtual performance reviews.
It's not too late to start now! Good luck!