How productive and well-connected can a team be without a reliable video conferencing solution?
Google Meet and Zoom are two of the most popular video conferencing apps available. Both come with a set of similar features, so picking the right app for you and your team can be challenging.
To help you make an informed decision, I've compared the two solutions and jotted down my observations.
Now, without further delay, let's start and try to settle the Google Meet vs. Zoom dilemma!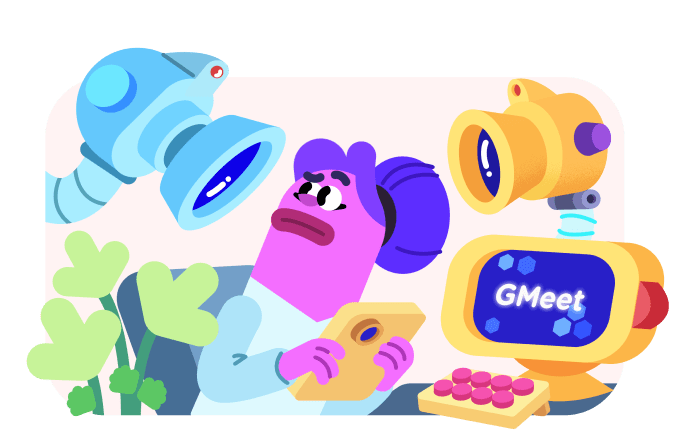 Google Meet vs. Zoom: Main features comparison
The main differences between Google Meet and Zoom are the setup, interface, and number of third-party app integrations. While setting up and navigating a meeting is smoother with Google Meet, Zoom's impressive number of third-party app integrations opens up more collaboration opportunities.
Here's a side-by-side overview of the apps' main features.
Features
Google Meet
Zoom
Pricing
$0 to $18 user/month
$0 to $19.99 month/license
User Interface
Clean
Sophisticated
Maximum participant capacity
1,000
1,000
Meeting length
– 24 hours max;
– 1 hour in the free plan
– 30 hours max;
– 40 minutes in the free plan
Communication
– Screen sharing,
– Recording meetings (on paid plans),
– Group messages during a call,
– Live meeting transcription (on paid plans),
– Breakout rooms
– Screen sharing,
– Recording meetings,
– Group and individual messages during a call,
– Live meeting transcription (on paid plans),
– Breakout rooms
Audio and video call settings and reactions
– Joining restrictions,
– Hand raising,
– Emoji reactions
– Joining restrictions,
– Hand raising,
– Emoji reactions
Cloud storage
Starting from 15 GB per user
Starting from 1 GB per license
Integrations
200+
1,500+
Support
24/7 support
24/7 priority support (across all paid plans)
Security
Solid security
Questionable security
Google Meet is more affordable than Zoom, but Zoom's features pack a punch
Google Meet (formerly Hangouts) is available for free on the Google Workspace platform, and this version offers free meetings for up to 100 people with a 1-hour meeting length limit.
On the other hand, Zoom offers a slightly weaker video conferencing experience in the free version. It limits group calls to 40 minutes, and there's no cloud storage for meeting recordings.
Because of this, I think teams with limited budgets would prefer Google Meet, as it offers more free options.
For the purposes of this review, I tried the free 30-day Zoom Room trial and the free 14-day trial for the Google Workspace Business Plan. These trials gave me a good taste of both platforms' capabilities.
However, both apps have paid plans that give access to more features.
The most affordable Google Meet plan comes at $6 per user, per month, which is comparatively more reasonable than Zoom's equivalent, which costs $14.99.
With this Google Meet plan, users can enjoy digital whiteboarding and upgrade to 30GB of cloud storage per user. And, even though the storage refers to the whole Google Workspace, it still trumps Zoom's offer of 1GB of cloud recording storage per license.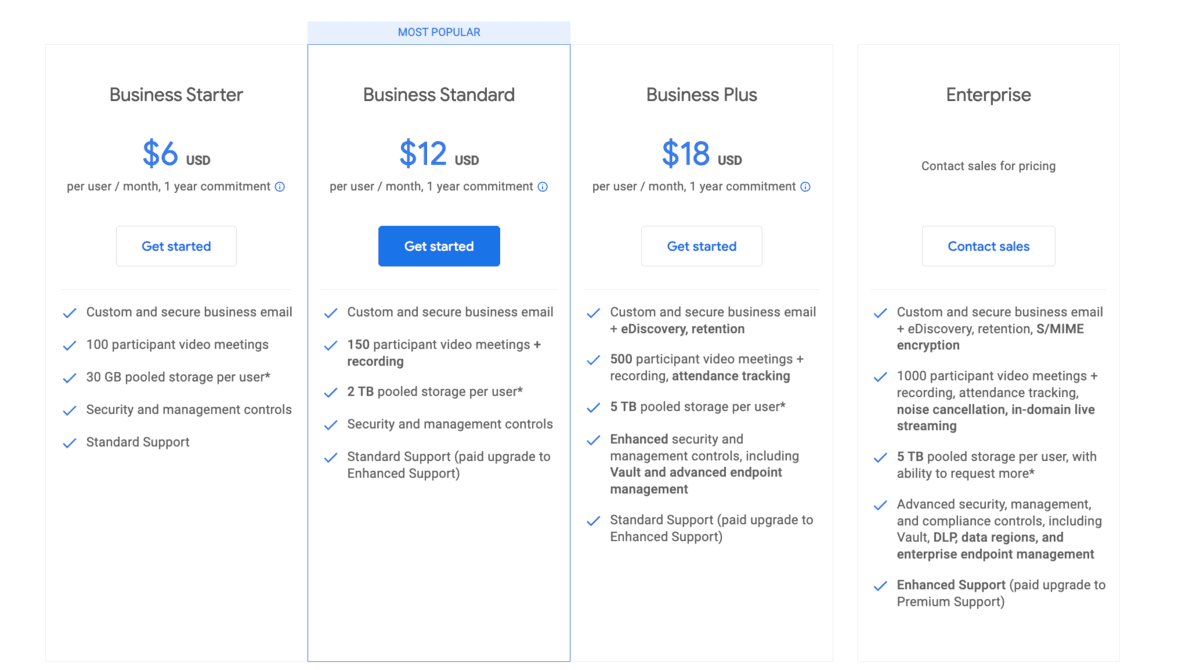 But, even in the cheapest plan, Zoom supports:
Polling,
Breakout rooms,
Reporting, and
User management.
Unfortunately, not all users will find it enough to justify the price.
The Business Plus Plan from Google Meet costs $18 per user, per month, providing quite the upgrade. With maximum participants capacity upgraded to 500, it also features:
Digital whiteboarding,
5 TB of cloud storage per user,
Polling and Q&A,
Breakout rooms, and
Attendance tracking.
Although the Business Plus package is a step up from Meet's Business Standard deal (priced at $12 per user, per month), the latter is more than enough for small teams and organizations searching for an affordable and secure video communication tool. With the Standard package, you can invite up to 150 meeting participants and enjoy Meet's Standard Support.
There's also a custom Enterprise plan available upon request.
Zoom's equivalent to Google Meet's Business Plus Plan is $19.99. It offers a similar set of features, except that the maximum number of participants is 300, and there's only 1 GB of recording storage per license.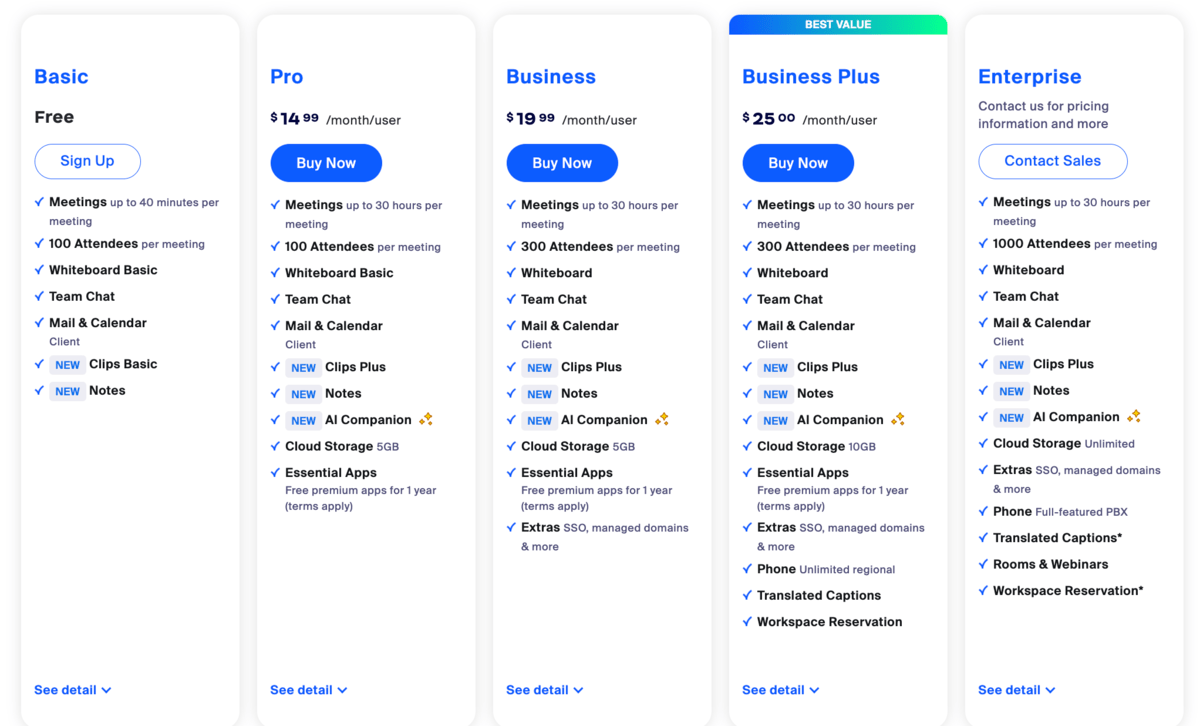 Google Meet is more user-friendly but lacks Zoom's more robust features
Like many of Google's products, Google Meet is known for its signature user-friendliness. While you don't have to be particularly tech-savvy to use Zoom, the app's robust features could pose a learning curve to new users.
With Google Meet, all you need to do to arrange and host sessions is set up a Google account. After setting up your account, you can navigate to the Google Workspace toolbar (previously called Google Suite) and start or schedule meetings with just 1 click.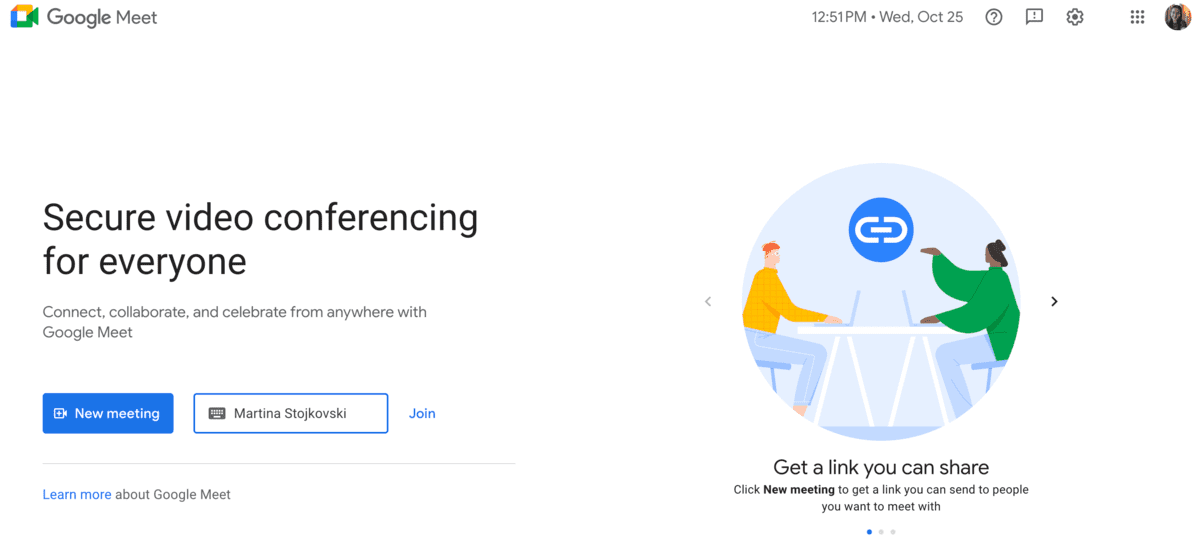 In addition to being easy to use, the app anticipates the video conferencing needs of its users before they even set a virtual foot in the meeting.
For example, as I was about to join my meeting, the app registered that I was slightly out of frame and promptly directed me to the Use Framing in Video Settings.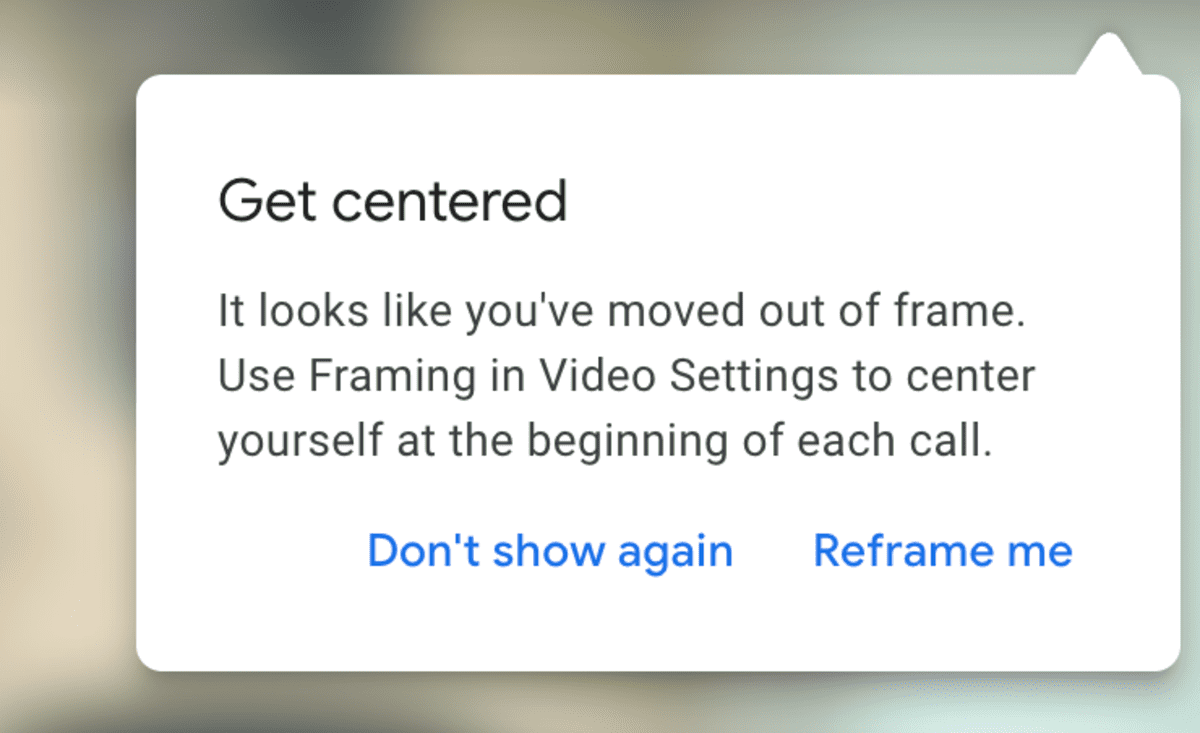 Similarly, I could test the video and audio quality before joining — quite handy for a remote worker like myself.
Zoom, while also user-friendly, offers a more feature-rich but slightly more complex platform. It requires a Zoom account for instant or scheduled meetings. While lacking pre-meeting checkups, it compensates with in-meeting diagnostics focusing on microphone and speaker issues.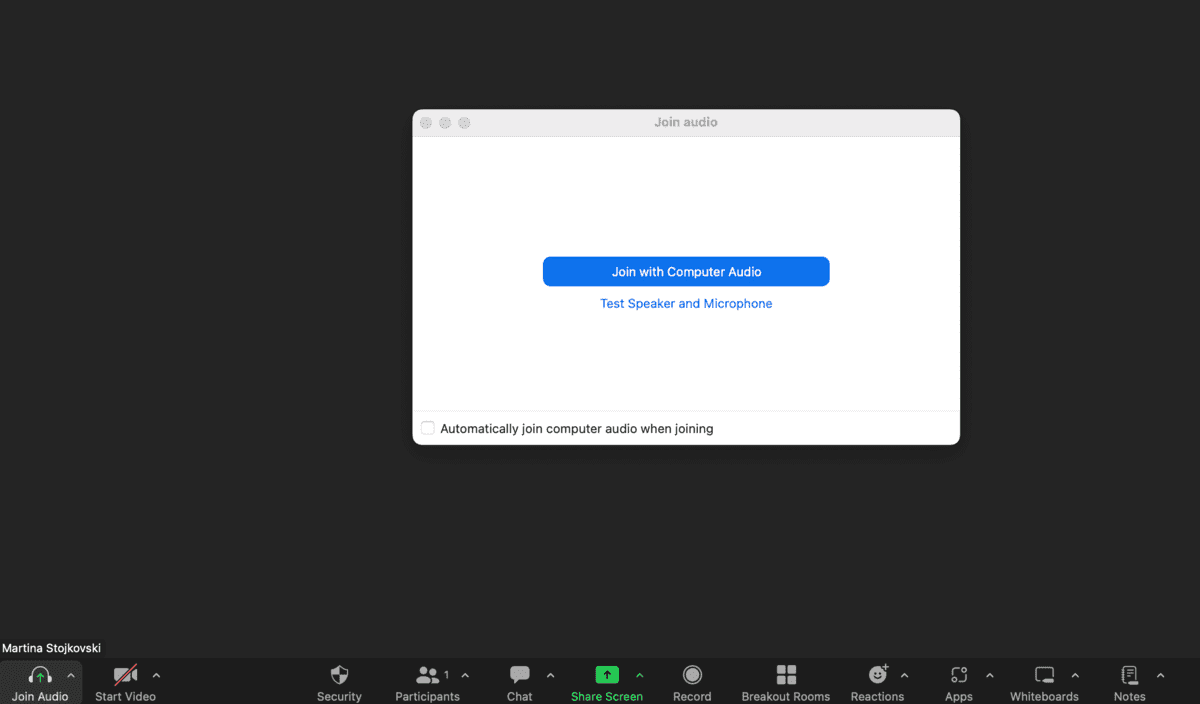 The Settings screen might seem cluttered initially but provides ample customization options.
Not to mention, Zoom excels over Google Meet in several aspects when it comes to personalizing your virtual meeting experience. Thus, you can:
Use extensive keyboard shortcuts,
Access many app integrations, and
Enable support for additional cameras.
💡 Pumble Pro Tip
Zoom isn't the only app rivaling Google Meet. If you want to see what it looks like when Google Meet and Microsoft Teams go head to head, check out this thorough comparison:
Both Google Meet and Zoom provide good chat capabilities, but there's room for improvement
Although most well-known in the video conferencing arena, both Google Meet and Zoom have also invested time and effort into offering reliable chat capabilities.
When it comes to chatting via Zoom, the app's main appeal is that you can message another meeting participant privately during an ongoing session. On the other hand, Google Meet has yet to roll out a similar feature — you can only send messages to the group chat all meeting attendees can see, so no chit-chatting with your favorite coworker until the end of the session.
Moreover, you can use emojis only via add-ons, whereas this option is readily available in the Zoom chat.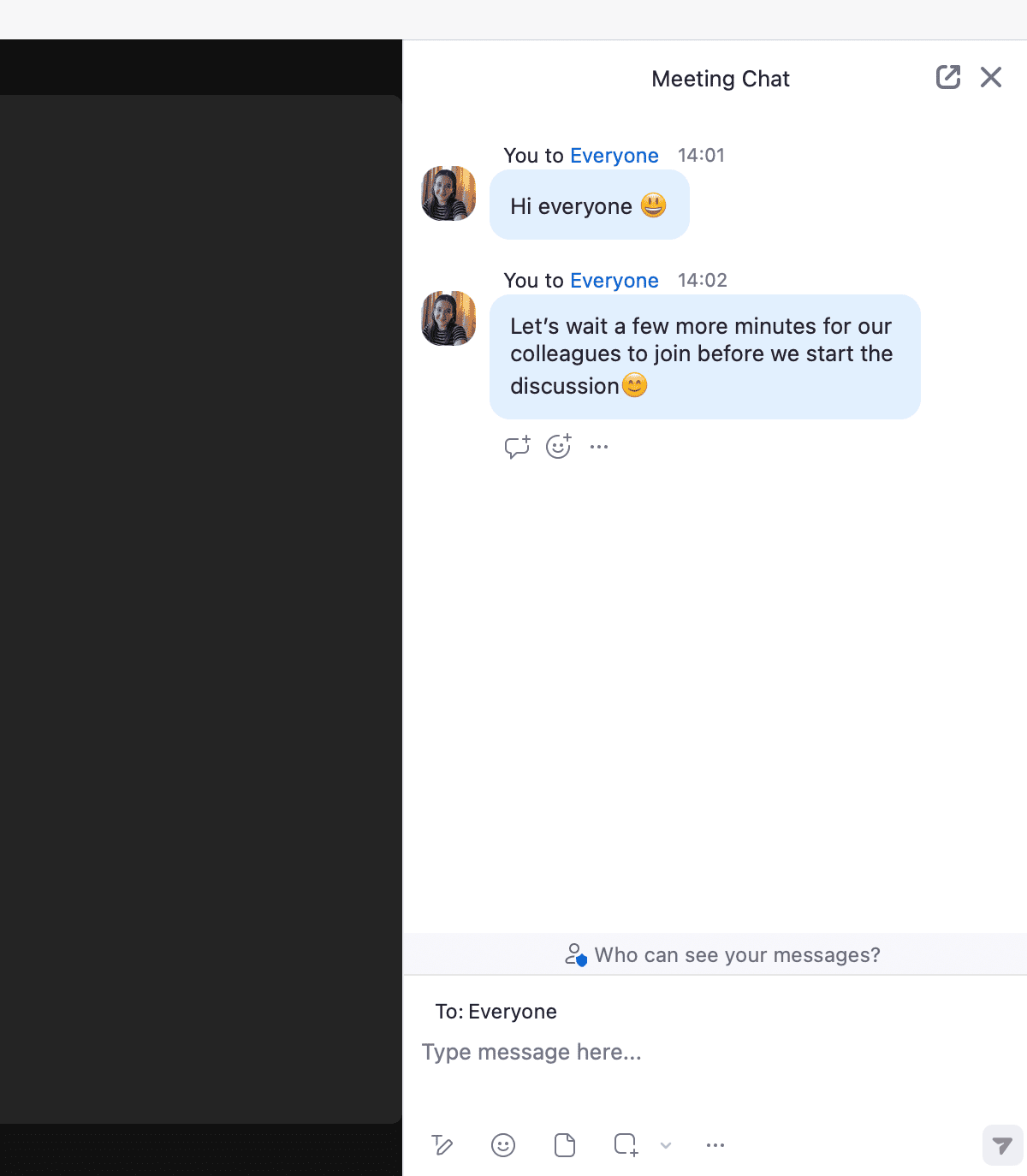 Fortunately, both apps have taken into account that users might want to retrieve the chat logs of recorded meetings. Thus, as you follow the recording, you can also keep an eye on what the in-chat message may be referencing.
Yet, in my experience using both platforms, I've noticed that neither has native support for GIFs. Like emojis, GIFs help us express our opinions and emotions without using too many words, so this may be something both platforms can consider adding in the future.
Additionally, if you are a little bit late to a Zoom or Google Meet session, you won't be able to see the in-chat messages other attendees exchanged before your arrival.
Plus, if — for example — you exit a meeting and rejoin 4 minutes later, you'll be unable to view the messages exchanged within those 4 minutes. Of course, the host can share the recording of the meeting and its chat log with all participants, but it would be more handy to have access to in-chat messages regardless of your joining time.
Both Google Meet and Zoom boast solid security, but Zoom has had a few hiccups
Security is another key category when it comes to Google Meet vs. Zoom dilemma. It can make all the difference, especially for businesses and organizations using these tools for communication and collaboration. Unfortunately, security is a touchy subject with Zoom, so Google Meet has the upper hand regarding security right off the bat.
Zoom still has to work on damage control caused by some of the serious security incidents, including Zoom-bombing — uninvited attendees disrupting meetings— and encryption algorithm vulnerability revealed in 2020. Although the Zoom team has put immense effort into amending these issues, organizations that require maximum security may still be on the fence.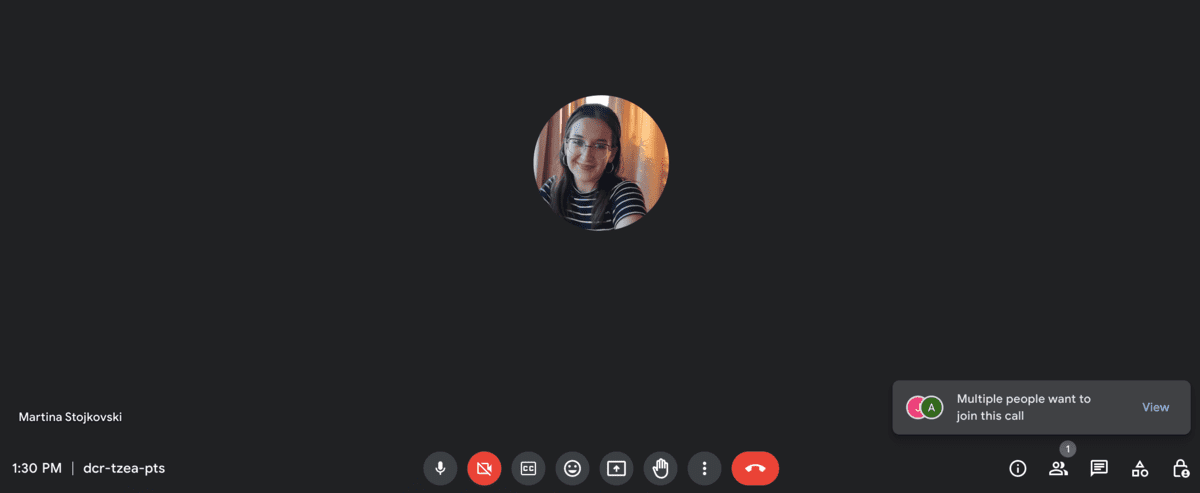 To enter Google Meet meetings, users need a Google account, which automatically excludes uninvited participants and allows easier host control of potentially disruptive participants. In Zoom, you can join a meeting as a participant only, without signing up. Even though hosts can set up passwords to regulate who can join, it is still not the safest solution.
Both services have joining restrictions. Google Meet allows you to control how early participants can join if you have a Google administrator account, while Zoom has waiting rooms — both of which restrict people from entering until hosts let them in.
Strong, randomly generated meeting codes are available in Google Meet, whereas Zoom offers passwords.
By default, Google Meet has access to Google's built-in protections in addition to endpoint management data vaults and security dashboards on the Enterprise plan.
Google Meet offers longer meeting lengths with its free version
Both Google Meet and Zoom offer limiting group meeting lengths in the free plans — in Zoom, you can only hold 40-minute group meetings for free, while Google Meet lets you host free group meetings of up to 60 minutes.
The meeting length is Zoom's biggest disadvantage, considering how unmanageable it is to host effective meetings with up to 100 participants the app allows in such a short amount of time.
Although this is still restricting, an additional 20 minutes that Google Meet offers can sometimes make all the difference.
In Google Meet's paid plans, you get up to 24 hours for group meetings, while Zoom offers a maximum of 30 hours per meeting — as no one is going to hold group meetings of such lengths, longer limits in the free plans would have been more welcome.
Google Meet and Zoom can accommodate the same number of participants, but Zoom offers more integrations
Both Google Meet and Zoom allow you to host a free meeting with a total of 100 participants. With the paid versions, the maximum participant capacity increases significantly, jumping to 1,000 participants in Google Meet and Zoom.
Note that Zoom makes this possible via a Large Meeting add-on, which can be pricey as it starts at $600 per year. Without this add-on, Zoom's maximum participant capacity remains at 500, so Google Meet gets my vote in this round.
But, video conferencing is only about numbers, and Zoom has attracted a wide range of users thanks to its many integrations.
The tool integrates with over 1,500 third-party apps. You can find everything you need to make your workflow more productive by browsing through categories such as:
Analytics,
Broadcasting & Streaming,
Productivity,
Project Management, and
Games.
Moreover, Zoom also does a great job in terms of transparency. If you click on any app in the Zoom app marketplace, you'll be able to access detailed information on the app permissions and what it can access when it's not actively in use.

Conversely, Google Meet supports over 200 integrations with leading apps such as:
Trello,
HubSpot,
Square,
Evernote,
Zapier,
Freshbooks, and
Slack.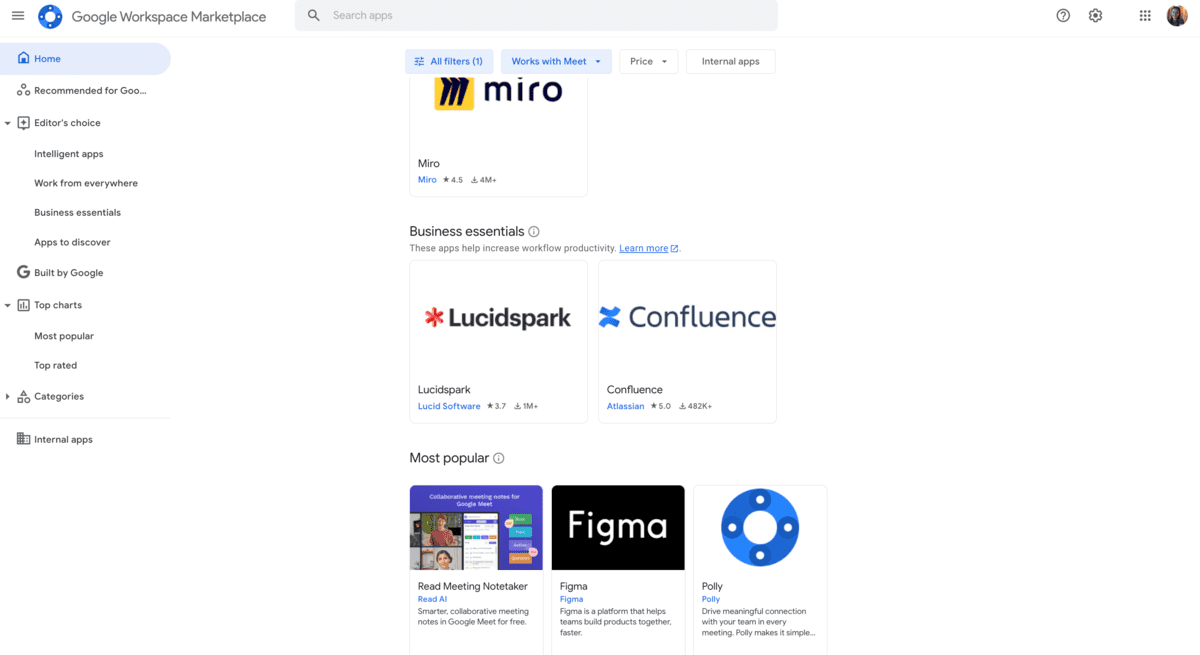 Although this is a comparatively smaller number than Zoom's third-app gallery offer, Google Meet still lets you create a dynamic workspace to streamline your communication and collaboration.
And, Google Meet integrates seamlessly with other popular Google services such as:
Gmail,
Calendar,
Drive,
Chats,
Sheets, and
Docs.
This makes it easier to manage all aspects of your virtual meetings in one place.
💡 Pumble Pro Tip
We've been exploring how Zoom and Google Meet compare, but what happens when we put Zoom to the test against other communication solutions? To learn more, see the detailed posts below:
Google Meet is web-based, while Zoom is available as a desktop and mobile app
Google's tools are known for being entirely web-based, and Google Meet is no exception. Although you can use Zoom in your browser, the tool also caters to users who prefer to launch meetings from their desktop.
Once you launch a meeting in Google Meet, you can join it through a new browser window without opening a desktop app.
Zoom, however, has rolled out desktop versions for:
Linux,
macOS, and
Windows.
If you prefer to do everything in your browser, Google Meet might be the right fit for you. Yet, it's easy to get lost in dozens of opened browser tabs — an issue you can avoid by installing one of Zoom's desktop clients.
What stood out to me as I was testing both tools was the superior mobile experience Google's solution provided.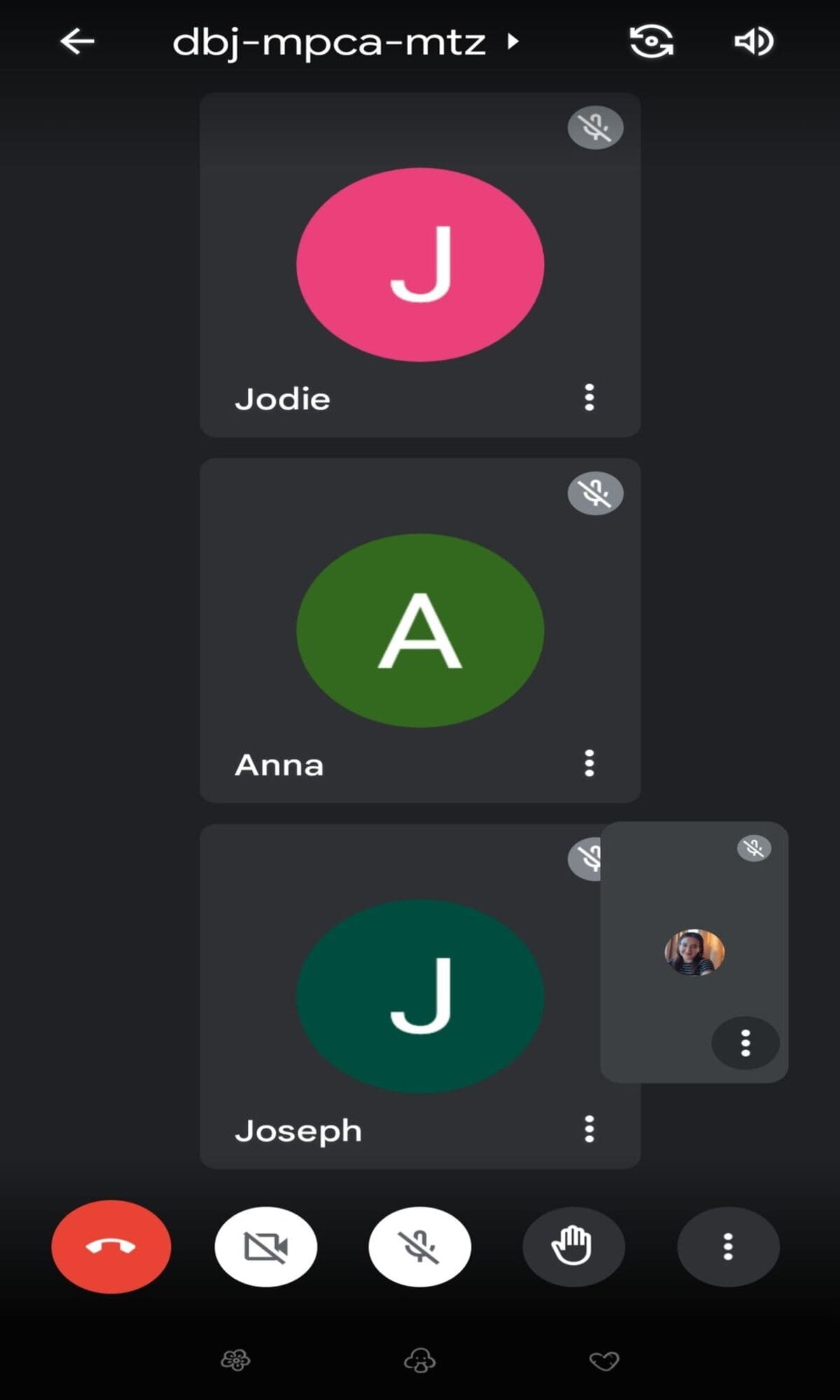 In the dedicated Zoom mobile app, hosts lack many of the controls they can enjoy on their laptops, including:
Starting breakout rooms,
Launching polls, and
Streaming meetings.
This isn't the case with Google Meet, where hosts enjoy the same functionalities on their laptops and mobile devices, which include:
Screen sharing,
Organizing polls and Q&As,
Displaying subtitles.
You can create webinars on your iOS or Android device and present slides without worrying about security, as the platform encrypts all meetings in transit. 
Google Meet gives users ample cloud storage
Google Meet is the definitive storage champion, and by default, every Google Meet user gets 15 GB of cloud storage space included in the Google Workspace plan. Granted, not all of this storage is for meeting recordings only. However, it's still more than generous, especially in comparison to the zero you get for free in Zoom.
Even in the Pro and Business plans, Zoom offers only 1 GB per license, which can't compete with what Google Meet offers in its paid plans — 30 GB, 2 TB, and 5 TB per user.
Only Enterprise plans provide a level playing field for Zoom and Google Meet, with both offering unlimited cloud storage space. Still, many organizations would rather choose more affordable plans in Google Meet that allow for substantial cloud space for meeting recordings.
Google Meet or Zoom: Which should you use?
Google Meet may be a good fit for users who:
Work in small or medium teams on a strict budget,
Already use Google Workspace,
Prefer user-friendly technology,
Want an app with a solid security system, and
Appreciate a seamless mobile experience.
On the flip side, Zoom could work better for users who:
Are part of large teams,
Want access to more advanced collaboration and communication features,
Enjoy using desktop apps,
Want a solution that allows connecting a second camera, and
Wish to integrate with more apps outside of Google's ecosystem.
But, if you're not convinced either of these will meet your needs, you can look into some alternative options.
Looking for a Google Meet or Zoom alternative? Try Pumble
If you're still uncertain whether Google Meet and Zoom are right for you and your team, perhaps you should try a different solution like Pumble, a business communication app.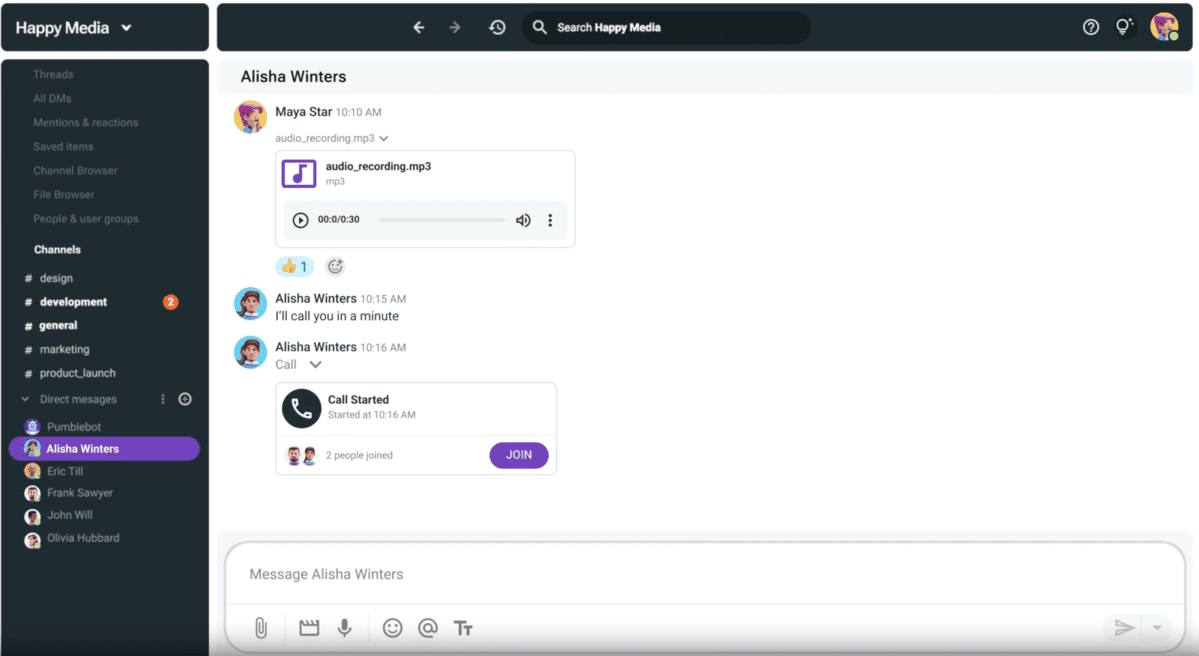 With Pumble, teams can leverage asynchronous communication to their advantage. All you need to do is tap your coworker's name and take your pick of how you'll reach them — you can:
Send a DM,
Record an audio message,
Launch a video meeting immediately, or
Start an audio call.
And, if you've agreed to hop on a video call at a later date, you can share the meeting link so that your coworker doesn't show up late.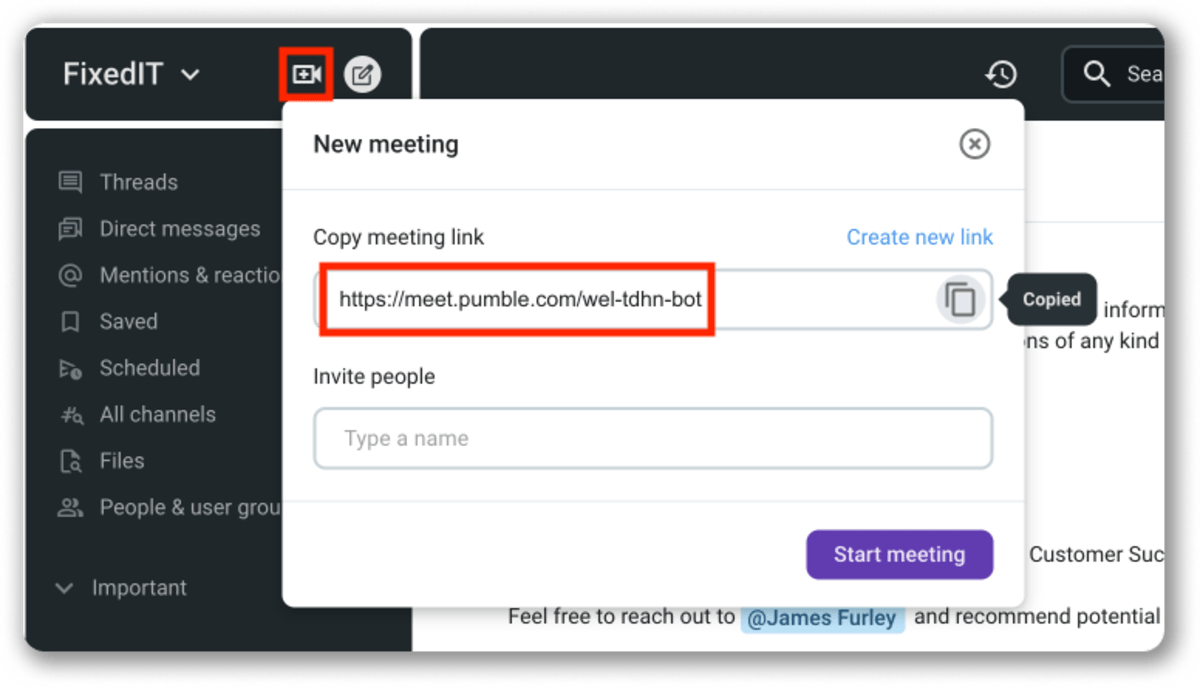 Thanks to Pumble's comprehensive free plan and reasonable pricing, it's an excellent alternative to Google Meet and Zoom, which have limited free versions.
With the free plan, Pumble grants the following:
Unlimited message history,
Unlimited users,
1-on-1 video and voice meetings,
Video and voice messages,
Importing from Slack, and
10 GB storage per workspace.
Additionally, there's no steep price increase for users who wish to upgrade to one of Pumble's paid plans.
As organizations scale their operations and decide to enhance their collaboration game, they can choose from the:
Pro Plan — $2.49 per user per month,
Business Plan — $3.99 per user per month, and
Enterprise Plan — $6.99 per user per month.
Google Meet's pricing starts at $6, while Zoom's starts at $14.99, which can put off teams looking to cut costs and improve performance.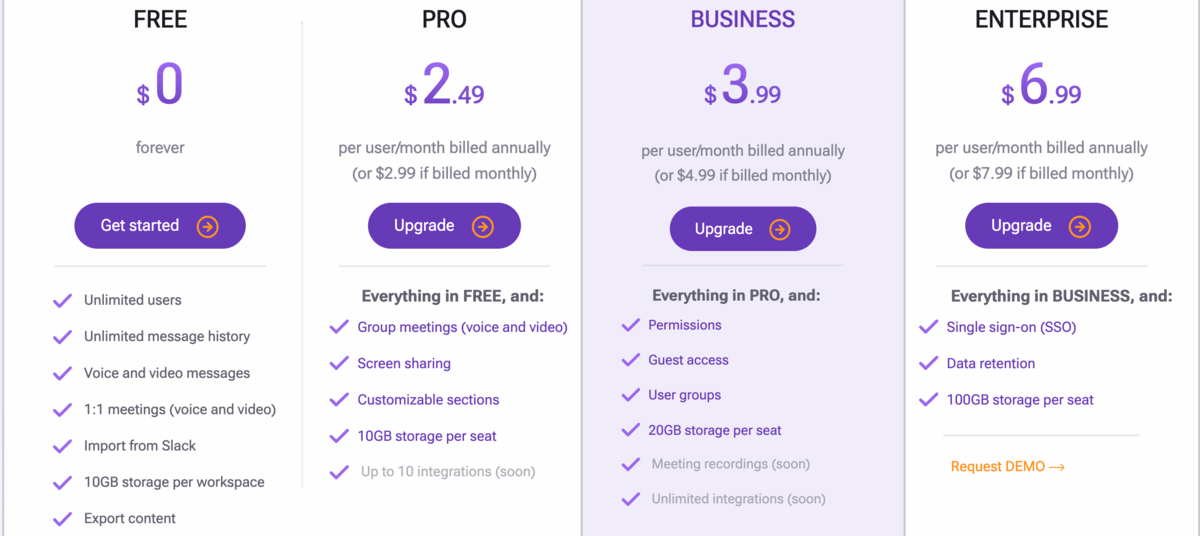 If that sounds like your cup of tea, sign up for a free Pumble account.
✉️ What about you? What has your experience with Google Meet or Zoom been like? Do you have any favorite features?
Share your thoughts at blogfeedback@pumble.com, and we may include your responses in this or future blog posts. And, if you think this post may benefit someone you know, don't hesitate to share it with them.